LINDSAY ELL: WAITING NO MORE. STARDOM IS HERE NOW.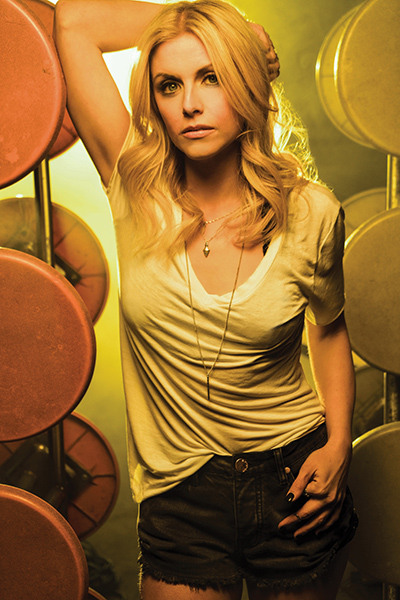 Photo credit: Ford Fairchild
By Paul Freeman [May 2017 Interview]
All things come to she who waits. And good things are deservedly coming to Canadian-born, Nashville-based singer-songwriter-guitarist Lindsay Ell. Her debut EP, the aptly titled "Worth The Wait," is a hit, debuting at number eight on the country albums chart. Ell says it was 16 years in the making.
Ell, who has found romance with country radio personality Bobby Bones, co-wrote three of the EP's six love songs.
She has toured with The Band Perry, Buddy Guy and Keith Urban. But it's only now that she feels ready to let the world hear her true sound.
Growing up in Calgary, Alberta, Ell was playing piano by six, guitar at 10 and expressing herself in her own songs at that age.
As a child, she was glued to country radio stations. At 13, she was mentored by guitar hero Randy Bachman of Guess Who and BTO fame. He helped her hone her songwriting and introduced her to jazz and blues guitar.
Ell graduated from high school a year early, then left college at 20, to move to Nashville. Recognition of her talent has been rising ever since. Ell was part of the 2016 CMT Next Women of Country Tour and served as a celebrity co-host of the 2017 ACM Awards red carpet pre-show. She is now on the road with Brad Paisley.
POP CULTURE CLASSICS:
The EP was a long time coming for you…
LINDSAY ELL:
Yes, you're preaching to the choir, for sure. But, hey, good things are worth waiting for sometimes [laughs].
PCC:
Is that why you chose "Worth The Wait" as the title, reflecting the perseverance it took to get to this point?
ELL:
Absolutely. The song "Worth The Wait" is a very special song on the EP, as well, but when we were trying to figure out what we were going to call this thing, everybody was just like, "Well, we need to call it 'Worth The Wait.'" I just feel like there's so many aspects in my career - and even in my personal life - that I've had to wait for things and work hard for them. And, in turn, I'm much more appreciative. They just seem more worth it in the end.
PCC:
I read that you had said the EP was 16 years in the making. How did you calculate how long it's taken you to reach this milestone?
ELL:
Well, I started playing the guitar when I was eight years old. I started playing shows when I was 10. I started writing when I was 10. So I'm 28 now. But I figure after doing that for a couple years, I was well on the path to knowing this is what I want to do for a living and really starting to figure out my artistic journey. It's come to this moment, where I've finally found my path, I feel like. And I feel like the past 16 years have been the discovery of that.
PCC:
How does this EP reflect your evolution and growth as an artist, your finding yourself musically?
ELL:
I feel like, through working with my producer, Kristian Bush, over the past eight months, I've finally found my voice. And sonically, as a musician, it sometimes is difficult to figure out how you want to sound on a record. It's not as easy as pressing "Record" all the time. Sometimes it is. And sometimes it's making the right decisions and making the right choices. And Kristian has really, really helped me find that within myself and figure out what I like and what I don't like. Playing guitar since I was a little girl, I like all different kinds of music. And I've listened to all different kinds of music. So they've influenced my writing and performing a lot. So going in to record a record, it's hard to filter and cipher through all those influences and really figure out which ones need to end up on tape at the end of the day.
PCC:
And your producer had an unusual way of getting you to that point?
ELL:
Yeah. One of the coolest things Kristian had me do was, in our first few music meetings, he was like, "Lindsay, what's your favorite record of all time?" And I was like, "Well, that would be 'Continuum,' by John Mayer. It's my favorite record. I listen to it all the time." He said "Perfect. I want you to go record the whole thing." And I just looked at him blankly [laughs]. And he was like, "Only rules are - you have two weeks. You need to play all the instruments. And you need to do it in your little studio by yourself." And I was like [sounding doubtful], "Okay…." So I cleared my schedule for two weeks and eight a.m. till three a.m. for the next 14 days, I recorded my favorite record, which I thought I knew, but it's just so different when you need to take something and re-record it in your own voice, how much you learn it, when you really get to dissect it. And so, at the end of the two weeks, I hand over the CD to him, which we called "The Continuum Project." And I was like, "I am speechless! I've learned so much about my playing, about John Mayer's playing and most importantly, how I love to hear a band recorded in the studio. Like I learned why that's my favorite record." And he just smiled and laughed and said, "Now it's time to do that with your own music." So it really started me on the goods, figuring out why I love the things I do in music, what those things are, because sometimes you just listen to something and you don't really know the reasons behind it. And so yeah, the past eight months have really changed a lot of what I do, from a writing perspective, from a recording perspective and a performing perspective for sure.
PCC:
So what specifically did you learn from that "Continuum Project" that you could crystallize and adapt into your own sound?
ELL:
One of the biggest things was, I learned that instead of having 20 instruments on a song, I really loved to hear five. And sometimes background vocals on things and sometimes it doesn't need that. I really learned that simplicity in instruments and their parts is the beauty that I love to hear. For sure in my own music. And it means that, if there are less parts, the parts that are there matter more. Like a B.B. King solo may not have as many notes as a bunch of other guitar players that I could list, but all the notes that are there matter so much. And they make you feel something deeper.
PCC:
In terms of the writing, lyrically, did you find yourself becoming more open, reflecting your self-discovery?
ELL:
Absolutely. I feel like I was more honest. I feel like, through this whole process, I've been able to sort of lift the veil or the shield and just kind of say what I've been wanting to say for a long time and not trying to disguise it, just coming out and saying it. When I look at my favorite lyricists, that's really what they do. I mean, "Can't Make You Love Me," Bonnie Raitt, is just so simple and honest, so great. When you read that lyric, it's like, "Yeah! It's that feeling!" And that's exactly what you want to say in that moment and sometimes don't have the words to do that with.
PCC:
So you co-wrote three of the tracks here?
ELL:
Yeah. Kristian really pushed me to cut outside songs. That wasn't something that I had done a lot in the past. So we listened through hundreds and hundreds of songs and I was very fortunate to cut a few songs from some really good friends of mine. So Caitlyn Smith and Heather Morgan and Maggie Chapman wrote a song called "Space." The beauty in picking outside songs is that you find songs that you couldn't have written at that time, in that moment. You find songs that sort of stretch where you need to go or where you want to go. And "Space" is a song that really stretched me vocally. And when I first heard it, I was like, "I don't know if I can sing that." And Kristian looked at me and he was like, "Lindsay, you may look at yourself as a guitar player, but I really look at you a singer first and then a guitar player." And so "Space" was a special moment, because it really helped me sort of dive into that world. And then "Standing Here," another friend of mine, Ryan Hurd, had written that song [with Melissa Peirce and Chase McGill] and the moment I heard it, I was like, "This is great!" This is the moment when you're standing in a doorway and you know a relationship is over and either person does not know what to say to each other. But you just are trying to break that moment. And the cool part about the EP - I'm probably rambling on [laughs] - but the cool part about the EP, it sort of talks about a relationship, the whole process of it - wanting love, finding that love, figuring out how to get that love, celebrating that love, and then knowing when it's over and having hope that love can happen again. And so "Space" and "Standing Here" were definitely moments that helped us complete telling the story.
PCC:
And then what made you decide to include "Stop This Train"? That's a great track, too.
ELL:
Yeah! So "Stop This Train" is one of the demos that I did in the "Continuum Project," you know - the discovery process of this whole finding my sound and really the pre-production for going into the studio with Kristian. And it was so much a part of the story, when the label heard it, they were like, "We want to put one of these songs on the EP." So it's the exact demo that I built in my little janky studio, by myself, with out-of-tune guitars. And it's not perfect. But music isn't meant to be perfect. It's supposed to make you feel something. So we put that exact demo on the EP, just so it could complete the story.
PCC:
And then the three tracks that you co-wrote, do you see connective threads in there, thematically?
ELL:
Absolutely. "Waiting On You" is my next single. And it's really the song I remember. The first time Kristian heard it, he was like, "We can do something with this. This is where we start. This is the beginning." And it's just that song that, if I were given three minutes, to someone who's never heard my name or never heard my music before, and wanted to get a good idea of who I was, I'd play "Waiting On You." I just feel like it says what my heart feels and it sonically captures a little bit of blues, a little bit of rock and a lot of country. And it's just the message that I want to say. And the other two co-writes on the EP, it's crazy we didn't go into the EP being like, "Okay, this is exactly the story we want to tell. We need a beginning, middle and end." As the songs sort of filtered themselves through the cracks and we figured out what was going to end up on the EP, it just sort of told itself.
PCC:
Now touring with Brad Paisley, is that a good opportunity to expand your audience?
ELL:
Absolutely. Brad is, arguably, one of the best guitar players in the world. And we have just loved being out on the road with him. We have so much fun every weekend. His crew has taken us in like part of their family. It's a guitar master class for me, every single night, getting to watch Brad and what he does. If you would have told me two years ago that I would be standing toe to toe with Brad Paisley on stage, two feet away from each other, I would have said you were crazy. But now, gosh, it's real life and we get to do it every night. And I'm very, very grateful.
PCC:
You're actually trading guitar solos with him?
ELL:
[Laughs] Yes! I don't want to ruin the show for anybody who hasn't seen it yet. But there may be some cool moments where he brings us up and we get to jam a little bit.
PCC:
You've been on previous tours with people like Band Perry, Buddy Guy, Keith Urban - were those all great learning experiences in their own ways?
ELL:
Absolutely. It's one of my favorite things to watch, when I'm opening up for these artists, on their tours, on these big headlining tours. My first worldwide tour, getting to play over in Europe, was with The Band Perry. I opened up for Buddy Guy when I was 18 years old and I was this blonde, white girl [laughs]. And people were like, "What is happening here?!" But I love watching headliners do what they do. Playing a live show is such an art. There's such a science to it. And everybody does it in their own way. But it's one of my favorite things to stand side stage and watch headliners do what they do. So, yes, every tour I've gotten to be a part of has been a huge, huge learning experience.
PCC:
Did you learn anything in particular from watching Keith?
ELL:
Keith is probably - I hate to say the most - but he is probably my favorite person to go watch live. He's just so dynamic. He can sit down with an acoustic guitar, by himself, and have everybody in the palm of his hands. And then he can stand up there, wailing with the band and production and lights and guitar solos and it's like a rock concert. There's just such a spectrum to a Keith Urban show that he's probably my favorite performer.
PCC:
And what was it like, at 18, to work with a legend like Buddy Guy? Was that intimidating?
ELL:
It was very inspiring. When Buddy Guy picks up a guitar, you just see this level of charisma fall on his face like a five-year-old boy in a candy store, like it just encompasses his whole body. Here is a man who was in his early 80s and he picks up a guitar and is running around the stage. He puts the guitar up on a monitor speaker and he's like chasing it with his like sweat towel and he's like running up to it and then running away from the guitar and then running up to it and running away from the guitar. And playing with a drum stick. It's just crazy to watch a Buddy Guy show, because he has so much energy! He'll be like silently walking backstage. And then he walks on the stage and it's like, all right, everything loose, like nobody knows what's going to happen [laughs]. So, yeah, Buddy Guy is definitely a show that people need to see.
PCC:
Did he ever offer you any advice?
ELL:
So I really wanted to meet him. We were opening up, gosh, I think it was a group of six shows. This was the first leg of the tour. And I just wanted to shake his hand and say, "Buddy, thank you so much for letting us open for you. You've been an inspiration of mine, blah-blah-blah." So, the second night we were playing, and I was at the merch table, meeting fans and my band was back in the dressing room. And when I get back to the dressing room, they're like, "We got to meet Buddy! He shook our hands!" And I was like, "Oh, my goodness! I missed my chance to say hello to him." And we were sitting side stage, watching his set later that evening and he looked over and saw the three of us like in our little line, watching his show. And he was like, "How about that Lindsay Ell?" And everybody clapped. And he was like, "You know, I might have her out in a bit." And we looked at each other and I was like, "What?!!" I had absolutely no idea he was going to call me onto the stage. So I got my guitar and got all ready. He called me out and he was like, "Honey, we're in G." And he invited me onto his carpet. And from then on we talked with our guitars. But later on that night in his dressing room, he was like, "You remind of the first time I saw Bonnie Raitt walk out on stage. You just remind me so much of her." And to hear Buddy Guy say those words to me is something that will always resonate.
PCC:
Growing up in Calgary, your dad had a guitar collection?
ELL:
Yeah. So my mom played piano. My brother and I started playing piano when we were six years old. And when I turned eight, it was a lot cooler to play Shania Twain songs on the guitar. And so my dad had tons of guitars lying around the house. He's an engineer, but he plays pretty much anything that has strings on it. And so the first song he showed me on guitar was "Stairway to Heaven." And from the minute I picked up the guitar, it was like another limb off my body. I just didn't want to put it down.
PCC:
And was country music always part of the focus? Or were your musical tastes all over the map?
ELL:
Yeah. When I was younger, country was all I listened to. Like I would get in the car and get mad at my brother, if he turned it off the country radio station [laughs]. So I was all about country. And then, when I was 13, I met a guy by the name of Randy Bachman from BTO and Guess Who and all those classic rock songs. And Randy was the one who really taught me how to write a song. My parents would take me out to his studio in the summer and we'd just spend two weeks in the studio and he'd teach me how to record. And it was sitting in the studio, when he would play all these jazz chords up and down the neck and I'd just stare at him with my eyes wide open and be like, "What is that?" So at 13 years old, Randy Bachman got me interested in blues and jazz music. I just couldn't get enough of it. And I'd kind of heard of Hendrix and Clapton and Stevie Ray Vaughan and Derek Trucks and all these guitar players before. But I had no idea, really, what they did. So I just dove into that world. And I didn't look back. But then moving to Nashville eight years ago definitely brought me back to my country roots. And my roots as a songwriter have always been in country music. So it musically kind of brought me back full circle. And now I'm just like a melting pot [laughs].
PCC:
How did you meet Randy?
ELL:
I met Randy through a songwriting buddy of mine at the time who was working with Randy on his record and he was like, "You need to meet Randy. He needs to meet you." And so he gave Randy this little demo CD that I made when I was super young and it had like Tommy Emmanuel instrumentals and like cover songs. And he listened to it and he was like, "This sounds like a young, female Chet Atkins. I need to meet this girl." And so we got together for a couple of writing sessions shortly after that and he was like, "I'm your biggest fan. I want to help you out however I can."
PCC:
So did he actually record an album with you?
ELL:
So we recorded a bunch of music and he was just so wonderful, because when I was so young, I was still figuring out my sound and where I was going. So we probably recorded more than an album worth of music, but nothing ever got released. And I was always scared to sign a record deal in Canada, because I really wanted to move to Nashville and sign a record deal in Nashville. So because I never wanted to sign a record deal, I never released anything - anything to radio, any projects. I just recorded music and learned a lot from it and was playing shows. And it wasn't until Nashville that I signed my first record deal. And I just released an EP [laughs]. Everything else has just been independent little recordings.
PCC:
So even when you were studying business at college, the goal was always a music career?
ELL:
I graduated from high school a year early and I was a huge nerd in school. And my parents come from a very academic background. So they were like, "We need you to go to university or college." And so I went right into university. And I was sitting in my accounting class. I can almost remember the day. And I was like, "Why am I here right now? I can go to school for the rest of my life, literally for the rest of my life [laughs]. Yet there's only a certain window of time when I can make music." And so I had that conversation with my parents that I'm sure every parent dreads - "Mom and Dad, I want to drop out of school and go be a musician." [Laughs]. And thankfully, because both of them play music - they don't do it for a living, but they understand a passion for it - and they gave me their blessing. So I started taking Berklee, the school of music in Boston, online. So I went to school online while I was still playing shows, gigging on the road and trying to make money to buy another plane ticket to go down to Nashville for a couple of weeks and write. And eventually, after doing that whole craziness for a year-and-a-half, I moved down to Nashville full-time.
PCC:
And did you feel at home there, right from the start?
ELL:
Hundred percent. Nashville, I think it's just the Southern hospitality thing and it makes you feel so at ease and welcome. And so, because I felt everybody was just so friendly, I felt at home from the moment I walked off that plane with my guitar on my back.
PCC:
And now Bobby Bones, the DJ is your significant other?
ELL:
He is, yeah. We've been best friends for, my goodness, probably three-and-a-half years. And finally last summer, I convinced him hard enough that we finally started dating last June.
PCC:
It must be nice that you share a passion for country music.
ELL:
You know, it's great to date somebody who, yes, shares such a passion for music and shares such a passion for what they do. Like he's probably busier than I am and I never thought that I would find somebody who wants to work 24/7, like I do. But he definitely is the other half of that. So it makes dating somebody like that a very good thing [laughs].
PCC:
Co-hosting the ACM red carpet pre-show. Was that fun?
ELL:
So much fun. That was my first experience co-hosting something on a carpet, for sure. That whole day, I just felt like I was a queen. It's just great to be part of awards shows, especially like ACM, where you get to see your friends who you don't get to see always throughout the year, because you're always sort of tag-teaming schedules and high-fiving each other in the airport. But yeah, for sure, being in that environment of ACM is just infectious.
PCC:
And do you think about the possibility of it maybe being your turn someday, to receive the awards?
ELL:
Hundred percent. I remember when I was a little girl and I was 10 years old and I was watching awards shows, dreaming that one day I would walk up to that mic and accept an award.
PCC:
Are you big on goal-setting?
ELL:
I'm a huge goal-setter. And I always have been, ever since I was in high school. So I've definitely carried it into my life. It grounds me a lot in the chaos of the music business.
PCC:
And beyond the business aspects, getting on stage and performing - does that remain one of the most exhilarating aspects?
ELL:
Yeah, there's nothing that really tops it. To be able to be on stage with my guitar vibrating against my body and being able to sing lyrics that fans get to sing back to you, there's just nothing that tops that feeling to me. It's complete bliss.
PCC:
Have you defined a philosophy of life at this point, or is it still evolving?
ELL:
It's always evolving a little bit in my head. But I definitely, in the last year, have been focused on figuring out what makes me happy and doing that.
PCC:
So what is the greatest reward and the greatest challenge in your life as a performer?
ELL:
The greatest reward is getting to see a little bit of your hard work pay off. Sometimes I feel like we just work so hard and keep our heads down and go, go, go, go, go all the time. And to get to pick your head up and kind of look where you're at and be like, "What?! This is pretty cool!" - like I've dreamed of being here and now I'm here. And sometimes you're so busy you don't even notice it… until you take a minute to look around.
PCC:
And the biggest challenge?
ELL:
The biggest challenge is not letting my mind get ahead of itself. And finding time to do everything. I just feel like time flies so fast. [Laughs]. Like I used to think it flew by fast. But now it just is moving a mile a minute. And I guess making the right choices on how to spend it best, that's the big challenge.
PCC:
And in those 18 years, since you started writing songs, were there ever any doubts that this was what you wanted to do with your life? Did you just always know that this was what you were born to do?
ELL:
I always knew that this was what I was going to do. It was never a matter of if. It was just a matter of when. And what I'm doing is constantly developing. And hopefully will be developing the rest of my life.
For more on this artist, visit www.lindsayell.com.