LISA FISCHER: NO LONGER "20 FEET FROM STARDOM"
Background Singer with Stones, Tina Turner, Sting, Luther Vandross
Now Headlines Her Own Concerts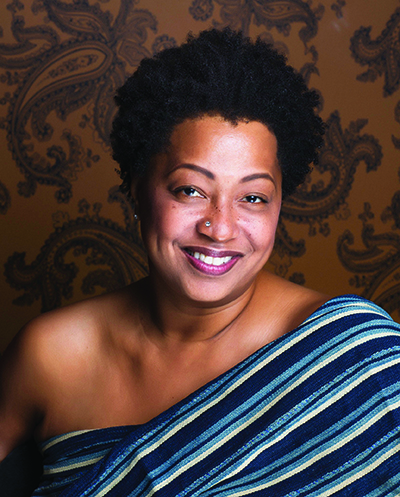 Lisa Fischer; photo by Djeneba Aduayom
By Paul Freeman [July 2017 Interview]
Breathtaking.
Lisa Fischer's singing voice is truly thrilling. With an astonishing range, it soars with honest emotion.
That's why so many other great vocalists have hired her as a background singer. The diverse list of artists Fischer has supported vocally - either in the studio or on the road - includes The Rolling Stones, Tina Turner, Diana Ross, Beyonce, Dolly Parton, Lou Reed, Bobby McFerrin, George Benson, Sting, Aretha Franklin, Chris Botti, Chaka Khan, Madonna and Nine Inch Nails.
The 2013 Academy Award-winning documentary "20 Feet From Stardom" put an overdue spotlight on legendary background singers, including Fischer, Darlene Love, Merry Clayton and Judith Hill. Following the attention she received from the film, Fischer is headlining her own concerts.
Fischer is performing with the band Grand Baton - guitarist/music conductor Jean-Christophe Maillard, bassist Aidan Carroll and drummer Thierry Arpino. Fischer's sets include material from her solo career, her years singing background, and other songs she loves.
Fischer, who has two younger brothers, had a challenging childhood. Her father was once a member of the doo-wop group The Cupids, who had a hit with "The Answer to Your Prayer." He left the family when she was 14. Her mother died three years later.
Fischer attended Manhattan's High School of Music & Art. Her first professional singing job came with the 1980s incarnation of The Crystals, known for their Phil Spector smash, "He's a Rebel."
She sang background with Luther Vandross from 1983, when she was 24, until his death in 2005.
In 1991, with Vandross' encouragement, Fischer released a solo album, "So Intense." It gave birth to a number one hit, "How Can I Ease The Pain," which she co-wrote. It earned her a Grammy for Best Female R&B Vocal Performance.
But the follow-up album never came. Issues at the record company, following a corporate merger, complicated her situation there. Another label's offer fell through - after she left her Elektra contract. Fischer returned to singing background.
As a support singer, she has wowed audiences on The Rolling Stones' tours since 1989. Her sensational performance with Mick Jagger on "Gimme Shelter" rivals the classic one delivered by Merry Clayton on the original record. Fischer has also toured extensively with Tina Turner.
Now Fischer is planning to put her magnificent vocals to work on a new solo album. It's time.
She kindly took time from her busy schedule to talk with Pop Culture Classics. In conversation, as in song, Fischer's warmth and authenticity shine.
POP CULTURE CLASSICS:
What's the range of material in your current set? Are you drawing from your solo work, as well as the performers for whom you've provided vocal support over the years?
LISA FISCHER:
Yeah. We're doing just things from my past or things that I've loved, things that I've sung background on, either live or on a record. It'll be a mish-mash of all that kind of stuff. Just really fun. Our musical director, J.C. Maillard, has done all these lovely arrangements, so it gives us the freedom to sort of play.
PCC:
With all the phases you've gone through in your career, what do you find to be the most rewarding aspect of your life as a performer right now?
FISCHER:
Seeing the smiles of people in the audience. I think that really does give me a lot of joy. It really is about them. And then about sharing the experience. And being present in the moment. And hopefully taking something with them.
PCC:
What's the feeling you get when you're singing? is it exhilarating? Transporting? Do you get lost in the song?
FISCHER:
I really get lost in the song. I get lost and suspended in it… if that makes any sense. And it feels kind of timeless… in a short amount of time. It just feels like it's an endless river that I get to keep going back to sip water from [laughs].
PCC:
At what age did you know your voice was something special?
FISCHER:
I don't know if you ever know. You can only hope. And do your best every time you sing.
PCC:
Did you come from a musical family?
FISCHER:
A little bit. My mom sang a little bit. But my dad was really more the singer. He sang with a group called The Cupids, who did a song called "The Answer to Your Prayer." The B-side of the record was a song called "Your Dog Loves My Dog" [laughs]. Definitely 60s music - kind of doo-woppy, that kind of vibe. But he loved it. He loved to sing.
PCC:
You have siblings?
FISCHER:
I do. I have two brothers. I'm the oldest. I have a brother named Anthony. He's the baby. And I have another brother named Donnie.
PCC:
I had read about the difficulties in your childhood, with you dad leaving, and then your mom passing. So did it become especially vital to have music as an outlet, a means of expression?
FISCHER:
Absolutely. I don't know where I would be without it. It's sort of my sanity. It's my safe place. It's my dream space. It's my Band-Aid, when I need one. It's just so many things.
PCC:
And with all you had to go through early in life, did you have to develop a resilience and strength that helped you in your music career?
FISCHER:
I would think that I should have, but sometimes when the unexpected and the difficult stuff happens, to you and around you, you tend to just put up every shield you can find. And you sort of don't allow the bad stuff in. But you also don't allow anything else in. So for me, I just try to find a healthy balance. I'm always kind of searching for a healthy balance. You get up every day and you're dealing with folks in person or on the phone or on social media. And stuff is coming at you all over the place. And you never quite know what to trust, what not to trust. So I try to look at each situation and if the energy feels okay, then I just keep moving forward. If it doesn't, I tend to deflect a bit and give myself enough space to really view what's coming at me. So I kind of deal with life like that, too. Life has been up and down and all around. But when something beautiful happens and you're not looking for it, I think that's one of the most joyous things that can happen to you.
PCC:
Early on, who were some of the biggest musical inspirations or influences?
FISCHER:
Definitely Luther Vandross. He really did help me, in my baby stages, because I just didn't have a clue what was going on [laughs]. And he was just so kind and so patient and so loving. I'd say Dee Dee Kenniebrew from The Crystals. That was my first professional gig. First time I ever had to get a passport. I was performing on stage. I got some contact lenses, because I'm blind as a bat. I can't see. I was afraid I was going to fall off the stage. So when I started performing without glasses, I started wearing contact lenses for the first time. And just all those little, silly, teenage, young adult firsts. I would say Chaka Khan is a huge influence on my life, just her energy and her freedom and the power in her voice. Her voice is just so unique and so electric. And so warm at the same time, just the colors in the voice, which are beautiful - and still are. She was a big inspiration. Minnie Ripperton. And there was a group called Rotary Connection [90s psychedelic soul group that featured Ripperton]. A song called "I Am The Black Gold of the Sun" that I would play over and over and over again, because it was a piece. Though it was a record, it felt like a piece. There was so much going on that I wasn't accustomed to hearing. And there was like a choir and then there were step outs. There was this big band. It was all of these different things. It's that communal energy. It's not just somebody coming and playing guitar — not that I mind that; I love the intimacy of that — but the piece felt so big to me. It felt like there were a lot of souls there. And to organize that kind of intimacy with a lot of people is really hard to do. And I just fell in love with that song. So I played it over and over and over and over and over again [laughs].
PCC:
The communal energy aspect — There must be a satisfaction in knowing you've contributed to the concert whether you're in the center spotlight or standing a few feet behind.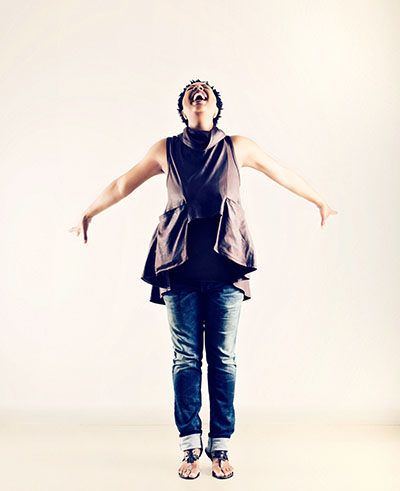 Lisa Fischer; photo by Djeneba Aduayom
FISCHER:
That is so true. I just love it. I love watching people be their best, be just in bliss about it, be happy and thankful to be sharing it. It's like watching a kid play on the playground. It's just like, "Wheeeee!" [Laughs]
PCC:
Singing background is certainly is a unique art. What are the qualities that make an effective support singer?
FISCHER:
I would like to think it's learning how to listen, not imposing your own concerns, your own fears. And just really being open to coloring and doing your best. And just being a supportive soul. Sometimes you'll find some people who really, at the end of the day, are more focused on their growth as their own artist. And that's also a beautiful thing. But I think that a lot of people who have that path can also do a great job listening, as well. And do well being supportive and still being a shadow, being a beautiful shadow or a beautiful little light in the background. It really is about your energy and your focus. And really just wanting to be supportive — really is important.
PCC:
Is it a challenge to make every relationship with each individual lead singer work? Everybody's different.
FISCHER:
You do have to learn the curves of the road. As you say, each person is really unique. They're different. Their fingerprint is going to be different on everything they touch. So how they communicate, when they communicate, what's on their minds, what state of mind they're in when they communicate — all those things come into play. Some people tend to be a lot more clear and focused and kind of know what they want. Other people don't have a clue and just want to take the time and go on a journey and just search for something, as opposed to knowing exactly what it is they want. Sometimes they need to paint, as well, and figure you out. They need time to figure you out, too.
PCC:
With the success in 1991, with the "So Intense" album, it must have been validating to finally step into the spotlight like that and get that level of acceptance.
FISCHER:
I still pinch myself. There were so many beautiful souls at Elektra - Bob Krasnow [former label chairman and a co-founder of the Rock and Roll Hall of Fame] was just wonderful. There was a great A&R lady named Carol Childs who was so helpful. And wonderful people around me. Daniel Marcus was managing me at the time. He also managed Luther at Alive Enterprises. And Carol Ware at MCA Publishing was very helpful, working with on writing, learning how to write, how to work with people. So everything just was kind of stewing and stirring around all at the same time. To just be able to put a record out, let alone having the chart success and all, is definitely a gift. So I was just thankful to be able to do a project and get it out there. Yeah, I was just really thankful.
PCC:
And you had that perfect song in "How Can I Ease The Pain."
FISCHER:
Narada! [Laughs] Narada Michael Walden. Yeah, he's amazing. He's done such great work. He's so talented. And such a great writer, producer. I co-wrote it with him and then a guy named Louis Biancaniello also did some work on it. Just a beautiful process. It was interesting, because at the time, Elektra had done some kind of survey to find out if people were interested in uptempo songs or ballads. And there were too many ballads out at the time that the survey was done. So Elektra was asking us to write an uptempo song. And we kept trying and trying and I just wasn't feeling it and I was still kind of a new writer. And we kept coming back to this chorus of "How Can I Ease The Pain" that Narada had written. And that's all he had. And I said, "Oh, that's so pretty. I so want to sing that." He says, "Yeah, yeah, yeah, but we're supposed to write an uptempo song" [laughs]. I'm like, "Yeah, I'll get back to that. But I want to work on this." And I'm just so thankful that I didn't choke my own inner voice by just trying to serve the record company's wants and needs and being supportive in that way. Being the background singer, in my head, I'm like, "Well, gee, my homework for the record company is — to do an uptempo song." [Laughs] You know? I was like, "Yeah, I'll get to it," but something in my gut is going, "Work on this right now." So we did. And we worked on uptempo. We worked on this ballad. But my heart was really close to the ballad. And it was a great lesson in learning how to listen to your intuition.
PCC:
And then returning to the background singing, why did you do that, rather than just continuing to try to come up with a follow-up to the Grammy success?
FISCHER:
It was such a weird time. We were working on a second record. The structure of Elektra was changing. It turned into WEA, which was Warner, Elektra and Atlantic, all merged together. And so the structure of the company changed. A wonderful woman who was the head of WEA, she was just so lovely. But I was in this weird place where I wasn't making enough money as a solo artist, but my work as a background singer was making way more money. And I was accustomed to living in a way where I could pay my rent and not ask to borrow any money from anyone [laughs]. That's not my idea of fun. So I was trying to juggle both. And I think the record company kind of looked at that as, "Hmm, she's not willing to starve." You know what I mean? I was willing to work hard, but I just felt that I just wasn't ready to be beholden financially to anyone. I really wanted to be independent financially and still try to figure out how to have a career and sing and do what I love to do. And the whole artist thing was so overwhelming. I think the first time out was just magical and I didn't have any expectations. I was just having fun. And then, once the Grammy happened, I felt this other pressure, to not fail. And I didn't know what that looked like. And it frightened me. And then we were going to leave WEA and go to another company. I can't even remember the company right now. But we ended up leaving WEA. And then went to sign the new deal and the person changed their mind, after I'd already left the other contract. So then I had no deal. And I was just so heartbroken at that point, because I'd thought, "Oh, this could be a new start, blah-blah-blah. This is going to be great." So I just went back to singing background. There was no record deal to do a record. So I just went back to doing that. And was happy doing that. And it felt strange, but I was glad, at the same time, to not have that pressure.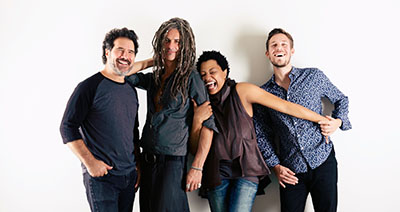 Grand Baton, left to right: Thierry Arpino, Jean-Christophe Maillard, Lisa Fischer and Aidan Carroll. Photo by Djeneba Aduayom
PCC:
And so many great things happened through the background singing. All those years touring with the Stones - It's just electrifying to hear you sing "Gimme Shelter" with them. The first time doing it with them, was it daunting, knowing how high a bar Merry Clayton had set with the original recording?
FISCHER:
Yes, because I knew, when I heard that voice, doing what she does, I was just like, "There is no way in heck I'm going to be able to do this!" [Laughs]. Not like her. And I was just so blessed, because Mick and Keith and just the whole band were so supportive and just allowed me to find myself within it. To me, when I hear the Stones' records, they sort of have grown up and their music has grown up with them. It's not like they, in the present time, are trying to go back to a day that a particular recording was done. They're not trying to do that to themselves. But what they do do is they know the nucleus of who they are and who did those records and then there's more experience and wisdom that comes with that and the songs just grow with them, with their lives and who they are. So within that framework, it sort of allowed me to find myself with that, which was a real gift.
PCC:
What was it like, working with Mick? How was he as a collaborator?
FISCHER:
You know, by the time we get there, it's really not so much about collaboration as it is just to really try to create a live blanket for him to play in. He's got a lot of ground on stage to cover and a lot of music to sort of force out of his body. And it really is about his comfort level and just being there for him, when he needs it. So when you're expected to sing a part, you need to be there. He can't like have his mind going, "Oh, my goodness, so-and-so isn't doing X." You know what I mean? You need to be there when you're supposed to be there. So he's just lovely in that he allows you to just blanket him in the sound that you create for the music and for the band. He's just a joy. He's funny. He's just a great guy. It's been wonderful. All of them are just so unique - Charlie, Ronnie, Keith. I just love them. [Laughs]
PCC:
Being on stage with Mick, does that bring out the ultimate in your own showmanship?
FISCHER:
I think he scared me at first, because he's just so explosive. But I think once I saw who that was, then it just got to be a game. It was kind of like, "Ooh, you get to play. You get to play with this kitten on stage. [high-pitched squealk} Ooooh!" It's like this big lion energy and he's just… [Roars]. All over the place. And he's lovely to shadow. He really is.
PCC:
And Keith and Ronnie and Charlie. Were they just what you expected? Or were there surprises?
FISCHER:
None of them are anything that anyone could ever expect [laughs]. They're just so unique. I mean, Keith, I think at first I thought to be afraid of him, because I couldn't really understand… Before I met him, you just see pictures and he's just like… [low, ominous, Frankenstein-like growl]. And you think, "Is he going to be a nice person? Is he going to be a scary person?" You just don't know who you're going to meet, when you walk into a room. And he was just as gentle and as soft-spoken… And it took me a while to understand what he was saying, because at first, I couldn't make out what he was saying, so I had to ask Bernard Fowler [backing vocalist], "What did he say?" [Laughs] But it was adorable. I mean, Keith is very well spoken, don't get me wrong. But the way that he creates his sentences, he may start it and finish it with a feeling, as opposed words. It might be a facial expression. And so it's not just hearing his words, it's reading his whole body. He's really unique in that way. And Charlie, he's mischievous. And very neat. Everything has to have its place. And he loves his clothes. Shoes. And everything he wears when he's playing, it has to be comfortable, but it has to be a particular thing. And he doesn't say a lot, but when he does speak, it's usually hilarious to me. It's just the way that he sees the world. You just never know what he's going to say [laughs]. It's funny to me. And he's sweet and he's kind. And then Ronnie is just so, wow. Like he'll sort of write/draw the songs and little things, because he does lots of artwork. And so he's got that side of his brain kind of cookin' and workin'. And then he runs over to the guitar and he has that other side workin'. And he bounces around like a 14-year-old. He's just a joy. He's always happy, always smiling. He's just lovely. And I think he and Keith, the way that they weave in and out of the music together is just so beautiful. Yeah, it's really lovely.
PCC:
And the, working with Tina Turner, what were your impressions of her?
FISCHER:
Oh, my goodness. Such a hard-working soul. Explosive. The color of her voice is just so unique. The moment you hear her, you know it's her. There's no mistaking her voice. And for some reason — I guess because I hadn't had the opportunity to meet her in the flesh before — I thought for some reason she would be taller that she was. She's like I think about 5'4", 5'3" perhaps. But she comes off like she's a six-foot woman — her energy. She's just so powerful. And anybody that wears like stiletto heels on a walkway, where you can walk over to your death, is okay in my book [laughs]. She's like not scared of anything. I'd look at her in rehearsals, walking along this long bridge with no guardrail and just running across, with these heels. It was like, no problem. And I'd look at her and think, "I could not do that." Stiletto heels and no guardrail. She just walks back and she's like [emits an intense, panther-like growl].
PCC:
Watching all these artists, on and off stage, were you able to learn things that you can now apply to your own approach to career?
FISCHER:
I think so. It's funny, it's like, a big group of people going to a movie, they see the same movie, they come away with different impressions, according to what their needs are. I think, for me, each soul that you meet, whether they're famous or not, actually, there are lessons all around. From Tina, it's being strong, fearlessness. For some reason, with all of them, there is some kind of fearlessness that comes across. Whether or not they're truly afraid is really their own personal story. But to me, it looks like they have areas of fearlessness. I think, once you figure out where those areas are for you, that you can sort of bridge those things to the things that you are really terrified of and just sort of bridge those things together to make it work for you.
PCC:
Going back to the idea of the protective shield, the kind of crazy fame some of these superstars have, is that something that maybe doesn't even seem that appealing to you?
FISCHER:
No, didn't love that part [laughs]. Didn't love that part. No, no. There is this feeling sometimes that people have — I've had it myself — you buy an album and you feel that you own the person. You feel that you just know everything about them. But they're giving you a part of themselves. It might be a big part. And it could be many chapters of their lives that they're giving you. But they're lives are really their own. I think a lot of people don't allow that space, that sacred space of just being a human being and what is too much. I'd get in an elevator with Luther after a show and a guy would walk on the elevator and say, "My wife wants to kiss you." [Laughs] You have to just politely let them know that this is just so wrong right now [laughs]. They don't mean any harm. They really don't. But dealing with those things, day in, day out, whether you're on tour or you're not on tour, folks walking up to you and doing whatever feels good to them, you know? [Laughs]
PCC:
So it sounds like there was never a sense of frustration, despite having this enormous gift, this unique talent, that you weren't the one in the star spot.
FISCHER:
I loved being able to just disappear [laughs]. They'd be walking through the mob and I'd be gone.
PCC:
"20 Feet From Stardom" - did that change your life? A lot more people must have become aware of your amazing talent through that film.
FISCHER:
I feel like it gave me a second breath, a second chance at playing, playing with a band. People were asking, "Do you have a band?" Uh, no. And then I got with my new manager, Linda Goldstein, and she really just helped bring this whole thing to life and just have fun with it and not be freaked out. She would talk me off the ledge. I would be like, [crying voice] "I'm not 30 anymore. I can't be the person I was, 20, 30 years ago." And she was like, "No one's expecting you to be that person. Just be you and be happy. And just do your best."
PCC:
So now do you feel more ready, mentally, emotionally, to take that spotlight for a full concert than you might have been in the 90s?
FISCHER:
No, I don't feel more comfortable, but what I do feel is that I would much prefer to make the music be the spotlight, instead of me — if that makes sense. I think that just keeps me grounded and happy and really puts the focus, at least for me, where I think it should be, for where I am right now. It's just really about what you hear. It's almost like living in a time when there was no TV. It's really about what you hear and what you see live.
PCC:
So whether you're singing lead or backing, it's all about serving the song?
FISCHER:
Exactly. That feels the most comfortable to me. It really does.
PCC:
Do you have backing singers at your concerts?
FISCHER:
Actually, J.C. sings and [bassist] Aidan Carroll, he sings [drummer/percussionist Thierry Arpino is also in the Grand Baton band]. But it's funny, I never think of it as background. It's just, we sing with each other. We play and we weave and we sing with each other. It's just different… which is nice, because it allows them to not have to try to be anything else but themselves.
PCC:
So you haven't had to make any dramatic adjustments to enter this phase of your career?
FISCHER:
I think a little bit of a difference, just as far as working the mental muscle or mental space of transferring energy. So for example, when I'm singing background for an artist, my main focus is that the music feels right to the artist or artists that I'm working for. So that's the focus. Now there seems to be a little bit of a clearing, because it's really more of a band, communal kind of an energy created with the guys. And there's no artiste to please. Really, the music is the art. It's the living art. So there seems to be more space for it in my head.
PCC:
What do you most want the audience to take away from one of your concerts?
FISCHER:
I want them to walk away feeling tightened, in the sense of just really being present, instead of worrying about tomorrow — What am I cooking for dinner tonight? Who do I have to deal with on the phone? Always kind of living in the future, preparing for the future and just not really as focused on a moment. To really just take in a breath and get lost in that musical river of energy, it's so relaxing for me. And it really connects me more to everything. To just really be present — I think that's what I hope that they would be a part of, this feeling of just being present — and being present with each other.
PCC:
Living on the road so much, has that been a sacrifice? Or is it more of a grand adventure?
FISCHER:
I would say grand adventure. I'm so used to being a gypsy spirit, I feel like the whole planet is my home. Home is where your music is [laughs].
PCC:
What you have wanted from a music career, has that evolved over the years?
FISCHER:
You know, I never know what to expect from a career in music. And so my mind is always open about it. I don't think about, "Gee, in 10 years, I want to do X,Y and Z." I make little baby plans, like working with different people or working on a particular piece of music. My one grand dream is to be able to use the voice and melodies and the relationship between harmonies to actually heal different ailments in the human body. I keep thinking that that can be a reality. That can be the new health care for humans [laughs].
PCC:
Music can certainly be a healer. What's next for you? Do you have a new CD in the works?
FISCHER:
We've been thinking about recording. Linda has been trying to find the right home. And find the right way to capture the music. So we've been talking about that a lot. So we hope to do some offering of music in the near future. Hoping it's more near than far.
PCC:
Well's it's obvious that whatever you do musically, you pour your whole heart and soul into it.
FISCHER:
I love it so much. I really do. I don't think I could live without it, really.
For more on this artist, visit www.lisafischermusic.com.