LITTLE BIG TOWN: MEETING THE CHALLENGES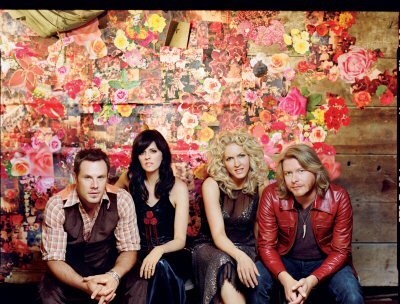 Photo credit: Courtesy of MSO
By Paul Freeman
Itís a long road from forming a band to hitting the country music charts. Sometimes chart success is only the beginning of the challenges.
Little Big Town formed in 1998, comprised of Karen Fairchild, Kimberly Schlapman, Jimi Westbrook, and Phillip Sweet.
The band landed a deal with Mercury Records, but the label didnít release any product. A contract with Monument Records Nashville resulted in two chart singles.
A change in the labelís regime brought a reassessment of its roster and the band found itself without a home.
Westbrookís father passed away. Westbrook and Sweet both went through divorces. Schlapmanís first husband (the bandís lawyer) died of a heart attack The group helped one another get through these difficult times.
The band members took day jobs to survive. Westbrook parked cars. Sweet toiled in a liquor store and as a telemarketer. Meantime, they continued to tour. They considered a gig a success if they broke even. But they were keeping the dream alive.
In 2005, a deal with Equity Music Group ( a label founded by Clint Black), resulted in their third single and first Top 5 hit, ďBoondocks.Ē More hits followed and their ďThe Road To HereĒ album went platinum. The groupís members co-wrote most of the songs with producer Wayne Kirkpatrick.
The male-female vocal mix, as well as the format of alternating leads, made Little Big Town readily identifiable.
After hitting the road with such stars as Keith Urban, John Mellencamp and Carrie Underwood, Little Big Town launched its first headlining tour in 2009.
Four-time CMA award nominees for Vocal Group of the Year, Little Big Town is one of the big attractions on the Country Throwdown tour. The lineup also includes Montgomery Gentry, Jamey Johnson, Jack Ingram, Eric Church, Ryan Bingham, Eli Young Band, Heidi Newfield and many more.
In honor of the bandís latest hit, ďLittle White Church,Ē at several of the tourís venues, in a decorated tent, couples were wed with Little Big Town as witnesses.
A new album on Capitol Nashville, ďThe Reason Why,Ē is due this August.
Phillip Sweet, married with a two-year-old daughter, took time to talk with Pop Culture Classics.
POP CULTURE CLASSICS:
Country Throwdown is kind of an unusual concept for country.
PHILLIP SWEET:
Theyíve done it in the rock Ďní roll vein with the whole Warped Tour, so taking that model and doing it with country, I think itís a really good idea. Itís turned out to be really fun. Thereís so much great talent out here. Fans can come out and listen to music all day. The ticket prices are really low. Itís really cool. The idea is really smart.
PCC:
Is there camaraderie among the bands?
SWEET:
Itís an opportunity to see old friends and make new friends. The whole concept to me is like a traveling creative community. We show up and put on a festival Itís an all-day party.
PCC:
The idea of having a Little White Church on the tour where can couples get married, thatís a clever marketing notion.
SWEET:
Itís a promotion weíre doing in eight cities. Weíre not actually doing the marrying. Weíre acting as witnesses. The local radio station or whoeverís involved will bring in an ordained minister to come and marry people. The couples are doing it in seriousness, but also to have fun.
Last week we had a couple that wanted to renew their vows. Basically, itís a tent, but itís got screen printing to make it look like the inside of the chapel from our music video for ĎLittle White Church.í Itís got the carpet down the center and the little candelabras. Itís really cool. People come in there throughout the day, taking their pictures and stuff like that.
Weíre hearing some really cool stories. One couple, they got married really quickly and then the guy had to be deployed to Iraq. He had to leave, so they didnít really get to do the big wedding that she wanted for her family. So this was their chance to kind of do that, after he came back home from Iraq. They were able to bring their family, did their wedding over again at our chapel, then had a big reception. They partied all day, listening to music. It was the biggest wedding reception ever. It was fun, man.
PCC:
Little Big Town has a new album coming in August, any new directions?
SWEET:
A few places, but itís not a far stretch from what we are. Itís a step forward, as far as sonically. Itís going to sound stronger and better. But we worked again with our friend and co-producer Wayne Kirkpatrick. Weíve got engineers, a mix engineer, involved that was different from the previous record. We just wanted to take it in a few new places and grow ourselves and stretch ourselves. So I think youíre going to hear some new sounds from us, but also the harmonies are the common thread that ties us together.
I think ĎLittle White Churchí kind of holds hands with some of the stuff weíve done before really well. Iím just excited. Itís some of the best music, I think, weíve ever created. We went into this project with the mindset of making the album of our lives and I hope that what people feel from it. I feel like we have really done something special with this record and Iím just excited for people to hear it.
PCC:
Stretching, growing, is that the key to longevity?
SWEET:
I think it is for us, for sure. For me, it helps me creatively. It helps us stay on the right path, as far as always being true to the music and true to ourselves and never compromising just to have commercial success or ĎWell, this sounds like a radio hit, it should go all the way to number one.í Usually those kinds of things never really work the way you think they will. Itís better to just reach into your heart and make the music that moves you. And then, if itís successful, commercial, then thatís great, too. Thatís our attitude, our approach toward it.
PCC:
Where are you from originally?
SWEET:
I was born in Arkansas. We moved around a little bit when I was a kid, lived in Missouri and Arkansas. I was born where the boot heel of Missouri and Northeast Arkansas all converge there, in a little bitty farm town.
PCC:
What was the music that originally grabbed you?
SWEET:
Oh, my gosh, I would have to say, as a little kid, it was Elvis. But I loved all kinds of music. I always loved listening to the radio. As a young kid, I knew all the songs on the radio. Any kind of music, I was into it. But yeah, Elvis was my first love and then that went into Ray Charles and then you get into your bands like The Eagles, Crosby Stills Nash & Young, bands like that were definitely influences, as well.
PCC:
Did this band, Little Big Town, mesh right away?
SWEET:
I think we had a really good initial chemistry with each other. The girls knew each other, went to college together. And they knew Jimi a little bit before they met me. So they had a sort of kinship together. And when I met them, it was sort of the last piece of the puzzle, kind of adding in. We all felt a natural connection to each other. Thatís really what keeps groups going strong. You can have talent together, but youíve got to be able to work together, day in and day out. I think, for us, our secret is just to be able to have a great working relationship. We inspire each other musically and we like working together. It makes for a fun life. So whatís not to like, you know?
PCC:
How do you keep it harmonious and make sure you donít have those conflicts that create friction in so many bands?
SWEET:
For us, itís a matter of checking your ego at the door. Itís always an equal balance of ideas. No one person steps out and tells the others what to do or tries to take over this or that or the other. Itís always a diplomatic kind of feeling, where we can talk it out. We can figure it out together. The best result is when we all move in harmony with each other.
PCC:
Alternating of leads and male-female vocal mix give the band a different sort of flavor. Did you discuss that going into this?
SWEET:
I think we did. We hadnít seen it done very much, if it all, especially in country music. So it was something that we thought would be unique, but we also liked the versatility of having the male and female vocals and switching off leads. To all of us, that was really an appealing thing.
When weíre making records, it gives all of us moments to shine. I think it keeps the record fresh and you donít ever tire of the same voice over and over, because thereís a new one coming up next. That sets us apart in a lot of ways.
PCC:
The harmonies, is that something you can achieve through a lot of practice, or do the voices have to blend well to begin with?
SWEET:
Harmonies are really interesting. I think itís a combination of all of that. A combination of talent, listening to each other, the right voices blending together, that have certain qualities that fit with each other. When you sing together, if it has that buzz, we call it, it finds that place, where like, ĎOh, yeah, it feels good there.í You have to kind of lock into all those elements at once, when harmonies are involved, Itís the art of listening to each other. Thatís the best way I can describe it.
PCC:
When you hit that buzz, is there a kind of a rush? It must be exhilarating when it all comes together.
SWEET:
Yeah, man. Thatís what you always strive for. That always brings you back to that place of purity in music, because youíre doing it for the love of it. Youíre not thinking about how youíre going to manipulate the crowd. Youíre just thinking about being in the moment. Itís like this great sense of accomplishment. Youíre doing your job well and youíre feeling all these sensations at once. Itís a really great thing. Itís like a drug.
PCC:
In your career so far, overcoming obstacles, has that made the group stronger?
SWEET:
I would have to say yes. Those moments in our experience, whether theyíve been really high highs or really low lows, have really always brought us together and made us keep it in perspective.
Weíve been through a lot together and, at this point in our careers, we can handle quite a bit. Thereís not going to be much thatís going to ruffle our feathers or shake down our camaraderie.
PCC:
Going through divorces and the death of a spouse, did that further strengthen the bond of the band members, helping one another get through the difficult times?
SWEET:
I think it brought us closer than ever before. Those things can level you, in a way. For us, it allowed us to put things in perspective, in the healthiest ways possible. So when success did come, we were able to not let it go to our heads. And having small children now, we want to take care of our families and feed our families, but weíre doing this, because we love it. We always believe that, if you follow the instincts of your heart, to do the right thing, the money will come later. Weíve seen success in our career, and it just continues to keep growing. We just want to stay on that path and keep moving onward and upward.
PCC:
Early on, after having a couple of chart singles, it must have been difficult to lose your label affiliation.
SWEET:
Oh, yeah, we charted with Sony-Monument. That was right at the end of when labels really had a lot of money. And then, they had to drop several artists. And we just happened to be ones that didnít make quite enough money that year, for the money that had been spent. For whatever reason, they brought in new people. The people that signed us to the label all got fired. So the new regime that came in to run the label assessed everything on the label - ĎI like this, donít like this.í We just happened to fall out of what the new regime felt they needed. But we were able to move on from that and take that record to an independent label at the time, The Equity Music Group, Clint Blackís label. And thatís where we had kind of our big success, our breakout success.
PCC:
But I read that, in between, you all had day jobs or odd jobs, just to keep things going. What were you doing?
SWEET:
[Laughs] I had a couple of jobs. I was working part-time at a liquor store, because I have some musician buddies who worked there too and we could swap off and go play a gig one weekend and they would cover for me. Also worked as a telemarketer, stuff like that, so you could be anonymous. Jimi was working a short time as a valet, parking cars. Anything you could do to make ends meet, when we werenít doing shows.
We were driving ourselves in a van, getting 500 bucks just to cover gas and expenses, not making any money. We were pushing it forward, even though we werenít sure what was going to happen next. We just believed that there was still something to be done.
PCC:
So it was a matter of believing in the band and believing in each other?
SWEET:
Absolutely, thatís exactly what it is.
PCC:
Was there any temptation to give up? What kept you going?
SWEET:
We would be down pretty hard sometimes. But even when we were at that place where we were so tired, we never really said we would give up or anything like that. I donít think those words were ever uttered. We always seemed to be encouraged by some little event that would inspire us to move forward.
One time, we were driving all the way from Nashville to like Boston, I think, to open for Phil Vassar. And we were driving ourselves in the van and stopped at Starbuckís to get some coffee and, just out of the blue, this monk just came up to us and asked what we did. He said, ĎThereís really something special about you. Can I put you on the monastery prayer list?í We were like, ĎYes! Of course.í And little things like that happened all along the way, to inspire us. Weíd get one good nugget of something that would keep us going. We were able to stay alive long enough to have a breakout success. Actually, it wasnít much longer after that monk started praying for us.
PCC:
The song ĎBoondocks,í why did that have such a tremendous response?
SWEET:
I donít know. It was just a song that made a connection with people. I canít really explain it. It just happens. We believed that it could. We believed that it was something that the fans would resonate with, because we resonated with it. But it took a while getting up the charts. It took a really long time. Probably didnít even chart as high as people think it did. But it was just one of those moments that was able to establish us.
PCC:
The band toured with Keith Urban, John Mellencamp, Carrie Underwood, were those all growing experiences, both in terms of knowledge of the business and broadening the fan base?
SWEET:
Absolutely. All opportunities for us to learn and grow and build a business that can last and sustain us. Itís not easy. Thereís a lot of artists who are very talented. But to make a living at it is something else. If you can do both, youíre quite successful. For us, itís all about how you define success and what you want to achieve. We always believed, that what we saw, our vision, would come true eventually. And we just have to continue making that happen. For us, itís still not fully realized. We always feel like weíre just scratching the surface.
Like this new album, the new music will take us to the next step, the next level. Thatís the way we look at it, because weíre believers in that kind of philosophy.
PCC:
So how are you defining success at this point?
SWEET:
Well, man. I define it by getting to do what we love, every day. and spend time with our families and do it at a level that reaches a lot of people. And beyond that, I donít gauge it by the money in the checking account, per se. Itís more about feeling that like youíre doing something good for the world.
PCC:
So the reward is the response you get from audiences and listeners?
SWEET:
Absolutely, man. The stories that people tell us, when we meet them along the way, those are the things that keep you going. You have no idea how far your music reaches until someone tells you what it did for them.
We always believe thereís a bigger force behind it than just going up there and singing a song. Itís really a privilege to get to do this for a living.
PCC:
At this point, what is the most challenging aspect of the career?
SWEET:
Gosh, I donít think challenges ever stop. When you overcome certain challenges and you get to one level, new ones emerge. Youíre always going to have a challenge. I would say, for anybody these days, as a big act, trying to sell out a big amphitheatre, thatís a challenge. People donít have that much money to be spending. So you have to be creative and make your ticket price as low as possible and you have to make it beneficial for people who are coming out to spend their hard-earned money. So thatís probably the biggest challenge.
The creative side of it is wonderful. Thatís the great part of the work... that never feels like work. For us, every challenge that we face, we just have to approach it the same way weíve approached everything else up to this point. It was like, ĎHey, weíve made it through worse. We can deal with this.í We donít let ourselves get too stressed out about it anymore.
PCC:
The validation, things like the CMA nominations, that must help bolster your confidence and your standing.
SWEET:
Yeah, thatís all good. It adds to it. Itís not just one thing that makes it happen for me. Itís the culmination of lots and lots of things. It takes working on all those fronts and maybe not seeing any fruit from your labor for a long time and then, all of a sudden, all those plates youíve been spinning, something good comes out of it and spurs it on. Itís all about momentum, in a lot of ways.
Being out here on this tour, you talk with lots of different artists at different levels and different stages in their careers. So itís a good opportunity to see all varieties, in a lot of ways. From the headliner to the opening, the guy whoís just got his guitar and his backpack and heís out here, playing songs, not making any money. Itís all out here. And thatís what I like about this whole tour. Itís kind of the nitty gritty.
PCC:
That helps keep things in perspective, too.
SWEET:
Yeah, man.
PCC:
So many exciting accomplishments for the band. Whatís been the biggest thrill for you?
SWEET:
Oh, man, thereís been so many cool moments. One that was really a magical experience, that Iíll never forget, was getting to perform with Lindsey Buckingham on the CMT ĎCrossroads.í That was just a magical experience, musically, for me, to work that closely with a hero of yours and for him to be so reachable and cool. We just really had fun playing music. When we actually taped the show, it went by so fast, we did everything basically in one take. We had to retake one song at the end. And I was like, ĎCan we do it all again? Can we play it all again?í It was just one of those magical nights that Iíll never forget. A real marker in life. That beats any award. Awards are great and everyone loves to be commended for their work, but that was just one of those moments that stands out. Youíre always grateful to get to work with someone like that.
PCC:
Are your wife and baby on tour with you?
SWEET:
They are a lot. They come out quite a bit. Itís just great to be able to spend time with your family. Otherwise, I wouldnít get to spend a lot of time with my young, two-year-old daughter. So, while theyíre not in school, might as well get to spend as much time as possible. So we try to make it possible for them to travel in the bus with us a lot of the time. It works out great for us. Itís what we choose to make it. I love it. Itís about quality of life, enjoying your time, while you work. And also my daughter gets to see what I do, being sidestage, dancing along and singing along. Itís the best thing in the world, man. Nothing makes my heart any prouder than to see that.
PCC:
Iím sure music will be a big part of her life
SWEET:
Probably so.