STEVE BERLIN: 40 YEARS OF LOS LOBOS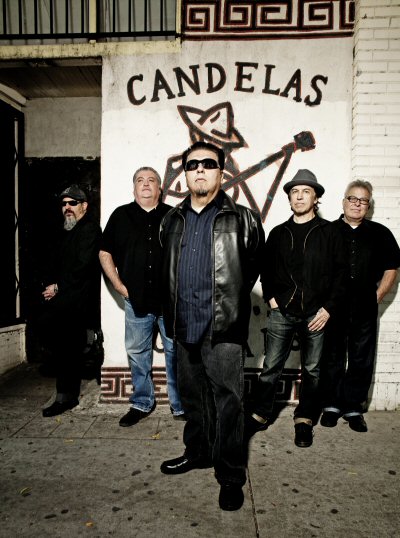 Photo Credit: Drew Reynolds
by Paul Freeman [December 2012 Interview]
The year 2013 marks the 40th anniversary of Los Lobos. The band emerged from East Los Angeles, inventively merging rootsy rock Ďní roll, blues, soul, folk and country with traditional Mexican and Spanish flavors. They continue, to this day, to grow and evolve musically.
Pop Culture Classics enjoyed talking with the bandís saxophonist/keyboardist, Steve Berlin. Formerly a member of The Blasters, he co-produced (with T-Bone Burnett) Los Lobosí 1983 Grammy-winning EP, ďAnd A Time To Dance.Ē After serving as producer on their major label album debut, 1984ís much acclaimed ďHow Will The Wolf Survive?,Ē Berlin became a full-fledged band member.
And the wolves have survived quite nicely, thank you. Theyíve thrived for these 40 years. In August, Shout! Factory released a ďKiko 20th Anniversary EditionĒ CD, as well as ďKiko Live,Ē on CD, DVD and a Blu-Ray/CD set, recorded at San Diegoís House of Blues. When the ambitious ďKikoĒ was originally issued in 1992, it firmly established Los Lobos as one of rockís most important bands.
As session musician and producer, Berlin, a Philadelphia native now based in Portland, has collaborated with such artists as R.E.M., John Lee Hooker, The Go-Goís, Sheryl Crow, Faith No More, Rickie Lee Jones, String Cheese Incident, The Tragically Hip, The Dandy Warhols, Great Big Sea and The Replacements.
As 2013 began, Los Lobos played a series of acoustic concerts.
POP CULTURE CLASSICS:
Playing these acoustic concerts, is this a chance to discover nuances of the songs previously unexplored?
STEVE BERLIN:
Yes, as a matter of fact. Weíve just done several shows exploring this milieu and, yeah, it certainly gives you a chance to look at the songs in a different way. I canít say weíve completely restructured them, other than the orchestration, but they certainly do take on a different texture when itís not rock, electric guitars playing, thatís for sure.
PCC:
Are you always looking for new ways to make the sounds fresh for yourselves?
BERLIN:
Actually, no. It sort of takes a situation like this to do it. More often than not, the songs get burned in, pretty much on the day they get rehearsed. And they never change [Chuckles]. So this is, by all means, a good thing for us, to kind of look at them again and try them on in a different setting, take a different approach. Itís as healthy as can be, to be honest with you.
PCC:
Do you think the band was ahead of its time, in terms of always being difficult to define and pigeonhole? That seems more prevalent these days.
BERLIN:
Well, you know, on the inside itís a little different. Itís not like we really think about being, as you say, pigeonholed. We just try to make music that fulfills us. So how it gets understood, I guess, to a certain extent, we have no real control over. We kind of just let it go and say, ĎOkay, it made us happy, letís see how the world feels about it.í But, as artists, itís really, really difficult to think inside and outside the proverbial box. We just try and do something that is powerful and resonant and hopefully hasnít repeated something else that weíve already done. But, as you might imagine, 40 years in, thatís a big part of the challenge, not, at some level, repeating yourself.
PCC:
How has the band managed to remain creatively vital for 40 years? Is that a matter of always challenging yourselves?
BERLIN:
We do try and challenge ourselves. We donít look back. We donít rest on our proverbial laurels in any way. Any time we make a record, we kind of treat it like, on some level, itís the first one. You never really assume anything or expect anything. That, to a certain extent, keeps it fresher. But itís tough, because we have a body of work and, on some level, everything sounds a little bit like something else. But there are a million different ways of saying something and we do try. We try hard.
PCC:
The recent rerelease and live version of ĎKiko,í did you enjoy revisiting that?
BERLIN:
Yes, I did, as a matter of fact. That was a big moment for us. And it was impressive, I guess, on some level - thereís no way to say this without sounding immodest - but itís impressive to me that the songs do stand up after as many years. Thatís pretty amazing, that nothing really sounded dated or old [laughs]. They sound pretty new. And itís a lot of fun to play. For me, anyway, it was highly enjoyable. I know Dave [David Hildago] bitched a little bit about it, because, at the time, we didnít realize that he sang on 14 out of 16 songs on the record. So he wasnít as ecstatic about it as everybody else was [laughs]. But yeah, it was a whole lot of fun and I hope we get to do it some more.
PCC:
When you were in the studio, did you feel that the bandís sound was coming together in a different kind of way? Did you see ĎKikoí as a real milestone for the band?
BERLIN:
Iíd say itís become one. Again, once on the inside, youíre never really conscious of what youíre doing, while youíre doing it. But obviously, it became huge as time went on.
PCC:
In the time between ĎLa Bambaí and ĎKikoí when the commercial thing wasnít happening, were there doubts about whether the band could survive?
BERLIN:
Going into ĎKiko,í that year or two prior to the making of it, we had spent on the road, promoting a record that took a year to make. I say this, knowing that 90 percent of the world would trade places with me in a heartbeat, but it was tough... for us, anyway. The record prior, ĎThe Neighborhood,í was tough to make. And we had already rehearsed it before we recorded it, so by the time we went out and did all the promotional aspects of it, we were tired of it. I kind of never wanted to hear the songs again. But we spent a year or two doing that. And living like we were big rock stars with two buses and a lighting director and all kinds of stuff that, at the end of the day, didnít really amount to anything necessary.
So, at that moment, when we came home from that tour, and spent two years on the road, and came back broke, it was like, ĎWhoa, what the f-ck just happened there?í So it was time for serious examination. I couldnít say that we brought up disbanding, but it was certainly like, ĎWow, we did that about as well as we can do it. What can we take away from this experience? How can we not do that again?í The issue was, we were listening to people. Itís not like anybody told us what to do. But there was like this sort of unspoken law - if youíre a big-time rock star, you need two buses and a lighting director and you need to have five crew members and you need to stay in these kinds of hotels. Just like a lot of stuff that sounded good going into it and, at the end of it, once we got home, we realized, ĎWow, that was so unnecessary.í Really, our circumstances hadnít changed any. It was like a two-year circus ride. When it was done, we were exactly where we were when we started. Nothing had really changed at all. But, on the inside, it had seemed like, ĎNow weíve got to be thisí and ĎNow weíve got to do thisí and ĎWeíve got to change in a certain way.í I canít say that we changed our personalities as such. But we thought that we were a bigger deal than we actually were, more or less.
So that said, ĎWhen ĎKikoí began, we were sort of like, ĎWow, what idiots! [Laughs] What stupid assholes!í So it wasnít very hard to channel that frustration into ĎKiko,í because it was so pointless, what we had spent the last two years doing.
PCC:
Did you have to go through a period of consciously resisting outside forces trying to nudge you towards a commercial path?
BERLIN:
No, those voices were largely the aftermath of the ĎLa Bambaí experience. Of course, we did ĎLa Pistola,í which was clearly a very different kind of record. And nobody told us not to do that. It wasnít like we had people actively counseling us to work against our self-interest. It was more that we were interpreting the data we were receiving in a foolish way. There was no manager or label guy whispering, ĎYou guys really ought to do this or that.í It was a sort of quiet, unspoken sense of like, ĎOkay, I guess youíre going to get a big tour bus now, right? Youíre going to get two of them, right? And, of course, youíre going to get a lighting director, right?í ĎWe are? Geez, I guess so.í [Chuckles]. It was more insidious. There was no secret cabal of rock star whisperers. It was more just like, ĎHereís how you do it, kid.í The problem was just how we decided to move with this information, more than anything else.
At the end of the day, Iím not sure if ĎKikoí would have been the same record, had we not entered into it with a subtle sense of ĎWell, screw it all. Letís just go back to making records the way we like to make records and, if it doesnít work, at least weíll have died with our boots on. And whatever happens, happens.í And what happened was, we had a big hit.
PCC:
Whatís next for Los Lobos?
BERLIN:
Weíve recorded three of these acoustic shows. And the idea is that weíll create a live record to commemorate our 40th anniversary, because we couldnít come up with another idea of how to commemorate our 40th anniversary. And we had to do something. [Laughs]
As far as the next record after that, honestly, I donít know. We will make one, but the thought process was that we did not want to put the onus of the 40th anniversary on that record. We didnít want it to be perceived as some sort of 40th anniversary statement. It would just have been too much of a challenge to make a record that would sound like something that was the culmination of 40 years. Although, obviously, everything we do is the culmination of what weíve done before. Thereís no getting around that. The point being, we just didnít want to put the weight of expectation on whatever this next record is going to be, because, frankly, we havenít really started to think about it, nor do we anticipate thinking about it for quite some time.
PCC:
Just reaching such a rare anniversary, does that put things in a different perspective for you?
BERLIN:
It just seems like a ridiculously long time. It sounds like a cartoon, to be honest [laughs]. Forty years. How have we done this for 40 years? I just celebrated my 25th wedding anniversary and that seems like an amazing amount of time. So 40 years is crazy. But we take satisfaction from the fact that we havenít really gone off the rails anywhere in those 40 years. And thatís not easy to do. Plus we havenít lost anybody along the way. And thatís not easy to do. So certainly thereís a lot of pride in the realization of it. But itís almost more of a pain in the ass, to be honest with you [laughs]. Iíd just as soon carry on working and not have to acknowledge this stuff. Literally, the kind of people we are, we could just spend 10 minutes celebrating that and then get on to the next thing. Weíre not sentimental in that regard, in any way, shape or form.
PCC:
For you, how important are the outside projects, in terms of keeping you fresh? Does that give you new ideas, when you return to Los Lobos?
BERLIN:
Itís more about me, than them. The Los Lobos planet is kind of a planet unto itself. Itís not like Iím bringing the knowledge back to the band. We donít dissect the records I make. To a certain extent, I keep those two things as separate as I can, just because it doesnít really have anything to do with anybody, but me. It has nothing to do with the Lobos guys. Itís something that I do, just because my favorite place to be is the recording studio. Thatís my life, not anybody elseís.
I think all of us, to a certain extent, itís a very workmanlike environment, the way we approach our jobs and the way we do what we do. We do what we do as professionals. I wonít say itís clinical, but we donít get emotional about it. We just sort of make music that makes us happy. And at this stage of our careers, weíve done so many things and been through so much stuff, and gone through the process enough that a lot of the intensely emotional side has sort of been sanded down and now itís just kind of like, ĎYeah, thatís cool. Good idea. Letís do that.í Weíre not precious about anything. What weíve learned over these years is that nothing is so large or so overwhelming, at the end of the day, it too will pass. And all this other stuff, after a while, it does kind of go away. And what youíre left with is whether or not it made you happy... or whether it not it was what you wanted to say, I guess would be of more importance.
PCC:
When youíre producing other artists, do you think about discreetly putting your own imprint on the project, or is it just all about bringing out the artistsí vision?
BERLIN:
When I work with other people, itís a totally different thing. I, too, get caught up in the excitement of it. I want them to feel like it was the best thing that was ever made.
To work with somebody and have them feel like theyíve never done anything better, thatís awesome. But Lobos, weíve never felt like that [chuckles], even when we made ĎKiko,í even when we made our first record, we never had that kind of enthusiasm that I get with almost anybody I work with. Weíre much more businesslike about the whole thing.
Itís like, my friends in L.A., when I go to L.A., are comedy writers. And they never laugh. Comedy writers are the funniest people in the world. But somebody tells a joke and they go, ĎYeah. Good.í [Laughs]. When you do it all day, every day, you listen a bit differently. And I hope that doesnít make it sound like Iím taking all the fun out of it, because itís still fun. Obviously, we enjoy it. Thereís just a different sort of vibe about the whole thing. And weíve certainly learned that nothing that we think is unbelievably wonderful or unbelievably terrible is ever either one of those things. Itís always slightly to one side or the other.
PCC:
But is it important to you to make your mark on an outside project? Or is it enough to turn whatís in an artistís head into reality?
BERLIN:
Itís somewhere in the middle of that. I try to parse where theyíre at and where they want to go and then I just try to either amplify that in some cases, or stay out of the way of that, if they have a real profound and healthy vision. Sometimes itís really more about keeping the interference away and letting them just express it and not letting their own self-doubt creep in. Youíre just kind of being a well-paid cheerleader. It changes on every record. Thereís no A-B-C-D anything to the producing process. Every record, every day, is different. And the Lobos process is different from anybody elseís Iíve ever worked with. Itís almost like two different things. The way Lobos makes records and the way anybody else makes records, thereís no comparison. Thereís no commonality, other than it comes out as a digital file that sometimes gets transformed into a shiny disc.
PCC:
And thatís just due to the nature of everybodyís personalities in the band?
BERLIN:
Itís the nature of everybodyís personalities and the nature of how weíve come to choose to make a record, more than anything else. Itís the way that we do it. Part of it is, we have to terrify ourselves to get creative, which is certainly something I would never recommend to anybody else in the world... ever. Itís a completely idiotic way of making a record. But we literally have to be totally scared out of our wits to even start [laughs], which is not healthy. But thatís whatís unique and thatís what we do.
PCC:
Whatever works.
BERLIN:
I know, itís strange, but it works [Laughs]. I hear myself describing it and it sounds insane to me even as I describe it. But thatís how we do it.
PCC:
Given your love of the studio, did you have any hesitation about going from producing Los Lobos to becoming a full-fledged band member and returning to the road?
BERLIN:
No. I get to do two things that are really fun to do. And, at this point, 40 years later, certainly no one in the band is going to listen to me produce, even if I wanted to. Everybody understands how the process works. I certainly canít exert the same sort of influence over the proceedings as I would if I was producing it. So I have to constantly step back. And it seems to me like - and I hope the guys would agree - that itís kind of healthy. I wonít say itís humbling, but itís a different thing. Iíve just got to share my ideas in a way that sounds more like a band member than as someone who could actually change it. As a producer, more often that not, if I have an idea, I expect the band to at least and see if it works or not. As a band member, if I have an idea, it sometimes gets shot down before it even comes out of my mouth. Itís good for me. Humility is a very good thing. You may think youíre smarter than you are, when you make records.
PCC:
Was it while you were with The Blasters that you met Los Lobos?
BERLIN:
Prior to that, I had seen them opening for Public Image. But at that time it was a very different band. Before I joined and before I saw them with The Blasters, they were strictly folkloric music. There was no rock Ďní roll per se. By the time I joined, they had already changed their sound. When they opened for The Blasters, they were a rock Ďní roll band. That was like the secret sauce, when they went that way. Thatís when the whole thing really began. We became friends, just hanging out. I had no idea I was going to be with the band all these years later. But once I started producing the first record, by the end of the record, I was in the band.
PCC:
How would you characterize your tenure with The Blasters?
BERLIN:
It was huge for me, for lots of reasons, but to be with my hero, Lee Allen, the other sax player in The Blasters, [R&B sax legend, who died in 1994], that was mega. He was literally my hero. So to be roommates with your hero is pretty cool.
But it was tough, because Iíve always wanted to produce. And that was never going to happen with The Blasters. They were very hardheaded guys. And they all thought that they knew exactly how to do everything, pretty much, how to tour, how to play, how to do every single thing. So it was tough being the lowest man on that totem pole and have ideas of my own about how the stuff should go. But I was never going to be heard.
So the moment when I had to pick which band I was going to hit the road with, and there literally was a day when The Blasters were going north and Lobos were going south, I got on the Lobos bus. But it wasnít a big deal for anybody. It certainly wasnít a big deal for The Blasters. I donít think they gave it two moments thought. ĎSteveís not coming? Okay.í And off they went. It sounds like Iím disparaging them. Iím not. By the time that moment came, they were changing, I was changing. It was moving in a different direction. I think, to be honest with you, Dave [Alvin] was on his way out the door, as well. So the whole shtick was changing, to a large extent.
PCC:
As far as saxophone, and, in particular, baritone sax, were you always drawn in that direction? Had you tried other instruments?
BERLIN:
I started with a flute, believe it or not. Actually, I started with harmonica, at the very start. And then it was flute for a while. Then, strangely enough, it was just soprano sax, long before that instrument turned into what itís become now, with the Kenny G assholes and stuff like that.
Thatís where I started. And then another band I was playing with, long prior to The Blasters and all that, said, ĎYou better show up with another horn next week.í So that made my decisions a lot easier. I went in a different direction. There was another couple of bands I was playing with in L.A., among them this band called The Precisions, and thatís where I really started learning about the R&B thing and R&B tradition and thatís when I went full immersion into that world.
PCC:
Did you study the guys who played on the classic records, guys like King Curtis and Steve Douglas?
BERLIN:
Yes, I did. I went way deep into it. And I was getting fed such great stuff from The Blasters, Fast Freddy, thereís a bunch of different people I was playing with who had this unbelievable knowledge of this stuff. Certainly The Blasters were a key to that. We would have these long, into-the-night record parties, that were just like one after another, after another, after another, after another, just all these incredible records. These guys even had 78s. It was like being in college, I guess, to a certain extent. I was just so impressed with the experience. Hearing the stuff and then being able to being able to use it the next night was pretty cool.
PCC:
Is there still a sense of discovery about the music?
BERLIN:
Oh, yeah. Absolutely. Iím always constantly searching for stuff. Thatís not going to change. Iím probably the only guy in the band who still goes out and sees bands all the time. I donít think anybody else in the band bothers. Maybe they do and they donít talk about it. But I go all the time. Itís still a big part of who I am and what I do.
PCC:
Over the course of the career, what have been greatest challenges and greatest rewards?
Thatís a tough one. I just feel like Iíve been so blessed. I get up and I get to make music for a living. So anything I would call a challenge, Iím sure anyone would cut off a finger for.
Let me put it this way. The hardest part is being away from my family and putting the onus of raising our children completely on my wife. That sucks. Iím sure the rest of the guys would agree with me. Thatís absolutely the hardest part of the whole thing is being an absentee parent for a large part of my kidsí childhood. So thatís the only part... anything thatís a challenge in terms of the artistic thing - not repeating yourself, trying not to suck, trying to not make a record that lowers the bar, those are things that every artist has to deal with. Nobody goes into it wanting to suck. You just want it to be great every time and you want it to be better than the last one. So I canít call that a challenge. Thatís just what we do.
And in terms of the other part of your question, weíve had some pretty high moments. One of them, for me, anyway, we played the first Clinton inaugural. I suppose thatís the closest Iíll get to like the Berlin Wall coming down, like a complete sea change moment of American history and, to be, in some small way, a part of that. We did a lot of work for Clinton back then. That was a big one, not so much about the music, but just being at the ground zero when the pendulum of time changed, it was nice to be in that and to feel like you had some small part in it, other than just being a voter and a supporter. So that was pretty cool. Weíve gotten to meet a couple of Presidents. We met Obama. And that's pretty cool.
Also seeing the world. And weíve won a couple of Grammys. Those are always pretty cool. But, to a certain extent, I guess the part I take the most pride in is just that we worked extremely hard at not sucking and not repeating ourselves. Certainly I have my artistic disappointments along the way, things that I wish Iíd done differently or approached differently. But when you consider the weight of the catalog, I think it holds up pretty darn good. So I take a lot of pride in that.
PCC:
Yes, there certainly arenít many other bands in the world that have survived for 40 years and can say they havenít sucked and havenít repeated themselves.
BERLIN:
Yeah, thatís tough. Iím not even sure thatís true of us. I think we probably have sucked, we probably have repeated ourselves [laughs], but it wasnít because we havenít tried hard not to.
PCC:
With all youíve accomplished, still some unfulfilled goals?
BERLIN:
Actually, the word Ďgoalí and the band Los Lobos are two oxymoronic things. We donít have goals. Weíve never talk about, ĎIf we work really hard, maybe we can get here.í We just donít go that way. Itís just always just sort of like every new day, every new tour, every new record, whatever it is, itís viewed more as professional craftsmen than artistic ambition. Thereís like no artistic ambition in the band, like ĎOh, my God, can we play Bonnaroo?í or whatever it may be. Itís all just kind of procedural, in a weird way.
We spent most of the fall playing with Neil Young. I mean, how cool is that? But it wasnít like this burning ambition to get there and do that. We just got really lucky and the booking agents worked it out and we showed up and it was a blast for everybody. Iím sure Neil enjoyed our company as much as we enjoyed his. So we just feel like, if we work really hard and do the best we can, then good things happen. And so far, thatís been true.
PCC:
But for you, personally, having already worked on so many diverse projects, anything youíre longing to try?
BERLIN:
Thatís a tough one, too. Yeah, there are people Iíd like to work with, definitely, but most of the people I want to work with are making great records already. Itís like, I kinda want to watch in the studio [laughs] more than I need to put my two cents in there.
Thatís a funny question to answer, because there lots of artists Iíd like to be part of the process with and just see how they do it, because I think they make amazing stuff. But I think about and, if theyíre already making amazing stuff, Iíd probably just get in the way. Itís funny that way.
There are a couple of things Iím actually doing that Iím excited about. Iím producing a band called Grupo Fantasma, who are sort of like a salsa band from Austin, who are amazing. Iím right in the middle of that one. Iím mixing right now. Thatís been awesome. And Iím also in the middle of the next Deer Tick record, which is also pretty awesome. Great band. Again, Iím just really lucky. I get to do what I want to do. And so far, no oneís told me Ďno.í
For the latest news on the band, visit loslobos.org.