LOVE AND THEFT: SPIRITED MUSIC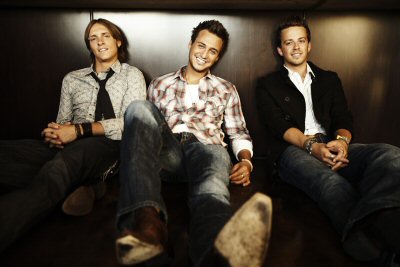 From left to right: Brian Bandas / Eric Gunderson / Stephen Barker Liles.
By Paul Freeman (May 2010)
Since the release of their debut album, "World Wide Open," Love And Theft has been stealing the hearts of country music fans.
With charismatic stage presence and stirring harmonies, the threesome - Stephen Barker Liles, Eric Gunderson and Brian Bandas - continues to build a fervent fan base. The band is currently on tour with Tim McGraw and Lady Antebellum.
"The Tim McGraw fans have been huge for us," Liles told Pop Culture Classics. "After most of the shows, we're signing. People have been coming to Tim's shows for a long time and a lot of them have been waiting around to meet us and that's pretty cool.
"A million fans, a million hands - we're trying to meet everybody we can that wants to meet us."
Liles said McGraw was one of his biggest musical inspirations. "For me, this is a dream come true. To be out on the road with him is very surreal. I grew up listening to him, so I'm thrilled to get this opportunity."
"He makes you feel everything he sings. He's a very passionate singer. And he sells the songs. He's one of the reasons I moved to Nashville, one of the reasons I'm here now. So it's an incredible honor to be on the road with him. It's a little overwhelming, really"
Liles, now 26, grew up in Palm Harbor, Florida. The son of a pastor, he embraced the harmonies of gospel and contemporary Christian music. Elvis Presley, Toby Keith and The Eagles also grabbed his attention.
Attending college with a plan to eventually coach basketball, his focus turned to music. "I brought my guitar on the road with the team and I was naturally progressing through my songwriting."
Six years ago, The Warren Brothers (Brett and Brad, of the CMT reality show "Barely Famous") befriended Liles and encouraged him to move to Nashville. "They said, if you want to be a country music songwriter, you need to be in Nashville and get involved in the community. You need to meet people and you need to network."
So Liles and his brother Andrew, headed for Tennessee. "It was insanely scary. We didn't know what to expect, didn't know hardly anybody in Nashville. But we had faith. And the song 'Runaway' [Love And Theft's first Top 10 single] is about that, moving on towards something new, a new goal. Me and my brother became runaways and moved to Nashville to do our music."
Eighteen months after arriving in Nashville, Liles met Bandas and Gunderson through mutual friends and songwriter nights. "We started writing and working together," Liles said. "And it always felt like it was meant to be, from the very beginning. We all three sing lead and rotate on that. And the harmonies, when we first heard them recorded, we went, 'Wow, we sound related!'
In addition to voices that mesh perfectly, the three young men share similar songwriting sensibilities. In fact, they named the band Love And Theft after the Bob Dylan album of that title.
"The reason country music is so special - it's all about the song. I'm very passionate about songwriting. A song on country radio can make you bust out in tears, because it touches you at the heart, at the core. That's one of the best things about country music.
"The hardest thing is finding a melody that can last through the years. But it also has to have a lyric that hits people in a personal place. It's important to write songs that don't just appeal to a certain demographic. We try to write songs that most everyone who hears them, can relate to them."
The three spent six months writing and rehearsing before seeking an audience. "In Nashville, you only get one chance at a first impression."
When they were ready, they made a strong impression. After playing The Grand Ole Opry, they were invited back additional appearances.
Love And Theft gained momentum while touring with Taylor Swift in 2008. "That was a really cool thing, because we just came out there acoustically, just the three of us and we got to be on the road with her at a really, really cool time in her career, where people were just starting to catch on. We got to see her at a time when she was exploding. Same with Jason Aldean, when we toured with him last fall. And Lady Antebellum, we're seeing them explode on this tour, which is cool."
It was cool that Swift wrote the song "Hey Stephen" for Liles. "It was funny, because she said she had written a song about me. I told Eric and Brian and they were like, 'Great. You've ruined our career already.' Then it turned out to be a nice song. So we were all thrilled.' You know, that's one of the nicest things anybody's ever done for me, to be honest."
Not all developments have been so nice. The "World Wide Open" album has been selling briskly, so it was a shock when their label, Disney's Lyric Street, suddenly folded in April.
"That was 100 percent out of the blue. It was just one of those corporate decisions. But Lyric Street put a lot of time and money and effort into breaking us. We'll always be grateful to them for that. We look at this as a blessing in disguise, because they gave us a huge jump start. Now we're ready for the next wave. We'll be talking to labels soon and we'll have new music coming out, Lord willing, this fall. So we're excited."
The members of Love And Theft are as compatible spiritually as they are musically. "We all were raised in Christian homes," Liles said. "That's a really big deal, especially nowadays, to meet somebody who has the same core values as you. At the end of the day, that reflects on the art you're making and on the way you handle your life, day in and day out."
Liles helped lead the worship for the church youth group. Now he believes that his country music career also holds the potential to uplift.
"It's about impacting people's lives with something positive. We try and write from a personal place. We're very adamant about trying to influence people from the heart.
"We had a lady come up to us, two nights ago, after one of the shows, and she told us that, literally, our music had saved her life. That's really intense. She was emotional. I got emotional, too. Things like that make everything worthwhile, when somebody says, 'This song saved my marriage' or 'This song got me through the hardest times I've ever been through.' Being a part of someone's personal life like that, through your music, through your art, is a huge honor."
Love And Theft has already accomplished a great deal, but will rest on their laurels. "We always set big goals for ourselves. It's important to set healthy goals and to always progress. You reach one goal and set new ones. We'll always be trying to reach new heights."