HERE'S LUCIE!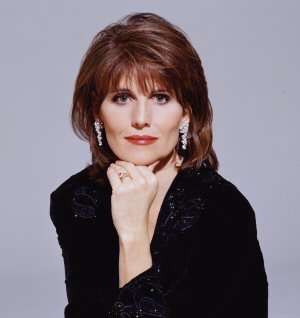 Photo credit: Gus Butera
By Paul Freeman (April 2010)
It's appropriate that we're featuring Lucie Arnaz in Pop Culture Classics, because she's a classic entertainer who's been contributing to our pop culture her entire life.
Lucie never settled for the "daughter of... " label. Though her parents are the legendary Desi Arnaz and Lucille Ball, the versatile Lucie succeeded in TV, on movie screens and in theatre, thanks to her own sparkling talents.
She began with walk-on parts on "The Lucy Show" and, from 1968 to 1974, a regular role on "Here's Lucy" (alongside brother Desi, Jr).
Lucie's outstanding portrayal of victim Elizabeth Short in 1975's "Who Is The Black Dahlia," quickly made viewers aware of her dramatic powers. She has appeared in numerous other TV-movies.
She was a guest star on episodic series, including "Marcus Welby, M.D." and "Fantasy Island."
For her nuanced performance in the 1980 big screen remake of "The Jazz Singer" (starring Neil Diamond and Laurence Olivier), Lucie earned a Golden Globe nomination.
Perhaps, however, Lucie's greatest triumphs have come on stage. Her Broadway debut came in the 1979 musical "They're Playing Our Song," for which she won Best Actress awards from Theatre World and the Los Angeles Drama Critics. In 1986, Lucie captured the Sarah Siddons Award for her tour with Tommy Tune in "My One and Only." More recently she was featured in Broadway's "Dirty Rotten Scoundrels." Her stint was shortened by a dance-related knee injury that resulted in surgery, but the irrepressible Lucie has bounced back.
Having headed several production companies, Lucie won an Emmy Award in 1993 for her heartfelt documentary, "Lucy and Desi: A Home Movie."
Lucie and actor/writer husband Laurence Luckinbill have three children - Simon, Joe and Katharine, plus Nicholas and Benjamin, Lucie's stepsons from Luckinbill's previous marriage.
Joe is a guitarist, who plays on Lucie's vibrant new album, "Latin Roots." Who better to sing exhilarating Latin numbers than Lucie Arnaz? Those rhythms boil in her blood, thanks to daddy Desi.
She incorporates these infectious songs into her acclaimed nightclub engagements. Naturally funny, with a great sense of timing and delivery, the energetic Lucie also makes use of an expressive singing voice and an undeniable charisma.
On stage and on screen, she has an instantly engaging presence that makes audiences shout, "We love Lucie!"
POP CULTURE CLASSICS:
The "Latin Roots" album is a lot of fun. It seems like such a natural concept. Was it something you'd been thinking about for a while?
LUCIE ARNAZ:
It was something I'd been thinking about for a long time. The first time I had an idea to put a nightclub act together was right after my father died. And listening to these cassettes that he had been given by a fan, inspired me to want to be up in front of a big band and sing charts like that and have such a class act. Little by little, it actually materialized. Over the past 20 years, that's what I've been doing more and more of.
Then after I made my first CD, for Concord Jazz, in 1993, I knew I wanted to do something related to Latin music and I thought of the title, 'Latin Roots.' But life just gets in the way. I'm not primarily a recording artist. I do theatre and television. I went to London to do a play. And I turned around and it was 12 years.
So this raised its head, because we were doing a Gershwin tribute at the 92nd Street Y last year and they talked about my father's arrangements and where were they these days? I said they were in the Library of Congress. There's 300 of them. There's amazing stuff. They said, 'How'd you like to do an evening of Latin music themed to the music of the Desi Arnaz orchestra and open the 40th season of 'Lyrics and Lyricists' here at the Y?'
We had eight months to prepare. I looked at Ron, my musical director, and really just felt that we had to do the next CD, the one we'd been talking about for the last five years. 'Let's have a CD called 'Latin Roots.' I want to have it available in the lobby when we do the 'Babalu' show. 'That's what we ended up calling it, 'Babalu.' And we accomplished both tasks. But yes, the inspiration had been coming for quite some time.
PCC:
It must be a great feeling to underscore the legacy of your father's music and to bring it back to the fore.
LUCIE:
Absolutely. First of all, the stuff is so hot. I'm singing it today, not because it's his, but because it's good. Not all are specifically his arrangements, although I do 'El Cumbanchero.' I do 'Quiereme Mucho' and things like that in my show. But it's just the idea of the Latin beat, the Latin rhythms. If you want to take an already fabulous song and make it even sexier, you putt a Latin beat to it. Everybody knows that. So it seemed like a natural thing to do and it feels like it was exactly done at the right time.
PCC:
You mentioned that one of the sparks for this a long time ago was the cassettes that had been given to your dad by a fan. What were they exactly?
LUCIE:
His name was Edward Maffei. He was from San Francisco. I found this three-cassette plastic folder in my father's sock drawer - swear to God - and it had a typed list on the front, listing never-before-heard live recordings from Ciro's in Hollywood in the '40s, the Rose Room at the Palace Hotel in San Francisco from the late '40s, some radio show performances that he had done, some recordings for RCA and Decca. But these were songs, arrangements, that I had never heard. I wasn't around when he had the Desi Arnaz Orchestra and I only heard the songs that made it to the 'I Love Lucy' show.
And by the time I was grown up, my father didn't have the Desi Arnaz Orchestra anymore. He really wasn't doing that. And these great gal singers that he had, Amanda Lane, Carol Richards, all these wonderful people and the songs that he gave them to sing. It was so exciting to me. Where did these come from? And I just started listening to them.
PCC:
And where did they come from? How did Edward Mattei have all of these treasures?
LUCIE:
Some people are just collectors. They go out there and they find old recordings, old 78 records. So he was a radio collector and a record collector. And he was an avid Desi Arnaz fan. And he just thought it would be nice to send them to my Dad. And this was many years before I found them. And I'm sure my father thanked them and kept them.
When I did 'Lucy-Desi: A Home Movie,' the documentary for NBC in 1993, we had to talk about what kind of background music we would use in the show. And I made the decision that it would only be music of the Desi Arnaz Orchestra. So I used those three cassettes. That's it. I didn't record anything new. I just used music from those cassettes throughout the entire movie.
PCC:
Were you surrounded by Latin music growing up?
LUCIE:
Not all the time, because Dad wasn't home all the time, unfortunately. If he had been home more often, I'm sure I would have heard even more of this. But when he was home or when we spent summers with him or when I was a teenager and he was married to his second wife, Edie, he would grab his guitar and he would play after dinner. And one of the songs he used to sing to Edie is actually on the CD, a song called 'I Love You.'
We had a couple of opportunities, not nearly enough, but a few opportunities, as grown-ups, to work with him. He was the host of Kraft Music Hall one year and Desi and I were on it and we had to do the straw hat number and I did 'Under The Bamboo Tree' with him. He was the king of the carnival in Miami one year, 1982, and both Desi and I performed with him at the Orange Bowl. I did the 'Cuban Pete & Sally Sweet' number with him and Desi did 'Babalu.' There would be the odd benefit here and there. And I would hear him sing. Or he and I would do a few things. But not much. So a lot of this was new stuff to my ears.
PCC:
So even after all the success he had as an actor and a producer, he never lost his passion for music?
LUCIE:
Oh, absolutely. I know that, in the late '70s, after he wrote his autobiography and he was on a book tour, promoting the book, he also wanted to try to do the Desi Arnaz Orchestra again and get a tour for that. There was plenty of paperwork about that. After he died, I found all of these files. I felt bad, because, apparently it never took off. He couldn't get the bookings. He'd been out of the public eye too long. And he wasn't in great shape at that point. He was drinking pretty heavily and I think he just, at that point, thought, 'I've got to something.' And he wanted to go back, but it was too late. But these records, this music, was when he was at his prime, when he was the Desi Arnaz that my mother fell in love with.
PCC:
I'm sure it would have been a thrill for him to hear your new album.
LUCIE:
Oh, he's hearing it. I'm sure he's hearing it. I'm sure he was helping me do it, when I was doing it.
PCC:
It must have been a real rush to do something like 'Babalu.' It's such an electrifying song.
LUCIE:
It is. And I thought, 'I've never seen a woman sing this song.' In reality, it's a santeria song about praying to the god Babalu that your lover won't die. You'll give the gods Babalu or Chongo money and cigars, coffee, anything so that he won't leave you, so that he won't die. So that could be sung by a woman or a man. I just changed it from masculine to feminine. And then I had the idea of combining it with a contemporary tune, something sort of funky and disco. Ricky Martin's 'Copa De La Vida' just seemed perfect. They even have a similar, 'A-Lay. A-Lay, A-Lay, A-Lay' chorus in the middle. I do believe my father had a lot to do with opening the door to that sound, by singing that music on the 'I Love Lucy' show in those days. All the American public suddenly got a chance to know what it feels like to dance to that music, to listen to that new sound.
PCC:
In addition to the Latin classics, there are some more surprising selections on the album, like 'Fool Rush In,' where you add some rhythmic flavors to it.
LUCIE:
It's the whole idea, in general, of just that Latin beat. Some of it, yes, are some of my favorite songs of my father's. But some I just put on there, because they were just songs that I loved, that were traditional, like 'Blame It On The Bossa Nova.' And then stuff you wouldn't even think of, like 'Johnny Angel.' But it really works. It's got this whole Astrud Gilberto-Antonio Carlos Jobim thing going on there.
And my son Joe is a terrific guitarist and he writes great music. And I said I'd look to put one of his songs on the CD. I said, 'Do you have anything that lends itself to Latin?' And he sent me a track that didn't have any lyrics on it. Usually he writes lyrics, too. I loved it. I said, 'This is great fun, but don't you want to write words to it, too?' He said, 'I don't know what it is, what it wants to say.' I said, 'Okay, maybe I'll try to write some.' And it ended up being just great, kind of the muse in his heart and the influence, I think, of his Latin roots, of his grandfather, and the guitar. He grew up to be a guitarist, just like my dad. He was with me when my father died.
He said, 'Too bad grandpa's not here and he can't see that I have a CD and I play the guitar.' I said, 'He's listening. You've got to go inside to hear grandpa.' And that's basically what the lyrics are about.
PCC:
And which song is this?
LUCIE:
It's called, 'The Music In Your Heart.'
PCC:
Watching your early TV appearances, on 'Here's Lucy' and the old 'Password' episodes I caught on GSN recently, you seem so poised. Was it as easy for you as it looked?
LUCIE:
It was not. You've got to make your mistakes in front of millions of people, when you grow up like that. You're supposed to be able to anonymously go somewhere, open it out of town, as they say. And I was learning my craft, as you just pointed out, in front of millions of people before I'd even had an acting lesson. And people getting the chance to judge what you're going to be like.
But you learn from the best. We were working at ages 12, 13, 14, 15 years old with not only my mother and Gale Gordon and Vivian Vance and people like that, but every week she would have some other phenomenal entertainer on the show. So I think I got a better education than I ever would have had, had I decided to go to, say, Northwestern and just study theatre or acting. I had to learn a lot, later, about the classics. There are other things you learn in college [She laughs]. I had to sort of train myself in other areas. But I just always believed that you pick your own path before you come down here and even though it might seem odd to you at times, you're on it, whether you like it or not.
PCC:
Was this your own desire to perform or were you parents nudging you in that direction?
LUCIE:
No, they never did that. They were like I am with my kids. We saw how much hard work this was for them. We did not go into this going, 'Ooh, I want to be famous. I want to have lots of money. I want... ' No. They work all the time. They're never home. But look at how much fun it is. You're going to really have fun doing this. You can move people. People laugh or they cry. If you think you have any talent at all in that area and you see somebody doing it so well and really enjoying what they do, then you're addicted to it. You go, 'I want to try that! I want to do that!'
If they had been working some sort of factory version of this, where they dreaded going to work everyday, I doubt seriously I would have wanted to do it.
So they never pushed. Tried to actually talk us out of it a couple of times, by reminding us that it's a crazy business. But they also would support any passions that Desi or I had. If he wanted to play drums, they made sure he had a drum kit and lessons. I was showing an early penchant for being in the theatre, so they built a little six-by-six stage with a pink light, in the garage.
So it was like, 'Oh, you want to do that? Well, we'll help you. Let's see how far that goes.' And it was helpful, without pushing in any direction. If we dropped it, if we said we didn't want to do that anymore, 'Okay, what are you interested in then?' It was great.
PCC:
What was your first exposure to theatre? What inspired you to want to be a stage actress?
LUCIE:
When I was seven, eight, nine years old, my girlfriends and I used to create plays and lip-synch to famous movies like 'Bye Bye Birdie' and 'The Music Man' and whatnot. And my mother built this little stage in the backyard. And then I graduated from grammar school and I had to pick a high school. I decided to go to Immaculate Heart High School in Hollywood, which was really a long drive in those days, when you could have gone to Beverly High in Beverly Hills or one of the closer Brentwood schools. I drove all the way to downtown Hollywood to go to Immaculate Heart, because an older girlfriend of mine, who loved to perform, said that they had the best drama department in the city. And I tried to get into that school. And I made it by the skin of my teeth. It was a very hard school to get into. And I loved it, because I immediately auditioned for and got into their drama department. And I started doing plays with them. And that was my passion, always.
And it was from those plays that I did, the first two-and-a-half-years I was there, that I guess showed my mother, 'Maybe she could do this. We're changing the show over and I have two new kids in the new series that maybe Lucie could play and maybe Desi would want to do that.' And then, I was on the show. Six years of learning how to do that. And during that time, I went to New York. I was 15 and I saw Angela Lansbury in the original 'Mame.' I was sitting in the back of the theatre - I'll never forget it - and it was one of those, 'Aha!' epiphanies, where I just went, 'Oh, that's what I do!' I just knew it. 'That's what I want to do. This is where I could be at home. This is my family.' And ever since then, I was trying out for summer stock, doing national tours, basically focusing on theatre.
I had my tries with TV series and a couple of films and whatnot. But it never gave me the rush, really, that the other did, still does. And I say 'theatre' in the same breath with live performing or concerts.
There's something about the hyper walk that you do when the curtain goes up and you're out there and it's live.
PCC:
And was there the bonus of being able to carve out your own niche and not have too many comparisons with your mom?
LUCIE:
I'm grateful that that did happen. I don't know that I chose it specifically. But I know that it was nice. I remember thinking, 'Oh, this is cool. Look at how this worked out. Desi has the music. My father's a producer. My mother's a television person. And I love theater. That's cool.' We all had our own little places where we felt most comfortable.
And so, it was helpful in a way, because she would come to my shows and say, 'Oh, I could never do that,' which is nice, because she could do pretty much everything.
PCC:
Yes, was she a kind of daunting presence in that way?
LUCIE:
No, never. She was just nothing but supportive, all my life. She used to say things like, 'You can do anything. Wow, anything you want to do, you'll be able to do.' I can't tell you how much of a support it is to have a parent that says that. I know so many of my friends who, despite their parents' objections, went into some field. And parents think they're helping you by saying, 'Oh, you'll never be able to do that. It's too hard' or 'You're not pretty enough' or 'You're not smart enough.' I think they think they're helping their kids. They're protecting them from being hurt, because you don't want them to fail, you don't want them to have the rejection. My mother just said, 'You're great. You can do it. If this is what you want to do... ' The hidden message was, 'It shouldn't necessarily be what you want to do, because it's not all it's cracked up to be. But if it's what you want to do, you can do it.'
PCC:
But was it difficult having these opportunities early on and then having to face the rejections that all actors have to face in the course of a career?
LUCIE:
Of course. And it's harder when you're no longer the person that has to go up and anonymously audition. Now everybody knows who you are from the time you're 12 and you're on a television series, so when you walk in a room to audition, everybody knows exactly who you are. And you don't get a pass. You don't get to be bad anonymously anymore. It's rough. Or they don't ask you to audition. You're already a 'name,' so you say, 'Well, did I get this because I was on a TV show or because I'm related to so-and-so or would I really be the best person for this part?' But that only happened to me once or twice and that was in the early years. Most of the things I've had to do, I've had to go up for, audition.
I had to wait two-and-a-half months, most of the summer for 'They're Playing Our Song.' I auditioned for Neil Simon and Marvin Hamlisch. I was, I think, the first person they saw. And I thought I did well, but what do you know? I hadn't auditioned for Broadway, ever. And I waited two months, until they auditioned everybody else in town. And when I got the call that I had this part, it was just unbelievable to me. And I was so happy that it went that way, that I had had the experience of being one of the first and making it to the end and still getting that part. You just have to believe in it yourself. You have to know that there's too much money riding on most of these things these days for them to take a chance on somebody who isn't going to be good enough to carry it. It's eight shows a week.
They make a lot of mistakes now. There's sort of this revolving door casting that goes on in some of these shows, just to get a name above the title on the theatre marquee. They end up putting in people who have not had the theatre training. Vocally they can't do it. And then it ends up being a loss in the long run, because the star that they told everybody is in it, isn't in it... and people want their money back, because that person couldn't cut it eight shows a week.
PCC:
We hear a lot of pessimism about the future of the theatre... of course, we've been hearing that for 40 or 50 years. Are you optimistic about what's ahead for American theatre?
LUCIE:
I'm just an optimistic person. I figure whatever is happening, is happening for a reason. If it's not the way we know it now, it will morph into something that can be better. Maybe there's a growing pain happening here that needs to change us into something.
I hated reality television when it first came on. I thought it was the dopiest thing I'd ever seen. And now I find that there are some really valuable shows that are done in that respect. It just took a while for people to say, 'Oh, okay, now how can I use this well?' I mean, 'Supernanny' could save the planet. Get this woman in everyone's home. This 'Extreme Home Makeover' thing is very moving and it's wonderful that they do that for people. It shows people how good you can feel just by doing something nice for somebody. So you never know. Theatre is morphing into something else and then it'll morph back into something else. You've just got to ride the curve. Ride the wave.
PCC:
Going back to 'Here's Lucy,' your mom's last series, working with her and your brother, was there a comfort zone for you, because of the family bonds, or was it strange to mix relationships on-screen and off-screen?
LUCIE:
Well, I think we had to be good students of the craft. And we were learning from our parents... or my parent, at the time. And that's never really totally easy. Because you're mother's going to be you're mother. And you're taking direction from your mother. And sometimes, it can be embarrassing. And sometimes, you think, 'Would she say that to any actress... or just me?' But then, if you really watch, I noticed my mother would pretty much say the same thing to any actress [Laughs]. I learned a lot. And I had so much fun. I imagine 99 percent of every day was just great, great fun. Terrific schedule. I always thought, 'Wow, I'm really glad I picked this business. This is a lark, this schedule.' 10 a.m. Monday morning, you're done at six. You work 'til Thursday. You get a three-day weekend. Every four weeks you get two months off or whatever. It was just great. And I haven't worked like that since. There is no such schedule. Nobody works like that. It was a delightful way to learn your craft. That's all that I can say.
PCC:
And your mom had such an amazing array of talents. What impressed you most about what she could put across on screen?
LUCIE:
Well, she didn't take anything for granted. She rehearsed and rehearsed and rehearsed and rehearsed, until everyone around here was exhausted. It didn't just come naturally. The writing had to be right. And all the work had to be done ahead of time. And then she rehearsed her butt off. She knew everybody's job. She knew about the lights. She knew about the camera angles. She could direct every show, but why would she? She's got enough to do. Her instincts were just amazing. Amazing.
She wasn't always the most tactful person on the planet, because we had four days to get that show on and you could say things once or twice and then, after that, it becomes annoying to have to continue saying things over and over again, because people come in unprepared. And I learned a lot by watching what not to do. Like, if you come in with attitude, you don't know your stuff, whatever. You see how the whole experience of the week changes. Oh, that's not the way to be, is it? Because nothing gets done. Nobody's happy and the show's really not that good. And then the big stars come in. And when I say 'big stars,' I mean big talents, the Carol Burnetts of the world. the Jack Bennys of the world. Sammy Davis is another one. And they just worked 24/7 and they are polite. They don't blame anybody. They don't do anything but what they're asked to do... and they do it well. They give 150 percent. And that week's show is a breeze. And you go, 'Oh, okay.' You just learn by osmosis, as a kid.
PCC:
Your dad was such an important pioneer in television and so effective as a comedic actor. Do you feel he's still somewhat under-appreciated in those areas?
LUCIE:
Well, everybody seems to say that and ask that, so, in a way, I tend to think that he's not. It's just that people don't write about him as much. But when he died, the articles about him were astounding. I kept a whole scrapbook about what people said. And I thought, 'Gee, it would have been nice, if somebody had said some of this while he was alive the last few years. He might have enjoyed it.
But this is the business we're in. If you opt out, if you disappear, if you go hide under a rock, people are going to move on. There's a new person who's coming up, who's the new producer, the new studio head, the new Latin bombshell. They're not going to hold your place in line. And my father opted out, for the most part. He decided, 'I'm done with this,' for good reason. The business was changing. You didn't make handshake deals anymore. Your word wasn't enough anymore. The business was truly changing into what it is now, which is pretty cutthroat, for the most part. And all about the money.
He was more about the creation, when he started. They were having fun. They were the inventors. It's almost like he was Mack Sennett in early talkies and silent films. Things were changing and he loved it when he was a part of the creation. And then the big business end of it started to take over and he didn't love it so much anymore. So he went in different directions.
He ran the thoroughbred racing business for 12 years. And he wrote the book. And he taught in college. And did different things. So people did forget. They gave all the credit to my mother. 'Oh, she ran the studio. She was the first woman president of a studio' and all of that. She hated that job with a passion. She'd be the first person to say that. She said, 'I never wanted to be head of a studio. I hate it. All I wanted to do was my show. Desi was the head of the studio. He was the one who knew how to do that. But when he left, I had to buy him out. I had great people who helped me.' She had the Mickey Rudins and the Art Manellas. And Bernie Weitzman. And these wonderful smart men helped her make decisions.
Having said that, she made a made a couple of pretty fabulous decisions on her own. When they wanted cut the budget, because they were over the budget one year, they were insisting that she cut out some of the shows that were way too rich for them to continue to do - 'Star Trek,' 'Mission Impossible' and 'Mannix.' She said, 'I like those shows. I don't think we should cut those shows.' So she single-handedly kept those on the air.
PCC:
You seem to have had great success at balancing career and family. Did you learn something about that from your mother?
LUCIE:
I certainly did. It wasn't successful all the time, believe me. I put out a CD and would go around the country from time to time, doing a talk called 'Surviving Success,' which is exactly that. It's my experience with trying to not become too busy to have a successful family, while trying to have a successful career. And end up happy, not lonely. What I learned from doing the Lucy and Desi documentary was that they had it all... and then they didn't. Somehow, they let it slip through their fingers. And I didn't want that to happen to me.
I wanted to find out what happiness really was and what success really was. Is it financial success? Is is personal? Is it family? What is it? Is it a sense of accomplishment? It takes a lot of balancing and prioritizing. You've got to establish your priorities. What is going to be important to you today? It's all about choices. Every single day, you're asked to make a choice here and a choice there. It's hard enough if you don't have a family. If you decide you're going to also have a family, then you're doubling the stakes everywhere. And if you're not careful, one of those two things is not going to work. You're either not going to have that successful of a career, because you're going to give to your family... or your family's going to suffer in some way, because you're giving it all to your career. It's really hard to do.
PCC:
So many actors who start at a very young age or are second or third-generation performers have a lot of difficulty along the way. Do you think it's the fact that you reflect on these issues so much that have enabled you to have a healthy perspective?
LUCIE:
I've paid attention. The fact that I had the upbringing I had and I thought, 'Well, I can do this better. I can have a career and I'll be a better parent. I'll be home more.' And then I was and I wasn't. I was home, but I was busy when I was home. And my kids started to behave strange. They'd get in trouble in school. I know now, it was a cry for help. And I listened to people that my mother probably didn't have access to when she was raising us. But there were people now for you to listen to, the child psychologists, and there were books. We have Dr. Phil today. We have people for this. And I paid attention. I wasn't afraid to say, 'I'm screwing up here. What should I do?' And I learned what to do, so that I could give them what they needed and still find time to do what I needed for myself. And that's what I tried to do. They were four, six and eight, when I put on the brakes and changed gears there. So the older boys had a few years of acting out, to show me that they were not happy. My daughter fared a little bit better. But everybody's doing okay now. So I think the fact that we changed our lifestyle drastically made some kind of difference.
PCC:
It's important to listen.
LUCIE:
I listened to this one doctor, a psychologist, who said something very important to me. He said that it was important to spend 15 minutes alone with each child every day. I laughed. I thought, 'That's nothing. Why would you ask somebody to spend only 15 minutes?' He said, 'No, no. Do you spend 15 minutes with each child, every day?' Who the hell does that? On a consistent basis? No. If you tell the truth, no, of course you don't do that. He said, 'When I mean alone, I mean you're not doing the dishes. You're not talking on the phone. You didn't bring the kids with you in the car while you shop, but you're really doing six other things. You're just listening to your kid, talking, whatever the kid wants to do.' I went, 'Gee, I hadn't thought about it that way.' He said - and this is the magic - he said, 'It makes them feel worthy of love.' That put me away. I couldn't believe it. I went, 'Oh, my God.' And it was just like everything popped and I said, 'I get it. I totally get it.'
Half of the problems we see with people on the planet are from people acting out, not feeling love, not feeling worthy. And they act it out in the worst ways. It could be anything from overeating to alcoholism to suicide to murder to serial killer. And I just thought, 'Wow, I'm going to really pay attention to this.' And I went home and Larry and I talked about it and we literally changed our lives. We said, 'We're going to do this. We have to do this.' And we got rid of the live-ins and the nannies and all of those people who so conveniently steal away those precious moments with your kids. And I say 'conveniently,' because it's great to have those people. Especially when they're good people. But it gets too easy for them to do the bath and for them to do the bedtime stories, so you can go to the premiere. And we just said, 'We can't do this anymore.' So we had part-time help. And we built an office over our garage. We moved back to New York. We got out of the whole Hollywood syndrome. And things did start to change. The kids behaved better. We started to have real boundaries with the kids and really paid attention to their school. There were still tons of problems, but we handled them better, because we were there. We were paying attention. We weren't asking Juanita to do it.
PCC:
When you were a child, how did you maintain a sense of normality when 'I Love Lucy' was such a cultural phenomenon?
LUCIE:
We lived a pretty simple life. I mean,. compared to what you see on TV now as the crazy Hollywood life. I have no concept of what that is. That's insane to me. And my mother was the biggest star on the planet, probably always will be, and we didn't live like that in any shape or sense of the word. She was an old-fashioned values woman from Jamestown, New York. We got 50 cents a week allowance until I was 12. We lived a normal life. She didn't have showbiz-y friends. She didn't give wild, crazy, celebrity parties. She didn't go to a bunch of openings and previews. There weren't photographers everywhere we went.
People followed her to to a certain extent, but it was a different time. And I think she worked very hard to give us a normal life, as much as possible. As I said, the only drawback was that she wasn't there very often. But she had to work.
PCC:
So there weren't a lot of fellow performers hanging out at the house?
LUCIE:
My mother's best friend was Mary Wickes. She was a character actress. Do you remember the ballet bar episode of 'I Love Lucy'? 'A-ba! A-ba!' You know the ballet teacher? That was Mary Wickes. She was on many of the 'Lucy' shows. And on the 'Here's Lucy' shows, she was constantly on as the best friend, Mary. Very tall. Almost like Margaret Hamilton-esque. And she was in the 'Sister Act' movies as one of the nuns. Just one of the funniest people ever. She was like my mother's constant companion. She adored her.
Thelma Orloff, was an old showgirl who ended up being a realtor in Beverly Hills. She was over to the house a lot of the time. My mother had friends that were not celebrities. I mean, Carol Burnett was a close friend, but they didn't hang out all the time. When she got home, my mother was tired. Most of the time, it was about, 'Can I just play backgammon with somebody? I just want to lie down.' She was really tired a lot. And she worked up until she was in her late sixties, early seventies.
PCC:
So was the entertainment world just the family business or did you have a sense of magic about it?
LUCIE:
Oh, it is magical. It's terrifically magical. But in a I-know-how-to-do-the-magic kind of way. It's a great field. It's a wonderful craft to study. I love what it does for people. You can so change people's lives with acting, performing, writing, directing, singing, writing lyrics, playing music. Imagine a world without art. It would be horrific. So I'm happy to be a part of that legacy... in any form.
PCC:
And, specifically, are you conscious of carrying on the family legacy?
LUCIE:
No, I'm not. I mean, Desi and I inherited the business end of it, because there will always be that. And you have to treat it as a business. Their images are like precious pieces of real estate. We have a business called Desilu Too that runs that portion of it and I treat it as a business and I try to make sure that whatever they do is used in an inspirational way. But mostly I don't think about it. People always say, 'Oh, thanks so much for keeping the torch burning.' I'm not doing that. I'm really just making choices that come to me - yes, no, no, yes, whatever. I'm busy enough trying to lead my own life. But hopefully I make the right decisions. It must look like I'm doing that. So that's good.
PCC:
And do you still go back and watch the old series that they did?
LUCIE:
Yes, if they're on. I find that they're not on so much. I used to trip over that show more times than I could tell you, just by putting on the TV. But I don't seem to find them so much anymore. I think they're on the Hallmark Channel now. It's probably the first time in four decades that young people, very young people have not come up to me and been able to tell me that they know an 'I Love Lucy' show, which is kind of interesting. I think it's coming back. I do watch it. I have it on DVD now. There was a time you could turn on your faucet and get the 'I Love Lucy' show, it was on so many times a day.
PCC:
Yes and because of that, people think they really know Lucy and Desi. Were there aspects of their personalities that the public just didn't see and would have appreciated?
LUCIE:
Well, sure, as there are with everybody. That was a character. Lucille Ball was not Lucy Ricardo, nor was Desi Arnaz Ricky Ricardo. Although he was closer to Ricky than she was to Lucy. They were very private, responsible, hardworking people at home, who loved their family and tried really hard to balance all of that and make it work. It's extremely difficult to hold up that much weight and have enough energy left for everything else. It's fun now to have the shows that Desi and I did out now on DVD and people can see those again, because, they're big hits in Poland, but you don't see the 'Here's Lucy' show on TV a lot. Also in Australia. I'm a very bit hit in Australia. So the third season of 'Here's Lucy' is out on DVD and that's fun. They did a great job, too. We did some some great commentary with some of the people who were actually on the show at the time, talking about what it was like. I was glad we were able to go back and revisit it.
PCC:
When Desi Jr. had the Dino, Desi & Billy thing going, was that strange for you, having your brother be a teen idol?
LUCIE:
Yeah, it was odd,. That was during the years where he just looked like a big ball of talent. He could do everything. He could surf when he was three. He could play drums when he was four. Then he gets singing with this hot rock group. I was shy and embarrassed and didn't know what I could do. I did gravitate towards the theatre right around that time. It's like, I had to find something that was me. No, but it was great. He was adorable. I look back on that now and say, 'How fun was that!?'
PCC:
After the series with your mom, doing the 'Black Dahlia' movie, was that kind of an awakening in people's perceptions, showing your range?
LUCIE:
I think so. And it's still being played so much. It's like a cult classic. I'm very proud of that film. There so many cameo guest stars. We shot that in two weeks. I got on the set, they shook out two different wigs and held up two black dresses and said, 'Which one do you like?' And in 20 minutes, I was on the set. There was virtually no rehearsal. Thank God for the training with the 'Here's Lucy' shows, because I came in knowing my stuff. We had a great director. And it ended up being in a film that I'm still proud of today. Joe Pevney, who was a wonderful actor in his own right, directed it and gave us a lot of leeway with just the right amount of direction, so that we could dig down deep and take chances with it. And i loved it. I loved that movie.
PCC:
And having your own series, that must have been an exciting prospect.
LUCIE:
Each and every time [She laughs]. The only series that was my own series was 'The Lucie Arnaz Show' on CBS. But then we did 'Sons & Daughters,' which was a terrific show and I hated that it went off the air so fast. It was just so well written, so well produced, well cast. It just came at a terrible time. It was the Gulf War. They kept moving us around. And it didn't have a prayer. They ended up canceling it, because it never found an audience and I said, 'The audience never found us.'
PCC:
And the previous series...
LUCIE:
'The Lucie Arnaz Show.' Yeah, it was fun. I was pregnant with my daughter Kate at the time. So they were hiding me behind boxes and big sweaters the whole time. Wonderful show. I loved it. Produced and directed by Sam Denoff, who was responsible for 'The Dick Van Dyke Show' and 'That Girl.' He was just a brilliant man to work with and for.
PCC:
Turning your focus to theatre, you worked with a lot of prominent artists. Did you have fun with John Ritter?
LUCIE:
Oh, it was divine. That was a horrible play. A friend of his sent it to him. And a friend of his directed it. And it was a flop, flop, flop. And I had fun, fun, fun. A summer Cape Cod tour. And I had just had my little Kate. And I took her with me. And John had his kids visiting, with his wife. And we swam in the lake during the day. And we did this horrible play at night. And just laughed our heads off. Had the best time. And ended up moving a block-and-a-half away from each other in Brentwood, when I lived in L.A. I loved this guy. And actually knew him from years before, when I was on tour with the musical 'Seesaw,' believe it or not. He was at the Kennedy Center, doing 'Desire Under The Elms.' And we met and fell madly in love for like 24 hours, until his tour bus left and mine left. It just was one of those relationships where I just knew he was going to be a friend of mine for the rest of my life. I'm just so sorry that he's gone.
PCC:
You mentioned 'Seesaw,' that was an amazing group of people.
LUCIE:
Yeah, absolutely. Working with Tommy Tune and Michael [ Bennett, who wrote the musical's book], amazing. And Cy Coleman [composer], Dorothy Fields [lyricist]. Talk about 'They're Playing Our Song,' being one of those moments, when you get on stage and it's Marvin Hamlisch and Carole Bayer Sager and Neil Simon and how intimidating that could have been. But I had started my first national tour in 'Seesaw,' working with those guys. I just had great guardian angels, I think, pointing me, pushing. 'Go talk to those people. Send her that audition.'
PCC:
And Neil Simon, was he very hands-on with the rehearsals?
LUCIE:
No, not so much. Only in the most fabulous way. First of all, we were directed by Robert Moore, who's a spectacular director. When Neil trusts a director, I doubt seriously that he gets in their way. If anything, he just tries to fix it, so it works. It was a brand new play. It wasn't one of his plays we were redoing.
Neil was there every day, chewing on his glasses in the back of the rehearsal room. And the only time I heard him really get up and say anything, was if were having trouble staging something. Things would practically stage themselves, the stuff is so well written. But we were having trouble with this one scene. We tried it three or four different ways and I was starting to get kind of nervous, because this was one of my first shows ever. And I just thought, 'I can't do anything right.' Whatever I'm doing isn't working.'
And then Neil got up and he left. And he had never done that before, leaving before rehearsal was over. And I thought, 'Oh, my God, I'm being fired!' But he came back in the next day and he handed us all brand new pages. And it staged itself immediately. It was great. And he said, 'If it takes that long to stage, it's never the acting or the directing, it's always the writing.' So he just had the presence of mind to say, 'It's my fault, I'll go fix it.' And he did.
PCC:
Was the Broadway experience completely exhilarating for you?
LUCIE:
Oh, my gosh, yes. When you're in a show like 'Dirty Rotten,' absolutely. Especially that balcony scene, which is so brilliantly written anyway. They would pull that balcony out and back. It's only like a nine-minute scene. And Greg Jbara and I would look at each other and go, 'This is better than sex!' To do material like this and make the audience as quiet as a pin, when you need them to be, and then howl with laughter, is so much fun. It's just fabulous. And not everybody can do it. I was fortunate to work with some of the finest comedians. Those guys are great - Jonathan Pryce, Norbert Leo Butz, Greg Jbara - they were amazing.
PCC:
And you've been able to work with your husband, Laurence Luckinbill, in a number of productions.
LUCIE:
I have. In fact, when we first got together, we were doing one right after another. We did 'The Guardsman,' we did 'Social Security,' we did 'Whose Life Is It Anyway?,' we did 'Educating Rita,' 'I Do, I Do,' 'They're Playing Our Song.' We did a TV-movie together.
And then, somebody sent me a note that said, 'I had a script for you, that I was dying to send you, but there really wasn't a good part for Larry, so I didn't send it. Maybe next time.' And I thought, 'What!? Whoa! Hold it!' So people really thought that we would only work together, like suddenly we had become the Lunts. So we kind of made a concerted effort not to be seen working together all the time.
PCC:
And you're approaching your 30th wedding anniversary?
LUCIE:
Can you imagine? June 22nd.
PCC:
Wonderful. So is there a secret? What's made it work so well?
LUCIE:
Don't give up. Go back into the room and say, 'I'm sorry,' even if it's not your fault.' You have to marry the right person. He's definitely the right person. He's the kindest, smartest, most generous man, the best father on the planet. And if there's ever a problem, it's almost always me. And I just had suck it up sometimes and say, 'Okay, I'm a schmuck. I'm sorry.' And he's the one who taught me how to do that. Because he would do that.
He's a little older and had made the mistakes. I'm a Cancer. I crawl right back into my shell. I'm a fight or flight person. I like the sound of slamming doors. I learned that at home. And that's how I deal with things. Larry's not like that. And so he taught me a lot about how to get through sensations. Sometimes we're just feeling awful sensations that are related to something altogether different than what you're going through at the moment. It's old baggage. And you don't even know what it is you're feeling. But somehow, something in this moment triggered something else that really has nothing to do with what's going on right now. If you can do that and not do the running, not do the slamming, not do the cursing, then you can get through the whole thing. And come out the other end and think, 'Thank God I didn't run away from this. This is good.'
Certainly people are married who shouldn't be married. And certainly people have problems they have to deal with before they can really be good husbands or wives. And abuse is wrong and things like that, you need to go get help. But if you're two good people and you're just being rough on each other emotionally, usually there are ways to deal with that. We have beautiful children. So there are plenty of reasons for us to pull up our big girl panties and get on with it.
PCC:
Was it theatre that brought you two together originally?
LUCIE:
It was. We were both on Broadway, both doing Neil Simon shows. I was doing, 'They're Playing Our Song' and he was in 'Chapter Two.' And we met one day, at Joe Allen Restaurant, through a mutual friend. We became friends first. And then I just didn't want to be anybody else's girlfriend except his... I think it was the smartest move I've ever made.
PCC:
And you were able to work with your daughter on stage?
LUCIE:
Yeah. She's good, really good. She was going to the University of Miami. She was a Theatre major. And I had four opportunities to work at the Coconut Grove Playhouse down there. And there was a part in one of the plays, 'Sonia Flew,' that she was absolutely., drop-dead perfect for. So I asked Arnold Mittleman, at the Coconut Grove Playhouse to please, when they got around to seeing people, would they consider seeing Kate? And she got permission from school to take off some time. She'd have to make up her classes. But to go there during the day and rehearse and whatnot, she'd actually get school credit for, too. She auditioned with the other people. And she did a reading of it with me there. And they gave her the part.
I mean, was she the best possible person for the role? Who knows? There probably were other kids just as good as Kate. Was it a good idea marketing-wise? You bet. And she knew that too, which is why, like me, as 'the daughter,' now you really better be good. Because people know you're the 'daughter of' and, if you're not good, then it's going to be, 'Oh, how could she possibly have gotten this part? She's really not that good.' It's a lot of pressure on the kid. And I know it. But I also knew that she could handle it. And she did a great job. Then we did a Cy Coleman tribute together and we did a reading of a play here in New York, last year, which she ended up doing on Broadway, called, 'I Forgive You Ronald Reagan.' Cute title, right? I couldn't do the actual play, but she was in it. And she was damn good.
But you know what? I don't think she's going to end up being an actress. She loves it and she's good at it. But she's a certified yoga practitioner. She's a yogi. She loves to teach yoga. She loves to teach children yoga. And she works at two different studios. Now she has her own classes. And I'm seeing her drift more into that field now, as her calling, because she really doesn't like the business craziness of acting. And all the loons that you have to deal with. There's a lot of nutty people who are actors. And you have to be willing to just let the water roll of your back with some of it. I think the universe is conspiring to make her not be an actor, because she's only been in like five plays and every single time, there's been some major drama with the people in the play. You have to decide early on, 'Is this really where I want to be? Or do I want to be a little more peaceful in my life?'
PCC:
And in your professional life, are there still goals to fulfill, dreams to pursue?
LUCIE:
I own the rights to the June Havoc story, which is odd to say that today, because she just passed away on Sunday morning. She was really my adopted mother and the kids' adopted grandmother and very, very, very close to our family and I adored her.
June wrote two autobiographies and she's a hell of a good writer. You know, she grew up Dainty June, Baby June, made famous in 'Gypsy.' But she was a marathon dancer and wrote a play about it called 'Marathon 33.' She ended up buying a entire town in Wilton, Connecticut, called Cannondale Crossing. And she was an animal rights activist. She was a phenomenal actress herself. She got to be like a Zoe Caldwell kind of phenomenal dramatic actress. Had a one-woman show. She could do music. A wonderful director. A raconteur beyond belief.
So about five years ago, Larry and I bought the rights to her letters, her stories, her plays, everything. I wanted to do this. And we've owned them too long. But I was hoping she would feel up to helping us put this together. But she just wasn't able to. And now we've lost her. I wouldn't say 'lost,' because we had her for 97 years, which was a blessing. And now she's made her peaceful transition. But I do want to tell that story.
And we have a musical, which is about halfway finished. Half of the music and half of the book is written and it's called 'Desi: The Musical,' about my father. So that's in the future.
And right now, I'm just working on getting 'The Babalu Show' that we did for the 92nd Street Y 'Lyrics and Lyricists' last January, back on its feet again. We're going to do it here in New York for a couple of months. And I want to tour with it. So that's my focus right now. It looks like we've got a theatre for it, knock wood.
PCC:
To this point, what have been the most rewarding aspects of your career?
LUCIE:
That's a hard question. My career is so diversified. Sometimes I think I diversity too much, so people won't know what I do. Each of the venues has its own reward. The reward is all very personal. It's all inside. It's the fun of doing it. I think I'm smart enough not to ever do anything that I don't adore doing. Sometimes I'm amazed - I actually get paid for it. Sometimes I actually DO get paid for it. A lot of Benefits 'R' Us these days. But really, the reward is the work itself. I love what I do. When I'm fortunate enough to be given a chance to do it, I'm happy. Working is my vacation. I very rarely take a vacation from work.
PCC:
So you can't imagine ever stepping away from it?
LUCIE:
I can't. I don't know that I'll always be singing or dancing or acting. I might be directing or writing. But no, I'll always be involved with some form of communications with the greater public, trying to learn and trying to teach.
I'm just trying to take care of my family... and take care of me. And my knee. I want to keep my knee healthy, making sure I grow old and I'm still a functioning person that doesn't need an oil can. [She laughs.]
For more about Lucie, visit www.luciearnaz.com.