MAGGIE DE MONDE: AN ADVENTUROUS POP WORLD
By Paul Freeman [2012 Interview]
Better than ever! The incredibly dynamic, diverse and distinctive vocalist Maggie K De Monde first enjoyed chart success with the U.K. band Swans Way and their 1983 hit ďSoul Train.Ē Her next group, Scarlet Fantastic, created the rave generation anthem ďNo Memory.Ē De Monde subsequently joined forces with Leif Kahal (Planet La La), as Mighty K. In 2006, they collaborated with Pop Will Eat Itselfís Graham Crabb on the album ďClub Silencio.Ē
De Monde has returned with a fabulous new album that must rank among her finest works. Itís a collaboration with Martin Watkins. Kahal contributed guitar and harmonica passages. Below is our review of Maggie & Martinís ďUnion.Ē
MAGGIE & MARTIN - ďUNIONĒ
The year is only half over, but Maggie and Martinís ďUnionĒ will surely rank among 2012ís best. Maggie is Maggie K de Monde, of Swanís Way, Scarlet Fantastic and Mighty K fame. Martin is Martin Watkins, Marc Almondís longtime pianist, arranger and co-writer. The English duoís collaboration results in magnificent music - sensual, theatrical and moving. De Mondeís unforgettable voice is extraordinarily expressive. And Watkinsí production is nothing short of brilliant. The album meshes Ď80s and modern sensibilities. The melodies are lush, the lyrics smart and sophisticated. Several songs have an Annie Lennox sort of intensity. ďWu At HeartĒ is the kind of pop epic Dusty Springfield would have killed to record. Each of these songs penned by Maggie and Martin has its own distinctive identity, yet thereís a welcome cohesive quality to the whole. Even the one cover, a fresh, unadorned and exquisite rendition of Roxy Musicís ďMore Than This,Ē fits seamlessly. Thereís a hint of Sandie Shaw in de Mondeís spellbinding vocal. We canít wait for more albums from this remarkable union of Maggie and Martin!
In Pop Culture Classicís chat with her, Maggie De Monde proved to be as captivating in conversation as she is on stage.
POP CULTURE CLASSICS:
Were you very familiar with Martinís work prior to the collaboration?
MAGGIE DE MONDE:
No, not really. Obviously, Iíd known what heíd been doing with Marc [Almond]. But it was a kind of random thing, how we came to work together. We were introduced by a mutual friend, whoíd written a fantastic book. Well, this was before it was actually published. He had done a series of blogs for MySpace, ĎTales of Soho.í And this guy, Clayton [Littlewood], we were talking and he thought it would be great one day to create a play, based on the book. And he said he thought it would be great if Martin and I maybe collaborated on a track.
And Martin lives in Manchester. I live down on the South Coast. Martin actually sent me some music and I just thought it was lovely. I put some words and melodies to it. And before you knew it, we had a song. And it was our first song. And I felt really good about it. And so did Martin. And Clayton really liked it. And we got good feedback. So that was kind of how it all started, really.
PCC:
So there was an instantaneous musical chemistry between the two of you?
MAGGIE:
Immediately, yeah. And it has continued to be so, as well, which is brilliant. I really love working with Martin. Itís effortless. He seems to stir something in me that creates this kind of flow. Itís not labored. Itís not difficult. Itís not an intellectual process. Itís just something that seems to happen quite easily, which is great, because you canít force that. Itís one of those intangible things that either just does or doesnít happen. And with Martin, itís always a pleasure to create new songs.
And finally, after writing quite a few together, we managed to get a whole album together. Itís been a labor of love, the whole process. And itís out. Itís available. And Iím over the moon!
PCC:
At the outset, was there a concept for the album? Or did the songs come together gradually?
MAGGIE:
It was a really organic process. Itís almost a kind of diary of where we were at, over the couple of years of its creations. Itís the moods that we felt and the situations that we were going through. Thatís what we drew on. And the wonderful thing was the fact that we were in sync. Martin would sometimes send me a very melancholy piece of music and I myself would have been feeling a very similar kind of thing. And Iím thinking specifically about ĎWounds of Love.í We were both so into the mood, at that time, that the song has ended up being. It was just one of those in-sync kind of things. Synchronicity, rather than anything that was conceptualized beforehand.
PCC:
The writing process, was it similar to the first song? Or did it vary from song to song?
MAGGIE:
We wrote so many songs, over a period, to end up with the 11 on the album. I think, generally, it was a case of Martin giving me some very simple music and I would come up with the vocals and the vocal melodies and stuff. And then we would develop it, maybe add more to it or maybe change it a little bit. The songs would kind of grow a little bit, as we went along.
But generally, I think we got the original ideas for the songs quite early on. And then they were sort of made more elaborate later on, with the addition of different instrumentation. But we kind of got into a pattern of working, that we created ourselves.
Martin is great, musically, with certain concepts. We both had an idea, at one point, for example, for ĎMaggie K,í we wanted to bring something that was a little bit kind of Jane Birkin-Serge Gainsbourg. I donít know if you ever heard the theme song of the time, called ĎJane B.í It was based upon a Chopin prelude, I think. So Martin found a beautiful piece we both loved. I think it was Schubert. Or Schumann. Iím not quite sure. And the melodic idea was kind of based on that. And the idea of ĎMaggie Kí was influenced so much by the idea of ĎJane B.í So I guess, in that sense, we did have some pre-concepts. But generally, it was a very organic process, really.
PCC:
And with Martin in Manchester and you near Brighton, did you get together to work or was this mainly done by exchanging tracks via the internet?
MAGGIE:
Oh, no. We got together often. And we spent time on things, especially after the initial ideas for the songs had been sparked. Weíd then spend time taking it to a further stage, putting different ideas in or elaborating on a theme.
PCC:
With all the layering, was there a great deal of discovery in the studio or did you have it all pretty much fully envisioned beforehand?
MAGGIE:
A lot of it was done beforehand. Iíd say more than 75 percent was preconceived, before actually finishing off, because time is always quite limited. When Martin would come and visit, there would be certain time frames. So we would have to use our time quite wisely. But, of course, there was always room for experimentation and inspiration on the moment, spontaneity. The one that really came together spontaneously was the track ĎMeant To Be.í That was pretty much live, actually, that one.
PCC:
Over the course of making the album, was there much thought given to mixing darkness and light, in terms of the themes or the tone, or as far as mixing modern and Ď80s?
MAGGIE:
Yeah, I think we were aware of influences and what we were doing. Having lived through certain eras and decades, it excited us to do ĎDestiny Callingí in a little bit of an Ď80s style. ĎNight of a Thousand Stars,í we thought of as a Ď70s pop song, that was the idea for that. So we definitely did have concepts, sound-wise for each track. And actually, Martin is noted for doing that. Itís one of his fortes, soundscaping or sound-painting, in the sense of influences. ĎSo Many Goodbyes,í thatís got a sort of Phil Spector feeling to it. So there were concepts and influences for the different time periods and vibes. Thereís a lot of different things going on in there, as you can probably hear.
PCC:
The idea to include Roxy Musicís ĎMore Than This,í how did that come about?
MAGGIE:
Oh, gosh. That was very last-minute. Martin just played it and said, ĎDo you want to do it?í And I said, ĎYes!í Iím a huge Roxy fan, a great big Bryan fan, from early days. And so is Martin. And I think the way that he kind of reinterpreted the song, turning it into a piano ballad, it blew me away, quite honestly. So he recorded it for me and I just sat with it for probably an afternoon. Listening over and over again. I knew the song anyway, but I learned it so I could sing it without thinking about it. And I guess I put my own interpretation to it. And I really enjoyed doing a piano and vocal track. And maybe sometime, we could do a few more. As we go out live, weíve been doing piano and vocal. And thatís been great fun.
PCC:
Will you be doing much touring with the album?
MAGGIE:
Yeah, I hope so. Weíre just putting things together ourselves, working our way around the country. And Iím hoping, it would be really nice, to get out and do some dates in Europe. It would be amazing to come over to the States.
PCC:
You grew up in Birmingham?
MAGGIE:
Oh, my God, yes I did. [Laughs]
PCC:
What drew you to music to begin with?
MAGGIE:
Oh, my goodness, everything I heard on the radio and my mother played music. We had a French au pere girl. So, very early on, I listened to Edith Piaf. My mother, her taste was completely eclectic. So she listened to everything from Iron Butterfly to Percy Sledge. My father used to like Sinatra. I got a lot of Beethoven, as well, a lot of classical stuff. And, also, myself, as a kid, I loved Sandie Shaw and Elvis. So I really drew upon listening to a lot of music.
I had a piano at home. I loved playing my recorder. We used to play recorder at my primary school. In England, primary school is when youíre less than 11. And then, in senior school, I took up flute. And then, my best friend Shirley, when she was 11, she played ĎFool On The Hillí on the piano at our music lesson and that blew me away. And so the pair of us became very friendly. She was as tiny as Iím tall. And I wrote my first song with Shirley when, goodness, I think I was about 13. It was called ĎGloriana.í So that started it. [Laughs]
PCC:
What was the Birmingham scene like, when you began performing?
MAGGIE:
Oh, my, the Birmingham scene was just great. I got involved really early in the Ď80s. And the first record I ever sang on was called ĎLegs Akimbo.í Just did some backing vocals. John Peel really pitched that record. After that, I was in a band called The Playthings. And Duran Duran really liked us a lot and asked them to go on tour with them.
And then I formed, with Rick Jones and Robert Shaw, a group called Swans Way. At that point, that was in the early Ď80s, and suddenly, in Birmingham, youíve got Dexys Midnight Runners, UB40, Duran Duran, there was a band called Fashion, who were fantastic. It was just all go. And we used to go to this club called The Rum Runner. And we used to rehearse there. Youíve got Boy George, who used to hang around. And he did the market stall. Yeah, it was a really good thing. There was a lot of reggae going on. There was Steel Pulse from Handsworth, and a lot of other really good reggae bands. And of course, you had Gang of Four. And of course, that whole Coventry scene, as well, the ska scene. Thatís where The Beat came from. And The Specials. Theyíre all Birmingham or Coventry people.
And, of course, youíve got the heavy metal stuff, as well, that came from Birmingham. I used to like heavy metal back in the Ď70s. I didnít really hang out in any kind of heavy metal scene. I was definitely more of a club kind of girl, really.
And the thing was, everybody used to hang out together. We all hung out. Occasionally, UB40 and Dexys would get into a fistfight, [Laughs] but apart from that, everybody was pretty friendly. I had my two bands, Swans Way and Scarlet Fantastic.
PCC:
And the chart success you had with those bands, doing things like ĎTop of the Popsí and ĎOld Grey Whistle Test,íwere you ready for all of that? Was it a whirlwind?
MAGGIE:
It was just fantastic. I think I actually was completely ready for it all, yeah. It was great. It really was like living the dream, especially at the beginning, with Swans Way, then we got a record deal, we got a chart record and we had to finish recording the album. And then we got sent off to New York. And it was great. Being so young, having seen so many movies, to arrive in New York, and there we were in our glad rags. It was probably bought for about five pounds in like a rag market. I remember my shoes I was wearing. They looked great. But if you looked underneath, it had like gafferís tape on it.
We hadnít made a lot of money at that point. But we got picked up by a limo at the airport. And we were driven to the Chelsea Hotel. We stayed there. Weíd always wanted to see it. We recorded with The Uptown Horns. We got passes to go to all the clubs. There was Area Club and others. And, oh, my goodness, that was such a highlight for me. I just fell in love with New York. Absolutely adored it. That was about Ď84, Ď85, when that was going on. I loved every single minute of it.
PCC:
So were you conscious of enjoying each minute while it lasted? Or were you thinking of how you might add longevity to your career?
MAGGIE:
It was a long time ago and I think in a different way now. Thereís no about about it, certainly living for more years gives you a different kind of wisdom and different kinds of concepts of time. Back in those days, I was just really very much concerned with the day-to-day, getting to the studio on time, doing the great music, and then partying at night. No doubt about it, that was complete happiness. I loved it. I was young. [Laughs] Everybody I knew was just having fun.
Not that they werenít tough times. We didnít have loads of money. Times were not great. There were a lot of bleak things going on. I think what people were doing was kind of kicking against it and living crazy lifestyles and making up for the fact that times were hard. It was kind of our revenge - living it up all the time.
PCC:
What about the process of developing your own vocal stye? You have that wonderful, emotion-packed, dramatic kind of style. Did that come naturally? How did that evolve?
MAGGIE:
Thatís interesting. When I was in my first band, I started off mainly drumming. I played some keyboards, as well. And I just did backing vocals. And I donít think, at that time, Iíd actually found my voice. It was only really when we disbanded Swans Way and formed Scarlet Fantastic, and myself and Rick carried on together, and we didnít work with Robert, and we became a duo, rather than a three-piece. And the onus was on me then to sing. So I had to find a style, that I was really comfortable with, that I didnít have to think about. And finally, it came.
Funnily enough, the first song that myself and Rick ever wrote, as Scarlet Fantastic, was a song called ĎNo Memory.í And itís actually the song that has kind of survived for years and years and years, and a remix became a hit. And itís going to be remixed again and put out later this year. And thatís the one that I found a voice to. And once Iíd done the one, there were another couple of songs that followed quite soon after that. Thereís a song called ĎRhythm of Resistance.í And there was another song, called ĎPlug Me In.í And at that point, I had definitely found my voice. But, yes, it took a little while. But I think, once youíve found it, that is it.
Now, certainly, having sung for many years, I donít think about my voice at all. I just sing. It might sound strange, but I try not to think too much. I try not to intellectualize too much about too many things. Iím better if I just do stuff with instinct, rather than thinking too hard. Thinking too hard slows me down. It makes me overcomplicate. Iíd rather just let it come out.
And my voice, having grown up listening to and falling in love with both Bryan Ferry and David Bowie, and I did love Chrissie Hynde, as well, back in the day,and, of course, Annie Lennox, and all of that lot, were really very much my vocal influences. I think that influenced my writing, as well.
PCC:
And, even after youíve defined yourself, in terms of the voice and the writing style, is it a process of constantly redefining yourself with all these different collaborations over the years?
MAGGIE:
Do you know what? Yeah. I think each collaboration has its own process and concept, definitely. I love people and I love finding the best in people and working with people, because everybodyís different. Weíre all human. And we all inspire each other, in different ways.
I have to say that recently, I have absolutely loved working with Martin. He has brought stuff out of me that needed to come out, that needed something. Itís like he was a key. He allowed me to unlock certain things. I mean, the songs that Iíve written with Martin, I donít think I could have written with anyone else. Iíve really, really been able to express myself in a way that Iím really satisfied about. And Iíve really said and sung what I wanted to say and sing. And Martinís enabled me to do that. So this has been a great period. And funnily enough, weíve just worked on a new song, which Iím over the moon about. And so is Martin. Itís a little bit different, stylistically, from the stuff on the album. But itís still very much Maggie & Martin. Iím sure itíll be something for our next album.
PCC:
Are you planning far ahead as a duo? Or taking it one step at a time?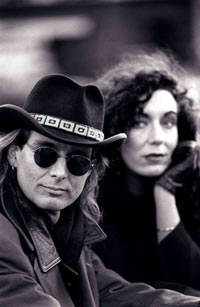 Mighty K - Leif Kahal, Maggie De Monde
MAGGIE:
At the moment, I think weíre just doing one step at a time, because we do everything ourselves. We donít have a record deal. We have a distribution deal. So everything is motivated by ourselves. Weíre just working within the parameters of how we can work. Itís kind of making it up as we go along. Having said that, thatís kind of how Iíve always lived my life, anyway. Iíve kind of always stayed along a path, leading somewhere I was meant to go and kind of kept the faith with that.
Wd donít have a huge, specific, worked-out plan. But we do have ideas of what we should be doing, where we should be going. So itís onwards and upwards, as they say [Laughs]. And maybe weíll get some lucky breaks along the way, as well.
PCC:
Are you still involved in things like radio presenting or operating a club?
MAGGIE:
I love the radio presenting, but I really havenít had time. The only sort of club nights that Iíve been putting on recently have been just charity fundraising. Again, I havenít really had a lot of time for many other things. I have just made a dance record, actually, with a couple of young, Japanese DJs. That something different. Thatís coming out later in the year. Theyíre called Kill The Hero. But really the thing that rocks my boat is writing. I love writing. I really enjoyed writing the new song with Martin, because a lot of emphasis has been on putting this first album out and promoting it. And working towards doing live work. We did a show in London and it went down really well, which is very encouraging. We will be writing songs for another album, but thatís a little ways off yet, because weíve got to get the max from this one first.
PCC:
I read that you climbed mountains for charity. Is that true?
MAGGIE:
Oh, yeah. You canít stop me climbing mountains [Laughs] Iíve done a lot of those. Iíve actually climbed Mount Kilimanjaro. It was hell. But it was amazing. And itís wonderful. Itís so empowering, because, if you find something tough in your day-to-day life, you think, ĎWell, for Godís sake, Maggie. Come on! Youíve climbed Mount Kilimanjaro, so, if you can do that, you can do anything.
So I did that. I also climbed up the second highest mountain, Mount Toubkal and thatís in Morocco, just outside of Marrakech. And that was really difficult, actually. Iíve also done the Inca Trail in Peru, which was amazing, going up to Machu Picchu. Youíve gotta love that. All of these are quite difficult, because thereís a lot of altitude involved. Some of the people that did Kilimanjaro, quite a lot of people in my group, they couldnít get up there. They had to stop. There have even been firemen from my town who have not been able to do it. Itís really tough. And altitude affects people in many different ways, quite awfully sometimes.
But, yeah, Iíve done it. One of my favorite things that I did, was a Sahara desert trek. I went and climbed all the highest sand dunes. Oh, I just loved that. That was tough, as well, because climbing sand is difficult. But I love being in the desert. It always inspires me. When I came back from doing the Sahara desert trek, I emptied the sand out of my trekking boots and, itís amazing, I had half a jar full of sand. And I sleep with it. Itís just parked by the side of my bed. I feel like Dracula, who used to carry around his soil. [Laughs]
PCC:
Do you find that, generally, it helps your creativity to be able to clear your head and get away from the music business?
MAGGIE:
Yes, absolutely. It inspires me completely. Some of my best inspirations have been inspired by when Iíve been out amongst the stars or under the sun or in the desert or up a mountain. Allowing your head to become clearer, the poetry will suddenly come dashing out, all the ideas, when youíre not wrapped up in the day-to-day. Itís amazing, isnít it?
ĎNight of 1,000 Stars,í that was really inspired on the journey I did from Petra in Jordan to Cairo. And stopping off to climb Mount Sinai on the way. How could one not be inspired with all of that stuff going on? And the stories. In Petra, the goddess worship thatís been going on for thousands of years. And youíve got the Nile goddesses. You can walk and see that incredibly narrow canyon where they filmed that Harrison Ford movie, ĎRaiders of the Lost Ark.í You can explore the temple. Thereís place where you have to sit in silence. And it was just amazing. And the stars out in that desert, just beautiful! I had Martinís music in my head for that whole trip. And then I ended up in Cairo, by the Pyramids. How cool was that?
But I love traveling even in the back of buses. We have a lot of them in England. And riding around the coast, in the back of the bus, sitting up top, I can go into a different mode, a different frame of mind. And I like to go on walks, and my mind quite often goes into a different mode. Itís healthy. Itís good. It was good to get away and do entirely different things, definitely.
PCC:
You have such an adventurous life. Are you always seeking new challenges?
MAGGIE:
Yeah, I think I am a bit of an adventurer. Iím hoping, later in life, I really, really want to really travel. I mean, everywhere. I watch loads of travel documentaries and you see life down the Amazon river, what goes on in these little villages, where theyíre changing the laws on fishing and stuff. And just the day-to-day. The life is simple. I like to see and be involved in and experience all different kinds of life. And the more removed I am from our Western culture, to be quite honest, it inspires me. Itís really important to experience other parts of this planet Earth.
When I was in Peru, I was kayaking on Lake Titicaca and staying on these little islands, with my friend, Elaine, where they have no electricity. So when it gets dark, you have to wander around with a torch. And thereís candlelight in the homes. Very basic. Lighting fires at night and looking up at the stars. And I love all of that stuff. Thatís what rocks my boat. And I love sleeping out in the desert, looking up at the sky. Iíd rather do that than stay in a seven-star hotel in Dubai.