Malo: Keeping the spirit alive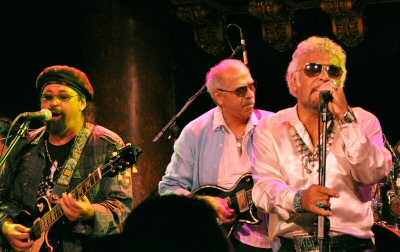 Photo credit is Tyrone Diaz.
Caption left to right, Gabriel Monza, Jorge Santana and Arcelio Garcia.
By Paul Freeman [Jan. 2011 Interview]
For 40 years, the sound of Malo has been muy bueno. The San Francisco band's distinctive brand of Latin rock continues to enthrall audiences.
Always conscious of contributing to the community, the group will be participating, for the seventh consecutive year, in the Voices of Latin Rock Autism Awareness Benefit concerts. The first takes place on Jan. 20 at Bimbo's 365 Club in San Francisco and includes a set by Booker T. Jones. On Jan. 21, the event hits Santa Clara's Avalon Night Club. Both shows feature Malo, Tierra and El Chicano and special guests. Call 415-285-7719 for ticket info.
Bay Area dentist and Malo's manager, Bernardo "Dr. Rock" Gonzales, puts together these annual events. Gabriel Manzo, Malo guitarist for over 25 years, said, "It's a very important event. We're trying to get more awareness. And music brings people together, so they can have that awareness. People need to know what's going on with autism. Ten years ago, it was one in a thousand, children getting autism. Now it's like one in 100.
"Dr. Gonzales has put a lot of effort into this event to raise awareness and we're proud to be part of it. These concerts always turn out great. We have surprises. Carlos Santana and others have popped in."
Like Santana, Manzo was part of the first wave of Latin rock that surged forth in the late '60s. "The music came out of the Mission in San Francisco and just had this special feel."
"Before Santana, you had all these different salsa bands that were out at the time. And the blues element came in and opened up some doors. You had people like Mike Bloomfield, Paul Butterfield. You combined different cultures, African with Latin. Then you had the psychedelic era. That was kind of neat, too. Hanging out on Haight Street as a kid,was fun, man. You gotta get that dirt on your hands. You had to rub that Haight Street on your fingers, man, because there was some creativity there. So you picked up that creativity. It was cool."
Malo developed its own flavor. "Malo had the horns. Santana didn't have the horns. Malo did. Other bands like Blood Sweat & Tears back in the day had horns. Now you have synth horns. Back then, you had to have a real horn section - Cold Blood with Lydia Pense, Tower of Power. And that's what Malo had. And that brought a different element. And you had Luis Gasca [trumpeter] playing in that band at that time. And he brought a real good inspiration to the music."
Over the years, there have been many lineup changes, but Malo has always retained its essence.
"You've just got to keep reminding the guys, when they come in, this is what the band is," Manzo said. "And this is what the music's about. And it's got to be played this certain way. Keep that element.
"It's the spirit of the music. You've got that improv in the music. Improv was very important back in the day. You've got the structure, but you've also got the improv. And you've got to play it with a lot of heart and soul. And that's what keeps the music alive. People enjoy that. To me, today's music doesn't have that. It's lost. It's an art form. And we still capture that art form."
The band's 1971 smash "Suavecito" has proven it has timeless appeal. "It's a classic tune. Myself, I've been playing it for like 30 years and that song just doesn't get old. It doesn't have an old feel to it. There's a lot of melody in there and it's got a nice feel of the instruments. You always remember that melody. That stays alive in a song.
"Some bands, the song they're known for, I can't remember. I can remember Beatles songs. Why? The melody. I listen to a lot of the kids' music now and it's like, 'Where is the melody'?"
Manzo continued, "Kids come to see our band and they're like, 'Wow, my parents turned me on to this, and I'm really into this song.' So that's really neat. They come up and tell me how much they love the sound. It's new to them. So we've got the older generation and the younger generation. It's like a lot of kids who are getting hip to Led Zeppelin. They hear 1969 Led Zeppelin and they're like, 'Yeah, man. Good stuff!' Good music will always stay alive. "
Malo's sound has lasted through decades of changes in the music scene. "There's a lot of ups and downs in music. But it's been consistent for us. We get good response when we play. We get good audiences. The economy does kind of mess things up. People don't want to go out as much. But other than that, it's still good. You can still play that music and survive."
Malo often performs with El Chicano and Tierra as Legends of Latin Rock. "It's kind of family. We just all get along, all three bands."
Manzo said there are more opportunities for Latin musicians in pop and rock these days. "It's starting to be more open. It's been hard. Internet has helped out a lot. But we're getting more people listening, opening up to the Latin rock music. We're keeping it alive. There are younger bands coming up, doing original music."
For Manzo, Latin rock has an energy that can't be surpassed. "It's got a rock edge, with percussion, and it just feels good to get on the stage and play like a rock band. You're playing real music, real instruments and you're performing, giving it that old Fillmore,. Winterland, back-in-the-day, kick-you-in-the-face thing," he said, laughing. "And it feels good, man. And people are digging that."
Manzo, 57, is also working on his own album. "We want to keep Malo going, keep the spirit of that alive. For myself, I'd like to create my own music and get that out there.
"I call it 'New Latin Rock,' because I want to present a sound of today with that Latin rock edge. Instead of just repeating music of the past, it brings it up to the present. It's an awesome feeling, making it rock, with a Latin twist. "