THE MULTIFACETED MARILU HENNER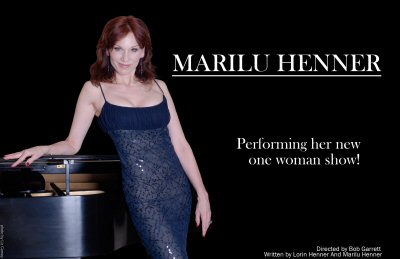 photo credit Liz Carney
By Paul Freeman [Interview August 2010]
Personally and creatively, Marilu Henner lives her life to the fullest. The exuberant star of Broadway and "Taxi" fame also helps others to extend and enhance their existences, through her Total Health Makeover empire (www.marilu.com).
Always seeking exciting new challenges, Henner has created a one-woman show. She'll be performing it at San Francisco's Rrazz Room, 7:30 p.m., Friday and Saturday, April 15 and 16. Tickets are $40. For details, visit www.therrazzroom.com.
The Chicago native played Marty in the pre-Broadway production of "Grease" and later toured in the national company. Broadway successes followed.
Henner achieved TV stardom in the classic sitcom "Taxi." Her work as Elaine Nardo earned five Golden Globe nominations.
She was featured in such films as "Johnny Dangerously," "Noises Off," "Hammett" and "Man On The Moon," in which Jim Carrey portrayed her "Taxi" co-star Andy Kaufman.
Her TV credits include the series "Evening Shade" with Burt Reynolds, her own "Marilu" talk show, hosting chores on "America's Ballroom Challenge" and a stint on "The Celebrity Apprentice."
She returned to Broadway to wide acclaim, starring in revivals of the musicals "Chicago" and "Annie Get Your Gun."
But Henner is now as well known as a diet and fitness guru as she is a performer. Her entertaining and enlightening "Total Health Makeover," combining vegan and exercise regimens, was the first of eight best-selling books. She hosted "Shape Up Your Life" on FitTV and The Discovery Channel.
Henner remains in demand as an actress. She was seen in the "E.R." series finale and an episode of the late, great cult sitcom "Party Down." She just finished shooting a Hallmark Channel movie, "Accidentally in Love," which stars Jennie Garth ("90210") and her husband Peter Facinelli ("Twilight").
The always engaging Marilu Henner graciously chatted with Pop Culture Classics.
POP CULTURE CLASSICS:
We're looking forward to your return to San Francisco.
MARILU HENNER:
I'm very excited. I've only done two benefits there. Never performed on stage. None of the shows I have done have made it to San Francisco.
PCC:
None of the touring companies?
MARILU:
No, I did 'Chicago' on Broadway and in Las Vegas, but not in San Francisco. I did 'Annie Get Your Gun' and never made it to San Francisco. Even when I did 'Grease,' many years ago, I didn't go to San Francisco.
PCC:
So this is major.
MARILU:
Yes, major! [Laughs] Two nights.
PCC:
So what prompted you to put together the one-woman show? And how did you go about it?
MARILU:
Well, I've done so many things in my career and I've always wanted to do this. People would say, 'You've got to do a one-woman show! You've got to do a club act. You've got to sing and dance and do all these things.' And this just seemed like the right time.
It was actually inspired, because I went to San Francisco two years ago and performed there for an AIDS benefit and it was so much fun that I started to work on the act then and put something together for last year and did it here [in Los Angeles]. I was inspired by Tony Danza, who's been doing his act for a long time. And it just seemed like a natural thing for me to do. So it just all came together at the same time.
PCC:
So once you decided to create the show, how did the concept evolve?
MARILU:
It's funny. I think everybody starts - or so I've been told - with something autobiographical. At first I thought, 'Should I do some kind of theme?' And then I just thought, 'Well, let me tell some of the stories from my life,' because I like to tell stories and I also feel like I had a very unusual upbringing. So that kind of started it off. And, as it became more and more chronological and autobiographical, I just kept thinking, 'Oh! Let me sing this song from that show!' And 'This is kind of the mood I was in at this time, so, let me talk about that.'
There's one little section that I'm very excited about sharing with everybody. I'm also a comedian - not a stand-up comedian at all - but because I've done a lot of sitcoms and things like that, I knew that I wanted to have a lot of humor in the act. So I thought, 'What would lend itself to something really funny and be totally true?' And I used to be a body parts model in New York. So I just thought, 'I'm going to do a head-to-toe salute to the human body. And I just go through all the songs that are different body parts. So it's autobiographical, but it's also, hopefully, entertaining and funny.
PCC:
Body part model, is that like hand model? Foot model?
MARILU:
Oh, I did everything. I did hands. I did four Playtex bra commercials. I did two Playtex panties commercials where all you saw was my butt, walking. I did a Fruit of the Loom panties commercial, where I was inside of an apple with my legs sticking out. I mean, I did everything. So I was a body parts model. And I did 72 commercials in two years.
PCC:
Wow!
MARILU:
And speaking on television. I was Annie Sullivan in an Exxon Bicentennial Minute. In the act, I tell some of these stories. You're definitely going to get to know me during this club act.
PCC:
You have lots of colorful experiences to draw from, sounds like.
MARILU:
[Laughs] Yeah, there are. Also, my family owned a dancing school in Chicago, so I grew up singing and dancing my whole life. We had this very colorful upbringing. And then, you know, different relationships that I've had, different jobs that I've done. And I also show a piece in the middle of it that's a lot of fun. And there's like a song about 'Taxi.' There's a little bit of everything from my life, in this show. So I figured it was a good place to start, so I could see what seems to work and what I wanted to develop further, maybe next time around.
PCC:
What's the span of song styles?
MARILU:
Oh, I do something from the '60s. I do a song from 'Grease.' I do a few Broadway type things like 'Can't Get A Man With A Gun,' from 'Annie Get Your Gun' and 'Roxie' from 'Chicago' and 'Freddy, My Love' from 'Grease.' But I also sing like 'The Nick of Time' and a medley with 'Happiness Is Just A Thing Called Joe.' And I sing 'Fields of Gold.' So a lot of different things. I'd say pop and Broadway and, I don't know, just songs that fit my life.
PCC:
And what were some of the songs that fit the body parts medley?
MARILU:
Oh, I do a recap at the end, so, let's see, okay, I start with 'Wash That Man Right Out of My Hair' and I end with 'Footloose.' So that's a whole range. Head to toe. But fast. [Laughs]. It's like snippets from all the different songs and then I do like a recap. It's really funny... hopefully, anyway.
PCC:
Your brother was involved in the writing of the show?
MARILU:
Yes, my brother Lorin writes with me. Writes my books with me. He knows me better than anybody else, knows my speaking tone and everything else. So he wrote most of the script.
I also sing an updated version of the song 'Zip.' Do you know the song?
PCC:
No, I don't think so.
MARILU:
Well, it's very funny. It's from an old Broadway show called 'Pal Joey.'
PCC:
Oh, yes.
MARILU:
I'm doing an updated version of it. So we use pop culture references.
PCC:
What are some of the references?
MARILU:
Well, we might, well, you tell me if you think a San Francisco audience would know what I'm talking about. So it'd be like... So, in 'Pal Joey,' this reporter is talking about how she interviewed Gypsy Rose Lee at one point and she was so intelligent, what was she thinking while she stripped? So she uses all these modern references, well, modern for the '30s. So I use all the modern references now.
One of the lines that I changed - I'll just sing you a part of the song - 'I watch Kourtney, Kim and Khloe root for Powell, Lamar and Kobe. Zip! Lakers and Kardashians. Zip!'
PCC:
[Laughs] Well, that's certainly timely.
MARILU:
We're always updating the song, so one of the things we're changing was, [sings] 'Tiger Woods is in the butter. He misused his trusty putter. Zip!'
PCC:
You're changing that?
MARILU:
I don't know. We might still use it. But we're updating it with a Mel Gibson line.
PCC:
Even timelier.
MARILU:
Oh, yeah, we've got BP in there, everything. It's very funny. Right away, it shows the audience that I've got a sense of humor, that it's going to be a lot of fun.
PCC:
Are you going to take this to other cities?
MARILU:
Oh, yeah. I've already performed it in New Mexico and here in Los Angeles. They've asked me to come to New York, which I probably will be doing, in the fall. I love performing and it should just be a lot of fun.
PCC:
It seems like you're always welcoming new challenges.
MARILU:
Yes, that's definitely my style, isn't it? I write books. I do all kinds of stuff. You know what? I think I've got a lot of energy. When you have a lot of energy, you can do a lot. I grew up in such a crazy way. My family had this dancing school in our back yard. And I'm just used to doing a lot of things all at once. I have this whole parallel universe of health that operates all the time. I'm writing my ninth book right now. And I just taught at Kripalu [Center for Yoga and Health] in Stockbridge, Massachusetts and I teach classes online. And I'm speaking in Minneapolis on heart disease.
And, of course, I'm the mom to two boys, 14 and 16. And happily married to my husband, my third husband, and the love of my life. And it's always a busy time. With everything. But if you love your life and if everyday feels like an adventure to you and you say, 'Okay, what's next? What can I do? Ooh, I'm going to do my club act and perform!' And I just finished a television movie, too, with Jennie Garth and Peter Facinelli from 'Twilight' and 'Nurse Jackie.' He wrote the piece. And it'll be on the Hallmark Channel. ["Accidentally in Love" first aired in February 2011]
PCC:
And what's your character in that one?
MARILU:
It was just this outrageous woman. Jennie's my daughter and I'm trying to get her back out there in the dating world. I've definitely moved into like the super-cougar roles. And that's fun.
PCC:
You mentioned your unusual upbringing. What was the story with the dance school?
MARILU:
I grew up in the heart of the city of Chicago and my family owned a dancing school in our back yard. We had a three-car garage, which was converted to a dancing school. We put a fake door on it. The door didn't even work. But we had 200 students, between the ages of two and 80, including the nuns who came over for stretch classes. And we lived next door to the Catholic church, shared an alleyway with them. So we had these backstage passes to Catholicism.
My mother would go over to the convent and teach them dancing. And then, she also ran a beauty shop out of our kitchen with about 25 women from our neighborhood, who would come over and get their hair done. And the kitchen was set up like a beauty salon. It was not set up like a regular kitchen. The refrigerator was in our basement and in our kitchen, where the refrigerator was supposed to be, we had a blue hair-drying chair instead.
And then, upstairs from us, lived my uncle, with 10 cats, two dogs, two birds, 150 fish and his boyfriend Charles. And my uncle taught art at the Catholic grammar school next door. So he had art classes going on upstairs, as well. And he also was the neighborhood astrologist. He would do people's charts. And he ran a cat hospital on our roof. So that's how I grew up. As a result, I think I've always expected to do a lot of things in my life, to have a lot of different businesses, to be very entrepreneurial, to kind of go out there and create something. And that's kind of what I try to do in my own life... and with my kids.
PCC:
So was the original dream to be either a jazz dancer or a ballerina?
MARILU:
No, it was mainly to be a Broadway musical comedy star. I wanted to be on Broadway. So I got to do that at 21, which was really exciting for me.
PCC:
So did that ambition come from watching movie musicals?
MARILU:
Yeah, from watching musicals and from the dancing school. What happened was, a friend of mine called me out of nowhere, somebody I knew from Chicago theatre called me when I was in high school and said, 'Look, I've written a show. It may never get off the ground.' He was in the advertising business. He said, 'I'm older than you, but you always remind me of the girls I went to school with. It's a very Chicago show. And I'm calling it 'Grease.''
So I was in the original, original, original, original, original cast of 'Grease.' It was just amazing. I did that company and then, when the show went to New York, my father had just passed away, so I decided I wouldn't leave school. I'd just gotten four scholarships to go to the University of Chicago. But then I did go and do the national company and that's how I met Jeff Conaway and John Travolta and all the other people that did that company. It gave me my Equity card and made me a professional actress. So I tell this story in the club act, so if you come see it, don't yell out, 'Hey, I already know this!'
PCC:
[Laughs] I promise, I won't. How rude would that be?
MARILU:
[Laughs] Yeah, very rude.
PCC:
And then 'Taxi,' how did that come about?
MARILU:
Well, I moved to Los Angeles. I'd been working in New York, one show after another. I got 'Over Here' with The Andrews Sisters.' I got, 'Pal Joey.' I started working a lot in New York, started doing all these commercials, just working constantly, thank God. And then, I was called out to Los Angeles for a screen test for a new movie. I got the part. The guy who was auditioning opposite me didn't get the part. But then the second guy that they brought in to audition opposite me was Richard Gere, so that's my friend Richard Gere again. And I moved out there to do the movie called 'Blood Brothers.'
So I started auditioning for episodic TV and had a CBS contract at the time. And they wanted me to do a pilot for 'The Paper Chase.' But I was out of town when that happened and they said, 'Well just come back.' I said, 'I'll only come back, if I can do it as a guest star.' So I did it as a guest star. And then I was called in to audition for 'Taxi,' because the casting director liked me. But I was 10 years younger than what they wanted. At the time, the character had a 16-year-old daughter. And I was 25. So they kept bringing in all these other actresses, kept bringing in me. But they liked me and said, 'Well, do we write another character for her? What do we do? We like her, but she's not really old enough to play Elaine and ba-ba-ba-ba.'
So finally they said okay. And I think a lot of it had to do with the competition from the other show, because the other show wanted me, as well. So I think they said, 'Okay, she'll be Elaine, but we'll give her two little kids.' So that's what happened. So that's how I got 'Taxi.'
PCC:
And was there any doubt in your mind, initially as to whether or not the show would work commercially?
MARILU:
No, not at all. I was so happy to be on 'Taxi.' I mean, I liked the other show, as well. But there was just something about 'Taxi.' A sitcom is great, because you do have that live audience. Having been trained on Broadway, having done three Broadway shows prior to this, I love immediate feedback from an audience. It's like having a great partner. It's another character in the piece. You understand what's going on from the way the audience is responding. And so, because of it, I just preferred 'Taxi' to the other show and I just loved the guys when I met them and just the whole process. It was great.
PCC:
It was an amazing cast. Was the chemistry there right from the start?
MARILU:
From the beginning . From day one. Our writers were so brilliant and wrote these incredibly interesting characters and then cast incredibly interesting actors who brought a lot to it.
It's funny, just last week, I did a PBS special about prime time television. 'American Prime Time,' it's called. And we were talking about 'Taxi' and stuff. So it was really cool. So it's very fresh in my mind.
PCC:
It seems to appeal to one generation after another.
MARILU:
It really does. You know, it's funny, my kids had never seen 'Taxi' before the DVDs came out, because I'm just not one to say, 'Okay, now we're going to look at Mommy's body of work.' [Chuckles]. That's just not my style. So then the DVDs came out. We were on a road trip. They said, 'We're going to watch videos in the back.' I said, 'No, you're not. You're going to look at the landscape. We're seeing the country.' And they said, 'How about at night?... And it's Taxi,' Mom.' I went, 'Okay.' [Laughs].
So they started watching. And I wasn't hearing any laughter in the background. And kept thinking, 'Oh, this is not going to be fast-paced enough for them.' And then, all of a sudden, they really started to laugh and they got to know the characters. And I realized that 'Taxi' was not set-up, punchline; set-up, punchline. It wasn't that kind of show. It was allowed to breathe. It was allowed to play itself out. And, as a result, you really got to know the characters. And they were fully realized human beings.
It wasn't like Latka was just this crazy, oddball foreign character. And it wasn't like Reverend Jim was just this wacko. It wasn't like Louie was just this mean guy. You saw fully realized people. And that's why you believe that they could exist in this world of 'Taxi.'
PCC:
It must have been gratifying for you that the audience could see more and more of your character's layers, as the series went on.
MARILU:
Oh, sure. And they took a lot of things from our own lives and stuff. And it was five years. I always describe it as, we did 112 shows and had 112 parties, because the cast just adored one another. We loved to socialize. We loved to celebrate the good work we were doing, because it really felt that way. We just felt it was a very, very, very special experience, all of us, to this day.
PCC:
So what sorts of things for Nardo's character were taken from your life?
MARILU:
Well, I definitely based a lot of her on my sister Joanne, who was 10 years older than I was. The character was written with two little girls and kind of struggling as a single mom. And she was a photographer and would sometimes work as a waitress. She was like that working mom with a dream. And also, sort of my sense of humor was in Elaine. And my organization, always trying to get the guys rallied, my sort of ability to be feminine, but still be one of the guys. And I think that's what they saw in my audition, too, that they thought, 'Marilu looks like she could hang out with these guys. She could hold her own, but still be a female.' I think they liked that.
PCC:
And then, as you pointed out in your autobiography, you developed romantic relationships with Judd Hirsch and Tony Danza. Did that complicate things on the set?
MARILU:
Oh, no. Not at all. We were all so close and good friends. It was also such a different time and everything else.
'Taxi' had such a purity about it, in terms of what the show was, and I think that, striving for and maintaining an excellence, in the writing and the performing and everything, nothing could ever have affected that. And I think that we were all sane... and a lot of fun. And also, I'm very good at stuff like that. [Laughs]. I definitely know how to balance people. So there were no dramas.
PCC:
And Andy Kaufman, what was he like to work with?
MARILU:
Oh, Andy was like the sweetest guy. And so normal. And so like a nice kid from Great Neck, New York. You know, a nice little Jewish boy from Great Neck, New York. And then, all of a sudden, he'd turn around and do something so wacky and crazy, you'd think, 'Where did that come from?,' because he was very soft-spoken and very sweet. And he fancied himself a song-and-dance man, so he and I always talked a lot about musical theatre. And I was always teaching him a dance step or we'd be singing together, things like that.
I don't know if you ever saw the episode where they played The Andrews Sisters, where Tony and Judd and Andy all played The Andrews Sisters, but it was hilarious. And Andy wanted learn that dance even more than Tony and Judd wanted to. They let me choreograph it, because I had worked with The Andrews Sisters.
He was very other, Andy. And yet was super, super sweet. And, in fact, I thought, even the way that 'Man On The Moon' was written, you never got to see the normal Andy. He always seemed like a little odd, rather than just nice and normal.
I tell this Andy Kaufman story to illustrate what Andy was like and it was not in the movie. There was one time when he came in with this enormous boil on the back of his neck. And when I say enormous, I'm not kidding you. It was the size of a golf ball. Truly. So I was, 'Oh, Andy, that's disgusting!' He said, 'Watch this.' And he made an announcement that people could line up and, for one dollar, they could touch Andy's boil. And people did it. People did it! How crazy is that? He collected over a hundred dollars. People came up to just walk on the stage and to touch Andy Kaufman. They'd touch his boil and that was it. That's pretty crazy.
He knew how to push an audience. And he knew what they would go for. He was very provocative, but very focused. He understood something about people and how far you could push them without totaling disgusting them.
His club act, he did a performance when we were in our first year of 'Taxi.' And afterwards, he invited the entire audience out for milk and cookies. And had buses waiting for people. And the audience went out for milk and cookies.
I had seen Andy before I auditioned for the show. I had seen him one night at The Improv in New York. I was working in New York at the time. This was two years before 'Taxi.' And we were sitting there and this guy, he's like Foreign Man [the character from which Latka grew], but well dressed, gets up and starts reading from 'The Great Gatsby.' And we were all laughing. And then he goes to the next page of 'The Great Gatsby.' And you're kind of like, 'Oh, this is funny.' And then he's continuing with 'The Great Gatsby.' And more and more. And you're like, 'Oh, my God, this guy is just reading from 'The Great Gatsby.' That's what we're going to listen to.' And pretty soon, people are like pelting him with airplanes made out of paper napkins and blowing straws at him and hurling dinner rolls and etc., etc.
And, all of a sudden, he totally breaks down and cries. And you're looking and you go, 'Oh, we're so sorry!' And he's sobbing on stage. And it stops everybody cold. And he's crying and crying. And he turns upstage and then he rips off from the side of his pants two pieces of tape that expose studs. He flips his hair and turns around and goes into the greatest Elvis you've ever seen. I mean it was like, crazy, crazy. You just couldn't believe it. It was incredible performance art. So he was just very other... and way ahead of his time.
PCC:
Did it seem kind of surreal, filming 'Man On The Moon'?
MARILU:
Well, it was very surreal, because they duplicated the 'Taxi' set perfectly, except they had the wrong color seats in the audience and I pointed that out. Anyway, it was kind of fun, because I wore my same clothes. I had some of the wardrobe. And I said, 'Yeah, I'll do it. I'm thinner now!' [Laughs]
But yeah, it was very surreal. It was also surreal, because Danny played George Shapiro, Andy's manager. And he didn't play himself. So that was a little odd. But Jim was incredible. He really captured the crazy part of Andy, no question about it. Captured the Tony Clifton part. The performing Latka part. Perfectly. And looked like him. Andy had more rounded features. He was more doughy-looking. And Jim was so angular, but was able to make his face look like that. And it was in the acting, because they didn't putty him up or anything.
PCC:
He was remarkable. You mentioned The Andrew Sisters, what was that experience like, working with them?
MARILU:
Oh, that was in 'Over Here.' That was my first Broadway show. 'Grease' I did the first national company. And then I did 'Over Here' with The Andrews Sisters on Broadway and I worked again with Johnny Travolta and Ann Reinking and Treat Williams. And that's how we all got started. That was the first Broadway show for most of us. And The Andrews Sisters were the stars of that.
PCC:
And did The Andrews Sisters share their wealth of experience with you?
MARILU:
Yes, they were terrific. I mean, they were a lot of fun to work with. They were before my time. But we did all our research on the old movies and things. And it's fun when you do a period piece, especially if it's one you're not familiar with. You get to do a lot of research. And I'm such a research, teachers and homework kind of person. So I'm always looking for new information, figuring things out. I'm a real student.
PCC:
That whole time of working in Broadway must have given you a solid foundation for the rest of your career.
MARILU:
Oh, definitely. And to be in New York at that time and to be with all the young people who were just starting out. So many of those people are still performing and still acting. Treat. Annie, of course, has this huge Broadway career. And Johnny Travolta. It was a great group then. Also, because I did 'Grease' and it was such an unusual show and you had all these young kids who had parts for the first time. I mean, this is so before it's time. Usually the young people are in the chorus. And now everybody had a character. And so it really attracted a lot of performers, that first go-round with 'Grease.' I mean, every go-round with 'Grease' does that. But it was very unusual when the show first opened up.
PCC:
That's another of those phenomena where new generations have embraced it.
MARILU:
Yeah, I know. [Laughs] It's crazy. It's amazing that 'Grease' is this huge, huge hit. And it started with my friend. Crazy.
PCC:
So you're part of history in a lot of ways.
MARILU:
[Laughs] I know. I am. I was there even before 'Grease On Ice.'
PCC:
You did some interesting films, including 'Hammett.' Was that part of Coppola's attempt to recreate the classic studio concept?
MARILU:
It was. We were the first production at Zoetrope Studios. We sort of took a break and then they did 'One From The Heart' and then we finished 'Hammett.' We were in San Francisco for two weeks shooting. What's funny, you watch the movie now, any time you see San Francisco, it was Brian Keith. And any time we were on a studio set, which was, I think 75 percent of the movie, it's Peter Boyle. Isn't that crazy? They had ended up replacing Brian Keith, because he wasn't doing very well. And then we started shooting. And then they pulled the plug after two months. And then, more than a year-and-a-half went by and we started to reshoot and finished shooting at Zoetrope in Los Angeles.
PCC:
Was this when he was ill, Brian Keith?
MARILU:
Yeah, I don't he physically could do it anymore.
PCC:
And was there still a sense, at that point, that Zoetrope might be an idyllic situation? Or was it too troubled already at that point?
MARILU:
'One From The Heart,' the costs were running up. I think Coppola's idea was a brilliant idea. I just think it was way ahead of its time and they didn't have all the systems in place to support something like that. God, no one's talked to me about this in so long. You must be a film buff.
PCC:
Yeah.
MARILU:
I can imagine.
PCC:
And Frederic Forrest, had you worked with him before or is that where you met him?
MARILU:
You know he was my husband?
PCC:
Yes.
MARILU:
I met him at the screen test. Yeah. And it was like love at first sight. Within a few weeks, we were madly... In fact, at the screen test, I was the sixth girl testing, and I didn't know that they had added a kiss. So he just kissed me out of nowhere and I just responded as Marilu. I mean, we could not stop kissing. And it was just such chemistry, from the get-go. I knew leaving there that I probably had the part, because we were just crazy for each other. And so, we started doing 'Hammett' a couple weeks later, after the screen test. And then they pulled the plug. I met him January 5th, 1980. We started shooting February 4th. That's when I went to San Francisco. They pulled the plug on April 11th. We got married that September, the 28th.
I have an unusual memory for dates. Have you heard this about me?
PCC:
No. It's remarkable.
MARILU:
Every single thing that I've talked to you about, I can attach a date to it. I've got like a crazy memory for dates.
PCC:
Just dates? Or lines and lyrics, as well?
MARILU:
Lines, everything. I just have a crazy memory. But it's very autobiographical. Yes, I can remember lines, but I can remember specific days when I was doing them, what day of the week it was, things like that.
But, so I met Freddy and we fell in love and then we got married that year. And it's funny, we decided to get a divorce right after the movie... Our entire relationship was kind of like 'Hammett,' in a way. It was pretty intense.
PCC:
So it ended when the movie came out?
MARILU:
Yeah, we sort of filed for divorce shortly after the movie. But it was not connected to the movie, at all. It was totally coincidental. It wasn't like, 'Okay, the movie's over. So are we.' [Laughs] But we're still friends. I saw him not too long ago.
PCC:
That's great to be able to maintain a friendship after a breakup.
MARILU:
Oh, yeah. I am always friends with my exes. In fact, my ex-husband, the father of my children, he and I are writing a book together about that.
PCC:
Is that your next book?
MARILU:
No, I'm doing one about memory.
PCC:
How to build it?
MARILU:
Yeah, how to build it and how to discover your own autobiographical memory.
PCC:
So, at that point in your career, was film work the focus?
MARILU:
You know, I've never been the kind of person who says, 'Oh, I'm only going to do this now' or 'I'm only going to do that now' or 'This is the time I'm going to blah-blah-blah.' I just deal with things as they come up. Or I create them. Every job that I've done in the last 12 years, I've been doing a book at the same time that I've been doing the project. I wrote 'Total Health Makeover' while I was doing 'Chicago' on Broadway. And while I doing 'Annie Get Your Gun,' I was working on the book 'Healthy Kids.' I have a lot of tracks going on at the same time. And it's having a lot of energy. And I think it's also just really enjoying all these different things that I do. So I don't cut myself off like, 'Oh, now I'm only going to focus on this.'
PCC:
And do you find that these different creative pursuits feed off one another?
MARILU:
Oh, definitely. It was funny, because two years ago, when I was doing 'Celebrity Apprentice,' I was writing my book 'Wear Your Life Well.' And everything I was writing about in the book, I was seeing in action during 'The Apprentice,' whether it was getting out of your comfort zone, self-sabotage, sharpening your presentation, detoxing your style, learn to love the food that loves you, I mean every chapter in my book had something to do with 'The Apprentice.' [Chuckles]. So all of a sudden, I was in this laboratory, living the sort of philosophies of my book. And I could see it in action with other people.
PCC:
So that show did have value for you?
MARILU:
Oh, my gosh, so much. It was great.
PCC:
With all you've accomplished, are there goals you still want to attain?
MARILU:
Well, definitely staying healthy and strong enough to do more of the same. I'd love to go back to Broadway. So I probably will do that after my kids are in college. They're both in high school. One's a freshman, one's a senior. And I've loved the schools here in Los Angeles and I haven't wanted to move them to New York just yet.
I'd say more of the same. More performing, because I love live theatre. And of course, writing the books. I'm working on 9, 10 and 11 right now. So I'm always writing. I'm always taking notes. You always see me writing something. Or recording something. 'Food For Thought, things like that. So just staying strong and healthy, so I can continue to live my life the way I've been living it.
PCC:
And it must be rewarding to know you're helping other people to do that, as well.
MARILU:
That's the best thing. You know, my parents both died in their fifties. My father died of a heart attack at 52; my mom at 58. And if I could save anyone or their parents' lives out there, then that's what I want to do.
For the latest on Marilu Henner, visit www.marilu.com.