CHEECH MARIN:
The Legendary Comic/Actor's Memoir Reveals an Amazing Life -
Improv, Iconic Duo Comedy Albums, Movie Hits,
Solo TV Stardom, "The Lion King"
And of Course… Sex, Drugs and Rock 'n' Roll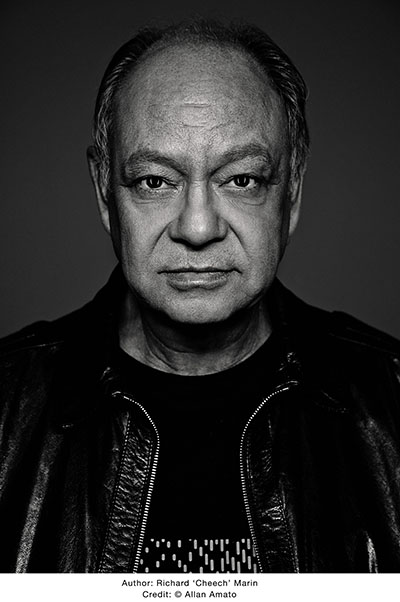 Richard "Cheech" Marin; photo by Allan Amato
By Paul Freeman [March 2017 Interview]
The son of a policeman, he was a Catholic school choir boy, considering the priesthood. But Richard "Cheech" Marin ultimately chose a different path - comedy propelled by sex, drugs and rock and roll. It's all chronicled in his entertaining new memoir, "Cheech is Not My Real Name... But Don't Call Me Chong!"
A member of the draft resistance movement in Los Angeles in the late 60s, he fled to Canada. In Vancouver, he met Tommy Chong. The comedy magic was instantaneous. Success took a while longer.
They began at a strip joint, combining improv skits with naked dancers. Both men had musical backgrounds.
By 1971, the duo was recording smash comedy albums and playing arenas. They translated their comedic appeal to movies, such as "Up in Smoke." The industry establishment was baffled by the new counterculture icons. The fan base extended far beyond hippies and stoners.
Eventually, a rift fractured the duo, as Chong began to view himself as a cinematic auteur.
When the pair split, Marin carved out a diverse and successful solo career. He wrote, directed and starred in the well received "Born in East L.A." He acted in such films as "Desperado," "Spy Kids" and "Tin Cup" and provided voices for animated features like "The Lion King" and "Cars." For six seasons, he co-starred with Don Johnson in the TV hit "Nash Bridges," which was shot in the Bay Area.
But the demand for more Cheech and Chong performances never waned. Cheech and Chong have reunited and are embarking on a casino tour. But the 70-year-old Marin doesn't pour his money into the slots, preferring to invest it where it can do some good. He has become one of the foremost collectors of Chicano art.
POP CULTURE CLASSICS:
The process of writing the memoir, did it give you a fresh perspective on your life?
CHEECH MARIN:
Yeah, I think it gets into a lot of things that people didn't know about me.
PCC:
But how about for you, personally - did your perception of your own life change over the course of writing the book?
CHEECH:
Not really. I have a really good memory, for some reason. It doesn't help me in court [laughs], because I have to admit to what I know. But, no, it was interesting, going over all those events and then having a little bit of perspective. But it didn't change the story. So I was really pleased with that.
PCC:
Going from that background - son of a police officer, Catholic schoolboy, to embracing the counterculture, was that just a matter of finding your own true path? A reaction against your upbringing?
CHEECH:
I don't think it was a reaction against my upbringing at all. I think it was an affirmation of my upbringing, because in Catholic school, they kept repeating this mantra - "Catholic education teaches you how to think. We want to teach you how to think, not what to think," although they did. But how to think - how to actually look at something and be analytical about it. And I thought, "Well, okay." So I was analytical about things that were put in front of me. And that didn't necessarily turn out the way they wanted, but it was still that process.
PCC:
In college, the first joint, how key a moment was that? Was it the great enhancer, the mind expander?
CHEECH:
Oh, that was everything, because, you know what it did - all my life, my dad was like, "Don't ever smoke marijuana, it'll kill ya." Without a chance to say yes or no, somebody just handed me a joint at a party. And I took it and as soon as I got high, the first thought that occurred to me was, "What else have they been lying about?" Because this is not at all what they were talking about.
PCC:
Nowadays, it was looking like legalization was a reality, then with Trump's administration, that may be in doubt. What's your reaction to all that?
CHEECH:
I don't think it's going to be in doubt with the current administration, because I think they're smart enough to know that the American public wants this to be legal - or else 30-some states would not legalize it. I don't think either of them - Sessions or Trump is going to take on 30 states over states rights, which they kind of proclaim is their philosophy.
PCC:
As a judge in the Miss USA Pageant [in 1999], what was your take on Trump at that point?
CHEECH:
Well, he was kind of a bully. He was just kind of an obnoxious personality, as he is today. It's not just his policies, which are divisive. His personality is so obnoxious. I just don't want to hear this guy anymore.
PCC:
In the book, it seems like fate played a big part in your life, how everything fell into place - the decision to move to Canada, meeting Tommy. Do you view it as destiny, luck, or did you make your own luck?
CHEECH:
I'd say it was a combination of all three. At that time, I was heavily into meditation - I still am, I still meditate - and it teaches you to be centered and being centered is being aware of what is happening in the moment. And you make decisions based on your recognition of that. So that served me well throughout my life.
PCC:
Getting together with Tommy, the fact that you were both musicians, as well, did that help you develop a keen comic timing, a rhythm that you needed?
CHEECH:
That is how we view comedy. We view comedy as music. It has a certain rhythm. It has a certain beat. And so our both being musicians was essential to our comedy.
PCC:
In the strip club days, you probably weren't envisioning arena dates and starring in movies someday. What was the dream at that point?
CHEECH:
The dream was like, maybe we could play Vegas and be a lounge act and do our little skits and then have a band. That's how we started, when we began as a duo. And then everything started happening and we were like, "Okay, sounds good!" [Laughs]
PCC:
Back in the day, while you were working on material, did you ever have a bit that seemed funny while you were high, then not so much when you were straight?
CHEECH:
We never wrote or recorded or acted or made movies, when we were high. Ever. Because it was a long process. And you would lose energy. You would lose focus. You would lose all those kinds of things. It had to be funny in real life. And we recognized it right away.
PCC:
Making the transition to movies, did that seem surreal, early on?
CHEECH:
No. It was the next logical progression, because everybody that we admired, comedy-wise, the comedy teams, there was Laurel and Hardy, Abbott and Costello and Martin and Lewis. They all made movies. And that was the next step that you had to do, if you were going to continue on this comedy tradition. So it was the next thing.
PCC:
Even though there ended up being a negative aspect to the relationship, how important was Lou Adler to the evolution of your careers?
CHEECH:
Oh, he was very important. I mean, we wouldn't have had a record career, without somebody promoting us like he did. And the only beef we ever had with him was about the deal on "Up In Smoke." And it was a long, long process to get free again. But we work with him right now. I work with Tommy right now.
PCC:
You talk in the book about the fact that, though you and Tommy always had this amazing onstage chemistry, that didn't necessarily extend to off-stage. Was it difficult to make that work?
CHEECH:
You know, it wasn't always… we got along off-stage, it was really only during the movie years - it was like, who did what? He wanted to exclusively be the writer at some point. And that was not going to work, because we write together and have always. And directed together. I said, "I give you the credit, but I direct as much as you." And he acknowledges that. He has said the same thing in countless interviews. But he wanted, for some reason, to be the exclusive writer. And I said, "Well, this is not Cheech and Chong."
PCC:
How is the relationship now?
CHEECH:
It's fine. I mean, I don't know if he's read the book. I'm sure he'll have reaction to it, because there it is. But I just reported the facts as they occurred. I don't have any animosity towards him. We work on stage all the time.
PCC:
From your point of view, why do you think the duo became such cultural icons?
CHEECH:
Well, we captured the zeitgeist of our generation, what was going on in the streets at that time. And when nobody else was. There wasn't anybody doing what we were doing. And I thought there would be a million people doing this. And we kind of so defined that thing that we had stolen home plate and anybody who did any kind of dope material, it was - "Oh, you're just doing Cheech and Chong." [Laughs] That cracks me up.
PCC:
Did you ever get tired of people assuming you actually were, for all intents and purposes, that character, Pedro, from "Up in Smoke."
CHEECH:
No, I found that fascinating. I write about this in the book - I did an interview with a very famous film critic at the time, with the L.A. Times. He saw the movie and he asked me a question. I gave this very long, involved answer. And he just kept staring at me. I said, "Dude, what's up?" He said, "You don't speak with an accent." I thought, "Really? If this guy thinks that I'm guy, what must everybody else think? Cool!"
PCC:
You must hear constantly about how you've impacted people, including influencing other entertainers, what's been the most gratifying sort of thing to hear?
CHEECH:
People grew up on us. I just got out of the "Sharon Hunter Show," who is my favorite radio personality, you know, from Sirius Radio. I listen to her all the time. And she grew up on Cheech and Chong, although she was young. She was like 12 years old, she said, when "Up In Smoke" came out. But there are whole generations of kids that grew up on Cheech and Chong. And then they became directors, like Robert Rodriguez or Quentin Tarantino or all those guys. And it's like we really truly influenced other generations.
PCC:
So how do you view the Cheech and Chong legacy?
CHEECH:
You know, we always said, even during the height of our record success, when we were first out there, "You don't get it. We're middle-of-the-road dopers. And this is the norm. You just don't recognize it yet." That's what we always thought we were - "This is the norm in America. You just don't realize it."
PCC:
Were you always confident you were going to be able to reinvent yourself, outside of the duo?
CHEECH:
Yeah, I was confident that I could do the work and pull it off. Whether it would be accepted on a grand scale or not, I didn't know. And I've never known that. I just go do the work and try to make the funniest thing or the best thing that I can. And it seems to have worked out.
PCC:
The success of "Born in East L.A.," establishing yourself as an artist on your own, not just half of a duo, that must have been huge for you.
CHEECH:
Yeah. And I knew that I could do it, because that's what I had been doing all my life. It was not something that was totally freaking me out or was alien to me. It was what I could do.
PCC:
And then doing the "Nash Bridges" series in the Bay Area, from the book, it sounds like that was a very enjoyable time - the locale, the cast.
CHEECH:
That was so much fun, man. I couldn't wait to get to work every day. It was great, even though it was hard work - it was 12 to 14 to 16 hours a day, every day, for five weeks, and 10 months a year, for six years. But it was great. I loved working with Don [Johnson, the show's star and producer]. We had the greatest relationship. We got along really well. And we covered each other. And the show was a hit. So you couldn't ask for a better situation than that. And we were in San Francisco. If there's a city that you've got to own, San Francisco is the city.
PCC:
The animated voice work, like "Lion King," was it a kick to suddenly have little kids as fans?
CHEECH:
It was amazing. You know, when I started doing animation, I quickly realized that this was like doing Cheech and Chong without the pictures, because this was voice work. And I knew how to do that and how to make it bigger than it normally was. And so that's how I approached it. It was like, "Oh, I can do this all day! I don't know if my throat can handle it, but my willingness is there."
PCC:
Career-wise, any regrets?
CHEECH:
Well, no, I don't think so. I don't know how I could have… Oh, yeah, one regret. There was a venture, or area, called video games. I was around when they first came out. And they called and said, "We've got this character we think you'd be perfect for. You play a plumber. We'll give you a percentage of it." I said, 'Uh, I don't know. Doesn't sound like something I really want to do - a video game." And it was Mario Bros. So I missed out on that one.
PCC:
As far as what you have done, what's the greatest source of pride?
CHEECH:
You know, all of it, to tell you the truth - Cheech and Chong, working with Tommy, I love it. The work, I never had any regrets about that. And then, on my own, it was great. Television's been great. And stage. And working with Robert Rodriguez and Quentin Tarentino. All of it's just been wonderful.
PCC:
And, as a prominent collector of Chicano art, is one of the joys to be able to call attention to the work of these exciting artists?
CHEECH:
That is probably the most rewarding part of my life right now, because I really love art. I really love the reception to it. And I love being able to represent and promote Chicano art, because I think it's the most wonderful school of art going, you know. To be able help all these other artists and get their art in front of people is extremely rewarding.
PCC:
I noticed you and Tommy have a lot of casino dates coming up. Is that a receptive sort of audience for you?
CHEECH:
Yeah, Tommy and I are on tour, doing casinos. I love doing that, being on stage all the time. And they're lining up to see us.
PCC:
What else is ahead for you?
CHEECH:
I might do some more writing. I'm really getting the bug for that now.
PCC:
Any as yet unfulfilled goals or dreams at this point?
CHEECH:
I'd like to do Broadway before I die - but only for two weeks.
PCC:
Looking back, with all the entertainment you've given people, all the fun you've had, all the fascinating people you've worked with and befriended, do you think, "Wow, what an incredible life it's been"?
CHEECH:
You know, I've never thought of it in that way, because it's like, "Don't look down. Don't ever look down. Just keep going forward." People will come up to me, especially young actors, and say, "I wish I had the career you've had." And it makes me think, "I've had a career? Oh, cool. Whatever."
PCC:
What was the most challenging aspect of the career?
CHEECH:
The challenging part was kind of showing up for the work and having the energy to be focused. A lot of times you can just phone it in, but I just didn't want to do that. And I hope that I never did. Because this has been a wonderful life, being allowed to do different things in show business. So I really don't have any regrets. Everything turned out wonderful.
PCC:
And the most rewarding aspect of the career?
CHEECH:
Being able to make a living out of this and being admired. The reaction that I get from people on the street - they're always happy. They always have a smile on their face. They see me and they start telling me where they were the first time they heard something or saw something. And it's always a positive thing. And to be able to generate that, to be the recipient of that, is really rewarding.
For more on this performer, visit www.cheechmarin.com.