MARISA TOMEI: LIVING DIFFERENT LIVES
By Paul Freeman [1996 Interview]
Marisa Tomei is a rare combination of beauty, warmth and talent.
The extraordinary actress began in television on ďAs The World TurnsĒ and ďA Different World.Ē In 1992, she achieved big screen stardom with her Academy Award-winning performance in the comedy ďMy Cousin Vinny.Ē She later received Oscar nominations for her remarkable portrayals in ďIn The BedroomĒ and ďThe Wrestler.Ē Sheís versatile, vibrant and always compelling.
I had the pleasure of interviewing Ms. Tomei in 1996, as she was promoting another of her acclaimed films, ďUnhook The Stars,Ē co-starring Gena Rowlands and directed by Rowlandsí son, Nick Cassavetes.
With her guileless smile, ready laugh and total lack of pretense,Tomei is instantly captivating.
POP CULTURE CLASSICS:
Did you have faith in first-time director Nick Cassavetes right from the start?
MARISA TOMEI:
Yes, he wrote the script and the script was wonderful. Every project is a leap, anyway. The directorís the only one who knows his or her vision, really, if they do [laughs], hopefully. And you never really know how itís going to go down. I thought we had a really good rapport and that the communication would only build from there. And it did.
PCC:
Was it the character that first made you want to jump into this or the opportunity to work with Gena Rowlands?
TOMEI:
It was great all around. Great script, great part. And I love Nick. And Gena was playing the other role.
PCC:
Did you and Gena have an instant rapport?
TOMEI:
We work similarly. Yeah. I came to the set. They had already been shooting for a couple of days. She was dressed up in like the kidsí Little League costume [laughs]. And she just came right over in between takes and gave me a big hug. And that gorgeous smile. Very disarming. And everything was fine from there on.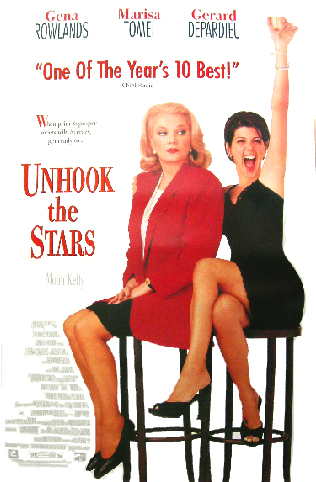 @Fox Searchlight
PCC:
What intrigued you about the character of Monica?
TOMEI:
When I first read it, it was so funny just on the page, all these things she was saying. And sometimes things youíd expect a guy to say. Yeah, how come a girl never gets to say anything like that? Or get to drive that Trans Am? So I liked that. And itís a character that I hadnít really seen before. I thought the dialogue was really good.
PCC:
What were the aspects of the character that seemed so fresh?
TOMEI:
This aspect of her wanting to be so macho and sheís a girl. Thatís such an odd juxtaposition, an odd dynamic going on, psychologically. And her awkwardness, how uncomfortable in her own skin and how desperately wanting to fit in she was and it just not being possible. Her overwhelming sensitivity that causes her to say the wrong thing or to burst out with emotion or give it all up and say she doesnít care if she fits in, when she does. Thereís a raw feeling to her.
PCC:
Did you find some similarities to your own personality? Or is she alien to you?
TOMEI:
Well, thereís always something that you take and you amplify or other things that you decrease. Those are ways in. I mean Iíve felt that panic of saying the wrong thing, of being sensitive and emotional, of reacting emotionally instead of being able to fit them into a society box [laughs], in an appropriate package. In different settings. I mean, not every day of my life, in every setting the way she does. When I was first growing up and just getting acquainted with like business situations, I didnít really know how to react. I was reacting as a person and I had only had social experiences. I didnít know what to do and I was just scared. I can relate in that way. Itís not exactly the same. But there are feelings that are parallel and could be amplified... or not.
PCC:
Growing up, did you spend all your childhood in Brooklyn?
TOMEI:
Uh-huh, yeah. Well, and Westchester, go away to Westchester for the summer.
PCC:
Brooklyn, is there a certain aspect of that you want to hold onto?
TOMEI:
Yeah. Thereís a truthfulness in the character, in Monica, that I respect. Even though she says things the wrong way, sheís telling the truth about how she sees it. And that is something thatís thought of as a New York, or particularly, Brooklyn, quality. And not everyone wants that. [Laughs]. It can make people feel like theyíre being confronted. And theyíre really not. Things just arenít being made really easy. So I like that quality about people from Brooklyn, actually.
PCC:
Do you find people more resistant to that kind of truth in this business?
TOMEI:
I think itís one or the other. But the majority of people in Hollywood, from my experience, are talking in between the lines. And you really have to know how to decode it. And then another percent, a very small percent, are really, totally, brutally honest. And also political. Both agendas can be political, in just the way theyíre approaching their jobs or their lives. Iím sure itís their life choices also. Iím not scared of that truthful bit. I prefer that... and just say ĎItís going to work.í or ĎItís not going to work.í Or ĎThis is a lie.í I like that better, because I donít always have my decoder on [laughs]. I feel like Iíve dug myself into some really horrible hole here.
PCC:
Your career, the whole business, is it the way you fantasized about it? Or is the reality different?
TOMEI:
Itís different from what I imagined. Itís not quite as glamorous as it looks on the screen [laughs]. And itís a business, like any other business, which I really never thought about at all. Any working actor, part of their career is the business part. Itís show business. Thatís the old adage, itís show business. And I didnít really think about that. I just thought about acting and what I was working towards in terms of the craft.
PCC:
So has it been more satisfying or disillusioning?
TOMEI:
Itís satisfying almost because of its disillusionment, if you follow. Itís a place where youíre really tested. In every personís life, thereís going to come a point of like a loss of innocence. I think thatís true of whatever job you do or whatever life you lead. So itís inevitable. And I was kind of idealistic. So I needed to see some scary stuff and scary agendas and things that had just never occurred to me, in my naive way. And now, having gone through that, I just feel like more of a whole person. And itís oddly satisfying to still be interested. I notice that Iím still interested in playing, after Iíve seen it all. I havenít seen it all, Iím sure [laughs]. But I really like what I do. And itís just a fuller experience. I certainly feel that, whatever the disillusionments or disappointments or, conversely, the elation and the magic - because thereís still a lot of magic in just one part changing your life. It could be an amazing creative experience that can change your life. Or a successful picture that affords you more opportunity and makes you famous can change your life. Thereís a magic in that. And itís a weird feeling, knowing anything can happen. And thatís really magical, too. And I feel like all of those experiences wind up, ultimately, to be more satisfying, because Iím just a richer person and I can put that back into what I originally wanted to do all this for, which was the acting.
PCC:
The whole Oscar experience, was that pure magic? Or did that have a downside, as well?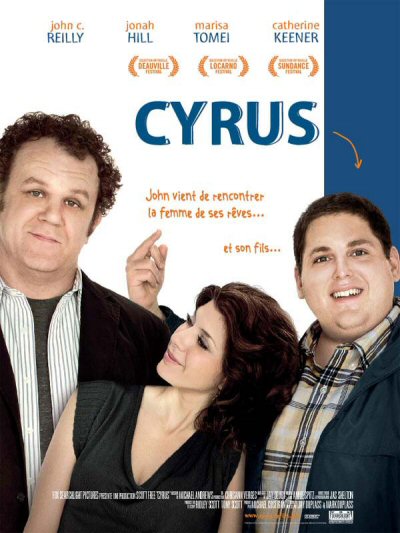 @Fox Searchlight
TOMEI:
Very magical. Very magical. I just sometimes canít even believe that it happened to me. Iím like, ĎOh my God! It happened to me!í [laughs] For every little bit of extra scrutiny or sour grapes, thereís 10 times more support and opportunity and getting to work with a higher caliber of people. I probably would have to climb up that ladder, slowly, slowly. But I got to work with great people right away, because of that.
PCC:
You just finished a film with Michael Winterbottom directing?
TOMEI:
Yes, ĎWelcome to Sarajevo.í I play someone who works for a childrenís charity. Iím trying to get kids out of danger during the war.
PCC:
So itís more humanistic than political?
TOMEI:
Yes, exactly, more humanistic than political.
PCC:
Do you consider yourself very political? Or do you shy away from that?
TOMEI:
[pauses to reflect] I think politics is almost everything, in like a weird way. But like active campaigning and things like that, you mean? Well, I vote [laughs], which might qualify you as highly political these days. I have a friend who doesnít vote, who presented a very good argument, saying that itís best not to, because, if not a lot of people vote, then they, this obscure Ďthey,í will see that the system doesnít work and will have to collapse. And will be revamped. Thatís not going to happen. The country will collapse before that happens. So I still vote and feel privileged to have that right.
PCC:
Whatís the aspect of the character in ĎSarajevoí that you most admire?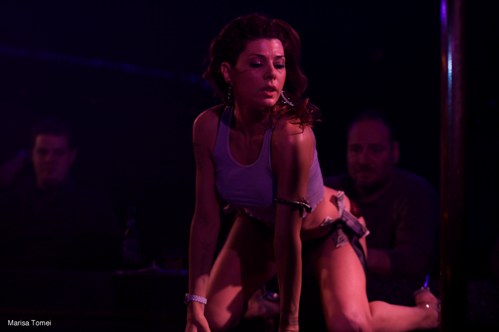 @Fox Searchlight
TOMEI:
Really grounded and really focused on making a personal, positive difference in the world. She definitely has a political agenda. But her political agenda, she has made personal. She really believes one act, the actions you take are more important than any theory. So it really comes down to a human level. She puts her life on the line, for what she feels is to do the right thing, to protect these kids. I wish I could be so noble. [laughs]
PCC:
Was acting always the burning passion for you?
TOMEI:
It was always acting. As a child, I fantasized about some other things, child things, like ĎI want to be an archaeologist and go to Egypt.í Or ĎI want to be a spy.í Kidsí things. But as I grew up, it was really, clearly acting.
PCC:
What was it about acting that grabbed you?
TOMEI:
I donít really know. Itís fun, really. I had a good time doing it. And I still do. I love the sense of community. I love the style and poetry and emotion. Itís easier for me to have words provided to express myself in, rather than in an interview like this, where I have to find the words myself [laughs]. I prefer to express that way. Itís an opportunity to be all these different parts of myself, to live these different lives.