MARTI BROM: FROM RELUCTANT TO ROCKIN'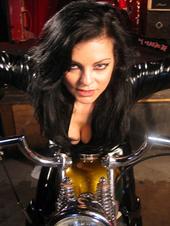 PHOTO CREDIT: Ricardo Acevedo
By Paul Freeman
Marti Brom may have been reluctant to sing publicly, but once she took the stage, she turned into a real rockabilly dynamo.
The Missouri native, who began her career in Austin, Texas and is currently based in Washington, D.C., is relocating to Portland, Oregon. Her husband's Air Force career has made Brom a travelin' girl.
Raised in St. Louis, Brom lived in Italy at age 13. Her adventurous father, a journalist, moved the family there for a year. It was during that time that Brom discovered Suzi Quatro on a jukebox.
"Most of the female singers I'd been exposed to were folk singers, Joan Baez, Buffy Sainte-Marie. So Suzi Quatro was really the first woman that I ever heard singing rock 'n' roll, Brom, 48, told The Daily News.
"But it wasn't 'til I came back to the U.S. that I sought out her albums. She was my first obsession. She was this tiny, little bad ass, bass-playing, rock 'n' roll chick."
In the '80s, Brom was into New Wave. "A lot of those people were doing rockabilly stuff, songs that were covers. You start researching where people like The Cramps are getting those songs. You find out, 'Oh, these are old songs.' Then you find these artists who did the originals. And that's how I found out who Wanda Jackson was. It was through Pearl Harbor covering, 'Fujiyama Mama.' I went and found the original. My family wasn't into that kind of music. The musicians around me weren't really into it. So I had to find it on my own.
"I was always a thrift shopper, so I would buy old records at thrift stores. Maybe I liked the interesting album sleeves. So I found a lot of cool stuff. And then I later realized there were other people who liked this stuff, too."
As to rockabilly's appeal, Brom said, "It's just basic rock 'n' roll. It's the stuff that makes you want to move."
Drawn to all things retro, Brom worked a vintage clothing shop. "I guess I must have lived before," Brom said with a laugh. "Ever since I was a little kid, I've always been attracted to older things, whether it's clothes or books or movies.
"My next door neighbor was a vaudeville performer and her whole house was full of Victorian furniture and dolls. And I was fascinated. My mom couldn't understand why I always wanted to go over there. This woman would play the piano for me and I'd sit there and look at all the stuff in her house. I loved being there. I was in grade school. My parents thought it was kind of odd."
Brom drew from diverse vintage music influences, including Patsy Cline, Dusty Springfield, Chrissie Hynde, Janis Martin, Julie London, Joan Jett and Judy Garland.
What do they have in common? "I think it's just the passion that they have for what they do. That runs through every kind of music, that intensity in whatever you're singing.
"I listened to so much stuff and was influenced by so many different things. I listened to so many female singers, studying their phrasing. So I kind of take all that and try and make things my own. But what I basically do is so steeped in an old style of singing."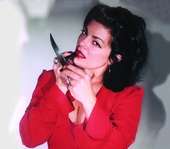 PHOTO CREDIT: Ricardo Acevedo
When performing a classic tune, Brom tried to keep the essence and add own imprint. "We try to respect the song and stay in the vein of what it is, but still try to not copy it exactly, make it a little bit more of my own. It helps to arrange it just a little bit differenty."
Though she was developing her own vocal style, Brom wasn't displaying it publicly. "in high school, I always sang, but I was really afraid to sing in front of people. That held me back quite a bit.
"I got married and my husband was kind of pissed. It was like, "Okay, you sing around the house all the time, but you won't sing around people?' It was like that little frog in the cartoon, who would sing and then when the man would try to show people, the frog wouldn't do it," Brom said, laughing, as she referenced Michigan J. Frog in the 1955 Looney Tune classic, "One Froggy Evening."
"He talked me into being in a play for this officers' wives club. It was in a hangar. Because I had to act in the play and dance, as well as sing, just that one production really got me over my stage fright."
Brom is capable of singing a wide variety of tunes. "I don't really like to be pigeon-holed into one particular vein. I just pick songs that I truly love to sing. I'm looking for material I can be passionate about.
"I'm definitely not a purist. I like all different kinds of music. Not to say I would do any kind of music. I do what I feel I'm good at.
And Brom is more than good at ockabilly. When she moved to Austin in 1990, she immersed herself in the rockabilly scene. The noted band High Noon encouraged Brom, who had long been penning poetry, to record the songs she'd been writing.
"I wasn't that confident about what I was doing. They really helped me with that. I had been writing songs and just keeping them tucked away, never doing anything with them."
Armed with strong originals, distinctive covers and a scintillating voice, Brom earned raves for her albums and live performances. But she wouldn't tour extensively, because she didn't want to be away from her two children. Her daugher Ivy, now 20, was named after The Cramps' Poison Ivy. Son Carson, now 14, is a budding musician.
Despite not living on the road, Brom became a big draw in Europe, Australia and Japan. "Since the '70s and '80s, there's been quite a scene in Europe and Scandanavia, a great deal of enthusiasm for the music. In Japan, they're fascinated with American things. So they're just really truly in love with this music. And why not? It's the basis of everything."
A hit in Scandanavia, Brom is often backed overseas by the Finnish rockabilly band The Barnshakers. "What amazes me is, when I go, and they have these shows in the middle of nowhere, in Sweden. I'm thinking, 'No one's coming to the show. This place is in the middle of nowhere. How would you even know this is here?' And they just bus these people in, tour buses. And they're already drunk and ready to go. I don't think I've ever played anyplace quite like that."
After playing to massive throngs overseas, Brom performs as clubs in North America. "I like both, playing small, intimate places, being able to really talk one-on-one to people, and then playing really huge venues to a lot of enthusiastic people. I just enjoy singing and meeting people."
She has learned to love performing. "I'm not a person who likes the business end of things or the technical side That stuff can wear on you. But when I'm on stage, actually singing, that's it. That's what I love to do."
Over the years, Brom has gotten to know some rockabilly legends. "I've been really fortunate. Wanda was one of the first ones I met. I did a show with her and Rosie 15 years ago. Ever since then, I have been playing shows with her on her birthday and formed a friendship with her.
"And Janis Martin, as well. I moved to D.C. and Janis lived in southern Virginia. And we had been talking about doing some shows together. She had tried to talk me into driving down there to visit her, which I was planning to do, but then she died. So I go own there and visit her husband. Unfortunately, I didn't get to do the things that I would have liked to have done with Janis. We talked on the phone a lot. We were phone buddies. It made me sad that the first time I drove down to her, to Danville, where she's from, was for her funeral. Sad."
Brom was able to learn from those artists. "Oh, yeah, definitely, especially Janis. She was always a good person to get advice, even about promoters or playing shows."
With her shows and recordings, Brom helps to keep the music of such legends alive for new generations. "If I do a Wanda Jackson song and someone doesn't know who did it originally and I tell them it was Wanda, then that will interest that person in Wanda Jackson's music. You have to educate people and then, hopefully, they do go home and Google her. Maybe she's coming to their town. Go see her, because these people won't be around forever."
In the U.S., Brom has found that rockabilly has a more rabid following in some areas than others. "That's more so on the West Coast at the moment, I think. The intensity of it comes and goes in different areas. D.C. has been a hotbed, over the years. There is a rockabilly scene in Baltimore. They have car shows and festivals.
"But there are people who don't know rockabilly exists. I still play gigs where people go, 'I didn't know people did this kind of music,' she said with a laugh. "It just a matter of playing out and getting people to know that it exists and turning their friends onto it."
Brom has found a home in the rockabilly world. "Just being able to do what I love and having people want to come see me and buy my records, that's great. Being able to play with such great people, meeting such wonderful people through traveling. It sound corny, but it's a really great group of people that are into this music. They want to open up their homes to you. There are a few bad apples in every bunch, but, in general, the people who are into rockabilly are so caring about the music, so caring about the performers, always ready to help out a struggling musician. That's been really rewarding to me, to have that sense of community of musicians and fans."
Brom has succeeded on her own terms. "I was never in it for money or fame. I chose this music and it's not a kind of music that's going to have national success. But I'm happy with what I do and with the level of success that I do have in this genre of music. Because I'm doing what I really lke to do. I could sing other stuff that would maybe get me more attention or recognition. But it wouldn't be what I love to do. So I won't do it."
Check out Brom's sounds at: www.myspace.com/martirockabilly.