MATT SCHOFIELD: PHILOSOPHER OF THE BLUES
PCCís Interview with the Brilliant British Guitarist-Singer-Songwriter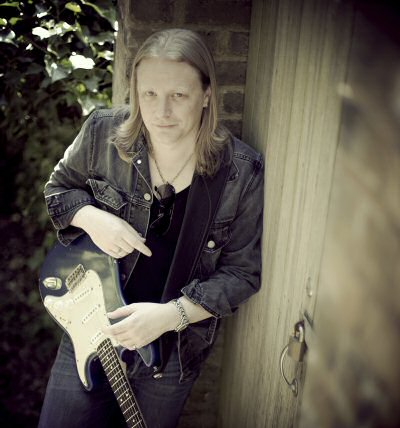 Photo of Matt Schofield by Sam Hare
By Paul Freeman [July 2016 Interview]
British guitar dynamo Matt Schofield speaks blues fluently. ďOne reason I was drawn to the blues is that itís a language,Ē he tells Pop Culture Classics, ďa language that people understand, people respond to.Ē
Schofield, 38, plays with a rare fluidity, power and intelligence. He was named British Blues Awards Guitarist of the Year for three consecutive years, 2010, 2011 and 2012, earning induction into the British Blues Hall of Fame. Guitar and Bass Magazine rated him among the top ten British blues guitarists of all time, joining such legends Eric Clapton and Peter Green.
Schofield puts his own unique spin on the blues. On his latest album, ďFar As I Can See,Ē the opening song, ďFrom Far Away,Ē was inspired by Carl Saganís ďPale Blue DotĒ monologue from the ďCosmosĒ series.
Schofield spent his childhood in Manchester and the Cotswolds of England. When his parents split up, his father, a blues buff, relocated to America, leaving behind some VHS tapes. One was a B.B. King TV performance. Schofield watched it every day before school. When he visited his dad in California, he watched a concert tape featuring B.B. King, Albert Collins and Stevie Ray Vaughan.
At that point, Schofield was hooked on the blues. He began playing guitar by age 12. At 13, he was already gigging.
Constantly expanding his musical knowledge, Schofield moved to London and worked as a sideman, before fronting his own band at age 25. He honed his singing and songwriting skills. Though he continued listening to Chicago and Texas blues, Schofield absorbed jazz, funk and rock influences.
Over the years, Schofield met many of his idols, jamming with Buddy Guy and Robben Ford and conversing at length with B.B. King.
Schofield is currently based in Florida, where his young bandmates reside. He dazzles audiences with his live performances.
POP CULTURE CLASSICS:
On the ďFar As I Can SeeĒ album, the opening song, ďFrom Far Away,Ē was inspired by Carl Sagan?
MATT SCHOFIELD:
Thatís right, by his monologue, ďPale Blue Dot,Ē which was in the original ďCosmosĒ series.
PCC:
Is that something youíre fascinated by, generally, astronomy, the sciences?
SCHOFIELD:
Yeah, science, history, philosophy, all that kind of stuff. Particularly science. Itís just something Iíve always been into, learning the truth about things, as far back as I can remember, as a kid. So I like to try to integrate that in some way into music.
PCC:
So musical inspiration can really come from anywhere?
SCHOFIELD:
Absolutely, yeah. And somebody once said, ďWrite about what you know.Ē Obviously, in the blues genre, thereís a lot of stories about relationships and things like that - the classic man-and-woman tales. But particularly around that time, and perhaps now as well, with whatís going on in the world, that perspective that Carl provided in his ďPale Blue DotĒ monologue, certainly is a perspective I wish more people would be able to take. Thatís why that ended up becoming a song.
PCC:
What is it about that perspective that you find so essential?
SCHOFIELD:
Just that weíre all together hurtling through space and the fact that people are killing each other, left, right and center, all over the world, for all kinds of different reasons, if everybody could just zoom out a little bit and go, ďWhat are we doing?Ē None of us knows whatís going on, where we are, on an existential level, Iím talking about. And everybodyís got bad answers for the wrong questions. I was reading about an astronaut the other day who said, ďI just wish everybody could see Earth from space. And everybody would just stop being horrible to each other, because youíd just go, ĎWow, thatís really all weíve got. Weíre just all on this thing, in space.í Your neighbors seem so far away some times, particularly, spending time here in the U.S., with the election going on, everybody seems to define themselves by their differences. And yet, really, everywhere you go in the world, as much as Iíve traveled, playing music, everybody is much more the same than different. Everybody wants to have a family and friends and be happy. Yet everybody defines themselves by their differences. And if we defined ourselves by our similarities, particularly on a global level of - ďThis is all there is. Itís all we know about is this planet,Ē then I think things would be quite different. But, hey, Iím being an idealist there, of course [laughs].
PCC:
But do you find that maybe music is one way of unifying people, breaking down differences and changing perspectives?
SCHOFIELD:
Yeah, it is unifying. I think thatís one of reasons I was drawn to the blues is that itís a language. Itís a language that people understand, people respond to. And itís always been a shared experience. Thereís a misconception of it being sad music. Thatís a very strong misconception. Itís actually about sharing experiences. The blues, to me, is somebody telling their storiesÖ and the listeners being able to relate, hopefully, in whatever way they can. And not only lyrically, but from an instrumental point of view, itís a vocal music. The great blues guitar players say something with their instrument. They speak to you, you know?
So yeah, music is unifying. And itís all over the world. Every culture has its music. In India, the classical music there - even though some of that music is as different as you could be from Western music, theyíre not even using the same scale, they have extra notes in the 12-tone system - but itís kind of the same as blues [laughs]. Itís like their blues. Or Arabic music. Thereís a vocal quality to it and it can be mournful or it can be exciting and uplifting. But itís all an expression. As are any of worldís great, I suppose youíd call it, folk music traditions, which is what blues and jazz come out of really, more so than current pop music, which is not something I relate to that much.
PCC:
When you were first hearing your Dadís blues record collection, was there an immediate visceral response, even as a child? Or did he have to teach you what to appreciate in the music?
SCHOFIELD:
He definitely did teach me what to appreciate, but thatís because I was already delving into it. I realized that my first experience of it wasnít even really hearing it. He used to go into his little study/office, when I was a kid. I was around seven or eight, when I noticed this - heíd go in and either listen to his vinyl or his reel-to-reel tapes on headphones. And he would he would completely just do that, not doing anything else. And I was very aware of how much he was being moved by what he was listening to, even before I knew exactly what he was listening to [laughs]. So that seemed attractive to me, this personal experience he was having by listening to music on a very deep level.
My Dad doesnít really play music, but he probably should have, because he taught me how to listen to music like a musician. Heíd go, for example, okay, you like Stevie Ray Vaughan, then you should listen to Albert King, because thatís where Stevie got that form. So he took me back through the history of blues guitar music. Also, heíd say, ďListen to what the drummerís doing hereĒ or ďListen to how great this bass line is,Ē really picking it apart for me. So listening deeply into music is an important part of learning to play it well and something that I think gets passed over a little bit now, because we have so much information available to us.
People go on YouTube and they flick through things, but I didnít have that. And Iím glad I didnít have that. I had some taped copies of a handful of my Dadís vinyl records. I didnít live all year with my Dad. I only saw him in summer. Heís there in California. So I would visit him, make some copies of his vinyl records and take them home and basically listen to like half a dozen records over and over again, like really deeply. So it was like extracting the maximum amount of knowledge out of a small amount of source material. So you really, really get to know something. These days youíve got so much choice of information thatís so easily available, that you donít actually necessarily always go as far in. Important stuff passes you by.
PCC:
So it was when your parents split up, as your Dad was leaving, that you received a B.B. King video from him that became important to you?
SCHOFIELD:
Yeah, when he moved to the U.S., he left some of his VHSís. And one of them was B.B. King. Iíve still got it on VHS. My Dad recorded it on his first VCR off TV in like 1984 or something [laughs], off this British TV show. The tape seems to still work, but Iíve transferred it to DVD. So that was a B.B. King concert and I used to watch that before school every day. Itís before I was really playing.
And I actually got a bass first, because I loved B.B.ís bass player, as well. This was when I was like 10 or eleven. I didnít think I could be B.B. King, but I thought maybe I could play bass for him, initially. It was like too majestic. I mean that in a good way. I thought, ďThis is so special, I canít do that. But maybe I can play bass.Ē But the desire to actually do what B.B. was doing never went away.
And then, when I was visiting my Dad in California, in 1990, it would have been, so I was 12, just about to turn 13, he showed me another video of B.B. with Stevie Ray Vaughan and Albert Collins and all three of them playing together. And then, that was it. I was like, ďIíve got to do it, because I want to be up there like that.Ē And about two weeks later, Stevie Ray died. So I was like, ďWell, now Iíve really got to do it.Ē It was just this chain of events showing me I really had to do this.
So I went home to England, when back to school in September and said to some friends, ďRight, weíre putting a band together.. and Iím playing guitar.Ē And one of them said, ďOkay, Iíll play bass.Ē Another said, ďIíll play drums.Ē And my first gig followed in April. Thatís 25 years ago in April. And thatís what Iíve done ever since.
PCC:
You must have really quickly taught yourself to play.
SCHOFIELD:
Well, this is the interesting thing, yeah, I didnít have much vocabulary. It was simple. But then some blues guitar is simple. But I could say something with it pretty quickly. I could improvise with the vocabulary that I had and make a cohesive sort of solo. And I knew the chords. And thatís really what being a good player is all about. Itís not about the amount of knowledge, but what you do with your knowledge. So Iíve certainly amassed more knowledge since that first gig, but, Iíll be honest, it sounds all right [laughs], simple, but well delivered. And convincing enough that, for some reason, people took me seriously, when I said, ďWell, Iím going to play guitar. Thatís what I do.Ē So they never sort of went, ďAll right, well, thatís nice. But you suck.Ē Everybody went, ďYeah, sounds pretty good.Ē So I literally have done it ever since.
But just to be clear, even though the guitar bit came relatively easy, all the rest of it you need to put around that, I would consider still a work in progress - writing songs and singing. I mean, I sang a bit early on. But when I started doing my own band seriously, after being a sideman, around 2003, I was like, ďWell, shit, Iíd better learn how to sing properly.Ē I wanted to get that up to another level, because Iíd kind of ignored that for the previous 13 years of playing music.
So Iím kind of 13 years behind on my singing. And all my heroes, like B.B. King, the complete package - incredible vocalist, iconic genre-defining guitar player and great entertainer, very charismatic, everything. So even though the guitar is first and foremost, and Iíll always be a guitar player who sings, as well, I already like how I play guitar, so Iím not really trying to get some arbitrary idea of ďbetterĒ at guitar anymore. I want to refine what I do more. I am trying to be a better singer or a better songwriter.
PCC:
So did the singing also involve a process of studying vocalists you admired? How did you hone that skill?
SCHOFIELD:
Just doing it. Just doing it and going, ďThatís not good enough. I need to do that more. Same with songwriting. Writing a lot of rubbish songs, throwing them out and starting again. Really the whole experience for me is a sort of selfish pursuit, because Iím not what I would consider practiced, if you know what I mean. But Iíve done it every day. Thatís the process, for me, of trying to get better at it. Just play every day. But Iíve never had a practice regime. Iíve never practiced technique just for the sake of it, on any of those things. So itís possibly a slow road, but itís just the way I need to do it to feel sincere and authentic about it. So itís kind of just being in it all the time. Thatís the best way for me. Some people can learn by a fixed practice schedule. But I just have to be it, if you know what I mean.
PCC:
So how early did you begin writing?
SCHOFIELD:
Around the time I did my first studio record, actually. Iíd done a few bits and pieces, but up until then, it was more about playing. And then you find yourself with your own band and realize, ďI need some songs of my own now.Ē We made a little live record to get some more gigs. And it was blues covers and funky covers. And it was really only to get some more gigs under my own name, do less side work. But people liked it and so it was like, ďWell, Iíd better make my own record now. [laughs]. So Iíd better write some songs!Ē A couple of them, I still throw in live, from the first record, so theyíve survived the test of time, a couple of those early tunes.
But itís about finding a context for your guitar playing to be in, because I donít actually listen to straight-up guitar music. What I listen to is largely, aside from quite a bit of jazz piano, is vocal music. And so again, my heroes all sang and played songs. So, yeah, itís about getting a contextÖ of course, thereís still a lot of guitar on my stuff. But I want it to be tempered by some other colors.
And then you get into trying to find your own version of trying to play blues, because I donít want to play straight-up traditional Chicago or Texas blues, even though I love all the original stuff. Itís mostly what Iisten to. But I donít feel sincere playing that and that is kind of how you end up writing a song inspired by Carl Sagan [laughs]. Itís about being sincere about where you come from. I canít feel authentic standing there and talking about growing up in a cotton field or segregation or that sort of stuff. That feels totally inauthentic to me. And even though I can relate and admire the struggles that my heroes went through, they werenít struggles that I faced in any way, being a middle-class white boy from England [laughs]. So that becomes the focus of things, trying to find a way to be authentic in your own way. So thatís an ongoing journey. Thatís one I keep working on.
PCC:
So do you consciously go about delving into jazz and funk and rock to absorb other influences? Or does that just happen on its own?
SCHOFIELD:
Again, it just happens on its own. Nothing is deliberate about what Iíve done [laughs]. I just love music, really. And you always, of course, get hung on a peg. Iím predominately a bluesy guitar player, because thatís mostly what I like. But I just want to be a musician, rather than even just a guitarist. So I found myself with a thirst for enjoyment, rather than specifically searching for new inspiration. I just want to listen to music I enjoy.
My Dadís stuff was pretty much old school blues. Stevie Ray Vaughan and Robert Cray were about as modern as he got at that time. So actually the first thing I listened to that was really different, that I sort of discovered on my own, was Robben Ford, as a guitar player, and thought, ďWhere on Earth is he getting this stuff?Ē He had more notes than the other guys [laughs]. Not only faster, but I mean more choice stuff. I thought, ďHow can anybody play like that? It doesnít sound like the blues Iíve listened to. It still feels the same as the blues Iíve been listening to me, it moves me in the same way. But heís got more vocabulary. ď
And again, pre-internet, I didnít really have anybody to say, ďWell, thatís jazzĒ [laughs]. So I was just finding my way through it. And so eventually, I discovered that he was listening to jazz, as well as the blues. And so I checked some of that out and I read an interview where he said, ďYou have to have ĎKind of Blueí by Miles Davis.Ē So I got that. So hearing his playing sent me down a path of finding out where he got it from. And then eventually I discovered one of my favorite artists - Oscar Peterson, the jazz piano player. To me, Oscar Peterson and B.B. King are the same thing, in terms of what I get from it.
And then at some point, I discovered the music of New Orleans, which is perfect, to me, because itís everything. New Orleans music is jazz and blues and funk and soul and gospel. Itís all the American roots music, art forms, all at once. So I heard a band called The Meters. I already knew about Dr. John, because the first real gig I ever got to see, that my Dad took me to in California, was B.B. King, Buddy Guy, Dr. John and The Fabulous Thunderbirds. I was like 14 or something. And I thought, ďMan, thatís cool.Ē
So you just shouldnít censor yourselfÖ and thereís a lot of pressure to do that. People donít seem to be able to like diverse albums. Or they seem to struggle with it on the industry side. Itís like, ďWhat are you?Ē So you end up being a blues guitarist. But when we play these kind of jam band festivals that they have down here in Florida, where I am right now, they donít seem to worry about that so much. Itís funky and itís energetic, powerful music. So thatís really my own concern, is just to make music that feels good, rather than that it be strictly blues or something. But at the same time thereís nothing better, thereís no higher honor than being accepted as being able to play the blues. Itís all good to me.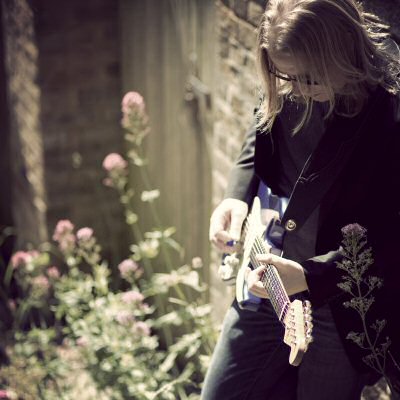 Photo of Matt Schofield by Sam Hare
PCC:
Have you had the opportunity to jam with some of your heroes over the years?
SCHOFIELD:
Yeah. I jammed Buddy Guy. And Robben, who I mentioned, weíve recently talked about working on a record together. And weíve played together many times. And going back to New Orleans, when I was down there in December, George Porter from The Meters came out and sat in with my band, which was a huge honor, that he turned up to play bass with me for a minute. I recorded a Meters song on that first little live album of covers. And then also on my first studio album, one of the covers was a Meters song. So yeah, stuff like that. I just last night sat in with Butch Trucks from the Allman Brothers. So until I started spending more time in the U.S., those are opportunities that didnít present themselves on our little island, in the U.K. But lately Iíve had these fantastic little opportunities.
I never did get to play with B.B. unfortunately. Thatís my major, not regret, but I wish I would have had that opportunity. But I did get to sit down and chat with him for quite a while. So most of the guys I love, to be honest, are gone now, the stuff I listen to, even though I donít play the same kind of music as they did. Weíre definitely on the end of an era.
PCC:
Was there anything in particular you took away from that conversation with B.B. King?
SCHOFIELD:
You know what? Iíve tried to remember what we talked about and it was so overwhelming, I actually canít really remember what the conversation was about [laughs]. We just both sat in his dressing room, talking, like two human beings. It was just so sort of crazy and amazing. So the main takeway from it, for me, was just how gracious he was to me, when he must meet a million people in his career. You know? And they all want to chat with him.
We were on a jazz festival together. And I played a couple of bands before him. So he didnít see my set, but somebody said, ďThereís this kidÖ ď - I guess to B.B. King I was a kid [laughs] - ďand youíre his hero.Ē So he sent for me. He said, ďBring him in.Ē And they brought him out in a wheelchair. This was in 2011, so he was already really old and tired. And he didnít have to do that, he didnít have to make time for me like that. I would have quite happily just shook his hand on the way past. But he sent for me, brought me into the dressing room and we just talked. I just remember saying, ďThank you for everything youíve given me.Ē But he was so gracious. Signed my guitar. Never had anybody sign a guitar before. And we talked about guitars a bit. He didnít normally sign anything that wasnít a Gibson.
So anytime that Iím tired after a gig if somebody wants a picture taken or get an album signed, I try and think about B.B., at 85 or whatever he was when I met him, how gracious he was about that. Because itís easier to be like, ĎOh, God, Iím not doing this now. Iím tired.Ē Well, he did that every night for sixty years or something, you know?
PCC:
But with all that youíve accomplished and all the acclaim, when you jam with one of the greats, do you accept that youíre a peer, or do you feel still like itís surreal, still feel in awe?
SCHOFIELD:
I donít ever accept it. With people like B.B. and Buddy, thatís when the feeling of authenticity really hits you. Like I played ďStormy MondayĒ with Buddy Guy. And I thought, ďIíd better not sound like an idiot.Ē [Laughs] I mean, I donít know what I sound like to him. I know I can play the guitar well, but this is a person who actually contributed to the foundations of the genre and Iím standing there playing with him. So thatís more the feeling with someone like Buddy.
With someone like Robben, itís more like, ďHoly crap, heís really good!Ē [Laughs] Iím not comparing myself to him, other than to say, heís a product of players like B.B. and Buddy, as well, in the same way I am. So thatís a different feeling than with the real originators of the music. Thatís the heavy one for me - those guys who made it up in the first place, thatís the realm of true genius.
PCC:
Those kind of guys affect generation after generation. Is that even in the back of your mind, that you hope your music will have timelessness to it, as well?
SCHOFIELD:
Yeah, it is, in a way. I know how rich my life has been, because of the music my heroes made. I know the feeling that I get when I listen to my favorite artists. What it gives me is so magic. Really all Iím trying to do when Iím playing - and this is the core of the whole thing for me - when I play, Iím trying to make people listening to me feel the same way as I do, when I listen to B.B. or Albert King or Albert Collins or any of those guys. What Iím trying to do is to pass that feeling on in my own way. I guess thatís really what it comes down to is just I hope can move someone even a tiny bit as much as they moved me. So I suppose thatís what it is, itís trying to leave an impression, isnít it? I want everybody to enjoy it as much as I do, really. Thatís the thing.
PCC:
So you transport them for that little moment in time?
SCHOFIELD:
Yeah, itís a really good place to be. Iím really grateful to have both the experience of listening to music as much as I do and the chance to play it. I donít really know what Iíd do, if I didnít have that outlet. People find it in all kinds of things, in other arts or sports or caring for children or animals or whatever it is that makes you feel like youíre contributing, which I guess takes us back to our first bit of conversation, about being unifying, really. Thatís whatís so great about it - itís a shared experience. So itís more than just playing guitar, really. [Laughs]
PCC:
So where are you based now?
SCHOFIELD:
Right now Iím in South Florida, between Miami and Fort Lauderdale, which again, is not some great plan on my part, not by design [laughs]. Itís a long story. Iím still here. But Iíve been working with a band - keyboard player, bass player, drummer - out of here that were already sort of a band. And theyíve been my backing band, predominately, for the past 18 months. Iím enjoying working with these young chaps down here. Theyíre bringing some fresh energy to my music. Itís quite interesting, the next generation. I
was always the youngest guy in the band for years and years. Iíll be 40 next year. So having these younger players is different, a different energy, in a good way. The response is good. So Iíve been sticking around down here. And itís very different from anywhere else Iíve called home. Itís a good experience. Definitely pretty crazy, Florida [laughs]. The guys in the band came out of the U.M. jazz program, where a lot of great jazz musicians have gone over the years. Fort Lauderdale has a lot of blues, mostly like bar blues. Miami has no blues at all. But thereís a lot of jazz and like funky jazz, like Snarky Puppy, like modern fusion, I guess youíd call it. Thereís a lot of that instrumental music going on in Miami.
Theyíre also playing real instruments to young people, which is really important. Iíve said Iíll be 40 next year, but often Iím amongst the youngest people at my own gigs. Itís definitely a maturer crowd. And itís important to spread blues or jazz or any of these American roots music art forms to another generation. A lot of younger folks do enjoy it, when they hear it. Theyíve just never even been exposed to a live band in that sense. Thereís quite a healthy sort of jam scene down here, so Iíve been dipping my toes into that a little bit, because we can play as a jam band, if we need to.
PCC:
So being on the verge of 40, does that make you reflect back on where youíve come from musically and where you hope go?
SCHOFIELD:
I suppose so, yeah. Iíll be 40 in 13 months. Yeah, you definitely sort of take stock, I guess. Itís still harder to do this than I expected it to be at 40, letís put it that way. I didnít expect to get super rich, playing blues or playing guitar music. But the music industry has been like the economy in general - thereís the one percentÖ and then everybody else. So for all my contemporaries and colleagues, itís tough out there. I donít think I quite expected it to be. I try to say to the young guys in my band, ďOnly an idiot would have their own band. Only a fool would try and tour with their own band,Ē because youíre the last one to get paid. [Laughs]
Itís much easier to just turn up and be a sideman in somebodyís band. Thatís the main thing, you sort of go, ďBloody hell, I kind of thought it might be a bit more consistent by now,.Ē But it is making a living playing music.
Artistically, I donít really reflect upon things, because basically, Iím on the same road that I set out on when I was 13. And you just wake up one day and youíre 40. But Iíve just done that since then, for 25 years. I just try and keep getting better at doing what I do, being me, artistically. But certainly life, the other side of things, itís not getting any easier for touring bands. People say, ďOh, you can make some money touring these days, instead of from record sales.Ē Yeah, well, thatís not getting it anymore for everybody either. Overhead keeps going up all around us. So you just try and hang in there, really. And true for everyoneÖ unless youíre the occasional mega-star.
PCC:
Are you married?
SCHOFIELD:
No, Iím not. No kids. And you know, all my school friends Iíve kept in touch with from back in the day, virtually all of them are married with kids now. And I wouldnít be able to do this and support a family and be there for my kids. In fact, Jonny Henderson, who played organ on all my records and was touring with me over here in the U.S. through last year. And heís not been over this year, because he became a dad. And itís hard to be away all the time. You want to see your kids grow up. So there are choices you make.
What do they say? You canít serve two gods. And my god is definitely music. So thatís the choice you make. But I wouldnít have it any other way. I donít ever want to sound like Iím complaining. Iím extremely grateful that Iíve been able to play my guitar every day for 25 years. I donít get paid to play music. Iíd play music anyway. So I try and get paid for driving around in a van or being on flights or sleeping in bad hotel rooms. Thatís my job. Thatís what I do for a living. Iíd play music anyway.
PCC:
With all the challenges youíve described, what is the most rewarding aspect, at this point, in the life in music?
SCHOFIELD:
Thatís a good question. Probably the moments when it is truly magic, when you have a great gig and everything comes together. But itís somewhat selfish. Itís a bit like a drug. You want that fix. Once youíve tasted how good it can be, when it really comes off - and it doesnít, most of the time. Most of the time itís not where you want it to be. So thereís a kind of constant struggle. And we had a gig on our tour last week, last Saturday night, and the sound was great in the room. The sound guy was killer. And everything just came together. And I was the happiest person in the world for two hours. So itís that.
And then the other thing, when other people, especially younger guys playing guitar, they come up and thank you, like I thanked B.B. for what I learnt from him, what he gave us. And that happens, I suppose, increasingly, for me. People come out and tell me how much Iíve influenced them. And then you sort of go, ďWell, job done. Iíve made a positive impact in somebodyís experience of musicÖ and perhaps even life. So thereís the side that I do it for, for me, and thereís the side where you snap out of that for a second and somebody goes, ďThis really means something to me.Ē And thatís super cool.
PCC:
Are you working on a new album yet?
SCHOFIELD:
Yeah, weíre thinking about one. We were supposed to be starting one last December, we had some studio time booked. But as I always say, the music business - two words that donít always work well together. [Chuckles] So we had to stretch things out. So Iím sort of ready to get in there and do it, but Iíve got to wait my turn to come up to be released on the label, things like that. But in a way, I guess itís given me more time with these new musicians Iíve been working with. Itís been getting some legs. So itíll probably be better than it would have been anyway. So Iíll look at it positively. But yeah, itís two years since my last record came out, so Iím definitely due to get one out. But yeah, the music industry often has different ideas.
PCC:
You seem able to maintain a positive attitude, generally.
SCHOFIELD:
Yeah, well I get to do what I do, you know? And as much as itís still a struggle sometimes, itís still First World problems, isnít it? Thatís what they call it. When weíre on tour I donít want to hear people in the band moaning. I know weíre in a van for 11 hours, but youíre not working at a landfill site. Youíre not the trashman. Thereís way worse things. Itís a perspective thing, isnít it? And youíre not being blown up in Syria or something. I mean weíre playing music here, so 11 hours in a van, we can deal with it [laughs]. It sucks, yeah, but we get to play music. So thatís how you stay positive. And like I say, I get paid for all the other stuff, not playing music. Everybody has to do something they donít like for a living sometimes. Thatís what jobs are [laughs]. Then, if youíre lucky enough, you get to include your passion in your job.
For more on this passionate musician, visit www.mattschofield.com.