SINGER-SONGWRITER KATE McGARRIGLE'S QUEST FOR PERFECTION
PCC's Vintage Interview with the Late Folk Legend,
Half of the McGarrigle Sisters and Mother of Rufus and Martha Wainwright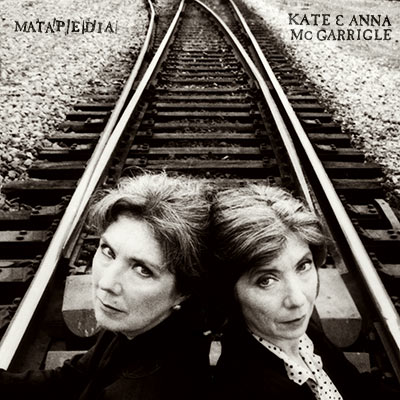 Kate on left, Anna on right
By Paul Freeman [1997 Interview]
For more than 30 years, on record and on stage, singer-songwriter-sibling duo Kate and Anna McGarrigle created enduringly beautiful music. Their collaboration ended far too soon, with the 2010 passing of Kate, who succumbed to a rare form of cancer.
Pop Culture Classics had the privilege of interviewing Kate soon after the release of their much anticipated 1996 album, "Matapedia," one of their finest works.
Kate and Anna McGarrigle, among Canada's most exquisite musical exports, have never been in a rush to release new material. When the exceptional folk-pop artists release an album, it's cause for celebration. Their new one, "Matapedia," is the first since 1990.
"We've become rather selective," Kate says. "we write less, bur we work on them more. We kind of hone each song. We make sure it expresses what we want to say. We make sure we get the words right. And we try to do that using as few words as possible."
Striving for perfection wasn't the only reason it's been so long since their last album. Their previous release, "Heartbeats Accelerating," earned rave reviews. But the label, Private Music, had veered towards New Age music, and the McGarrigles felt that their album was not sufficiently promoted.
"We had put a lot of time and effort and energy into that album," Kate says. "We were supposed to make another album with them. Rather than do that, we just let the contract die out."
The sisters signed with Joe Boyd's Hannibal Records. He had been involved with their first albums - 1976's self-titled record and 1977's "Dancer with Bruised Knees." "You're always better off with someone who knows you and what you do," Kate says.
Boyd began rereleasing the classic McGarrigle albums, while the sisters assembled material for a new record. It took longer than expected to finish "Matapedia." They originally planned to utilize some previously unused tracks from other projects.
Kate says, "Once you get into the studio, it doesn't seem like much fun to remix an old song. So we started going, 'Oh, let's just dump this one. There's a reason why it never got on a record in the first place. Let's move on to something else.' So we ended up having eight new tracks."
The McGarrigle sisters didn't grow up dreaming of becoming recording stars. But music always played a vital role in their lives. Born in Montreal to an Irish, piano-playing father and a French-Canadian mother, Kate and older (by 14 months) sibling Anna were raised in a mountain village. There they received piano lessons from the village nuns. Singing lessons were part of the sisters' home life. The household always resonated in song. Kate and Anna heard songs ranging from Stephen Foster to French-Canadian folk to Gershwin to Edith Piaf.
While in high school, Kate and Anna sang in a folk group, The Mountain City Four, with two older male musicians. Kate recalls, "I had a Joan Baez record and they told me, 'Don't listen to Joan Baez. Go to the Library of Congress records and find out where she got the songs from. Always go to the source.' So it was like a musical education. They gave me a solid foundation in folk music.
"They were kind of musical snobs, though," Kate says. "They accepted Dylan. But they couldn't stand Peter, Paul & Mary. Too sugary. In that atmosphere, none of us had the nerve to try writing songs."
Though they had become prominent figures in the Montreal folk scene of the 60s, Kate went to McGill University and studied engineering and science. Anna studied painting. By the early 70s, such introspective songwriters as James Taylor were gaining prominence. Kate and Anna, separately, began writing songs.
A tape of their material found its way to Maria Muldaur. She recorded two of their songs. Anna's song "Heart Like a Wheel" became the title track to Linda Ronstadt's platinum album. Others to record the sisters songs included Judy Collins, Marianne Faithfull and Emmylou Harris.
Kate says, "Having someone else sing your songs is even more satisfying than singing it yourself. It's such a stroking of your ego and it's so interesting to hear what someone else does with what you've written."
Meanwhile, a friend of Muldaur's at Warner Bros. summoned the McGarrigle sisters to L.A. and they were teamed as recording artists. Their intimate songs and gentle harmonies were showcased in a self-titled debut album that was hailed by Melody Maker and Stereo Review as the record of the year in 1976.
The Warner Bros. rep, Greg Prestopino, and Boyd co-produced the album. Kate says, "Greg's whole push was, 'Let's be commercial.' Joe, on the other hand, was probably as uncommercial as anybody I can think of. In the studio, there was such tugging and pulling between the two of them.
"Greg said, 'Don't put accordions on there! People are going to think this is an Italian talent show!' Joe would say, 'What's wrong with it?' When the album came out, we thought it sounded quite commercial. We thought, 'Gee, maybe we'll have a giant hit!' In actuality, it didn't sound the least bit commercial."
Nevertheless, their music has attracted a devoted following that patiently awaits each album.
The McGarrigle sisters made raising their children a priority. Kate's son Rufus and daughter Martha from her marriage to singer-songwriter Loudon Wainwright III are both now writing great songs of their own.
Today, Kate and Anna write together and separately. Kate is based in Montreal; Anna, an hour away in rural Ontario.
"We're quite opposite to each other," Kate says. "I tend to be more mathematical. Anna, who studied fine arts, tends to be more visual. She'll throw me a picture. We know what to expect from one another."
As expected, the two have created another captivating album. "Matapedia," which refers to a region in eastern Quebec, delves into subjects ranging from old flames to migrant workers to accepting death.
Kate says, "I think, when you live an ordinary life, which the two of us do, you're aware of all the ordinary little emotions. That's why people seem to relate to our songs."
To learn more about Kate and Anna, visit www.mcgarrigles.com.