MERLE HAGGARD: HE IS WHAT HE IS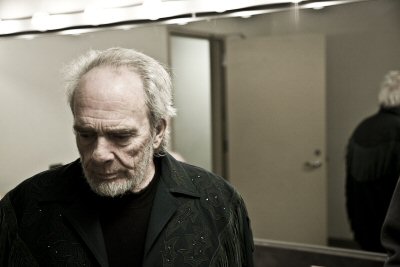 Photo credit: Travis Huggett
By Paul Freeman (June 2010)
Nashville, Tennessee may be called Music City, but itís Bakersfield, California that launched the career of the artist who has provided the heart, soul, grit and integrity of country music for well over 40 years.
That man is the one and only Merle Haggard. He has racked up 40 number one hits and tons of other Top Tens .
But Haggard had to overcome a myriad of struggles, in order to take his place as a music icon.
Born in 1937, Haggard was devastated when his father died of a stroke. Haggard was nine years old. A year later, he hopped a freight train to Fresno, before the authorities retrieved him. Truancy and petty crime eventually led to reform schools. By age 20, he was serving time in San Quentin.
The one positive in Haggardís life was music. He emulated Bob Wills and Lefty Frizzell. Upon his release in 1960, Haggard entered the burgeoning Bakersfield country music scene. A string of smashes followed, including 1967ís ďSing Me Back Home,Ē inspired by a friend and fellow inmate who was executed after an ill-fated escape attempt. ďMama TriedĒ was another musical exploration of his wayward years.
Hard-hitting, everyman anthems such as ďWorking Man BluesĒ and timeless, beautiful ballads like ďToday I Started Loving You AgainĒ and ďSilver WingsĒ cemented Haggardís status as a country superstar, albeit one who always walked his own path.
Country music gradually moved away from its traditional heroes, as well as its outlaws. But Haggard, the poet of the common man, continued to write and record relevant material.
In November, 2008, Haggard underwent surgery to remove a malignant tumor from his lung. But that barely slowed him down.
In 2010, at 73, Haggard released the aptly titled ďI Am What I Am,Ē his Vanguard Records debut. His 76th album, it stands among his finest. No artifice. Just unvarnished truth, Haggard style.
The audience is ready to embrace Haggard again. It represented his highest chart debut in a quarter of a century.
Heís currently based in the little town of Palo Cedro, California and also has a cabin on Lake Shasta.
For a list of his current tour dates, visit www.merlehaggard.com.
Haggard graciously chatted with Pop Culture Classics. [Our June 2010 interview with him is followed by our 1988 interview with this legendary artist]
POP CULTURE CLASSICS:
You once told me that your songs just mysteriously enter your head. Does that continue to happen?
MERLE HAGGARD:
Well,yeah, itís still the case. I donít sweat Ďem. I donít sit down and try to write a song. I just wait for Ďem to come.
PCC:
After 76 albums, do they come less frequently, is it more difficult to pull them out?
HAGGARD:
Well, it is. Iím probably more critical of myself, as I go along. You run out of subject matter. You know what I mean? Youíve written about everything two or three times. Itís hard to find something fresh to write about.
PCC:
Do you still hope that the best one is yet to come?
HAGGARD:
Yeah, thatís my carrot in this rabbitís life. Yeah, I always think that maybe thereís a song that I was born to write, thatís going to be the song that will make my name a household name forever. Youíve got to think that way.
PCC:
If songwriting is a gift you received, do you feel a responsibility to make the most of it?
HAGGARD:
Yeah, I think itís an obligation. Iíve got to be thankful to the big man upstairs for the talent and the blessings that heís bestowed on this old man. Thereís a lot of inspiration in my life.
PCC:
Songs on the new album like ĎDown at the End of the Roadí and ĎPretty When Itís New,í they seem to reflect that youíre in a happy place in your life.
HAGGARD:
Yeah, I might as well enjoy the ride. You know what I mean?
PCC:
Youíve now been married for 16 years and together 24. I understand your wife sings some harmonies on the record.
HAGGARD:
Well, weíre really having a good period. Iím sure that, in years to come, weíll look back and wish we could go back.
PCC:
After some less harmonious relationships, have you figured out the marriage institution now?
HAGGARD:
Thatís funny you should say that. Thatís the way Buck Owens put it to me. He said, ĎYou figured it out, havenít you?
PCC:
And your son has been playing guitar with your band, The Strangers.
HAGGARD:
To have a son, at my age, is absolutely a blessing. And to have him be involved with my life in the way he is, with his guitar playing. I wouldnít let anybody on stage unless they really can play. And he can really play. Heís passed his old man and now Iím asking him things. Heís grasped about 65 years of guitar and heís yet to turn 18. Heís got some built-in wisdom that I donít know where it comes from. But heís got it.
PCC:
Did you offer him any cautionary words about the life of musician?
HAGGARD:
Well, Iím hopiní that heíll do something that I didnít do, which was go study music. Thatís what Iíve suggested to him. I think he may do that. And heíll get the other side of the picture, as well, along with his God-given talent. And then, at still a young age, he can step out there and, look out! Heís got it all.
PCC:
But do you think youíve missed anything by not having formal training? Maybe learning on your own allowed you to develop such a unique style.
HAGGARD:
I donít think education ever hurts. I donít blame education for any foul-up.
PCC:
The title track, ĎI Am What I Am,í does that indicate that youíre comfortable in your own skin now, that you accept yourself?
HAGGARD:
Well, you know, a guy whoís 73 years old, if heís not satisfied with who he is, he might as well cash it in.
PCC:
But have you tended to be that way in the past, or less so?
HAGGARD:
Music has always been my barometer. Iím just trying to be a better musician, a better writer. Thatís what I think about when I wake up in the morning. And Iím still involved in life.
PCC:
That statement, ĎI Am What I Am,í that kind of honesty, do you think thatís always been a big part of your appeal? That was youíre singing about is real and honest?
HAGGARD:
I think so. I think itís necessary, especially in todayís world of mirrors, lies. The fear of being lied to is as bad as being lied to. Weíre used to being lied to. Weíre callous as a public. I donít know that thatís a good appraisal. But I think it is.
PCC:
In the years since ĎFightiní Side of Me,í have you become disillusioned with the political landscape.
HAGGARD:
Yeah, Iíve lost a lot of confidence in the whole deal. Maybe we put too much confidence in Ďem to begin with. Theyíre human beings and theyíve got an enormous job. And this President...nobody in their right mind would want his job.
PCC:
ĎOil Tanker Trainí is that kind of a yearning for a simpler time in America? Thereís a wistful quality to it.
HAGGARD:
Well, I just wait for the return of Christ, to get things straight here. We could go on with our lives without the influence of evil. Wouldnít that be wonderful?
PCC:
Your version of Woody Guthrieís ĎJesus Christí in that ĎCapitalism: A Love Storyí film, at first glance, we might think that you and Michael Moore are an unlikely pair. But youíve both made a practice of battling injustice and bullshit.
HAGGARD:
Well, we are. People who speak the truth, theyíre not going to be popular, necessarily, with the masses [Laughs]. Iím not trying to entertain the masses. Iím trying to entertain the intelligent and the emotional.
PCC:
Now with Vanguard Records, do you have more freedom to do that than you did in the past with big corporate labels?
HAGGARD:
Vanguard and Merle Haggard have a great association at this moment. I hope it continues, because itís really good right now.
PCC:
Your song ĎMake It Through December,í written during the recession of the early Ď80s, does that seem particularly relevant again, the way so many people are going through financial woes now?
HAGGARD:
You know, itís a song that we should rerelease every now and then, because of its seemingly up-to-date message. Itís kind of sad that it always works.
PCC:
Your life story really seems like a movie, going through the struggles and then becoming a music icon. Does it seem surreal at times?
HAGGARD:
Well, you know, weíve been trying to put together a film on my life and it hasnít happened. I guess the reason it hasnít happened is that itís not over with. [Chuckles]
PCC:
Iíd heard that Scott Cooper had wanted to do the biopic, before he directed to make ĎCrazy Heart.í I guess it was a rights issue, with so many people, including ex-wives, whoíd have to be on board.
HAGGARD:
Well, I think that could be right, too many people involved, keeping it from being made. Thatís good information. Iíll value that. Itís a problem before you ever get started. I can see that.
PCC:
But you can feel a sense of pride about ĎCrazy Heart,í since you sort of sparked the whole project, before Cooper settled on adapting a novel instead of an autobiography.
HAGGARD:
Well, thatís what I understand. I havenít seen the film. I scan the trailers and everything, the look and everything, I see what theyíre doing. Itís obvious. But I think it was a combination of me and two or three other artists he was drawing from.
PCC:
Looking back at the turning points in your life, I guess your encounter with Lefty Frizzell was one, leading you into the aspirations of a music career.
HAGGARD:
Yeah, there were different places in my life where things occurred that stimulated me and shot me forth, helped me out. And Lefty was one of them. Early in my life, he was kind to me, got me on stage, put his guitar around my neck and smiled at me.
How significant was it, encountering Caryl Chessman [who was convicted of being the infamous ĎRed Light Bandití and became a focal point of a 1950sí campaign against capital punishment]. Did that make a big impression?
HAGGARD:
It did make a lasting impression. Iíll remember the conversation with him. He was a condemned man and it came about at a time in my life when I was incarcerated in a little old bitty cell with a bible and a blanket. So a lot of things Iíve forgotten in my life, by choice. Some things like that, you canít ever forget.
PCC:
Did he say something that helped you turn things around?
HAGGARD:
The condemned prisoners were one half of an upper sixth story. And the part that I was in shared the other half, separated by an alley of pipes and plumbing and whatever. And there was a couple of little air holes down at the bottom of the cell. We could talk to each other through that. I could hear them talkiní over there. We were on the silence system on our side. And I heard him say that somebody had sent him a life insurance policy. And he got a laugh out of that from a couple of the other prisoners. Theyíre all condemned men, sitting there talking about life insurance policies, jokiní. I hollered over, ĎCan you hear me over there?í And he did. He came to the air hole. I said, ĎIím from down in the yard. Iím doiní seven days for drunk. I want you to know that everybody in the yard is pulliní for you. We stay abreast of whatís going on and all the cons are for you and hope you do well.í And he thanked me.
PCC:
Did you get the feeling that you didnít want to end up like those guys?
HAGGARD:
I thought, ĎHow close can you get to the fire?í I was on the rim of falling completely over. And I was actually having fun in prison. I was makiní beer and I was playing guitar and learning guitar. I donít hesitate to say I was enjoying myself, because it was a learning period in my life. But I suddenly realized that I could be there a long time. And it was then that I turned my life around. I went down and I got myself a real hard job in the prison and spent the next 18 months getting out. Got out and itís been one level of success to another. Been a few valleys along the way, but very few. Just couldnít ask for much more than what has happened in my life. You couldnít even put it all in a film. Youíd have to leave things out. You wouldnít believe it.
PCC:
You must have come out with a new appreciation for freedom.
HAGGARD:
I did. Thatís what inspired ĎOkie From Muskogee.í It kind of irritated me, the people that was puttiní down America and talking about our wars and fightiní and soldiers. They were treatiní our Viet Nam vets kind of bad. And it just infuriated me. And I felt like most of them had never lost their freedom and didnít have the right to do what they were doiní. And that was my rebuttal - Ďproud to be an Okie from Muskogee.í
PCC:
Has songwriting always helped you come to terms with things that have frustrated you in life?
HAGGARD:
Yeah, itís been a way of blowing of steam, a way of keeping track of your own direction. And people change direction in life. People that say that they donít have a different opinion now from the one they had 10 years ago, donít have a very good memory. People change. All people change.
PCC:
Johnny Cash, was he the one who encouraged you to incorporate your life experiences into your song lyrics?
HAGGARD:
Well, I was doiní that already. But I just didnít want to make an issue of the fact that Iíd been put away in my life. I didnít want that to have any sort of a bad mark against me. Cash talked me into being honest with the public about it, rather than having the tabloids dig it out later. I was really embarrassed. And still, itís not a good subject with me now. But he was right about being honest with the public about that.
PCC:
The mantle of being a legend, is that a burden sometimes?
HAGGARD:
Legend? Oh, thatís just another phrase for an old act [Chuckles].
PCC:
When you hear todayís country records, like the pop records, polishing out the human spirit, searching for gloss, are you bothered by that?
HAGGARD:
Well, they are making awfully slick records. I canít get excited about it, because you know nobodyís going to do anything to the extremes. Itís not going to jump at you anywhere. Thereís not going to be anything to surprise you. Thereís not going to be anything funny. And God help us if weíd had a sad song. Itís like weíve shaved and trimmed off the right to display and use emotion in this country. Weíre sick. And our heads are up our ass in a computer. And over the last 20 years, I think weíve lost a lot of great persona that was connected with our very existence, with all these electronics. Nothing is real anymore. Itís all on the internet, and at your fingertips, and yet, what is it? [Laughs]
PCC:
Youíre still going so strong, are you still doing the vegetarian diet with a little fish?
HAGGARD:
Yeah, I do a little fish and chicken, thatís about it.
PCC:
And when you had the issue with the tumor a couple years ago, is it true that you refused treatment at first and you had to be talked into it by your family?
HAGGARD:
Well, you know, when youíve got lung cancer, what kind of treatment are they talking about? So at first, when they discovered it, May 5th of Ď08, it was about half the size of a golf ball. And it was on the upper lobe of the right area of my chest. And it was confined in one lobe of the lung. And it hadnít spread anywhere else. It hadnít gone to my brain or anything. So this guy said, ĎIt looks like we can get it out of there and take the upper lobe. Youíve got three lobes on your right side and two on your left. So we can take that upper lobe and not have to give you no chemo or no radiation or anything. Youíd be scott free.í
So, with that knowledge in mind, I went off and did the rest of my shows all year long and then, November the 3rd of Ď08, I went in and had the upper right lobe removed and they found another little old cancer in there, but itís a slow-growing thing and they said Iíd probably die of some other thing before it got me. So Iím not worried about it.
But you know, Iím 73 and if I die in the next 20 minutes, they wonít do an autopsy.
PCC:
When did you finally quit the Camels?
HAGGARD:
A long time ago. 1991 I think.
PCC:
Youíve been doing some shows with Kris Kristofferson, do you look at him as a kindred soul?
HAGGARD:
Yeah, thatís a good description of him. Heís a real tender guy and a wonderful person to work with.
PCC:
Do you sense thereís been an upsurge of attention to your music? The new albumís doing so well.
HAGGARD:
Yeah, itís selling right along. And yeah, thereís been an upsurge. Maybe thereís more interest. I donít know what to attribute it to, really. Music, as a whole, is not up. Itís not a good time to be a recording artist. But you can have a hit. I think Ray Stevens has got a hit. Thatís wonderful.
PCC:
With your music, what effect generally do you want to have on the listener?
HAGGARD:
I donít know. Itís like ringing the right bell. You hope to say something that will resonate with the masses and be unique.
PCC:
Can you even conceive of what your life would be without music?
HAGGARD:
Boy, it wouldnít be much.
PCC:
Must be a great feeling, knowing that your songs have survived and will survive, just like the songs of Hank Williams and Jimmie Rodgers and Bob Wills. Does that give you a feeling of immortality?
HAGGARD:
Well, itís a good feeling to know that youíve made a mark and that maybe youíll mentioned after youíre gone. You bet itís a good feeling.
PCC:
Do you have everything you need in life now? Or are you still searching?
HAGGARD:
Iím still trying to write that great song. I want to write that song that needs to be written.
PCC:
How would you like to be remembered?
HAGGARD:
Iíd just like to be remembered. [Laughs]


---
BONUS - Our 1988 Interview with Merle Haggard
---
PCC:
Whatís your approach when making a new album?
HAGGARD:
Itís our intention to step forth each time. Like the old saying, ĎIf youíre not going forward, youíre backing up.í We try to be innovative each time we have an album. Sometimes we fail. Sometimes we donít.
PCC:
Do you ponder what might work commercially or just what works for you?
HAGGARD:
I compromise very little, but enough to hopefully get the product to market.
Iím an old-timer in this business. Thereís been a lot of executives come and gone. Thereís been a lot of young hotshots that tried to get me to do certain things over the years. Iím mellowing quite a bit in my older years. I might have been rude to some of them in the past. And probably lost a lot of help. But one learns to compromise.
PCC:
You know best what the Haggard fans will enjoy.
HAGGARD:
Thereís been a couple of cases in the past, way back in my career, Ď65, I released this thing called ĎSwinginí Doorsí that was the number one song of the year. And I just didnít like it. Still donít.
But I am able to pick a song thatís a hit. Iíve never been wrong about saying, ĎHey, thatís a hit there,í when I hear one. But sometimes Iíll fail to hear one and fail to agree with the public on something. I mean, I thought ĎSwinginí Doorsí was all right. But I didnít think it was a number one song of the year. And I still donít understand that.
PCC:
After performing for so many years, does it get difficult to get fired up for each concert? What motivates you at this point?
HAGGARD:
Iíll tell you what motivates me. We do something a little different, I think, from the majority of acts on the road. We donít attempt to follow any script. And I have players with me that can play any given song that I can possibly know or have written. They know everything I know and much more. And theyíre able to take direction at a split second. I go out there cold and I do what I feel, every night. It probably doesnít vary a great deal from night to night. But it varies a little bit. Thereís always a surprise in the show for the band, so that they canít set there asleep. And the songs never come in the same sequence. The guitar player may take a chorus on it tonight and tomorrow night, he may not. Somebody else will get it. So thereís no concentrating on something thatís going to happen, that you donít like to do. And when you do something so many times in a row, the same way, well, complacency and boredom and all those things begin to set in. And we donít have those to deal with, because itís not that way. And so, the motivation in my life, is just to be able to stay in shape to be able to play with these guys that Iíve got hired, because I think Iíve got the finest band in the nation, that can play anything. We can play it right now.
PCC:
With your songwriting you keep offering fresh insights. Are you still discovering new things about yourself and the world around you? Are you prone to introspection?
HAGGARD:
I donít know. When I was seven, eight years old, I got average grades in school. But they always added at the bottom - seems unconcerned and heís always staring out the window. But I was trying to write songs then. And I didnít even know why I wanted to write Ďem. But I must have been 13 years old before I looked on those old records and saw that some of those people who sang those songs didnít write Ďem. And vice versa. I noticed on Hank Williamsí record, that he wrote that song. It had a great impact on me as a child. I thought, ĎThatís really important, that Iím able to write a song. The difference is, someone telling their own story, and someone being handed a script and told to read someone elseís story.
Literacy in America really is found in the expression and the emotion thatís found in the words. So many words mean the same thing and can be taken the wrong way.
Itís just something Iíve studied, always, and I take a lot of pride in it. And I, hopefully, can always come up with something about myself that will be speaking for others as much. Itís an interesting thing to be able to come up with something about yourself thatís exactly like millions.
PCC:
Any relatable subjects youíve been contemplating?
HAGGARD:
Everybody has got to be thinking about the condition of the air. And it would be hard to write something that would be listened to and enjoyed musically, that would be about something as dry as air pollution. And Iíve never been able to write anything about it. But Iíd sure like to. Iíd like to be able to come up with some phrase that would summarize it and write that thing, because weíve got a lot of dirty air problems. But itís hard to do.
PCC:
The songwriting ability was something you were born with?
HAGGARD:
Iím not sure if Iím a guy who believes in reincarnation or anything. Iím not sure exactly what happens after death or what allís out there. But sometimes I suspect thereís some spiritual help, when something comes to me. And Iím just as surprised as anybody sitting around me.
PCC:
So the songs just pop into your head?
HAGGARD:
Iíve had songs two pages long with eight or nine verses, just driving somewhere and had to stop and have someone with a fast pen thatís able to take it all down, because I canít even remember it a second time. Kind of suspicious, actually.
I donít ever sit down to write. Iíve gone through dry periods, several weeks, months and thought, ĎWell, itís all over.í I only write when Iím totally inspired, when it comes to me. It usually comes to me at the most inopportune times, like on the way to the stage. Walking from the bus into the coliseum, I had a song come to me in England. And I had three people around me taking notes at the same time. They were introducing me on the stage. And I just said, ĎKeep going.í There it was. I knew Iíd never recapture it.
Itís not like Iím setting there, sweating to write a song on the way from the bus to the stage. Iíve got things on my mind. All of a sudden, here this thing comes.
PCC:
Your story would make a great autobiography.
HAGGARD:
Iíve always been more proud of my private life than I was ashamed
I think, in order to make the good side of a person believable, I think that you have to tell the bad side, also. I think my life storyís probably more interesting than my songs or my success. Iíve really had a phenomenal life. To have made it through all those things is really phenomenal. And theyíre all documented.
To have been sent to prison and made man of the year by the same county seat is somewhat phenomenal. It happened to me. But itís hard to get it to sink in sometimes. I wonder if Iím dreaming or making up things or hallucinating. But I think all these things really happened [Laughs].
PCC:
what would you hope people would learn from watching your life story?
HAGGARD:
Never give up. Thatís really the bottom line. The American Dream, at least at the time my life was in its infancy, was still absolutely a possibility in this America.
Iím still amazed at everything thatís happened. I donít take it for granted. No matter how big a legend you are, success in this business depends on your next record and your last record. Has-beens are everywhere. But Iíve always wanted to be current. And if I wasnít current, Iíd want to get away from it and bow out instead of singing to the dying quiver.
PCC:
Have you ever felt that the scene was passing you by?
HAGGARD:
Oh, thereís been times in my life when I felt like things were a little unfair to me. I had records that should have gone across the board in popularity and didnít. Thereís a categorization thatís found in American programming that you donít find in a lot of other countries. In Europe, weíre very popular as a singer. They play Merle Haggard. Theyíre allowed to play him anywhere. In America, you must fall into a category. Thatís the only time that I felt that maybe something passed me by that might have been mine, but was denied because of a dialect or an accent I might have. If Iíd been born in New York, Iíd probably sing opera.
PCC:
What did you think of the whole ĎUrban Cowboyí craze?
HAGGARD:
I found it kind of amusing. I predicted it would be a short fad. And it was. It was too plastic. Everybody doesnít wear hats and ride mechanical bulls and dance with a smile, you know what I mean?
It wasnít no trend that I was wanting to follow, I didnít hear anything in it that I felt valuable enough to put into my repertoire of things to do any one time or another. I look for those things in music.
PCC:
What is country music now?
HAGGARD:
I really donít know. I listen to country stations and wonder if what Iím doing is anywhere close to that. If I could suddenly appear on the scene and someone was to play my records and play Elvis Presley records and say that one was rock Ďní roll and one was country, Iíd like to know how theyíd decipher it. Iíve never intended to be anything that I wasnít. And it seems that they find me country. If thatís what I am, thatís fine. I donít care what I am.
iím a guy thatís against the categorization of music. I liked it was better before the computers took over. There was a time when a disc jockey, whoever he might be, would come on the air and you knew you were going to be entertained differently that day than you were the day before. He might play this or he might play that. But that timeís gone. Everything is categorized now. Itís an R&B station or a country station. And itís really hard to separate people like Ray Charles and a lot people, as to what category they should fall into. How can you tell a country album from a blues album when Ray Charles does it?
One element youíll always find in my albums is blues. And youíll always find some jazz. And that is not necessarily the case in country. Thereís a bit of blues usually found in all country music. But Iíve even heard records lately that didnít even have any of that.
PCC:
A lot of rock fans veered into country. Why?
HAGGARD:
Rock Ďní roll used to resemble music. And thereís some things thatís happening now, itíd be hard to whistle. And itíd be hard to figure out what the message is.
PCC:
Do you like to see country expand its borders?
HAGGARD:
Iím glad to see country musicís boundaries widen out, because it gives me a wider area to be part of. I donít know that anybody should categorize country music as something that has to be played with fiddle and steel. I think country music is something that comes from the dirt of America, from the back roads and the back streets and the alleys. It comes from the black side of town and it comes from the white side of town.
PCC:
Youíve said that, more so than a lot of other country artists, you draw many African-Americans and Hispanics to your shows.
HAGGARD:
I find that a great, great compliment.
PCC:
Is the broad appeal, because youíre seen as a working man?
HAGGARD:
Thatís what I was. I didnít have a college degree. I worked as a kid. So I know pretty well how they feel and what they have to cope with.
PCC:
How have you managed to maintain popularity without trying to cater to the whims of the day?
HAGGARD:
People have tendency to do like the other one does. And Iíve always just been a guy that tried to be just like I was, no matter whether anybody else was that way or not. And itís funny, Iíve always found myself fitting in. I wasnít that far off the field. I always seemed to represent a great mass of people in the country with the songs that I write that are biographical.
PCC:
Were Okie From Muskogee and ĎFightiní Side of Meí mixed blessings in terms of being perceived as right wing?
HAGGARD:
I donít think Iíve ever thought, ĎWould it hurt me or would it help me?í What would have been without it as opposed to what it is with it, thatís an impossibility to say. It certainly was a mixed response. But it said something to a silent majority, at the time, that I felt was fair to say. Iíve always tried to make sure that people understood that Iíd never totally admitted that I agreed personally with everything the song said. This was a song, I was trying to describe a middle-class American, living in the middle of America, that might not have been so inclined to the changes that were taking place around. Maybe I should have said, ĎThey donít smoke marijuana in Muskogee.í But I was speaking from the personís standpoint - ĎWe donít...í Not necessarily talking about me, but taking the perspective of someone over there.
PCC:
is there one song that, more than any other defines Merle Haggard?
HAGGARD:
Everything that Iíve written is a part of me.
PCC:
Coming from California, did you ever feel 100 percent accepted by Nashville?
HAGGARD:
Thereís always been mixed emotions and mixed stories, some true, some false, about my feelings towards Nashville, Tennessee. Being from California, Iím not used to a lot of the weather conditions, the humidity, mainly. That is the main thing I donít like about that town. The second thing I donít like about that town is that there are a lot of phonies there. There are a lot of people who have gotten into positions that they canít justify, that they donít have the credentials for. But there are also a lot of good people there, a lot of good entertainers that make a living in that town, that donít have national prominence, but theyíre friends of mine. A lot of old entertainers that Iíve admired since I was a kid that admire me. And I have a special invitation to those peopleís homes. Iím great friends, I think, with most all the well known people there, whoíve been around a time at all. I enjoy the facilities of the town, some of the finest technicians and best studios around. Shopping is great there. Itís a city like Hollywood - you can buy things there that you canít buy elsewhere in the world. Thereís a lot of pluses to that town. But I found it hard to live there, because of being in the business.
I was getting calls at seven oíclock in the morning. Johnny Cash called me up at eight oíclock in the morning, said,íWhy donít you come down?í I said, ĎWhat you doiní?í He said, ĎMaking phonograph records. Why donít you come down? Me and June would like you to sing on a song.í What am I going to do? These are good friends. Iíd get up for them. But thatís just one example. I found myself making records that I shouldnít have made and coming up with reasons for going to the studio when I didnít have a song. It was like living in the middle of a carnival fairway or something.
PCC:
So now youíve been recording at your own studio in Northern California?
HAGGARD:
Now Iím able to keep things private until I want to put them out. When I was cutting songs in Nashville, everybody in the business had already heard everything I was doing before it came out. So the impact of the release, a lot of the interest was knocked off it, because thereís a couple of hundred thousand people in town that work in country music. If you can keep it under your hat, those people will be surprised, too. And I donít want somebody to take something off my session and go down next door and put it on another guyís session. Session players just go from one to another. I prefer using my own boys, for the most part.
PCC:
I understand youíre a student of country musicís history.
HAGGARD:
Iíve done just as much research on Bing Crosby and Satchmo and jazz players, Charlie Christian and people like that, as Iíve done on Jimmie Rodgers and Bob Wills. I could probably tell you most everything you want to know about music as a whole, since about 1920.
PCC:
As a musician, that gives you a better overview?
HAGGARD:
Well, if I was a ballplayer, Iíd want to know everything about Jim Thorpe, as well as Babe Ruth, you know what I mean? In hopes that I could play baseball and football, too. Iím in the music business and I enjoy being able to tell somebody the right dates and times and places and who was involved in making a particular record and why they done it the way they did. Itís kind of a hobby. I have a good memory. And thatís kind of a way that I practice it.
PCC:
I read that Jesse James was at the top of your list of heroes.
HAGGARD:
When you study about Jesse James, there was a lot of things that made him a hero, the way he was a Robin Hood in some ways. I think there was a time, before the end of his supposed life that he became bigheaded about hisself and became ruthless in his latter robbery days. But at the beginning, I think his intentions were something to be admired. And his evasiveness and his ability to lead guys and to rob people and also have them admire him, was an unusual talent.
Jesse James represented a piece of America. There almost had to be a Jesse James in order for people to realize how serious the war was between the North and the South. He was one of the last rebels. I donít believe he died when heís supposed to have died. I think he lived to be 103. Iím pretty certain of it. Most people who know anything about him agree.
There was a guy who was doing a lot of things that were against Jesseís nature, that was around at the time. He was robbing people, shooting the women, things of that nature, and saying that he was Jesse James. His name was Charlie Bigelow. And they say the guy in the casket looked like Charlie Bigelow.
PCC:
Do you see yourself as a rebel? As a country music outlaw?
HAGGARD:
Iím probably what they call an outlaw. I donít like to do things the way youíre supposed to do Ďem or the way itís considered kosher, probably. I like to record the old-fashioned ways. I like to record with all the musicians in the studio at the same time. I donít like to make a bass track and go back and add my voice 10 years later and wonder what mood I was in the day I made it. For those reasons, I think they call me an outlaw. If that describes it, thatís probably what I am.
PCC:
How do you deal with celebrity?
HAGGARD:
I donít pay no attention to it. If people are nice to me, Iím nice to them... and most of them are.
PCC:
Youíve taken up a healthful diet?
HAGGARD:
Iím mainly a vegetarian, a little fish. I just kind of did away with meats. I drink water and juice, no dairy. But Iíve had a lot of luck with eggs. My cholesterol and blood pressure are perfect. I try to replace the hunger with water. I drink a lot of lemon water. Iím working on the theory that the bodyís 70 percent water. If you get that happeniní right, youíve got 70 percent of your health. [Chuckles]
PCC:
And that keeps you in good shape for performing?
HAGGARD:
I think so. I could pork out. I think thatís one of the things that got Elvis. Elvis just started eating everything. He lost faith in a lot of people and just didnít care about himself.
PCC:
Itíís difficult for an entertainer to avoid the excesses, to keep control.
HAGGARD:
You bet. Thereís a word called Ďmoderation.í If you want to forget it, I can get anything I want. And Iíve probably tried everything. I tried cocaine in Ď83 and it near killed me. And I donít want any cocaine. I canít work and feel that way.
At that time, around Ď84, my wife had left. And I was paying her $25,000 a month spousal support. I was losing my resort on the lake. The income tax was after me. And it seemed like the whole world was after me for a while. I stressed out. I couldnít handle it out. And got way down low and was worried about me.
PCC:
How do you pull out of something like that?
HAGGARD:
I went to a friendís house and said, ĎHey, donít let anybody find me for five days. Iím going to sleep.í and I slept for five days and five nights. And the cocaine problem and a whole bunch of the other problems I thought was there didnít exist anymore. You have a way of over-stressing yourself. There are a lot of things that seem to be problems that just donít exist, actually.
PCC:
The money problems no longer seemed important?
HAGGARD:
Money never has seemed to be important. I never made enough of it. And I always accepted it that way. Iím a small businessman. Iíve managed to stay open when Chrysler when broke... but just barely.
PCC:
So youíve overcome your vices?
HAGGARD:
You canít take dope and be successful for decades. It might work for a month or two.
Iím a guy whoís done just about everything. I guess smoking is my one continuous downfall. Iíve been smoking since I was nine years old. And I smoke Camel non-filters. I realize the hazards of it all. But my lungs are fine. Not even any emphysema. Itís like an old friend of mine said, ĎIf I quit smokiní today, a goddamned tobacco truckíd run over me tomorrow.í
PCC:
Did you mind having a hard-living image?
HAGGARD:
Oh, that hard-living image is just an imaginary, short-lived period, I think, in every manís life. And itís really something to debate about, as to whether it should be admired. And Iím certainly past that stage. Iím trying to keep my health good. and to get drunk wouldnít be the way to do that. I donít like to get drunk. I donít feel good when Iím drunk. I happen to like water. And I enjoy a good drink of water, as much as somebody enjoys coffee or whisky. It just so happens, when I was in the penitentiary, I got off drinking beer, which I had a bad habit of drinking beer. I drank a couple six-packs a day. I come out, I couldnít even drink half a beer. So I thought to myself, ĎHey, Iím going to take advantage of this. I ainít never going to get to the point where I can drink more than half a beer.í And thatís the way I kept it.
Iím a guy who might not have a drink for three months and I might tie one on every now and then, have a bit too much tequila and wind up with a hangover. [Laughs]. If you want to have a drink, I think Christ recommended it. He said, it would lift your spirits. But in moderation.
Iíve taken Valiums over the years. And Iíve done upper pills and things of that nature. But I never did overdo it. Booze impairs my ability. And I really do have fun onstage. And Iím not confronted with the problem of doing the same old thing that Iíve done for years. I feel sorry for Conway Twitty and people like that, that have to do that, have to live by a script. Theyíve got to be hatiní it. But we donít live by no script. We go out there and we sing exactly what we want to sing. And we play it the way we want to play it that day. We donít try and copy it from the record. So that takes a bundle of stress off an entertainer, I believe. Iíd recommend it to anybody, to get themselves in shape to sing, if theyíre a singer and know a bunch of songs and pick from the whole batch.
PCC:
Whatís the source of your inner strength?
HAGGARD:
I feel I should be repaying life for being, at least, interesting to me. Iíve enjoyed everything Iíve done. Been more proud than ashamed.
PCC:
Any regrets?
HAGGARD:
Oh, yeah. But Iíve never regretted the same thing twice. Maybe Iím learning.
PCC:
So you donít waste time fretting about the regrets?
HAGGARD:
No. The past is gone. And the future isnít here yet. Thereís only now. If you can remember that, I think a personís better off.
PCC:
A lot of people relate to your song, ĎI Wish I Could Be 30 Again.í
HAGGARD:
What I meant to say was, I wish I had the energy that I had when I was 30. The first line of the song is, ĎYouth should be saved for the last. Itís wasted on the young and the fast.í And itís really so. You need youth in the last part of your life, because you would know what to do with it [Chuckles]. Kids should be almost where they canít hardly walk Ďtill theyíre 20 years old. And weíd send old men to fight the wars that way.
PCC:
Still have any unfulfilled dreams?
HAGGARD:
Oh, God, Iíd like to be the greatest guitar player that ever lived, but I donít think Iíll probably make it on this planet. Itíll have to be somewhere else. But thatís always been a great motivation. I still feel that maybe I have my best song to write yet. So thatís enough.