MICK JONES: NO FOREIGNER TO ROCK MUSIC SUCCESS


The Guitar/Songwriting Great Talks About How His Band Clawed Its Way Back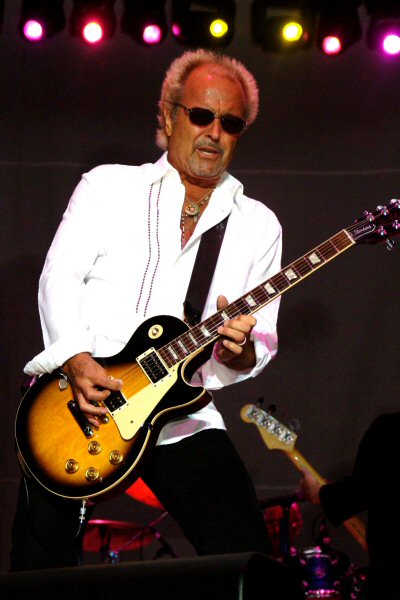 Courtesy of Foreigner
By Paul Freeman [August 2015 Interview]
Foreigner has become a permanent resident of the charts. Nearing their 40th anniversary, they remain one of the world's most popular rock bands.
"Orange is the New Black" recently featured Foreigner's "I Want To Know What Love Is" in the season finale. Their songs have also been used in films such as "Anchorman 2," "Magic Mike" and "Pitch Perfect."
Originally from Somerset, England Jones picked up a guitar in his teens. In France, he backed pop idols Sylvie Vartan and Johnny Hallyday. With Hallyday, he shared bills with The Beatles, Jimi Hendrix and Otis Redding. He played in studio sessions with Jimmy Page and John Paul Jones.
In 1972, Jones and Gary Wright put together a new lineup of Spooky Tooth. They also enjoyed a fruitful writing collaboration.
In 1976, Jones founded Foreigner. Songs like "Jukebox Hero," "Hot-Blooded," "Feels Like The First Time," "Cold As Ice," "Head Games" and "Waiting for a Girl Like You" have passed the test of time, appealing to multiple generations.
Jones and singer Lou Gramm, his frequent collaborator in Foreigner, were inducted into the Songwriters Hall of Fame in 2013.
Gramm left the band for the second and final time in 2002. It wasn't easy replacing him, but when Jones connected with former Hurricane vocalist Kelly Hansen, Foreigner soared again.
Foreigner has notched 16 Top 30 hits and 10 multi-platinum albums. Album sales total over 75 million copies. And the band continues to pack venues with fans eager to hear their classics. At 70, Jones can still display the on-stage energy of a musician half his age.
POP CULTURE CLASSICS:
Coming up on the band's 40th anniversary, what's the most gratifying thing about the band's ongoing love-fest with the fans?
MICK JONES:
Well, it's kind of beyond belief. If you had told me that 20 years ago even, I'd have thought you were crazy [laughs]. But it's what I do. It's what we do. And we've been able to hang in through different trends. All different kinds of styles have come and gone. Not necessarily gone. But I just feel incredibly happy and grateful for having been able to do something I love doing for most of my life.
PCC:
Things like exposure on "Orange Is The New Black," it seems like there's always a rediscovering happening, a reenergizing of Foreigner's popularity.
JONES:
Well, in some circles, we're kind of cool [laughs]. Finally.
PCC:
A lot of songs are popular in their time, but don't have the timeless sort of appeal. Your songs have remained favorites generations later. Why do you think they've had that kind of enduring popularity?
JONES:
All I know is the amount of work that we put into those albums, it was really intense at times. On the second album we had to deal with that sophomore jinx [laughs], which most artists seem to suffer from. Or a great deal of artists. And we were able to come through and maintain a certain level. I did all I could. I had a certain amount of experience. I had a good idea of what I wanted. And gradually putting the band together, the songs developed. And I loved the songs then. I can still listen to them now, so that's pretty weird [laughs]. I do go through spells where I don't want to hear them, but for the large part, I'm not, "Oh, my God! What was that? What were we thinking?"
But the songs, I think, a certain part of it was mass appeal. But a lot of it was rock. That's where the foundation was. And even though we went through a little soft lull there for a couple of years, I think, beneath everything, people come to the shows and they realize it's a serious rock band. It's a jamming band. In some cases, the audience has maybe even forgotten some of the songs that we had. You can see them kind of mouthing like, "That one, too? Oh, my God!" [Laughs] So it's got a substantial foundation that's set in over the years, I guess. And apart from that, it's just chance, as well, doing the right thing at the right time. There are times when I've thought, "Well, I don't know where that came from. Somewhere more powerful than me, lets say." [Laughs]
PCC:
Having Kelly Hansen coming in and doing such a great job, were you confident you could find a new lead vocalist who would be able to fully handle that role?
JONES:
Well, it took quite a while. If I hadn't found Kelly, or somebody of his calibre, I don't know whether I could have found another singer that would have enabled me to go with a clear conscious and say, "This is how the songs sound." Kelly has a number of attributes. He's a great singer. He's a great performer. He's a great guy. He doesn't have that lead singer attitude [laughs]. Oh, sometimes maybe [laughs]. But we talk about it and then… but it's fun. Foreigner turned into something, finally, that was fun.
Although we had, of course, the early years were euphoric and wonderful. But the lull in the 90s, it was not that enjoyable. So to be able to salvage Foreigner and to be able to put new life into it was imperative. And I think we've managed to do that. But it was a slow grind, coming back. We played a few clubs, big clubs, but clubs. Going from stadiums to clubs is quite a wakeup. But we persevered through it and we gradually clawed our way back. And once people saw the band again, they were really excited, I think. So we managed to fight back in a way. It was almost like starting a new band, some of the things we had to do to reestablish ourselves.
PCC:
When you first picked up a guitar in your teens, what was the dream? Did you have grand aspirations as to where performing might take you?
JONES:
Well, you know, I was thinking about that the other day. I think you find in most bands [chuckles] it's a combination of music and the women… or the girls, in those days. It's got to be the fantasy around it. It's an attractive kind of dream, in a way. But at some point, if you're going to see what is really important to you, you have to make a decision - in my case, I had to - to follow the strongest emotional pull that is calling you. And it happened to be music. Not that I went off women…. but music is the foundation.
And music, in fact, to me, sometimes it's almost like having a mistress. It demands so much from you, so much time and so much dedication to work, practice, everything.
The dream I actually used to have was coming to America. So that was the first part of the dream fulfilled. And from there, fortunately, I eventually forged a career over here. I'm very thankful to America for that.
PCC:
Who were the artists who most inspired or influenced you in the beginning?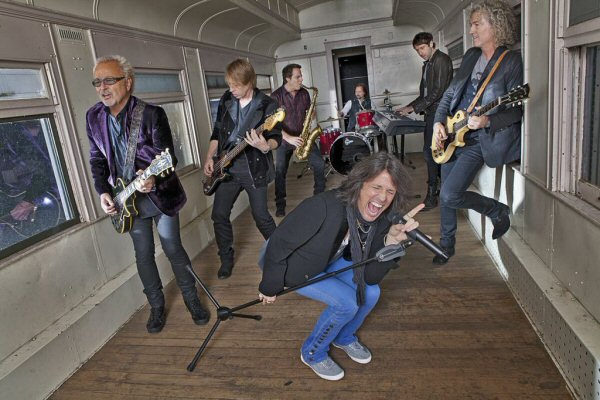 Photo Credit: Bill Bernstein
JONES:
People of my generation, it was a little bit after The Stones and The Beatles obviously. And I was very influenced by both of those. And then going back to the early stuff, Chuck Berry was a big influence. Buddy Holly. People who wrote songs and performed them themselves. And that was really where it came from.
PCC:
The days playing with Sylvie Vartan, then Johnny Hallyday, did that open up new worlds for you?
JONES:
Oh, my God! [Laughs] Well, it did, really. All that happened in France, playing with a couple of the biggest stars, well, with the biggest star in Johnny Hallyday. And one advantage was that he used to like to keep up with the American trends or the British trends. And I became like his musical guide, almost like producer. And it enabled me to travel around the world, to record in London with incredible musicians and just have this incredible education, the likes of Jimi Hendrix on tour with us, having been there with The Beatles during The Beatles concerts in Paris, before they came to the States. And playing on the same bill as all these people.
Otis Redding, for example. I was blown away a lot of the times. It really, in a way, gave me my first taste of bigger celebrity and mega-talented musicians. And I would do sessions in London with Jimmy Page and John Paul Jones, when they were session men [chuckles]. And a lot of those sort of experiences I think really helped me to get a clearer vision of what I wanted to do and also kind of encouraged me and impressed me and enabled me to develop a personality in my writing, when I started writing. It was a training ground in a way. And I was very fortunate to have that.
PCC:
Finding your confidence as a songwriter, was that a gradual thing?
JONES:
I think it started, when I was about 18, really. I was very influenced, obviously, as were most people of my generation, by The Beatles. It sounds worn out to keep saying that, but they were such incredible songwriters. I didn't aspire to write Beatles songs necessarily, those types of songs. But they definitely played a big part in my formation of the ideas.
PCC:
With them having that kind of impact on you, was it kind of surreal to be sharing a bill with them and then recording with George later?
JONES:
Yeah, I mean, again, it was like, "Wow! This is amazing! What am I doing here, amongst all this royalty?" Laughs] I was quite intimidated at times, but you have to put on a brave face, like, "Yeah! I deserve to be here!" [Laughs]
PCC:
What about the Spooky Tooth and Leslie West stints, were those important to your development?
JONES:
Yes. Spooky Tooth above all. It was where I was subjected to a band with a real kind of a soul vibe underneath everything else. And experimental in certain ways. And I started writing with Gary Wright, the Dream Weaver [laughs]. And we spent quite a bit of time. And we developed a sort of a little style together. There were two vocalists. Gary was the high voice, kind of a little bit like the Righteous Brothers in a way - one high voice and then one lower, gravelly, deeper voice. And that really impressed me. And I thought it was almost impossible, but I discovered that I could do that with Lou. Lou was able to cover both ranges. So definitely that was a very formative period for me.
And then Leslie West was just a crazy adventure. And I learned quite a bit from his playing. I think he's still very underrated. I think he's one of the most soulful, definitely most soulful white guys, anyway, that's ever been around.
PCC:
Your guitar playing, without being show-offy, it's so hooky, riffs that just grab you and hold on - is that an instinctive thing?
JONES:
Well, yeah. I was always interested in the rhythm section, how the feel of the rhythm section was - that was the most important thing to me. And bass riffs become guitar riffs. Sometimes guitar riffs become bass riffs. But I always wanted a solid thing between the guitar and the bass that would kind of set the mood for the song and get a real feel going. That's what cuts through to people, I think, when they've got something definite to vibe on. And that was sort of the style of the band. We did have a few memorable riffs, I guess [laughs].
PCC:
When you put the band together, Foreigner, did you know right away this was a magical combination?
JONES:
No. I was desperate that it would be. But I had no clue that it was going to do what it did, at all. Foreigner, we put it together in very kind of humble circumstances - people claiming at the time that the band was fabricated. And they tried to sort of format us. But I think we broke through that. There's no knowing, obviously, how popular or successful something can be. All you do is just do your best and keep your ears to the ground, be dedicated to it night and day and then just hope that what you like, a lot of other people are going to like.
PCC:
What was the songwriting process like, when you were collaborating with Lou Gramm?
JONES:
Well, I basically started out the writing, you know. The band was based on my initial songs. But I think it's important to have a good communication. And if possible, if the other person shows a talent for writing… then I think we really used that quite successfully, writing together. We were kind of really connected. And we had come from sort of similar backgrounds. And Lou happened to be a big Spooky Tooth fan, too. So we knew where our tastes were and produced some decent stuff, I guess.
PCC:
There was talk about you two getting together again, where does that stand at this point?
JONES:
Well, we've talked, from time to time. We still have ideas that were left over from the 90s, even 80s. Bits and pieces. We've said we might take a little time and just for the heck of it, just finish them off and see how they sound [laughs]. But there's no plan to reunite… at the moment.
PCC:
The induction into the Songwriting Hall of Fame, that must have been an important validation for you.
JONES:
It was. It really was unbelievable. And it was a great time. Lou and I met, obviously, together, and just catching up together, with a really good feeling, really appreciating the moment and what it meant to both of us. Just a big honor.
PCC:
Having such success with harder rock material, did you feel it was a good idea to balance things with power ballads like "Waiting for a Girl Like You" and "I Want To Know What Love Is"?
JONES:
Yeah, I never see them as power ballads. I see them as emotional, sensitive pieces. I mean, they're not the big, brash guitar kind of ballads that sort of seemed to own the 80s almost. For me, they were just really soulful… really soulful. Some of the most soulful stuff we've done is in those songs. The sequence, the timing wasn't planned. They happened to be back-to-back. And that's what I think causes a little lull. But it was no different from ballads that had been on other albums. It's just that the two big songs were ballads and we were not going to be keeping to like a rigid sort of ballad connection. Obviously both of us wanted to really get it back into the rock and continue where we'd left off in a way.
PCC:
The hits, did they tend to come from experiences or your finding a riff or stumbling upon a title?
JONES:
All of those ways. There's no predictable way. Yes, there's the way of sitting down, like starting at 10 in the morning and finishing at five or something. And like anything, like a TV show I guess, people writing all day behind the scenes. But collecting little bits and pieces, little phrases that you hear maybe every day, but you just twist, you turn the melody around and the timing between the words and it can become a title or become a different part of a song.
PCC:
Is there one song that's particularly deeply personal for you?
JONES:
Well, "Waiting For a Girl Like You" was a very emotional song to write. We wrote it very quickly. And the words just came almost immediately. And it was the first time I really felt that somebody else up there was pulling the strings a bit [chuckles]. All I did was just hang onto it and bring it to life.
PCC:
The rewards and the challenges of life as a musician, have they changed over the years?
JONES:
Well, you know, you go through periods where there's extreme sort of euphoria. You go through periods which are not so euphoric [laughs]. And you have different levels of success. But all in all, at the end of the day, I just have to think, "Well, my God, however bad it can be, I've been so lucky to have experienced what I've experienced and to also be successful and love what I'm doing."
PCC:
You've achieved so much. Any dreams you haven't yet fulfilled?
JONES:
I think about a number of things. We're thinking about a kind of a documentary, a bit of a story of my life, either that or maybe even a short film, just something to mark the fact that I walked the Earth [laughs].
For more on Mick Jones and the band, visit www.foreigneronline.com.