MIDORI: PLAYING FOR THE LOVE OF THE INSTRUMENT
Artist website: www.gotomidori.com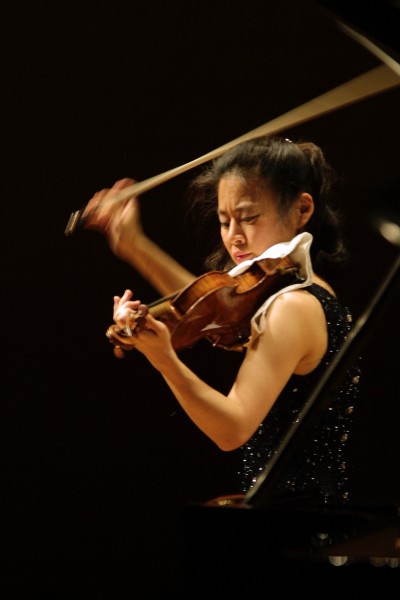 Photo By K. Miura
By Paul Freeman [January 2013 Interview]
Renowned classical musician Midori Goto, known simply by her first name, has been mastering her instrument for 38 of her 41 years.
"The violin has become my voice, so to say," Midori tells Pop Culture Classics. "My violin is my partner, and together we sing to express many things. It also allows me today to bringpeople together through the context of music."
She was born in Osaka, Japan. Her mother, violinist Setsu Goto, heard two-year-old Midori humming a Bach theme. A year later, she gave her daughter a child-sized violin and proceeded to teach her.
"The violin was my mother's instrument. She played it at home, practicing and teaching others. I also went with her when she was rehearsing and performing outside the house. It is almost as if I identified my mother and the violin sound as one."
Midori, whose younger brother Ryu is also a violinist, gave her first public performance at age six. In 1982, she and her mother moved to New York City, where she studied at Julliard Pre-College. That same year, the 11-year-old Midori played with the New York Philharmonic, conducted by Zubin Mehta, with whom she subsequently recorded numerous concertos for the Sony classical label.
In 1986, her dazzling performance at Tanglewood, for conductor Leonard Bernstein, created a sensation.
Midori does not regard devoting herself to music from such a young age as a sacrifice. "I am not the person to look back and to think what I should have done differently or to think in what-if terms. I took the life there was, and I did not question it. Of course, family and friends are a very important part of anyone's surroundings, and I had a wonderful support system.
"Being able to have been exposed to other great musicians was a life education in itself. Traveling to different parts of the world made me open my eyes to different cultures, thoughts, and ideas."
In 1992, she founded Midori and Friends, a non-profit organization designed to bring music education to New York's inner city youth.
"We have several different programs in New York City to inspire children through music and musical contexts. Regardless of the level to which they pursue music or whether they go into music as a career, children benefit from participating in musical activities of all kinds. On a basic level, musical study helps to stimulate growing minds, encouraging children to think in new ways and to develop skills ranging from creative thinking to memory to coordination.
"Music can also be an important social and interpersonal enhancement for children as well, as much of music is a collaborative process," continues Midori, who, in 2007, was selected a U.N. Messenger of Peace. "The most valuable aspect of music, though, for children who study it, has to do with the development of a unique mode of personal expression. Children who otherwise have difficulty putting their thoughts to words or paper may find that music allows them to communicate freely and in ways that they previously wouldn't have thought possible. The benefits of this communication and the connections that it fosters are incredible."
Midori, now a Los Angeles resident, will have a new CD out next autumn. She is known for her intense, yet sensitive style, Midori imbues each piece with her own personality.
"One never knows the composer's original intentions. One can only hope to be as truthful to the music and to the composer by following the score. However, to interpret a score is already a very subjective behavior. One sees according to one's perspective, making each interpretation of a score personal and unique."
Though she plays compositions countless times, for Midori, the experience is always fresh. "No matter how many times one may play a piece, each performance is different. These differences may be due to seemingly small and unrelated things, like other things that have happened to me earlier in the day. Or they may include musical changes like a new performance acoustic, different collaborators, or even a fresh understanding of the composer's expressive intent while writing the piece.
"Put together, each of these differences makes for a completely new experience every time. One of the great joys for me as a performer is recognizing these unique elements of various performances and extracting those aspects of each performance which can help to inform my future playing."
Her career provides challenges, but also great gratification. "The life of a musician offers wonderful opportunities to share messages of great personal meaning with people all around the world. For me, some of the most rewarding aspects of working as a professional musician are those moments in which I am able to make a connection with other people through the use of music. These moments may be in a concert hall, in a private lesson with a student at the University of Southern California, where I teach, with children living in an orphanage in developing Asia through Music Sharing's ICEP program (www.musicsharing.jp/en/profile/index.html), with American students in a youth orchestra through the Orchestra Residencies Program (gotomidori.com/orp), or in any number of other ways. For as long as I've taught, I've cherished the experience of working with students. I draw immense inspiration from their musical ideas, their dedication and persistence in pursuit of their goals, and their honest, selfless approach to making music.
"There are, of course, also challenging elements to having a life in music. The physical demands are great. Having the opportunity to travel extensively for performances is an incredible honor and privilege, but it also makes certain other aspects of life very difficult. And, above all, there are always external forces which, intentionally or not, make it challenging for any musician to remain purely focused on the music at hand. Throughout my career, I have repeatedly and periodically taken a step back from my own playing to ask myself whether I am playing for the love of the instrument and the music. I believe that this is one of the very most important questions for any musician to pose to him or herself."
Asked what she continues to strive towards, Midori, who has a master's degree in psychology, says, "It's so important to let go and not hold on to one's vices, desires and grudges."