MIKE LOVE: A BEACH BOY'S ENDLESS SUMMER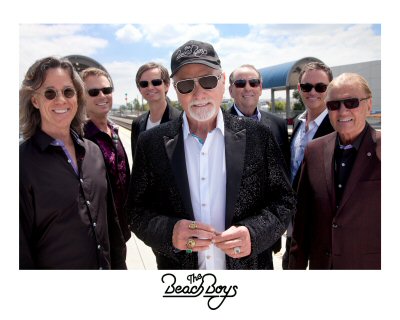 Photo Credit: Udo Spreitzenbarth
By Paul Freeman [January 2016 Interview]
The Beach Boys aren't just a band. They're an American institution.
The Beach Boys played 175 shows last year. At age 74, Mike Love continues to pack ample vigor and enthusiasm into each performance.
He gives a lot of the credit to Transcendental Meditation, which he practices on a daily basis. He learned TM from Maharishi Mahesh Yogi in India in 1967.
The Beach Boys deliver glorious vocal blends, flowing through hooky lyrics and inventive melodies. Hitting the national charts in 1962, The Beach Boys released one smash after another.
Love helped write such classics as "Surfin' U.S.A.," Surfin' Safari," "Fun, Fun, Fun," "Do It Again," "Caloifornia Girls" and "Good Vibrations."
Tragedy, turmoil and legal battles dogged the band over the years. But Love kept the group going and thriving.
In 2012, the original band members reunited for a 50th anniversary tour. Audiences were thrilled. Love less so. He was unhappy with the resulting "That's Why God Made The Radio" album, because he was not allowed to collaborate with Brian Wilson on the songwriting.
Today, Love, teamed with Bruce Johnston (a Beach Boy since 1965), as well as Jeffrey Foskett, Brian Eichenburger, Tim Bonhomme, John Cowsill and Scott Totten, continues to present the rockin' harmonies that delight fans.
Love is working on a book about his career and times. It will be titled, "Good Vibrations: My Life As A Beach Boy."
POP CULTURE CLASSICS:
How are the satisfactions of performing different for you now, than earlier in your career?
MIKE LOVE:
Satisfaction? Oh, no, that was The Rolling Stones! [Laughs] Kidding! I think it's great these days. What happens is, we get probably 300 offers a year to do shows. We can't do that many, but we did 175 performances last year, in 170 different places - meaning there were a few theatres when we did two shows.
We also ended up, in December, we did about three weeks in Germany, at a thing called, "Night of the Proms," a show that featured five or six different entertainers and a huge orchestra, 60-piece orchestra. It was beautiful. And did like 10,000 people a night in Munich. And we did Hamburg and Berlin. And just all over Germany. It was amazing.
We did Austria, too, where we did a show outdoors, in December, in the Austrian Alps, for 10 or 15,000 people in attendance - outdoors [laughs]. My fingers were so cold! I don't see how they were able to play their guitars. We had these space heaters right next to them. But it was amazing - everybody in their parkas and skiwear and all that stuff.
So we're doing some different and unique things. We just finished off the year in December, in Beaver Creek, which is near Boulder, Colorado, in a beautiful little theatre called Vilar. And those were two sold-out shows on a Monday and Tuesday night, just after Christmas. So we've been having a great time, going to some really interesting places.
PCC:
The Beach Boys enjoy so much popularity overseas. Do you view yourself as a musical ambassador?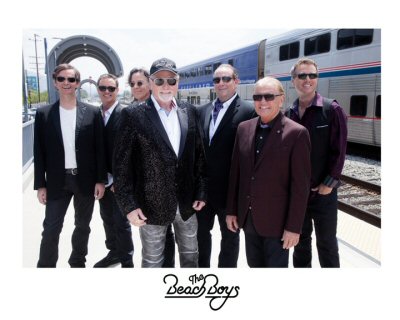 Photo Credit: Udo Spreitzenbarth
LOVE:
Well, you know, The Beach boys have always been really well received in Germany, as well as England. In fact, earlier in the year, I think it was in May, we were at Royal Albert Hall for two sold-out shows in London. That was spectacular. We had a horn section with us, so it was a really great show. We did about 60 songs. We did virtually everything, from every era of our recording career.
So I don't know if we look at it as musical ambassadors, but what we like to do is always be at our best, because we have so many people spending a lot of money to come and see us. In Great Britain, in 1966, we were voted the number one group in Britain, number two being The Beatles, number three being The Rolling Stones. So we have a lot, a legacy, to live up to [chuckles]. So we take it very seriously and we want to do the best job we possible can in recreating those songs, as close to the recordings as possible.
PCC:
You seem ageless. How do you come up with the energy to do these high-tempo shows?
LOVE:
Well, for me, a big, important component of my daily life is meditation - Transcendental Meditation, which I learned from Maharishi in December of 1967. And I've done it every day since. So that's a huge benefit, because you lower your metabolism to a level of rest twice as deep as deep sleep. In other words, your breath rate goes way down, deeper than even deep sleep. And so it's deeply restful, as well as relaxing. And so, with that deeper rest, you can, at will, gain a lot of energy and clarity therefore, because of the deep rest and relaxation.
So that's been an invaluable tool for me to do what I do. To do 175 shows, it's a lot. And yet, we also think strategically about scheduling - the routing of the tour, there's a whole art to that. You want to try to make it sequential, so it makes sense, in terms of the mileage between places. And also the venues that we do, I prefer doing the performing arts centers and the theaters. I love the theaters, because they're designed for music, they're designed for performance. And everybody can see. Everybody can hear. It's comfortable.
We can do a two-hour show. We can do an hour opening and then a 20-minute intermission and then do the second half. We can do a whole range of types of songs, from the most subtle, four-part, a cappella ballad, "Their Hearts Were Full of Spring," originally done by The Four Freshmen, to the most dynamic "Surfin' U.S.A.," "Fun, Fun, Fun," "I Get Around" and all that kind of thing. And everything in between. So I personally prefer the performing arts centers and theaters.
PCC:
In the early 60s, the Beach Boys seemed to be the first to combine the smooth vocal harmonies of male vocal groups like The Four Freshmen and Four Preps with the rock 'n' roll energy of a Chuck Berry. How did that sort of concept come together for you?
LOVE:
Well, it was pretty natural, because we learned The Four Freshmen songs, like three or four of their arrangements, before we started the group. My cousin [Brian] became a devotee of The Four Freshmen, became obsessed by them. And, as a result, we learned a few of their arrangements, one called, "It's a Blue World." But the one we do till this day is "Their Hearts Were Full of Spring." It's absolutely beautiful and it's completely a cappella.
So it was natural for us. We loved the doo-wop songs of the day, as well. We loved The Everly Brothers and their blend and the clever songs. So it was just a matter of us taking our local environment, the beach and the high school experience and the cars we loved and those became the subject matter of our earlier songs. And so it was just a matter of taking those songs, if it was a ballad, we'd go more towards The Everlys or Four Freshmen influence. If it was uptempo, it'd be more influenced by Chuck Berry, as you mentioned.
"Fun, Fun, Fun," I came up with the idea and wrote the lyrics and Brian came up with the track. And I said, "It's got to start with a Chuck Berry-type guitar intro." And that's what Carl came up with [chuckles]. So our musical influences were what they were, but our environmental and our social and our life experience gave us subject matter for our earlier songs. As we grew and matured a little bit, we got more into like the "Pet Sounds" kind of thing. And "Good Vibrations" came along at a time when the psychedelic thing was on the horizon. So it was Flower Power, Summer of Love and all that kind of stuff happening or about to happen around that time. So "Good Vibrations" happened to be our psychedelic offering. I just wrote the poem to go with the brilliant track Cousin Brian came up with in the studio.
PCC:
In the early songwriting collaborations with Brian, what was the process like? Were you often actually writing in a room together? Or were you presenting him with a set of lyrics or a song concept? Or was Brian playing you a melody, needing words?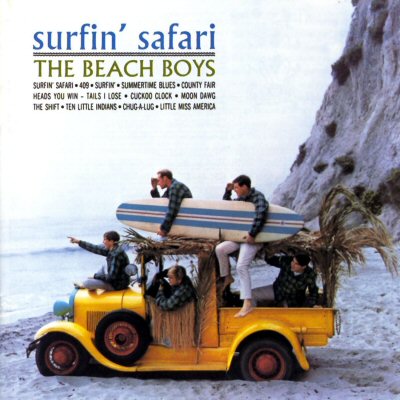 LOVE:
Mainly at the piano together. And that's why I sang the lead on some of these songs. We'd get together and write a song and I would be writing the lyrics and he would be at the piano, doing the great chord changes and melodies and stuff like that. We'd work on the hooks together. I was singing along and we were doing the song together. Except if it were a ballad, like "Don't Worry Baby," he took the lead on that one. And I came up with the bass part - "Now don't you worry, baby." But ordinarily, on the uptempo songs - "Surfin' U.S.A.," Surfin' Safari," "Fun, Fun, Fun," "Help Me Rhonda," "I Get Around," it was like I was saying earlier. And also "Do It Again," I came to his house with the concept and the lyrical idea. And we sat down at the piano and pounded it out in about 15 or 20 minutes. And it went to number one in England. Didn't do that well in the U.S. But we still do it to this day. "Do It Again" is a great song. Love it.
PCC:
So, as you mentioned, writing about surfing and fast cars and girls, that was more a case of that being what you could relate to, rather than trying to figure out what would appeal to the teen record buyers?
LOVE:
Yeah. That was it. How do you get to the beach? A car [laughs]. It's not like New York, where you take the subway, you know. Southern California had this whole little unique lifestyle, so we came up with these little vignettes musically. In advertising, they call it heightened reality. And who wouldn't want to go on a surfin' safari, if you think about it? It'd be fun. So it caught on not only in California, but across the country. Even around the world.
PCC:
Yeah, wasn't it kind of a surreal phenomenon, having the surf culture adopted across the country and around the world, because of the band?
LOVE:
Absolutely. They have what they call windsurfing, sailboarding or whatever. All those kinds of water sports are popular worldwide. So everybody doesn't have an ocean, but they have a lake, they have a river, that kind of thing. So I think it's some primordial stuff we're dealing with. People love to go to the beach, they love to go to the lakes, they love to go to the rivers and stuff like that. They have loved to do that forever. So I think that is the underlying current, if you will, that's kind of supported what we're talking about. We're singing about, originally, what was going on in our Southern California lifestyles and environment. And I mean, who didn't love the '57 Chevy, when it came out? [Laughs] And the 409 a little later.
So it wasn't rocket science, but it just picking up on common interests and putting them in a formula of sound that was appealing. And the thing that distinguished what we did from what so many other people did was the refinements of the harmonies. I have to credit Cousin Brian with that. We all loved singing the harmonies. But he was able to sculpt them in a way, the chord progressions and stuff, that were very innovative and inventive, that gave it The Beach Boys' sound, gave us a unique sound. You can always tell, when a Beach Boys record comes on, with those harmonies and stuff, who it is.
PCC:
For you, when those unique harmonies are meshing, is that a special rush that you get?
LOVE:
Oh, yeah, and that's one of the reasons that I like playing the performing arts centers and theaters, because we can hear what we're doing. If you're playing either in an amphitheater or outdoors… sometime in an arena, you can't hear yourself, coming back… but in a theater, which is designed for great acoustics, for musical performances, that's the optimum for us as musicians, because we can hear what we're doing. And it's really neat to see an audience get engaged with and really appreciating the vocal efforts.
And even though we might have done 173 shows until we got to Beaver Creek in Colorado, it still was fun, in this little theater, maybe five or six hundred seats, sold out, tickets weren't exactly cheap, maybe $175 and $135, but it was sold out, two nights, on a Monday and a Tuesday, a lot of skiers coming to the show those evenings. Well, we could hear everything we did. It was intimate and everybody could see, everybody could hear. It was total audience participation. There was an orchestra pit down in front, a small one, but people came down there and were dancing, just right below the stage. And it was pretty fun.
PCC:
When the hits were coming one after another, did you foresee that this might actually last? Or were you concerned that like many of the earlier generation of rock artists, from the 50s, you might disappear from the charts?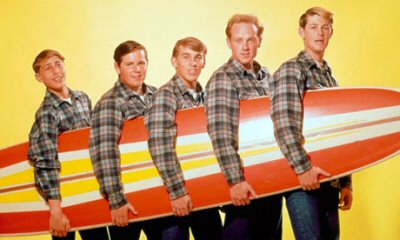 LOVE:
Well, you know, there's always that concern, I guess, because we all invested our lives and our livelihood was music. But it became apparent, by the time I got to "Good Vibrations" and we were voted the number one group in Britain, over The Beatles and Stones, we knew we really had something going [laughs]. And just last year, we played the Royal Albert Hall again, so that was cool, two sold out shows. Just got back from Germany. So we're always appreciative of every offer, every show we have the opportunity to do. And we always do the best we can for every audience, whatever the size, wherever we play. In March, we're going to be in Hong Kong, with the Philharmonic Orchestra, courtesy of Cathay Pacific, who are flying us there, supporting the concert. We've been all over the world. And it's just been a phenomenal trip.
PCC:
You should write a memoir.
LOVE:
I am writing a book! It's called, "Good Vibrations: My Life As A Beach Boy," by Mike Love. I'm working on that. There's going to be a lot of historical stuff, commentary on what it was like to be on stage with the Buffalo Springfield and Crosby, Stills, Nash & Young, and meeting Marvin Gaye and meeting Marlon Brando and performing July 4th in Washington, D.C. And stuff like that. A lot of really interesting people, situations. And so it's going to be pretty interesting, when that comes out.
PCC:
Yeah, The Beach Boys' story has been told so many times, in so many ways, it must be great to have the chance now to tell your own story.
LOVE:
Yeah, it's never been told from my perspective. Most of it's Brian Wilson this and that and the other thing [chuckles]… or Dennis Wilson and Charlie Manson and all that stuff. And that's part of it. But it's not my reality. I never did heroin or cocaine or the LSD and stuff [laughs]. I admit to cramming my pipe full of pot once in a while [laughs], but that was about it for me.
PCC:
Have you seen "Love and Mercy"?
LOVE:
No, I haven't. It was set up to show us, but they pulled it. They didn't show it to us.
PCC:
In a lot of these projects, focusing on Brian, there tends to be a deification of Brian, the genius, sometimes to the detriment of your own contributions to the band. Does that rankle you? Or do you find it irrelevant?
LOVE:
Well, it's no fun to be cheated by your cousin and your uncle [laughs]. I wrote every word to "California Girls," but it never made it to the label of the record. So they took credit and money. And I had to go to court to reestablish my authorship, which I did, to a pretty good degree, particularly on the hits that I was not credited on, like "Help Me Rhonda" and 'I Get Around" and "California Girls." to name three.
And that was no fun, to have your cousin, who was your close friend, and your uncle, who's your uncle, cheat you like that. It's no fun. And that'll be in the book. And substantiated by all kinds of things. To go through the court proceedings was no fun at all. But see, I always knew what I contributed. I always knew my value to the group. So knowing that gives you a certain amount of strength and knowing that at some point in time, the reality, the truth will be known.
PCC:
It must be cathartic to put it down on the page and know people will hear your side of the story.
LOVE:
Exactly. You used the word "deification." I think that's exactly what's going on. He's had some tough times. Self-induced, of course. So I'm going to be able to, in my book, give my story, straight ahead.
PCC:
With the later songs you were writing with Brian, was it frustrating, when you were trying to give the fans more of what they wanted and Brian, in the studio, was immersed in efforts to find a perfect note or instrumentation or added layer?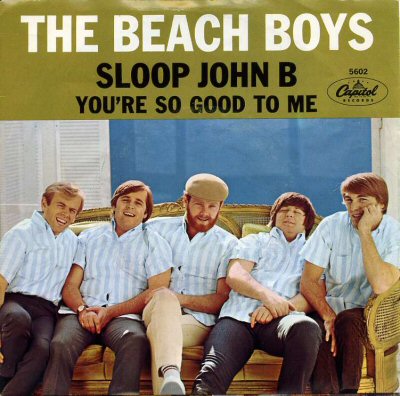 LOVE:
Well, that's why the "That's Why God Made The Radio" album was written by other people. I just gave them a couple of lines, here and there, just on a couple of the songs on the album. The only thing that I contributed completely to the album was a song called "Daybreak Over The Ocean," which I had written a few years before. But I was originally told that I'd be able to get together and write with Brian. But then Melinda Wilson told me that Brian doesn't write that way anymore. In other words, she's telling me how Brian writes [laughs]. And then Joe Thomas was the producer of the album, the de facto producer. They say Brian was the producer. But he was the one who told me I'd be able to write with Brian. But that never happened. It wasn't allowed. So if you look at the credits on the album, there are a lot of other writers, including Joe Thomas.
What Brian and I talked about doing, before we even did that album, was getting together and doing a rock 'n' roll album. We wanted to do some covers, like we'd done before, like "Rock and Roll Music" was a Chuck Berry cover. We did that for our "15 Big Ones" album. And that went to number five. So there are songs that The Beach Boys probably could have done and Brian and I could have come up with that would have been more successful than the "That's Why God Made The Radio" album, which debuted at number three, but then fell off precipitously the next week or two. So I was not happy with the way that whole thing worked out. So I was told I'd be able to do some writing with Brian and it never happened. Wasn't allowed.
PCC:
With all the tumult and tragedy that beset the band, it was really amazing that you were able to keep the band going and successfully so. Was there a time, when you doubted whether the beach boys could go on in any form?
LOVE:
No, I've never doubted that, because I'm too intimately involved in the business of it, the touring aspect of it, predominately. And, as I said, this last year, 2015, we did more shows than we ever have in our entire history, our entire career. You know, Brian left the touring in 1964. And Glen Campbell came in for a few months and then Bruce Johnston replaced Glen Campbell, because Glen Campbell went off to pursue his own career. Prior to that, Al Jardine was in the group originally, but he quit before we signed with Capitol Records and then David Marks came in. Then Al came back in a couple years later. So there's always been a continual change in the group. Bruce left for a couple of years and Blondie Chaplin and Ricky Fataar came in the group from a South African group called The Flame - great musicians, cool guys. So there's always been these kind of changes going on. Not always but… My cousin Carl passed away in 1998. And we continued to tour.
And as I said, this last year, we did more shows than ever. I don't know if we'll do that many this year, but we're well under way. In January, we have half a dozen shows in the West, then February, we're invited to go to Germany for what's called the Golden Camera Awards Show. We're getting a lifetime achievement award there. And playing a show in Eastern Germany, Leipzig, Germany. And then fly back to the States and play Brooklyn and a couple of shows in New Jersey and on down the Eastern seaboard, Baltimore and Virginia Beach and down in Tennessee and then in Florida, over in Texas. So we're busy. And the neat thing is, in California, it looks like all the shows are selling out. They're doing really well, which is gratifying. And we're playing mainly theaters, like the Granada Theater in Santa Barbara, the Fox Theater in Redwood City… So it's nice, because those theaters are going to sound good. We're going to enjoy playing them. And people are going to get their money's worth, I think.
PCC:
Beyond the nostalgia factor, do you think it's the uplifting quality of the music that makes it still so much in demand?
LOVE:
It's nostalgic to those of us who started with it, our older fans, out original fans. But you can't say it's nostalgic when you're talking about people in their teens, twenties and thirties. So I think it's just the value of the music, yeah. I think a lot of people are interested, just like we were interested in what came before us - Little Richard and Chuck Berry and Jerry Lee Lewis and Elvis, The Everly Brothers and stuff like that. We were interested in them. And basically, The Kingston Trio were a big influence. That's why we ended up doing "Sloop John B" on the "Pet Sounds" album.
At any rate, just like that, I think every successive generation is interested in what came in the past. Like I have a daughter who just turned 20 and she can sing Etta James [laughs]… and/or Whitney Houston. And she loves Lana Del Rey. And she adores Amy Winehouse. But Amy Winehouse got all of her stuff from the soul singers of the past, right? So I think each successive generation is inspired by the creativity of the past. And then they put it in their own terms. And that's what we do. So I think a mix of people come to see our shows - they're avid fans, they're people who just want to come and have a nice night out, an enjoyable evening out, and then there are people who are interested in coming to see us, because we're rock 'n' roll fossils [laughs].
PCC:
What was that unique magic of the 60s, with so many different, very distinctive artists emerging?
LOVE:
Well, I think it was the most incredible time, creatively, in terms of song, song value. I think you had to have a really good song to be successful, not just an image and not just a sound, but the song itself had to be really great. And there were so many great songwriters and so many great groups and individuals of the time. And rock 'n' roll was still relatively new. It had just started in the mid-fifties, let's say, and here we are in the mid-sixties doing "Good Vibrations" and "California Girls" and "I Get Around," "Fun, Fun, Fun," "Surfin' U.S.A." and all that stuff. So I think it was just really an incredibly fertile time for songwriters, songwriting.
PCC:
Was there a particular moment ,when it first struck you, wow, we've actually made it? Or was it a gradual thing?
LOVE:
Well, you know, it wasn't so gradual. Our first nationwide hit was "Surfin' Safari." We were out on the road in Minnesota and I remember going outside and there was a little ballroom that we were playing, out in Lake Minnetonka, which is outside of Minneapolis. And the place was sold out and there were cars, you could see the line of cars, the lights of cars, going at least a mile down the road. You couldn't see the end of them. They were still coming, trying to get into the concert. And the Fire Marshal wasn't allowing any more in. And they were actually breaking windows to get into the show [chuckles].
And it's one of those things where we used to do four sets a night, four 45, 50-minute sets. We'd take a little break, and then come back and do another set. And after the second set, the cars were still coming down the road and people were trying to get in, and I said to one of the other guys, "This must have been what it was like, when Elvis started out." Very early on, in other words, in 1962, '63, we had the feeling that The Beach Boys were something special, that there was something pretty incredible going on.
PCC:
The first Ed Sullivan appearance - was that a landmark for the band?
LOVE:
Sullivan? That was interesting. But I don't know if it was a landmark or not. We did quite a few. We did Andy Williams, we did a Jack Benny special with Bob Hope - that was fun. That was intimidating, because we were in a skit with them. And these guys are old vaudeville guys. And we'd say a line back to one of their lines. And Bob Hope, basically, not in a mean way, but in kind of a scary way for us [laughs], he kind of yelled at us, "Project your voice!" He was trying to teach us how to be vaudevillians [laughs] in 30 seconds. So we did. But that was more of a memorable experience than just about anything - Bob Hope and Jack Benny in a skit you're involved in. And they were all dressed in these funny outfits - these Jams - going, "Where's the surf?" [Laughs] It was really cute.
PCC:
What are your recollections of "The T.A.M.I. Show"?
LOVE:
"The T.A.M.I. Show" was another one that was really cool. Oh, my gosh. I got to know Marvin Gaye at that point in time. Of course, we were friends with Jan & Dean. And we weren't friends with The Rolling Stones [laughs]. And there's a little bit of egos involved there. And they made the mistake of following James Brown. I think Keith Richards said that was the biggest mistake they ever made in their career [laughs].
PCC:
The 50th anniversary Beach Boys reunion, that was huge for fans. What did it mean to you?
LOVE:
It was great for fans, yes. But it was disappointing, as I said, because I wasn't able to do what I was told I was going to do, which was write with Brian. So that sort of colored the whole situation for me. And also there were some things done with the touring part of it that were done without my approval or without consulting me. And that was just kind of rude.
But I'm not going to knock it entirely, because I think it was just great to have us all together, from the standpoint of celebrating a milestone together. And, for instance, Alan Jardine sings great, fantastic. Whenever he has a lead, he delivers. And it was nice to be with David Marks again, because he got a raw deal from my uncle Murray, as well. It was nice to all get together. But primarily, it was just a nice thing to do for the fans.
PCC:
But not something that will happen again?
LOVE:
No, there's no discussion of anything like that.
PCC:
There was some talk at one point about a musical using Beach Boys music, along the lines of "Beautiful" or "Jersey Boys." Is that in the works?
LOVE:
I don't know. There was an attempt to do that. But it was not the greatest story in the world. And although they tried it out five, six years ago, it didn't survive. I mean, it's a great idea. There was a film idea put forward. There was talk. John Stamos was involved in getting a film produced, using The Beach Boys music, but not a Beach Boys story. So it was unlike "Jersey Boys." It would just be using The Beach Boys music to advance the story.
PCC:
Over the years, did you receive any advice from another musical artist that proved valuable?
LOVE:
Yeah. Paul McCartney, in India, at the Maharishi's place, once told me that we should take more care with our album covers [laugh], which was really incredible, because here's the guy who was the mastermind of the "Sgt. Pepper's Lonely Hearts Club Band" album cover, which was brilliant. And then, our "Pet Sounds," was this photograph of the San Diego petting zoo [laughs]. So I told him, "You're absolutely right, Paul. We should take more care with our album covers. But, on the other hand, we've always felt that it was more important what went inside the sleeves." [Laughs] It was like a touché moment there.
PCC:
Beyond the fame and fortune, what's been the most rewarding part of being a Beach Boy? What's been the most challenging aspect?
LOVE:
Rewarding? For me, going to India, meeting Maharishi, being introduced to meditation and the betas and the higher beta, which is the knowledge of health and all this kind of stuff. A lot of knowledge came from that over the years and still continues to unfold. So that was probably the most inspiring and informative and valuable experience.
On a career level, however, I think doing July 4th in Washington, D.C. One year, we did Philadelphia in the afternoon, then D.C. in the evening. We played for over a million and a half people in one day. That was pretty spectacular.
And the challenge has always been the business part - not being given credit for doing what I did with the earlier songs. It's sad, because it's your cousin and your uncle. It's no fun, you know? So that I'd have to say would be the least palatable or savory of it all. I mean, there's a lot of things - Dennis Wilson's choice of roommates wasn't so f-ckin' great [laughs].
PCC:
It's got to be gratifying that you've created so much great music that fans love and so many other musicians have been influenced by.
LOVE:
It's basically a miracle that we're still going out there - we started in '61, so 55 years later - to go out and still have people who really like what we do… and looking forward to the future, instead of being all depressed about anything. We're very grateful and very happy and we hope it shows on stage.
Visit www.thebeachboys.com.
Upcoming concerts include:
Jan. 21 Redwood City, CA Fox Theatre
Jan. 22 Monterey, CA Golden State Theatre
Jan. 24 Costa Mesa, CA Segerstrom Hall
Jan. 27 Napa, CA The Uptown Theatre
Jan. 28 San Luis Obispo, CA Christopher Cohan Center
AND THERE'S MORE!
Read our 2009 Mike Love Interview
ENDLESS SUMMER OF LOVE
by Paul Freeman (2009)
Summer means fun... and The Beach Boys.
In an era when it seemed you had to be British to top the charts, tons of the hits - from "I Get Around" to "Good Vibrations'"- made The Beach Boys America's pop culture phenomenon. Mike Love's cool vocals and charismatic stage presence were big parts of the band's appeal. He co-wrote many of the group's most popular songs, as well.
In 1961, the Wilson brothers - Brian, Carl and Dennis, their cousin Mike Love, and pal Al Jardine formed The Beach Boys. Music had always been a big part of all family gatherings.
"It was completely environmental culture with us," Love told us. "Music was a real presence in our lives, growing up. My mom sang in a trio. Murray [The Wilsons' father and the band's original manager] was a songwriter. There was a vocal quartet in the '40s. Music was pervasive in both our households, the Wilsons and the Loves.
"We really liked singing harmonies - Everly Brothers, doo wop songs, once in a while a Four Freshman song."
After The Beach Boys became local Southern Cal faves, Capitol Records marketed them as international superstars. "Surfin' Safari" was their first smash.
"We liked singing all the songs of the day," Love said. "When we were asked to do a folk song, originally. We liked Kingston Trio, Peter Paul & Mary - pretty good. But we're not really folkies. We're more into R&B and rock 'n' roll. And specifically, we wanted to do a song about surfing, because it's a whole lifestyle - a way of dressing, walking, an attitude, an actual activity - and it wasn't sung about yet by anybody.
"There were what we call 'surf bands' in Southern California. But nobody was singing about surfing. We were the first ones to do that, I think. Dick Dale was an incredible guitarist... still is. monster guitar player. And he played songs that surfers really liked. And yet nobody did a song that was actually about surfing, per se. We were the first ones to do that, with 'Surfin'' and 'Surfin' Safari,' 'Catch A Wave,' 'Hawaii' and 'Don't Back Down,' 'Noble Surfer,' 'Surfin' U.S.A.,' that kind of thing.
"Dennis and myself and Alan all were aficionados of surfing. In high school, long before The Beach Boys started, if the surf was up, me and a couple of my friends would cut out and go to the beach and attempt to surf. It's hard. It's a hard-ass sport.
"'Catch A Wave' says, 'Don't be afraid to try the greatest sport around. You don't just have to put it down."
The Beach Boys painted an idyllic picture of what California might be... or should be. "In advertising, they call that heightened reality. 'California Girls' was heightened reality."
It was the vocal blends that sent listeners' spirits soaring. "That distinguishes The Beach Boys from any other rock or pop group - our blend and our harmonies."
Love believed it was worth pursuing their musical dream. "I remember my dad saying, 'What if this doesn't work out?' I said,'Well, I guess I'll be back here doing sheet metal work.' I was a sheet metal apprentice at one time. That was my dad's and my grandfather's business. But I didn't like it. It wasn't for me. I had a chance to pursue music, which was great. "
Original songs about surfing and drag racing, as well as girls, of course, made The Beach Boys overnight sensations.
Love recalled a 1962 show at a Minnesota ballroom. "We were doing four sets. It was sold out. Kids were breaking the windows to get into the place. After the second set, we went outside to get some air, because it was so packed inside. We looked down the road and there were cars still lined up for miles.
"I said to Brian, 'Gee, this must have been what it was like when Elvis Presley started out.' Because that our frame of reference for rock 'n' roll success. That was the first time I thought, 'Wow, something pretty special's going on here.'"
On stage, Love displayed an infectious sense of fun. "It wasn't so natural when I first started. When we did our first show as The Beach Boys, it was at the Richie Valens Memorial Dance and Show, December 31st, 1961, in the Long Beach Municipal auditorium, Ike Turner and the Kings of Rhythm, featuring the Ikettes, were on the show, too. Tina Turner was an Ikette at that time. They were incredible. What a groove he laid down. He succumbed to a cocaine overdose at 75 or so - that was smart, huh? Anyway, The Rivingtons were on that show. They did 'Papa-Oom-Mow-Mow,' which we covered later on a live album. We did three songs, got paid $60 each. I thought, 'That's pretty good for three songs.'
"I was nervous. After that I said, if we're going to do this stuff, I'm just going to go out and do as well as I can. We're going to do our songs as well as we can. I'm not going to worry about getting nervous. You're not going to please everybody. I just made up my mind to go out and do the best I could and that was just going to have to be enough. I just don't like that feeing of being all anxious and worked up and stressed out over doing a performance.
"On that basis, I started coming out of my introverted shell. Until I got into The Beach Boys, I was definitely introverted when it came to that kind of thing.
"Then I thought, 'Who wants to see somebody who's just singing and looking at his shoes?' So I started to act out the songs a little bit, whether through hand gestures or running around or whatever it might, dancing along to the appropriate songs. I just made it up as I went along. I never practiced in front of the mirror like Mick Jagger, though. I don't know if I could bump and grind like he does, anyway."
Not even the mid-'60s British Invasion could dry up The Beach Boys' big splash. The Beatles and The Beach Boys had a complex relationship.
"There was definitely a rivalry, but it was more of a mutual appreciation than anything else," Love said. " It's like we'd hear 'Satisfaction' by The Stones and go, 'Wow, what a great record.'
"There's been nobody more successful than The Beatles. But in 1966, we were voted the number one group in England. 'Good Vibrations' went to number in England. In the Top 20 at the time, there was no Beatles and no Stones. So we were the number one group in England. Number two Beatles, number three Rolling Stones. So that felt pretty good, in the midst of all the Beatlemania in the world, to have a record that gets us voted in their home country as the number one group. That was pretty cool.
"The 'Pet Sounds' album and 'Good Vibrations' were both in that year. The year before, we had 'California Girls,' which wasn't chopped liver either."
"Pet Sounds" was an adventurous project. "It finally sold a million copies. But it took 20 years, because Capitol Records didn't know what to do with it Brian and I went to present it to the A&R guy and he said, 'Gee guys, can't you do anything more like 'California Girls' or 'I Get Around' or 'Fun, Fun Fun'? They were used to those kind of hits, what they called 'surf music.' To have something with symphonic orchestrations and these great arrangements and different subject matter, more introspective, less objective, as in car, surfboard and girl, they didn't know what to do with it. It took a long time to go platinum.
"But in the meantime, other performers and artists, writers and singers and what have you, they all loved that album and totally got into it."
"Smile," considered Brian Wilson's long-lost masterpiece, took decades before seeing the light of day as a fully realized album.
Love had issues with the project. "The music was brilliant - that's Brian. But the lyrics were Van Dyke Parks. And I, being a lyricist, I like the lyrics to connect with the listener. For instance, on 'Good Vibrations,' when I first heard the completed version of the track, which was going to be the single, I said, 'Wow! That's far out. It's a groove. But it's so freaky, how are people going to relate to it? I said, 'Well, the way people are going to relate to it is boy-girl. 'I'm pickin' up good vibrations. She's givin' me the excitations.' So I wrote the words from the perspective of a flower power poem and it merged beautifully with that track, our psychedelic song. And it went to number one. It was not derivative at all. It's so unlike any other pop song.
"With 'Smile,' I asked Van Dyke Parks, 'What is 'Over and over the crow cries uncover the cornfield' or 'Have you seen the Grand Coulee working on the railroad?' I know what he was talking about. But I called it, 'acid alliteration.' Then I get a lot of shit for having an opinion. People think I don't like this or that or the other thing.
"I've been accused of not liking 'Pet Sounds,' which is absolute horseshit. I worked as hard on that album as anybody other than Brian Wilson. There's been a lot of misconceptions as to what I liked or didn't like. But, to be honest, the lyrics for a lot of the 'Smile' stuff that Van Dyke came up with, weren't my cup of tea. Not to say he's not brilliant. Van Dyke Parks is a brilliant musician and a very nice guy and interesting fellow. But I plead guilty to the fact that I like to have songs be successful and connect with the listener. So I wrote the words to 'Help Me Rhonda,' ' Surfin' U.S.A.', which I still have not gotten credit on. Chuck Berry didn't write any surfing lyrics. 'Fun Fun Fun,' all these songs that have to do with little vignettes that depict life, particularly in Southern California, growing up. 'Do It Again' went to number on in England. It was about going surfing again with my high school buddies. Actually it was about 10 years after we graduated."
In 1968, Love and The Beatles, along with Donovan and Mia Farrow, made a pilgrimage to an ashram in India to study Transcendental Meditation with the Maharishi.
"I'm absolutely certain I wouldn't be able to do what I do, if I hadn't been meditating all these years. That's the one thing that can wear you down is the amount of traveling we do. So, if I get a little tired, I'll just do an extra meditation.
"It doesn't replace sleep. But it's been established through research that it helps to recover from sleep deprivation. The biochemistry of your blood actually changes. You feel more refreshed. If you're feeling irritable or stressed, which is a chemical reaction from all the stuff you confront in life - meditation clears that up substantially. It makes it much easier to perform and to keep a positive attitude.
"There a lot of negative things going on in people's personal lives and in the world, but rather than dwell on all that negativity, or wallow in it, I've always felt that to accentuate the positive was the thing to do. Even if something is negative, I try to put a positive spin on it. We like to sing about more uplifting things, if we can.
"The song 'The Warmth of the Sun,' the whole premise was, okay, somebody you're in love with doesn't feel the same way anymore... and that's a bummer. But still, you did at one time, have that feeling of being in love and that's the warmth of the sun. It's no fun when a romance ends. When somebody goes in another direction in your life and you're really into it, it's no fun at all. But at least you were able to feel that wonderful feeling for a while.
"When we wrote that song, 'Warmth of the Sun,' the morning after we wrote it, we were wakened to the news that President Kennedy had been shot in Dallas. So it was a very emotional time and a very tragic time. The mood was completely melancholy. I think it shows up on the recording. We didn't rewrite the words to fit that occasion. But the recording has all that emotion in it. Still, it has that silver lining on the cumulus-nimbus cloud."
Despite traumas, trials and tragedies, The Beach Boys' music is remembered for its sun and fun. Brian Wilson took a lengthy detour due to drug and mental problems.
"I'm a Pisces and Brian Wilson is a Gemini. The astrologists say that PIsces work from inspiration and Geminis sometimes work from desperation... or melancholy. Either way is good. From the melancholy side, you can get really moody and come up with some beautiful melodies and harmonies, which Brian absolutely has done."
Of the songwriting process, Love said, "A lot of times, Brian would have a melody, but no words. Like 'California Girls,' I wrote all the words to that. He did the track and the vocal arrangements. It was a great collaboration. While he was working on the tracking, I'd be writing the lyrics. Bruce Johnston remembers me in the hallway, writing all the words out. We still sing it every night that we're performing. It works.
"I love the intro. It's like a mini-symphonic overture, the opening bars of 'California Girls.'"
Love always seemed to know what would work as commercial pop-rock. "It's a function of listening to radio, from the mid-'50s into the early '60s. All the great songs. We really loved all the R&B doo wop stuff. Also, Chuck Berry, the hooks he had with his guitar licks, which influenced almost every guitar player in rock 'n' roll. There may be any number of guys who can play better than him, but the hooks he came up with are amazing. And his lyrics and his sense of storytelling, the lyric hooks that he came up with, stick in the mind. That greatly influenced me.
"I always appreciated poetry. From a lyrical standpoint, I was writing poetry when I was in grade school, junior high school. So it was natural for me to be the lyricist to Brian's musician. Yet, I would come up things like, the intro to 'I Get Around' was somewhat more protracted. I said, 'No, no, let's start it more like 'Barbara Ann,' which was 'Ba-Ba-Ba, Ba-Barbara Ann.' I said let's go with ''Round, round, get around. I get around.' It's the same kind of syncopation. Same hooky beat. I came up with 'I'm picking' up good vibrations, she's sending me excitations,' As well as, 'Aruba, Jamaica, ooh, I wanna take ya.' That's the R&B influence in 'Good VIbrations' and in 'Kokomo.'"
"Kokomo" was recorded without Brian Wilson. "Brian was around, but at that time, Eugene Landy, his psycho psychotherapist, was involved and didn't want Brian to participate in the recording, unless Landy was the producer. But we had the producer - Terry Melcher, who was quite capable of producing a hit. So that didn't work. So Landy withheld Brian from the session, much to Brian's later chagrin. It went to number one and actually was the most successful single that we've had."
Love had a knack for writing perfectly hooky lyrics for many of Wilson's catchiest melodies. But Love had to go to court to get credit and royalties for many of the songs.
"Brian actually wanted to rectify it, but Brian was in a conservatorship and his attorney said, 'Too much time has passed. The statute of limitations has past. So Mike has no recourse.' So even though, ethically Brian wanted to change it, he couldn't, because he wasn't in charge of his own business affairs. Even in court, Brian took the stand and said, 'Yeah, Mike and I wrote that.'
"It's an absolute drag that that happened, but with Brian and his emotional problems he had an inability to deal with his father Murray and Murray's outright vindictiveness towards me. It was a real bummer, but, ultimately, it was, for the most part, resolved. We fired him as manager after a couple of years... and that's where the vindictiveness came in. He was a conniving person. I didn't even know what publishing was, when we started. He did. And he basically took it away from Brian and myself and his other two sons and basically disenfranchised us. I sold it for $750,000 and it's worth millions and millions."
Brian Wilson is indeed the tortured genius. But there would be no Beach Boys without Mike Love. "What there wouldn't be is as many hits,' Love laughed. "If you subtracted all my words and all my hooks that I offered, you'd be hard-pressed to find a top 10 in there."
It's been a long time since Love collaborated with WIlson. "I have an attitude about that," Love said, "which is, you're free to do whatever you want to do. But his success came with Brian and Mike. He did a thing called 'Lucky Old Sun,' more Van Dyke Parks. But he has yet to get together with cousin Mike. There's a lot of things that come along with Brian, mentally, emotionally and what have you. The fact that we go back to childhood together is a plus. There's a connection there, a symbiosis there, a knowingness about where Brian's strengths are and what mine are. We complement each other.
"Musically, he could come up with some beautiful chord structures, especially harmonies, some great melodies, chord progressions. Like 'When I Grow Up To Be A Man,' we do it in our show lately. And I love doing it. Those harmonies are incredible, for a pop song.
"There's some harmonies in our songs that no other group has done, not in the Top 40 end of things. A lot of people sing great, have a great lead singer, but as far as four-part harmony, they're few and far between. There's lots of two, lots of three. But four-part harmonies, especially with the chord progressions that Brian's able to bring into things, that's pretty rare.
"Despite problems or issues or setbacks or ups or downs or all arounds, that love of the harmony, love of the music, shined through. I think that's what people continue to respond to."
With the band's 50th anniversary coming up, Love envisions bringing Brian Wilson and Al Jardine back into the fold. "I've spoken to Al and he's done some new music. I've done some music. And Brian's always at the piano. We have a 50th anniversary coming up. It only makes sense to get together, go through everybody's stuff and see what we can do, maybe some new stuff, maybe stuff that's been percolating for a few years. Al's got some good stuff. I've got some good things, I think. I've recorded 18 or 20 songs which I've not come out with, which are waiting for the days, as it says in the 'Pet Sounds' album
"There have definitely been issues. But they're in the past. So I think we can re-approach whatever it might be. I'd really like to see a PBS special done, ourselves with guests, friends or people who have held The Beach Boys in high regard and would like to join us in versions of our songs."
Love would also like to see a movie or theatrical musical along the lines of "Mamma Mia." "If you put a really good story together and incorporated Beach Boys music, that would be very cool. Another thing is a Broadway show. They did one called 'Good Vibrations,' but it didn't last. It was not a great script. But the music is timeless. The weakness in the show they tried was that the story had nothing to do with The Beach Boys. Look at the success of 'Jersey Boys.' That should tell you that people like stories with a lot of dramatic, truthful elements. And that's what I think needs to be done with The Beach Boys."
There's another potential recording project that intrigues Love. "We have done shows with symphonic orchestras, in various places around the country. I would absolutely love to do some recording with a symphony orchestra, maybe do a double, symphonic album live. That would be pretty amazing."
Has there been any downside to a life of pop stardom? "There's a lot of missing your home, a lot of being away from your children, family, wife, girlfriend. I try to be at as many things as I can. I get up in the morning and make breakfast for my youngest, the 13-year-old, before she goes to school. Even if I get in at two in the morning, I'll get up at six to make her breakfast. There's a connection there - she knows that Dad loves her enough to do that. It's little things like that you try to do, because you do miss a lot of little things, when you can't be there."
The Beach Boys have impacted countless musical artists. But Love would rather have a different sort of imprint.
"Look what happened, Dennis Wilson, 1983, died way too young. Carl Wilson smoked since he was 13. Died of lung cancer. Major boo-boos - cigarettes, drugs, alcohol. The best influence would be if we could prevail on people to find other ways of getting high, like taking a walk, playing golf, yoga, meditating. There's a lot of great things you can do with your mind and your body and your life and not get all overwhelmed by stress or self-indulgent to the point of destruction."
Listening to Beach Boys songs can also be a healthy high. "When you think of the music of the late '60s, all that psychedelic stuff, there's not that much played on oldies radio. There's some tremendous music. Hendrix was fabulous. But by and large, the main stuff you hear on oldies radio is The Beatles, The Beach Boys and Motown.
"Those songs make people happy. They love them - children, pre-teens, teens, young adults, adults, middle-aged, seniors - they all like The Beach Boys. It's quite amazing when you do a state fair or something like that and entire families come out.
"I have a 13-year-old daughter who, three years ago, came home from school, saying, 'Hey Dad, my fourth-grade class's favorite song is' Wouldn't It Be Nice?' It came out on the 'Pet Sounds' album exactly 40 years before she said that. But when you look at the lyrics - Wouldn't it be nice if we were older, then we wouldn't have to wait so long. Wouldn't it be nice to live together, in the kind of world where we belong? Nothing's gonna make it that much better. We can spend the night and stay together.' For a young person who's got a crush, if they're romantically inclined, that song is right on.
"The music will live on in the minds and hearts of people for a long time," Love said. "They still play Beethoven, Bach and what have you. Who knows? Maybe a hundred years from now, they'll play The Beatles and The Beach Boys, too. These songs make people happy, people of all ages."
People never tire of hearing Beach Boys songs and Mike Love never tires of singing them. "As long as people like what we're doing and as long as we like to do what they like, as long as we're healthy and have good attitudes. The nature of an artist of any kind is to do his or her art. It's not like you have to flog a person to make them go on stage. It's second nature for those of who grew up with music and were blessed enough to have it go from being a hobby to a profession."
The endless summer continues.