MIRANDA LAMBERT: FAMOUS IN A SMALL TOWN
By Paul Freeman [April 2012 Interview]
She was raised in Lindale, Texas, population 5,000, where stardom must have seemed a million miles away. But Miranda Lambert, armed with talented and determination, made the trek successfully.
The singer-songwriter, who has amassed an impressive list of hits, such as "Gunpowder & Lead," "Famous in a Small Tow," "The House That Built Me" and "Baggage Claim," is on the road again. Presumably, she'll be leaving her trunkload of awards at home.
Her father, a retired police officer who became a private eye, enjoyed writing and performing country songs. As a youngster, under his supervision, Lambert sang in local talent contests and restaurants.
A breakthrough came in 2003, when Lambert earned a third-place finish on the "Nashville Star" TV competition.
In 2005, she was nominated for the Country Music Association's Horizon Award and won the Academy of Country Music's Fresh Face Award. In 2007, she nabbed her first Grammy nomination. She followed 2009's "Revolution" album with her fourth full-length, 2011's "Four The Record."
Music has helped Lambert through difficult times. In the first two months of 2012, a close friend, her father-in-law and her beloved dog all passed away.
Only 28, Lambert is already a veteran performer. She is married to country star Blake Shelton, who's featured on NBC's hit, "The Voice." Lambert and Shelton live in the small town of Tishomingo, Oklahoma, far from the spotlight.
POP CULTURE CLASSICS:
When you were growing up, who were the artists who touched you most profoundly and why?
MIRANDA LAMBERT:
Merle Haggard and Loretta Lynn are two of my favorite songwriters and performers, and I try to follow their no-holds-barred approach to writing. They made me realize that authenticity and honesty are some of the most important qualities of great country music. Their songs have stood the test of time, and I hope mine will do the same.
PCC:
Your father's efforts in writing and performing country music, what lasting lessons did they provide? What was the key advice he gave you?
LAMBERT:
I grew up around music, and I knew from a young age it was something I wanted to pursue as a career. My family listened to everything from Motown to Southern rock to hardcore Texas country. My dad taught me to play guitar and write songs when I was a teenager, and he and my mom have always been my biggest supporters. He helped me understand that writing my own songs was the only way I would be able to say what I wanted to say at the beginning of my career. My mom used to drive me around to radio stations in Texas to try and get them to play my music, and she is still the president of my fan club. Both of them have always encouraged me be a strong woman, to stay true to myself and to follow my dreams.
PCC:
All the awards you've received, how important is that validation for you? Does is still seem surreal when your name is called?
LAMBERT:
Winning awards is a huge thrill and honor, especially recently winning ACM Album of the Year, because it means that my record was embraced by my peers in the industry, while my fans paid hard-earned money for it to help make it so successful. I am still blown away by the other albums that were nominated for ACM Album of the Year...they are all amazing pieces of art, and I am so humbled that mine was even in the category with those, let alone that it won. I put so much into my albums that I consider them my babies, and I love making music that other people seem to enjoy. I always hope the audience will be as inspired by the song choices as I am. I am so blessed to get to do what I love for a living, and winning awards just puts it over the top. I try to take my career one day at a time and thoroughly appreciate all the good moments as they come.
PCC:
Did you have to withstand suggestions to bend to the mainstream, while you were always staying true to your own musical vision?
LAMBERT:
At the very beginning of my career I felt very strongly about what type of artist I wanted to be. When I got my record deal, I had a vision and didn't want anyone to tell me what type of songs to sing and what kind of artist to be. Luckily the head of the record label had faith in me and told me to just go and make my record, for which I am very grateful to this day.
PCC:
When you had the "Nashville Star" exposure and label signing, did you feel that you had made it? Or did you envision a long struggle?
LAMBERT:
Being on 'Nashville Star' was a great opportunity for me. Since I am a songwriter, my hope was that by performing a song I wrote, I might be able to get the attention of a publisher. I ended up performing 'Greyhound Bound for Nowhere,' which I wrote with my dad, and it ended up making it on my first record 'Kerosene,' once I signed with Sony Music. I didn't win that season, so I knew there was some hard work ahead, but I think I was lucky to not win, because the winner usually has to record pretty quickly and deliver music to the marketplace. I was only 19 and needed some time to collect my thoughts and figure out exactly what I wanted to say on that first album.
PCC:
Do you ever view the onstage/on-camera Miranda as a different persona that the off-stage, real life one?
LAMBERT:
Of course I play characters in songs at times, but I always believe in the songs I sing, and I value authenticity. People have lots of facets to their personalities, and I just let my inner rocker chick come out on stage, while I let my sweet girl side out at home, while caring for my animals and hanging out with my family and friends. But I am always my feisty, take-no-crap self wherever I am!
PCC:
Once the huge fame came, what were the most difficult aspects of handling that whirlwind?
LAMBERT:
Sometimes I wish there were more downtime, but honestly I love music and performing, and when I have a break, I am usually ready after a few weeks to get back on tour. I do really love playing with my dogs and hanging out on the farm when I am home, though.
PCC:
Do you feel with each new album that you have to equal or top yourself?
LAMBERT:
My last album, 'Revolution,' came out in 2009, so it was time to make a new album and have a new tour. Working with Pistol Annies kept me excited about songwriting right after 'Revolution' was released. A lot of the time, I will be a bit burned out about writing once I finish an album, but I was so inspired by my friends Angaleena Presley and Ashley Monroe and our collaborations that I just couldn't stop! I think their creativity and the idea to put out a trio project with 'Hell on Heels' definitely inspired me to write more and find great material for 'Four the Record.' I did feel pressure with my fourth album because everyone was wondering how it could possibly top the success of my last one. 'Revolution' was a big milestone for my career, and I am so grateful for how the fans and my peers in the industry embraced it. So with 'Four the Record,' I decided that there was really only one way I could make sure I loved it as much as 'Revolution,' and that was by letting the music lead me. Now that I feel that I did that, I know I will always be proud of this album no matter what comes next.
PCC:
You're still so young, but with so much performing experience, do you feel like a veteran entertainer? Can you see how your performing style has evolved?
LAMBERT:
I have learned so much in my relatively short amount of time on the road. I think if you stopped learning you would no longer be inspired, and I hope that never happens to me. I've been lucky to tour with a lot of great artists like Kenny Chesney, Toby Keith, Brad Paisley, Keith Urban, Dierks Bentley...I learned a lot from all of them, and I am continually pushed to work harder by my amazing peers in country music.
PCC:
How has music helped you through difficult times in your life, turmoil and loss?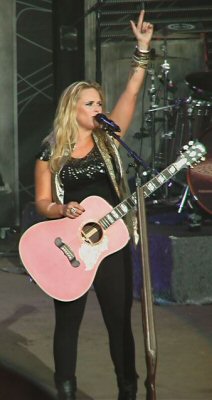 Miranda Lambert at Lilith Fair 2010, photo by Paul Freeman
LAMBERT:
I experienced a couple of losses in my life over the past few months, and it made me truly realize the healing power of music. I don't think it's an accident that I have had my current single, 'Over You,' to fall back on during these difficult times. My fans have been the biggest help over the past few months because they made me realize that everyone has a great extended support system that they don't always acknowledge. I'm lucky that mine just happens to be arenas full of awesome people.
PCC:
Acting on "Law & Order," was that just fun or daunting? Did you find ways to relate to the character? What other sorts of roles would you like to play?
LAMBERT:
I've never really dreamed of an acting career, but 'Law and Order: SVU' is my favorite show ever, so I was thrilled to be on it! I have a new respect for actors... scripts aren't the easiest things to decipher. I couldn't really relate to my character's personality at all, but I think that made it a better challenge. Everyone on the show was incredibly nice and supportive, and I had a great first experience.
PCC:
Married to another artist, is there any sense of friendly competition there? How do you handle the balance of egos? Are you one another's sounding boards?
LAMBERT:
I remember last year, we were both on competing morning TV shows in NYC on the same day, and we got into a funny Twitter match about who would have the most viewers. We support each other wholeheartedly, but we like to have fun with it too!
PCC:
What have you most enjoyed about watching Blake on "The Voice"?
LAMBERT:
I watched the first season of 'The Voice' and had a ball cheering on the artists, so I was very excited to be a mentor on Blake's team along with our good friend Kelly Clarkson. It's great getting to work with these talented young singers, and looking back I wish that I had had an established artist to give me advice when I was on 'Nashville Star.' I love 'The Voice,' because it is all about true vocal talent, not appearances or life stories, because the coaches pick their teams without seeing the contestants or knowing anything about them.
PCC:
Settling in a small Oklahoma town, does that help you escape from the pressures and insanity of show business? What's the atmosphere like there?
LAMBERT:
I try to live a normal life as much as possible. Living away from the activity and making my home in Oklahoma is a plus. I have a quiet life there and love spending time with my animals, family, and friends. Where I live in Oklahoma I am just Miranda to the locals, and when I go to the feed store to buy stuff for my animals, they don't care that I sing for living. Living in the boonies is the great equalizer. When I get home, and I see my dogs and my farm animals and just hang out, it reminds me of what matters, and that if the fame goes away, I will still have people that I love and that love me back in my life.
PCC:
What lasting effect do you hope your music will have?
LAMBERT:
That it keeps inspiring people.
PCC:
What as yet unattained goals are still most important to you?
LAMBERT:
I would love a career like Loretta Lynn's and Dolly Parton's where I am still making music I love well into my later years. They are such an inspiration to me. I was honored to sing 'Coal Miner's Daughter' with Loretta Lynn a few years ago, and I learned so much from spending a day at her home taping the music video for it. She has always been brave enough to sing things that most women felt at the time, but wouldn't say, and she has done a good job of balancing her music and her family. Music and performing are my life, and I am looking forward to exploring different avenues in the future to expand my horizons.
Visit www.mirandalambert.com.