MURIEL ANDERSON: CELESTIAL SOUNDS ON THE HARP GUITAR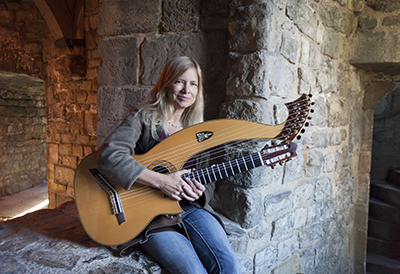 Muriel Anderson, Photo by Bryan Allen
By Paul Freeman [December 2017 interview]
The solar eclipse was quite illuminating for harp guitarist/composer Muriel Anderson. In its wake, a beautiful new album, "Eclipse," was born, as well as a dazzling live show. Her previous project, "Nightlight Daylight," blossomed into a multi-award-winning CD and a romantic relationship.
During the solar eclipse, Anderson was sitting on the lawn of the capitol building in Nashville, playing her harp guitar. There were people from all over the world and they began requesting such songs as Van Morrison's "Moondance," Cat Stevens' "Moonshadow" and Anderson's own "Night Lights." "So I was playing them all and it was a wonderful experience to share," Anderson said.
That experience evolved into a full CD, which also includes such tunes as Don McLean's "Starry Starry Night," John Lennon's "Imagine," Mark Knopfler's "Why Worry," a medley of the standard "How High The Moon" [lyrics by Nancy Hamilton, music by Morgan Lewis] and George Harrison's "Here Comes The Sun," Joni Mitchell's "Both Sides Now" and Anderson originals, such as "Totality" and "View From Space," which captures a sparkling sense of wonder.
"Eclipse" is not only a CD, but also an innovative accompanying greeting card. You can purchase a pre-release copy at her concerts. Or go to her website for a discount on the CD plus a bonus track (www.murielanderson.com/eclipse).
A talented composer, Anderson can add new textures to the works of other songwriters. She has crafted arrangements of material ranging from Japanese koto music to Carpenters and Steve Wonder tunes. Of selecting cover songs, she said, laughing, "It's only when a tune really inspires me so much that I can't stand it, if I don't play it. If that's the case, I'll learn it. So the song finds me."
In gazing at the CD, you'll be struck by the photography of Bryan Allen. Anderson had seen his artful imagery as a photo artist and cinematographer and hired him to work on her "Nightlight Daylight" CD. The album was named one of the top 10 CDs of the decade in Guitar Player Magazine's 50th anniversary issue.
"In the process of doing this album, we fell in love and decided we wanted to be together," Anderson said. "So we put together an audio-visual show to take on tour. He captured my music in visuals, which are shown on a giant screen behind me."
They collaborated again on "Eclipse." "In the process of doing this album, we fell in love and decided we wanted to be together," Anderson said. "So we put together an audio-visual show, which we'll be touring. He captured my music in visuals, which will be on a giant screen behind me."
The concert begins with gorgeous images of the eclipse, then moves into shots from the couple's world travels, as well as personal stories. One highlight is a 1929 home movie showing Anderson's grandparents.
"It was filmed during prohibition, when they were taking an extended vacation to Canada. It captured the wonderful time they had and I wrote music to go with it, a composition called 'A Fine Pickle.'"
It's a rich musical evening. "People come out feeling inspired — and that's what we want," Anderson said.
Over the course of the concert, she plays both guitar and harp guitar. She displays her pleasing singing voice, as well. But her exquisite, eclectic instrumentals are abundantly evocative.
"My guitar sings for me. Sometimes it doesn't need the words. It says everything it needs to say in the music."
Anderson, the first woman to win the National Fingerstyle Guitar Championship, began playing the instrument at age eight. During her junior high school years, she had a dream that crystallized the importance guitar would play.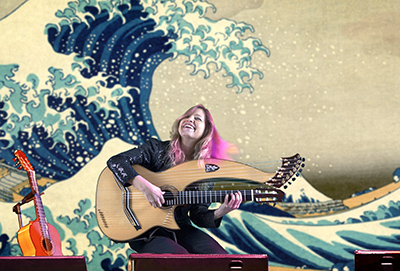 Muriel Anderson, Photo by Bryan Allen

"I dreamed that I was walking to school and my guitar got heaver and heavier" said Anderson, reached by phone for this interview at her Nashville residence. "Finally I put it down, sat on top of it and it lifted off the ground and I rode it to school. And I remember waking up from that dream thinking, 'Wow! That was fun. I think the guitar is going to carry me in my life.'"

Anderson actually started writing songs while at preschool. "I heard the doorbell ring. I went to the piano and found those notes. And I found that they made a chord. So I wrote a song and called it 'Ding Dong.' I wrote words to it and everything. I was quite proud of myself."

A few years later, a friend of the family was throwing a guitar away. "I tuned up the three remaining strings on it and just started figuring out melodies. It just sort of came naturally," Anderson said.

She comes from a musical family. Her maternal grandfather was a saxophonist who played in John Philip Sousa's band. Anderson's mother encouraged her children to play music for fun.

Every time Anderson heard a different kind of music she found inspiring, she would try to play it on her guitar. She performed in school jazz bands and played in a bluegrass band for six years. She loved international folk dancing, so she learned to play some of that music.

The only way to take guitar in college was to study classical. "I went into it reluctantly at first. Over that summer I heard the music of Christopher Parkening [a classical virtuoso]. I thought it was the most beautiful thing I'd ever heard and I wanted to be able to shape the tone the way he does. Even coming to classical late in life, it helped me to hone in all different styles," Anderson said.

She also studied with country great Chet Atkins. "It was really formative. He was very supportive of a lot of young musicians. I picked up on his approach to music and his openness to learning new things and keeping the joy of the music alive. So I picked up not only his approach to music, but a lot of his approach to life, as well."

Anderson played guitar with another legend, Les Paul. He heard her performing on a radio show, called in and invited her to sit in with him, if she visited New York. And she did join him many times.

"He had so many interesting stories about the history of guitar and the people he'd met. And he was just fun to be around. I look back at the pictures of us playing on stage together and we're both just beaming, having a great time," Anderson recalled. "He could bring that out of people. And what a legend, with all he has done for the recording industry, as well as the guitar."

While still in college, Anderson began writing tunes that called for low, resonating strings an octave lower than those her guitar provided. She had heard about the harp guitar and found out that Michael Hedges played one. So she attended his concert. She sat next to Bob and Carol Hartman. Bob Hartman was writing a book about these instruments. His grandfather was a gifted luthier and his great-uncle had built Hedges' harp guitar. Hartman asked if Anderson would like to record a track for the CD that would accompany his book.

Anderson fell in love with the instrument. "It expands the range and the type of expression you can get out of an instrument. It gives me almost the range of a grand piano and a lot of different kinds of sounds you wouldn't have on an acoustic guitar."

Eventually Anderson had a harp guitar built for her. She plays one that has both steel and nylon strings. "It's fun for me having an instrument with so many musical possibilities. I just gradually started gravitating more and more to the harp guitar."

The instrument has its unique challenges. "When you first look at the harp guitar, it just seems like this wide sea of strings. So it's a matter of not feeling daunted by all those possibilities, but only using strings when they really add to the music. So part of it is being a servant to the music and not getting caught up in trying to use every part of the instrument all the time."

Anderson uses her instrument to help good causes, including the charity she established — Music For Life Alliance (MFLA). "We're trying to do more to support music education across the country," she said.

She invites organizations providing instruments and lessons for kids to contact the Alliance to be added to the database. Individuals who have instruments to donate, can go to www.musicforlifealliance.com to find out where to do so.

"It's needed more than ever. Kids, in this digital age, they need to have something they can put their hands on and their hearts into. And it develops not only cognitive skills, by integrating the right and the left hemisphere, but also healthy social interactions and self-esteem and patience. And we can go on and on about all the benefits of physically playing an instrument, whether or not you take it to the professional level or not."

One of MFLA's big fundraising events is Anderson's legend-laden All Star Guitar Night in Nashville. Prominent pickers from numerous genres have, for years, been gathering for these magnificent musical evenings.

Anderson, who divides her time between Nashville and Bryan Allen's cabin in Long Island, said she still relishes the extensive travel her career requires.

"We make an effort now to take some time everywhere that we go, so we have time for Bryan to take the photographs and for us to visit with the people. And more often than not, we'll stay with families. We very rarely stay in a hotel. That way, we really stay in touch with the people and the cultures, as we're traveling internationally."

Of the great reward music has given her, Anderson said, "It's the people that the music has introduced me to. Playing acoustic music, it seems like the people on every side of my life are just by and large great people — my fellow musicians, the club owners, the audiences. I'm fortunate that this type of music brings together some really wonderful people."

For more on this artist, visit www.murielanderson.com.