PCC CONCERT REVIEW:
HAPPY TOGETHER 2016 TOUR
MOUNTAIN WINERY, SARATOGA, CA., JULY 21, 2016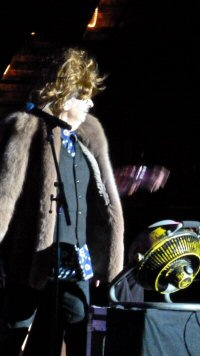 Mark "Adele" Volman
The 60s' pop-rock stars may not be impervious to the passage of time, but their music still holds undeniable charm and energy. That's why Happy Together 2016 Tour provides such irresistible nostalgic fun. A n abundance of old age jokes add to the merriment.
The tour arrived at Saratoga, California's Mountain Winery on July 21 and the six acts delighted the large crowd at this inviting venue. A superb tour house band, led by guitarist Godfrey Townsend, joined by drummer Steve Murphy, keyboardist Manny Focarazzo and bassist Mark Dawson provided exceptional support. All contributed spot-on backing vocals.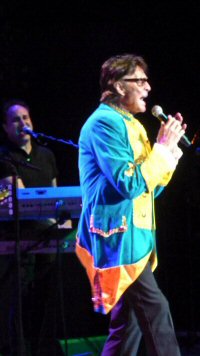 Mark Lindsay
The show opened with a frail, but game Spencer Davis. He got things moving with "Keep On Running." He explained how Jamaican ska singer wrote that tune, as well as "Somebody Help Me," which Davis also delivered with plenty of punch. He didn't need his group's original vocalist, Stevie Winwood, to bring the hits to life. Davis's own earnest vocals, complemented by his crisp guitar leads, enlivened such classics as "I'm A Man." He struggled to open a water bottle and lamented, "I used to be quite strong, when I was young." He explained that, prior to being rescued by the Happy Together Tour, he had been on the Medical Mystery Tour. But he had enough vitality to perform a rousing "Gimme Some Lovin'." Like each of the artists on the bill, Davis received a standing ovation at the end of his set.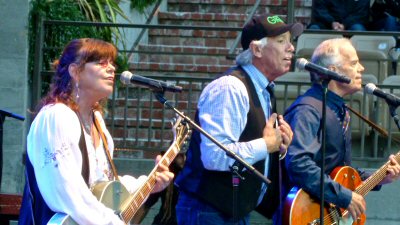 The Cowsills
The Cowsills (who inspired the "Partridge Family" TV series), quipped that they had been passed over for previous Happy Together Tours, because they were too young. Bob Cowsill quipped that they qualified for this edition, because he had just received his Medicare card. His sister, Susan (who has done a lot of impressive solo work in recent years), was the baby of the tour, at age 57. On stage here, her electric guitar was almost as big as she was. Together with their brother Paul, they served up pleasing, smooth, three-part harmonies on such numbers as "We Can Fly" and the theme to "Love American Style." "Indian Lake" included some politically incorrect war whoops. The audience cheered enthusiastically for "The Rain, The Park & Other Things" (which the group dedicated to "all the flower girls out there") and their sweetened-up, but immensely invigorating smash version of "Hair" (from the Broadway show of the same name). Good-natured sibling ribbing made their set even more enjoyable. Despite a documentary that revealed the dark side of the family's history (to which Susan alluded), the surviving family performers radiate a huge amount of wholesome appeal.
Sporting the Civil War-style long jacket from his Union Gap days and declaring himself proud that he could still fit into it, Gary Puckett sang his blockbuster ballads - "Lady Willpower," "Young Girl," "Woman, Woman," "This Girl Is a Woman Now" and "Over You." His voice is still strong and rich in tone.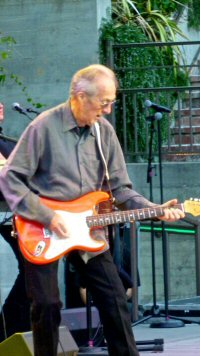 SPencer Davis
After the intermission, Mark Lindsay, spry and in great voice, wearing tinted glasses, gave the crowd a rollicking set, starting with a medley of early Paul Revere & The Raiders numbers - "Steppin' Out" and "Just Like Me." His solo hit "Arizona" followed. He gave an intense performance of John D. Loudermilk's "Indian Reservation," The Raiders' biggest hit. Lindsay earned laughs by pointing out that it was CBS Records' top-selling record… until "that little twerp," Michael Jackson came along. Then Lindsay broke into some cool dance moves. He left the stage long enough to don a Raiders Revolutionary War-type jacket, gave a high kick that must have made the hip replacement portion of the audience shudder, and then nailed Goffin & King's electrifying "Kicks." He reminded the audience that age isn't determined by numbers, but by the amount of rock 'n' roll you've got in your soul. And at 74, Lindsay can rip it out better than most rockers a third his age.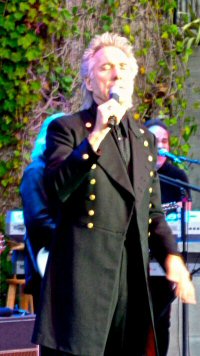 Gary Puckett

Also wearing tinted glasses, as well as spiked-up hair, Three Dog Night's Chuck Negron had ample vocal power and soulfulness to fuel dynamic renditions of "Eli's Coming," "Celebrate," Randy Newman's "Mama Told Me (Not To Come)" and Harry Nilsson's "One." "One" is indeed the loneliest number and Danny Hutton and Cory Wells (who passed last year), the other two-thirds of Three Dog Night, were missed. But Negron did a fine job of making the songs work with the house band's background vocals. He said it took him an hour to squeeze into his pants, "but don't they make me look svelte?" The audience heartily sang along to 1971's Record of the Year, Hoyt Axton's "Joy To The World."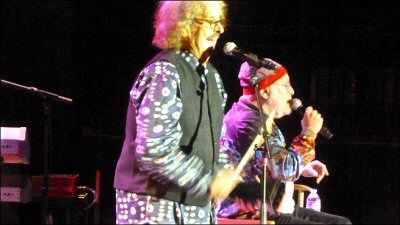 The Turtles

The tour's hosts, The Turtles, aka Flo & Eddie, aka Mark Volman and Howard Kaylan, had the headlining slot. Volman came out in a blonde wig and fur coat, lip-syncing to Adele. He turned on a fan to provide the wind beneath his curls and Kaylan, who also got the breeze, cracked, "This is the first time I've been blown on stage in decades!" Kaylan was confined to a chair throughout the performance, apparently due to a leg injury. But it didn't dampen the duo's ability to offer joyous music and biting humor. Kaylan joked, "It's great to be here… Where are we?" The Saratoga crowd joined in on such endearing numbers as "She'd Rather Be With Me," "You Baby," "It Ain't Me Babe," "Elenore" and, yes, "Happy Together."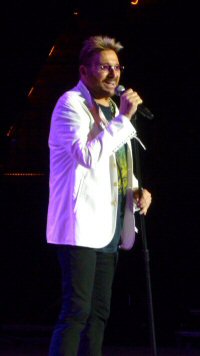 Chuck Negron

The Turtles' brought all of the other acts out for a big, happy finish, reprising each of their signature tunes. Moments earlier, the mirth was briefly interrupted by mention of the slimmed-down Volman's recent successful battle with cancer.

Everybody's mortal. But the music of these 60s stars will outlive us all.