NATASHA BEDINGFIELD:
"Unwritten" Star Exploring a Sea of New Opportunities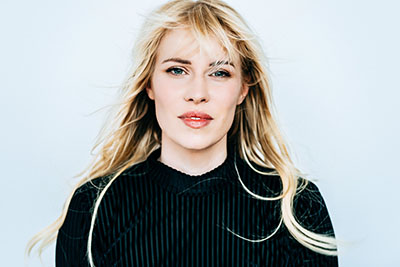 Natasha Bedingfield; Photo by Kristin Chalmers

By Paul Freeman [July 2017 Interview]

Pop stardom can warp a performer's sense of perspective. But singer-songwriter Natasha Bedingfield, who broke through in 2004 with the international smash "Unwritten," has maintained a healthy set of priorities.

As an ambassador for Global Angels, an international children's charity founded by her mother, Molly, Bedingfield visited a refugee camp for former child prostitutes in Mumbai and an orphanage in Kolkata.

In 2014, at the United Nations, she performed "Love Song to the Earth," a song she had co-written for the U.N. Climate Summit. Bedingfield has also performed at the Nobel Peace Prize Concert and the Dalai Lama's Common Ground for Peace.

The Grammy-nominated Bedingfield had a down-to-earth upbringing in Southeast London. Her parents, who worked in the international charity sector, were from New Zealand.

She felt at home in music. Bedingfield began writing songs at age 12. Her inspirations included Stevie Wonder, Lauryn Hill, Bjork and U2.

In their teens, she, her brother Daniel and sister Nikola formed a vocal group. During a year at university, Bedingfield studied psychology.

Meanwhile, her brother hit the charts, paving the way for Bedingfield. She left university to sign a recording contract. Her song "Unwritten" struck a chord with listeners in the U.K. and then in the U.S. It earned her a Grammy nomination for Best Female Pop Vocal Performance. Another song from the "Unwritten" album, "These Words," reached number one on the U.K. charts.

Bedingfield's "Pocketful of Sunshine" album came out in 2008. Singles included "Love Like This" and the title track. She hasn't released an album since 2010's "Strip Me." However, Bedingfield has been busy creatively. She has recorded with such diverse artists as Rascal Flatts, Nicki Minaj, Big Sean, Art House and Belgian DJ/record producer Basto. Over the years, her collaborations have also included Lifehouse and Lang Lang.

Bedingfield has appeared on many TV series, including "Degrassi: The Next Generation," "Lipstick Jungle," "So You Think You Can Dance," "The X Factor" and "Web Therapy." Her song "More of Me" plays over the end credits of Disney's "Tangled: The Series."

In 2011, Bedingfield sang Smokey Robinson's "Tracks of My Tears" in the East Room of the White House for "The Motown Sound" event, joining such artists as Robinson, Sheryl Crow, Jordin Sparks, Ledisi, Seal and Stevie Wonder. The concert was later shown on PBS.

In 2015, Philosophy, the skin care company, enlisted Bedingfield to write a song called "Hope," supporting their Hope and Grace charity campaign, which benefits women battling mental illness and its stigma. She co-wrote the song with her husband, businessman/filmmaker/music producer Matt Robinson.

The song "Love Looks Like" is her latest release. A new album is in the works. She's back on the road, this time on a bill with O.A.R. and Train.

Meanwhile, it's full speed ahead for Bedingfield, regardless of which track she chooses to follow next.

POP CULTURE CLASSICS:
Are you enjoying the tour with Train?

NATASHA BEDINGFIELD:
Yeah! I admire Train, because they've kept it going for so long and kept reinventing themselves. I love that.

PCC:
Do you join Pat Monahan on stage for a song?

BEDINGFIELD:
I do. We do a song called "Bruises" together. It's a little bit like Johnny Cash and June Carter or something.

PCC:
In general, what do you hope your audience takes away from hearing your live performances?

BEDINGFIELD:
For me, a live show is about creating an environment for people to forget about everything that is stressful and just kind of let go and let the music take them somewhere. I feel like I try to provide an atmosphere that people can lose themselves in and also find themselves with a bunch of people.

I love when the crowd sings along. I'm a songwriter, so when people sing along, it just tickles me. It means a lot to me, because it's like, "Oh, wow! My song became theirs." I love the sound of a crowd. I guess most performers do.

PCC:
Are you looking to put forth positive messages through your music?

BEDINGFIELD:
I know I'm known for positive songs, but music, for me, is always about a journey. For a song to be really truly positive and not cheesy, it has to come from a real place. So for me, a lot of times my songs come out of pain or out of struggle. Or a question that I have, a doubt that I have.

And I use the songwriting process to kind of see the light at the end of the tunnel. So I don't stay in it. I don't wallow in it. But I use the pain of being a human, the struggles that we go through, that I go through or my friends around me. And I kind of push through. And I feel like music is this amazing language that allows me to do that.

PCC:
And the music is healing for you?

BEDINGFIELD:
The writing process definitely has a therapeutic feeling.

PCC:
"Love Looks Like" is your latest song?

BEDINGFIELD:
Yes, it is.

PCC:
Is there a new album in the works?

BEDINGFIELD:
Yes. I write every day. There's music that's ready to come out and some music that I'm still finishing. I feel like the music industry has changed so much and that basically, it's about a conversation about people. You've just got to put stuff out. And all the rules are changing.

So "Love Looks Like" is like a gift. It's a like a little dipping the toe into the water, just to kind of see how it's worked and just kind of enjoying putting something out and not worrying about it, not judging a song based on position, but just on — this needs to be said. And feeling quite free about it.

PCC:
Was there a conscious decision to step away for a while? Why was there so much time between albums?

BEDINGFIELD:
I just had to live. You don't want to be over-exposed. For me, I just want to live my life. I'm songwriter, so I need to draw on reality. And touring is not reality. It's very glamorous, but also like being in washing machine. You kind of don't know who you are by the end of it. So sometimes you do need to pull away and live a bit.

PCC:
So going out on the road again, do you come back reenergized?

BEDINGFIELD:
Yeah, I mean, I feel like I haven't been away. I've always been writing songs. I've always been involved. I'm on a lot of records. I'm on the Nicki Minaj record. I'm on Big Sean's record. And I had a country hit with Rascal Flatts. So I've kept involved. I just haven't released my own album for a while.

PCC:
You have collaborated with many diverse artists over the years. Was that a conscious goal, to experience different styles?

BEDINGFIELD:
I really think music is not just about one person. There's chemistry involved when you collaborate, that is really fascinating. I love that thing — what happens when you put this and this together, what do you get? I find it fascinating.

PCC:
The song "Hope," which you co-wrote with your husband, is beautiful. Was that one especially meaningful to you?

BEDINGFIELD:
Yeah. I was contacted by Philosophy, the skin care company, and they enlisted me to write a song called "Hope," because they had a campaign where they wanted to talk about mental illness and the stigma about it. They thought it would be amazing to have a song written about it for them, with that brief. It was really amazing to be part of that and to be doing something that is helping other people, to see the courage of some of the girls who were talking about their stories. It was very meaningful to write about something that is a big issue right now.

PCC:
You had actually studied psychology at one point, didn't you?

BEDINGFIELD:
[Laughs] Yeah, I did. Music is like psychology for me. I did, I went to university to study psychology.

PCC:
What is the link between psychology and music in your creative process?

BEDINGFIELD:
People think that if you go and study, you're going to get all the answers. And what you find out is, the more you discover, the less you know. I mean, the more you learn, the less you know. Most people, as they grow up, they realize that, too. When you're a kid, a teenager, you think you know everything. And then you find out that there's not a clear answer for a lot of things.

It's similar with songwriting. There has to be like an innocence and a questioning. And the emotions that we go through as humans can be the perfect inspiration for a song. And dreams can play an important part, as they do in psychology.

PCC:
Are you still actively working with Global Angels?

BEDINGFIELD:
Yes. Global Angels is my mum's charity. She's in Kenya at the moment, developing water and wells for them. I love to support her. She's supported me so much. I love to talk about her charity whenever I have the opportunity.

PCC:
What is it about that organization's mission that you find so compelling?

BEDINGFIELD:
The thing that it is crazy about it, actually, is that a lot of charities are businesses and they're making money from the donations that people are making. And I think people sometimes know this and they're comfortable with it, but sometimes they might think, "What are they doing with my money?"

For example, when the Haiti thing happened, people donated money and a lot of it didn't go to Haiti. It went to pay the wages that the charities involved paid. So the thing that she's done, which is very brave, 100 percent of what the public gives goes directly to the project that people wanted it to go to.

PCC:
When you were traveling for the organization, did you see darker sides of the world and if so, how did that affect you?

BEDINGFIELD:
I went to India and we looked after several kids and helped to wash them and feed them. And it definitely changed my life. And there was a moment when I was in a little village and I was like number one on the radio and my press lady, she wanted me to do an interview with a woman's magazine. And I'm in an orphanage. But I kind of had to do it to promote something or whatever.

So there was this moment where it just didn't add up. I'm talking to this woman and she's asking me like what's the most expensive product that I've ever spent my money on and who's my favorite designer. And here I am with these kids who don't have anything. It definitely was one of those moments that brought me back to Earth.

PCC:
Sounds like you don't get so caught up in the show business world that you forget about the real world.

BEDINGFIELD:
Yeah. And that is part of being a good songwriter, too, because you can easily lose touch.

PCC:
Your parents working in charity organizations, did that shape your social conscience?

BEDINGFIELD:
I think so. Growing up with not much money, my parents looking after so many people. That definitely makes you think about things. But the main lesson my parents taught me was that every single person is special. So a lot of times, you know someone not by how they treat the "important" people, but how they treat the person working at the desk in reception.

PCC:
The fact that they had emigrated from New Zealand, did that give you any different sort of perspective? Growing up in England, did you feel like an outsider? Was that an advantage in some ways?

BEDINGFIELD:
Yeah, definitely. We were immigrants. We definitely felt like outsiders. We strongly identified with our parents' home country. And London's a bit dangerous sometimes. And in the way that immigrants can be, we had that cautiousness and that desire to try and blend in.

PCC:
How early did you know you wanted to be a performer?

BEDINGFIELD:
Twelve is when I started songwriting. And I started performing around 14. And then 18 is kind of where I was like, "Oh, my gosh, I could do this!"

PCC:
In terms of recording artists, who were the biggest inspirations early on?

BEDINGFIELD:
Stevie Wonder, Lauryn Hill, Bjork, U2.

PCC:
And having your brother reach the charts first, was that an advantage, in terms of understanding what the pop world was all about?

BEDINGFIELD:
Absolutely. I think when you see someone in your family or someone close to you do something, you realize it's possible. And he was very encouraging. He kind of taught me everything I know, as my older brother. And he kind of told everyone — "My sister is amazing. Just wait till you see my sister." And people were like, "Yeah, yeah, sure, sure." Because he's incredible. So I do think he helped me get my foot in the door. But I still had to be good [laughs].

PCC:
The huge success with "Unwritten," why do you think the song resonated so strongly with people internationally?

BEDINGFIELD:
Who knows? I think that when you talk about something that's very true to you, often that can resonate with people. A lot of times people go through hard stuff and they don't share it with people because they think it's just them who feels that way. But often when you're sharing something you went through, people are like, "Wow! That's it exactly. You just totally put into words how I feel." And I think that feels really good for people. It's very validating.

PCC:
That line from "Unwritten" — "live with your arms wide open" — is that kind of your philosophy of life?

BEDINGFIELD:
Yes. Because I'm naturally afraid, actually, of new things. Music has been that thing has pushes me. So my own song has encouraged me to be more adventurous and brave and get outside of the house.

PCC:
When stardom hit, what were the most difficult aspects for you?

BEDINGFIELD:
I'm naturally shy. So that was definitely a shock to the system, that suddenly everyone knows who you are. It was definitely a lot of fun, too. And it is a great feeling to be treated like a V.I.P., just because of a song you wrote [laughs].

PCC:
Having had the hits, did the challenge become to figure out how to build longevity?

BEDINGFIELD:
I think it's just, you've got a microphone in front of you. You've got people listening to what you're saying. And the challenge for me becomes, how do I keep saying something that is relevant? How do I keep speaking from the heart and not become caught up in the machine? Because once you have a hit, then you could easily become, in a way, chasing your own success. And I think it's very important to remember what it is that made you actually fall in love with it in the first place… and never lose that.

PCC:
At this point in your career, what has been the most rewarding aspect of your life in music?

BEDINGFIELD:
For me, it's the endless opportunity. Songwriting is my first love. And performing. But also there's just so much, so many areas that I can explore and grow. Whether that's new collaborations or whether that's writing a book or talking about social justice, to me, I just feel like there is an endless sea of possibilities. And I'm very grateful to be in this position, where I can choose my future.

For the latest on this artist, visit www.natashabedingfield.com.