MICHAEL NESMITH: LISTEN TO THE BAND!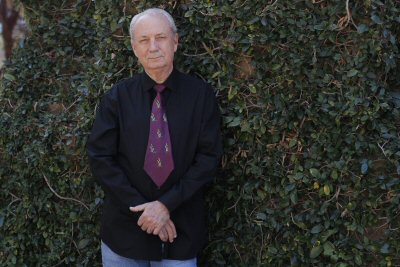 photo by Alexandra Battaglia
By Paul Freeman [1996 Interview]
I was able to interview Nesmith while he was promoting The Monkees' 1996 reunion album, "Justus." Sixteen years later, Nesmith reunited with Micky Dolenz and Peter Tork for a brief tour. Now, in 2013, Papa Nez is preparing to launch a month-long U.S. solo tour. The country-rock pioneer will feature the brilliant songs from his First National Band era and later work. At 70, the country-rock pioneer still sounds great.
Shortly after their TV series debuted in 1966, the Monkees were outselling the Beatles. Though the NBC show lasted just two seasons, the phenomenon never ended.
Now celebrating its 30th anniversary, the band has reunited for a new album, "Justus" (Rhino), and there are other projects on the horizon.
Mickey Dolenz, Peter Tork and Davy Jones have involved themselves in numerous Monkee reincarnations over the years, but this is the first time that Michael Nesmith has returned to the fold.
Why did he pass up the previous reunions? "The principal reason was allocation of time," the affable Nesmith says. "We would find ourselves in a position to go do something, I was always doing something else that I couldn't get out of. The big tour, in '86, I was right in the middle of making a motion picture, 'Square Dance,' with Winona Ryder. So I just couldn't leave. That was misinterpreted as I didn't want to.
"Add on top of that the fact that I don't like to be out touring, most of the time, it added to the confusion. So, basically, the driving force was, didn't have the time, didn't want to do it. So that was that. Now I do have the time and I do want to do it."
It had to feel right. And this time, it did.
Nesmith says, "We hadn't been together for a long time. We'd always stayed in touch, but hadn't had an opportunity to work together. Everybody was living in different places. But around '91, '92, everybody started moving back into L.A. We found ourselves all in L.A. at the same time. So it was like, 'Why don't we get together from time to time and play, set up a rehearsal studio and just have a good time? Because we're all musicians. We liked playing together. We played those old songs. And we had some good times playing on the road. And we remembered 'Circle Sky,' from 'Head.' So we did it.
"But that took a process. That took months and months and months, a couple years for that to start to come together. We finally got into the rehearsal studio and it dawned on us, `Gee, we could make a record here. This sounds great!' So we called the guys at Rhino and said, 'Do you feel like doing this?' And they said yes. So the process was much more kind of organic.
The foursome had a new perspective. "This was much more easygoing," Nesmith says. "We didn't have to make a record, didn't need it for the show, didn't have to have a follow-up to the last record. There was no pressure. We were basically just playing and having a good time doing it."
On the early Monkees' albums, there tended to be four individual musical directions. "With this one, it wasn't quite as disparate as it was in the '60s," Nesmith explains. "It was an easier way for us to work together, the four of us coming together. It was very harmonious. We had a little bit of a constitution for the album. We would write all the material and produce it. Whoever wrote the song would have the last word on it and we'd all abide by that. And nobody would play on the album but us. We made this decision unilaterally.
"In terms of administering who would play what, we all said, 'Okay, let's just stake out the territory. Peter, you're bass and keyboards. Micky's drums. I'm guitar. David, you do maracas, tambourine, congas and any other percussion that you would do ordinarily. And we'll stick to that.' And with those rules in place, it just worked fine.
"This is just who we are. Even though it was a different process and situation from the early stuff, oddly enough, when you listen to it, it couldn't be anything else but The Monkees. It's very much a Monkees record, in a curious way."
Thus the title "Justus." It also is a pun that good-naturedly refers to the unjust fact that the Monkees, during their climb to the top, never seemed to get any credit for making some of the era's catchiest pop music. Monkees songs were written by such talented tunesmiths as Gerry Goffin & Carole King, Neil Diamond, Tommy Boyce & Bobby Hart, and Barry Mann & Cynthia Weill, as well as the four lads themselves.
The Monkees were criticized because they weren't a real band; they just played one on TV. "There really never was a `Monkees,' " Nesmith says. "It was a fabrication in a television show. It was a television show about an out-of-work rock 'n' roll band with no ties to anything except each other. And it was just their hijinks. So, when people say, 'Are you guys The Monkees?' There really is no Monkees. It just us," he chuckles.
"The media of the '60s shouldn't have regarded it as a scoop that we weren't a real band. There's no such thing as the Starship Enterprise and Laurence Olivier's not really the prince of Denmark.
"In the middle of a conversation, a guy says, 'I saw 'Hamlet.' Really loved it. Great job. Terrific story. How long have you been the prince of Denmark?' And you look at the guy and go, 'Uh, I'm not the prince of Denmark.' Nesmith laughs. "Well, when they say, 'You're not?!' And they look around the room like, 'Oh, man, I've got a scoop here!' And then dash out and print, 'Michael Nesmith, playing Hamlet, is not really really the prince of Denmark! Nesmith, a prince from Italy, and familiar with the noble life, is putting on a disguise in order to play Hamlet. He's been trying to pull the wool over everybody's eyes. He's a fraud!'
"I watched this kind of unfold. And I was sort of nonplussed. Now, when you talk to anybody about it, there's just no confusion. What they're confused about, is why anybody was confused about it. 'You mean, really? People thought you were really a band? Geez, that was really weird, wasn't it?'"
After the first couple of hit albums, The Monkees played all the instruments, as well as doing all the vocals. And the tracks are classics.
Through the process of touring the world, playing to screaming audiences of ecstatic fans, the four did bond. "When we went out to play and we were on the road, playing the music from the shows, we were a band then. We had to play as a group. But we didn't have the origins of a band, the beginnings of a band. It wasn't like two best friends got together, decided on a third person, and then the three of them find somebody else they think would be good in the band," Nesmith admits. "Nothing like that ever happened to us. We showed up at the studio, got our script, put on our costumes and went to work.
"I remember when we were on stage in Japan once, it was going particularly well. We were playing an old Chuck Berry song and, right out of that, launched into a version of `Pleasant Valley Sunday,' just going for it. David went over to Peter and said, `This sounds great! Want to start a band?' We always had a certain understanding of the irony."
After the Monkees' run ended, Nesmith's creativity soared. He recorded numerous acclaimed solo albums and produced several well-received films, including "Repo Man," "Timerider" and "Tapeheads." All have become cult favorites. In addition, Nesmith is considered a pioneer in the field of music videos.
However, for Nesmith, there never was an "I'm Not Spock" period. He didn't mind being stuck with the "Ex-Monkee" label. "I never thought of it as pejorative," he says. "No, I was always real happy with my role on show and the show's role in my life. It was terrific. I mean, it's juvenilia, but it's an important part of growing up."
He has opened the door to more live Monkees performances. Still averse to grueling road itineraries, Nesmith would limit these jaunts to a modest number of cities at a time. "No world tours," he chuckles. "But as long as we convince ourselves we can put on a pretty good show, why not go out there? The three guys go out with an oldies show right now. The three of them work in front of a band. And that's a really good show. If you want to see Monkees nostalgia, that's great. This would b a little bit different, with the four of us up there. We'd probably play a whole set ourselves, as a band, and then maybe bring a few musicians out there at the end to augment some of the bigger production numbers."
Nesmith, who just completed a novel and a screenplay, is currently working on several film projects. There's even a possibility of a new Monkees movie. "We would be an out-of-work rock 'n' roll band, except we're all grown up and still at it. But the impetus and the narrative structure of the piece is probably not as similar to the show as it is dissimilar. And, in tone, it's nothing like the `Brady Bunch' movies. Once the package is done, we'll find out if there's an appetite for it. 'The Monkees' is being shown in about 175 markets, translated into 30 or 40 different languages. So there's a big international following for what we do. Of course, this market that I'm talking about, is a market for those two years of television shows that are 30 years old. So whether there's an appetite for a movie about us now, we'll have to see."
As for why the series has remained so popular, Nesmith says, 'Well, that's the $64 question. I don't know. There's a lot of people who respond to the four of us, as young men. There are a lot of who respond to the music. Certainly the music was terrific, as far as ditties are concerned, pop music is concerned. And I think there's a lot of people who respond to the brand of humor, which seems to translate very well. There's not a lot of people that have done that - Chaplin, the Marx Brothers. But you know, it's really very hard to export comedy. And I'm surprised... but I'm happy when the checks show up."
The Monkees' music appeals to new generations, as well as those who grew up listening to the band. "There's definitely a quality to the music that holds up. It's a little dated. Somebody in their 20s is not going to pick a Monkees song over Snoop Doggie Dogg. It's just not the same mindset at all. But if you enjoy those times, enjoy that kind of music, there's no substitute, just like there's no substitute for Fred and Ginger. You have to look at that and think, 'Wow, that was spectacular!' But is it of the present time? Could it occupy the same place in today's popular art? Probably not. But with The Monkees' new music and this new movie we're thinking about, we're not revisiting the past at all. We're just looking at the legacy that was there and pointing it out and moving it forward.
"That's one of the reasons 'Circle Sky' is on the album. We were doing this 30 years ago. It's not like this is something that we went in and made up, trying to behave in a certain way that is contemporary. It sounds contemporary, because it is contemporary. The best way to think of it is, this music was 30 years ahead of its time, in '67. So we're coming at it from a much different standpoint than just doing oldies."
Nesmith played an important part in making the Monkees an enduring success. He was responsible for such memorable songs as "Mary, Mary," "Girl I Knew Somewhere," "Papa Gene's Blues," "Listen to the Band" and "Circle Sky," which was featured in the Monkee movie "Head" and gets a rocking reworking on the new "Justus" album.
The Monkees' 30th anniversary isn't all that significant to Nesmith. "It's kind of hard to believe, but really, I just don't keep count. There isn't any reason to. I just don't think of it in a time context at all. Measuring how many times I've been around the sun since I was doing the television show doesn't seem to have a lot of relevance to me," Nesmith says, laughing. "I'm looking towards what's next."
Besides all the memorable Monkees tunes he wrote, Nesmith has penned such exquisite songs as "Different Drum," "Some of Shelley's Blues," "Propinquity," "Joanne," "Silver Moon," "Grand Ennui," "Thanx For The Ride" and "Rio."
Songwriting remains a passion for Nesmith. "That's non-stop. For 30 years, I've made 15 albums, one every other year, basically. And I've written most of them. And I'm just continuing on. I don't know how much longer anybody'll let me make these albums. But I'll do it as long as I can."
Michael Nesmith's books, albums and much more are available at his innovative website, www.videoranch3d.com.
NEZ SOLO SPRING 2013 TOUR

Thurs., March 21  FRANKLIN, TN  Franklin Theater – SOLD OUT
Sun., March 24 AGOURA HILLS, CA Canyon Club
Tues., March 26 SANTA CRUZ, CA  Rio Theater
Wed., March 27 SAN FRANCISCO, CA  Palace of Fine Arts
Fri., March 29  PORTLAND, OR   Aladdin Theater
Sat., March 30  SEATTLE, WA  Neptune Theater
Wed., April 3  BOULDER, CO  Boulder Theater
Fri., April 5  ST. PAUL, MN  Fitzgerald Theater 
Sat., April 6  CHICAGO, IL  Old Town School of Folk Music 
Sun., April 7  FERNDALE, MI  The Magic Bag 
Tues., April 9  MUNHALL, PA  Carnegie Music Hall of Holmstead
Thurs., April 11  NORTHAMPTON, MA  Iron Horse
Fri., April 12  RAHWAY, NJ  Union County Performing Arts Center
Sat., April 13  SOMERVILLE, MA  Somerville Theater
Mon., April 15  PHILADELPHIA, PA  World Café Live 
Tues., April 16  NEW YORK, NY  Town Hall
Wed., April 17  WASHINGTON, DC  Birchmere