NICOLE ATKINS: A MUSICAL EXORCISM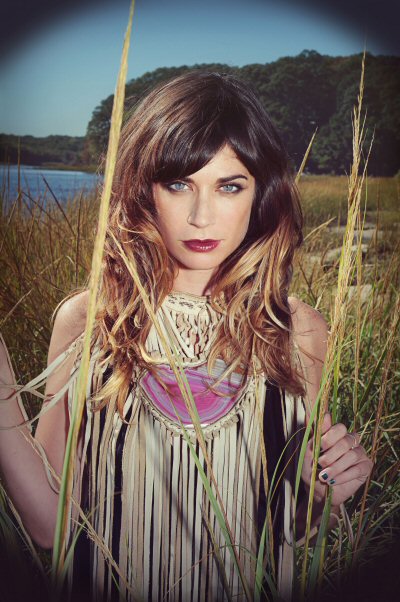 Photo credit: Lucia Holm
By Paul Freeman [Feb. 2011 Interview]
When life takes dark turns, it can sometimes result in brilliant artistic works. Such was the case Nicole Atkins and her incredible new album, "Mondo Amore." She faced the end of her relationship, her band and her major label deal.
Columbia, the label that released her much acclaimed previous album, "Neptune City," prodded Atkins to give them commercial tracks.
The songwriting process proved cathartic. The lyrics delve into the arc of various sorts of relationships. Musically, she was conscious of trying to take the listener in a lot of areas, texturally and mood-wise.
One the things that's so great about the album is that each song has its own personality, yet also contributes to a cohesive entity.
Atkins is not the same as she was when she created "Neptune City." The new record, "Mondo Amore," released by Razor & Tie, affirms that she has grown, as a woman and as an artist.
Intriguiingly enigmatic, atmospheric videos have been created by Atkins and filimmakers Mandy Biseti and Lucia Holm.
Atkins is a multi-facted artist who has created murals and other visual delights. Her latest creation, "Mondo Amore," is a revelation to the ear.
We welcomed the opportunity to ttalk with her again.
POP CULTURE CLASSICS:
Were you worried about how you could top "Neptune City"?
NICOLE ATKINS:
I did feel pressure while I was still on Columbia with the record I was wanting to make and being pushed to write in a way that wasn't really how I write.
There were times when it was really hard. I broke up with the band I was using when I went into the studio, probably a week in. I was like, 'Oh, shit, what am I going to do now?' But I ended up just calling up players that I've always really loved, who lived in Brooklyn. And it was just a lot more of a collaborative, friendship, creative thing that made it really enjoyable.
Also working with Phil Palazollo, he engineered and co-produced the record with me. It was just a really great, laid-back, collaborative thing. I was like, 'Oh, I want to hear what blues, slide psychedelic guitar is going to sound like on this part.' Or 'I want to hear what a really weird synthesizer is going to sound like under this.' It was like play.
PCC:
So you and Phil had similar musical visions plus sense of adventure about the music?
ATKINS:
Yeah, it was very adventurous. And it never got like, 'Oh, how's this going to be better than 'Neptune City.' It was more just that the songs that were on it were songs I was really feeling at the time. I was like, 'These are the songs that are going to tell the story of my life right now, where I'm at right now.' So, it was more of that.
PCC:
That process of wanting to capture that point in time, was that cathartic to be able to channel yokur emotions through the lyrics?
ATKINS:
I was dealing with the loss of three very important things to me - my band, my relationship and my label. It was a very heartbreaking time for me. So there really wasn't anything else I could have written about. It was kind of like an exorcism.
PCC:
Did the writing help you figure things out?
ATKINS:
There was nothing to figure out. It was like the end of a a really big era in my life. It was just like, 'How do I get past this?' With time and contemplation, I did.
PCC:
So the process of creating the album helped with that?
ATKINS:
Yeah, definitely. It was nice to be able to drive into work and just channel a lot of that hurt into darker, prettier sounds.
PCC:
Writing a couple of the songs with Robert Harrison [Austin psych-pop icon], how did that collaboration work?
ATKINS:
He was extremely helpful to me, not just songwise, but personally. He became a really good friend. There were certain times when I just couldn't write anything. I was just so depressed. He just sat down with me and kind of lived in my life for a little bit and helped me get out of my own head.
PCC:
At some points, was it difficult to dig so deep into your pyche and know that you would eventually have to present it to a bunch of strangers?
ATKINS:
Actually, no. Writing lyrics about painful situations, you can almost see the humor in it. Like the song, 'Cry, Cry, Cry,' there are so many lines that are almost kind of funny, like 'Okay, this is something that is totally breaking my heart, but how can we make a clever line about it?' And then you just start laughing. Instead of just laying in bed for a month and being upset, it's getting out and making art with your friends and starting to live again.
PCC:
Were you conscious of not wanting to focus only on the negative elements, but rather to span the whole arc of a relationship?
ATKINS:
Yeah. I didn't want it to be one-sided. I also didn't want to make it like an angry record, like, 'F--k you guys!, blah, blah, blah.' It was the first time I was able to write something taking just as much of the blame as I put on other people. It's kind of like one big passive-aggressive apology letter.
PCC:
Musically, were you consdous of trying to take the listener in a lot of different places, sonically?
ATKINS:
Yeah. There were parts where I wanted it to be like, 'Okay, you're down underneath the ground right now with me. And everything is kind of hazy and crowded. But then you get up to the surface and there's one soaring guitar line that lets you see the hope out of the darkness. I was referencing a lot of Pink Floyd and Derek and The Domilnoes, with those kind of aspects, muisically.
PCC:
A lot of other influences seem to pop up.
ATKINS:
Oh, yeah, there's a lot. The big things, I was listening to a lot of Nice Cave and The Bad Seeds, Echo and The Bunnymen, early Aerosmith records.
PCC:
Are you conscious of trying to blend elements of those things into the record? Or does that happen subconsciously?
ATKINS:
When I write a song, at its core, it's either like a country song or a blues song. But the way that I want to layer the sounds that lets the song evolve. There's a lot of bands that do the same kind of sounds on every song and I just feel like, as a individual writer, the songs are their own individual thing that might call for a country type of arrangement or a psychedelic arrangement. It all just depends on the song.
PCC:
That's one the things that's so great about the album -each song has its own personality, yet it's also a cohesive entity.
ATKINS:
Yeah, it's like, when you think about a house - the album is the house. The songs are all the different rooms. You're not going to decorate every room exactly the same.
PCC:
Do the songs sometimes seem to guide themselves, instead of having you point them in a direction?
ATKINS:
Yeah. Every song kind of just naturally developed into its own thing. Even the string arrangements, they would just like come to me while I was riding the subway. I would just record them on my phone and hope that they'd fit when I got string players in the room. And they always did, which was very relieving.
The one song that gave us the most trouble, though, was 'Cry, Cry, Cry,' which is actually going to be the first single. Before we had the lead guitar parts on it, it just sounded so like Motown-y. It was a little bit faster. I was like, 'This is the one song that could be a hit song, but it sticks out like a sore thumb on this record.'
So then finally, when I got my guitarist Irina [Yalkowsky], I told her, 'Is there is any way you could come up with something? I'm hearing it kind of like Robert Harrison meets David Bowie type guitar part on this. And so she just locked herself in her apartment for a week, literally. It was kind of weird. We had a barbecue at my house. I was like, 'Are you coming?' She was like, 'No.' [Laughs] She was like, 'I need to think like a horne for this.' And so the part that she came up with made it possible for the song to fit in with everything else on the album, without sounding alike. It took it, finally, from this kind of throwback thing to like this kind of badass thing.
PCC:
So really, where it could have been disastrous to have to suddenly pull together a new band, in this case, it was reinvigorating.
ATKINS:
Uh-huh. Yeah. The band I'm playing with now, it's just so inspiring, especially my rhythm section. They're just so locked into each other, And Irina's style of guitar-playing is just so inspiring. I play like a G chord and she'll play something over it that will just launch a bajilliion ideas.
PCC:
Was it artistic diffrences that led to the split with the previous band?
ATKINS:
No, with The Sea, it was more, everybody was just in different parts of their lives. A lot of the guys wanted to start having families. With the band after that, it was just a major personality clash. They were more like, 'hey, bro...' I'm not bro. [Laughs] I'm not a girly-girl either. But the band I have now, we're into the same kind of things musically. We have a common goal of what we want to make. They really respect what I do and the ideas that I have. The communication is just really open and right and natural.
PCC:
Must give you a real creative surge, being in that environment.
ATKINS:
I've been writing like crazy. It's a really good artistic period in my life right now.
PCC:
When things were bleak, was it difficult to motivate yourself to do anything creative?
ATKINS:
No, it was way easier to motivate myselfl, because I was like, 'Okay, I have nothing now. So let's make something.'
PCC:
What did happen with the label? Did they want you to go in a different direction?
ATKINS:
They really needed a single. Who knows what a single is? If 'Cry, Cry, Cry' isn't a single, I don't know what is.
But it was more an issue of everybody that I signed on to work with was gone. So I was working with people that I didn't sign on to work with. She didn't really get me and I didn't get her. So it was just; kind of a better idea, if we just left it at that and went our own ways.
Because, I'm just not interested, in any way, in writing a song just to make money. I write a song, because that's what I do and that's what I love doing. I have a certain style of music that I want to do. I'm not going to put out some formulaic crap to make a buck.
PCC:
So they were thinking of you more as a marketing project than as an artist?
ATKINS:
I don't even know. I'd rather do what I do musically and bartend a few nights a week, if I had to. As long as I could make the things that I want to make.
ATKINS:
So did the song 'Vultures' come out of that experience?
ATKINS:
It did. [Laughs] 'Vultures' kind of touches on all of the themes on the record, from like jobs to love to even like the kind of fear that different families instill in different people, like in the second verse, 'Their bullet's the coin and their bullet's the bomb and their bullet's disease.' It's saying, like the people I was playing with, their family was always concerned about money and the other family was always real concerned about people being sick. Another family was always concerned with people getting in accidents. It's kind of just saying like, even though you can work as hard as you want at something, it may not work out. And people will pretty much drain everything that they can from you, and even if they do that, it still might not work out. So it's kind of just saying to know that, but to just keep going. As long as you keep going, you won't be jaded. And that's how you can continue to do what you do.
PCC:
Was there any point along this timeline when you doubted yourself?
ATKINS:
I've been doing this since I was 12 years old. So it was like, with some of these things, 'Oh, this sucks.' But ithere was never a question of whether I should be doing this or not, because I really don't want or know how to do anything else.
PCC:
You've said that this was the record you'd been wanting to make since you started making music. What makes this the dream record for you?
ATKINS:
When I was 12, I got into like Cream and Traffic and Led Zeppelin and I was just like, 'I want to be them!' And I think this record is my first step into arranging music that I've always wanted to listen to, that I haven't heard yet.
PCC:
And the videos, are you involved in the making of those, to try to complement the musical vision?
ATKINS:
Yeah. My two best friends are the ones who are making the videos. And we're just huge horror movie freaks. So that's just been really fun. I get to do two of my favorite things, like play rock music and make horror movies. [Laughs]. They're not totally scary. But the touchstones for those videos are those various horror movies that we've been obsessed with.
PCC:
I'd read that you're going to be recorcing at Sun Studios in Memphis?
ATKINS:
Yeah. I can't believe it. I'm so excited about that. I have no idea what I'm going to do there. I feel like it should be something new. I don't think I should do a cover.
PCC:
You moved back with your parents for a while?
ATKINS:
No, I just stayed with them for like two months, while I was in transitioning from Asbury Park and moving back to Brooklyn. My boyfriend and I broke up. Moved out of the apartment. And I spent every dime I had to work on getting back into the studio.
PCC:
Looking forward to hitting the road with the new band, The Black Sea?
ATKINS:
Yeah. We leave next week. It kinds of freaks me out. I just did the Sundance Film Festival. I did a bunch of shows out there. I got back from Utah last night. And I've got to start organizing [Laughs], because the first show is coming up real soon.
PCC:
Sundance would seem like an ideal showcase for you, because so much of your work is so cinematic.
ATKINS:
Yeah, it was a blast. I went out there solo. Just did the gigs with a hollow body guitar and a Super Reverb amp. It was so much fun. And it's so beautiful there, too.
PCC:
Would you like to get into that whole avenue of film?
ATKINS:
Definitely. I want to get my songs in films and TV. It's a such a good fit for the type of music that I make.
PCC:
On the record, there's so much passion in the vocals. Is it difficult to churn up all of those emotions, that pain that you talked about, on a nightly basis?
ATKINS:
No, it's fun. Everything that was going on at that time, a lot of time has passed now. It's over a year. So it's now more like I'm just as much of a spectator on it as everybody else that's going to the shows. It's kind of fun to get all melodramatic and play the part... and to know you don't have the pain that goes with it anymore.
PCC:
Obviously these songs are going to connect with people who've gone through the same kind of pain.
ATKINS:
Yeah, my friend, he just broke up with his girlfriend of four years. And I gave him an advance copy of my CD. And I was like, 'Use this.' [Laughs]. It was really funny. He said, 'That's really cheesy.' [Laughs again]
PCC:
Are you still creating artwork, as well?
ATKINS:
Yeah, I'm drawing a lot. You know, we just did this Kickstarter project to raise money for a tour through our fans. We raised over 16 grand, which is mind-blowing to me. Part of the thing was, if you donated a certain amount of money, I'd paint you a tote bag. So I have about 31 more tote bags to paint before we leave for tour. And it's a lot of work. But it's been super fun. And it's been getting me back into coming up with concepts for maybe a longer term art project.
PCC:
That's a cool idea, the totes. Usually recording fund-raising just involves signed CDs or mentions.
ATKINS:
If you go on Kicktarter.com and type my name in, you'll see we're giving away so much crazy stuff. But I have a lot of work to do. [Laughs] I've got to write 199 thank-you notes.
PCC:
Doing the artwork, does that inform the music, too, in some ways?
ATKINS:
It just gets your brain going. When I start drawing or painting, I don't really have in mind what I'm going to do. And so I'm just free to take on any sort of turn that comes with impulse. And I'm trying to get that way with my writing, too, because you never know where you can end up.
PCC:
It's too easy to feel trapped by structure.
ATKINS:
Exactly.
PCC:
The ultimate satisfaction must be just holding that new record and knowing that you fully realized your vision.
ATKINS:
Yeah. Even just looking at that cover. I'm like, 'Oh, it's so cool!' Every single piece of that record, from the cover to the music, is a thousand percent what I always wanted.
PCC:
What is the story with the cover?
ATKINS:
Senior, the guy on the cover, is one of my best friends. I just wanted to put us on this kind of intriguing photo and let people listen to the record and look at the photo and make of it what they will. That was always my favorite kind of album covers, growing up in the '90s. Even like the Afghan Whigs cover with the little boy on the cover. I was like, 'What is that?'
PCC:
Your perspective on career, the challenges and rewards, has that changed much over the last couple of years?
ATKINS:
In a way, going through a big shift, being on a major label and then being on an indie. You've got to hustle a little more and finances are really tight. But also it's just made me really, really grateful. I've stopped taking a lot of things for granted. I got my record picked up by a new label, people who are just so enthusiastic about exactly what I was doing. And booking shows and having the fans come out. Getting to tour with The Black Keys, opening for one of my favorite bands, made me wake up every day thinking, 'Oh man, I love what I do. And I love that I'm able to continue to do it.'

Nicole Atkins & The Black Sea Tour Dates:
2/9 - Bowery Ballroom - New York, NY
2/11 - Media Club - Vancouver, BC *
2/12 - Tractor Tavern - Seattle, WA *
2/13 - Mississippi Studios - Portland, OR *
2/15 - Cafe Du Nord - San Francisco, CA *
2/16 - Troubadour - West Hollywood, CA *
2/18 - The Loft at UCSD - La Jolla, CA *
2/23 - Brighton Music Hall - Boston, MA *
2/25 - La Sala Rossa - Montreal, QU *
2/26 - The Legendary Horseshoe Tavern - Toronto, ON *
2/27 - Magic Stick - Detroit, MI *
3/1 - Turf Club - St. Paul, MN *
3/2 - The Frequency - Madison, WI *
3/4 - Subterranean - Chicago, IL *
3/5 - The Firebird - St. Louis, MO *
3/7 - Mercy Lounge - Nashville, TN *
3/9 - The Rock and Roll Hotel - Washington, DC *
3/10 - Johnny Brenda's - Philadelphia, PA

* w/ Cotton Jones

Learn more about Nicole at www.nicoleatkins.com
---
BONUS - OUR 2009 NICOLE ATKINS FEATURE
---
NICOLE ATKINS' SOARING "SEA"
by Paul Freeman
New music drifts in and our of our consciousness. A discordant song prompts a lunge for the skip button. A pleasing tune momentarily catches our attention, then quickly fades from memory.
On rare occasions, an album comes along that catches us by surprise, revitalizing our ears and remaining in our minds and hearts. Such a CD is Nicole Atkins' "Neptune City." With the brilliance, power and imagination of Kurt Weill, a Freddy Mercury extravaganza, Maria McKee's masterpiece "Life Is Sweet" or Phil Spector's Ronettes, this record dazzles from start to finish.
You'll be swept into Atkins' world on first listening, then discover additional textures and nuances with each subsequent play. The singer-songwriter's exceptionally expressive voice soars over the colorful landscape.
Her major label debut, the bittersweet album was built on Atkins recollections of her hometown, Neptune City, New Jersey. She constantly picks up intriguing tidbits from those around her.
"You'll just notice a cool line. My family has a lot of tragic stories," says Atkins, now a resident of nearby Asbury Park. "My mom's the kind of person who starts off her morning by reading the obituaries. They all have a really funny, warped sense of humor. They take tragic things and try to make them seem light.
"My Dad'll be telling me, 'My friend Mike's mother died. Remember how much she used to smoke? Her lips smelled like smoke in the casket.' I'll just write that down in my book for later, because that could definitely become a lyric."
Atkins appreciates the contrast of dark and light. "Human emotions are more complex than black and white. Every story has two sides. So the conflict is there.
"Even when I'm really angry at the person I'm writing a song about, I try to see it from both sides. It makes me feel better."
She went into the studio with strong ideas for arrangements But sometimes songs take on lives of their own. "'Brooklyn's On Fire,' started out just as a little stupid sea chanty that I made. We sat with my band and the producer (Tore Johansson - Cardigans, Franz Ferdinand, New Order) and some guys from his band and just kept playing and playing.
"We were like, 'Imagine Queen is the circus house band. What would they be playing?' We kept playing until we had this really thick sound built up. Once it was all put together, we're just like, 'Wow! We made this? Cool!'"
The album is the culmination of everything Atkins had been working towards musically. "When I started, I was writing very simple country songs. Then I got into a lot of '60s psychedelic rock. I always wanted to marry the two sounds.
"My sounds are informed by the music of the past, bands like Love , Moby Grape and Circus Maximus, a psychedelic band with Jerry Jeff Walker, who wrote 'Mr. Bojangles.' I love to learn about bands and listen to records."
Atkins' creative splendor also benefited from studying art. "It taught me that you've got to make a hundred paintings, before you can make one good one. Also, where you start usually isn't where you end up. You've got to keep layering to make it what you want it to be."
For a time, she earned a living painting Tuscany murals for Italian restaurants. "The work was so repetitive, it became almost meditative. It was easy for melodies to creep into my head, because I was so bored."
In college, she made money delivering singing telegrams and playing costumed characters for children's gatherings. "My friend and I would go to parties afterwards and do keg stands in our Teletubbies outfits."
Playing Barbie proved to be a low point. Even though she wore a bridesmaid dress and blonde wig, Atkins' husky voice and irreverent attitude made the kiddies uneasy. "I'm like the most non-Barbie person in the world. The Mom canceled the check on that one and I was like, 'Screw this.'"
Atkins knew what she wanted to do with her life. "I never thought that, even if I didn't get anywhere with my music, I would stop doing it. I would be happy waitressing in a local bar, as long as I could sing, too. Writing and performing songs are the only things I like to do."
While sleeping in an old Dodge Ram Charger, she established herself in New York's anti-folk scene and developed her own dramatic sound.
On stage, Atkins gives the "Neptune City" songs more of a raw, rock edge. "Actually, I think it sounds a little bit better in a live version."
With her band The Sea, Atkins has been opening for Chris Isaak. "We opened for him last summer and the reception was so awesome, it was crazy. It's where we got most of our fan base.
"He's got that kind of Roy Orbison-y voice and we have elements of that, too. So people see a kinship there."
Atkins is an artist who doesn't ignore the importance of marketing her creations. "I'm pretty involved - artwork, photos, merch, what we look like on stage. It's like I get to be my own art director and use that art degree," she laughs.
An appearance in an American Express commercial, featuring 90 seconds of her music, provided tremendous exposure.
"It's not like MTV is knocking down my door to play this kind of music. It was a real odd thing. My mom was like, 'I guess they didn't check your credit, huh?' It came at a great time for me. I was signed, but I still had no money, was living with my parents and getting creditor calls. So I got to pay off my credit card bills."
Atkins is excited about material for her next album, which she describes as "heavier and more expansive."
She's happy with her progress. "I'm in a good position where we might not be the most famous band in the world, but making music is all I have to do. So I'm very fortunate."
For Atkins, music is all-consuming. "It's been a constant struggle to balance things, especially with my personal life... but I'm working on it."