PAUL RODGERS: KEEPING BAD COMPANY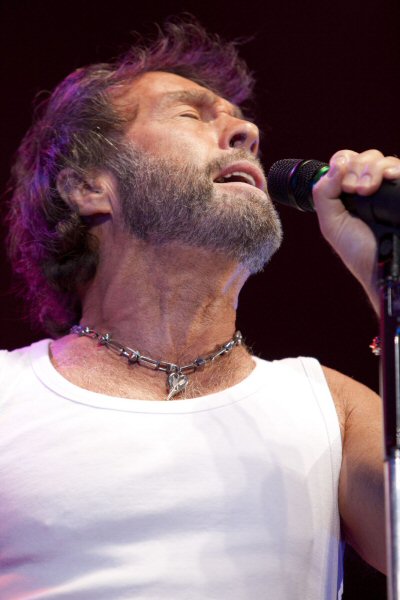 Photo credit: Steve Spatafore
By Paul Freeman [May 2013 Interview]
We're judged by the company we keep. So it speaks well of British vocal artist/songwriter Paul Rodgers that he has fronted such bands as Bad Company, Free, Queen and, with Jimmy Page, The Firm.
On any credible list of the greatest vocalists in rock 'n' roll history, the searingly soulful Rodgers ranks at or near the top. He's a singer's singer. Many rock stars have sung Rodgers' praises.
The legions of Bad Company fans are thrilled that the legendary band, famed for such tunes as "Can't Get Enough," "Shooting Star" and "Feel Like Makin' Love," has reassembled and is about to embark on a rare tour of the U.S. It marks their 40th anniversary since forming. They play Mountain View's Shoreline Amphitheatre [tickets 1-800-745-3000] on June 23, co-headlining with Lynyrd Skynyrd.
The Skynyrd inner circle had introduced Rodgers to his future wife, former Miss Canada, now exercise physiologist/artist Cynthia Kereluk. They wed in 2007 and four years later, Rodgers became a Canadian citizen.
Rodgers also felt an instant chemistry with his Bad Company mates. The original 1973 lineup was comprised of Rodgers and drummer Simon Kirke of Free, guitarist Mick Ralphs of Mott The Hoople and bassist Boz Burrell (who died in 2006) of King Crimson.
They landed Led Zeppelin's manager, Peter Grant. Bad Company was the first act signed to Zeppelin's Swan Song record label. They became an instant sensation and packed arenas across the globe. Incredibly, they had lived up to the hype accorded one of the world's first supergroups.
Born in Middlesbrough, England, Rodgers was still in his teens, when he formed the band Free. In 1970, they burst forth internationally with the rock classic "All Right Now," which he co-penned.
Not long after Free's demise, the band's talented lead guitarist, Paul Kossoff died from drug-related heart problems. He was 25.
Rodgers followed Free's fall with a stint in the trio Peace. Then came his highly successful run with Bad Company, from 1973 to 1982, when he departed.
Rodgers then cloistered himself in a rural area so remote, The Doors couldn't find him when they wanted to ask if he would replace the recently lost Jim Morrison.
Rodgers moved forward with a prodigious solo career. He also teamed with The Who/Faces drummer Kenny Jones in The Law, and with Jimmy Page in The Firm. More recently, with Queen, he toured for several years and recorded a live CD and DVD.
Rodgers just finished recording an album in Memphis, a tribute to his Stax Records heroes.
At 63, Rodgers' voice still has the power of a twenty-year-old, but an emotional depth that comes only with a wealth of life experience.
POP CULTURE CLASSICS:
So you've been recording a solo project in Memphis, a Stax homage?
PAUL RODGERS:
Yes, I'm very excited about it. It's music that deeply influenced me. It was just so passionate. And it was all about love. Real love. Love for each other and the world in general. And I just loved the furious passion involved with it. I think I've carried that with me all these years, really, in the rock vein.
PCC:
It must be gratifying to you that so many rock singers have mentioned you as being a primary influence.
PAUL RODGERS:
Yeah, it's quite amazing, actually. I've been influenced by so many great people that I'm still influenced by, people like Sam Moore, Wilson Pickett, Otis Redding, John Lee Hooker, B.B. King, so many great blues and soul artists that I completely revere. So it's kind of strange for me, actually, to hear somebody say, 'Oh, I was deeply influenced by your music.' So it comes around again, I suppose. It's kind of like passing the torch a little bit.
PCC:
Through all the musical incarnations, is it that honesty of emotion, that passion, that stays constant for you?
RODGERS:
Yeah, man. That's a good question. That's a good way of putting it. Really, there are so many ways that you can go in this world. I mean, in music or in any field, really. And I think that it's very important to bear in mind what it is, when you set out on your journey and keep that in mind. You know, you might see an artist or somebody that you look up to and say, 'I want to be like that.' It's really good to keep that in mind, I think, because it's so easy to get distracted. You see people getting distracted in a way and they're missing the point, really. They're missing the dreams that they set out to achieve. I still try to keep that feeling in everything I do, really.
PCC:
And the voice, how early did you realize that you really had something magical there?
RODGERS:
Well, I mean, every day, every time I sing, I feel kind of blessed, really, to be able to do that. It's a bit like having wings, in a way. It's a bit like flying sometimes, because you go off into another realm. And a whole lot of people come with you. And it's an amazing experience.
I found that very early on. I used to play bass, actually. I played bass in the school band. And we did, 'Everybody Needs Somebody To Love.' Solomon Burke did it. The Stones covered it, as well. [He sings a line]. It's a really good groove. And I took the bass off and just sang it. I liked the unencumbered connection with the audience and I would go [sings] 'I need you!' And you'd point to people, you know. And everybody would seem to love it and become involved. And I loved that part of singing - involving the audience with the energy that's going on.
PCC:
So there has to be a degree of natural gift and then you hone and polish it over the years?
RODGERS:
Yeah, that's very, very true. I do feel blessed, really. You say 'gift.' And it is a gift. But you do have to work on it. And there have been ups and downs. And one thing or another. And I think those ups and downs train you in a way. You go through some difficult times and it's testing. And you have pull through it. And that sort of shapes you. The idea, I guess, is to stay focused on what it is you're dreaming and what it is you want to achieve and stay on there. So yeah, and in the process, you're learning all the time.
PCC:
Everybody starts out doing covers. At what point did songwriting become an important form of self-expression for you?
RODGERS:
Well, in the very early days, of course, we covered everything that was in the charts. We were just a local band. We would be about 13 or 14. But I saw The Beatles writing and singing and it looked like a lot of fun to be singing your own songs. Just before Free formed - I formed Free with Paul Kossoff - and I'd started writing then. I'd written about two songs, I think. And when we formed Free, we had a couple of originals, and we played a lot of blues. And I sat down with everybody and I said, 'You know, the way for us to be an original band is to try to phase out all of the cover versions that we do and phase in all-new material that we're writing ourselves. And so we tried to do that. And that gives you an identity, I think, your own identity, when you're a band that writes your own material. It's the lifeblood and the personality of a band, I think.
PCC:
And did you find, along the way, any common threads, in terms of what makes a song work? Or is it different for every song?
RODGERS:
I'm finding out all the time, I must admit... the 12-bar blues is an incredible, an amazing structure. There are so many songs written on the 12-bar blues. There are a million, probably... or more. And a million yet could be written. And I find that there is a certain time limit on a song, really. Well, nah. No, I'm still finding out. [Laughs] I'll let you know when I've figured it out.
PCC:
'All Right Now' is one of the great rock numbers of all time. What was the process on writing that? How did that come about?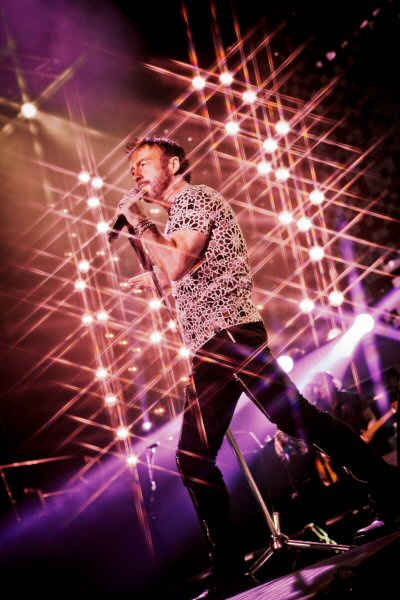 Photo credit: Thilo Rahn
RODGERS:
Well, I was writing a lot of songs with my bass player at the time, in Free [Andy Fraser]. The chorus came first. As I said, we wanted to phase out all of the blues. There was one song we couldn't get off the stage without playing. And that was was called, 'The Hunter.' It was an Albert King song. [Sings] 'They call me the Hunter, that's my name, a pretty little woman like you...' blah, blah blah [Laughs] It's a great song. And I said, 'We've got to write a song that's better than that. Along the same lines, similar groove, but maybe it has a chorus that everybody can join in on, something like,' and I just went, 'All right now... actually, that's it!' And I worked backwards from there. Okay, I've got a chorus, now what is all right now?
Well, it's going to be a relationship. It's going to be boy-meets-girl. And the lyric, 'There she stood, in the street, smiling from her head to her feet... I said, 'Hey, what's this? Maybe she's in need...'' It just really flowed out until it reached the, [sings again] 'All right now.' And it didn't really take me long to write the lyrics, actually. It was such a joy to write, really, because they just flowed out.
PCC:
You were so young when Free hit. Were you ready for all that attention? What was the most difficult part of handling all of that?
RODGERS:
Well, you know what? It's amazing, Paul, because we actually spent three years solid, hard graft working, up and down the motorway in England, and in Europe. And it was after three years of hard graft that we were kind of an overnight success. And when it did come, it did kind of take us by surprise. And by that time, we had lived with each other for so long, we were ready to explode away from each other and, unfortunately, that's really what happened. There are so many ways I could look at it and say, 'Well, we didn't have management. We didn't di-di-di-da. But I think it was the relationship that kind of imploded and then exploded away. And we all wanted to just get away from each other and do different things.
But, looking back, there's a great deal of fondness for that band. And I can see why. It was a great band.
PCC:
And the early passing of Paul Kossoff, did that alter your philosophy of life, in terms of living for the moment or just recognizing, at a young age, the fragility of life?
RODGERS:
Yeah. I mean, I miss Paul, to this day. And it's been a long, long time, many, many years now, since his death. It's still fresh as a pain, as a wound. I still miss him. Every time I play those songs and sing those songs, I can think of Paul very easily, wish he was here. It's a shame. And yeah, it did make me realize how fragile success and life, and the gifts that we're given of music and all of the other things in life, are. And we should appreciate them, for sure.
PCC:
Are you conscious of your music providing a measure of immortality?
RODGERS:
Ooh, that's scary. [Laughs] I live in the moment, you know. It's all about right now... Or, at least, I try to keep it that way, as much as possible. It's not always easy, because your past is always there and you're revisiting it through the music all the time. But I like to keep it as fresh as I can. Whenever I approach a song, even though it comes with a lot of memories, I try to sing and perform it, as if it was the first time. Because it is the first time today. So it's as fresh as I can feel it.
PCC:
And certainly the Bad Company music still sounds incredibly fresh to listeners. Why do you think the music still resonates so well?
RODGERS:
Well, thank you. It's great that you would say that. I think that we recorded very much like the records that we listened to, which were blues and soul. And a lot of those were recorded on the floor, pretty much live in the studio. So there was a really great connection between the musicians. Nowadays, it's very easy to layer things. You put the drums down and then you build up a track. And you develop a perfect sound. But one of the things about playing live and looking each other in the eye and going to places, changing things on the fly, as it were, is that it does have a lot of magic to it. And that's, I think, what we captured, a kind of spontaneity. I mean, I still feel the music. And my passion is still present for the music.
PCC:
What made this the perfect time for a Bad Company tour?
RODGERS:
Well, my manager called me up and said, 'Do you realize that, if you and Mick were putting the band together in 1973,' which, of course, we were, 'it's 40 years. Would you like to do a tour to celebrate that?' And I said, 'Yah, that seems like a good idea.' Because we don't tour an awful lot. We're touring very sporadically, because I'm doing other solo projects. And touring internationally with my solo band. And Mick does other things, as well. And so it seemed a good time to actually put this together and he came back with a tour wherein some of the shows were with Lynyrd Skynyrd. I love those guys, man, from way back. [Laughs] So it's attractive offer, to play with them.
PCC:
And they actually introduced you to your wife? How did that happen?
RODGERS:
Well, they were friends. She and they are friends. She's friends with Dale and Carol [Dale Rossington and Carol Chase, Skynyrd's back-up singers The Honkettes]. And Johnny [Van Zant] and all the guys. And I toured with Lynyrd Skynyrd, as a solo artist, many, many years ago. And they were matchmaking. And they said, 'When we get to Vancouver, we're going to introduce you to Cynthia.' And I said 'Yeah, yeah, yeah, yeah.' And they said, 'No. Are you listening? You're going to meet someone that's going to blow your mind and change your life. 'Yeah, yeah, yeah, yeah, sure.' And they did. And it was true. She did.
She walked in... I'm telling you my secrets now... I was playing away and she walked down the aisle, literally - the aisle in the theatre, not the aisle in the church, as it were - and I looked at her and I went, 'Wow!' [Laughs]. And I didn't know that this was the very person that they were about to introduce me to. Then Johnny brought her backstage and said, 'This is Cynthia.' And we just got talking. And one thing led to another. She's turned my life around, actually. And probably saved me from... God only knows what... certainly from myself.
PCC:
Some things are meant to be. When you put Bad Company together, did you immediately know that there was going to be a unique sound and energy happening? Could you feel that?
RODGERS:
Well, I think we knew that this was what we wanted to do. Again, I was touring with a band that I had at the time, called Peace. And we were touring with Mott The Hoople. And Mick and I would gravitate towards the band room, where there were amps and guitars just lying around. And we'd just be playing and exchanging ideas. And that's where we started to write songs. And the idea of putting a band together was born there, really. I felt the need to return to America with a really, really sensational band that had all the ingredients that I felt you needed at the time - lots of great songs, great management, great record company. And I thought it was important to put all that together before we even launched out there.
And Peter Grant was fantastic, actually, because having had the success with Led Zeppelin, they had so many contacts. He was a great manager. I can't even say enough. And we put it straight into arenas. We were a support act the first tour. The second time through, we were headlining in arenas, which is quite incredible, really.
PCC:
And Led Zeppelin themselves, would they have much input or advice for Bad Company?
RODGERS:
Well, they would come to shows. And we would go to their shows. We're terrible mickey takers of each other, actually. It's the English way, to put each other down, in a joking way, of course. Stand on the side of the stage and say, 'Rubbish!' And stuff like that. [Laughs]. But we did have jam sessions, which were fantastic sometimes. The whole band would come on and we'd play. Very rarely, I must admit. Only a couple of times it happened. But it was really amazing, when it did.
But there's no doubt about it, to be sort of endorsed by Led Zeppelin, who were, still are, really, gods in rock music, it was definitely a help.
PCC:
Is it true that John Bonham actually cautioned you guys about behaving?
RODGERS:
[Laughs heartily] Probably. But that can work both ways, now can't it? Back in those days, it got a little crazy. But I always thought that the music is what it's all about. The party, the energy, you save it for the stage. That's where it belongs.
And that's the thing about - I mentioned it earlier - about getting distracted by the excesses. You can do that very easily. Everybody can. It's too easy, really. It's good to stay focused on what is real in your life. And what your dream truly is... and pursue it.
PCC:
It was amazing that Bad Company was able to live up to all the advance hype. Were you worried with that supergroup tag being placed upon you right away?
RODGERS:
Well, no, the supergroup tag was strange really, because in no way had we thought about, 'Oh, let's get a band together, everybody has to come from a known band.' There was none of that at all. It just happened that way. Mick came from Mott The Hoople. I came from Free. Then we looked for a drummer and oh, there was Kirkie. And actually, we tried a lot of bass players and settled on Boz. I loved Boz's bass line, because he was quite melodic. And he understood funk, too. He brought a lot of funk to the band. And soul. And a sort of jazz influence, too. And he happened to have played with King Crimson. So people sort of jumped on that. And I think we were one of the first supergroups. Yeah, there you go, that term again. But for us, it wasn't about that. It was about, 'Can you play?'
PCC:
And besides the musical chemistry, did each band member have a certain personality trait that contributed to balance?
RODGERS:
Yeah, I think that's definitely true. You know, they talk about chemistry and it's a very overworked word, in terms of people coming together. But it is very true. There is just a certain something. And when it's right, it's actually very easy. There it is, you're making this great music. You can struggle for years to find it. And actually just struggle for years and not find it. But it's very key. Some people just click. And it works.
PCC:
'Bad Company,' the song, had you wanted to come up with something like a theme song for the band?
RODGERS:
Not actually. It all happened, oh, about the same time - Mick and I would call each other up and try names out. And I had seen this ad for a movie ['Bad Company' with Jeff Bridges and Barry Brown]. I hadn't even seen the movie, but I just loved 'Bad Company.' I thought, 'Wow! That's a good couple of words together. I'm going to sit down and work on a song with that.' And I called up Mick, in the process, and I just said to him, 'Bad Company.' And I heard this kind of scuffling. I said, 'Hello? Hello?' 'I dropped the phone!' He was so excited and we decided on the spot that had to be the band's name.
The record company and even management weren't keen, to be honest. They thought it was too something or other. But we were pretty adamant it had to stay.
PCC:
What was your reaction, when Mick first played 'Can't Get Enough' for you?
RODGERS:
Oh, I loved it straight away. I said, 'Man, that is a hit!' I said, 'Are you going to do it now?' Because he was with Mott The Hoople at the time. He said, 'Oh, it's not their style.' And it wasn't their style, I have to admit. Some things work for some people and they don't for others. And I said, 'Well, give it to me. I'll sing it. No problem. It's just right up my street.' And so that was the connection that we kind of developed, really. He was writing that kind of song that I like to sing. And I was writing songs that he could play. And he was able to really add some cool guitar things to them. And it just worked.
PCC:
And what was the collaboration process like on 'Feel Like Makin' Love'?
RODGERS:
Well, 'Feel Like Makin' Love' - Which album are we on, 'Straight Shooter'? Yeah - we'd been touring an awful lot and it was time to get together and see what we had, song-wise. And I had this song floating around in my mind from early, from Free days. When I was in San Francisco, I'd had this idea [sings] 'Baby, when I think about you. I think about love...' And I played that bit to Mick and said, 'That's as far as I got with it. I've got the verses and I don't know quite where to go with it.' And he goes, [sings the guitar riff] 'Da-da-dah'... and I went, 'Ah!' [sings part of the chorus] 'I feel like makin' love...' And we put it down and said, 'That's good.' We just did it. And it was there. It sounded good at the time. We didn't think too much about it. But it's one of those songs that has grown over the years. It's very gratifying. It's lovely when you play the opening chords and everybody knows what it is. And I do like it, when the audience sing it, as well. It's great.
PCC:
And with all the success, was it the need to explore other creative avenues, or what was it that led to the departure from Bad Company?
RODGERS:
Well, honestly, we talked about excess earlier. And I think it was getting a bit excessive, really, in terms of all the stuff and everything. And so, I wanted to come off the road and get my head together. And around the same time, we lost John Bonham and that really put a nail in it, for me. I thought, 'Wow,' because he was such a great friend and such a big personality in all of our lives. And for him to just be gone was a tragedy. And that was part of it, too.
I thought, 'I'm going to come off the road and just do something else for a bit.' I think the focus might have shifted a little bit from the music, towards that last album, 'Rough Diamonds.' Actually, with 'Rough Diamonds,' I had tried to get everybody back focused to where we were originally. And I booked a hall down in a village, booked us to play there. And rather than just call it Bad Company - because I knew it would have been crazy if we'd done that, because it was a very small village hall - I called the band Rough Diamonds and I spread a rumour in the pubs there locally, just in the countryside, that it might well be Bad Company, so it ensured that somebody came. And the place was packed. It was heaving... with every kind of people. Hell's Angels turned up and hippies turned up and everybody. And it was an amazing night. It was my attempt for us to get back to our basic roots, where we'd started out. We'd all started out playing in clubs individually. But the band, I think the energy, the focus had shifted too much by the time that album came out. 'Electricland' was good on that 'Rough Diamonds' album, I think. But I don't think it was our strongest album.
PCC:
Then later, with The Firm,' what was it like for you, working alongside Jimmy Page?
RODGERS:
Ah, Jimmy. Well, he was a great friend. I love Jimmy. He always shows up when I do shows with my solo band in the Albert Hall. He was there when I received an Ivor Novello Award [for songwriting] and stuff like that. He's a great guy.
PCC:
Teaming with Queen, was that an exhilarating experience?
RODGERS:
Yeah, it was. You know, a lot of people were surprised that I did that. And so was I [Laughs]. The way that happened was that we actually played live on a TV show and we got on so well. I sang 'We Will Rock You' and 'We Are The Champions' with them. And they played 'All Right Now' for me. And they did such a great job. Brian's such a great guitar player. Roger's a fantastic drummer. And they're such a great band. So we took it that little bit further. And all of a sudden, I turned around and I'd been with them for four years. It was amazing. I thought, 'Wow, it's time for me to get back to my own thing.' But it was great, I loved it.
PCC:
So with all you've achieved with all of these bands and your extensive solo work, any as yet unfulfilled dreams or goals?
RODGERS:
Well, making music. Doing this Memphis thing recently, I discovered just how much I loved that music. I've always wanted to cover that particular genre of music. I never had. I don't know why. Perhaps the time wasn't right. But the time was right now and the musicians are just so amazing down there. They have the feel. Heaps of it. It's just great.
PCC:
So you still get as much of a rush as ever from making music and performing?
RODGERS:
Oh, yeah, I do, definitely, Paul. That's the reason I do it. That's the only reason I do it. That's my motivation is the joy that music gives me... and other people.
For more news and tour dates, visit www.paulrodgers.com or www.badcompany.com.