PETER ASHER: A COLOSSAL MUSICAL CAREER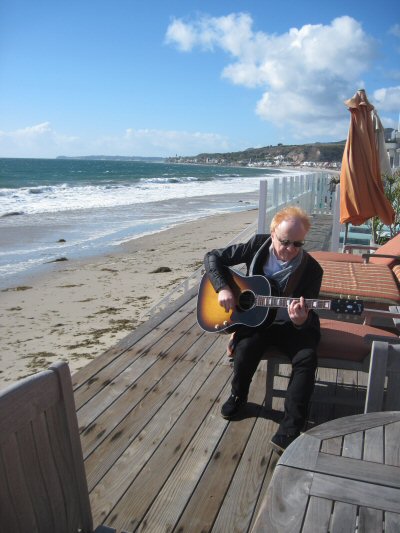 Peter Asher in Malibu, Ca, Nov 2010; Photo by Keith Putney
By Paul Freeman [August 2011 Interview]
If Peter Asher's career had ended with Peter & Gordon, he would still hold a hallowed place in music history. But for him, the British Invasion-era duo was only the beginning.
The London-born Asher entered the spotlight at age eight, as a child actor. In 1962, at 18, he teamed with school chum Gordon Waller to form Peter & Gordon.
Through his sister Jane Asher, he connected with Paul McCartney. This led to Peter & Gordon's first smash, "A World Without Love," followed by the Lennon-McCartney tune, "Nobody I Know." McCartney's "Woman" was another hit for the twosome. Other fondly remembered Peter & Gordon singles include "I Don't Want To See You Again," "True Love Ways," "To Know You Is To Love You," "I Go To Pieces" and "Lady Godiva."
Their voices blended beautifully, with a powerfully unique sweetness, sincerity and emotional intensity.
When the pair stopped performing by the late '60s, Asher took on the role of A&R head at The Beatles' new Apple Records label. He discovered James Taylor and became his producer and manager, guiding the singer-songwriter to superstardom.
Moving to the U.S., Asher also nurtured the vocal brilliance of Linda Ronstadt, producing her finest and most enduring albums. A key figure in the emergence of the '70s California sound, Asher also produced such artists as J.D. Souther, Andrew Gold and Bonnie Raitt.
The list of artists who benefited from Asher's astute ear is wondrously diverse, among them, Neil Diamond, 10,000 Maniacs, Ringo Starr, Diana Ross, Morrissey, Robbie Williams, Elvis Costello, Jane Monheit, Kenny Loggins, Heart, The Dixie Chicks, David Sanborn, Billy Joel, Randy Newman, Tony Joe White and Olivia Newton-John. Asher's impeccable taste, sophisticated studio sense and unwavering passion for music make him an ideal collaborator and creator.
Through the decades, he has made a huge impact on the music world, not only as a producer, but by heading his own management company and working as a record company executive. In the '90s, Asher served as Senior Vice President of Sony Music Entertainment.
He reunited with Waller in 2005 at a Paul Shaffer-organized benefit for Mike Smith (Dave Clark 5 organist/vocalist who had been paralyzed in an accident). Warmly received, Peter and Gordon enjoyed doing occasional concerts together in the years leading up to Waller's passing in July of 2009.
Asher remains busy. He produces the new U.K. sensations, The Webb Sisters. He worked with film great Hans Zimmer on the soundtrack for the fourth "Pirates of the Caribbean" movie. That led to Asher producing the upcoming Rodrigo y Gabriela album. And he is finishing work on Songmasters' amazing Buddy Holly Tribute album, "Listen To Me." Due September 6th, it features such talents as Stevie Nicks, Jackson Browne, Zooey Deschanel, Ringo Starr, The Fray, Natalie Merchant, Brian Wilson, Jeff Lynne, Lyle Lovett, Eric Idle, Chris Isaak, Pat Monahan, Imelda May and Cobra Starship, the rising band that includes Asher's gifted daughter Victoria.
A multiple Grammy winner, Asher brings his much acclaimed show "A Musical Memoir of the 60s and Beyond," to San Francisco's fabulously intimate nightclub, The Rrazz Room (222 Mason Street at Ellis). He's backed by a full band. Performances take place on Sunday, August 28, at 3 p.m. and Monday and Tuesday, August 29 and 30, at 8 p.m. For tickets ($40) and information, phone 800-380-3095 or visit www.therrazzroom.com. This summer, "Memoir" was one of the highlights of the Ray Davies-curated Meltdown Festival in London.
Asher's contributions to pop music history are immeasurable. It was a great pleasure for Pop Culture Classics to talk with Peter Asher.
POP CULTURE CLASSICS:
The 'Memoir' show combines anecdotes and songs and images?
PETER ASHER:
Yeah, it's a bit of everything. It's sort of a multimedia, bits of video, photos, music, live singing, storytelling, and various digressions and diversions interlocking.
PCC:
It's a very intimate sort of communication with the audience, I guess.
ASHER:
That's the plan, yes. I mean, I've done it in different size places. Just over the weekend, I was doing it for probably the largest audience, which was the Beatlefest thing they have. That was about 4,000. But I also did it at Feinstein's in New York, which is more comparable to The Rrazz Room. And, in a way, that is the most fun, because you really are telling stories to a group of people in your living room. It's great.
PCC:
During the process of putting this together, did you gain any new perspective on your life and career?
ASHER:
To be honest, no, I don't think so. It was obviously very interesting, doing it, just writing the whole thing. Essentially I wrote it and then kind of learned it and forgot it. You know what I mean? It's not something I'm now doing by rote, but to fit everything in and make the points I wanted to make, I did structure it all pretty much as a written piece, to start with. And it was an interesting process, exploring all those memories. But whether I actually gained a new perspective, I don't know. I'm not sure.
PCC:
It must be gratifying to see all the people who remember your work.
ASHER:
Yes. It is, of course. And, obviously one of the joys of doing the show is people coming up and saying that it was interesting or it was funny and that hearing those songs again meant so much to them, because that was when they proposed to their wife or whatever it was. It is interesting.
When Gordon and I first started doing these songs together again - as you probably know, there was a 38-year gap, during which time we didn't, while I was doing a lot of other stuff - and when we first did it, we got back together for a benefit in New York. And I was kind of doubtful, to be honest about whether the people would have any interest in seeing old guys singing music from years ago.
But it turns out that there is a certain resonance and a sort of memory-inducing quality that music has that moves people. And after the first couple of shows, I went, 'You know, this is kind of cool. It's not a dishonorable thing to do at all [Laughs]. It does bring back a lot of memories to people. And this show, with any luck, combines some of that with some actually kind of vaguely amusing or informative or interesting bits of information and bits of perspective on eras past, following through up to the present day. I talk about the changes in the music business and all the different bits and pieces I've been lucky enough to do over the years.
PCC:
But you actually began as a child actor?
ASHER:
I did, yes. I do refer to that at some point in the show. I show a movie clip. In my very first film, Claudette Colbert played my mother, so I got to kiss Claudette Colbert at the age of eight, which was great.
PCC:
Was she supportive?
ASHER:
She was great. She was very nice.
PCC:
Was that something you had a passion for then? Did you go to your parents and say, 'This is something I really want to do?'
ASHER:
No, not really. I think it really came about, because my sisters and I all had red hair and were two years apart and evidently looked kind of cute. Some agent said, 'You could get some work for these kids. They look good.' We never did do anything all three of us together, but that was the plan. But both my sister Jane and I ended up with acting careers. I loved doing it. I enjoyed it very much, the minute I was given the opportunity. But did I have a childhood passion to be an actor? No.
PCC:
And you did 'The Adventures of Robin Hood' with Richard Greene?
ASHER:
Yeah, I did about six of those. I was Prince Arthur, who King John and the Sheriff were always trying to kill or capture. And Robin kept rescuing me.
PCC:
And that must have been fun fantasy to be participating in at that age.
ASHER:
Yeah, it was great. Really great.
PCC:
Getting together with Gordon, was it the mutual love of a certain kind of music or what did bring you together?
ASHER:
I think the fact that we found ourselves in the same house at school and we both played guitar and sang. And not that many people did back then, it seemed. I think that's why we sort of gravitated towards each other. Our musical tastes were slightly different.
First of all, I was a huge jazz fan. That was kind of irrelevant, because I couldn't play it anyway. I wasn't a good enough musician. But I was a big bebop fan. But I was also a folk fan, singing a lot of Woody Guthrie songs and stuff. He was a bit more of a rocker. But where we coincided, of course, was The Everly Brothers and things like that, which every duo holds as an archetype. And he was a huge Elvis fan and a big Buddy Holly fan. And we sort of combined all of that and started singing together. We did a lot of folk songs and a lot of rock 'n' roll songs.
PCC:
Was it hard work to hone those harmonies or was that a natural blend you had with your voices?
ASHER:
The blend was pretty natural. I mean, it always takes hard work to work out the parts, because the essence of rock 'n' roll, I think, is people of very modest musical skills - neither of us are super hot musicians - figuring out chords and notes and stuff, in their own way, one at a time. And that's what makes pop music what it is - something The Beatles did on a superior level.
So it was hard work, but it was exciting. You'd get a new record and actually really look forward to getting home and playing it till we'd figured out exactly how they did those chords and how they made those harmonies. And that would enable you to then, from there on, learn how to create your own. So it was hard work, but we loved it.
But the blend itself, how our voices sounded together, just seemed to fall into place. We were lucky in that regard, because a lot of duos have quite similar voices. I mean, Don and Phil [Everly], their voices are different, but not massively. And they sound together, of course, like genius. And, in our case, Gordon has this big, huge baritone, Elvis-y kind of rough and tumble voice. And mine is a much more wimpy, white boy, choir harmony voice. But together, interestingly, they sounded kind of cool.
PCC:
Once you realized the voices were clicking, were there some grand ambitions or was it more of a lark for you at the time?
ASHER:
Somewhere in between. We had ambitions. We wanted to work, once we discovered that people would actually pay us to come and sing. We'd get a gig at a pub and they'd give us free food and beer and a pound each at lunchtime or something. We thought, 'Wow, this is something!'
Plus, of course, the old cliché, that for whatever reason, to be able to play the guitar and sing at parties and stuff is attractive to women. And that's one of of the reasons, I think, that everybody takes it up. [Laughs] There's no question that, if you ask anybody, honestly, whether the desire to pick up girls had anything to do with their desire to be a rock 'n' roll singer, the answer is yes. So even back then, especially someone who's relatively shy like me, being able to actually stay in the middle of the party by picking up a guitar with your friend and singing, was incredibly helpful. So there were multiple motives.
But, no, becoming a giant star wasn't on the list of motives. I think that's probably everyone's dream. We'd all pick up a guitar and stand in front of a mirror and pretend to be Elvis. But mostly, we just liked doing it. So anything that gave us more opportunity to do it, to play to more people, and when we discovered we could actually get anything out of it, or get paid, it was like gravy. That was fantastic.
PCC:
With the shyness, was it the accumulated performing experience that enabled you to overcome it? Was it just getting lost in the music?
ASHER:
I'm one of those people who is more shy in a social situation. I can walk in front of a lot of people and make a speech. And do. Or sing a song. It's okay. Where, some people I know who are very garrulous in a social situation will find themselves at a loss when addressing lots of people. I don't know. But I find it quite easy to go in front of lots of people and speak or sing. When I was a boy soprano, I would enter the singing competitions, which is terrifying. You walk out by yourself with a pianist some 20 feet behind you on the stage and sing something. But somehow, at least then, there's a plan. You know exactly what you're doing. But thrust into a social situation, trying to figure out what to say to people, is a different kind of shyness, I think.
PCC:
The Beatle connection, that came through Jane initially?
ASHER:
Yes, I met Paul around the same time she did. As I recall, she met him, because she was asked, I think by a magazine, to and go and see this new band with the weird name that was taking Britain by storm and see what she thought of them. And she went and she thought they were very good and became friendly with them. And that's when Paul took a fancy to her and asked her out and so on.
So around that time, they started going out with one another. Then, later on, of course, he was hanging around the house so much, when they were not out on the road, that our parents ended up offering him the guest room at the top of our house, a pied-à-terre in London. So he and I were sharing the top floor of our parental home for a while, when The Beatles weren't on the road. So we became friends. We were pals.
PCC:
What were your early impressions of the band?
ASHER:
I was very impressed. I heard them in rehearsal. I heard them on a couple of BBC sessions I remember going to with them. And just the sheer power of the band, when they'd set up in a room and sing and play, was extraordinary. They sang very loud. I remember being very impressed by that. I think all those years of clubs in Germany, they'd really honed it down to some seriously intense rock 'n' roll level singing. It toughened up their voices and they both sounded amazing. All of them did.
PCC:
And you were the first one to hear 'I Want To Hold Your Hand.' Was that thrilling?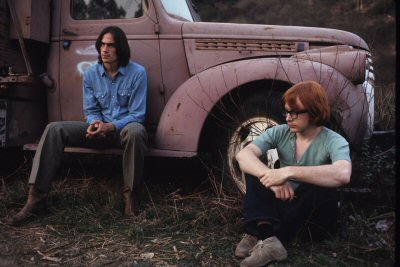 Peter with James Taylor, 1969, courtesy Henry Diltz
ASHER:
It was. Yes, it was. You kind of think, 'Am I going crazy? Or is it that good? Either that's one of the best songs I've ever heard in my life and I want to hear it again at once... or I'm going mad.' It was thrilling. Yes, it was very exciting.
PCC:
Had you been looking for opportunities to find one of their songs? Or how did 'World Without Love' come about?
ASHER:
No. What had happened was, Paul had played me the song at some point, when we were sitting around. It was unfinished. And it was kind of an orphaned song. The Beatles had decided not to do it. I believe they had offered it to Billy J. Kramer, who had said no. So it was sort of sitting around, doing nothing. And I remembered it.
And then it was actually after that, that we got offered a record deal. We were playing this place, The Pickwick Club and Norman Newell, an A&R man for EMI Records, sat us down and asked us to come and audition at EMI Studios. We gladly did. We did our audition, at which we did mostly the songs we were doing live every night, as I say, quite a few folk songs. '500 Miles' was one that particularly took his fancy, which I think, they thought might be our single. I think, at the time they were thinking we would be a bit more of a sort of Britain's answer to Peter, Paul & Mary or The Kingston Trio, rather than a pop band. So we did this acoustic version of '500 Miles' for our audition, as well as a few other songs. They really liked it. They offered us a record deal and set a date for our first recording session, booking proper musicians and everything.
At that point, they said, 'Look, we need to think of a few more songs to do. We expect you to do five or six at your first session.' And it was at that point that I went back to Paul and said, 'Look, you remember that orphaned song? Would you be so kind as to finish it and give it to us, if nothing happens to it.' He said 'Fine.' And he wrote out the chords and the lyrics for me and taught me the song.
And in the show, I put up a slide with the original lyric and chord sheet that he wrote for me. But he still didn't have a bridge. And so, as our session grew nigh, I had to nag him a bit to get the bridge finished. You know, the bridge being, [Sings] 'So I wait and in a while, I will see my true love's smile,' that bit. So I nagged, quite annoyingly, I think. And finally he said, 'Oh, okay.' And he disappeared for about 10 minutes and came back with the bridge written out. So that was the genesis of the song. Half the song pre-existed and the bridge he wrote to order.
PCC:
And 'Woman,' where did that come from?
ASHER:
That was one he just wrote and said, 'Here's a song I think would be good for you guys. Same thing with 'Nobody I Know,' which was the follow-up to 'World Without Love.' They liked to think of themselves as songwriters, as well as musicians. Among their idols were not just Elvis, but Goffin and King, Leiber and Stoller, Smokey Robinson and all the names they knew wrote all these cool songs. So they liked the idea of having a songwriting career. So I think when 'World Without Love' was a hit, in the songwriting tradition, if you have a hit you don't want anybody else to get the follow-up [Laughs] and get the benefit of following up a number one record. So Paul wrote 'Nobody I Know' for us.
But the interesting thing about 'Woman' was that he wrote that a bit later on and he just came to us and said, 'I think this is a song I think you should do.' But that's the one where he famously requested that it come out under a pseudonym.
PCC:
And what was the motivation behind that?
ASHER:
People were saying, 'Oh, anything with their name on it is an automatic hit, the McCartney-Lennon name is all that matters. They could write shit and people would still buy it.' And he wanted wanted to find out, if that was true, I think. He didn't think it was. So the record came out under this pseudonym of Bernard Webb and, even though the story unraveled relatively quickly, the record still jumped all over the radio as soon as everyone got it. So he proved his point. Its initial success, was, indeed, despite it being under the anonymous Bernard Webb.
PCC:
With all the success and coming to the U.S. in the midst of the whole British Invasion mania, did it seem surreal?
ASHER:
Yeah, it was weird. I mean, it was fantastic fun. It was indeed weird, because we'd always idolized America. I talk about this in the show, too, that when we grew up - even though the show's billed as the '60s and beyond, I do point out that the beginnings of it all was the '50s. And that's when Britain and America were completely different. Britain was a depressed, black-and-white, rationing, bomb sites everywhere place. And we knew about this place very far away, much further away than it is now, which was all in technicolor and perfect and not bombed and no rationing and huge cars and perfect teeth and giant, beautiful women and everything was wonderful. And so we looked to America.
So to actually go there, was exciting under any circumstances. I had already been reading Downbeat regularly and knew the exact jazz clubs I wanted to go to, the first time I ever got to New York. Things like that. I had it all worked out. So to go there at all was breathtakingly exciting. To go there as an English pop star in the year of the British Invasion and have girls chasing you around, trying to tear your clothes off, was absolutely brilliant. Life doesn't get much better than that [Laughs]
PCC:
Ed Sullivan - I guess he wasn't really known in England, did it seem like a big landmark for you to perform on his show?
ASHER:
Yeah, that was about the only television show that we did know about. I mean, we'd never seen it. But everyone talked about it - 'Oh, if you get on Ed Sullivan,' that's a big deal.' But we didn't do 'Sullivan' right away. On our first trip to America, we were not on 'Sullivan.' And the reason behind that was that Bobby Rydell had done a cover version of 'World Without Love.' Obviously, quite cleverly, somebody was keeping an eye on new English releases. And the minute 'World Without Love' came out, somebody covered it in America, who was already a star, and therefore got straight on 'Ed Sullivan' and did the song. So, when we made our trip to America, 'Sullivan' was not available to us, because they wouldn't have somebody else coming on a couple weeks later, singing the same song. Understandably. So we didn't get to do 'Sullivan' until a couple of singles later. The clip we have of us on 'Ed Sullivan' was singing, 'I Don't Want To See You Again,' which was probably our third or fourth single.
So that's a little known trivia story I actually don't get into in the show. There's just too much to talk about. The show could be hours long. But it is kind of interesting. And, obviously, what happened is, then they released the Peter & Gordon 'World Without Love,' a week or two later and the two rival labels fought it out. And I'm happy to say, obviously, we won. The minute ours came out, the Bobby Rydell version dropped away.
PCC:
You did 'The Jackie Gleason Show,' as well?
ASHER:
We did. That was weird, because we had no idea who he was. In England, you got very limited amounts of American television. We got Phil Silvers, 'Bilko,' which was massive. Phil Silvers was a huge star and we all watched 'Bilko' every week. We got 'I Married Joan,' which is relatively obscure. And a few others, maybe Jack Benny. But we definitely did not get 'The Honeymooners.' And, of course, by the time we got invited to do 'The Jackie Gleason Show,' that was post-'Honeymooners.' It was when he was doing the variety show down in Florida. And each week, they'd reenact a Honeymooners sketch. And the audience would go crazy, because all they'd have to do was a catch phrase. Or Art Carney would walk on and they'd all go nuts.
But to us, who had never seen the real 'Honeymooners,' it was inexplicable. So people were going, excitedly, 'Oh, you're going to 'The Jackie Gleason Show'!' And we got down there and there was this totally drunken asshole, being really unpleasant to people... and ignoring us completely, which was okay. But I mean, just really looking like a giant prick. And we kind of went, 'Wow! That's what all the fuss is about?' And then, of course, when they began the Honeymooners' sketch, it didn't even have to be funny, because the characters made everyone go nuts. And later, of course, when we got to watch 'The Honeymooners,' I realized he's a genius. He had the total right to be as drunk and as unpleasant as he wished. But he sure sure as hell was taking advantage of those rights [Laughs]. But I'm now a huge Jackie Gleason fan. I could watch 'The Honeymooners' forever and I would never say a word against him, but simply as a matter of practical fact, he was not at his best during that era.
PCC:
So you were having these great hits. Once you'd been up the charts several times, did you feel pressure to find more hit songs?
ASHER:
You feel some pressure. But when you're young, it always seems okay. It always seems easy. I remember even when our first record came out, and started going to number one, it was like, [matter-of-factly] 'Oh, cool. We made a record, recorded it, put it out, it went to number one, now we're touring. This is great.' You don't have the same sense of 'My God! We just hit the lottery! This is one in a million!' You don't know that. Youthful optimism is boundless. And so, we'd occasionally go, 'Oh, yeah, what are we going to do next?' and we'd worry about it. But there was never a sense of desperation. We always figured something else would come along. And, of course, I've always remained feeling that way. And so far, it's worked out [Laughs]. My career, from stage to stage, it's always been a question of, certainly, taking opportunities and being as creative as I could be, but I've never had a moment of like, 'Now what?' Because I've always found something else to move on to, which I've enjoyed and been able to make a living at.
PCC:
And 'I Go To Pieces,' did Del Shannon give that to you? Or how did that come about?
ASHER:
We were on tour in Australia with him and The Searchers. This is another story I tell, because we actually open the show with 'I Go To Pieces.' And Del was actually suggesting the song for The Searchers. He was in their dressing room, playing it to them. And they didn't want to do it. He thought it would make a good Searchers record. And, to be honest, it probably would have. But afterwards, we asked him if we could have it. So, in both cases, 'World Without Love' and 'I Go To Pieces,' they were kind of reject songs that we picked up off the floor to some extent.
PCC:
And delving into the American classics with 'True Love Ways' and 'To Know Him Is To Love Him'?
ASHER:
'True Love Ways,' yeah, we were both Buddy Holly fans. I think it might have been our producer's suggestion that we do that one. And once I had this idea of doing it as almost slightly Phil Spector-ish in a way. Whereas Buddy's is very soft, we made our 'True Love Ways' very dramatic, built up to the end of the bridge with a big climax. And did it that way and took away of the sheer size of Gordon's voice, compared to Buddy Holly's. So we made a kind of big version of it and that was fun and it was a big hit.
Same with 'To Know You Is To Love You,' of course. We changed it from 'To know him is to love him, ' so it would be more of a direct love song. And The Teddy Bears' record doesn't sound like a Phil Spector record, you know? It sounds like what it is. So we almost, in a funny way, tried to make the record that Phil Spector, the producer, in his later days, might have made of his own song. We put in big orchestra and percussion and the kitchen sink on that one.
PCC:
And 'Lady Godiva,' with the novelty factor on that one, did you realize it could be such a smash?
ASHER:
No, I was actually opposed to that one. When our producer brought that one to us, I kind of went, 'We've made some kind of beautiful love songs and some pretty cool records. And do we really want to be doing a music hall, comedy, novelty thing?' And it was Gordon, to his credit, who talked me out of it, saying, 'Don't be so snooty. It's just a pop song and people will like it. It's funny.' And then it came out and it was a huge hit. So, in retrospect, I realize it's a great piece of art and I'm proud to be part of it [Chuckles].
PCC:
Were you cognizant of the unique nature of this era, in terms of the innovation musically and all the excitement and eclecticism that as going on?
ASHER:
I think so. We were certainly aware of the oddness of what had happened in America, because nobody had hits in America, except the two or three. Lonnie Donegan had one. Acker Bilk had one. But they were always surprises and one-offs. And generally, the people who made it in England, our heroes, like Cliff Richard, did not translate to America. So, certainly what The Beatles accomplished, and opened up for all of us - and we were first British group to go to number one in the U.S. after The Beatles - and certainly what they opened up for us all, we realized that was a miracle. America had always seemed an impossible achievement. So we were proud of it all.
What made it so odd is we were just selling American music back to the Americans. We'd re-thought it. We were doing it in a different way. But the fact is, rock 'n' roll, it all came from the blues, came from jazz, and it's all an African-American, U.S. invention, originally. And then the whole Brill Building era. But it's all American. And we just miraculously sort of resold American music back to them, with some variations. And they dug it.
PCC:
Well, it seemed so fresh and new.
ASHER:
Yes, exactly. It's quite amazing.
PCC:
So what led to calling it a day with Peter & Gordon?
ASHER:
None of us can remember the last gig we did. There was never a moment where we said, 'That's it, we've broken up.' It just sort of drifted. I knew I wanted to produce records. I'd known that from the minute I was in the studio. I loved it. Once I saw what producers did, that's something I wanted to do. So I'd found a way to start doing that. Gordon wanted to make a solo album on his own, anyway. I was not that keen on touring. And then I got involved Apple and all this other stuff. So, essentially, I just found a lot of other things I wanted to do. And then, obviously, once I found James Taylor, and moved on to a whole other phase of my career, Gordon and I just drifted into not doing any gigs. But, as I said, there was no official moment as exemplified by the fact that neither of us know what the last gig we actually did was.
PCC:
You seemed to find a lot of exciting projects very quickly. Didn't you work with Paul Jones for a while just after?
ASHER:
Well, that was the earliest thing. I owe Paul Jones a debt, because he was the first person who brought me into the studio and asked if I'd like to produce a few tracks for his record, which I said I definitely did.
PCC:
Great vocalist.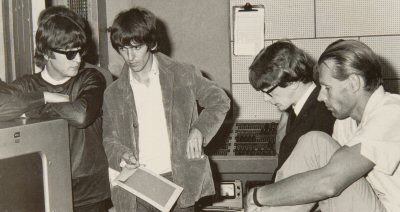 Peter with with John Lennon, George Harrison and George Martin at EMI (now known as Abbey Road)
ASHER:
He's terrific. He's absolutely brilliant. And the first record I ever produced, actually, Paul McCartney came and played drums on for me. So it was sort of all in the family. But, yeah, as I say, most of my career, has been just, I'm on the lookout for opportunities and, when I see them, I take them. And I definitely wanted to produce Paul Jones. I was a big fan of his.
And it was probably somewhat based on that and knowing that I was producing stuff and watching me work that Paul [McCartney] asked me to get involved with Apple. First he asked if he just asked if I'd produce some stuff for Apple. And then, as our discussions continued, whether I'd be head of A&R for the label. So, the next thing you know, I have a job. So it all moved along. And then, of course, I found James. And that moved me into phase three or whatever.
PCC:
Prior to that, you co-founded the art gallery where John met Yoko. What was your perspective on her artistic adventures at that point?
ASHER:
I'm not that big on art, to be honest. I was more interested in the book shop than the art gallery, it must be said. We started them both. They shared a name. They were both Indica, named, of course, after the plant Cannabis Indica, which gives you an indication of where we were coming from. And my own personal interest was more in the book shop. The art gallery was fun, but I'm not a big art person. I wasn't then and I'm not now. So I had no perspective on Yoko, other than it seemed appropriately wacky and interesting and it sounded like our cup of tea, because we were trying to be The City Lights book store in San Francisco. We were trying to be cool. And we were.
So when we were offered her art... John Dunbar sort of ran the art gallery. But, of course, I was one of the three owners and I attended the opening and invited my friends to the opening and that's why it so happened that John [Lennon] came and he and Yoko Ono met.
PCC:
And the rest is history.
ASHER:
[Laughs] And the rest is history.
PCC:
And Marianne Faithfull, you actually led her to that party, which began her recording career?
ASHER:
Yes. She was the wife of my partner in the book shop and art gallery, John Dunbar. He had previously been a student at Cambridge and he told me that he had met this totally gorgeous, amazing, smart, charming, innocent convent girl, Marianne Faithfull. I met her and everything he said was true. She was all of that and more. And they fell madly in love, got married. I was best man at the wedding. And then they came back to London, after being away for a while, and we had dinner and it was that evening that I said, 'I've been invited to a party that The Stones are having. Should we all go?' And we all went to the party.
It was actually Andrew Loog Oldham who was first noticing Marianne. He said, 'Can you sing? I want to make you a star. You look so great.' He had that record label Immediate. And then he asked Mick and Keith, who were there - I don't remember if Keith was there, but Mick was there - if they would write a song for Marianne. Of course, Mick did that... and much else besides. Sadly, John and Marianne ended up getting divorced, of course.
But they got a great song out of it - 'As Tears Go By.' It was one of their first serious compositions and I think actually marked their transition from primarily a U.S. cover band of R&B fans to a major songwriting team of their own.
PCC:
What about your knack for finding songs and artists - is that something that's just a natural gift? Or knowledge and analysis?
ASHER:
I don't know. Somewhere in there [Laughs]. A blend of those two probably, I suppose. It's very hard to say. I enjoy that process. Doing this Buddy Holly album I've been doing now, it's that kind of idea - casting the right singer with the right song. And figuring out how to do it, certainly that's one of the aspects of being a record producer that I very much enjoy.
PCC:
Is there a line you have to walk, in terms of keeping the essence of the original Buddy Holly compositions, while letting the artists put their own imprint on the tunes?
ASHER:
I suppose. My own feeling is, if the song is strong enough, you can go kind of radical and change the song quite a bit and still retain its essence. People complain when they suddenly do Shakespeare a million weird ways or in modern dress or all lesbians or whatever weird stuff they do. The truth is, if the play's good, it always works. And you actually get a new perspective on it. So I don't feel much trepidation in rearranging songs. It doesn't mean I can't be completely wrong and someone could go, 'That's a terrible idea. We hate it' and be correct. But I think that great art -and I think, in their own ways, Buddy Holly and Shakespeare both fit into that category - it bounces right back. It doesn't matter what people do to it. It survives very well. So I don't mind trying something radical, if it seems right at the time.
PCC:
And the atmosphere at Apple, was it magical? Or was it difficult to balance the business and the art? How did it work?
ASHER:
No, running a record company, being part of running a record company, was pretty normal. Then, at the end of the day, you'd tend to go to Derek Taylor's office and have a drink and see what else was going on and you might suddenly run into Ken Kesey or Hell's Angels or a bunch of Beatles up to something or whatever. There was a lot of other fun stuff going on. So there was a balance between actually trying to run the company and the madness. Of course, the madness gets written about more in all the books, because it's more picturesque. But I think, my own feeling is, when Apple pretty much stuck to the music business, it actually did quite well. Perhaps, it could be said that moving into electronics and clothing and all this other stuff they tried to do might have been overreaching somewhat. And then, of course, the board of directors themselves were falling into disagreements about one thing and another. But Apple was a thrilling place to be, of course. Going to work in the morning was exciting, because this was, after all, still The Beatles.
PCC:
And it must have been validating when Mary Hopkin breaks out in a huge way.
ASHER:
Yes. That was Paul's signing. And the day we signed her, he already knew what song he was going to do. He'd heard the song in a night club a few weeks before and said, 'That's what we're going to do.'
PCC:
And Badfinger, was it the excitement of recapturing the Beatles' sound that made it a natural?
ASHER:
Well, they were The Iveys when we first heard them, of course. Mal Evans brought them in as The Iveys. And we just liked them. We thought they were really good. So we signed them up. Made one album as The Iveys, which had a modest hit on it. And then changed the name to Badfinger. But we just thought they were a good band and deserved to get signed.
PCC:
And James Taylor, you must have known instantly that you had uncovered a treasure there.
ASHER:
I did. I mean, I didn't know how commercially successful it would be. But I did instantly become a huge and devoted and determined fan, yes.
PCC:
His first album didn't have the commercial impact of his subsequent records. Was that just a matter of word having to get out and build?
ASHER:
I don't know. I fell in love with him when I first heard him. He just called me up, showed up at my flat, pretty much. And through the Danny Kortchmar connection. Had nothing to do with Apple at that point. So I signed him up to the label. I find that first album, in retrospect, to be a little overproduced. But I distinctly remember how anxious I was to make everyone pay attention, to just go, 'Look, this isn't just another long-haired folkie like he looks. This guy's writing really brilliant, musically complex, emotionally complex songs that I need you to listen to.' And that's why I really tried on that album, we put a string quartet here and a brass quartet there and those little musical interludes. I wanted to make people really take it seriously. In retrospect, I think I overdid it a bit, which is why, on 'Sweet Baby James,' we cut back, drastically, to just him and a trio pretty much. But no, why the first album didn't take off completely, why 'Carolina In My Mind' wasn't a hit then, whereas now people think of it as one of James' big hit songs, I don't know. Just took a while to convince people, I guess.
And, also, the more I got James out working, of course, the more fans he built, because he's just so incredibly good live, as he was then and is now. And then, of course, Apple was getting into a very weird phase and eventually fell apart completely when Allen Klein came in. And that's why we left. I basically bet my career on James and moved to America.
PCC:
Had it gotten awkward for you when Paul split from Jane? Or it was mainly the Allen Klein conflicts that made it difficult?
ASHER:
I don't remember the order it all happened in, to be honest. I don't remember Jane's and Paul's personal life having much to do with any of it. But certainly the Allen Klein thing had considerable impact, because Paul and John were at each other's throats in disagreement over that. And that, of course, totally affected our day-to-day life at Apple. There'd be yelling, arguments, that you couldn't help overhearing.
PCC:
So you make the big split and come to America. What about connecting with Linda Ronstadt?
ASHER:
Somebody told me, I was in New York, someone said, 'You've got to go and see this girl who's singing at The Bitter End.' They said, 'She's got an amazing voice and she's the hottest thing you've ever seen in your life. And she wears these short-shorts and bare feet and sings like an angel.' And that sounded good. So I went to see her and it was all true.
We didn't start working together right away. At the time, I'd just started managing and producing Kate Taylor and I wasn't sure I could take on another woman, fairly, anyway. And Linda was still resolving things with her existing manager, Herbie Cohen. But a little while later though, we spoke some more. I can't remember if I started managing or producing her first. But I started trying to help her and help her get the album she was currently working on, called 'Don't Cry Now,' finished. And I produced some for that and then we got everything sorted out, and by the time the next album out, I was her manager and produced the album from scratch. And that was 'Heart Like A Wheel.'
PCC:
You really kind of set the stage for the California sound to emerge in that period.
ASHER:
In some ways, yes.
ASHER:
Was that a matter of right time, right place?
ASHER:
I don't know. Those sorts of things are for the historians to decide. All I knew was I loved Linda and wanted to make the best record I possibly could, put together the best band I possibly could and go for it. And that's what I did.
Why certain things succeed or fail or why they become huge, I don't know. Again, with James, when we first came here, our ambition was to be able to sell out the folk clubs. For us that was the peak, if we could sell out the Main Point, the Bitter End, the Cellar Door the Troubadour, that would be success for us. We were never aiming for the cover of Time magazine. That's another question as to why that happened. I mean, I think I know why that happened, because James is just that good and that important. But obviously, then, to me, when Linda herself ends up on the cover a year or two later and then Rolling Stone puts me on the cover a year after that, it was all going crazy. And it was fantastic fun. But as to the why, I don't know.
PCC:
At that point, you're producing all these terrific artists. The list is incredible - Cher, Neil Diamond, Diana Ross, Randy Newman, on and on. Were some of these projects especially important to you, in terms of the creative process and what you got out of it?
ASHER:
Gosh, I mean, they're all people I admire. With singers, I love people who you can identify with a few notes. Like Cher, some people like her singing, some people don't. But there's no question about who it is. When people come to me and go, 'Will you make my record? I can sing anything.' I'm immediately put off. I like people who go, 'This is what I am.' And Cher and Diana or Natalie Merchant or Linda - they're all people that you can just go, 'Oh, I know who that is' right away. And I love that. So they're all important to me, in the sense of their individuality.
Diana, of course, it was exciting to work with her, because I'd first met her when we all did 'Hullabaloo' together in 1960-something. And I was a big Supremes fan and nearly died meeting Diana, who is so brilliant and so gorgeous and everything. So to become friends with her and to end up producing her records for a bit was thrilling, beyond one's wildest dreams.
Randy Newman is someone I'd long admired before I met him, because he's such a brilliant songwriter and so funny. And working with him, same thing. So yeah, they all mean a lot. Working with every one of them was exciting.
PCC:
Is it all about bringing out the essence of the artist or do you want to really create a Peter Asher sound, as well?
ASHER:
A bit of both. Mostly I try to design the production around the artist and the song. I'm not trying to impose my vision particularly, except in the sense that it's my vision of how they can best do the song. But I don't start off going, 'How do we make this sound like a Peter Asher production.' No. I start off saying, 'How do we make this the best possible version this artist could possible do of this cool song we've chosen?'
PCC:
Has it been helpful, the fact that you've been involved in so many different aspects - performing, producing, managing, working as an executive - so you can know the whole picture?
ASHER:
Yes. I think it's helpful to me. And I think it may be helpful to the artist to know that I have some understanding from different sides of the table and different sides of the footlights, if you know what I mean. I think that's helpful, yes.
PCC:
And then, getting back together with Gordon, was that intended to be a one-off for the Mike Smith benefit?
ASHER:
It was intended as a one-off, yes. Paul Shaffer talked me into it. I figured this would be the one that would be very hard to say no to. I knew Gordon and Mike Smith had been great friends. It was a good cause. I mean, I liked Mike, too, but he and Gordon had hung out together a lot. And I knew Gordon would want to do it. I knew Paul would come up with a great band. It was going to be at B.B. King's in New York. We only had to work out six songs. So I went, 'Okay, what the hell. If we're ever going to do it, after this 38-year gap, now's the time.' So I said yes.
And then we had to get together and start practicing, relearning the songs. Of course, Gordon has been singing them in the interim, but they'd changed a lot, because he was singing them by himself. I said, 'Look, if we're going to do this, we have to just go back and learn it like the record.' And that's what we did. I went to a vocal coach, just trying to get my high notes back in shape. It was a bit of work. If we were going to do it, I wanted it to be good. The last thing you want to do is be embarrassing and a pale shadow of your old self. We wanted to make sure we still sounded like us. But the good news was that we did. And people liked it so much and enjoyed it a lot. And having gone to all that trouble, we kind of went, 'Okay, if there's other gigs out there, that actually want us to do this and might be fun to do, what the hell. So we did a number of shows over the next couple of years until Gordon died. I'm glad we did, of course, because now he's no longer with us. And we got to spend some time together again. And sing these songs together. And, as I say, we still sounded like us. It was still fun to do.
PCC:
And it was great that it came out of such a special event. Mike Smith was so under-appreciated.
ASHER:
Yeah, exactly. It's great that Paul was a Mike Smith fan and had had him on the Letterman show and all that stuff.
PCC:
In some ways, was the second time around just as rewarding, in a different way?
ASHER:
Well, it was different, of course. The biggest one was a technical one, actually. For the first time, we could actually hear ourselves sing. We had a really good band. We had good monitor systems. It cannot be overstated how much difference that makes. In the old days, you'd go in for a very short set. You couldn't hear a thing you were singing. The girls were screaming. It was fun. You'd run around and smile and wave. But you didn't really know what you were sounding like. But now, the technology has changed so completely. The audience sits and listens. You can really hear it. And that as fun. We had a terrific band, which we didn't always in the old days. You'd have different bands for different gigs. And so that was exciting. Paul put this great band together with a little string section and the horns, the whole deal. We'd never done that before. So that was very exciting.
PCC:
It must have also been exciting to be involved, producing the James Taylor-Carole King reunion concert CD from The Troubadour.
ASHER:
It was really fun. Of course there would be talk about, maybe bringing in the background singers or the keyboard player from James or from Carole. I said, 'No, honestly, I really believe we should do this with exactly the same band and the same spirit that we did the old one. We even tried to keep the set list, as close as we could, to being the same.
PCC:
Your daughter's involved in music now?
ASHER:
Yes, she's in this band Cobra Starship, which is doing very well.
PCC:
Do you impart advice to her about the music industry? Or do you try to avoid doing that?
ASHER:
No, she asks. Luckily, they're a very cool band. She was at NYU. She was at Tisch, doing film and television and her ambition then was to make films, and still is, as well. So when she called and said, 'I'm going to leave school and join a band,' [Chuckles] well, there's nothing I could say, because, of course, that's what I'd done. But it turned out they're a very good band. Gabe Saporta, who's the leader of Cobra Starship, is a totally cool guy. I know their manager, Jonathan Daniel. It's all top-level stuff. So I was very happy about that.
So have I given her advice when she's asked for it? Of course. Do I interfere with the band in any way? Not at all.
As far as the changes in the industry since you entered the business, do you see some positives there or is it just very discouraging?
PCC:
As for the changes in the industry, do you see positives? Or is it just discouraging?
ASHER:
I think it's very discouraging for the record companies. For music, as a whole, I think it's pretty encouraging. Music is as important to people, or more so, than it's ever been. And the fact that you can now listen to it everywhere you want, clearly increases its relevance.
I think it will all settle down into some kind of a system, where people listen to music a lot more, but individually pay a lot less for each time they listen to it. But I think it will work out. People will be able to make a living. I think the Golden Age of getting super-rich may be over. The Golden Age of getting super-rich as a record company is definitely over. I mean, the people who are getting the giant salaries now, like the Lyor Cohens of this world, I think that will be the last generation to do that. That's going to disappear. But music is alive and well and healthy.
PCC:
But with so many artists out there on YouTube and whatever, is it difficult to find the gems?
ASHER:
Of course. But it always has been. The difference was that the record companies used to be the gatekeepers. You had to persuade the record company that you were the one who deserved that magic, golden contract that was everyone's ambition. Now that's not particularly everyone's ambition. There's other ways to bring yourself to people's attention. But, the problem is, of course, those ways are so easy, there's hundreds of thousands of people out there, trying to get your attention.
It's always been about word of mouth. Everything has always been about word of mouth. The difference was, I used to come home from a gig and I could phone four friends and say, 'Boy, that really sucked' or 'Boy, that was the greatest band I ever saw.' Now, of course, you can come home and tell a million, trillion people the same thing. And when you'd go to the shop and buy an LP, you might come home and make two cassette tapes to send to a friend or to a girl you were trying to impress. Now you can come home and send tracks to thousands of people. So the trouble is, the word of mouth now is just so easy and so widespread and so voluminous that you're being barraged from all sides. But still, in the end, that's what counts. What makes me listen to something is usually when my daughter or a friend or someone says, 'You've got to check this out. It's really good.' That's still the magic phrase.
PCC:
Working with Hans Zimmer on 'Pirates,' did that give you an appetite to do more film work?
ASHER:
Well, yes. I'm now a full-time consultant at his company We've been friends forever. He asked me to help with some stuff, so I worked on 'Pirates 4' a bit and, from that, working with Rodrigo and Gabriela, they then asked me if I would produce their next album, which we did in Cuba, which was thrilling.
PCC:
That must have been an adventure.
ASHER:
Yeah, it was. So we're doing that. They're actually coming out here to the Hollywood Bowl and then we're going back into the studio to do some more work on the album here. So, yes. And then I'm going to be working with Hans on 'Sherlock Holmes 2' and 'Madagascar 3' [Chuckles] and various other numbered projects, as well. So that's very exciting, because I've always been a huge fan of Hans. And he's a rocker at heart. And musically a genius. So I'm learning a lot from that, too.
PCC:
It sounds like you're always looking for a new challenge.
ASHER:
Yes. I mean, I don't go out and look, but when someone tells me something's amazing, nothing to do with whether it's something I could work on, but I still find that exciting. Victoria turned me on to Janelle Monae a few months ago, who is just unbelievably great. I sort of went, 'Wow!'
I've never subscribed to the they-don't-write-songs-like-that-anymore school of thought. There are some fantastically good people out there and it's exciting when you find someone that's just genuinely, brilliantly talented.
PCC:
Speaking of which, you've been working with The Webb Sisters, as well?
ASHER:
Yes, I love them. I met them some time ago. Somebody turned me on to them and they just came over to my flat in London and sang a couple of songs. I said, 'Look, I'm not fully set up as a management company now, but, whatever I can do to help - consult, manage, I will, because I think you're tremendously good.' So I produced their record [the "Savages" album], in the gaps of the Leonard Cohen tour, which of course, ended up going on forever, like three years. And that was fantastic, because I got to know Leonard and got to see that show a lot, which is one of the best tours ever, I think, and then work with the girls, who are just such marvelous musicians and great women. So that album is actually out in the U.K. now and doing pretty well. We're looking at making a U.S. plan at the moment. But they're working all the time now in the U.K. There's a lot of interest over there. I got them on the acoustic stage at Glastonbury and all that kind of stuff. So things are doing well.
PCC:
Looking back at the body of work, the albums you produced, it seems like one hit after another, but there must have been some that were overlooked. Is there one, in particular, that you wish would be discovered?
ASHER:
I did an album with Amanda Marshall, who I love. She had a couple of big hits earlier. She's Canadian, a brilliant, astounding singer. And I did an album. I co-produced with Billy Mann. And we all co-wrote an album called, 'Everybody's Got A Story.' And it's cool. It's an album I think should have gotten more attention than it did.
PCC:
Do you think much about your musical legacy, how you want to be viewed in a historical sense?
ASHER:
No. Not really. Although, every now and then, I guess, as people increasingly, and tragically, die, when friends die, like Andrew Gold or Kenny Edwards, and you read their obituaries, you can't help but think, 'Oh, I wonder what they'll say about me.' But that's about it. Legacy is not what drives me. As I say, when you read someone else's obituary, you do get a mild sense of curiosity about what yours will be, but that's really not up to me. And, no, I don't particularly worry about what legacy I'm leaving. I'm more concerned about what I'm going to do next week.
PCC:
You have certainly earned the right to rest on your laurels. So what does drive you at this point?
ASHER:
I don't know. I don't want to get bored and I keep finding things that I want to do. Every now and then, when I think there might be a blank period, something always seems to pop up or something that makes me go, 'Oh, I want to do that! That sounds great.' So I jump in.
PCC:
You've accomplished so much. Is there a particular goal that's yet to be fulfilled and still nags at you.
ASHER:
No, I don't think so. I don't think I have any particular aims to check off. Just to keep making records that I can be proud of and that people like.
PCC:
It's been wonderful talking with you and we're looking forward to seeing 'Musical Memoir' at The Rrazz Room in San Francisco.
ASHER:
The thing with the show is, if you just say to someone, 'It's the memoirs of a sort of middle level '60s pop star,' it sounds like it could be deadly boring. But, actually, the way we've put it together, people seem to find it quite amusing and entertaining. So I hope everyone comes. With any luck, they'll like it.
Peter and Gordon fans will want to check out this site: peterandgordon.net.