POSIESí POWER POP PROVES TO BE TIMELESS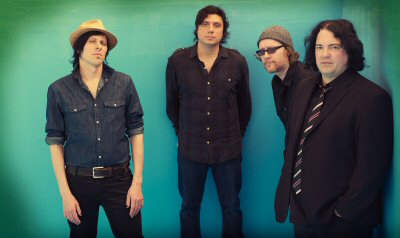 Photo credit Julian Ochoa.
Left to right: Ken Stringfellow, Darius Minwalla, Matt Harris, Jon Auer.
By Paul Freeman [November 2010]
The Posiesí new album, ďBlood/CandyĒ (Rykodisc), is a sumptuous masterpiece. Not bad for a band that broke up in 1998.
The Posies have always elevated the genre, creating distinctive music of elegance, substance, intelligence and texture.
Founding members Jon Auer and Ken Stringfellow still front the band. Masters of harmonies and hooks, they began writing songs together in 1986, in Seattle. The Posiesí 1989 major label debut, ďDear 23,Ē yielded a modest hit ďGolden Blunders,Ē which was covered by Ringo Starr.
The Posies became modern rock darlings, but never quite managed a mainstream breakthrough. The cult favorites disbanded, but Auer and Stringfellow got together for occasional collaborations.
Both were active as producers and solo artists. Stringfellow also played with R.E.M. He currently fronts another band, The Disciplines. Auer worked with such bands as Redd Kross and Monostereo. He also played guitar and sang on Ben Foldsí acclaimed William Shatner project, ďHas Been.Ē Both Stringfellow and Auer played with legendary Big Star for 17 years. All of these projects helped them expand their musical palettes.
In 2005, The Posies returned with a comeback album, ďEvery Kind of Light,Ē including new drummer Darius Minwalla and bassist Matt Harris (Oranger). It took another five years before they unveiled ďBlood/Candy,Ē which was recorded primarily in Spain.
The Posies have never repeated themselves, from one album to the next. Their musical path is guided less by design than by being receptive to inner changes.
They only seek to please themselves musically. Theyíve never chased fads. In fact, their melodic sound contrasted completely with the grunge erupting out of Seattle in the late Ď80s and early Ď90s.
And yet, the bandís melodic, harmony-laden tunes actually seem very timely today. Perhaps the wider recognition they so richly deserve is still forthcoming.
Jon Auer and Ken Stringfellow talked with Pop Culture Classics.
POP CULTURE CLASSICS:
How did the songs on the new record come together? What was the songwriting process like?
JON AUER:
Remarkably straight-forward, actually. The Posies have never really made the same record twice, ever, in our careers. Theyíve all been born of such different circumstance. Just kind of what we had available at the time, as far as resources. And also, what we had available as time, as a resource, as well.
For instance, our last record, ĎEvery Kind of Light,í we made up in the studio, basically because we had a chunk of time that we could either make a record in or not make a record in... and that kind of steered the direction of that record [Chuckles]. This record is more of a traditional approach, where we actually wrote songs before we went into the studio [Chuckles again]. Did a thing called Ďrehearsing,í before we went into studio. Actually had a loose blueprint of what we wanted to do before we stepped foot into the studio.
Of course, that all said, once we actually got to where we were going, a lot of what we perhaps thought in our heads was a direction to follow fell by the wayside and suddenly, this record that we had intended to keep very simple, became this kind of complex and baroque, layered affair. Itís very detail-oriented. Thereís a lot of little details on everything, basically. Itís not like a case of there being one song that was harder to record than another. Itís like everything we put on there was processor intensive [Laughs], I guess you could say.
PCC:
Is it just a matter of your hearing a new line, a new texture that you want to try, rather than actually plotting out that you want to add layers?
AUER:
Yeah, well, thereís that famous quote from John Lennon - ĎLife is what happens to you while youíre busy making other plans.í And I find thatís very apt, especially when it comes to creativity. Itís not an exact science. You can plot and plan all you want, to your heartís content. And invariably, if youíre kind of open and aware and paying attention, the project, the music, will lead you in its own direction eventually.
And thatís kind of what we did. We had to follow this muse. Unfortunately, weíd only allotted a certain amount of time for that particular muse [Laughs]. And this one demanded more than we had originally set aside, letís say.
So we had this initial burst of recording in Spain. Thatís where a large part of the record was done, as far as the foundation, but, they say that Godís in the details. Well, the devilís in the details, as well. And we actually spent more time in what I would call post-production almost - editing and assembling and mixing. That took the bulk of the time. And that happened after we left Spain and went home to our respective studios, etc., etc.
PCC:
Where are you based now?
AUER:
I live in Seattle. Ken lives in Paris. Our drummer lives in Vancouver, British Columbia and our bass player lives on Mars, sometimes, but usually he lives in Palm Springs, California. Weíre four guys, three countries, one band.
PCC:
So were all four of you involved in the mixing? Or was that you and Ken?
AUER:
Primarily, Ken and I handled that. Although, Ken ran out of time and we were going to split it pretty much equally, like half and half. Thereís 12 songs on the record. So we each took six. But he ran out of time at one point and had to hire a ringer, I guess, or what would they call that? Iím not really into sports. A relief pitcher. So Ken mixed two songs and he had someone mix four. And I mixed six.
But you know, mixing these days, with the computers and whatnot, itís funny how, really, youíre recording right up till the last minute these days... because you can. You have this technology that allows you so many options. Itís like, if you have the ability to fiddle with something, youíre going to do it, forever, until it has to be turned in, really.
PCC:
So you were still recording new things as you were mixing?
AUER:
Yeah, because you hear new things. Or, for instance, when I went back to Seattle, it was kind of left to me to get the strings together for the record, which was the first time weíve had actual arrangements written for a record and then performed by somebody. I didnít write the arrangements, but I had to be there to help facilitate what needed to happen. And then it was left to me to edit and mix another 20 tracks of strings on top of the already prodigious number of tracks that were on any give song.
So a couple of them, it got kind of, shall we say, hairy, in the mixing process, because weíd also decided to work at really audiophile sample rates, like the highest we could go, basically, to get technical, for a sec. That, of course, taxes your computer. Long story short, thereís no way we could have predicted what a task it became. We really just got it in at the eleventh hour. And Iím glad we pulled it off. I think we pulled it off well. But I hope, the next time around, we actually maybe have learned from this experience finally that maybe we need to allot ourselves a lot of contingency time, because we just have too many ideas and we want to try them all. Thatís fair. But I think itís kind of unfair to ourselves to get that stressed over something at this stage in the game. I think the next go-around, it would be just be better to not be so optimistic as far as our approach to the amount of time we schedule.
I think we were kind of overly optimistic. We just think, weíll schedule it and itíll happen and thatís that. But next go-around, Iíd like to see what happens, if we actually give ourselves too much time, see what we do with it then.
PCC:
Is it difficult, once youíve gone through this process of experimentation and all the mixing to have objective ears and say itís finally ready, itís where you want it to be?
AUER:
Well, Iím lucky. The Posies began as a recording project in a home studio. My Dad was a musician, back in the Ď80s, before computers were everywhere and Pro Tools was such a normal thing or Garage Band, even. We had this small, yet powerful recording studio in my rec room, essentially. It was fairly primitive, very basic. But it was enough that I could learn how to record. And I got used to, at a very early age, spending long amounts of time being very focused on something.
Like I can spend 16 hours on a session or on a mix and not get burned out on it, because Iím used to it. Itís fair to say, somewhere along the way, during the process of completing this record, that yes, we did get lost in the wilderness at times. But we worked on it long enough that the perspective came back. You get that second wind. I mean, in our case, it was probably our 22nd wind. But we were able to see it through, because thatís the kind of attention to detail that weíve learned along the way., just picked up over the years.
PCC:
Being involved in so many interesting non-Posies projects over the years, has that helped you to grow musically, as well?
AUER:
Oh, yeah. When you put more energy into something, often you get more energy out of it. The more creative you are and the more you are creating things, it just breeds more creativity. Itís kind of a paradox. Itís like the more you do, the more you can do. And the better you get at it. Thereís never a moment when Iím not gaining something from the experience Iím having while recording or working with somebody else. It all kind of goes into this collective kitty. And you can access it later.
Itís funny, too, there are times you are working in situations and you find that youíre doing something that you donít want to do, like you donít want to repeat. And I think you can learn just as much from that as from a good experience. It all contributes.
PCC:
Are you conscious of not getting too comfortable, of the need for taking risks?
AUER:
You kind of have to force yourself to. There are times when I feel comfortable and there are certain chords I will go to instantly when I pick up a guitar or there are there are certain guitar tunings I use that Iíll play for people and theyíll go, ĎWow, that definitely sounds like something out of your playbook.í The trick is, after being around as long as I have, or we have, you have to do something to keep yourself interested.
I suppose, if I was making millions of dollars off of some formula from The Posies that had worked, then that would be maybe a reward or an impetus to continue just to do it one way and keep it that way, so that maybe you could keep reaping those kinds of benefits. But Iím not doing this because Iím getting rich off of it. Iím doing it because it has to be enjoyable. Thereís not much other reason to do it at this point. Itís essential that it feels necessary, not just by the book or by the numbers or the same as it ever was.
PCC:
The fact that the band has never tried to follow any trends, do you think thatís why the music sounds so timeless?
AUER:
I appreciate you saying that. I think that there is something to be said for not being associated with any particular one movement or moment in time. You never have to become dated by it either.
Also, thereís the syndrome of the band that has the one song so much bigger than anything else theyíve ever done. Weíve never had to experience that. The people that are our fans are fans usually of our body of work. If theyíre not, they get into one thing and want to find the rest and find this really eclectic, unique, melodic catalog of stuff that weíve done over the years that have all been true documents of exactly where we were at that moment in time. So I think thereís something to be said for it. It could be the kind of thing thatís appreciated best over the scope of time, rather than at any one particular moment, because weíve never had that one moment that defines us, I guess. So in the end, it becomes about the whole body of work and the life that you put into it.
PCC:
The fact that your fans seem willing to go on this journey with you, does that free you up to create without considering what might appeal to the listener?
AUER:
I never think about that. I never do. Itís funny, my other obsession, besides music, is film. In fact, I donít really read music bios anymore. I tend to read bios about directors or how films are made. Thereís always the talk of the test screening, how itís going to play to the audience. Iíve never been able to do that. Iíve never thought about what a test audience is going to think about something. It really just has to be about doing something that you enjoy. I figure, if I like it and the people who are in my band like it, then somebody else is going to like it. But Iíve never been good at playing that game.
Not that The Posies havenít sold a few records in our time, but maybe we would have sold more had we had more calculated consideration for something like that. But weíre always just out of time with that stuff, just doing our own thing. It just always seemed to work out that way, timing-wise. Whatever we were doing wasnít part of some perceived zeitgeist.
Although, I will say, itís funny, with a record like ĎBlood/Candy,í and with how music is currently, the current musical climate, we seem to fit in better now than we ever have. Itís kind of ironic.
Itís funny, coming from Seattle and everybody always wants us to talk about the whole Posies versus grunge [Laughs] situation, which was never really an issue for us. It was just something that people wanted to talk about. Itís more from an outsiderís point of view. We never really thought about it. We just did what we did and thatís the way that it was. But now, I find, for the last few years, decade, there seems to be a real move towards acceptance of melodic, harmonious, thoughtful music. People used to scream about their angst and now itís okay to whisper about your pain, instead of having to be so outwardly obvious with it. Itís funny how itís kind of turned 180 degrees from where it was, almost.
You look at where Seattle was and think that Alice in Chains was maybe a huge band and now like a band that everybody loves from Seattle is a band like Fleet Foxes. It used to be hard rock and distortion and now itís reverb and harmonies. Itís like reverb is the new distortion. My Morning Jacket. It funny how things change. I just think that, maybe if we put our records out now, maybe we wouldnít have had this Posies versus Seattle grunge scene scenario. There wouldnít have been as much of an issue.
PCC:
With all youíve explored musically already, does it seem like the possibilities are endless within the context of The Posies? Or are you eager to explore other avenues, maybe film?
AUER:
Doing solo stuff is very important for me and I know it is for Ken, as well. Iíve got another solo record Iím going to work on next year. But one thing I will say about The Posies is, I think weíd like to try and make a record faster this time. Like we actually took quite a bit of time between our records. And I think weíre feeling, I wouldn't say cocky, but I would say confident, about our abilities right now, after making this record and having it surprise us, that we could make a record this late in the game that felt as vital to me as it does. That bodes well.
So I think the concept now is, ĎWhat would happen if we tried to make a record as fast as we can?í Kind of ride this wave of creativity and see what happens. And as far as anything else, yeah, Iím always open to trying anything new. And personally, Iíd love to get into the film industry in some form. Even beyond the musical sense, film is something I would love to get into, in terms of maybe directing or something like that. Of course, the obvious thing is to try your hand at a rock video first. Film is just something that I love so much, obsess over just as much. And thatís usually how I go about learning to create, is I get obsessed over something. I think itís not implausible that, if I worked at it, I could work my way in.
But one thing I will say about the film industry versus the music industry is, you can, arguably, make a record by yourself. You canít make a film by yourself. I mean, sure, Robert Rodriguez can make ĎEl Mariachií with a skeleton crew and whoeverís around. But you canít just make any old movie by yourself [Laughs]. That would be a pretty interesting experiment, actually, if you tried to do that, see if you could pull it off. But you need a lot more people, is what Iím trying to say.
---
PCC:
Tell me a little bit about your writing process, do you do a lot of experimentation? Do you build off a melodic line? A lyric?
KEN STRINGFELLOW:
Well, for my contributions, first of all the way I write, and when I write, and all these kind of things, Iím like a sniper. I donít squeeze off tons of shots, AK-47 style and hope that I hit a target now and then. I patiently wait until the conditions are kind of perfect. And I save it up for the right moment.
Itís kind of complicated, but, for example, Iíll go six months without writing a song. And then maybe Iíll spend a lot of time. Like Iíll go on retreats, book a cabin, get out there and bring some of my recording gear, and sit out there and say, ĎOkay, this week Iím going to write some songs.í And I always do. And, in this case, for most of the songs that I contributed to this album. I knew we were going to make an album in 2010. This was in 2009 when we talked about doing it. And, as always, I was working really hard on tons of stuff. I could easily go without a day off for an entire year. Thatís not an unrealistic scenario.
So I knew, to get some quiet, and to not be working, to give myself some time, I set aside some days to do some writing in December of 2009. And I had like four or five days. And I wrote four or five songs in that time.
PCC:
Isnít that putting a lot of pressure on yourself? To say nowís the time I have to create?
STRINGFELLOW:
Yeah. I remember talking to the guy from Lightspeed Champion, Dev, and heís like, ĎIím going to write a song every day for the next year.í And Iím like, ĎThatís just pushing it a bit too hard.í I donít think every one of those songs is going to be that memorable. I mean, maybe that are. I havenít listened to all 365 of the results.
But I have to let experience come in and sort of process. I know that, as I go around, Iím listening to peopleís conversations and reading books or watching TV or traveling around or playing shows or interacting with fans or whatever. All of those things, theyíre all going in. Your brain records every experience, sorts through it. And like anybody elseís, mine sorts through all that experience, but itís always working on things in the background, I guess.
Itís pretty hard to describe the writing process, really. It is something I leave a bit mysterious to myself. But the best I can say is, those experiences and observations coalesce. And I think itís because I havenít forced them that much, that I can put the pressure on myself for those moments and get results.
All those songs that I wrote in that period, in December, for example, there are four of those songs on The Posiesí album and one that I contributed to my other band, The Disciplines, album. And those five songs were written in five days. And thatís probably the last stuff Iíve written, really. Oh, no. I wrote a song or two in the studio for The Disciplinesí album.
I sort of need a goal. I like to write with the goal in mind of where itís going to go and knowing what kind of personality is called for. For example, those two bands, The Disciplines and The Posies have very different personalities and specific sort of guidelines for what would work. Of course, having said that, I was trying to expand what The Posies are capable of, because I think, in songwriting, you get to explore. You can do kind of a period piece pastiche one song and you can do something really futuristic in one song, and because youíre a songwriter, then itís just about production, in a sense.
So maybe I didnít explain much. But thatís how my mind thinks of the subject. Maybe Iím the worst guy to ask.
PCC:
It must be valuable to have the two different musical personalities,The Discipline and The Posies, to channel different creative sides of yourself into.
STRINGFELLOW:
Yeah. Then thereís the solo aspect, which is completely different, as well. Itís a certain kind of emotional tone that works well. In my solo world, I know that Iím likely to be playing the songs unaccompanied. So, structurally, they require different things, too. I did this in-store in Paris, because I live there and the label said, ĎHey, since youíre in town, can you do an in-store appearance to promote The Posiesí album, even though Jon wonít be there?í And I said, ĎWell, okay. Itís worth a shot.í And I played the songs from the album by myself. And like a couple of them were just impossible to play without a band, which I think is cool. I mean, we built ourselves in kind of a folkie template in the past and I think weíve expanded beyond that, which I think is cool. It really means itís like a band track.
PCC:
It must be important to you to keep growing musically. Every album seems to have its own personality.
STRINGFELLOW:
Well, yeah. Iím in my forties as this album came out. And the last Posies came out in my thirties. And the one before that came out in my twenties. So being that we space stuff out that much, they should be radical. Iím not sure that theyíre radical, but I think they at least show we have an eye on moving forward. I donít think thereís anything nostalgic about our recent albums, the ones weíve made in this century.
PCC:
Do you ever ponder how much you can change without alienating the fan base? Or are they adventurous enough that you donít have to worry about that?
STRINGFELLOW:
Well, the fans that I want are. Generally, on this album, weíve gotten like incredible reviews. Some of the best reviews weíve ever gotten. But, in Sweden, where weíve always had a great following, our records have gone into the charts and weíre quite known, we got some lackluster reviews for this album. Only the really snobby music publication, Sonic, who normally holds us at armís length, they really dug this album. They really got it. But the mainstream newspapers, they didnít go for it. They criticized us, saying like, ĎYou are a power pop band and you shouldnít try and be anything other than that,í which I think is a very strange thing to tell an artist. If I want to be that kind of artist, Iíll write f--king greeting cards. Thatís not my game, man. Iím here to grow. And I found it insulting.
And, you know, I donít think this is an album that shows contempt for our past. I just think it builds on it and is a great update and great move forward, without being contrived. Thatís how I view it. And thatís what I hope people get out of it.
PCC:
The songs that you wrote for the album, how fully were they envisioned before you hit the studio and how much do you allow for surprises in the studio?
STRINGFELLOW:
I think, arrangement-wise, we pretty much worked everything out in rehearsal. In some ways, if you listen to the demo, the song is pretty much sketched out. A couple of the songs, interestingly enough, that Jon contributed, Jon takes more of the classical way of doing things. He might throw a few demos out there and then he picks among the best. Thatís kind of a safer way to go in a way.
I just say, ĎHey, man. These are my songs. Love Ďem or leave Ďem.í And I am pretentious enough say that everything that Iím going to I write is going to be awesome [Laughs]. But Jon presented a few demos of stuff that we didnít end up rehearsing. And a couple of the songs on the album, most notably, ĎAccidental Architectureí and ĎHoliday Hours,í I donít think a demo exists for them. I think he just played them for us. Correct me, if Iím wrong. He could correct me, if he was here. So, in that sense, those songs really came to life, arrangement-wise, in rehearsal, much more so than the songs that we demoed more fully, which really were already alive by the time the band heard them.
My demos just had vocal and piano or vocal and guitar. But still the arrangement followed very much what the band ended up playing. And then itís the feel, what feel do we give to it. And all of that got worked out in our week of rehearsing right before we recorded in Spain.
PCC:
So all the layering and texturing, did that come in the rehearsal process or did you keep adding through the recording process?
STRINGFELLOW:
Yeah, well, we just made the live track and basically how it was going to sound. And then we didnít really know what kind of overdubs would go where. We tracked the songs, the four of us playing together in the room, in Spain, then added from there. We were sort of clever about how we did it, so we could isolate the drums pretty well, if wanted to, if we needed to fix something or whatever.
Itís so interesting to me. It sounds like such a studio creation album to me, with lots of little bells and whistles and stuff, but, Iíll tell you, the core of each track is really true to the live recording. Maybe with the exception of ĎHoliday Hours,í which is not really what Darius does on the drums. Itís just like a loop. I think we actually did loop him on the recording and added stuff on top.
PCC:
So it wasnít too difficult to make the transition to playing this material live on tour?
STRINGFELLOW:
Well, thatís whatís so weird is that the overdubs changed a lot of things, like it changed what was focused on, in terms of what harmonies or what kind of additions. So when we finished our rehearsals in Seattle, at the end of the week, we played a show in Seattle and we debuted all 12 songs live. And the show was really good. And then we went to Spain and started overdubbing and the parts that we overdubbed became more like main parts, in a way. We made the guitar parts a little trickier than just strumming, etc. And, of course the vocal harmonies totally changed and developed in the studio and in the weeks afterwards.
So the next shows we played, we played this big festival in Seattle at the end of May. And the album was still in progress a little bit. And we were kind of lost when we played the songs live. Whatever weíd done in April, a couple of months later didnít work anymore, because the emphasis of things that were important about the songs had changed, just by what they went through in the studio. Itís really weird. I donít know if anybody but us would notice. But if you listened to the demo, youíd go, ĎYeah, thatís the song, but there are subtleties that make these songs what they are.í
PCC:
So itís a constant process of evolution. Do the songs continue to grow as youíre on tour?
STRINGFELLOW:
Yeah, of course, you know, we can play them harder and harder [Chuckles]. And, of course, we all wish, like, boy, it would have been great to do like a three-month tour, playing these songs before recording them. But thatís just not how we do it around here. [Laughs] We only get one shot with the touring and that sort of needs the album to be out.
PCC:
Youíve worked with so many interesting artists. Has that really helped you expand your palette musically?
STRINGFELLOW:
Definitely. Yeah. Radically. I have some Ďwhat if?í moments about like, if we hadnít split up in 1998. But actually, we couldnít have gotten to where we are now, musically, without that happening. And that includes the fact that Darius and Matt, who have been playing with us since 2001, are so brilliant and are so much more committed. As great as Brian Young and Joe Skyward were, who played on the last two Posies albums before the breakup, itís not the same vibe. And I think the vibes are so much better now, not because Matt and Darius are better people or whatever or better musicians. But a perfect fit is a perfect fit. And thatís not something that can really be explained, the chemistry and a common vision, which is what a band should sort of be about, in a way. I mean, I know that conflict in a band can also help, in a way. But you need to be, at some point, four against the world or whatever and getting your vision across by any means necessary.
So, once the band split up, we played our last show as a band in like end of September, Ď98, in San Francisco, and I was back in San Francisco like three weeks later, rehearsing with R.E.M. and that opened up a lot of things, as far as new things to learn.
PCC:
What were some of the other collaborations that meant a lot to you in terms of musical development?
STRINGFELLOW:
Well, R.E.M. was a big one, because it changed my view of how to work in the studio. For such a big, professional band, they kept things very loose. If they were in there with their Legos, building a song, they werenít afraid to rip it all down and start all over again and look at it another way. And they were very fearless, considering that there are always expectations, when people are giving you millions of dollars to make a record. They have expectations about raising the bar for themselves, too. And they didnít choke under that pressure. They were really free. They didnít over-prepare. And they werenít that meticulous. They let things happen and they were very spontaneous, which I loved. And thatís how Iíve worked ever since.
Other than that, just opening musical doors, whether I actually incorporate them into my own stuff or not, I mean, like, thereís a risk of becoming Sting or Paul Simon-like, albeit without their success, I made an EP with a band from Senegal, in Senegal. And the thing that came out of it was really cool. You can get it on iTunes. ĎKen Stringfellow and WaFlash.í Itís great music and what I like about it, itís not me backed by them. Itís like down-the-middle collaboration, like ĎWhat would it sound like, if we mixed this Senegalese band, which plays, rhythmically, Senegal pop music, with my stuff?í And the results are very cool. We all sang and we all wrote lyrics in all the different languages that we can do stuff in. Itís really quite cool.
Obviously, playing with Alex Chilton and Jody Stephens in Big Star, that was very cool. Alex was a very interesting guy. And, he too, had a great ear for spontaneity in recordings. And making a record with him, he totally thwarted my desires to be more meticulous and to fix certain things that were Ďmistakes.í He go, like, ĎWhat did you do wrong?í And I was like, ĎWell, this thing doesnít really...í And he would go, ĎWhy is that wrong? Just because it doesnít line up like you think it should, doesnít mean that itís a bad thing. Sit down and actually listen to it.í And he was totally right. Like the stuff that I was worried about, that he didnít let me fix, I couldnít even tell you where it is now in the track. And itís a bass part, which is real loud and obvious. So that was instructive.
PCC:
So itís how youíre listening to it?
STRINGFELLOW:
Yeah. And your expectations. And your expectations of how people will perceive you. Those are things to let go of. Itís good to trust yourself. But you have really trust yourself and you have to trust that by trusting yourself, you wonít become lazy and think that everything you do is great. I think we still try. But then again, everything we do is great. [Laughs]. I mean, I have to believe that, too. Itís totally weird, man. Itís a mindf--k, because the purest artistic impulse, it is kind of genius.
All kids are geniuses. My daughterís a genius. The stuff she comes up with when she wants to draw is all good. Itís all funny and itís all clever. You could say, ĎWell, itís only child art and itís only interesting because sheís your daughter or whatever.í I donít know. An artist finds their audience. I think that kids are so clever. Of course, later, as you get older, you tend to get boxed in.
PCC:
So is one of the keys to being effective as an artist being able to go back to that childlike quality, unfettered and unfiltered.
STRINGFELLOW:
In a way, yes. You canít really undo things. But I felt like, this album, for example, the sessions in Spain to me, though we worked hard and put lots of hours in, I think it was really play. The studio is really a playground. Thereís all sorts of fun toys around to hook together. I really feel, when Iím plugging in a bunch of pedals, guitar effects pedals, and I donít know what the resultís going to be, and Iím going to run a synth through it, I totally feel like Iím building stuff with blocks, like when I was five years old. Exact same feeling.
Then, after that, with editing, which mixing is really just a very specific, musical kind of editing. Itís deciding which thing is louder than the other and how it will all fit together. And we did most of that work ourselves. A friend of mine named Scott Greiner mixed four of the songs, but the other eight we did ourselves. And that was hard work, organizing all of that. So I guess thatís about context, in a way. Just like, in the right context, someone making a very childlike painting, like a Basquiat, in the right context, thatís a major work of art. In the wrong context, someone can say, ĎWow, just a bunch of scribbles and bullshit.í Interesting, right?
But I think the fact that we were able to play in that studio and just go nuts, it felt so relaxed and good. We didnít have anybody else around, didnít have anything else around. Thereís really nothing in that neighborhood, but a few other houses and a bunch of empty lots. That was the perfect environment. But I feel that the playfulness of those sessions is reflected in the result. I think the album is very lively, in that sense. And thatís good. It doesnít act our age, this album.
PCC:
So with all youíve been learning and growing, do you feel that youíre just entering your prime, creatively?
STRINGFELLOW:
To be honest, I really do. I really feel like the knife is sharp and the observations have meaning, because Iíve been around enough to have perspective, to give you something. Iíve lived some life.
Weíre so into teen prodigies, in this modern life. Thatís all very well and good. But even if theyíre a brilliant vocalist or whatever, what do they really have to say? They can fake it, but I can see the difference. I remember maybe 10 years ago or whatever, when Avril Lavigne was getting huge, people were really into her and I was like, ĎWhat can she possibly have to say?í She barely writes those songs. And the more you dig into it, the more you find out how much help she had. She can sing with conviction, Iíll give her that. But you couldnít be more than 14 and really get anything from it. Otherwise, youíre kind of weird.
PCC:
So maybe the world is now opening up to the point where we can appreciate artists with some life experience?
STRINGFELLOW:
I think good art is triumphant, even just in the fact that it does exist. You get fooled by stuff thatís drawing attention. Whether you agree with it or not, it would be silly to get frustrated by the ĎAmerican Idolí phenomenon, for example. Itís got its place. But people get offended by that and think thereís a fight to be had and, therefore, someone like me is losing the fight, because Iím not up there. But thatís just crazy, man.
I think the art, having the bravery to just put your shit out there, no matter what, whether people, in the end, do or do not get what youíre doing, it is influencing. Like someone once told me, a very wise girlfriend that I had several years ago, she said, ĎYou donít know what effect your art has... and you donít get to know, really. And a lot of the things that happen with a piece of art, you donít get to see. So, on the day that you get a bad review or you play a show and nobody comes, think that maybe, on that day, somebody you donít know, or donít even know about, just flipped through a record bin and found your record and took it home and fell in love with it.í The world moves forward in that way.
PCC:
So, if all that matters is just the act of creating the music, knowing that it exists, do you give any thought to the songs standing the test of time or to how you might look at it years down the road?
STRINGFELLOW:
Only to the fact of like I do what I believe. And once Iíve locked in on that... Thereís a learning process to what we do. And thatís why, the albums that I consider part of the learning process, I consider them less interesting. And I consider the albums that are sort of post-that, which is really like basically everything that happened from my first solo album on, because something sort of changed in my methods and I had another perspective all of a sudden, instead of just doing basically The Posies full-time.
From that point on, all those records, I enjoy listening to them. If somebody puts on one of my records while Iím there, Iím not the kind of person who fakes modesty and goes, ĎOh, I canít listen to that.í Iím just like, ĎGood record, man. I like it.í
Also, I think our perpetual out-of-fashionness is a great asset. Fashion is fashion. Being in fashion is its own kind of art form, when done well. But music is not fashion. People confuse it with it. And they cross over, in certain ways. But music is a different art form and I think itís subject to different laws of nature, as it were.
I think people can look back on what we were doing . We have an album, ĎFrosting on the Beater,í thatís 17 years old. And people still really look at that album as something unique and they look back on it with a lot of affection. And a lot of the stuff that was really on the money in those same years, I donít hear about as much. But again, everything has its place.
But by being outside of trends, at all times, if possible, okay, our music is not a time capsule of the times, but itís not a clichť of those times, either. And I would like not to be a clichť, thank you.
PCC:
And do you give much thought to what you want to accomplish musically, over the course of a career? Or are you just focused on the whatever the next project might be?
STRINGFELLOW:
Well, Iíd like to be me as long as possible [Laughs]. The future will be what it will be. Itís impossible to know what kinds of twists and turns are coming up. I look at the people who had really long careers that I admire and I hope and pray that my version will at least keep on keepiní on and hope that thereís a place for me and hope that I can do what I do.
Right now, a lot of what I do is incredibly physical, from the way that I perform on stage to the way I sing. So, how long? I donít know. And thereís always this thing of like, at some point, like a Neil Young has sold like bajillions of records. So itís kind of hard for him to go away... although he kind of hit rock bottom, career-wise, at one point, too. Still, that didnít erase the hundred million records sold before that.
I donít really have that kind of legacy as a fallback position. So itís a little more of a scramble for me, in a way, in theory. Although, things keep happening. So thatís another part of the trust, to keep going, keep reading the wind. Hopefully youíre not totally fooling yourself. So far, things keep going.
PCC:
The willingness to take risks and the inventiveness must add to the longevity.
STRINGFELLOW:
We hope. You never know. But we hope. But at least, I would say this, you canít go wrong with quality. And I think quality is just putting care into it and not being lazy and, for some artists, as they get older, thatís easy to do. They donít take it too deep. Iíd much rather be pertinent than pleasant. But, at this point, our band is a marriage of what we think is both.
For the latest on The Posies, visit www.theposies.net.