THE RASCALS: LIVING OUT AN ANOTHER DREAM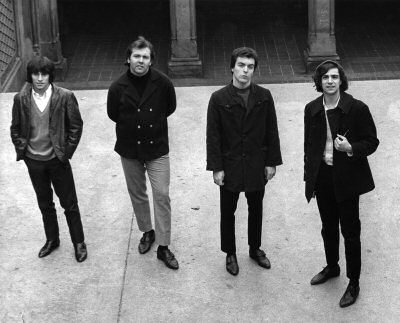 The Rascals, left to right, Eddie Brigati, Gene Cornish, Dino Danelli, Felix Cavaliere

By Paul Freeman [ Sept. 2013 Interviews]

Rascals fans ain't gonna eat out their hearts anymore. It's "Groovin'" time again.

Bursting out of the New York/New Jersey areas, The Rascals stand as one of the most exciting, influential and inspiring bands of the 60s. Four dynamic musical forces merged to form this potent group. Surging behind the extraordinarily soulful, genuinely emotion-packed vocals of Felix Cavaliere and Eddie Brigati were the incredibly incendiary drumming of Dino Danelli; Gene Cornish's crisp, concise, potent guitar riffs; and Cavaliere's stirring, sensual, sumptuous Hammond B-3 organ passages.

Initially hitting the middle of the charts with 1965's "I Ain't Gonna Eat Out My Heart Anymore," The Rascals reached the top with "Good Lovin'," one of many exhilarating cover tunes they recorded early in their careers. Soon the band benefitted from the songwriting genius of Cavaliere and Brigati. The Rascals soared up the charts with such searing rockers as "A Girl Like You," "Come On Up," and "You Better Run." They were equally adept at creating wondrously gorgeous ballads like "How Can I Be Sure," "Groovin'," and "Beautiful Morning." Their ever evident R&B roots fueled such instant classics as "I've Been Lonely Too Long," "Carry Me Back" and "Love Is A Beautiful Thing." The band evolved artistically and politically, reflecting the times. Songs like "People Got To Be Free" "A Ray of Hope" served as uplifting anthems for the peace, love and brotherhood movements.

But it wasn't all peace, love and brotherhood within the band. The original group had fractured by 1970, following a hugely successful five-year run.

The Rascals channeled an earthy, powerful East Coast energy that went unrivaled until the emergence of Springsteen's E Street Band. It was that group's Steven Van Zandt who inducted his idols into the Rock and Roll Hall of Fame in 1997. The four Rascals reassembled to perform a medley at the ceremony. Then they fragmented again.

With climate change, who knows if hell is going to freeze over? So the least likely occurrence, until recently, seemed to be a lasting reunion of the four original Rascals.

But sometimes rock 'n' roll miracles do happen.

In 2010, 40 years after the split, the fantastic foursome reunited for a full set at the annual Kristen Ann Carr cancer research benefit at Robert DeNiro's Tribeca Grill. Bruce Springsteen and Van Zandt joined The Rascals on stage.

Van Zandt was determined not to let the magic die again. He immersed himself in creating the perfect showcase for the band. The resulting epic multimedia extravaganza, "The Rascals: Once Upon A Dream," became a 2013 Broadway smash, earning rave reviews. It was produced by Van Zandt, Maureen Van Zandt and Marc Brickman. Maureen Van Zandt, Steven's wife, had been a key figure in bringing The Rascals back together for the 2010 benefit. Just when it seemed like the band would not reunite at that point, it was Maureen who urged Steven to try one more time. And finally, fortunately for all of us, he convinced The Rascals. Steven Van Zandt and Brickman co-directed the monumental "Once Upon A Dream" production.

Now The Rascals are touring with the show. Upcoming engagements include Los Angeles' Greek Theatre, Oct. 10 and San Francisco's Warfield Theatre, Oct. 11-12. Phoenix, Chicago, Detroit, Binghamton, Rochester, Buffalo, Syracuse, Albany and Atlantic City are among subsequent stops.

The band members are grateful to Van Zandt. Cavaliere tells Pop Culture Classics, "Steven put a tremendous amount of effort and a tremendous amount of determination into it. A lot of money, too, to be honest with you. He went to bat. And healing processes had to take place here. And, let me put it like this - some people weren't in the best of health. And he was able to help them. It's kind of an amazing story, the background of this, as much as the foreground. It's something that most people would not even dream of doing for another group or another entity, who didn't have their act together, so to speak. So he made it possible for it to work. And you've got to give him credit for that. There's no doubt about it."

Brigati tells us, "My daughter has a phrase, that Steven wrestles alligators. He has no brakes and no reverse. He's been a fan. And he's put so much into it. He knows every lick. He probably remembers more than we do about everything," he laughs. "He's been a real advocate and staunch defender. With the billions of people on the planet, he's the only one that had the insight and the intent and professional wisdom. This is the first time we've been really invested in."

Cornish says, "Like Eddie Brigati always says, Steven Van Zandt is a therapist, a psychologist for us. Basically, what he did was, he went to each one of us individually and found out each one of our idiosyncrasies, why we wouldn't want to do it and why we would. And then dealt with that, then put it all together and really put to rest whatever problems there were between us and came up with the perfect solution and the perfect show."

Describing this perfect show, "Once Upon A Dream," Cornish says, "It more than captures the music. It tells the story of how we started, how we thrived and became successful and some of the reasons why we disappeared overnight. It really allows our fans to find out what the hell happened to us.

"Stevie came up with a script, draft number 30, worked on it for two years," Cornish says. "And what it does, it brings us together on stage. This is not 'Jersey Boys.' We have the real Rascals on stage. The 'Jersey Boys' don't have Frankie Valli or any of The Four Seasons. We have all four alive, well, functioning and playing at the top of our game. We don't leave the stage. We do 30 songs. And interspersed between the songs are filmed segments in which we talk about each other, about how we got started. We talk about our politics. We talk about our music, our deep love and dedication to R&B music. We even have some young actors on stage, who portray us when we were younger, describing how we recorded some of the songs. And it gets into some of the lawsuits, lack of management at the time. There was a lack of adult supervision," Cornish says, chuckling. "And of course, we have the great songs written by Felix Cavaliere and Eddie Brigati. And Steve Van Zandt has put this thing together and treats us better than we were ever treated in our careers before."

Cavaliere says, "Our story is on a huge screen, with a magnificent light show, performed by one of the producers, Marc Brickman. Marc has done U2 and Pink Floyd. So it's exceptional. You get a chance to see and hear and be entertained with our story. So it's pretty far out."

The Rascals' sound is stronger than ever. Cavaliere says, "Steve brought in extra singers, which really, really helped. So the vocals are really phenomenal. And an extra keyboard player to do the horns and the strings. And, you know, we never had a bass player. So I brought in my bass player, who has really been helpful [in the old days, Cavaliere's Hammond organ filled in the bass lines]. So we have a nice entourage up there. And it's good, because, basically, you have to really adhere to the modern kind of sound now. Everything's so scrutinized. And we do it live, but still, it's pretty cool."

Drummer Danelli says, " It took a long time in the making, but it's paying off wonderfully. It's working really great and I'm having a ball. We're just really having a great time doing it. It's a different type of a presentation. It's just a lot of fun, a really good time."

The four cooked up The Rascals' musical stew by simmering together diverse ingredients. Jersey boy Brigati, who was vocally nurtured by doo wop, says, "Felix had had classical training. I learned by fear, by ear. And Dino was a street urchin. Gene came out of Canada and he said he's 'the white white guy.' So this is a good lesson in the cross section of people getting together and creating. We were young. Our mentality and expectations were that everything was going to be wonderful.

"My biggest influence was my brother, David, who sang with Joey Dee and the Starliters. He still is my influence. He's a savant. Sometimes he's an idiot savant," Brigati quips. "My brother goes back to 50s a cappella. We come from rhythm & blues, The Flamingos and The Heartbeats and all the beautiful harmonies from the black Americana background. And from Frankie Lyman, I emerged, up to Johnny Mathis. We're singers and that's a different metabolism than, say, musicians. So we come from an oral storytelling. We have a wonderful history."

Cavaliere says, "I went through the gamut, being brought up in New York City. I was very fortunate to have Alan Freed here [the disc jockey who coined the term 'rock 'n' roll']. So I heard everyone, the people like Ray Charles, Marvin Gaye, Smokey Robinson and all these wonderful singers and groups. And I learned from them all."

Fellow New Yorker Danelli brought a different flavor. "When I first started playing, I was more jazz-orientated. But then I discovered rock 'n' roll early on and that kind of changed things. I brought a lot of jazz influence into the band, when we first started. It carried over well. I just manipulated things around and made them rock 'n' roll-orientated, rather than jazz-orientated. So it was a good history there, a good base for me to go off on. And it's worked. It's worked really well over the years."

Cornish, originally from Ottawa, Ontario, Canada, moved to New York City from Rochester with his band The Unbeatables," who recorded a novelty single, "I Wanna Be A BeatIe." "I was into rockabilly a lot, and rock 'n' roll. Basically, my influence was very white-oriented, Ricky Nelson's guitar player, James Burton, and Scotty Moore, with Elvis Presley. And Duane Eddy. When I came to New York, I was exposed to the great R&B influences. I just absorbed it all like a sponge. It came natural to me. And when I met Felix and Eddie and Dino, I learned a lot more as far as R&B music."

When the original Starliters disbanded, Cavaliere, Brigati and Cornish all played in the new group Joey Dee put together. They learned a lot about the music business. "Yeah, both positively and negatively," Cavaliere says, laughing.

"I learned that all that glitters is not gold out there," Cavaliere says. "I saw an organization that was, I won't say dysfunctional, but pretty darn close. And I realized that this business was quite different from the kind of professionalism that I was thinking that it was by being a student at Syracuse University, going into pre-Med. It was kind of haphazard, the way it was done. I learned that it's a different way of thinking, a different way of being governed. You have to be very, very self-governed, very self-disciplined. Yeah, it was an interesting experience."

One of the interesting experiences was having The Beatles open for Dee in Germany and Sweden. Cavaliere says, "I said, 'Wow, this is pretty interesting.' And, I hate to say this in print, but they weren't that great. I think they were more of a singing group, than a playing group. Their playing was okay. But the cats that I was around, back home, there were some serious players. But The Beatles' singing impressed me. And their lighting impressed me. You know what I'm saying? So I thought, 'Well, I could do this! I could put something together and do this.' You know, you have that wonderful, childish naiveté - 'Sure we can do this. We can conquer the world,'" Cavaliere says, laughing. "And basically, that was the driving force, saying, 'It's not that difficult to see.' Joey Dee's group, again, gave me some kind of logic as to what goes on in the music business. Now he, on the other hand, had really good musicians. And he also had good singers. And so I said, 'Okay, well, this can be done."

Danelli was the only Rascal who didn't play with Dee's band. "Everybody else was with Joey, except me. I was playing up the street in a place called The Metropole, a jazz club, and they were down four blocks away at Peppermint Lounge. Joey Dee's band, actually, was an influence on The Rascals, instrumentally, because we kind of adopted the same instrumentation. You know, they had the Hammond B-3 organ. That was a very, very rare thing in those days. I can't remember anybody who had one, other than Joey Dee at that point, '63, '64. No one was using it in rock 'n' roll. And then, when Felix joined Joey, he brought that in, he played in Joey's band. And then we just carried it over into The Rascals, when Felix and I got together."

Cavaliere and Danelli teamed to give the band a formidable core. Cavaliere says, "The rhythm section was like a real powerhouse behind everything. And Dino was exceptional. Still is exceptional. He has a very unique way of playing. He's kind of like a fire engine coming down the street with full alarms on."

In addition to Danelli's spectacular drumming, he displayed dazzling showmanship, twirling his sticks, tossing them in the air and catching them. "That came from my early days," he says, "learning and playing in jazz clubs and things. I saw a lot of great musicians that I picked up a lot of things from, a lot of showy, flashy people. And I just brought it into rock. And it worked great."

Brigati says of Danelli, "Dino is wonderful. He's always been an incredible amalgamation of all the drummers. He sets his cymbals like Sonny Payne. He overhand-drums like Gene Krupa. Buddy Rich. They were mentors to him. They all gave him something. Lionel Hampton, the twirling of the sticks. Willie Davis, from Joey Dee's group, the robotic look."

Brigati's plaintive voice could send chills up the listeners' spines. Cavaliere says, "When I was putting the group together, my thought was to get the finest singers I could find. And Eddie really filled that bill, especially in the old days. He was phenomenal. And over the years, his brother came in to be a tremendous help, because he had sung with Joey Dee. So we had good vocals. We had good musicians.

"Gene somehow fit into the mold," Cavaliere says. "It was kind of unique, because he really didn't have any idea of R&B or soul playing, until he came with us. And then, all of a sudden, he was playing that stuff like he'd been playing it his whole life, giving it his own feel."

Cornish says, "I came to New York with my group The Unbeatables and we played The Peppermint Lounge, which was a club that Joey made famous three years earlier. When his band broke up, Joey was putting another band together and my group had broken up. But I wasn't going back to upstate New York. And he offered me a job with his comeback band. It didn't have any of the original members. Felix joined. He had played with Joey before. The Beatles had opened for them. Joey had hit records. The Beatles didn't have hit records yet.

"So, when Joey was forming this new band," Cornish says, "Felix was in town to go for his army physical, which he luckily failed. So he joined. Eddie replaced his brother David, who was an original Starliter. And myself. After about six weeks, we were playing with Joey, we didn't tend to get paid, for some unknown reason. So Felix said, 'Forget this.' And he suggested that we start a band ourselves. He knew this drummer, Dino Danelli. And the first rehearsal we had, we learned 26 songs. So the magic was there from day one."

There's no denying chemistry. Danelli says, "We knew the first day that we got together and rehearsed, we knew that it was going to be something very, very special. Yeah, it was there from second one, from the first second till the end. It was just magical. That mix was just really, really cool. If it hadn't been for that combination, those elements, it wouldn't have been The Rascals' sound. It was amazing. We just clicked. That sound was there right away, not fully developed, but just the meshing of all our styles, that was just immediately evident there. It was different from anything that had been in rock 'n' roll before. Yeah, it was very, very apparent to us. We didn't know where it was going to go. We just knew we were going somewhere."

Adds Brigati, "Everybody was tops in their zone. Dino is a painter. Dino is an incredible artist. When you see him play his drums, he's painting colors. He's splashing and bashing and fluttering. He's got that power. And Felix is an excellent player and unique singer. And Gene is an excellent accompaniment. Everybody was unique. And what happened was, we were a kind of ragtag personalities that backed into each other."

Cornish says, " it was pretty painless. It was just so automatic, because I guess we had what it took. We had the right stuff, as they say."

Cavaliere says, "It's kind of like, they say you're soulmates, etcetera, etcetera. Some things just work. So stuff like this just happens, as far as that unique blend of people. I really can't explain it. But any group that has been together and been successful, they have it."

From the start, response to The Rascals was wildly enthusiastic. Cavaliere recalls, "In the show, there's a little bit about when we first started playing together, which was in my father's basement, which happened to be right across the street from a high school. The first time we ever played together, there was a crowd outside. People heard it. There's something to be said for that kind of magic, or whatever you want to call it, that's a bonding between a certain group of people."

Cornish says, "It wasn't difficult at all. From day one, we were drawing crowds, even in New Jersey, in this little club. And we were offered this gig at a club in the Hamptons, called The Barge. And The Barge, that year, was on the same equal level to what Studio 54 was in the 70s. It was the place to go. And Felix knew about the Hamptons. He knew that all the rich people from the record companies spent their summers out there. So it was a perfect showcase there. When we started playing out there, we got about 10 or 12 record offers, even before we met Sid Bernstein. And we met Sid Bernstein in the middle of that gig, which lasted a whole summer. We were introduced to him about two weeks before he had The Beatles at Shea Stadium. And he signed us. And then all hell broke loose. They started a bidding war and we wound up on Atlantic Records, thank goodness. They allowed us to produce ourselves. And our first single went Top 40. So it wasn't a struggle. It was working for us. And the second song was 'Good Lovin',' which was a cover version of The Olympics. We were doing that on stage for almost seven months before we recorded it. And we knew it was a winner. Then after that, we started writing ourselves."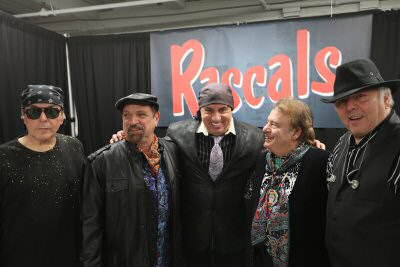 The Rascals Today
Left to right, Dino Danelli, Felix Cavaliere, "Once Upon A Dream" writer/producer/director Steven Van Zandt, Eddie Bragati, Gene Cornish Photo by David Rohde

The road was smooth, except for a little bump over the name. Cornish explains, "We were The Rascals, when we first started out. Once we had a record deal, and the record was about to come out, there was a group called The Harmonica Rascals, a novelty harmonica band, who appeared on 'The Ed Sullivan Show' regularly. And they sent a letter of cease-and-desist. We had been getting a lot of publicity in the papers. We were the number one local band in New York, drawing lines around the corner to see us. And without telling the band, the record company and Sid Bernstein, our manager at the time, decided if they put a word in front of 'The Rascals,' like 'Young,' they could get away with it and not have a legal problem. So, when the first record came out, we were very traumatized to see the word 'Young' - 'What is this about?' By the time we released 'Groovin''" we were able to drop the 'Young.'"

In early performances, The Rascals wore Little Lord Fauntleroy-type outfits. Cornish tells PCC, "We wore those before we were The Rascals, actually. Eddie came to the very first rehearsal wearing knickers. We were discussing, before he got there, what should we wear? Should we wear a suit like The Beatles, which we didn't like? Should we wear jeans? We didn't like that idea too much. Then Eddie walked in with the knickers and he had a funny little shirt on. He was kind of a character. He was the Harpo Marx of the band and he just did it goofingly. And we fell in love with the idea, so we wore those for like the first year."

In the beginning, The Rascals relied on cover tunes, but revved them up with their own special sense of urgency.

Cornish says, "We would look for songs that R&B artists were releasing, but not getting airplay. R&B artists were not getting the fair airplay that they wound up with later on. Of course, The Animals, The Stones, The Beatles, they were exposing certain black music to England. Basically, we always felt the depth to R&B music. We knew the songs were not getting airplay. And we knew we could do the songs justice. So we did them and we lucked out with them."

Danelli and Cavaliere constantly scoured record shops, seeking obscure tracks. Danelli remembers, "I always went out in New York and went to stores to find records that were kind of unknown R&B stuff that just sounded like it might have been good. We found 'Good Lovin'' that way, a tune The Olympics had recorded, and 'Mustang Sally.' A song called 'Temptation's 'Bout To Get Me,' was like unknown to almost everybody. And we just listened to them and, if we liked them, we put them in The Rascals' show. And 'Good Lovin'' developed into a smash hit. 'Mustang,' too, really. But we kind of gave that one away to Wilson Pickett," he says, laughing.

Once "Good Lovin'" tore up the charts, The Rascals swiftly established themselves as one of rock's best and most popular bands.

Danelli says, "It was a whirlwind. It was just a blur. It just happened very quickly in those days. We were only teenagers still. We were kids. And it just hit us like a hurricane. It just took us along with it and we just rode the whole thing. The five or six years we were together just went like wildfire. It was over before it started. It was a great experience, but just wild and chaotic. And very prolific. We created a lot of music in those years. It was very productive."

Soon The Rascals were appearing on such top TV programs as "The Ed Sullivan Show." Cornish says, "Sid Bernstein knew Ed Sullivan, because Sid Bernstein really discovered The Beatles in America. He saw them on a 15-second clip on Jack Paar's show. Beatlemania was already going on in England. And he read about them in the London Times and told Ed Sullivan about them. And Ed Sullivan happened to be going to England and saw the ruckus at the airport one day and booked them for three shows. Then Sid Bernstein had them at the Carnegie Hall for three shows and then finally talked Epstein into putting them into Shea Stadium. So it was a lucky situation, where Ed Sullivan, when we had 'Good Lovin'' number one, couldn't ignore us. We were a local band and he knew Sid. And we really were a phenomenon already. And we also did 'Hullabaloo' five times. Sid Bernstein, our manager, was also the talent coordinator for 'Hullabaloo.' So it all connected together. The producer and director of 'Hullabaloo' used to see the band before it was signed. So they loved the band to begin with. So our live performance is really what drew everybody to us. And then once we had a hit record, it just was automatic."

Soon Cavaliere and Brigati became a top-notch team of hit songwriters. Cavaliere says, "That evolved, because I would listen to people like Ray Charles, who wrote his own songs, Smokey Robinson wrote his own songs. Berry Gordy wrote songs for his labelmates. And Jackie Wilson. People like that. And so I thought, 'Let me give this a try.' Why not?

"The way it worked, especially in the beginning, I wrote the song and I wrote the title, and I kind of wrote the chorus," Cavaliere says. "And then we'd have Eddie do the verses. He'd do the lyric on the verses, because I really felt that he was better at it than I was. And in the beginning, I was like the overseer. I kind of collected a younger brother's stuff. Then, after a while, he kind of rebelled against the younger brother thing. He wanted to be on an equal par. We started to run into a little trouble, when that happened. But still, that was the process. I would write the the song and usually bring it in to Arif [producer/arranger Arif Mardin] to listen to and see what he thought of it. And then fill in the blanks. He and I would do the arrangements. It was a wonderful collaboration with Arif Mardin and Tom Dowd [legendary engineer] there."

Brigati says, "How it originally developed, from my point of view, Felix said, 'Oh, I can't write lyrics, I can't write lyrics.' And he had bodies of songs that were developed within everybody else's view. Dino gave us 10 heartbeats per song to select from, all the flavors and the colors. And my initial thing to Felix was, 'Tell me in a word or a sentence, where you want this to go.' And what happened was, he started that process and we took it from there and started developing the dialogue. And, in hindsight, I would liked to have started some things off verbally. I offered lyrics. But the process was already established that the music came first. And then we wrapped lyrics around it. It was inspired that way.

"The tremendous part of it is that no two Rascals songs are alike," Brigati says. "They're so different. They're paintings. Each one different colors, different intents. And they cover the whole spectrum."

The songwriting duo's talents matured and mirrored the times. Boomer bands had a special connection, amongst one another and with their audiences.

Cavaliere says, "I think all of us, in those days, were really living our lives in public. I know The Beatles were. And, for the most part, most of the groups were letting you know where they were at. And that's what I like about our generation. We had no internet. Basically, we had no computer games. We had music. So everybody kind of grew up together. We went through our puberty together, kind of. We went through our breakups together. We went through our experimental stages of drugs together. We went through our divorces. And that link is still there. That bond is still there."

Brigati says, "As we were writing, we were experiencing our times. Everything that was going on around us came into our music and our writing. We reflected all of that. Kind of a sign of the times, so to speak. We traveled a lot and soaked it all up and interpreted it all into music. That period, like '65 to '70, it was maniacal. The world was like blowing up. And we were just in it.

"We were experiencing everything that was going on," Brigati continues. "We would see and hear everything that was going on around us, even like, where you are, on the West Coast, we felt the discoveries that were going on out there. I mean that whole counterculture from San Francisco, all of that was a very big part of our music. We kind of show that in our new presentation. It's all there, which adds to the fun. There's a lot of psychedelia in our show."

Brigati says, "I believe that artists are newscasters and they're projecting news that they came from, what neighborhood they came from, what was it like. And what are you going to do about it? Picasso comes out of the wars and people like that, they're catalysts. They're painting and creating works of art that really project their environment. They're probably the contemporary pulse of what's happening to them."

There was a healthy sense of competition among musical artists of that Golden Age, the 60s. It lifted them to greater heights.

Cavaliere says, "Oh, absolutely, yeah. I always felt that we were listening to one another. Now, whether that was true or not, I don't know, but I was very aware of what was coming out of England. And our friends, of course, and rivals at the time, The Lovin Spoonful, they were the New York-based, I would say, competition. They were mostly on the East Coast. But they were the kind of folkies and we were like R&B guys, so there was really a separation. But we're from the same city and we've become fast friends. John is a good, good friend of mine."

The Rascals themselves became more than friends. They were like brothers. Cavaliere says, "I think, especially among Mediterranean people, there's a tremendous urge to create a family. You're partners, you're working, etcetera, etcetera. And I always felt that there was that type of a bond there. Our families used to get together at the holidays and there was a camaraderie there. However, in the long run, and I guess the same happens in families, it didn't hold up. And now it's coming back to where we're kind of together. So there's kind of a little bit of a reluctance to try to get into that 'Let's have Thanksgiving together' kind of feeling. And there's more of a business approach, rather than a naive approach to something that may not happen ever again. You know? A lot of water went under the bridge, as they say."

Eventually, the bridge collapsed. Brigati left the group in 1970, followed by Cornish in 1971. Cavaliere and Danelli pushed forward with two more Rascals albums. They included some compelling new material, adding more jazz and gospel flourishes, but those releases didn't make a significant chart impact.

Of The Rascals disintegration, Brigati says, "We did have a long run, five years. And somewhere in between, got misappropriated, mismanaged, misdirected."

Cavaliere says, "Well, you know, it kills me, when I talk about this. He doesn't want people to know what happened there. I don't know. I think it was just kind of like misunderstandings, jealousy, ego, those kinds of things. There were no real conflicts. We never had anybody embezzle anything or anything like that. There was just really a lot of misunderstanding, I think. And it's an interesting story that, when I write my book, I'm going to let the world know what my opinion of it is. But when someone doesn't trust anyone, there's a seed planted. And if that seed is allowed to grow, there's trouble. I really feel that's what happened with us.

"You've got to come in with a clean slate to any partnership, a marriage or relationship," Cavaliere says. "And if you don't have a clean slate, or if you really, really, genuinely have some issues, you're going to have problems. And I really think that's what happened here. Even though we were very young, there were some issues floating around from past relationships. And that permeated the scene so to speak. I spoke to Paul McCartney years ago. He said to me, 'Do you realize how young we were, when all that was going on, man?' Because we all have kids that age and older. We were babies. And with no real experience of having a business and running a show, so to speak. It was all experimental.

"Our manager just passed," Cavaliere says. "And there's an interesting story there, as well. In the beginning, we had two managers, one was a business man [Marty Erlichman]. And the other one was Sid Bernstein. The business man, who kind of discovered us and brought Sid in, quit after the first two albums. He actually went on to film, to Dustin Hoffman and Barbra Streisand management. But we lost that business guy, you see? And Sid, rest his soul, he was a different kind of guy, but he was not a business guy. And that's what we really needed. We needed somebody to keep all the troops together, to keep everybody on the same page."

Cornish says, "We just disappeared unceremoniously, as if a trap door had opened up under us. There were some minor difficulties, as far as as too much pressure on the band, at the time. In the 60s, if you were making three singles, you had to come up with one every three months. And we somehow came up with 17 in a row. But that took a toll after a while. We were working 11 months out of the year, six days a week, a least. Four days in the studio, two days on the road, and one day we had off, on Sundays. That's where 'Groovin' On A Sunday Afternoon' came from. We only had one day off. So there was a lot of pressure on us.

"A lot of pressure," Cornish says. "Young success. Lack of management. At one point, we outgrew our management. We became much stronger than our management was. And basically, too much pressure. And instead of taking a break, we just split up. Some bands just take a break, like Crosby Stills& Nash Or The Stones. But generally, you couldn't take a break in those days. It was so competitive. And if you turned your back, another band would take your place."

Cornish and Danelli joined forces again in the under-appreciated rock band Bulldog, as well as Fotomaker. Danelli later played on the first two albums by Van Zandt's group Little Steven and the Disciples of Soul. Brigati recorded the "Lost in the Wilderness" album with his brother David, in 1976. Cavaliere released some fine solo albums that didn't receive the attention they deserved.

Cavaliere says, "I don't think I'm alone in that respect. I think most of the artists go out there from a group and they have a tough time. The only exception I know is Paul. Paul is just a different echelon. But even Jagger, everybody, they never ran out of the group and had a big success. Because the public, they want the group back. Even Bruce, when he disbanded the E Street Band, there was an outcry. And they put them back together and, my God, they're conquering the world now. They're huge."

In the afterglow of a Rascals appearance at the 1988 Atlantic Records 40th Anniversary Celebration, Cavaliere, Cornish and Danelli participated in a brief reunion tour. Brigati decided not to be part of it.

Cavaliere says, "One of the guys just didn't come around. He didn't come around in any way, shape or form, for many years, until we got to the Hall of Fame in... our induction happened to be in Cleveland. And it just seemed to me that, for one reason or another, he didn't want to work. And I never stopped working, pretty much, from the breakup of the band till the present time. But you know, he has come back. And that's really quite a thing."

They were all present for their Rock and Roll Hall of Fame induction. But so was the friction. Cavaliere says, "Well, that was... I don't know quite the right word to use, but it wasn't exactly a pleasurable experience, on all counts. What should should have been a pleasurable experience on all counts, was not. That was in '97, which is quite a while ago. It's amazing, you look on a calendar, you see how many years go by, it's kind of hard to even fathom. But, I must say, if that was any indication of what was to come, no, that was not good."

Danelli says, "That was great. But that had nothing to do with anything, really. That was, just by itself, a separate issue. It was great to be inducted like that. But we didn't know if that was going to continue on. It was a just a one-night, one-shot kind of thing. It wasn't really a concert. We played like little snippets of songs. We did like six or seven songs in a couple of minutes at the Hall of Fame. It was a nice evening, but it didn't go any further than that. There was no thought about getting back together at that point."

If you wanted to experience the band's classics live, you had to rely on performances by The New Rascals (with Danelli and Cornish), Felix Cavaliere's Rascals or Eddie and David Brigati's The Boys From The Music House.

Then came the 2010 Kristen Ann Carr Cancer Foundation benefit. "That's when the seed was really, really, really planted," Cavaliere says. "From then to 2012, Steve was working on what was to become 'Once Upon A Dream.'"

Cavaliere continues, "Yeah, I really never dreamt it would happen, because of the amount of work and the amount of needs that everybody had. And it did. There were brief reunions of one sort or another over the years, but never anything like this."

And the musical electricity happened again. Cavaliere says, "The rehearsal structure was so stringent. We did so much rehearsing. So we knew we had something. You could tell by the crew. You could tell by the people that came in as guests, during the rehearsals. I can't explain that. But that's what happened."

Cornish says, "We turned down millions of dollars for years. We didn't find that the true motivation to do something, although most bands do. We wanted something a little more special than just the oldies circuit. And Steve figured out how to do that."

Brigati says, "There's nobody like overseeing it that isn't involved in it. It's more from the artist's point of view. And that makes it authentic. All the people involved in it are artists. Steven's an artist. Marc is an artist. It's the same language we're speaking. Everybody's on the same page. Finally, after half a century of marination. We're so overwhelmed at this success, as it is, that it's a delicate balance. And that's new. Steven's been a wonderful musical director. He's neutral. And he's given it even more. For example, we never had enough singers. We never had a bass player in five years. And the sound is more opened up now.

"And there's our story unfolding up there," Brigati says. "I turn around to the screens and watch it and go, 'Did that really happen?' As much as possible, it captures our lives. Steven said he can't redress everything 110 percent, but maybe it's 102. He's fantastic."

"In the first go-round, there was no marketing strategy," Brigati says. "We didn't experience that grown-up stuff. There was minimum management, no budgeting. It was unsophisticated. This was before Wall Street found out about catalogues. So this has become something that's really above and beyond whatever wonderful success we had originally."

Danelli says, "Stevie didn't have to do a lot of convincing, after we did that tribute to him [the 2010 reunion show]. Playing together was just magical and we just wanted to continue. We sat down with Stevie, because we didn't really want to do just a classic, oldies presentation, and came up with the idea and worked on it for about two years and tweaked it and tweaked it, until we were all happy with what we were going to try and do. We didn't know if it was going to work or not, because like I say, it's different from a concert, so many stops and starts, intercutting all kinds of multimedia things, narration. So the show was going to take some digesting from the audience. We didn't know if they were going to sit through two-and-a-half hours. But they are. They're loving it. It's working like a charm. It's wonderful to see that. The great thing about it is that we can see. I've spent the last 40 years in front of heavy spotlights. I could never see past the first three rows. But now with the screens that are in back of us, they light up the audience. We're kind of in silhouette. We're in dark. So we can sit there and watch everybody react to what's going on. And it's great to see that, to see their faces. It's great to watch that stuff. They're moved. They're laughing and crying. It's wild. It's a new experience for me to see them all reacting like that. For us, it's part of the show," he laughs. "It's great."

Cavaliere agrees, "The part that has really touched me, is hearing the audience's view of what that music, that time, those stories mean to them. It's really been very amazing."

And the amazement grows. "Every night, we're discovering new things," Danelli says. "The playing is getting better every show. We just came back from Canada. We had two weeks there, sold out every night, a great classic theatre in Toronto, and our audiences were fabulous. It's just growing and growing and just getting better. We're all playing wonderfully. And Felix and Eddie are singing great. Everybody's just on their game. It couldn't be going better.

"We had gotten to the point where, 'Well, it looks like it's never going to happen, but if it does, we'll maybe take advantage of it, if it's right.' And we just kind of cruised along, not knowing, but when Stevie came in, he had the understanding of everything that was really convincing for everyone, that we could do this properly," Danelli continues, "because, you know, he's a fine musician, he has experience in all the stuff that we needed to have experience in, putting together shows and stuff. He brought Marc Brickman in, which was a wonderful thing. And just the collaboration, a three-way thing between, Stevie, Marc and The Rascals, is just great. It's working. We're really compatible in our thinking. And the way that we're working together is just super. So that was it. It was just waiting for the right thing, the right situation to come about. We just didn't know if it was ever going to happen again or maybe we would be lucky enough for something to happen. And, sure enough, it did."

In addition to the enduring hits, the show features some deep tracks. Danelli says, "We've gone into the closet and dug out a lot of songs that we never even played when we were together. They're fun to play. Like the song 'Find Somebody,' has like a San Francisco, maybe Jefferson Airplane influence a little bit, of that period. And we're doing a great, jazz kind of song called 'It's Love,' that we never played in the old days. The beauty of that song is in the screens that are on behind us, while we're playing. It's a love song, but while we're playing, you see the fields are burning in Vietnam, it's playing parallel. And it's completely the opposite of what the song is. And those two elements work against one another really beautifully. It's beautiful imagery on screen, beautiful color, documentary footage that Marc and Steve put together. And we're singing a love song in front of it. And it works great. It mesmerizes the audience. It's near the end of the show."

The entire band had to gear up for the demands of the production. For Brigati, it involved extensive physical and vocal workouts. "Man, I stopped smoking about three years ago. Steven told me to stop smoking. Got a vocal coach. She's wonderful, said, 'You'll sing better than ever.' I said, 'Yeah, yeah, yeah, yeah.' It's true. The discipline. I ran away to fitness protection program at Duke University. And got attention. Physical, psychological profiling. It's something I suggest everybody look into. Every five years, you should go away from everybody, throw your phone in a drawer and take a good look at what life is and what your life is and what your goals are.

"What does your physical body say? What's your diet? Are you up to the physical challenge? Are you up to all the technical things that are going to happen to you? Are you prepared to dive in, so to speak? And I call it the fitness protection program," Brigati laughs. "It's really powerful. Whoever you are, it would be a wonderful thing, for someone to took a time out and take care of themselves. We don't have that now, with the new technology, where your space is invaded, your messages are listened into. Everything is so close. You're being microwaved, as we speak right now. I'm like the last of the hippie generation," he says, laughing again.

The Rascals' music appeals to multiple generations. Brigati says, "We always had that. People took their grandparents and their parents. Grandparents take their children to the concerts. So there's a crossover sophistication. We're singers. We're players. All drummers love Dino. Or they're all fascinated by him, whether they love him or not. Gene is very, very unique. He's had the magical input to all our feelings and our songs. He's a very prolific player. And colorful. We have wonderful vocalists with us - we finally have a real vocal section. It really puts us over the top. It's really something that's been cooking for a long time."

The Rascals' savory sauce is bubbling. And maybe the bonds will form again. This isn't one of those reunion deals with separate transportation and hotels, where the guys only see each other when they step on stage.

Cavaliere says, "Oh, no, no, no. It's not like The Eagles or something. No, it's not like that. I've always wondered how people can do that. With this situation there is a definite kind of a bond. The interesting thing, seriously, the women, the wives, they have a bond. And just like the rest of the planet, man, the women keep everybody together. There's no doubt about it. We didn't have that then. When we were single, we were all testosteroned-up and all that. And I think the female addition to the alliance makes all the difference," Cavaliere says.

Cornish jokes, "We checked our guns at the door last year."

And Brigati says, chuckling, "It's like a family reunion. You don't seat Uncle What's-His-Name by Aunt What's-Her Name. But really, we seem to all get along. There's a very minimum of upstarts. I thought that was my job, and I don't even have to do that now.
The emotional baggage and stuff like that, we were never really real enemies. We don't make good enemies. Everybody in the band, we can be a little quirky. But we love each other. The people go, 'Well, how come you didn't...' 'Why didn't?...' and 'Who was the worst?' All fertilizer. Brand new garden. The guys are great, great, great performers. And we just needed that extra nurturing. We needed that extra directing. Refereeing or whatever. We need that extra analysis to make us professional. And Steven has given us that."

Danelli says, "We're having a good time together. We didn't know what was going to happen. It was always a volatile situation at the end of our career. But that was 40, 45 years ago. Everybody's grown up, buried all those hatchets. Whatever existed is gone. We don't even remember what happened, it's been so long. But it's great now. We're very, very considerate of one another. We're taking care of one another, watching out for our health and stuff. Very, very gentle. And it's really working wonderfully. And so far, everybody's holding up, physically, to the rigors of touring. And it seems like we can sail right through this and take it as far as we want to go with it. There's no struggle at all. We've got a great crew. Because it takes a lot to put this production on. It's quite large. And everybody just works wonderfully. I never had a better experience, in 50 years of playing."

Brigati tells us there's even a chance The Rascals will record new material at some point. "There's more DNA to put into the music world. Like I say, in hindsight, I would have appreciated that the songwriting was more give-and-take. Maybe in the future, we can collaborate on a more even basis.

"I'd love for The Rascals to survive that long. I'd like this thing to develop into that. I have a couple ideas about what I would sing about. I've been a songwriter for the last 40-plus years. So I have a little stockpile myself. It'd be the grandchildren of The Rascals' songs. And where can we go from here? Again, we don't intend to go dark... I hope," Brigati laughs.

The fiery four are eager to bring the Rascals revival to California. Cavaliere says, "We're looking forward to coming out there. We haven't been there as a group - we haven't been anywhere, as a group - in a quite a while. It should be good."

Brigati says, "We have a lot of great friends on the West Coast. And I think even a lot of the friends who passed, and graduated, are going to visit. They'll all be out in the ether."

There's no end in sight for "The Rascals: Once Upon A Dream." Cavaliere says, "I think the long-term goals, from our side of the fence, I would like to turn this into a kind of permanent Broadway fixture, a la 'Jersey Boys.' Without us being on stage and being able to send it out, that would be great."

Cornish says, "About five years after we started the band, we decided at the time to leave it. And I guess it worked out pretty good, because, 42 years later, the demand seems to be stronger than ever for us. We're selling out all our shows. We sold out 15 shows on Broadway, 10 in Toronto. It's growing by leaps and bounds. And we're very appreciative and surprised at the reaction. It's so energetic. Our fans have been so loyal, as if we never went away. It's wonderful."

It's immensely gratifying for The Rascals to know that their songs can still move people, decades after they were recorded.

"It really is, because you never even think about that," Cavaliere says. "You just do the best you can to make good music. And it's something that I've enjoyed since I started playing piano at five. I'm very fortunate to be able to still do that. I know that."

The Rascals make music from the gut that grabs audiences by the hearts, souls and minds. Danelli says, "The show is more than just nostalgia. The way I look at it, I'm not that concerned about how it affects people in a nostalgia sense. I'm more concerned about how it affects people in today's times. What relevance there is to this production and Rascals music in today's world? It transcends time, these songs. In 2013, songs like 'People Got To Be Free' are still relevant. Nothing much as changed. We address it in the show. We have some young actors who are playing us when we were young. They talk about what it was like then and what it's like now. And not a whole lot has changed, as far as race relations and all that stuff that's going on all over the world. So it is really relevant to some degree. But we haven't been out there that long yet. We need to do it a little bit longer, maybe another year, to see where this is going to fall and what kind of relevance we can have in today's pop culture, so to speak. And it's interesting. Because it could be important. It could help people escape their depression, with all the hell they're going through in 2013, and realize that work still has to be done."

Cornish says of "People Got To Be Free," "That is a song that is relevant even now, 40 years later. Everything is still the same out there, basically. A little better, but not as much as it should be. That song was written by Felix and Eddie, based on the world strife, the civil rights movement. We were very involved in civil rights. But we weren't the kind of band that went out and got a photo op doing marches and stuff like that. We said it all in our music. And our policy was that we wouldn't headline a show unless there was at least one black artist on the bill. So we worked in our own way. And we feel the same way still."

"The highest compliment paid to us by Steven is that our work never went dark. We might have been feeling that way, here and there," Brigati says, laughing, "but the work never went dark. And it was done during the Vietnam War and we were trying to put our best foot forward. I sing from my mother's heart, from the female, nurturing and loving place. And the lyrics that I wrote were from that intelligence, that wisdom, that perspective. And it's needed today. It's really absolutely needed. The physics of the world will always be black and white, always be hard and soft, the dualism of it. But we chose to show a brighter side. And it's being recognized now. And we're being honored, if I may say, humbly, by having this opportunity. And it's not embarrassing. I'm not ashamed of my history, my record.

"It's a real gift," Brigati says. "It's the most professional ever, surpassing our historical fame and success. It's very heartfelt, the recognition and all the validation, vindication. It's a really wonderful opportunity. Who ever dreamed? I never dreamed of Broadway. Whoever dreamed we'd play Broadway? Our fans weren't Broadway-ish. This is ringing all the bells. So I'm on board until they throw me overboard or the ship goes down.

"I want to thank everybody for supporting us, even when we were invisible," Brigati says. "We have a tremendous body of work. And it's getting its due. It's being given another shot of adrenaline. And we've left two-thirds of our catalogue home, for this show. So I'm in awe of how much work we did and how complicated it is. This show puts all the dimensions together. And it's the people who vote. And it's that reconnection that's so wonderful. We have a depth of talent and our catalogue is wonderful. The audiences were always supportive, always wonderful. Because it wasn't marketed on a professional level, for years, nobody knew who we were, but they all know the songs. Now it's imbedded, it's in the DNA. Our fans are like friends and relatives now. What's happened is like winning the lottery and collecting for it 50 years later.

"Forty years is a long time," Brigati says. "What happened in a nutshell is that we were brothers and we created a wonderful body of work as children, the innocence of it all. And then, in hindsight - I did the post-mortem, quite a few times - in hindsight, you see how things were divided. Divide and conquer is an ancient rule. And the essence of us was separated. And from that point on, it never fit back together. Humpty Dumpty never came back. And, to be put back up here, where we are now, it's a phenomenal blessing, divine intervention, without getting too religious about it," Brigati laughs. "It's really a wonderful opportunity. It's unbelievable."

In conclusion, Danelli says, "What we've seen so far is that this presentation is very inspiring to people. The music does seem to fit today's times. And a lot of it is just about joy. And it's positive. The messages are all positive. And it's a feel-good show. It's not a depressing show. Even the stuff that's socially conscious is joyous, it has a positive sense. So people are leaving feeling much better than they were when they came in. When they leave the show, they've been uplifted and they feel wonderful, which is great for us. What more can we ask for?"

Ready to feel wonderful? Be part of the "Dream." For more information and tickets, visit rascalsdream.com.