RED MOLLY'S ABBIE GARDNER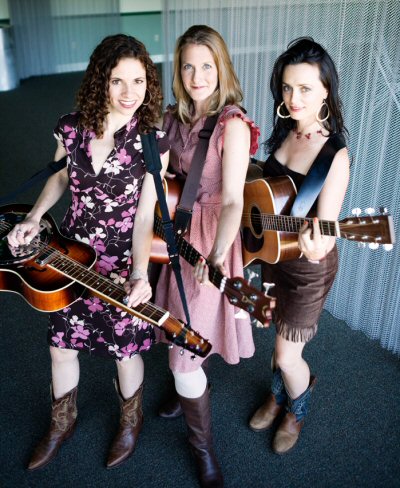 Left to right: Abbie Gardner, Laurie MacAllister, Molly Ventner
Photo by Annabel Braithwaite
By Paul Freeman [May 2011 Interview]
It's not surprising that Abbie Gardner, founding member of the fabulous female trio Red Molly, found music to be her calling. Her father, Herb Gardner, is a well known jazz pianist and trombonist. Dad's love of music was infectious.
"He would eat dinner with us early, with a suit on," Abbie Gardner recalled, "then something like an apron over it, to protect it. He would just giggle, 'Oh, got to go off to work.' Laughing at the idea that it was work. He was always having such a great time. And when we went to see him play, he was always having fun. The guys would do things to make each other laugh during the show and after the show. It always seemed such a joyous thing."
With the Americana group Red Molly, the New Jersey-based Gardner makes both joyful and poignant sounds. The three voices blend in glorious harmonies. Their latest album is called "James."
The names Red Molly and James are both drawn from the Richard Thompson song "1952 Vincent Black Lightning."
James is kind of a composite character, as Gardner explained. "We have all these love songs and the fact that our band is named after a woman's name, we figured, Molly, as a group, is singing to James, this one person. But it's really many people. James is kind of our token guy."
On this, their first self-produced album, Gardner played lap steel for the first time, in addition to her dobro and guitar work. "We like to keep challenging ourselves and that keeps it interesting to the listeners."
Gardner wrote two of the tracks, "Jezebel" and "Troubled Mind." The band likes to mix originals with songs by familiar writers (Bob Wills, Steve Goodman, Nanci Griffith), and newcomers (Johnathan Byrd, Anthony da Costa).
"We like to introduce people to really great writers they might not have heard before. To us, it doesn't matter if they're famous or not, as long as the song is great. We just really want to share good songs, which is such a pleasure. It doesn't matter if we wrote them or not.
"Something about it has to hit us. It could be the melody or the rhythm or the lyrics or how it works with three voices. But it all comes down to emotion. If we love the song and want to keep singing it, that's the key."
Gardner grew up listening to bluegrass music, which brims with harmony. While her father introduced her to jazz, her mother was a bluegrass buff. As a toddler, Gardner attended bluegrass festivals. "I remember being young, running around, getting dirty and dancing to the music. It was tons of fun."
She took up the flute and played it throughout school. "I learned to read music and hear harmonies through classical music, playing the different parts in orchestra. It kind of clarified things for me. I was able to understand a bit of theory through that."
In 2004, Gardner, a Billie Holiday aficionado, recorded a jazz standards album, "My Craziest Dream," featuring her father on piano. She doesn't see jazz and bluegrass as being different worlds.
"Of course there are different chord structures. But there are similarities - the way the instruments are featured, taking solo breaks. They overlap in a lot of ways."
Her diverse musical taste can only benefit her creations. "It makes it more interesting. Then you can do whatever the song needs. You have more to choose from. It's good to have more variety, more options, more tools to work with."
2004 was also the year Gardner co-founded Red Molly. It began when she, Laurie MacAllister and Carolann Solebello were camping at the Falcon Ridge Folk Festival. "We were all at the end of projects or between projects," Gardner said. "We were open to something new. And when we started playing together, it immediately clicked. The biggest thing was the way the voices meshed. We all had strong harmony backgrounds. We also liked hanging out together. It all just fell together naturally.
"When it started, it was just, 'Let's get together and play some songs.' All of us wanted music as our lives, our careers. But we never dreamed that it could be. We just followed what was really enjoyable to us."
Their harmonies are stirring for listeners, but it's even more thrilling to be inside that sound. "It's really great. Lately, we've been working up songs in the car and we're so excited when we find those good notes. You know immediately when it's good. And it feels good."
When the band began, Gardner was just beginning to play dobro. "I started that because I loved the slide guitar, but I was starting to get tendonitis in my hand, from the position of the guitar. My day job at the time was being an occupational therapist, so I knew that if I could find a way to play with my wrist extended, instead of flexed the way it is with guitar, it would be better for my fingers. Going to the bluegrass festivals, I saw Jerry Douglas do it and I said 'Oh, yeah, I can still play slide guitar. I just have to do it that way.' And I loved that sound."
Audiences have responded enthusiastically to Red Molly's heartfelt sound. "The core of it is how much fun we have. But it's also how much work we put into it. Because we love it so much, it's easy to put in a lot of time and effort."
Solebello left the group last August, to spend more time with family. She was replaced by Austin's Molly Venter. "She has more modern pop influences than Laurie and I do. So that's been a great addition."
Gardner has a new solo album, "Hope." It has more of an electric sound than Red Molly's "James."
"It helps me have a place for my other songs that might not fit the band. It gives me the freedom to try different things. But then, when I come back to the band, I'm grateful to have help with things and not have to do it all on my own. So it really keeps everything in perspective."
A music career requires a lot of hard work. But for Gardner, it's still a lot of fun, as well. "The greatest satisfaction is just being able to wake up every day and think, 'Oh, my job is to make music. That's really amazing.' I'm grateful every day for it.
"I'm grateful when people come out to the shows, instead of staying home and watching TV. I know how hard it is to leave your house and find directions and get a babysitter. So we always want to put on the best show that we possibly can... and really make them glad that they left their house."
Artist Website: www.redmolly.com.