RENEE FLEMING:
MOVING LISTENERS — IN OPERA HOUSES, RECITAL HALLS, TV, FILMS… AND ON BROADWAY!
PCC's Interview with the Legendary Soprano, Known as "The People's Diva"

Photo credit: Andrew Eccles
By Paul Freeman [January 2018 Interview]
The great female opera singers are often depicted as pampered and demanding, reveling in their own fabulousness. Opera legend Renée Fleming, however, has always been known for being friendly and down-to-earth, as well as immensely talented. She's glamorous, but unwaveringly genuine.
In a career spanning more than 30 years, she has performed for heads of state and royalty. She has thrilled audiences around the globe with her magnificent soprano voice. But Fleming doesn't seek to be glorified. Often referred to as "the people's diva," Fleming just wants to do everything she can to spread the joy of music.
Fleming has performed at the world's most prestigious concert halls and opera stages, but also in other settings, including the Super Bowl, President Obama's inauguration and the 2008 Olympics in Beijing. She even appeared on "Sesame Street" and sang a Top 10 list for David Letterman. Her aim is to help open up general audiences to opera, removing the sense that the genre might be an elitist form.
She presents a diverse repertoire at her recitals. A recent concert included Handel, Brahms and Oscar Straus pieces, new works by Pulitzer Prize winner Caroline Shaw and an aria from a Rufus Wainwright opera, as well as a tribute to Broadway/cabaret star Barbara Cook, a friend of Fleming's who passed away in August.
Fleming grew up with an appreciation for a wide range of musical styles. Her parents were high school music educators. In addition to singing, she played piano, studied dance and Suzuki violin.
As a vocalist, she earned a master's degree in performance at the Eastman School and continued her studies at Julliard. She made her professional in 1988, in Houston, in "The Marriage of Figaro." She later sang the role of that opera's countess in her 1991 Metropolitan debut.
Her breathtaking voice has resulted in many awards over the years. She continues to welcome new musical challenges. This year, Fleming will star on Broadway in "Carousel."
Already featured on the soundtracks of "The Lord of the Rings: The Return of the King," "The Shape of Water" and "Three Billboards Outside Ebbing, Missouri," Fleming will be heard providing Julianne Moore's singing voice in the upcoming film thriller "Bel Canto."
Fleming has also been busy exploring the relationship between neuroscience and music. She is an Artistic Advisor at Large at the Kennedy Center.
POP CULTURE CLASSICS:
The current concert set — does it span your musical interests?
RENEE FLEMING:
Yeah, ideally, every recital I do is kind of broad. It's obviously music that I really love, but it's also for the audience. We have something for everyone.
PCC:
Even growing up, did you always have an appreciation for a wide range of musical styles?
RENEE FLEMING:
Definitely. Yeah. My parents were both music educators. But I think pretty much everyone in my generation, we all listened to a lot of different things and began this move away from the specialist listener to the eclectic listener.
PCC:
With your parents both being voice teachers, were you imbued with the joy of music from early childhood?
RENEE FLEMING:
Yeah, absolutely. And I remember being very involved with music. She taught piano and voice lessons at home. And I would sit there by the piano. So I would say music was probably my first language.
PCC:
Was it a gradual thing, realizing how powerful your voice could be, in terms of moving people?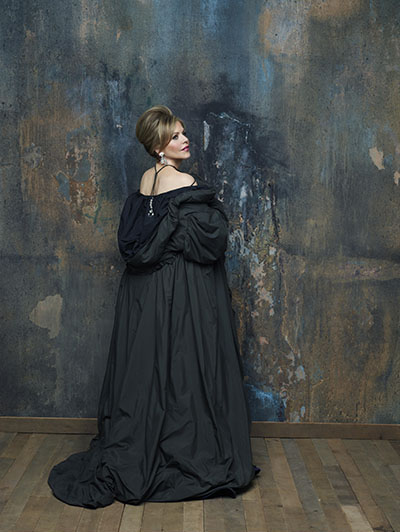 Photo credit: Decca/Andrew Eccles
RENEE FLEMING:
Yeah, I didn't really come into my own as a performer until much, much later. We did perform a lot. But I wasn't a natural performer. I was shy and not particularly gregarious. I liked the study of it. I liked to be in a practice room. So I didn't really enjoy performing until I was already in my professional career, in my late twenties, early thirties.
PCC:
Did you ever have to grapple with stage fright? How did you build up confidence? Did it just come with experience?
RENEE FLEMING:
Well, the exception to that would be jazz, because I really did love singing jazz, which I did with a trio every weekend for a couple of years, in college. And the stage fright really came from a misconception about performance in general. You know, we tend to see the audience as critical, judgmental. You're expecting them to be scoring you.
And part of it is because, in classical music, we belong to this tradition, where we're singing the same music that other people sang for centuries. And you are judged by that. But, in fact, really, once I began to see the audience as just wanting to go out and have a nice evening, it helped. That made a difference.
PCC:
So early in your career, did feel like you were competing with artists who had played the same roles and do you now feel that you're competing with your past performances, your recordings?
RENEE FLEMING:
I wouldn't put it that way. I would say that, as I said before, it was more this misconception about the audience, what their expectation was. And I have learned also to kind of be a vehicle, to be a conduit for music. I think of myself that way. I think of the music flowing through me to the audience, as opposed to thinking of the audience as all eyes on me, feeling exposed in that way… It's hard to describe in a few sentences.
PCC:
Making a connection with an audience, communicating with the listener, was that something that had to be learned and honed, just as you would do with the technical aspects of singing?
RENEE FLEMING:
Some people are really natural, incredibly natural at it. I had to learn it. And I love it now. It's my favorite thing. It's why I tour and enjoy the touring so much.
PCC:
A career in music, particularly in opera, is so difficult, the drive and resilience needed —were those inherent in you?
RENEE FLEMING:
Oh, yeah. Definitely. Absolutely. It's mainly the drive. And with drive, you learn resilience… because otherwise, you give up. And it is extremely competitive. And imagine, I'm from Churchville, New York and in my early twenties, I get on a plane and go to Germany to study for a year, on a Fulbright Scholarship, hardly having traveled outside of the country. And so these kinds of experiences, and particularly the international travel in countries with foreign languages, make you much stronger and more resilient.
PCC:
Is there a constant striving for perfection? Or is there an understanding that there is no perfection in art?
RENEE FLEMING:
There is no perfection, but there's always the striving. Always the striving.
PCC:
In opera, do you enjoy the historical aspect, the history of the particular piece and also the ways an opera might reflect a society's history?
RENEE FLEMING:
Absolutely. I mean, I feel strongly that the more people are connected to the arts, whether it's Shakespeare or Baroque opera, you realize that we're all the same, inherently, as we were 300 years ago. So there's a lot that doesn't change about human beings.
PCC:
The intellectual part of analyzing a song, is that primarily in the preparation stage and then once you're on stage you let the emotions take over? Or does there have to be a balance?
RENEE FLEMING:
It's not even just letting emotion take over, because it's about poetry, it's about sharing sometimes a very sophisticated text with the audience. And how do you interpret it, number one? And how do you kind of make it clear, the intent or the phrasing or the text itself? So recital is very refined. It's not like opera, which sometimes can be broad strokes. This is a very fine paint brush, a song recital.
PCC:
Deciding to step away from full-scale opera productions, did you have mixed feelings about it or were you eager to take on new challenges?
RENEE FLEMING:
I haven't moved away from opera so much as all my old repertoire. As it turns out, I'm spending the next three years basically steeped in theatrical productions, starting with "Carousel." I'll be in the show all year. So it's been a really interesting kind of wonderful departure. But a lot of it's the same.
PCC:
But is Broadway a different sort of challenge for you?
RENEE FLEMING:
Oh, definitely It's going to be a huge challenge — the eight shows a week alone. That's a big departure from what we do. I sort of have to scale my voice down so that I can withstand that, because we aren't amplified in opera. And we're basically kind of human, singing ventriloquists — we're projecting the voice out over the boards and orchestra.
PCC:
And what excites you about doing something like "Carousel"?
RENEE FLEMING:
Just a new audience, completely new experience. It's already so different, right from the first rehearsal. I like to do new things. I like to learn. I'm in three films this season, too, which is a total coincidence, but to be in the soundtracks of "The Shape of Water" and "Three Billboards Outside Ebbing, Missouri" and now the film of "Bel Canto" [thriller] is coming out this year, as well. And that's a substantial part, because I'm the [singing] voice of Roxanne Coss, played Julianne Moore. So these are all new experiences. And it's really stimulating and interesting. And, of course, the thing I love the most right now is this neuro-science and music, learning about that and presenting about that.
PCC:
What fascinates you most about the intersection of music and health?
RENEE FLEMING:
Well, you know, I'm an Artistic Advisor at Large at the Kennedy Center. I have a similar role at Lyric Opera of Chicago. And so I'm really interested in audience development and nurturing young singers and just sort of thinking a lot about what's going on with the arts. And when I met Francis Collins, director of the National Institutes of Health, he agreed that we should collaborate. And it's been a terrific journey. And so I created a presentation.
In my mind, it's sort of the greatest hits of what I've learned, just me personally, about childhood development and music, about research and music and about therapies and music. And so I've put together a short presentation about that that's very entertaining. It's meant for a very general audience. I created it for my audience, so people could learn about this. I just thought they would be as interested as I've been.
PCC:
And so it touches on all the benefits that music can have?
RENEE FLEMING:
Yeah. And it covers, in a very general way, the breadth of this kind of work. Why are scientists looking at music? You've probably seen, as well, a lot of studies are coming out about music and the brain. And that sort of started me wondering — why are scientists studying music? I've learned a lot. I got to sit at a conference table with Francis Collins at the NIH for two days, while people from around the world came and gave presentations.
PCC:
You have to be in top condition to sing as magnificently as you do — is singing also a key to your well being, physical and emotional?
RENEE FLEMING:
It certainly has been. I just took part in a study at the NIH and some of my results were a little bit unexpected, because I sing all the time. So somebody else getting into an MRI machine and singing would be like huge effort for them, but for me, it's like second nature. And it's highly expressive. That's what I love.
Singing is one of those things that's very difficult to teach. Each human being is different. The voice is different in each person. It's also internal. And it's mostly made up of the use of involuntary muscles. So it's really hard to teach. But once you can do it well, it's a joy.
PCC:
Doing these diverse things like Letterman or "Sesame Street or the Super Bowl, is part of the appeal for you that it helps to open up general audiences to opera?
RENEE FLEMING:
That's part of it. Frankly, today, given the amount of information we're bombarded with every day, it's very difficult for classical musicians and the classical arts in general to get any kind of mainstream traction. If people don't know about it, they're not going to come. So it's important for all of these art forms that we try some kind of larger platforms, when the opportunity arises.
PCC:
Do you feel that anyone can appreciate opera, if they just give it a try, with an open mind, an open ear?
RENEE FLEMING:
I don't know if anyone can, but certainly more people… What we're seeing now is that people have no exposure now that music is very inconsistently offered in schools. So there's no kind of seed. On the other hand, performing arts organizations around the country are doing a fabulous job of outreach, trying to really support the community, offer services in a way, as opposed to kind of being the holy temples of art.
PCC:
Do you take pride in being referred to as "the people's diva"?
RENEE FLEMING:
I think that's the perfect oxymoron. I think it's absolutely terrific.
PCC:
As a vocalist, do you feel that there's still more for you to learn?
RENEE FLEMING:
Sure. Absolutely. I just finished a Broadway album, which will come out sometime in the next year. That was a huge learning process, because some of the things I recorded are very contemporary. So I had to kind of say, "Okay, how do people do this? What kind of technique is this, stylistically, in terms of changing text? But you know, I've been doing that for a long time, too. I've done these kinds of recordings in the past, where I've really wanted to learn to sing in a different way.
PCC:
What do you see as the key to opera thriving in the future and not being viewed as something of a museum sort of art?
RENEE FLEMING:
You know, I'm really excited about what Beth Morrison Projects [supporting emerging and composers and their multi-media collaborators], Prototype [the organization's festival presenting new artists from around the world] and National Sawdust [a nonprofit, artist-led venue offering eclectic concerts] are doing in New York. Beth Morrison Projects is now in L.A. and Houston and other places. They're presenting all new works. The Philadelphia Opera, the St. Louis Opera, L.A. Opera — these are all companies that are producing a lot of new works — smaller, shorter, more relevant. And that, I think, is something to be very excited about.
PCC:
For you, what have been the most rewarding aspects of your life as a performing artist?
RENEE FLEMING:
I love the variety of it. I love music. I think it's a privilege to do what I do. The downside is the constant travel. But everything else about it is really fantastic, exciting. And I've been very, very fortunate. I've worked hard, too. But I've also been lucky. I've sung all over the world. And it gives us an entree. We have an entree that isn't always offered to singers of other styles.
PCC:
And what's the effect you most want to have on listeners?
RENEE FLEMING:
Moving them. Absolutely.
For the latest on this artist, visit: www.reneefleming.com.