RHIANNON GIDDENS: SAYING SOMETHING WITH HER ART
PCC Interview with the Carolina Chocolate Drops Singer-Banjo Player-Songwriter
By Paul Freeman [November 2016 Interview]
Yes, itís Rhiannon Giddensí turn. Her emergence into solo stardom has been solidified with the album ďTomorrow Is My Turn,Ē produced by the legendary T Bone Burnett.
On the album, Giddens wanted to pay homage to the female Americana artists who had preceded her. The album includes tracks associated with Dolly Parton, Sister Rosetta Tharpe, Jean Ritchie, Elizabeth Cotton, Nina Simone, Patsy Cline and Odetta. It closes with a gorgeous Giddens original, ďAngel City.Ē
Stylistically diverse, the album draws from folk, blues, country, gospel, jazz and even French cabaret flavors.
She was previously known as the stunning vocalist and dazzling banjo and fiddle player with the trio Carolina Chocolate Drops. Sheís revealing brilliant songwriting talent, as well.
Burnett invited her to join a superstar lineup that included Elvis Costello, Jack White, Punch Brothers, Gillian Welch and Joan Baez for the 2013 ďAnother Day, Another TimeĒ concert at New Yorkís Town Hall. Giddens stole the show with an electrifying performance of the Odetta classic, ďWater Boy.Ē Burnett then suggested collaborating on her solo album.
Giddens studied classical voice at Oberlin Conservatory of Music. Back in her home state of North Carolina, Giddens got into contra dancing, a folk form similar to line dancing. As she discovered old-time music, she fell in love with the sound of the clawhammer banjo. Once she learned the history of the traditional music and its fundamental African-American component, she was hooked.
Giddens gained recognition with Carolina Chocolate Drops. The band debuted in 2005 and won a 2010 Best Traditional Folk Album Grammy for ďGenuine Negro Jig.Ē
Now sheís wowing audiences as a solo artist. She prefers to glide around stage barefoot, which she did even in her White House performance.
Giddens, 39, mother of two, is married to Irish musician Michael Laffan. They divide their time between Limerick, Ireland and North Carolina. She recently won the Steve Martin Prize for Excellence in Banjo and Bluegrass, the first woman and first non-white artist to do so. The busy Giddens has been added to the cast of the TV drama ďNashvilleĒ for its new season.
It seems as if there is nothing Giddens cannot do.
POP CULTURE CLASSICS:
The album ďTomorrow Is My TurnĒ is beautiful, really stunning. At what point did old-time music first draw you? And what was the attraction for you?
RHIANNON GIDDENS:
Old-time music? Gosh, it was when I was first out of college, when I started contra dancing. At home, in North Carolina, thereís a lot of really great old-time music. So I started finding out what that was. And hearing the banjo played that way for the first time, I just fell in love with it. It kind of all opened up from there.
PCC:
Was it the spirit? What was it about the music that resonated with you?
GIDDENS:
To begin with, it was definitely the sound. Thereís just something about the way claw-hammer banjo is played. And then when I learned the history of it, that just really drew me of course - the hidden history of it, the African-Americans who were involved in that music, who donít get any credit today. Of course that really drew me and Iím very much into uncovering what needs to be talked about.
PCC:
So early on there was that desire to awaken people to the African-American component in traditional music.
GIDDENS:
Yeah, because itís huge. You wouldnít have old-time music, if you didnít have black people. Period. Thereís just no old-time music without black people, because the first time the fiddle and the banjo were played together was by people who were enslaved on the plantation, playing for European-style dances and then also playing for their own dances. Thatís where it comes from.
I mean, of course, thereís lots of English and Irish tunes and Iím not saying that lots of white people didnít play old-time music. But when you look at the origins of it, itís very, very well documented that, without the African banjo and without that whole tradition, it would be something very different. I think itís important, particularly because the knowledge of it is so opposite. You know? People think that this stuff was invented in the mountains by white hillbillies, quote-unquote. And thatís just not true. Of course there was cultural exchange between whites and blacks and contributions by lots of different cultures. But thatís just kind of a stark fact about it. And thatís kind of how I like to approach it.
Itís not about reclaiming or any of that kind of stuff. Itís just going, ĎLetís look at the history.í And I shouldnít feel like an outsider in this music [a little laugh]. It is my music, too. Itís American music. It is really the best and the worst about America, wrapped up in all of this music. So to ignore the history, you ignore the tough stuff, but you also ignore the beauty of what America is. And I just think that thatís not good. Especially not now.
PCC:
Youíve mentioned before that music helped you find your identity, as you were growing up in the South. How so? What was your struggle and how did music show you the way?
GIDDENS:
Well, Iím a mixed race person. And getting into the music of North Carolina, which is a mixed music, it is mixed culture, itís made me realize that thatís what I love about being a North Carolinian. Itís a particular mix of cultures and things that makes the state what it is. And thatís kind of what goes into me, too. So musically, itís very easy to see that first and then kind of extrapolate that to my life.
PCC:
And earlier, what led you into classical voice, opera?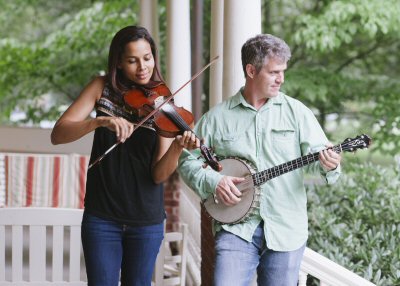 Rhiannon Giddens with Dirk Powell
GIDDENS:
I just really liked it. Iíd heard a couple of recordings. I sang all the time. But I didnít know much about it. It was a real crash course, thatís for sure, learning how to read music and all that stuff. I love it still. Itís beautiful. Iím glad I did it.
PCC:
Studying at Oberlin, what did you take from the formal training that still serves you well even though youíre in other styles of music now?
GIDDENS:
Oh, loads - how to keep my voice healthy, how to enunciate, how to learn things in foreign languages, how to practice, how to stand on stage with nothing but a microphone and command a hall. I mean, really invaluable stuff. I use a lot of it.
PCC:
In what ways did your early years with Carolina Chocolate Drops help you grow and prepare you for your solo career?
GIDDENS:
The Chocolate Drops, it was an incredible experience, to take this traditional music - we play a lot of Joe Thompsonís music, whoís a traditional fiddler from North Carolina - to educate. We do a lot of school shows. Educate adults, as well, by doing what weíve done. And really sublimate yourself to the music, because thatís what a string band does. Youíre a dance band.
And it was really great training, I think, because now in doing my solo career, I donít think itís about me. And I think thatís really important. It should never be about you. It should be about the music and the mission and what youíre trying to say. Itís really easy to get caught up in, ĎOh! A picture of me!í and ĎMy name!í And all that kind of stuff. And I just couldnít be less interested in that. I donít do solo shows, really. My solo shows have my name on them, but I have a band and I value their input and we create the arrangements together. Itís not about me telling them what to do.
Where I think my art comes alive is in my interactions with other people and my collaborations. And Iím always my best person is when Iím surrounded by other really wonderful musicians.
PCC:
The ďAnother Day, Another TimeĒ concert, did you have a sense, while you were on stage, that this was going to be a life-changing performance?
GIDDENS:
No, I had no idea. These things come and you donít know how theyíre going to change your life. You just commit to doing what you do. So a couple of things happened to me that really changed things for me. One was the performance, which kind of put me on the map in some ways and T Bone offering that record. And the other is, itís funny you bring that up, because Iím playing with Dirk Powell for upcoming concerts. That was the first time I jammed with him was backstage at that concert, because he was playing with Joan Baez. And we just found this instant connection as musicians. And two years later, jammed again at this festival, hadnít seen each other since, and started corresponding and started doing music and weíve now produced my next record, which is coming out next year, and co-wrote some songs for that and itís just a really beautiful piece of art that we created.
And so that show, ďAnother Day, Another Time,Ē in so many ways that I wasnít expecting, has really altered the course of my life. And Iím really grateful for that. You canít tell when thatís going to happen. You just have to really commit to whatís in front of you and do what feels right. And if itís meant to hit like that, it will.
PCC:
T Bone Burnettís belief in you, how significant was that in your emergence as a confident solo artist?
GIDDENS:
Well, even in the beginning, I had to have confidence in myself to get anywhere. But having him behind me and heís very good at sort of pushing you out there and you kind of have to sink or swim, but heís providing you with all the stuff that you need. And you have all the stuff that you need. And he knows that. So between the two of you, youíre going to be just fine, if you can trust in that. So that was my lesson - the learning how to do that. Iím very grateful to him. I think heís definitely a big piece of the last few years and Iím very grateful that he saw something in me and wanted to give me a chance to really take it.
PCC:
In retrospect, how would you describe the albumís connective theme?
GIDDENS:
I wanted to pay homage to these women in Americana whoíd come before me and broke down these barriers so I could kind of waltz right in and make a record like this with somebody like T Bone and these musicians, somebody like me, that wouldnít have happened some time ago. So I just think itís really important to be grateful and to pay respect to the people who came before. And thatís what I wanted to do. I had no idea of wanting to showcase my nascent songwriting or anything. I just wanted to show my respect to these ladies and also show all these different, disparate parts of American music.
And we say theyíre different. We put them in different bins. Theyíre really the same. They come from the same well. And they should exist next to each other, like they used to, before the record companies came in and started chopping stuff up and labeling things and saying, ďYou can do thisĒ and ďYou canít do that.Ē So that was the idea.
PCC:
Learning about those artists, did it give you a clearer perspective on your own career and what you want to accomplish?
GIDDENS:
Yeah, I mean, I read all their biographies and autobiographies. And it was an awesome reminder that life is short and youíve just got to get out there and say something. Youíve just got to say something. Thatís what weíre here for. As an artist, weíre not here to make a bunch of money or gyrate on a pole or whatever. Artists are here to say something about whatís going on in their own way, however it is. And whether youíre Kendrick Lamar or Beyonce or Sturgill Simpson or whoever, itís important to say something with your art. And I definitely donít want to waste any time not saying something. Even if itís a love song, I want it to say something.
PCC:
Whatís the direction of the new album?
GIDDENS:
Well, weíll see. Itís a lot more original stuff. And that sound that I put together for ďTomorrow Is My Turn,Ē has kind of morphed and grown. And my banjo has a big piece. It has a big part to play in the new music. And Iím pretty excited about it. I donít know where itís going to go. I donít know what people are going to think. I donít know what box theyíre going to put it in, because it doesnít really have a box. And thatís just the way it is. So weíll see. Yeah.
PCC:
Are there different satisfactions delivering your own songs, compared to interpreting an older piece of great material?
GIDDENS:
Yeah, itís just different. You really have to be careful. That whole ego thing can really get you tied up, when youíre doing your own material. So you have to make sure youíre saying something, youíre telling a storyÖ and that that story wins. The story has to win. You canít win. Thatís not what inspiration is. And thatís not what art is. Itís not about you. So thatís a little harder, when itís your own material. You have to be honest. The way Iíve gotten around that, most of my material comes from stories that Iíve been writing songs about. So itís about voices from the past that Iím trying to give sound to and to show what people went through.
PCC:
So as an artist, you feel a responsibility to enlighten and inspire?
GIDDENS:
Yep. I feel like, not just me, all of us have a responsibility to our inspirations. And me in particular, I find a lot to answers to life through music. Iím a professional musician with kids that donít get taken away from me at a momentís whim. I live a pretty good life. So it behooves me to do something with it thatís meaningful. And thatís what Iím trying to do.
PCC:
Joining the cast of ďNashville,Ē are you excited about that? Is it a new challenge?
GIDDENS:
A challenge? Yeah, for sure. Iíve never acted in a TV show before [laughs]. Theyíre really, really great and welcoming and warm and supportive. Iíve had a good time. They seem happy enough with it. So weíll see what people think.
PCC:
At this point, what are the most rewarding and the most challenging aspects of the life in music?
GIDDENS:
The balance between personal life and musical, the professional life. Iím at the point now where I just want to make music with my friends. Because youíre gone so much, you canít be with people you donít like. You see them more than you see your family, when you tour. Youíve got to make sure that you can incorporate your personal life, even a little bit into what youíre doing.
Dirk and I set up this tour just for fun, just to explore all the music that we do together. We just thought, ďOh, itíll be cool to hang out with our friends for a week and make some awesome music.Ē And also the idea of what weíre doing, the music of America is such a cultural exchange. And we both learned from elders in our own communities. Dirk learned from his grandfather from Kentucky and me from Joe Thompson in North Carolina. A black fiddler, a white banjo player - that is the story of America, really. And itís kind of irresistible to be able to explore that in a meaningful way, in a performance. I wish there was more of that happening. But we get to do it and so itís very, very cool.
PCC:
In the feedback youíve gotten from audiences, whatís been the most gratifying?
GIDDENS:
I think mostly the responses that have made me the happiest are the ones where people tell me that theyíve connected with the stories of the songs. Like the song, ďJulie,Ē which is based on a slave narrative [a Giddens original in which a slave and slave owner converse], somebody comes up to me with tears in their eyes and talks about how the song has made them think about how that life was, and that makes me happy, because thatís why Iím doing what Iím doing. If I can make people think about somebody from that time period, in a way thatís very emotionally direct, thatís my job. And I feel like Iíve done it, if somebody comes up and says that. It makes me very happy.
Visit www.rhiannongiddens.com.