RICHIE HAVENS: HEALING INFORMATION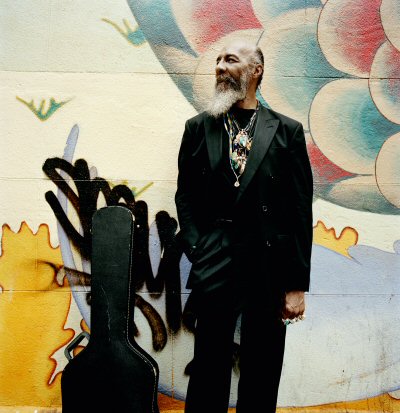 Photo Credit: Jean-Marc Lubrano
By Paul Freeman
Richie Havens has been an heroic figure in folk music for nearly half a century. With an instantly recognizable vocal and guitar style, Havens has always brought passion and honesty to often politically charged songs.
Growing up in Brooklyn, the youngest of nine children, Havens sang doo-wop on street corners. At 16, he performed with The McCrea Gospel Singers.
Havens emerged from the Greenwich Village scene in the early 1960s and opened the Woodstock festival in 1969. Having to stretch his set to almost three hours, because of the chaotic backstage scene, he dazzled the huge throng.
Committed to educating young people about ecological issues, Havens co-founded the Northwind Undersea Institute in the mid-1970s. It's an oceanographic children's music in the Bronx.
His latest Verve Records album, "Nobody Left To Crown," proves that Havens is as relevant, vital and vibrant as ever.
A classic troubadour, he continues to tour extensively (See www.richiehavens.com for the itinerary).
POP CULTURE CLASSICS:
You've said that you consider yourself to be in the communications business, rather than show biz. What do you hope to communicate to the audience?
RICHIE HAVENS:
I grew to learn that everything I was interested in, were all the things that we were supposed to have as a whole nation of people. We get it by the dozens or by the groups, which doesn't actually create something that most people are working inside of themsevles, in that sense. There are several things that music has done, that I've seen, which is heal people, directly, and just open to exchange information, whatever we do, that we know each other and where we stand, that kind of thing.To have watched it change, from the '50s 'til now is a pretty good book.
PCC:
Even in the '50s, when you were starting with doo-wop and gospel, did you understand how powerful music could be?
HAVENS:
Oh, yeah. I did realize that. There are spiritual people There are people who believe in what they believe in always. And people seem to feel that this is something we've lost. We got the feeling that we've lost something, and we got the feeling that it existed, actually. And what happens is, that, as a nation, we didn't even hear that in school. Whatever we were exchanging, we exchanged in very simple forms. You go to school, you go to class, you come out, you have learned. And, at the same time, you can take music, for that matter, and exchange it. Now people wouldn't believe this, but in the late '50s, there was a little kid who I thought was protesting. He was 11, I think, when he made the record he was on. It was called, [He sings] 'No, no, no, I'm not a juvenile delinquent.' Who would have thought an 11-year-old was doing that in the late '50s. Besides the fact that the brothers and sisters were backing him up with information, 'the inner information' I call it. Mothers forcing the songs out of these kids, because the song is a little bit trying to adapt itself to truth in our eyes. [Sings]. 'Boom-boom-boom-boom-boom-boom-boom-boom-boom-boom-boom-boom-boom, Get a job.' That's protesting. [Laughs].
PCC:
From the beginning, did you feel it was less about technique and more about the honest thought and emotion?
HAVENS:
It was a way of learning. I personally was learning from the songs that I was singing. And that, in and of itself, only exists because these are things that I think about, that these songs caress in terms of being aware or becoming aware. For me, it's like, if you're in the business of communication, then what you're in the business of is to actually see change, to see things come true right in front of your very eyes in many cases, and that's just to keep the information going. When you say, 'What information?' Well, it's the information they never taught us in school. But we know it's the school.
PCC:
Ultimately life becomes the school?
HAVENS:
Exactly. And doo-wop, even I didn't think of it as protest in those days, though some of it was protesting in those days. You go back and see 1950s hit songs having to do with the information, like this, and you'll see how informative we had to become to make things change.
PCC:
Following the early vocal groups, how did you develop that unique, percussive guitar style?
HAVENS:
You know, I'll tell you the truth, I'm not even thinking. And my foot moving, it's just keeping my bones together [Laughs]. I believe that I grew up in a world where all of the things that were supposed to be American were still yet to come.
PCC:
Can you elaborate on that?
HAVENS:
The stuff that's in politics today is very much trying to get rid of the actual content of the Constitution. I grew up when they were teaching us 'Duck and Cover' stuff. But we grew out of that, because we had to. And that was, I guess you could say, the war between mom and pop and teenager, all living in the same house, bringing up things themselves and saying ,'I do believe that. But I don't know too many other people who do.' And then finding out that there are millions who do.
PCC:
So as you're forming your own ideas, establishing your own identity, it must have been a great atmosphere, moving into the Greenwich Village folk scene of that era.
HAVENS:
That's what really got me. I couldn't figure out how and why I got into the game of listening. I know that things that we need to know are things that we come to know. That there's more to it than just hearing a song. I feel that, in that case, that we are beginning to use these tools and information that we got to learn exists and exists in our whole fiber, because it was us suggesting all of the things that we should be learning. You think that, 'Hey, this is a great song. And it lasts for hundreds of years.' Yeah, but only 15 people are reading it. You listen to Bach real good, you hear that he's the blues man of classical music. We were pretty smart, without knowing that we had become, on our own. You go and you want to learn something, we had the library. If you really wanted to get some information, you'd go there and get it. Now it'll come right to your foot. You press the clicker on the floor. The computer goes into flying. Everything is there now. For me, I don't think about how I play the guitar. And I don't think about how my foot works. They say, 'Boy, you're foot is going somewhere.' I say, 'Yeah, somewhere else. I have to sit here on a stool.' We, of our generation, know that we've been through a lot of things because it was all individualized information. Meaning, that everybody is afraid, because they do find themselves alone.
PCC:
But in that era, that sense of community that was developing in the Village, did that grow out of the beat scene?
HAVENS:
Absolutely, because I was going there in 1957. And 1957, boy, the jazz people were fighting for their lives, because everybody started to hear, there's a message in this music that has no words.
PCC:
And then came the folk artists who had the words.
HAVENS:
Yes. It was interesting, because the guy who I sat in the coffee house seats to listen to, it was all information to me. And all of a sudden, I'm singing the songs and I'm learning from this guy who plays the songs. Fred Neil was his name. Freddy came over to me one day and said, 'Hey, Richie, man, you're singing my songs. It's crazy. You're singing it in harmony, too. Here, take this guitar home. Learn to sing it yourself,' thinking that he was going to put me in a chair at my house. [Laughs]. So he gave me a guitar to learn off of. This is where doo-wop of the past helps. It was the chord from the instruments that we, as a group, picked up on. He didn't think I could do that. And I did it. I did it for myself. I learned all the first songs from him. And I took what I had and I went to the coffee house every day, just like everybody else. I saw every leading comedian the world has ever produced down there. A lot of politcs there.
PCC:
This was in the Lenny Bruce era?
HAVENS:
Oh, yeah. I was there when all of that was going on. And here's a guy looking for how to break the toidy-toidy of the '30s. That helped, in a way, because it was good for me to take my own medicine. I learned and I passed it on. So I went on, put my new guitar across my lap. And I put my thumb across this chord and that's what comes out. If I move my finger all the way up to the octave, it's still a major. If I drop one string in the fret before, holding onto the map that drew me into trying to make me understand I had to follow the rules. That is, if you go to sing something, do it. If you're going to go and do a concert, do it. The one thing I caution you on is, if you don't go backstage and see your fans, they won't be there again. So I come back three days later [Laughs]. He looks at me and goes, 'What's the matter? You broke my guitar?' I said, "No, I learned those songs.' He goes, 'Oh, yeah, Richie. Right.' I said, 'Can I sing one of your songs on stage?' He goes, 'Yeah, go ahead. This I've got to see.' And it was a song called 'Tear Down The Walls, Guys.' That came out in 1958. People of my age would never have heard it. People my age never took the stuff out of the closet and wear it as a badge. All of your information is coming from within at this point. I couldn't believe, at this point, that I had moved into the den of folk music and passed the basket. It was being out there in the jungle for everyone, in those days. What got me there, just to make a life, I was also doing portraits on the streets of Greenwich Village, portraits of people's faces and their dogs [Laughs]. And the fact of the matter was, I was making close to $300 a night on the portraits. It was money that I knew went by the numbers. I didn't care if it was green, different shapes, checks. They're tools. They gave us the way of doing it. And so Freddy heard me sing his song, with three fingers. The style allowed chords to just pop into my head. I had to invent chords. And I found out that wasn't very difficult. You pass the basket. You learn that your foot doesn't belong to you. And then I said, 'No, I can't do that to my head [ Laughs]. Because my head would just keep me on that steak. Because I wanted to go out and eat a little more of that steak. The opportunity would be gone. So for me, it was doo-wop that I could invent it within. And I can tell you, my foot was this running foot, on the left side of my body, pretty much comes up with the rest of the chords. It has to go with that, in order to produce the stuff that I was producing. Not even thinking about the colors that I was creating, to make a song more heart-legible and intelligence-legible.
PCC:
So even when you were making a living through your portrait work, were you aware that music was your true calling?
HAVENS:
As a kid, singing doo-wop was my musical code. And I thought we'd actually get to make the radio. Because that's all the '50s kids really wanted to do, if they had a band. The fact that I had six strings to work with, and I played them all through all songs. They actually could be called orchestrated songs. And also reorchestrated.
PCC:
As the '60s went along, did you get the feeling you were part of a peaceful revolution?
HAVENS:
Oh, yes. Well, I found out that I had my share in that, in the music I was doing at the time. It seemed to me that I was probably using these tools to get at information that I would need, to know what side of the road I'm on. I'm talking not so much politics, but the communication situation, music to pass on to someone else.
PCC:
The Woodstock experience, to this day, seems to encapsulate the attitudes and philosophies of the time. Did you get a sense that this was kind of the culmination of the '60s?
HAVENS:
You know, most of the people that were on that stage, I knew personally. I was working on my third album by 1969. The ability to come up with something was easy for me. Because the information was easy. It comes. You hear how it fits. You are telling the truth or you're not. Or you think that someone else is or they're not. What happens is, I think, we counted on these people to be who they were. And so, here we all are in Bethel, not so much Woodstock, the town of Bethel, where it really took place.You have this incredible thing come out and sit down right before your big, human mass. And let the games begin. It was great, because we didn't hear the Westerners until they came East. And Santana and all that bunch, they came from the West to New York. Most of them hadn't been there. We'd meet sometimes in festivals. Even this time, the guys we'd meet, it was hard to talk, because everybody had to get ready to go on next. And as they fired off, it got more rainy, so that didn't help to have a good time. And they stayed. So to us, it was something that was due us. At that one point, not one single thing went on that grounds in the order that had been posted. Nobody played where they were supposed to play. People met people they hadn't had a chance to meet before. I went through two Newport Folk Festivals, the two years before the Woodstock intervention. Now that we can look at that movie in the past, it was phenomenal to whoever was there, because they couldn't possible see it at that time. They were behind the trees. Two people passed away. One was sleeping in a sleeping bag under a car. When they woke up, they had that accident. They had two accidents. And they had two babies born. Now that's out of more than 500,000, which I was the opening act to. When I got off the stage and it started to roll, that was it. It was happening. What was happening? Well, they were still trying to fix the stage. [Laughs]. The stage never got fixed. Even though we didn't speak to religion, there was a spiritual quality. We were more on that side of the fence. You look out over all those people and say, 'You know something? This is pretty weird. The place where we just did this festival, you know what the name of this town is?' 'Yes, I do, actually, it was Bethel.' 'You know what Bethel means?' 'A sacred place.' Now how can you beat that one? That was something being done, unbeknownst, on either side of the fence.
PCC:
Now, with war and polarization, people are seeing similarities to the '60s and getting discouraged. Are you still optimistic about the changes that have been made and are going to be made?
HAVENS:
The changes are going to be made, because they have to, even though they'll be done by the Democratic and GOP. In the '60s, the reason was the Viet Nam War. I think that was the leading musical perspective, as the days piled up. But they didn't leave. They stayed there. Have you seen 'Taking Woodstock;?
PCC:
Yes.
HAVENS:
That was the pure heart. I've never seen it done before. Even according to Democrats and Republiicans, they're being strained out, they're being pushed together. The last poll of the country we live in, this is what we're learning, we've got so many people, like in Arizona right now. We've got it on paper, we're going to know how we can patrol city blocks, how we can find people coming into this country. There are people now realizing that in their state, that the only piece of the pie that we officially own in the Constitution, is the states. They're just now waking up to the fact that we are only citizens of our states. In one state, a guy may go to jail for 50 years and across the line right there, this guy only gets 14 years. We have the Constitution. From there, everything is mind-controlled, to allow people stil not to know that the I.R.S. is a for-profit company. It's been that way all the time. I want to buy this house. But I can't afford it. The same house that I wanted to buy is right across that street, which is Texas. And this side is Arizona. Basically, the way instruments are being used, we are now being given the chance to re-learn how law really works, how all of those people that we just saw go out the door are all of those people that made the door in the first place.
PCC:
But do you still believe as strongly as ever that music can help bring about change?
HAVENS:
Oh, music has already helped buy the change. Obama's entrenched here. It was youth who did it. You don't hear enough about that, about the people who put him in there. From teenagers on up. Teenagers with their actions on environmental information. You know the guy who lives in the hills of Montana and, on another side, they're just saying, 'Hey Mom, what does this mean? They can just walk in your house and take what it is?' You think they're not already getting ready to make a statement? They sure are. And it's going to be a good one. Because when they clean it up this time, they ain't gonna have to clean it up againn. You can only imply these rules to everyone. And that it why, right now, we are talking about, 'Well, yeah, the banks have run this state. And the poor people losing their houses, that's like all over the country. And so, they're going to test the constituency of those places, I learned a long time before that all taxes are voluntary. That's the truth. And they still don't want us to know it.
PCC:
So we have more power than we think we do.
HAVENS:
Oh, yes. We think we are giving the power to nine guys, who are going to be in Paloma, with all the money. [Chuckles] And that's what is true. Clinton was being interviewed by some guy and they said, 'Is it true about income tax?' And he went, 'Well, uh, um, you know, it''s...' They start falling apart. And in the end, he had to say,'Yes, it's true.' Nobody of our age, I'm talking about my age, I'm 69. But I'm a trailblazer still, in that sense, for there's still more information that I need. This is going to be a big musical next two years.
PCC:
Well, it's great that you carry on with a spirit of positivity.
HAVENS:
Well, when you see it every day and you wonder why we don't give it to the people who need it, you're not in this world. So we're trying to create the world and then use the Constitution to pose its rules. And, if we got the youth to go out, then that's how it's going to be. What it really says is, 'No taxation... ' What's the rest of it?
PCC:
Without representation?
HAVENS:
Without representation. Look what that says. That's the one to mess with your head, when you thiink about it, because it's true. That's in this document, right here. It says no taxation. So you could borrow money from the rich people in those days to create rules for themselves. Everybody else would just get blown up, shot... because they said something. They figured it out. And that's where we are right now. We learn it. But I wouldn't even mention it, for the most part, without having the back-up. I know it exists, because I heard it myself. No more taxes until there's full representation. And that's what these young people are working on, I do believe. I get to see a lot of that. And that's me on the line over there, too.