RICK NELSON: ROCK 'N' ROLL PIONEER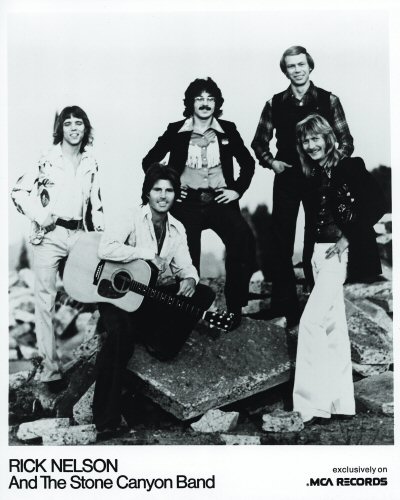 Courtesy of Bear Family

By Paul Freeman

Sure he was the original teenage idol. But Rick Nelson's place in rock 'n' roll history is much more significant than that. By presenting exhilarating numbers each week on his family's TV series, he helped the rebellious musical genre earn acceptance. Later in his career, Nelson pioneered the melding of country with rock, paving the way for bands like The Eagles.

Few other rockers can match the impact he had. Nelson's records influenced subsequent stars from George Harrison to Chris Isaak, not to mention his multi-platininum-selling twin sons Gunnar and Matthew. "Pop was our hero," says Gunnar Nelson. "My earliest memory was of sitting on an apple crate off to the side of the stage and watching him play at Knott's Berry Farm. I remember him positively glowing -- smiling, laughing, making everybody in the audience happy. I knew then and there that I wanted to be just like him when I grew up."

Despite decades of musical magic and integrity, Rick Nelson remains somewhat under-appreciated. That fact rankles John Fogerty. Shortly after Nelson's death in a New Year's Eve, 1985 plane crash, Fogerty gave the speech inducting the fallen hero into the Rock and Roll Hall of Fame. "A lot of people thought of him as a Frankie Avalon or something. Those first records were not like that at all. He had a great rockabilly band and, as I said in my speech, he gave Sam Phillips [Sun Records chief who launched Elvis Presley, Roy Orbison, Jerry Lee Lewis, Johnny Cash and Carl Perkins] a run for his money. Rick's first four or five albums are just absolutely classic rock 'n' roll."

Sun rockabilly greats Carl Perkins, Elvis Presley and Johnny Cash inspired Nelson's '50s work. Denny Sarokin, who played, sang and wrote with Nelson's Stone Canyon Band in the '70s, says, "Rick liked that raw thing. He had the amazing guitarist James Burton and bass player Joe Osborne in that original Rock 'n' Roll Trio kind of concept. And he just hauled ass with it.

"He was a player, a fighter, an athlete and a winner -- a real adventurous, go-for-it kind of guy. If you threw him into a race car at Le Mans, he'd try to outdrive the best of them. Put him on a trapeze and he'd try to do the most somersaults. He applied that to his music, too. He put a lot of energy into it -- 'Elvis rocks. We're going to rock like Elvis.'"

In 1956, when Elvis' backup singers, the Jordanaires, came to Hollywood to work on the movie "Loving You," the 15-year-old Nelson headed for their hotel suite.

Gordon Stoker of the Jordanaires recalls, "I answered the doorbell and he said, 'Hi. I'm Rick Nelson.' I said, 'Yes, I know.' He said, 'You know who I am?!' I've often thought how cute it was. In the small world that he lived in, he didn't realize how big the Nelsons were all over the country.

"He told us, 'When I get to recording, I want you guys to do some oohin' and aahin' behind me.'"

Just a year later, Nelson recorded "I'm Walkin," performed it on "The Adventures of Ozzie and Harriet" and established himself as a million-selling artist. Far from the Avalon-Rydell-Fabian mold, he convincingly sang a string of scorching rockabilly numbers, such "Stood Up," "Waitin' In School" and "It's Late." He sounded just as natural delivering gentle ballads and breezy pop. The Jordanaires found themselves providing velvety backing vocals on Nelson's smashes, including "Lonesome Town" and "Poor Little Fool."

"Rick became a very dear friend," Stoker says. "He was a very sweet, kind guy, very timid and shy, never pushy, always courteous, very appreciative, just a fantastic person to be around."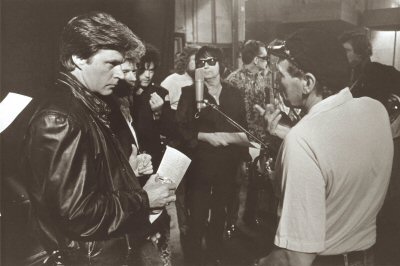 Courtesy of Bear Family
As a youngster, Nelson's TV catch phrase was, "I don't mess around, boy." And, no dilettante, he took music very seriously. Gunnar Nelson says, "Pop was always the master of his own musical ship. His music was always exactly that - his music."
Stoker says, "He was very much in charge of what he wanted musically, which was really a surprise to us. But he was always willing to listen to other people's ideas. He was great to work with, because he had such a super attitude."
Though the young performer knew what he wanted musically, his dad Ozzie and producer Jimmie Haskell tossed in their own suggestions. Stoker says, "Ozzie, who was very knowledgeable about music, would put his stamp on what was being done. He was the producer and director of the TV show. He would come over and produce and direct Rick's recording sessions."
Soon Nelson was rivaling Presley in popularity. Stoker says, "The general public loved the way he presented the songs on that TV show and in his personal appearances, too. He was an extremely good-looking kid and he had a mannerism that drove the girls wild."
A terrific band helped fuel Nelson's recordings, but he clearly had a fire for the music. Modern rockabilly icon Marshall Crenshaw says, "I really dig Ricky Nelson. His records totally rock. One album of his called 'Ricky Sings Again' really kicks ass.
"I've been a Rick Nelson fan all my life. I was born in 1953 and used to watch the Nelsons on TV. I liked Ricky as a personality; his voice and manner had a kind of warmth. I also really dug James Burton's playing, that was a huge part of the deal for me.
Crenshaw continues, "People have tried to imply over the years that he was just sort of stood up in front of the band. Of course, he got a lot of help from James Burton and all those guys, but if the singer isn't happening, then the record's not going to be happening. Ricky deserves credit as being the one who made those records really happen."
The Lovin' Spoonful's John Sebastian was among those watching Nelson's early TV performances. He tells Pop Culture Classics, "Rick Nelson is one of my heroes and was during that time, as a teenager on his dad's show. I felt a kinship with him. I always felt like he was knocking down his own barriers, even on that humble television show. He was already pushing for rock 'n' roll."
Nelson continued to churn out hits in the early '60s, including "Hello Mary Lou." The other side of that single, "Travelin' Man" also soared up the charts and its imaginative TV presentation was essentially the first rock video.
Jeffrey Foskett has toured with the Beach Boys, served as Brian Wilson's musical director and worked with Paul McCartney, Eric Clapton, Neil Diamond, Roy Orbison, Elton John, Neil Young, Tom Petty and the Everly Brothers. He has earned acclaim for solo albums.
He tells us, "I first heard Rick Nelson when 'Traveling Man' came on the radio. I was quite young and, in retrospect, I guess it was the complete innocence of it that captured me."
Foskett believes Nelson was one of the all-time great singers. "Very few people had the beautiful resonance of Rick's voice. His versions of standards like 'That's All' and 'Fools Rush In' show his innate ability to transpose and transcend a song and mold it into his own."
Another of Nelson's ballad hits was "Young World." Flying Burrito Brother John Beland, a lead guitarist with The Stone Canyon Band, recorded the song for the Planting Seeds label's Rick Nelson tribute album. Beland tells us, "That song still can take me back to that era when pop music was innocent and simple, before the anger and cynicism of the mid to late 60s would come along and change everything.
"It was the era of Kennedy, Andy and Barney, Disney, Mickey Mantle, young love, surfing, cars -- the American dream. 'Young World' takes me back to all that, when singers like Rick, Sam Cooke, Roy Orbison, Gene Pitney sang songs that truly were aimed at the heart of a young teenager... like me. A lot of diehard rockers say that era was all fluff... but that period of pop music was inspirational to me as an aspiring guitarist and songwriter."
By '64 however, the TV series was tiring; the heartthrob was married; and the British Invasion was knocking American artists off the radio. Though the spotlight began to fade, Nelson's musical gifts only shone brighter. He developed his songwriting skills and, with his Stone Canyon Band, forged a new path into country-rock. By the late '60s, he had reinvented himself, serving up covers of Dylan, (that were lauded by Dylan himself), Tim Hardin and Eric Andersen, as well as his own sparkling compositions.
Beland says, "Playing country-rock is a difficult road, commercially. You're caught in the middle. The people in pop music wanted him to still be the Ricky on TV and in country music, they would rather have had him wear a hat and sing mainstream country. But he just did what felt right to him.
"His bold move into country rock really was the catalyst for things to come. The Buffalo Springfield, Poco, Burritos -- they all owe Rick a tip of the hat for charting all that unknown water."
In the late '60s, early '70s, Nelson wrote memorable songs for his albums "Rick Nelson In Concert," "Rick Sings Nelson" and "Rudy The Fifth."
Sarokin says. "I always appreciate it when people look to Rick's songwriting side. Sometimes the teen idol aspect was so overwhelming, people didn't really get into the subtlety of Rick as a songwriter.
"Rick was underrated as a songwriter," Foskett says. "Just listen to the song 'Easy To Be Free' to hear what I am talking about. That song in particular never got its proper recognition."
Eric Andersen agrees. "Easy To Be Free' is as good as any song you're likely to hear."
On the tribute CD, the soaring beauty of "Easy To Be Free" is captured by Minneapolis band The Autumn Leaves. Front man David Beckey says, "There's always going to be free spirits and that song speaks to them. It's a lovely melody and performance he gave us. The song is very personable, very Rick.
"Some people talk about Gram Parsons as being the godfather of country rock, but Rick was light years ahead of him!"
Nelson had a minor hit with Dylan's "She Belongs To Me," but chart success generally eluded him. The year 1972 brought a stunning exception. "Garden Party," written in reaction to negative response at a nostalgia concert, became his first million-selling record in a decade. In the song, Nelson stated his fundamental musical philosophy: "You can't please everyone, so you've got to please yourself."
Of Nelson's autobiographical song, Sarokin says, "He really hit the right note for himself with 'Garden Party.' It had a real message, a real kick to it."
Gunnar Nelson says, "The whole 'Garden Party' experience was a great statement on the kind of person Rick Nelson was. In his darkest hour, he went back to square one -- expressing his feelings through his music. 'Garden Party' makes Rick Nelson forever the undisputed comeback heavyweight champion of the world."
Rick Nelson, who said, "A career is nothing more than a series of comebacks," never returned to the Top 10. He continued making exceptional music. But record company ineptitude repeatedly thwarted him.
In 1978, Al Kooper produced Nelson's "Back to Vienna" album. Epic refused to release it. "I thought it was stupidity on their part," Kooper says. "It was a big change for him. But I thought he rose to the challenge amazingly. I thought he did a really good job. It was fun making that record. Ozzie's brother came to all the sessions and he just kept saying to me, 'This is so great, what you're doing for Rick.'
"But the label hated it, to the point where they never put it out, even after he passed away. I called up, about a year after he died and said, 'You know, I just wanted to remind you, you have this whole album that you're not putting out.' They said, 'We hate that record, we don't care if he's dead or alive.' I said, 'Okay, okay, I hear you. Goodbye.' Rick was a great artist."
Fortunately, the album can finally be heard in its entirety. It's included in Bear Family's fabulous new, 7-cd, Rick Nelson box set, "The Last Time Around."
Beland says, "It was funny, because he was getting four encores a night, crowds going crazy and ripping his clothes off, but the record companies never got it. You'd look at the reaction and go, 'Why isn't he selling a ton of records?'"
Nelson recorded Beland's haunting arrangement of Bobby Darin's "Dream Lover" and sang it while hosting "Saturday Night Live" in 1978. It caused an instant sensation. But the record company delayed its release for weeks to add a conga drum to the mix. Beland says, "The day after the TV show, that record should have been going through the roof. But again they really dropped the ball."
"He just did what he loved," says Gunnar Nelson. "I don't think he ever attached his self-worth to his position on the charts. He left that to the one-hit wonders."
In his last years, Nelson came full circle, returning to his rockabilly roots. Unlike many of contemporaries, he never lost any of his energy or enthusiasm for the music. That's evident by such recordings as "Believe What You Say," "Back To School Days" and Fogerty's "Almost Saturday Night."
Gunnar Nelson recalls hearing a story about his father's participation in a 1985 Sun Records reunion. "They were always the folks he looked up to, especially Carl Perkins. But Pop had always felt like the one on the outside -- the 'rich kid from Hollywood.' He was invited to be part of this reunion about six months before he died. He was so nervous and uncomfortable being there. He was worried about being accepted. But at one point in the evening, there he was, left alone in the studio with his all-time idol, Carl Perkins. A calm settled over the room. Carl turned to Pop and said, 'Well, Ricky, it looks like we're the last two real rockabilly cats left.' That floored my dad. He never got over how good it made him feel."
The modest and dedicated Nelson inevitably made lasting impressions on his fellow musicians. Beland recalls his years with Nelson fondly. "For a musician, it just doesn't get any better than that. Ricky was such a great performer and such a wonderful, warm human being. Every day spent with him was a pleasure."
Nelson continued touring until the very end, still basking in the warmth of the crowd's enthusiasm.
Sarokin says Nelson's passion for performing never waned. "He always appreciated people, no matter what generation came to see him. The ladies loved to see Rick. Everybody knew and adored him."
Beland was impressed with Nelson as a performer and as a human being. "Every night onstage with him was amazing. No other act could follow us. We knew when we played the opening riff to our first song that we had the crowd in our hip pocket. It was a nightly rock 'n' roll orgasm. He was a true pro who taught me so much.
"Onstage, you felt as if he was a good pal, a friend of the family, a very cool, hip dude, but without the ego.," Beland continues. "He was very humble, both on and off the stage... yet a true master of holding an audience in the palms of his hands. He knew his job well."
Beland describes working with Nelson as, "truly amazing. Like being catapulted into 'The Adventures Of Ozzie & Harriet,' but in a very cool way. His friends and family were all wonderful people, not unlike the image of the show. Rick was also a source of immense rock 'n' roll knowledge of rock & roll."
Nelson's unaffected attitude rubbed off on Beland. "To this day, I try to treat people in the same way, with respect and kindness, regardless of my own success, or any kind of stature others may think I have. That was what I learned from Rick.
"I grew up idolizing him and I'm proud to say he was one of my dearest friends. Playing for him was an honor and the highlight of my career. Not a day goes by when I don't miss playing onstage with him... or just hanging out having a laugh."
Nelson's artistry continues to influence today's musicians. Beckey says, "I know a lot of younger artists that listen to him. Rick's music has a lot of staying power."
Crenshaw agrees. "His records still sound great; they're the real deal. I imagine that young artists interested in rockabilly and so-called roots rock would be checking out his records. They're part of the essential canon."
Stoker, whose final Nelson dates came just three months before the singer's plane crashed, says, "We've worked with so many wonderful people over the years. But I don't think we ever had as much deep love for any other entertainer as we had for Rick Nelson. Music was so important to him, right up 'til the day he died. When he got on that stage with that band going, he just loved it. It always really turned him on.
"There are still so many Rick Nelson fans around the world," Stoker says. "A lot of people say that there'll never be anyone who sings with that kind of ease and who knows how to select such good material, like Rick did. He was very sincere with his music and that got across to people."
Sarokin says, ""When I worked with him, he was just hitting his stride. I would like to have seen a larger body of work from him. Perhaps if he had been around longer... "
Singer-songwriter Jeff Larson says, 'What comes across to me about Rick was the willingness to experiment and grow a deeper body of work. That's the nature of a true artist. There is a magic in his easygoing, understated delivery that helps him endure over time. Rick Nelson's music comes across as very honest to me."
Chris Isaak tells us, "I think he was underrated, for many years, as an artist. Rick was one of the true greats of rock 'n' roll."
Gunnar Nelson concludes, "He struggled to remain his own artist and his own man throughout his life -- a struggle we should all be willing to face head-on so courageously."
I had the privilege of interviewing Rick Nelson near the finale of his tragically short life. I asked if he worried about ever becoming too old to rock. He replied, "It's never crossed my mind. I can't even imagine that."
And so he rocks on forever.