ROB SCHNEIDER GETS "REAL"
PCC Talks with the Comedian About Career and Netflix Hit Series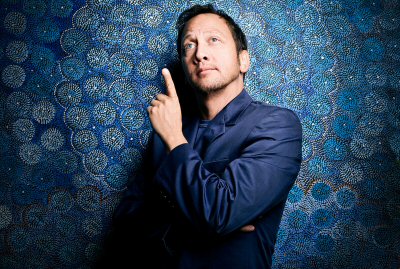 Rob Schneider, Photo by Neil Visel
By Paul Freeman [November 2016]
The rush Rob Schneider gets from live laughter hasn't waned. Though he is busy shooting the second season of the Netflix hit, "Real Rob," he is making time for standup.
Schneider has been doing standup since the early 80s, while he was still in high school, in Pacifica, California, on the foggy coast, south of San Francisco. He had to weather crushing gigs while finding his comedic voice. Yet Schneider persevered.
Schneider honed his set and stood out as a standup. As a "Saturday Night Live" regular, from 1990 to 1994, he broke through to stardom, creating such memorable characters as The Richmeister, The Sensitive Naked Man, Tiny Elvis and Orgasm Guy. He later co-starred on the NBC TV series, "Men Behaving Badly."
Schneider found big screen success, starring in such movies as 1999's "Deuce Bigalow: Male Gigolo," "The Animal" and "The Hot Chick," as well as appearing in Adam Sandler vehicles like "The Waterboy," "Little Nicky," "50 First Dates" and "Grown Ups." He has a role in the new Adam Sandler movie, "Sandy Wexler."
His film and TV work kept him away from standup for a long time, but Schneider, 53, has returned to it in recent years and is enjoying it immensely.
But he's also focusing on "Real Rob." The Netflix series, which Schneider directs, is a comedic exaggeration of his real life.
His wife, Patricia Azarcoya Schneider (who was a very successful comedy TV producer in Mexico), makes her delightful acting debut on the series, playing herself. They co-wrote the show, along with Jamie Lissow, a standup pal, who plays Schneider's inept assistant. The Schneiders' two young daughters, Miranda and Madeline, also appear. (Schneider's eldest daughter, Elle King, from a previous marriage, is a popular rock-blues singer).
They financed and shot the first season on their own. Netflix recognized the potential. It clicked with viewers, so Netflix has already signed the show up for seasons three and four.
So Schneider, whose made a career of playing the lovable loser, is winning again.
POP CULTURE CLASSICS:
Mixing reality with the heightened comedic elements, how do you go about deciding just how much of your real life you want to reveal in "Real Rob"?
ROB SCHNEIDER:
Whatever saves us money, basically [chuckles]. If you hire your own kids you can save some money. It's been fun. We worked hard on the second season. We spent a whole year on it and now we're filming it.
You can do eight great ones. I remember talking with my friend Jerry Seinfeld 20 years ago. I said, "Jerry, how do you make 24 great ones?" He said, [doing a spot-on Seinfeld impression] "You don't. You do six that are great. You do another six that are pretty good. You do another six you can live with. And then you do another six you hope your friends aren't in the country, when it's on.
PCC:
So Netflix is really the perfect situation for you.
SCHNEIDER:
Yeah, it's eight shows. And what I like about it is, I'm a huge fan of Monty Python and a big fan of "Fawlty Towers." That's like the Mona Lisa of sitcoms. And they had a 30-minute teleplay. And I remember when I did "Men Behaving Badly" 20 years ago and we had 23 minutes and 30 seconds. How do you do it and have it make sense and have a real story? Make it 30 minutes. I can do it between 26 and 31 minutes. And actually, I can do whatever length I want. But I said, "You've got to keep it to half an hour." If you can't do it in half an hour, then you're not doing your job.
But you can make eight great ones. I think this season is going to be better than last season. It better be, because we've got brilliant, thought-out stories. We need an arc, because people watch them in two days. So we're really working on the story arc and where it goes when you're watching it back to back. They have to tie in. And you know how many notes we have from Netflix this season? From the studio?
PCC:
How many?
SCHNEIDER:
Zero. It's hilarious. So it's complete creative freedom. I'm not making the money I was back in the network days, but I own the show. And I love it. For me, creative freedom is more valuable.
PCC:
And your wife is terrific on the show. Did she have any acting aspirations prior to this?
SCHNEIDER:
I had to talk her into it. She was a comedy producer in Mexico for years. She produced "La Guerra de los Chistes," a bunch of guys sitting around telling jokes. It was actually the highest rated show there. So she's really got rhythms and ideas and stories. And she's just naturally funny. I said, "You can do this." And she said, "But it's not just acting. I'll be acting not in my own language." So there's words that have different emphasis or zing. I worked with her. I put her through a three-month acting course of my own, which is basically Roy London's old course. [London, who passed in 1993, was Hollywood's top acting coach.] And she did great. You have to get them so that it's just natural, not like they're acting.
And Jamie Lissow, who plays my assistant, he was a guy who came in at the same time as Louis C.K. about 15 years ago. The biggest comedy manager, Dave Becky represented them. And Dave Becky put all his energy into Louis C.K. and Jamie got lost in the shuffle. And I found him, he was doing a radio show. He's brilliant. So we started working together and writing together and I said,"Let's do a show!"
And we shot the whole season. So it's been super exciting, super risky, because we paid for the whole thing ourselves. Very expensive. But I had faith in it. I never thought for a minute that we wouldn't get it out there.
PCC:
And your two young daughters, did you have any trepidations about putting them on camera?
SCHNEIDER:
Well, Miranda, she's three-and-a-half. She was two at the time. But she had the easiest, best work hours of anybody. She'd come in at 11 a.m., work for 45 minutes. We got whatever we could get from her. And then go to lunch. She loved being on the set. There was no pressure. And she didn't have to learn lines. This season, a little more difficult, but not much. And I'm going to keep it fun for her.
If show business is a problem for adults, imagine what it's like for children. I worked with Macaulay Culkin. He wasn't having fun.
PCC:
And your new baby will join the cast?
SCHNEIDER:
We're shooting the new baby now for season three. We got signed up for seasons three and four already. So we're shooting some stuff for season three with the baby. And it's great. We're shooting everything out of order, but it's all written ahead of time. We write the whole season ahead of time. And we're taking it into some more interesting places. We didn't know what we were doing the first season, but now we're doing it right, shooting all the interiors and getting them out of the way first. And then shoot all the exteriors. In the show, we go to Vegas in this shitty little beat-up Prius that my assistant owns. And it's a blast.
This is the greatest time in the history of television. There's never been this many great TV shows. People are binge-watching. "Breaking Bad," I never saw on AMC. I didn't know when it was on. But my wife and I sat and watched the whole thing. We watched "House of Cards." Movies are just not as interesting. They're making almost half the amount of movies now. And what they're making is comic book movies.
PCC:
Your older daughter, Elle King, is a fantastic singer. Did you have advice for her, as she was entering show biz?
SCHNEIDER:
She kind of grew up in it. I put her in a couple of movies ["Deuce Bigalow: Male Gigolo," "The Benchwarmers"]. And she was great. I wished that we could have done a movie together like Ryan O'Neal did with Tatum. But again, I was kind of worried about show business and acting. They don't just judge you on your talent. They judge you on your looks. They judge you on your age. They judge you in any way possible. And when you're not getting work as an actor, you end up judging yourself [laughs].
Music is not a whole lot better in that regard. But she's a tough kid. And she's going to do fine. It's the greatest thing, getting to see my oldest kid enjoying herself, going around the world being acknowledged for being a terrific artist. At about the same time that I had hit it. She was on Letterman at 22. I was on Letterman at 22. That's really something, really special.
The difference is, a stand-up comic, touring around the world - I've done two tours of Australia - second tour, you better have different jokes. They expect it. Whereas, people like hearing that familiar song. There's an emotional memory attached. People remember when they first heard it, where they were. And she loves it. If they love something, they have to do it. She was always an artist. She's got a very unique voice. I don't mean like vocally, I mean just as a person. So I'm just happy that she's finding success with it, because it's really difficult. She first started at 16. And she had a deal with Warner Brothers. And it didn't go anywhere. And she was frustrated by that. I tried to explain to her, everyone you meet, everyone you work with, has been fired. The music business just collapsed. But you can't help but take it personally. But she stuck it out. She was going to bars, performing, when she was not old enough to be in there. So she had drive. That reminds me of myself. I had the same drive. I was in bars, too, trying to get on stage.
PCC:
Doing stand-up as early as high school, what was it like, dealing psychologically with the bombing that's inevitable in early gigs, while you're still getting your act together?
SCHNEIDER:
Oh, God, yeah. It comes with a psychic damage. It comes at a price. There is some psychic damage there. Bombing - you have to make sure no one you know is watching. Humiliation you can deal with in front of strangers. But the people you know… [laughs] I remember one time I was bombing, and I think I headlined, and my brother came to see me. And I just saw him cover his face in shame [laughs]. That kind of humiliation manifested itself in like super high heat in the extremities of your face [laughs]. It felt like your ears were burning off, melting off of your head.
PCC:
So how do you push through that? What keeps you going?
SCHNEIDER:
What happened was, I was astute enough to know, "Hey, I'm going to make it. Remember this, so you can use it for your acting." I believed in myself. I just didn't know how hard it would be [laughs].
And you had other friends who were bombing, too. And you had good nights. You had more good nights than you had bad nights. And that was the difference, to be able to figure out that, "Okay, this will work." And then you met established guys, who would give you encouragement.
I drove Jay Leno around in a car like 30 years ago, when he was doing a gig. And he said, [doing a Leno impression] "You a comic?" "Yeah." "How much time you got?" "About eight minutes." "Good, you know, most comedians I ask, they say they got two hours. Who wants to hear two hours of comedy material? All you need is 20 minutes in L.A. to become a star." And he told me, "If you don't have five minutes that kills everywhere, anywhere, anytime, you don't have anything." And I'll never forget that. For the next six months, I just worked on five minutes. Six months after that, I got a Letterman.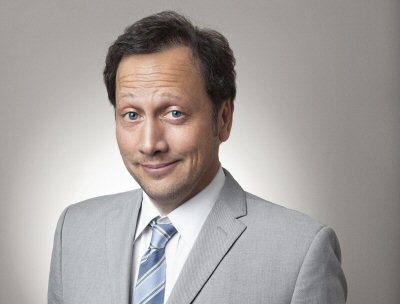 Rob Schneider, Photo by Neil Visel
PCC:
Later, when you had to deal with critics who were being cruel, did those experiences from the early days help you shrug that off?
SCHNEIDER:
Yes, it does. But it doesn't really prepare you. It just like when a new girl breaks up with you. The old girl broke up with you, yes, you've gone through this before. But still, it's an agony. I'm a Buddhist and specifically, Zen Buddhist, and what it is, after a while, you can kind of understand it intellectually, the idea of the intricate mechanisms involved in everything. And there are at least 1,000 different interpretations to everything that happens in life, to every experience. And if you're brilliant, you can come up with maybe 100, 150 of them.
But at the time that it happens, your ego gets involved. It took me years to realize that there are two sides to every coin. And they're inseparable. And the joy - you wouldn't know the good, if there wasn't bad connected to it, on the other side of that. You'd have no reference to it. You wouldn't know day without night. As a matter of fact, the light you have now is like light-dark. It's not completely light, a blinding light. And at night, it's not dark. It's dark-light. So there's these shades. And it's all connected.
So getting back to my point, the other side of that coin, from me not being accepted, is I don't have to worry about pleasing these people, the intelligentsia. I remember Adam Sandler and I talking about that. We're free. Now we don't have to waste our time with - "What do these people think?" We just work from a place of joy that makes us happy. And then they get even more pissed, if they think you really don't care. Then you're really a target, if you really don't give a shit. And they'll try to attack you in different ways.
I just refuse to be categorized as an actor and only do stuff by the way I look, by my ethnicity or by my sex. I was like, "If I want to play a woman, I'll play a woman." I worked on it and I played a woman in that movie with Rachel McAdams [2002's "The Hot Chick"]. And I said, "If I want to play an Arab, I'll play an Arab, but I'll play it respectfully." And I played a Palestinian. And I worked with a Palestinian person. And I did a scene in Arabic. They ended up cutting it. But I worked hard on it. It's not just about playing a different race.
The New York Times shit on me for playing a Hawaiian. Well, I'm sorry, I spent my whole childhood, every summer, in Hawaii. And I knew Samoans. I knew these guys. They were my friends. And I knew they'd laugh their ass off. And I did it in a funny way. Also in a way that was respectful. What I was trying to do was not make fun of this guy, but to be this guy, who was a goof. I wasn't making fun of a race. I was making fun of a specific guy, who was somebody you could laugh at…and the specificity of it. But at the same time, you've got to be cognizant of stuff. And some stuff, maybe is too far.
I remember I worked with a Japanese guy named Kazu [Kazuhiro Tsuji, on the movie "I Now Pronounce You Chuck & Larry"]. He's a genius makeup artist. He worked with Rick Baker. So this guy did the makeup and it was too much. It was a cameo in this movie and it was just a little bit too much funny [laughs]. I think if there was one that I did that was too far, it was that one. But also kind of funny - if he's okay with it, he's Japanese, well, what am I worried about? But he wasn't there to explain to the few people who get upset.
But my basic idea is this - the people who are easily offended and the people whose feelings are easily bruised, should not be the ones deciding what everybody else gets to watch, listen, hear. And read, or whatever. It is what it is. And I think, if you're coming from a good place, trying to make people laugh, then there's some grey area there.
And I think Brando played a pretty good Sicilian. He's not Sicilian. He was pretty believable as that. Robert Downey Jr. played a pretty good African-America. It just depends on your particular skill set… and if the audience wants to see it and likes it.
But comedy is a very particular animal. If you ask somebody, "Do you consider yourself a good cook?," "Well, not really." Do you consider yourself an expert on opera or jazz?" "I like it, but no, not really." But if you ask somebody, "Do you have a great sense of humor," that goes more to your self-identification, your intelligence and your ego gets involved and you say, "Yeah, I think I do." [Laughs] And clearly, not everybody can. I've been doing this since I was a kid and I feel like I really have a handle on it. But clearly, not everybody does. They can't. And it's a form of aggression, so if somebody doesn't like something, whether it's Roger Ebert or whatever, he feels like saying, "It's not funny. It's not that I don't have a sense of humor about it. It's not funny. It's not that I didn't find it funny. It's not funny" [laughs]. And it's just one of those things. I find it fascinating.
PCC:
Once you had paid your dues and got on "SNL," was that exciting and fun, or was it too much of a crazy whirlwind?
SCHNEIDER:
Unbelievably exciting. And a crazy whirlwind. When you're in your twenties, you can fake it. You're kind of like dumb, in the sense of dumbed down. You're not really able to have the perspective of what this all entails. You're just in it. You're more narrow in your perceptions. You don't have a lot of life to compare it with. And now you're really in show business [laughs].
And you see what can happen - you get movies. You upgrade your friends [laughs]. You get better-looking girlfriends. There's money. You get your own apartment. You get your own dressing room. You start traveling around the world. It happens fast. And that kind of messes with you. You can be perverted and subverted by the excesses and distractions. And you have to have talent to survive. I never lost the thrill of how amazing it was to be on that show - live. You come up with a joke Tuesday, you find out Saturday if it's funny or not. It is very democratic in the sense that - if you write something, it gets read. Everything that gets written, gets read. That's beautiful. Nothing else I've ever experienced in show business is like that.
PCC:
Being away from standup for so many years, was that just a result of a busy schedule?
SCHNEIDER:
Yeah, I was just too busy. Crushed. And burned out. It was a challenge that I felt like I'd never really gotten to. By the time David Spade, Adam Sandler, Chris Rock and me had 25 minutes of standup material, we were stars. Just like Jay Leno said. So I never had that hour. Chris Rock developed this monster hour. I remember going to see Chris Rock in '96. Not sold out. Comedy club. And he said "I'm about to become the biggest comedy star on the f—ckin' planet." I said, "Okay." I thought his act was great, but I didn't see how that, how that machination was going to work. But he saw it. And boy, that special that he did was the best special of our generation, that he did back in '97. He saw it coming.
PCC:
Now you're doing standup regularly? What's the range of material in your current set?
SCHNEIDER:
Well, you have to do it every week or you lose your chops. It's not something you can just pick up and be right in the groove. So I've been doing it pretty consistently for seven years now, after a 20-year break.
It's basically very personal, relationship stuff. And I do about a half an hour of current events, what's happening in the world. And I'm about to throw all that away and start over, so I can keep it timely.
PCC:
You're in the new Adam Sandler movie?
SCHNEIDER:
I just did a little thing in this movie he came up with. It's about a talent manager, Sandy. [Sandy Wexler," based on Sandy Wernick Sandler's real-life manager.] And I actually think it's the best script and the best story for Adam in many years.
PCC:
What has Adam meant to you, as a friend and a collaborator, over the years?
SCHNEIDER:
Someone to believe in me, someone to challenge me. We each trust each other. If we're in a scene together, we know if it's working great. If it's not working great, we can recognize it and fix it, real quick. There's no ego involved. It's a very joyful collaboration.
"The Ridiculous Six" had some really great scenes. I was very happy with that. Great group of guys. Horses and guns and dirt in Mexico. It was one of the most joyous times of our lives.
PCC:
I had read about the Rob Schneider Music Foundation you created in the 90s for a high school in Pacifica, California, where you grew up. Was that a matter of you wanting to give back?
SCHNEIDER:
We did it for 15 years, spent three million dollars. I asked my dad, who's passed away now, what we could do for the community. He said they hadn't had a music program at the school for 12 years. I felt very fortunate to be able to do that. When I would visit the area, people would stop me in the street and thank me.
PCC:
For you, was the Bay Area a nurturing environment, creatively?
SCHNEIDER:
It was. We would go to Chinatown every Sunday… until there was a shooting there and we never went back [chuckles], but until I was in like sixth grade, we would go every Sunday. So we were around Chinese people. My mom is Filipino. My Dad's side are Jews. So we had a wonderful mixture. My dad was very open-minded. He had these people he worked with and they were gay. And I remember him explaining it to me, when I was a really, really young child. He said, "They're partners." I said, "Where are their wives?" "They're their wives." So it was never weird to me.
San Francisco, the Bay Area, but San Francisco in particular, had an openness to it. It's its own island. San Francisco is like an experiment in humanity. And it's been that way.
I was so lucky, I didn't realize, I was part of the comedy boom of the 80s. I couldn't wait to get a car and drive. At 15, I was already driving into the city with a driver's permit, getting lost, trying to figure out how to get around, before there was WAZE, before the internet, you had to use the Thomas Guide and then get lost and have to ask directions to get the hell out of there.
It was fantastic. We'd go to Sam Wo's, used to go get Chinese food. You'd go to a Chinese restaurant, they'd let you drink. They couldn't tell how old we were… because we all look the same. All white people look the same to Chinese people [laughs]…especially at one o'clock in the morning.
PCC:
You got some flak a while back for some very honest and perceptive comments on our government and political system. Are you wary of weaving political stuff into your set?
SCHNEIDER:
You have to shit on both sides. I think Will Rogers was right about that - if you pick one side, you lose half your audience. I think they're equal opportunity idiots - you're seeing a meltdown of the two-party system. It's a mess. Americans are pissed off. But they're a good, kind generous people. And a resourceful people. And the audience wants to laugh. So I will bring these subjects up, at some point in the show, to get laughs, to show the irony. But there's always that fine line - you always have to remember, you're there to entertain.
I think that's why comedy right now - there's a boom. It's no coincidence. The best art comes out of cultures declining, not ascending. These times challenge us. And it's okay to not be depressed by it. You find out your mettle in these situations.
PCC:
You're in a business in which longevity is a rarity. To what do you attribute your own ongoing success?
SCHNEIDER:
I do not deviate too far from why I got into this - the joy. I write my own material. I write the standup. I write movies. I write the television show. And the advantage you have as a writer, is the ability to step back a little bit and laugh at things. Whenever my career is in the toilet - and it has been in the toilet - I'd ask myself, "What's the difference now, from when I first started?" And I'd have say, "Well, I'm not having fun anymore. It's become a drag." And it does.
You're only new once. Like my beautiful daughter Elle, the joy that she has now. God bless you. You've got to do it for you, not for them. And I still love it.
PCC:
What are the most rewarding and the most challenging aspects of your life as a performer?
SCHNEIDER:
Staying alive for one. But also being, not necessarily current, but being valid as a performer. My show this season is about extreme narcissism and selfishness. And that really comes from basically, an adult child. What I want anybody watching to be thinking is, "Well, my life may not be perfect, but look at this guy!" That's what I've based my whole career on.
For the latest, visit www.robschneider.com.