ROBERT CONRAD: TV'S LEGENDARY LEADING MAN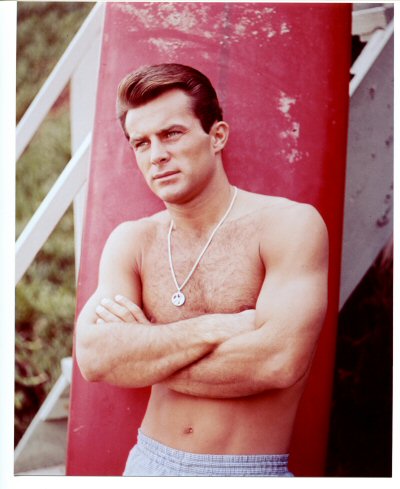 Credit: Courtesy of Pioneers of Television.

By Paul Freeman [October 2010 Interview]

Few actors are able to carve out an iconic TV role. Robert Conrad did it time and time again.

The charismatic Conrad made lasting impressions as Tom Lopaka, James West, Pappy Boyington, Pasquinel and G. Gordon Liddy,

The strength of his own personality added to Conrad's appeal. He exuded an Alan Ladd magnetism, bolstered by Cagney feistiness and swagger. Conrad's own brand of charm and humor completed the package.

Conrad proved to be an ideal leading man. Men want to be him. Women want to be with him.

He's full of fire, but plenty cool. With Conrad, you can count on lots of intensity and integrity. And no bull whatsoever.

Born in Chicago, Conrad displayed a natural singing talent. He performed in clubs, while working a variety of blue collar jobs. Nick Adams helped him break into Hollywood, where Conrad landed a Warner Brothers contract.

The studio provided guest shots in such series as "Lawman," "Maverick," "Bat Masterson" and "Colt 45." In 1959, Conrad shot to stardom as Tom Lopaka in the WB detective series "Hawaiian Eye."

Conrad was featured in a number of movies over the years, including "Young Dillinger," "Palm Springs Weekend," "The Bandits," the Spanish-language musical "La Nueva Cenicienta," "Murph The Surf" (aka "Live A Little, Steal A Lot"), "The Lady in Red" and Richard Brooks' "Wrong Is Right."

But television was Conrad's mightiest medium. In 1965, he took on a role that became a true pop culture classic - Secret Service agent James West, in the consistently clever "The Wild, Wild West." The series blended Western traditions with the razzle-dazzle of the James Bond craze. After four seasons, CBS pulled the show from its lineup. Despite the series' ongoing popularity, the network caved in to watchdog groups grousing about violent content. Through reruns and DVDs, the show has maintained a massive, fervent following.

In the '70s, he had another hit series, the W.W.II adventure "Baa Baa Black Sheep" (aka "Black Sheep Squadron"). Stephen J. Cannell produced the series, which was set in the South Pacific. Conrad (whose daughter Nancy played a nurse on the show) was perfectly cast as the real-life fighter pilot hero Colonel Greg "Pappy" Boyington.

Conrad is an actor who continued to grow throughout his career. The actor achieved a new level of acclaim in the 1978 miniseries "Centennial." Conrad was magnificent, giving a remarkably dynamic and textured performance as Pasquinel, a French-Canadian fur trapper.

In 1982, Conrad etched another riveting portrayal, this time in the biopic "Will: G. Gordon Liddy."

With his own production company, Conrad created and starred in many other entertaining TV-movies, as well, among them "Hard Knox," "Glory Days," "Charley Hannah," "Search and Rescue" and "Mario and the Mob."

His sons Christian and Shane appeared in several projects, including ruggedly exciting "High Mountain Rangers." Conrad himself directed the pilot film.

Conrad's impact on pop culture extended to his fiercely competitive appearances on "Battle of the Network Stars" and the memorable Eveready battery commercials.

After earning decades of stardom, Conrad opted to step out of the public eye. One of his last TV appearances to date was on the sitcom "Just Shoot Me," where he hilariously spoofed his tough guy image.

In January, 2008, he reentered the spotlight, hosting a highly engaging talk show on CRN Digital Talk Radio. "The PM Show with Robert Conrad" airs live every Thursday from 3-5 p.m. Pacific. (You can listen, view a live video feed or hear archived episodes at www.crntalk.com.) With geniality and wit, Conrad fields audience questions and interviews celebrity guests.

On the show, Conrad often trades banter with Mike Horn, CRN founder, President and air personality. Though Horn initially envisioned Conrad as the new Rush Limbough, he soon realized that the enduring star was a natural in a format brimming with warmth and fun, instead of political controversy.

Conrad's show quickly ranked among radio's most popular. CRN estimates his listenership at more than five million. It's heard on Time Warner, Cox and Comcast cable, as well as radio stations and satellite outlets across the country. With online availability, the show has also developed an international audience.

Of the show's success, Horn told us, "I think it's because it's real. Bob tells you what he thinks. There's no phoniness about him. He shoots from the hip. And it's a new style of talk radio. It's the new model. It's what talk radio is looking for - programming that appeals to a mass audience, that isn't about hate, that isn't about 'I disagree with you, you disagree with me.' It's entertaining talk radio.

Conrad has built a tremendous rapport with the listeners, whom he treats like family and friends. He often shares news about his own children, grandchildren and great-grandson, as well as irresistible Hollywood anecdotes.

He'll sometimes enter a segment with a snippet of one of his favorite records. If listeners are lucky, he'll even sing along, demonstrating that he still has a beautifully expressive voice.

The show is a dream come true for fans. And if you're not a Robert Conrad fan already, the radio show will soon make you one.

In January, 2011, PBS will unveil a new edition of "Pioneers of Television" and Conrad will be one of the legends interviewed.

Generously, the TV pioneer also took time to chat with Pop Culture Classics.

POP CULTURE CLASSICS:
I've been enjoying the radio show.

ROBERT CONRAD:
I'm glad you mentioned the radio show. I'm enjoying it, too.

PCC:
When the opportunity came up, did you know it would be right for you? Or did you have some hesitation?

RC:
When the opportunity came up, they wanted more controversy. And I have a reputation for being somewhat outspoken. That's what they were looking for. And I said, 'That's not where I'm going.' I don't want to be Rush. And I want to take a break from what we, as people, go through every day and to give an audience an opportunity to have a rest from the trauma and the trivia of the day. They didn't think it was going to be successful. You'll have two to four weeks. It's been two-and-a-half years. And they tell me it's got millions of listeners. It's a success and I'm still enjoying it.

PCC:
You actually refer to it, on the air, as the listeners' program.

RC:
Well, it is. As a matter of fact, coincidentally, sitting right across from me is Ernie Mariani, who plays piano at the end of our shows. He is a former jazz pianist, outstanding in his time, particularly in Hawaii. He is here, visiting from Tampa, Florida. He's 88 years old. And he has a problem hearing. But when he gets on that piano, it's unreal.

I'm a trumpet player - former. And singer - former. And I know the difference. He came to my old house, where I had a piano. I don't have one now. My daughters have moved to their own home. They're at that point in life where they have other fish to fry. They took the piano. But when he was out here four years ago, we got behind the piano and we were doing like a night club scene. It was just awesome.

PCC:
It seems like the radio audience has become like a second family to you.

RC:
That's what it's supposed to be. I've had three women - one from Vermont, one from New Hampshire, one from Mississippi - who met through the show. They agreed to come here. They came. And it was three of the best days of my life. Two of them were in their forties. One had just turned 50. And they were so intelligent, charming, well-dressed. I thought I'd died and gone to heaven.

They're coming back this summer. Last time, I put them up at the Westlake Village Hotel, because a friend of mine owns it and another friend of mine runs it. And I used to stay there when I lived in the mountains and I came to work in Malibu. I put them up there. This time, they're going to stay with me. Their husbands are all supportive. They don't feel threatened by any of this.

PCC:
Why do you think fans feel this lasting bond with you?

RC:
Some people were fans of my shows, the many I've done. And some people have met me through this show. And it's non-confrontational. It's your show. And what do you want to talk about, Paul?

PCC:
And anything goes.

RC:
Yeah. You tell me and I go there. And, if I can't go there, I'll ask the caller to e-mail me and explain to me what it is that I don't get. That's also part of it, too.

PCC:
And it all comes across as very open and honest.

RC:
Well, it is. That's the bottom line. It is absolutely honest.

PCC:
Do you think that's been a key, over the course of your career, having that characteristic of unstinting honesty?

RC:
There was a full house, about three weeks ago, at the Beverly Hilton Hotel. PBS is doing a special, in January, called 'The Pioneers of Television.' And the reporters from around the country were all seated at their desk with their laptops. I was up on stage, came out after they ran a clip from the 'Wild West' show with Martin Landau, a fight sequence. I came out and, in the course of the interview, one of the reporters said, 'You know, over the years, you've had some controversial criticism - those weren't his words, but that's pretty much what he meant - I said, 'That's true.' He said, 'Why do you imagine that happened?'

I said, 'When I did 'Hawaiian Eye,' you people said that I was a pretty boy. When I did 'Wild West,' you people said I was a tough guy. When I did 'Centennial,' you people said I was brilliant. ' Could you make up your minds?' It got a big laugh. And it's pretty much the truth.

PCC:
Not being typecast is a key to longevity?

RC:
I guess so. I get offered work still. Last show I did was in 2001, called 'Just Shoot Me.' So I'd had a run of doing movies for television, through my company. And I not only produced, but wrote, acted, directed.

Bill Shatner, a real good actor, he goes on and on. He's got to be close to 80. He's a wonderful actor and he continues to act. As does another friend of mine, Clint Eastwood. And God bless those guys. But they didn't do what I did. I had to pitch. I had to go to network heads and I had to sell. Then I had to cast and I had to walk through the show with the writers and say, 'Well, here's what I really want.' And so on and so forth. So that's why I kind of had, I think, a premature retirement.

There are some things out there that have been offered to me. And if the right thing came across the table... not a television series. Not a movie. But maybe directing an episode or playing a part, a five or six-day work week, I might do it. I say, 'might.'

PCC:
If something turns you on enough.

RC:
Well, yeah, exactly. If something turns me on. That's the bottom line.

PCC:
You mentioned on the radio show that your grandson is acting.

RC:
My grandson just did a movie role. He just had a baby. He's 28 years old. And he had a baby called Nick. Makes me a great-grandfather. And Shane, my son, is an actor-director. That's it in the family. The one son was an actor, but didn't really care for it. He's a contractor. Shane is the producer-actor. And then my grandson, Jesse is the actor.

PCC:
So your son Christian had been acting...

RC:
Yeah, he bailed.

PCC:
And your daughters...

RC:
Yeah, my daughters are actors, too. But they're in school, just starting. Chelsea is doing an album with Richard Marx.

PCC:
I head the clip you played of her singing. She's incredible.

RC:
She is incredible. Pat Boone heard two weeks ago, didn't know who she was, and went, 'Whoa!' So that's what she's up to. Camille, the middle daughter, is an actress. And she just finished school. Kaja, my 27-year-old, is a writer and she's going write 'The Duke of 63rd Street,' which is the story of her dad - me. I've just got to give her the info. I started and stopped, started and stopped. And then, last night, I said, 'You know, some of this is painful.' And she said, 'Dad, just go ahead. Just do it. Don't worry about it.' So I said, 'Okay, if you give me the assurance that it's okay.' And she said, 'Yes, just do it.' So I'm going to.

PCC:
Your stepdad was actually a radio personality, right?

RC:
Yeah. Eddie Hubbard. He was with WIND in Chicago. And then my mother had a radio show from the Shangri-La restaurant, which was a Cantonese, upscale restaurant And, interestingly enough, they did what I'm doing.

PCC:
A sort of chat show?

RC:
Yeah, a chat show with celebrities. They were primarily celebrities coming through Chicago, plugging their plays and movies. They'd come into the restaurant and my mother and Eddie would interview them.

PCC:
Was your mother a publicist, as well?

RC:
My mother started out very young. She was 15 years older than me. She started out as a publicist and then went into radio, then she divorced Eddie, left radio and opened up her own p.r. firm. And then she retired.

PCC:
So, at what point did you decide that performing was going to be your path?

RC:
I started singing, when I was 19, in clubs, on the outskirts of the city. And they were close to Northwestern. A lot of our audience were students and teachers. So that was a good thing, because we were available and they were available to us. On Friday and Saturday and a Sunday matinee, we were always busy.

PCC:
Who were the singers who inspired you at the time?

RC:
Oh, back in the day? I liked Frank. And I liked Andy Williams. And Vic Damone. Vic sang to me, at the end of his teens, I was like 12 or 13. My mother was representing him, because he was with Mercury Records and he was being called Vic Damon and my mother used to go, 'No! It's Damone! It's Damone!' And she put him on the phone to sing 'Happy Birthday' to me, which I kind of thought was insipid, but she thought I'd be impressed, because it was Damone. And those were the singers that I liked. And Matt Monro is probably, today, my favorite singer.

PCC:
Did you take vocal training?

RC:
Yeah, I actually studied with Richard Marx's father, Dick Marx.

PCC:
So a singing career was really your focus at the time.

RC:
Yeah, I would sing and really enjoyed it. Did it for three years. And I did it successfully. Then I went back to singing at Warner Brothers. But they wanted me to do Everly Brothers stuff. I wanted to do the Sinatra stuff. So it didn't work. And I quit.

That's the kind of guy I am. I walked out of a situation at Warners, a TV series, because, unfortunately, that's the kind of guy I am.

PCC:
You gotta do what you gotta do.

RC:
Yeah, but I think sometimes it should be modified. Sometimes I go over the top.

PCC:
Growing up in a tough part of Chicago, do you think that had a lot to do with shaping your personality?

RC:
I really don't know. My father never married my mother. He was only 16. He worked, all his life, in the labor field. He ended up Vice-President of National Sugar, out of New Jersey. He was a hardworking stiff. He never really applauded my success in this business I chose. And they were rough. That family was rugged. They all did well in the military. And they were rough.

On the other side, my mother was very sensitive and she wrote poetry and she was a charcoal artist. And she had these sayings all the time, to use - 'Is it kind, is it true, is it necessary?' 'If the string is in a knot, patience will untie it. Patience will do anything, if you only try it.' 'Beauty is only skin deep.' So on and so forth. That was Mom.

So, on the one hand, I had that kind of artistic, creative and on the other side, i had the tough guy thing.

PCC:
Did you go to Northwestern because you already had the bug for acting? Or did that develop why you were there?

RC:
I went to Northwestern, because James Dean died. And the James Dean Foundation saw me on an interview, talking about him in a movie he did, called 'Giant.' He'd died in a car crash. And they wanted me to do the movie that they were going to do and told me that I was their only choice.

I said, 'I don't know how to act.' And they said they weren't ready to do the movie, because they didn't have a script. So while they were getting a script, I could go to acting school. So I lived in the suburbs and Northwestern had a reputation for its Theatre Arts department. So I went over there and met one of the teachers, Professor Schneiderman and told him I wanted to study acting. He asked me from where I was graduated. I said I wasn't graduated from any high school. He laughed and said, 'You want to come to Northwestern? I said, 'Yeah.' 'And do what?' I said, 'Learn how to act.' He said, 'Here, go get this and look at it and come back and read it for me.' And I did. And he said, 'There's a quality about you that I like. I'm going to get you into the Theatre Arts department here as a special student,' which he did.

And I studied. And there was a tour, Hecht, Hill and Lancaster was touring, looking for young actors. It was just a publicity thing, to be in the movie 'Run Silent, Run Deep.' And Dr. Schneiderman chose me, out of all the students, to be the one to represent Northwestern. I went and read for the part at a hotel in downtown Chicago. And they said, 'You're in.' They flew me out to Hollywood, at the now popular again, which is sort of funny, Hollywood Hotel, where all the young actors hang out today, just as they did back in the day, 53 years ago. And I went to their office in Beverly Hills to find out what my part was. They gave me the script and I read it and said, 'Where's my role? What part do I need to study?' They said, 'No, no, no. you're going to be in the background.' I said, 'Don't they call that extra work?' And they said, 'Well, yeah.' But they had flown me out first-class and put me up at the hotel. And I realized that my singing was over. I was now acting. And I decided to go to New York and try my hand at acting in New York.

So I went to New York and looked up a lady I had met, who had visited the school, who was an outstanding actress and asked her where I could live cheaply and get going with an agent and so on and so forth. And she said, 'You can live with me.' And I said, 'Thank you.' And I spent the summer there and couldn't get work. Winter was coming and I said, 'If I'm going to be out of work, I might as well be out of work in a warmer climate.' And then, August the 17th, I flew American Airlines to Hollywood. And that's that.

PCC:
At what point were you driving a milk truck? Was that back when you were singing in clubs?

RC:
Yeah, that's when I was singing in clubs. First I was a dock worker for Consolidated Freightways. I got laid off at Christmastime. Can you believe that? I still don't like it. So then I got a job pushing a milk truck for Bowman Dairy in the suburbs. And I became a route foreman. I was a milkman in the daytime and in the nighttime and on weekends, I was a singer. And in the afternoons, I worked in a candy factory called Farley in Skokie, Illinois. So I actually had three jobs. And I enjoyed one of them.

PCC:
How did Nick Adams come into the picture?

RC:
I met him in Fairmont, Indiana. He was there publicizing a documentary about Dean, because he was Dean's friend from 'Rebel Without A Cause.' So he was the one they chose to publicize the documentary. And we met and his mother was a maid at an apartment complex and his father was the janitor. And we kind of hit it off. He said, 'If you ever get to Hollywood, this is my name, this is my number, look me up. We can hang out together.'

PCC:
And that's something people say, but, in Nick's case, he was true to his word.

RC:
Yeah, he absolutely was. And, as a matter of fact, I just spoke to his son today. Jeb, I put him in a television show called 'Black Sheep.' And his career kind of waned. And he's a real estate guy. And he sold my house. And he found this house for me to lease. This is like a museum. Every woman who comes into this house asks who decorated it. And I take great pride in the fact that I'm the one who decorated it. It's only leased, but it really is a magnificent place in Westlake. So, anyway, I hooked up with Nick Adams and we were friends until his unfortunate death.

PCC:
Too early.

RC:
Way too early.

PCC:
So he was able to help you become part of the young actors' scene in L.A.?

RC:
Yeah. He got me into the Screen Actors Guild. He got me into the Academy of Motion Picture Arts and Sciences. He got me my first agent. I attribute the shortcut in my career to Nick Adams. Always have and always will. I have pictures of him and our other friend, John Ashley, the actor, producer and part of the group, back in the day.

PCC:
Coming to Hollywood, did that seem like a long shot? Or were you always confident you could make your mark?

RC:
No, I didn't feel any trepidation about moving. I started boxing at age six and started working on the docks at age 15. So, no, I was never hesitant to take on a challenge.

PCC:
It was the film 'Juvenile Jungle' that got you your SAG card?

RC:
Yeah.

PCC:
And Nick Adams had a hand in that, as well?

RC:
Nick was going to star in it. And he brought me with him and said, 'Hey, throw this guy in it.' So I had this part of kissing this pretty little girl as the actress came down the steps to the beach. It started with me and panned off. Corey Allen was one of the actors, who was also in 'Rebel.' And then Nick got an opportunity to do a bigger picture with a bigger part, with a singer, a young singer who was a big star at that time. He told them, 'Well, I'm outta here.' And they said, 'What do we do with him?' He said, 'You hired him. You gonna tell the Screen Actors Guild you're going to get rid of him?' So they kept me and I worked for them that day. And then, when the book came out, there I was on the cover. I thought it was such an irony - the extra got on the cover.

PCC:
Then, landing a contract with Warner Brothers, did the studio provide a good education into the business?

RC:
Yeah, it was wonderful. They set you up with an acting class. They had a gym. Mushy Callahan, a boxer, was there to teach you athletics. And you had a beautiful dressing room. What you didn't have was any money.

PCC:
Did you have contact with Jack Warner himself at some points?

RC:
I met Jack Warner. Actually, after I left Warner Brothers, he wanted me to support Nixon. He called me on the set of 'The Wild West.' I thought it was funny, a guy I was hanging out with on the set said, 'Who was that?' I said, 'Jack Warner.' He said, 'Oh, yeah, ha-ha. Sure it was.'

I was one of the few people who actually liked Jack, because we, as actors, were underpaid. And a lot of people viewed that as being taken advantage of. But I thought they took young people and crafted them and gave them an opportunity. And some of them went on to become very successful, because of the training we got from Warner Brothers studio.

PCC:
Being cast in episodes of many Warners series, did that help you hone the craft?

RC:
Yeah, that did. I went to the school. I took advantage of the opportunity to study acting. I went to the boxing thing to stay in shape with Mushy Callahan. I had a beautiful dressing, beautifully furnished, that I was proud of. And I went from role to role to role and it was great. I learned and learned and learned.

PCC:
And then the opportunity with 'Hawaiian Eye,' did that seem like it was something that would click with the public?

RC:
No, I had no idea, at that time in my career, about whether it was a success. I was just put in a television series and said, 'Okay.' We went to Hawaii and I learned to surf. And I got to work with a woman that I admire and, to this day, love, and had the best dinner of my life on Friday, thanks to her. And her name is Connie Stevens, the owner of the cosmetic company, Forever Spring. So I got to meet her and become her friend. It was a great experience.

PCC:
You were able to fit some feature films in amidst all the TV work.

RC:
Yeah. It was mostly TV. But I was able to get in a bit of film work. I was in Europe and I got an opportunity to do a movie in Spain. And to this day, I'm still proud that I had that opportunity. The interesting thing was Jack Warner was paying me a thousand dollars a week at that time. And they loaned me out to star in this movie and they got $5,000. And I got a thousand. I thought that was kind of funny.

PCC:
That was "La Nueva Cenicienta"?

RC:
Yes, it was with their superstar, Marisol. I was thrilled to work with her. To this day, she's 58 years old, and retired and I haven't talked to her and I wish I did, because I really admire her. She was 15 and danced flamenco. Oh, my God!

PCC:
And that film gave you some big musical numbers.

RC:
Well, I studied the flamenco and I worked with her on the singing and the Spanish and it was just a great experience.

PCC:
And 'Young Dillinger,' Pretty Boy Floyd must have been an interesting role to play.

RC:
Oh, it was fun. It was Nick Adams and we were just having fun. At lunchtime, I told the guys, 'I'm going to go over and test for this thing. They're testing everybody in town and it's the most expensive pilot ever. And they just replaced Rory Calhoun, because he did a test with his buddy that he wanted to play the other role. And they saw it and said Rory was too old. So I'm going to go over there. Why not?'

I went over there at lunch. And after the test, I went downstairs to my dressing room and I didn't know that the tests were being broadcast live to New York and Los Angeles. And I got a call from Ethel Winant, who was in charge of casting, and she said, 'Robert, go to wardrobe. You're the star of 'The Wild,Wild West.''

PCC:
With what had happened with Rory Calhoun, it must have seemed like fate had stepped in to give you the role of James West.

RC:
I couldn't believe that I got that role. To this day, I'm still amazed that I got that role.

PCC:
You've mentioned that John Derek also had a shot at the role.

RC:
Well, John Derek would have had it, but he wouldn't come to town, because he was in Mexico with that little honey, who was under age. And he didn't want to get into any kind of trouble. And I don't blame him. But I met him later, in Nevada, at the fights in Las Vegas. And I complimented him on his acting. I thought he was a wonderful actor. He was with her. And we chatted about 'The Wild West.' And he said, 'You were the one to do that role. You are that person. Not me. Not anyone else. You are that person.' I said, 'Thank you.' So that was kind of a nice adventure.

PCC:
Great relationship on screen between Jim West and Artemus Gordon. The chemistry between you and Ross Martin, was that instantaneous?

RC:
No, that was just two actors working. I mean, we were totally different. He went to the theatre, to the ballet. And I went to the Olympic Auditorium every Thursday, to the boxing. It was just what it was. But it did work on screen.

PCC:
Earning a place in the Stuntman Hall of Fame, that must mean a lot to you.

RC:
Yeah, well, I'm the only actor. So that's why it does mean a lot to me. I'm the man.

PCC:
And after the skull fracture doing a 'Wild Wild West' stunt, you didn't worry about those kinds of things being too risky?

RC:
No, I didn't care about any of that. That just went with the territory.

PCC:
'Black Sheep Squadron,' another great series, it's again, difficult to imagine anyone else in the role. But I understand it wasn't a slam-dunk?

RC:
Well, the producer was concerned that I was a troublemaker and a fist fighter and a barroom brawler. He was concerned about it, but he brought me in anyway. Colonel Boyington was there. We chatted. And after that, I went outside the office and then came back in the office and they said, 'You've got the role.' I said, 'Wonderful,' assuming my agent could negotiate the deal, which I knew he would. So the Colonel said, 'Let's get to know each other better. Let's go over to the hotel.'

And we did. And we had cocktails. We had so many damn cocktails that we didn't leave the hotel. We stayed there that night. Colonel Boyington, Congressional Medal of Honor. And he embraced me and I embraced him. And having portrayed him was one of the great honors bestowed on anybody. Because we're not talking about a movie or a series. We're talking about a guy who won a Congressional Medal of Honor, a marine and a pilot. And I'm a pilot. And I know what it would take to do what he did. God bless America and Greg Boyington.

PCC:
And one of your other great performances, 'Centennial'...

RC:
That's the performance, Paul. I've got up on my wall, Terence O'Flaherty, San Francisco Chronicle, says, 'Robert Conrad was perfect in this role.' And if you remember Terence, he was rough. And The Daily Variety says, '... in what is the performance of his career so far.'

Here's one I'm going to read you that I really like. 'In his younger days, Spencer Tracy might well have played Pasquinel. It is, I guess, a tribute to Robert Conrad's performance that it is impossible to think of anyone, even Spencer Tracy, playing the role any better,' Don Freeman, San Diego Union. And on and on and on.

That was where I made the decision to either become a Robert Redford, a Paul Newman, or whether I wanted to go into making home movies, MOW's through my own company. And obviously, you know the choice I made. And I don't regret it. I had my kids in the movies. I made the movies I wanted to make. I hired the writers I wanted to hire. And it was just wonderful.

PCC:
So looking back on your career, doing it your way, you probably have no regrets at all.

RC:
Exactly. Absolutely none.

PCC:
And now you're being recognized, in the PBS series, as one of the 'Pioneers of Television.'

RC:
I am absolutely thrilled that they chose me as a pioneer of television. I'm humbled by it.

PCC:
Well, you've had an amazing longevity, making an indelible mark with so many memorable roles.

RC:
It's been fun. And I appreciate it. And that's one of the reasons the radio show is a hit, because I get an opportunity, every week, to thank the public. And I do.