ROBERT CRAY: THE BLUES-ROCK PERSUADER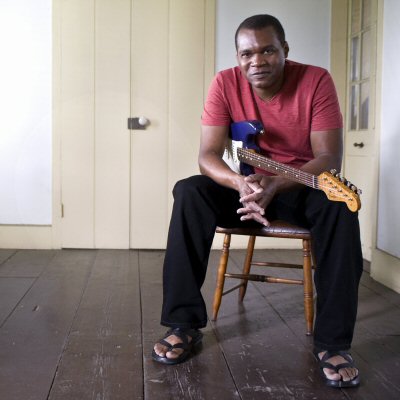 Photo Credit: Erika Goldring

By Paul Freeman [October 2010 Interview]

Robert Cray may sing the blues, but for him, music is all about the fun. For decades, he has combined blues, rock, jazz, gospel and soul into a rivetingly entertaining style.

Cray was born in Georgia. While in high school, in Virginia, he picked up the guitar and his lifeís path was forged.

His stirring fret work and emotive vocals brought him legions of fans. The Robert Cray Band signed with Mercury Records in 1982. Their third album, ďStrong Persuader,Ē earned a Grammy Award and the single ďSmokiní GunĒ was a crossover hit. In the ensuing years, Cray has garnered a total of five Grammys and 14 nominations.

Crayís latest release is the live CD/DVD ďCookiní in Mobile.Ē

For the latest news on The Robert Cray Bandís gigs, visit www.robertcray.com/tour. Cray spoke with PopCultureClassics.Com prior to his November 12 concert at the recently reopened Fox Theatre, Redwood City, Ca. (Information: 650-FOX-7770; www.foxrwc.com).

POP CULTURE CLASSICS:
The mix of material in your current sets, does that draw from throughout your career?

ROBERT CRAY:
Yeah, it does a lot. We go back to the ĎBad Influenceí album to the current record

PCC:
And you donít use a set list?

RC:
Thatís true.

PCC:
That keeps it exciting for you?

RC:
It does, it does. And that makes it a lot of fun. And I throw out suggestions. Or any of the other guys, if they want to. So we have a good time. Also, we like kind of donít do it, but then we do sometimes, we take requests from the audience.

PCC:
So how they react is also part of the mix.

RC:
Yeah, thatís true. A lot of fun.

PCC:
The new CD/DVD, thatís your first live DVD?

RC:
It is.

PCC:
Seems like such a natural.

RC:
Well, you know, those opportunities donít come around that often, especially with a six-camera shoot. So it was pretty cool. It was a good opportunity, so we took advantage of it.

PCC:
And the individual songs in your sets, are those always subtly changing?

RC:
Well, yeah, thatís pretty much so, because itís always fun to change things up when youíre on stage, instead of doing it by rote. We try to stay away from that.

PCC:
Is it difficult to find new challenges for yourself, musically?

RC:
Itís always a challenge and it always has been. Itís a challenge just to be in the music industry these days. So you donít really take anything for granted. Youíre always trying to do something that keeps it going.

PCC:
What about the music itself? Is that always naturally challenging or do you have to seek out creative risks?

RC:
Well, I think itís a natural thing for us, the members in the band. We like a lot of different styles of music and we listen to a lot of different things. And so, when we write, some of those things kind of pop in. And so itís a natural thing. But thereís also lots to draw from.

PCC:
Did music always seem like what you were born to do, rather than a choice?

RC:
I just never thought about doing anything else. Just went from one band to the next. Kept on going.

PCC:
I read that, at one point, you toyed with the idea of becoming an architect?

RC:
That was so long ago. That was like junior high school. [Laughs]

PCC:
Do you see some correlation between music and architecture, having to build a foundation, putting songs together, solos together.

RC:
Well, one can kind of draw those conclusions. Yeah, you have to do that, in a sense, to build a song. You can view it in terms of building a house. So yes, they do go together. But that was so long ago... [Laughs]

PCC:
As soon as you started playing, did it seem like that was what you were made to do? Did it come easily? Or was it just the result of a lot of hard work?

RC:
Well, itís always been fun. I played piano for a couple of years before I changed to guitar. And I had a lot of friends who played guitar at the same time, so it was all meant to be fun. And itís always been.

PCC:
For you, what was the process of getting beyond the basic techniques and learning to express yourself through the strings?

RC:
Itís just about having a good time, just playing. As for techniques, I donít let anything get in my way. I canít do everything Iíd like to do. [Chuckles] But like I said, Iím having a good time.

PCC:
It was The Beatles who were your first big musical inspiration?

RC:
The Beatles were the reason for getting a guitar. I wished I would have been George Harrison, when I was 12 years old.

PCC:
And then the next big thing was seeing Hendrix live?

RC:
I saw Hendrix a couple of times live, when I lived up in the Seattle area.

PCC:
So what was that experience like for you?

RC:
Well, I was too far away in the Seattle Center Coliseum, but it was still cool. I took pictures with my little Brownie camera. I really couldnít see him, but it was great.

PCC:
How did his music impact you?

RC:
I had been playing guitar since Ď65 and I saw Hendrix in the late Ď60s. So going from listening to everything that was on the radio to hearing the opening of ĎPurple Hazeí just flipped me out. It was just the weirdest thing Iíd ever heard. And it just grabs you and tosses you around. It was really cool. And I got all caught up in it.

PCC:
And then how did you veer into stuff like Albert Collins and Freddie King?

RC:
Well, I was continuing to play guitar with a lot of different friends. I got turned on to listening to the blues, towards the latter days of high school. I had a couple of other friends who were listening to people with those cool names like Howliní Wolf and Muddy Waters and all that stuff. So I got caught up in that and then realized we had a lot of those records at home. So that kind of cemented the whole thing for me.

PCC:
And when you were first hearing it, were you trying to emulate the playing?

RC:
Oh, yeah. Yeah, we tried to emulate the stuff. Me and a couple other of my friends, we really got into the whole thing, listening to whatever we could get our hands on and reading about these people, the stories. At 15 and 16 years old, hearing about people like Robert Johnson and his so-called association with the devil, was pretty cool stuff.

PCC:
Once you can actually play the licks youíre hearing, then you can add your own touches?

RC:
Well, we tried to emulate people that we saw and fortunately for us, Albert Collins had been playing up in the Seattle/Tacoma area quite a bit. And my friends and myself had seen him perform. So we tried to emulate him. We had these band practices or little small-time gigs and weíd walk out into the crowd with our guitars and all that stuff. So we were caught up in it.

PCC:
Did you find the blues to be a great way to release emotion?

RC:
Well, you know, when youíre a teenager, itís not about that. In the early days, itís about the personalities in the music. Itís about learning the licks. After you get a little bit older, it starts to get into the grooves, into the rhythms of the music. As you get older than that, you start understanding the sentiment, the lyrics in a lot of the songs. You donít understand all that feeling stuff until you get old enough to feel it.

PCC:
And once you do start feeling it, do you notice that the music sounds different, depending on what mood youíre in?

RC:
Yeah, and you have a whole lot to do with the changing of that. You can set the whole mood, depending on your mood. The songs you play in a set, during a night, you can change the mood of any particular song by the way youíre feeling on a given night. Sometimes, at the end of a song, you think you shouldnít have done that song, because you didnít put enough into it. But if youíre really feeling something, you get it.

PCC:
Your smooth singing style, does that come more from listening to soul and R&B, rather than blues?

RC:
Yeah, itís the timbre of my voice. Iím not a blues shouter. I wish I could do Howliní Wolf, but my voice doesnít take me that way. But I still listen to it. With my voice, itís more the smoother R&B thing.

PCC:
You mentioned the diversity of influences, is that partly because in those days, radio had such a broad playlist, instead of being so compartmentalized?

RC:
Yeah, thatís true. Back in the Ď60s, all kinds of things were being played on commercial radio.

PCC:
You were in ďAnimal House,Ē playing with Otis Day and The Knights?

RC:
Thatís true. Iíve been Knight-ed [Chuckles] .

PCC:
Was that a fun experience?

RC:
It was. It was great. We were on the set for three days. Iíd just finished playing a show in Eugene, Oregon. And a casting director asked me if I wanted to be in the film. Not really believing that anybody was shooting a film in Eugene, I said, ĎYes.í And then a couple months later, they contacted me and I got back into town and we were on the set for the next few days.

PCC:
What was your take on The Blues Brothers? Did you feel it was a positive, just in terms of giving wider exposure to the blues?

RC:
Well, you know, the whole Blues Brothers thing was inspired by my friend Curtis Salgado. He and I worked together for a bit. And we also had a splinter band at the same time that ĎAnimal Houseí was being filmed. And Curtis Salgado, he was taking Belushi home and turning him on to all kinds of blues music and so that was the inspiration.

PCC:
When you first opened for Eric Clapton, was that a learning experience, seeing how he handled the big audiences?

RC:
Yeah, it was. It was a great opportunity to hit the big stages. And Eric was kind of showing us the ropes. So it was a great time. Heís a fan of our music. And, of course, weíre obviously big fans of his. Heís really easy to get along with. And it remains that way to this day.

PCC:
Stevie Ray Vaughan, you played with him the night before he passed?

RC:
Thatís true. As with Eric, we had the opportunity to do a lot of shows with Stevie. And he was a good friend and great musician. I mean, I donít really know what to say at this point. Losing him was a really bad situation.

PCC:
Did you work extensively with John Lee Hooker?

RC:
We worked a lot with John and actually we were with the same agency for the longest time. So we did a lot of work together, a lot of shows. We worked together quite a bit.

PCC:
And someone whoís had so much experience , do you ask him for advice? Or just pick it up through osmosis?

RC:
Itís the latter. You donít really sit down and trade licks or anything like that. Itís just the experience of being around these people that, when you were a teenager, you listened to their music and you just thought about how cool they were. And then, all of a sudden, at some point, youíre sitting next to them. Thatís enough [Laughs].

PCC:
Winning the Grammy for the first time, was that validation important to you?

RC:
It was cool. I doní know whether it validates. It does make you feel that the industry and your peers care enough about what you do to honor you with an award.

PCC:
When the crossover success came, did you just enjoy it? Or did you worry about how you were going to follow it up, how you could sustain it?

RC:
No, we didnít think about how we were going to sustain it, because we thought it was like all a fluke [Laughs], for a bar band thatís playing blues and R&B, and all this was happening. Going back, weíve never lost that thing about starting off as teenagers, playing our favorite music. And so, it just never crossed our minds to try to change anything to stay with it. And even though we were with a major record company, with Mercury, they understood that, too. And they never pressured us. The only pressure they ever gave us was to get out a second record, after ĎPersuader.í Other than that, the material choice was ours.

PCC:
But it must have been great to know that, with the right exposure, under the right circumstances, it could have widespread appeal.

RC:
But I think that also, it was the time. It was the time in the Ď80s where there was this Americana push, this roots kind of push, because, at the same time, there were Los Lobos, Stevie Ray Vaughan, Blasters, Fabulous Thunderbirds. And everybody was getting exposure. MTV was fairly new. And, as the music changed, they were looking for stuff on TV.

PCC:
Youíve also had success with songwriting. That process for you, is that enjoyable? Or can it become torturous?

RC:
No, itís enjoyable. I take a certain time to do my writing. I like to do the bulk of my writing when Iím at home and Iím off the road. I donít put pressure on myself to be constantly writing. Like a book writer writes every day, basically. I canít do that.

PCC:
So do you just wait until something pops into your head that you can elaborate on?

RC:
What happens, when I am off the road, then my focus can be on songwriting. So, yeah, things pop in. And just the fact that Iím off the road makes me more receptive to little ideas as they come. So Iíll just keep my head open and maybe Iíll get an idea of a song, a line, a phrase or something like that. And itís easy to get to paper and pen.

PCC:
Youíve had songs covered by other great artists. Any of those that particularly thrilled you?

RC:
Yeah, when I ran into Tony Bennettís guitar player and found out that they were doing ĎPlaying With My Friends,í a song that I had co-written with a good friend of mine, Dennis Walker, for B.B. King. When I found out that Tony Bennett was doing it, that was a big surprise.

PCC:
It also must have been pretty cool when you first found out that Fender was making a Robert Cray model Strat.

RC:
Yeah, that was really exciting. You never even dream of things like that. That has been a really nice association.

PCC:
Where are you based now?

RC:
I live in Santa Barbara County, in the country, wine country, horse country.

PCC:
And youíre married, have a child?

RC:
Little boy. Heís three. Weíve been married 20 years and we have a three-year-old boy

PCC:
So you and your wife wanted to get to know each other first.

RC:
[Laughs]

PCC:
Also, youíre into cooking?

RC:
Yeah, do a lot of cookiní.

PCC:
Thatís another aspect of your creativity.

RC:
Thatís just something that Iíve always loved to do.

PCC:
And with the music, do you still have goals that youíre yearning to achieve?

RC:
Itís a constant. You never know whatís next. You just keep on going. With the fact that, in this climate, CDs donít sell like they used to, we feel fortunate that weíre a touring band. We always have been. And we hope to continue with that.

PCC:
Whatís the greatest satisfaction for you?

RC:
The stage. Coming off the stage and feeling like youíve worked hard and made people smile.

PCC:
As for the future of the blues, you mentioned the resurgence of interest in roots music in the Ď80s, are you optimistic that interest in the genre will continue into the future?

RC:
Oh, yeah. Itís always going to be around. But it changes. And you just have to be open to the way it is. Thereís people that still do traditional style, as well. Itís not one bag. It will always be around. And it will incorporate whatever a person decides to put into it... like it always has.

PCC:
When aspiring musicians ask for advice, what do you tell them?

RC:
I just tell people, guitar players, just to have fun with it. I donít try to give anybody advice, business advice, because you really canít do that. I think itís great for people to get the opportunity to play with others and to have fun with it.