ROBERT EARL KEEN: HIS MUSICAL ROAD GOES ON FOREVER
Overlooked? By The Masses Perhaps, But This Great Singer-Songwriter is Admired by Peers, Critics and His Legion of Loyal Fans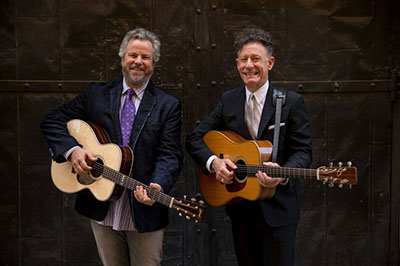 Robert Earl Keen, left, with pal Lyle Lovett; photo by Darren Carroll
By Paul Freeman [February 2018 Interview]
For decades, Robert Earl Keen has been among our most pleasing singer-songwriters. Keen, who hails from Houston, has proven himself to be a wonderfully witty and perceptive tunesmith. He can evoke both laughter and tears.
He has penned such unforgettable songs as "The Road Goes on Forever," "Whenever Kindness Falls," "Feelin' Good Again" and "Gringo Honeymoon." Many great artists have covered Keen's songs, among them the Dixie Chicks, The Highwaymen, Lyle Lovett, Joe Ely, Nanci Griffith and George Strait.
A maverick who has followed his own path, Keen may have been under-appreciated by the mainstream, but peers, critics and his legion of loyal fans sing his praises.
Off stage, Keen is humble and a bit shy. He has a self-deprecating sense of humor. But when performing, he is the consummate showman, invariably delighting audiences.
POP CULTURE CLASSICS:
You've been touring with Lyle Lovett again. What impresses you most about him, both as a performer and as a songwriter?
ROBERT EARL KEEN:
His thoroughness, how he pretty much checks off all the boxes, from A to Z, as far as how he's out there performing for the people. It's obvious that he's an extremely generous performer. I say that, because I kind of divide people in that way — people who are very generous and want to give everything that they've got or give you more than you even want sometimes, as opposed to some people who — I never did understand this — but some people say they phoned it in. I mean, I get it, but it's not all that funny to me. They just do their thing. And Lyle's just totally generous with his effort, as far as onstage. And as far as his songwriting, it's fun, it's quirky, it's incredibly insightful. His ability to do dialogue sort of things is amazing. It's like verbal jazz, his stuff that he does, where's there's people really having a conversation and that sort of thing. I don't know anyone who's really done that to that degree… or does it as well today. So from my perspective, he's truly incredibly unique, but in the best ways.
PCC:
The two of you met at university?
KEEN:
Uh-huh. Way back in the latter part of the 20th century, in the 70s. We weren't really friends. We met because of music. I used to play music out on this porch all the time with these bunch of snuff-dippers and shit-kickers. And he wasn't really like that. But we got to be friends, because of the music. I think the summer after we met, everybody left. All my friends left. And his friends left. And he lived right down the street from me. And we took some classes together and we just walked to class every day. And sort of non-stop talking, sort of like those short stories like you'd see John Cheevers do or some sort of thing, like you'd read Philip Roth or something. To me, it was very literary in that way that you talk and you talk about everything in the world. You have what you at least think at the time are deep conversations. And when you reflect on it, it does seem deeper than it might have been.
PCC:
And you eventually ended up co-writing?
KEEN:
Uh-huh. Well, we wrote this one song together ["The Front Porch Song"/"This Old Porch"] and that was just sort of accidental. I had written a lot of poetry, from the time I was a kid, but I didn't play guitar until right at the end of high school. So I was really limited and very much of a novice as far as playing, in music, that way. But I always had this literary bent, as far as writing poetry. It was always my shining moment in school, when everything else was a total disaster. And he was a really good player and was much more musically advanced than I was.
But anyway, I was trying to scratch together these songs. And this was one of the first songs I ever wrote. And he added some verses to it. And it became what it became. It's almost this sort of underground, Texas A&M anthem about, basically, our lives out there in the hinterlands of whatever — Central Texas, that is.
PCC:
The events that team you on stage with other songwriters, are they sources of inspiration, sharing stories, maybe hearing a little more about their process?
KEEN:
Oh, it's a blast. With Lyle and I, it's more like a conversation. It's like "My Dinner with Andre." It's just a conversation. It just goes on and it can be funny or delightful or something, not really ever sad or maudlin. But definitely entertaining. Both of us have the same attitude about getting on stage. Our job is to entertain and be entertained. We're up there doing our best to make this provocative and engaging. And so that's what we both do. We work real hard at that.
When you play with other people, sometimes it becomes kind of a competition, which is fun, as well, in that somebody plays this kind of song, so you want to one-up them and do something similar, but better or that you might think is better. I have always had a real good time. I've done a hundred of them with different people, everybody from Raul Malo to Todd Snider. And they're always different. But, for the most part, they're always fun and spirited, and at some point, entertaining, in that it's surprising.
Some people can really hit a lick and you never really understood them until you're sitting up there together… Or sometimes it's a little disappointing. I had one guy tell me at a Winnipeg Folk Festival one time… I'd never met him before, he was a really good singer, but he looked like a frog. And when I sat down next to him, he said, "Wow, you're really photogenic." I was like, "Yeah, well, you're not." [Laughs]. So anyway, it got worse from there.
PCC:
You've gotten to perform with many great writers over the years. You toured with Townes Van Zandt and Guy Clark, right?
KEEN:
Yeah, I did about 18 months, on and off, with them, all over the United States. And I did some with a Guy over in England, Ireland, Scotland. But I did a bunch of stuff with Guy and Townes. That was, I don't know, that was kind of like me going to college in the music business, because these guys were at the top of their game. And I was really kind of coming on. And I knew some stuff by then. And I had some good ideas, but I didn't have their depth and all. I don't even think I have their depth today [chuckles]. They were definitely masters of their craft, I would say, at the time.
PCC:
And were those wild times, on the road with those two?
KEEN:
Not really. I mean, they were weird. One time we had a show in Seattle and ended up somewhere down by the docks, talking to a bunch of fishermen. And next thing I know, they were taking down my number, saying they could send me all this salmon, like 300 pounds of salmon, which I got. One of them was like this whole, huge 30-pound salmon and it says, "Please take this to Guy Clark." Guy lived in Nashville and I lived in South Texas, which is only like 700 miles away. So I had to keep it frozen for like a week, until I could get up there and get it to Guy. And I gave it to Guy and he's like drunk and weird, and so he gets up on stage and he auctions it off for $12. Truly one of the strangest interludes, or interconnections, with another person about something. Who knows why that happened?
PCC:
So the road can always be an adventure.
KEEN:
Yeah, no doubt.
PCC:
The songwriting, your process — Is it a matter of waiting for the muse? Or do you discipline yourself to sit down and try to come up with something?
KEEN:
No, man. I wish I did. I'm really lazy on that… and on anything. And I really kind of write sometimes when it kind of strikes me. So I have a place where I go, out in the country. And it's just a little bitty cabin that I call the Scriptorium. And I stay out there and that's really where I get most of my work done. But that has to do really with putting yourself in some kind of a jail for a week or something and forcing yourself to really come up with something. It's really cathartic, in a way. But at the same time, very hard, because, I don't know how much time you've spent by yourself, but, when you actually lock yourself away from the rest of the world, you get pretty weird. I do anyway. But that's been how I've been able to write. I just lock myself away and write.
The rest of the time, occasionally the muse hits me and I write a song. But I don't have a real set routine. And I never felt bad about it till I was in the City Lights book store in San Francisco and I found this book about how writers write. And it had everybody from like George Gershwin to like Larry McMurtry, music and literary. And it was shocking, man. All these people had like real routines. They got up every day and would write like five hours. Larry McMurtry — and I always thought this was interesting, because it really reflects in his books — he writes five pages a day. Right? That means that even if he's not inspired, he writes five pages. And I can promise you, there are probably a few years where he was not inspired at all, based on the books that I read at that time.
So I was amazed. I had felt like the whole thing about art was that it had no boundaries in it. And no discipline whatsoever. And I've kind of always thought that. And it's not really true. My friend Terry Allen is a songwriter and a sculptor and stuff. And that dude works about 15 hours a day, every day.
PCC:
But with you, when you're waiting for the muse, then it does arrive and a song starts to take shape, it must be exciting.
KEEN:
Well, yeah [laughs], I'm surprised that I have any talent whatsoever. I'm always like, "Wow! That's amazing!" But of course, this wave of guilt comes over me and I go, "Why don't I do this more often? I'm not that bad at it." And then I get distracted and I go and do something else.
These days, Paul, the biggest distraction is I stay out on the road so much. I used to really scrape for shows. And now it's gotten to where they just keep coming and coming. And it's hard for me to say no, because it's been so many years begging my way onto shows.
PCC:
But in the early days, did you ever have to make a decision about whether you were going to make music to please yourself, rather than aiming at what might work commercially?
KEEN:
I never even thought about that. I was so oblivious to what was popular at the time and so disconnected from whatever was popular. Part of my formative years were probably in the 80s. And some in the 90s. Actually I hit a better lick on my own writing probably in the 90s more than any time. And it had nothing to do with what was out there. It just was what I thought was cool. I just thought, "Well, this sounds cool" or "That sounds cool, as far as the sounds that I was making. Or I bought an electric guitar and thought, "Wow! Isn't this cool?" So I made a whole record just based on the fact that I was playing an electric guitar the whole time. And all these different things like that.
And really, for me, the volcano or the core of what I do is based on, all of a sudden, I sort of kind of get into a certain sound or something, and start thinking, "I would like to kind of keep working with this." But it's really from the inside-out. It may be from the outside, but it has certainly incubated so long that it feels like it's from the inside-out.
PCC:
So did you never have industry people trying to nudge you into what they thought would be more commercial directions?
KEEN:
You know what? Did you ever see that movie "The Drop"? At end of this movie, the detective comes up to this guy who has really been sort of in control all the time, but he's always been a bartender, so nobody knows. So the detective says, "They never see you comin', do they, Bob?" And I thought, "Man, that resonates with me," because I was so much out of it, people just kind of overlooked me all the time, overlooked me in every way.
I was with two major labels. And I was on all kinds of independent labels. And they always just basically said, "Whatever you want to do." I mean, I didn't get giant budgets or anything. I never had people breathing down my neck. I had one space there when I was with Arista and I made this record "Picnic" and I had like Margo Timmins and stuff playing on it. And they were a little bit looking over my shoulder and breathing down my neck. But it wasn't much. I've never had much. I've just felt that everybody's always given me enough rope to hang myself… but somehow I didn't [laughs].
PCC:
Do you think maybe it's because you've always been true to yourself artistically that you've had such career longevity?
KEEN:
I don't know. I really don't know the answer to that. The longevity has to do with, I have a great amount of will. And this is all I've ever wanted to do. I've worked a lot of different jobs to do it. I mean, I've had 30, 50 jobs in my life, other jobs, everything from working in a restaurant to working as a roughneck on an oil rig. I worked for the IRS one time. I worked for the state of Texas one time. I worked on a loading dock. I swept out empty, screwed-up buildings that were just destroyed — that kind of stuff. I've done everything. And all the time, this was all I wanted to do. And all the time, I kept doing it, in one way or another.
PCC:
What were you majoring in at university?
KEEN:
English.
PCC:
Who were some of the artists who inspired you early on?
KEEN:
Well, I'd have to say, Willie Nelson was a big inspiration to me, because I just loved the sound of the music. And I go back to the pre-bandana, pigtail Willie. Country music was really what I liked, when I was growing up. And he was really my favorite country artist, not only because I liked the sound of his voice, but because he wrote this stuff. He wrote "Crazy." He wrote the things like "Mr. Record Man," these great, great, great, great songs, that were country songs. And "Hello Walls" was a huge hit for Faron Young in the mid-60s. And so I thought that whole artist-writer thing was really cool.
But I guess when I really started following people, I kind of gravitated more to like folk and bluegrass sort of stuff. So I was huge fan of Norman Blake. I liked comedy, so in the world of comedy, I loved Loudon Wainwright III. And then there was Dylan. And a lot of other sort of Americana people of the time. Jackson Browne, some of that sort of pop stuff. But I never got too far into the pop stuff, because I pretty much just loved the sound of an acoustic guitar for so long I thought that, if you used drums, you were cheating.
PCC:
When you were starting out, were there other artists who encouraged you?
KEEN:
[Laughs] The answer is no. Sometimes I wonder if I just sat around and made this shit up, just standing, because I still want to stand. You know? But no, I never really had any encouragement. And I had a management company for a while, in the late 90s. I created a management company. I was doing pretty well. I had a lot of stuff going on. I though maybe I could manage some other artists. And that went south, by the way. It ran for about three years.
And when I got with these artists, people would come up to them and talk about how great they were and how they wanted to manage them. And I'd go, "Sorry, they're already being managed." And they'd say to these artists, "I can get you all these deals." And they would offer all these deals to people. And I thought, "You know what? That never really happened to me." No one ever said anything about anything. I had one guy tell me one time that he liked my voice, because I hit notes that no one wanted to hit. That's about as good as it ever got.
PCC:
[Laughs] And yet you persevered.
KEEN:
I persevered.
PCC:
But you do have unique talents. Do you see those more as natural gifts or as crafts that you have honed?
KEEN:
No, no, no. The word thing is a gift. And you certainly can take a talent and continue to massage it and work with it and work it out and make it really better. I really do think in terms of crafts and talents and skills. So I really do believe that a lot of the things that I do have are just fundamental things that you really need to have. And one of the things is that I can put words together. I really like to put words together. It's fun for me. It always makes me feel good.
The music is a lot more of a skill-oriented thing for me. I've got to work a lot harder at it. But the fact is, there is something there, because I can put sounds together and figure out things and get in a studio and say, "This is what I want. This is what I don't want. These are the things I can do." But that, once again, that was a long time coming. And it took a long time to figure out what I was good at in the world of putting sounds together. But the words — they were always there.
PCC:
And then what about the showmanship aspect? How did you develop that?
KEEN:
That's a good question, because really it's a three-way thing. It's like the music and the words, putting together the songs, and then really the thing that brings it all together is stepping on stage. And the first time I ever stepped on stage with a guitar, I felt like that was my place and I was supposed to be there. This is where I get to say what I want to say.
And I'm relatively shy. Other than the fact that I'm basically speed-talking right now, the fact is, I'm relatively shy and pretty introverted. I'm not big on interrupting and any of that sort of stuff. But when you step on stage, you feel like, "Okay, it's my turn. Shut the f—k up over there, I'm talking." And you have every right to do that. So I always felt really great about stepping on stage, because that was where I got to say what I wanted to say. And I also felt like I wasn't going to sit around and waste anybody's time.
PCC:
So being able to connect with an audience — that came right at the beginning?
KEEN:
That did, yeah.
PCC:
And early on, even though you weren't getting those magical offers, were you fantasizing about the big label deal, that kind of success?
KEEN:
I used to get this great kick — like I used to play all over Austin, Texas. I had this job and I worked from eight to five. And then I'd get off and I'd run to some place to see if I could talk somebody into having me set out a tip jar and set up my little sound system, which I did, all over town. And I got to where I would be playing like five days a week, like starting at 6 p.m., Happy Hour stuff. Then every once in a while, I'd get to open up for somebody at a real show. So I did a lot of that kind of stuff.
And then one time, I was playing at this place up on Guadalupe. It's a long time gone. But I got this little Panasonic cassette deck and I recorded all this applause from all these live albums. So I would put a microphone in that and then I would play a song and there would be like one person in the audience, right? There's nobody there. And I would say, "This is a song…" have some bullshit patter. Then I'd push the pause button and all of a sudden, this applause would go on for like 10 seconds and then I'd push the pause button again [chuckles]. And then I'd go into the next song. So that was my way of having this big fantasy thing. I was sort of yeah, playing out my fantasy in this way.
PCC:
But you must have known even at the beginning that the indie label scene would be better for you than the giant corporate record companies.
KEEN:
Yeah, definitely. I never was that sort of… but you know what? You have to love that kind of music and love that sort of thing to follow that kind of stuff. And like I said, it didn't even hit my radar, man. You could name every pop act of the 80s and I'd only know about three of them, because I wasn't even listening. I didn't even care. The whole thing then was like, I was just playing like folk songs and other material by a lot of other songwriters, from around Texas and other places, and then writing my own songs. So that was it. So then it was acoustic guitar and one voice and eventually somebody would come in and play bass or something.
PCC:
The rise of Americana scene in the last 20 years, was that something you could have anticipated?
KEEN:
No, but I am the poster child for the Americana scene. Gavin [the radio trade publication] invented the Americana thing in like '96 or '97. And I'm on the cover for "Welcome to Americana Music" or whatever it was. So I was the poster child for that.
But no. I do think in the world of Americana, one thing I loved about it in the beginning was that it was way open. I had friends in the Northeast, like John Gorka or Greg Brown is one of my all-time favorites who lives in Iowa. Bill Morrisey is from New Hampshire. Lucy Kaplansky. All these people I love that were folk acts and stuff that I knew up in the Northeast. And they were all part of that Americana thing in the beginning.
And then it just got sort of whittled down to mostly Nashville people. And it sort of became this place for people who either wanted to be stars in Nashville or used to be stars in Nashville, became part of the Americana thing. I shouldn't say this, because they'll ban me from Americana forever, but the truth is, these days, it is primarily… Well, in the first place, The Americana Music Conference is in Nashville every year. And it's mostly Nashville people. And it really excludes some incredible, great artists out there in the world, because you're just not part of the machine.
PCC:
So good music is not necessarily going to be heard? Sometimes it just gets lost?
KEEN:
I think so. I don't know exactly how it works with the internet. But I do know that there's just so much music out there now. Some things do float to the top. But I want to say, like being able to get attention, it's still kind of the old world, and you still have to be sort of connected with some group or some label or some management company, publishing company, something that is going to take you further than you can take yourself. And there used to be a little more independence about being able to take yourself to a certain level.
There were certain songwriters — like I mentioned Greg Brown, Greg Brown, he could play all over the Northeast, all the way to Washington, all across the northern part of the United States and play little 200-seat clubs for seven nights in a row and then go to the next one and play five or six nights in a row. And they were all sold out. And I'm not sure that's going on. Of course a lot of those kind of venues have disappeared in the last 20 years.
PCC:
So with so much changing within the industry, has your fundamental approach to music changed over the years?
KEEN:
My approach to music hasn't changed. I believe though, in the first place, you have to be flexible about this. If you look at the music industry in the historical perspective, it changes every 20 years in a pretty significant way. And then about every 30 years, it's kind of like somebody set off a bomb in the middle of it, blew it all to pieces and it's all put back together. And the bomb that went off in 2005, with the internet coming on so hard and really the end of the CD, the compact disc, changed everything so drastically.
For me, it's hard for me to get my mind around. But the reality is, you just have to accept it. I mean, I hear lots of my old songwriting friends, hanging out in Nashville and stuff, they're all just like [in a gruff voice], "It's f-cked up, man. They don't even give a shit about the merit of a song anymore." Well, yeah, I know. But you know what? It's still out there. People are still making music. And not only that, but probably, volume-wise, listening to music more than they ever have. If you could measure in just musical tones, if you could measure every musical tone going on in the world right now, at this moment, it would probably be 100x compared to even 1990. And 1000x compared to say, 1960.
PCC:
Where are you based now?
KEEN:
I live in Kerrville, Texas, which is also off the map [laughs]. It's west of San Antonio, 63 miles.
PCC:
And you're married?
KEEN:
Uh-huh. I've been married 31 years. We have two daughters. I have a daughter who just graduated from TCU. And I have a daughter who's graduating from high school.
PCC:
So what's been the most rewarding aspect of the life in music?
KEEN:
The people that I've gotten to play with. There's my life, which is great. I have a wonderful family and a great place to live. I love that. But in the world of music, oh, man, I have these musical memories, as I've always called them. And they were so overwhelming sometimes that they make you want to cry, because your heart just feels like it's going to stop.
I was on stage at the Bottom Line in New York one time with John Phillips from The Mamas and The Papas and John Stewart who was in the second version of The Kingston Trio. And then he wrote all these hits for like Fleetwood Mac and things like that. He was a great guy. So I'm on stage and John Phillips is pretty f—king addled [laughs]. And John Stewart keeps telling him to get off his spaceship. They knew each other for a long, long time. And then finally John Phillips sings, "Are you going to San Francisco?," which was a hit in like '66, '67. And it was ubiquitous at the time, that particular song.
And the guy who sang it, this guy called Scott McKenzie, gets up on stage as John Phillips is starting to sing it. This guy walks up out of the room, walks up on stage and sings it and it was just overwhelming. You couldn't get over how beautiful it was. Right? And how much it meant. And I thought, how strong could a song be, that when someone heard it, they could be in Youngstown, Ohio or Tallahassee, Florida, they're working on their truck and they hear this song and they say, "F—k it, I'm going to California!" And you know that it happened to people. It affected them. So that was just like, something I couldn't get over.
But I've had lots of memories like that. I had a time in Galway, with Philip Donnelly and Nanci Griffith and this great Irish singer Dolores Keane. And they started singing this song, "From Clare to Here." It's this heartbreaking, super sentimental Irish song. And it was just four of us in this bar and it was like four o'clock in the morning and they were all just singing and playing this beautiful harmony. And I couldn't get over it.
So I have those memories. Some of the things that I saw with Townes and Guy — just unforgettable, as far as the music part. Those are the things. That's where all the payback is in music. It's that — that feeling that music is so strong.
PCC:
And you must have fans telling you all the time about what an important role your music has played in their lives.
KEEN:
That is true. Yes, it's true. And it's hard to accept, because I'm not really sure… I believe them, but I just can't totally incorporate it in my thinking.
PCC:
You also must have been told by countless musicians how much they were influenced or inspired by you?
KEEN:
There's that, too. That happens all the time. And there are songs that people mention and I feel like they're strong, they're worth that kind of commentary. But I kind of sort of separate the way I am from sometimes the songs that come out of me.
PCC:
So you can sometimes look back at a song and think, "Wow! I wrote that?"
KEEN:
Yes, no doubt. Yes.
PCC:
Is there a new album in the works?
KEEN:
Well, no, not really, per se. There are songs I'm putting together. And I want to go to the studio. I go to this little studio over in Dripping Springs, which is between Kerrville and Austin. And I want to go in there and start working on that, but I can't find time right now.
And then I have this other joke that I started about 18 months ago and it's something that I think I might do. I wrote what I laughingly call Snapchat songs, which are 90 seconds songs. They have just one meaning. They have maybe a verse and a chorus or maybe just have verses. But they just last 90 seconds and they don't really repeat. And I just say one thing. And I've been writing them for a while now. So I've got 15, 20. I'm thinking I have to have 30, if I make a record. So if I get to 30, I might make a record of that. That might happen pretty soon.
PCC:
You're really staying current, eh? I barely know what Snapchat is.
KEEN:
Well, you know, culturally, our attention span is really, really short. And we have to move on. And so why not? The early songs, the 45s and stuff, those songs were two minutes, short songs. And they worked that way. So this is just a little different in that I'm not trying to get back to the chorus as soon as possible. I'm just trying to say one thing.
PCC:
Generally, with all you've accomplished, are there still goals you're yearning to fulfill?
KEEN:
Yeah, I'd like to hear a song that I wrote — I don't expect this with my voice — but I would like to hear a song that I wrote have a Top 10 hit on country music. I just think I missed that somehow. There were lots of close calls, but it never happens. I had really good luck with country songs. I've written a bunch of stuff on some really big albums, but I've never had a single that was like a Top 10 single. And that would be something that I always wanted and always felt like it should have happened. And it never did. So I'm still working in that direction.
For more on this artist, visit www.robertearlkeen.com