RONNY COX: STILL DELIVERING THE GOODS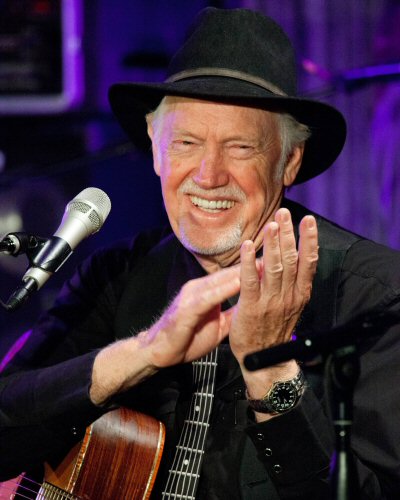 Photo by Jay Ford (Night Sky Creative)
By Paul Freeman [April 2012 Interview]
Since 1972's riveting screen classic "Deliverance," Ronny Cox 's honest, insightful performances have etched themselves into the public's consciousness. It was Cox who played guitar in the iconic "Dueling Banjos" scene and his character, Drew, meets an unforgettably ghastly end. If you're a fan of the movie, you'll be enthralled by his new book, "Dueling Banjos: The Deliverance of Drew."
Cox went on to play key roles in many other memorable films including "Bound For Glory," "The Onion Field," "Taps" and "Beverly Hills Cop."
His television work includes "A Case of Rape," "Apple's Way" and "St. Elsewhere," as well as, more recently, "Desperate Housewives" and "Dexter."
Cox has earned a following among science-fiction fans, having acted in "RoboCop" [the Machiavellian Dick Jones], "Star Trek: The Next Generation [Captain Edward Jellico] and "Stargate SG-1" [Vice-President Robert Kinsey].
Over the past dozen years, Cox has established himself as one of folk music's most engaging troubadours. His latest album, "Ronny, Rad and Karen," has just been released, featuring his regular musical collaborators, Radoslav Lorkovic and Karen Mal.
Ronny Cox is a marvelous raconteur and Pop Culture Classics enjoyed talking with him.
POP CULTURE CLASSICS:
'Ronny, Rad and Karen' is a wonderful album. How did the three of you get together?
RONNY COX:
Well, Rad and Karen and I play together all the time. That's my band. And the thing I'm proudest about that album, we did that whole album in five-and-a-half hours. And the funniest thing about that, too, is the bass player, Chad Watson, who came in and played with us, had not heard the songs before. I got a studio near my house. Of course, Rad, Karen and I play together all the time and this is largely an extension of our show.
Even though we've been playing together, we each have our own albums and we'd never had anything with just the three of us. So we just went into the studio and I'd gotten in touch with Chad the night before. And he met us at the studio and we played the song once for him and he would make a little chart. My stuff is pretty simple, as you can see. [Laughs]. And then we would just play, live, without a click, just the four of us there.
I'm willing to give up a lot of stuff, sonically, to have that organic, live feel of the music. Are there mistakes on it? Yes. But if there's a mistake, pretty soon, it's not a mistake. Generally, when you listen to it the next day, those mistakes, they just jump and shout at you. And these don't. There's a certain organic feel about it that I like.
A lot of these songs are ones we do in our live show, sans my endless talking in between [Chuckles].
PCC:
You have that theatrical background. Has it always been easy for you to perform music that way?
COX:
Yeah. I can't do it any other way. There's two schools of thought on that. One school of thought is, just sing the songs and shut up. And let the songs speak for themselves. And that's perfectly valid and I understand that. It just doesn't work for me. I've found through the years that people love to know that somehow this disembodied idea over here on the left, miraculously led to this song over here on the right. And the journey that sometimes takes you to there. And I've also found that, for me - I'm fairly good at this - I love to set up the thing in a story and then you get the payoff in a song.
And my show, I've always felt, is more like a two-act play. I don't like just song, song, song, song. I like for the show to have a sort of overarching reach, if you will, a point of view, a place it takes you. My desire is to make you giggle in one song and then to make you actually weep in the next one. Being able to touch people, and share with people, is what brings me to this kind of music. So, for me, it needs to be an overall thing for it to work.
PCC:
So your background in theatre, drama, really complements the music?
COX:
Yeah. It allows me to use all the arrows in my quiver.
PCC:
Do you get a different sort of satisfaction from the the musical performing?
COX:
I do. People have always asked me which I like better, acting or music. And I love acting, don't get me wrong. But I don't love it as much as the music. And the reason for that is actually palpable. Acting - movies, television, plays, whatever - you can't really step through that lens and actually communicate with people. You can't talk to the audience. You have to stay within that character, within the framework of the play.
With the kind of show that I do, there is the possibility - it doesn't always happen - but there's at least the possibility of a profound one-on-one sharing that can take place. My desired goal is for the evening to feel like it used to feel when we would sit around in the living room or the kitchen or the back porch and shared music with your family and your friends. That's what I want it to do.
Apropos of that, my show starts as soon as they let the audience in. A lot of artists sort of warm up and closet themselves in the back and then they come out. But that always seems such an abrupt beginning to me. Well, as soon as the audience is in, I like to be out there visiting with the people and talking and sort of feel like I get to know them a bit. So that when the show starts, it's a natural extension of that. And the show doesn't end until they all leave. I think that a lot of artists cheat themselves a bit, by closeting themselves away, because, when that happens, and they come out on the stage for the first time, the audience is a stranger to the performer and the performer is a stranger to the audience. And there's a sort of feeling out period of them getting to know each other.
And so, because of that, I've seen a lot of artists, that would never start with their strongest material. Because they're not going to waste their strongest material. They want to save it until they've got the audience nice and warmed up. And so, in a way, they've relegated themselves to not doing their strongest material at first. For better or worse - I'm not saying how good my material is - but I can start with my strongest stuff from the get-go, because we're already going in that direction. And that's the reason why I don't particularly like opening acts, for me, because, they may be way better than me, but they get the audience going in a different direction than I'm going. So, oftentimes, if venues like to have an opening act or a strong local person who can bring in extra people, I always talk to that artist and see if they would be willing to open the second set, which works better for both of us. By that time, I have the audience warmed up for them. And it hasn't broken up that continuum that I've had since the audience has come in, to be able to start my show.
PCC:
Have you found that music has meant more to you as years go by?
COX:
Yes. But it's always meant a lot. I was calling square dances, when I was 10. I put myself through college with a rock 'n' roll band. Ron's Rock-Outs [Laughs]. And I was actually cutting records, when I was in high school. Most people don't realize this, but where I grew up, in Portales, New Mexico, is only 19 miles south of Clovis, New Mexico. And in the late '50s and early '60s, that was a hotbed of recording. Buddy Holly cut 'Peggy Sue' there. I don't know if you remember Jimmy Bowen and Buddy Knox, 'I'm Sticking With You' and 'Party Doll,' that was cut there. The Fireballs, 'Sugar Shack.' There was a country artist named Charlie Phillips - 'Sugartime.' That was cut there. So there was a lot of recording activity, when I was a kid.
Norman Petty saw a group I was with, at an assembly, when I was in high school. So I was cutting records back then. So the music has always meant a lot to me.
PCC:
You did actually work with Norman Petty [Buddy Holly's first producer]?
COX:
Absolutely. I recorded at his studio.
PCC:
What were your impressions of him?
COX:
Magic. But that was back in the days when there was just this one big knob sort of thing [Laughs]. And everybody always talks about that Norman Petty sound. And what that Norman Petty sound was the linoleum tiles, formica floors, that were just so hard that everything bounced off of them. That's the Norman Petty sound.
PCC:
Working with Petty, did you have any contact with Buddy Holly?
COX:
I actually didn't. I mean, we knew they were in and out of there, but no one was terribly impressed at that time. [Laughs] And Norman Petty also had a trio and they had a couple of sort of minor instrumental hits.
PCC:
I had read that music helped you deal with the passing of your wife, Mary. How did the music work as a healing factor?
COX:
Well, see, that's the great thing about music, and especially this kind of music. Nothing cuts through to a heart like music does. And having this music, doing the shows that I do, it's allowed me to grieve publicly. Audiences get it. I don't make a secret of the fact that I had this great love in my life and that I miss her. And audiences get it and I share that stuff with them. And it's allowed me, without putting the audience in any sort of discomfort, it's allowed me to sort of share the human feeling that we all have about losing somebody or how we feel about somebody.
Music is like a dart that just goes right straight to the heart. And I don't know of anything else that communicates it quite that way.
PCC:
Prior to the big breakthrough in acting, was the focus theatre or were you still hoping for a music career?
COX:
I was doing both. When I was at Arena Stage in Washington, D.C., working in theatre there. After college, Mary had a National Science Foundation Fellowship to Georgetown University. She ended up getting a Ph.D. in chemistry at Georgetown. And while she was doing that, I was working at Arena Stage. But I was also working at a wonderful folk club there, The Cellar Door. And there was also a wonderful club up on Capitol Hill, called Mr. Henry's.
Most people don't realize this, but Roberta Flack and I started out together at Mr. Henry's. We didn't play together. He had two rooms. She played the upstairs and I played the downstairs.
So I was working at Arena Stage and I got to play Woody Guthrie in 'Hard Travelin',' that we did there. Any time they had stuff with music in it, then I got to do it at the theatre. But I was also playing in clubs. So I was sort of struggling as an actor and as a musician at the same time.
And then when I went to New York, my first show was a play called 'Indians' and I played Jesse James. But the character Jesse James in Arthur Kopit's 'Indians' played a couple of tunes in the saloon there. So I was playing music there.
And then I got 'Deliverance,' partly because I could play. It was instrumental [laughs], pun intended. I've talked to John Boorman a lot about that. And the fact that I was at home with the guitar in my hand had a lot to do with me getting that, which was essentially my first role in the movies.
PCC:
I read your book about 'Deliverance,', which is really entertaining, fascinating. John Boorman, was he a colorful guy?
COX:
Oh, he was fabulous. He was always in complete control of that situation, but there was such freedom to improvise and find your character. And by finding it, you never strayed very far from the script, but you were always sort of free to go to anyplace. And then he would just say either 'That worked' or 'That didn't work.' But it just worked in so many ways.
But basically, two weeks of rehearsal, breaking down every scene in that screenplay, we got to know those guys pretty well.
PCC:
As far as knowing each other, there are such classic relationships amongst the characters in that movie, it must have been a comfort to have Ned Beatty as one of your co-stars, having known him well before that.
COX:
Oh, absolutely. Ned and I had not only done all those plays together, but, just as friends, our families had sort of grown together. He and I had gotten married within three days of each other. Our first sons were born four days apart. Our two families practically lived together. We lived a couple of blocks apart. Since 1963, Ned and I have been really close buddies.
PCC:
And Burt Reynolds, from your descriptions in the book, it sounds like he was really born to be a celebrity.
COX:
He totally was. Of all the celebrities I've ever been around, I've never seen one who sort of embraced it as much as Burt did. And I have to say this, it always seemed absolutely genuine. He was the kindest guy to his fans I've ever seen. And he really is a special guy.
PCC:
So, the reunion, what was it like to get back together after all those years, when Warner Brothers assembled the cast for the 'Deliverance' Blu-Ray release?
COX:
I see Ned occasionally. But I probably haven't seen Jon and Burt five times in the last 40 years. But the funny thing about doing a film like that, where you put your life in each other's hands and there is such a bond that happens, it was as though we were brothers again. There was a real closeness. Now, having said that, I am much closer to Ned than to the other guys. But it was wonderful to be back with those guys.
We all realize that we ended up making a really sort of special movie. I do think it's iconic in a lot of ways, beyond being that action-adventure story that you might expect it to be, and I think that's largely due to John Boorman, his artistic vision, the way he chose to do the film.
It's one of the few novels, where I like the movie equally. Normally that doesn't happen. And they're told very differently. I think one of the reasons John needed to get Jim Dickey off the set was Jim Dickey may know how to write a wonderful novel and he's a great poet, but he didn't have a clue about how to make a movie. And I think that they needed to get Jim Dickey out of John's hair.
Jim Dickey just feels like he needs to be running everything. I don't know if his son Chris has read the book or not. I hope I wasn't too unkind to him.
PCC:
It was such an exceptional film. Did you have a sense while making it that it might have such a lasting impact?
COX:
We knew a little bit, only because, as I spoke of in the book, every actor wanted to do this film. Literally, John Boorman had to hide out. It seems strange these days. But in those days, if some big star wanted to do a film and you were just this little punk Irish director [chuckles], you were pretty much supposed to let him do that film. And that was the other thing, this film was not made like any other films. People 50, 55 were playing 35-year-old guys. And this film just wouldn't work that way. And because it was cast the way it was cast, and because it was shot in sequence, I think those made big differences in this film.
PCC:
It was such an edgy situation, for you what were the most harrowing moments of the show?
COX:
Well, I almost drowned that one time. I have to say this, there was a feeling of tension - and I talked about this a little bit in the book - that I felt less than the other guys, because somehow I didn't seem to be quite so much of an outsider as the other guys were. But there is that sort of tension, when an outside movie crew comes in and disrupts the local rhythm. And also, since most of the people had not read the book, they'd just heard stories about the book, there was a sort of double suspicion of Hollywood types, coming in and making dirty movies.
PCC:
I had no idea until I'd read your book that your floating dead body, the grotesque positioning of your arm beyond your head, that it wasn't a special effect, but just something you could actually do.
COX:
Well, it was so funny. John Boorman almost fell down when he saw that I could do that. He's got kind of an impish, Irish humor anyway. And he took me around for like the next day, showing everyone, 'Hey, wait'll you guys see this! Come and look at this!'
I've since read the kind of learned critiques of the film, where they talk about the symbolism of the guitar neck being broken and my arm being broken in the same way. [Laughs] It was just a happy accident that we managed to do it.
PCC:
Yet it's one of the most indelible images.
COX:
Well, it is. And Mike Hancock [makeup artist], he got a lot of those kind of films, because he was supposed to be the master of that stuff. I mean, he's a brilliant artist in his own right. There's a picture in the book with the kid who's playing the banjo and another kid... and then a crew guy behind them. Well, that crew guy is Mike Hancock.
PCC:
It must have been a great moment finding out that 'Dueling Banjos' had become such a hit, after spending so much time learning it for the film.
COX:
What a surprise! Nobody thought it was going to be a hit song. Eric Weissberg [the guitarist playing on the hit single] said, 'Why are we doing this piece of shit?' [Laughs] And I have to tell you, John Boorman pretty adamantly wanted me to be the one that recorded the guitar on that. He basically didn't care, in fact he sort of wanted the kid to show me up, that this savant kid could show up this amateur city slicker. And John Boorman certainly wasn't concerned with having a hit song. So probably we wouldn't have had a number one hit song, if I had done it. But the only reason we didn't do it was because the kid couldn't play and I didn't want to miss a day of canoe practice and a day of rehearsal.
PCC:
You never know if you're going to land another special film project, but you did so soon after that with 'Bound For Glory.'
COX:
'Bound For Glory,' Hal Ashby may be my favorite director I've ever worked with. I loved being on that film. And, all modesty aside, I think I'm quite good in that one. I generally am not given to saying superlatives... And to this day, I think that Steadicam shot, that was one of the very first big Steadicam shots, Garrett Brown actually operated that shot. And I just love that shot. I just think that's a magic shot.
PCC:
Hal Ashby, was it his relationship with actors that made him such a special director?
COX:
Yeah. Well, not just his relationship with actors, but his relationship with everybody on the crew. There was an openness about it. He was so willing to listen to anybody's idea. I tell you the truth, this sounds weird, I was on that film for almost 10 months and I never felt like I did a bad take. You would do a shot and Hal would come to you afterwards and say, 'That's great! Want to do it again?' [Laughs] And they only had to do retakes sometimes, when we would be playing music and Hal would get caught up in it and start singing. There would be an extra voice on the soundtrack. So we'd have to go back and do it again. But it was just a dream job to work on 'Bound for Glory.'
First of all, we're dealing with Woody Guthrie and I loved the character of Ozark. And then, Haskell Wexler's photography is incredible. You know he won the Academy Award for that. I've been really blessed to work with some really great cinematographers. Vilmos Zsigmond for 'Deliverance.' Owen Roizman for 'Taps.' These are big-time guys.
PCC:
So you had revered Woody Guthrie before going into this film?
COX:
Oh, yeah, I had actually gotten to play Woody in Millard Lampell's production, at Arena Stage. And I grew up in New Mexico, singing Woody Guthrie songs. But I didn't realize they were Woody Guthrie. I just thought they were folk songs. They were so much in my being that I didn't associate the songs with this iconic guy. These were songs that were just part of my everyday life.
PCC:
David Carradine, was he something of a kindred spirit? What was that relationship like?
COX:
You know, it ended up being okay. I think one of the things that helped - and before he died, he gave an interview where he talked about this - he approaches things in a completely different way than I did. And I think he went at that film rather cavalierly, about the music, for a while. And I think one thing that happened is that I impressed upon him how important it was for us to be better musicians than we were being. And really made him be serious about the music. And he has given me credit for that. And I'm thankful for that. And we ended up getting along really, really well. But I think mainly through the music.
PCC:
You mentioned 'Taps.' Did you mention there were a lot of young talents in there that were about to break out?
COX:
Oh, did I ever! Sean Penn, he was like my favorite kid on the set. And you could see right away that he was going to be this amazing superstar. To this day, I think he's one of America's finest, finest actors. Of course, Timmy [Timothy Hutton] had just won the Academy Award for 'Ordinary People.' And then, of course, it was Tom Cruise's first film, too.
PCC:
After you played the lead in the 'Apple's Way' series, a wholesome role, did you relish the opportunity to move into villain roles?
COX:
Oh, yes. For about the first 15 years of my career, I was perceived that way, because I played the sensitive one in 'Deliverance' and 'Apple's Way' and those things. In those days especially, sensitivity gets equated with weak. And so, it became frustrating to me. Oftentimes, I didn't get jobs, because I was considered soft. And so, in many ways, playing 'RoboCop' was as big a boost to my career as 'Deliverance' was, because, all of a sudden, people saw me in a completely different way. And then, I got to start playing these villains, which, by the way, are about 20 times more fun to play.
I liken them to painting. If you're the good guy, you get three colors - red, white and blue. If you're the bad guy, you get the whole palette. And so I loved playing those parts. And all those years of playing good guys sort of paid off residually for me, because people sort of expected me to be good and then when I wasn't, it was like I was twice as bad [Laughs].
PCC:
'RoboCop' was another film with a strong director. Was that a good experience?
COX:
Yeah, Paul Verhoeven. Paul, boy, he doesn't suffer fools gladly. I've seen and been around his volatile temper. He can go off on actors, crew guys. And, for some reason, never got to me. I don't know what happened, but I've always had the most wonderful relationship with Paul. But I've seen his volatility [Chuckles].
PCC:
And then, 'Total Recall,' are you surprised they're doing a new version of that?
COX:
I am surprised, only because I hate sequels so much. Someone one said something, and I'll pretend like I made this up, [laughs] doing a sequel is like putting on a wet bathing suit.
For years, Burt had the rights to 'Deliverance' and was trying to get a sequel to 'Deliverance' made. And they were even going so far that they wanted Drew to have a twin brother that goes with them. I just can't imagine...
I did 'Beverly Hills Cop 2' sort of reluctantly. And then they offered me 'Beverly Hills Cop 3' and I said no. I just don't like sequels.
PCC:
And 'the first 'Beverly Hills Cop,' was that a fun assignment?
COX:
It was. First of all, it's fun to be in a film that you know is going to make a gazillion dollars, is going to be a big hit, that you just know in your bones that this is going to be a really, really special film. And, at that time, that was when Simpson and Bruckheimer were sort of the kings of Hollywood. Eddie was hot. And Martin Brest, the director... It was just a film that I thought worked really well.
PCC:
And Eddie, was he riffing all the time or was he down to business?
COX:
Well, he riffed a lot, because this was early, early in his career. We would do a scene and they would just sort of turn him loose. And the hardest thing was just to not mess up the soundtrack by laughing too much. He was such a funny guy. And I think Dan Petrie Jr.'s script on that was really good. So it was a fun shoot to do.
I will say one thing, that whole big lie that I tell at the end of the film, where it sort of encapsulates all of the trials and the tribulations that we've all gone through, now I'm lying to cover up and all that stuff. That was my first day on the film. Talk about extensive homework that had to be done [chuckles].
PCC:
What about 'Star Trek: The Next Generation,' what are your recollections about doing that?
COX:
Oh, I had a great time. I loved doing that. [Laughs]. I'm a trivia question. I'm one of the few actors that's actually done a captain's log. And I have relatives and people who think that that's the only thing of any worth that I've ever done [laughs].
PCC:
Having done that and 'Stargate' and some of those films, are you embraced by that whole sci-fi community?
COX:
I am. Especially by the 'Stargate' people. When I go over to London and do those 'Stargate' conventions, I do concerts and they are the greatest folk music audiences you've ever seen in your life. Here's the thing, I love both genres of those fans. I don't know if any has ever told you this before, but the fans of 'Stargate' and the fans of 'Star Trek,' are completely separate entities.
When you think about it, 'Star Trek' is essentially a western in space. It's a shoot-em-up. So the typical - I'm talking typical - 'Star Trek' fans are these nerdy guys with those plastic things holding their pens and things like that [chuckles]. We all know that stereotype.
Now, the typical 'Stargate' fan is a 30-ish, upscale, attractive woman. Very different. Eighty percent of them are women, because 'Stargate is much more character driven and story and romance, if you will, and it appeals to a very different intellect. The 'Stargate' fans are the most thoughtful.
PCC:
Why do you think they get so into the folk concerts?
COX:
I don't know. I went there and I was the most hated man in their universe. And I fully expected them to boo me off the stage. And not only were they good, they were better than any audience I've ever played for. If I were to tell you the reaction, it would just sound like too much bragging. I couldn't get off the stage. They were so touched by it. And they loved the stories. They got every nuance. It was just amazing. I go back there a lot and they are, to this day, some of my favorite audiences.
You've been able to do some popular contemporary shows, like 'Desperate Housewives' and 'Dexter,' you must get recognized for those, as well.
COX:
[Laughs] I loved playing in 'Dexter.' This guy has no redeeming qualities. They're telling me on 'Dexter' that I'm their favorite serial killer that they've ever had. [Laughs]. I had more fun playing that part...
These days, I've got to tell you, and I don't mean to sound cavalier about this, but most actors who also play music would have a clause in their contract, if they got a big movie or television show, let's say I was doing a little house concert in San Antonio or something, that we'd have to have an understanding that, if I got a big movie, they'd have to let me out.
Well, I have the opposite. I won't let any movie or television show interfere with a music gig that I already have booked. And it's sometimes hard to explain to the film people. I said, 'I have this folk music gig that I have go do.' And they said, 'Well, how much are they paying you?' I said, 'I probably have more money in my pocket than they're going to pay me.' [Laughs] 'But that's not the point.'
I've just made the decision, like I said to you earlier, the thing that gives me the most pleasure, the thing that really means the most to me... I've been lucky, I've had a great career. I'm not rich. But, if I'm prudent, I probably don't have to really worry too much about where I'm going to eat for the next few years. And so, the thing that gives me the most pleasure is the music. And I don't even know how to explain this, but I am more alive and more focused and happier in those two or three or four hours of doing that show than I can describe. Now, traveling to them, flying, doing the cars, because we travel a lot, those can be pains in the ass. But it's worth it for what the shows are like. And I've had people come to me - I don't want to sound too egotistical - but I've had people come to me and say 'This is the greatest show I've ever seen.'
Do they mean I'm the best singer? No. The best songwriter? No. What they mean is that they're touched in a way that they didn't expect to be touched. I've had people say, 'I forgot that music like this exists.' And to have that kind of reaction, a 55 or 60-year-old man come up with tears in their eyes, saying, 'You made me cry,' for an artist... or to make them giggle, either one, I feel more pressure to deliver for that, but it's very rewarding, when it happens.
PCC:
It must be, to make that kind of connection...
COX:
Yes, you see, at my shows, I ask them to leave the house lights up. I don't like to be behind a wall. I ask them to dim the stage lights. I mean, we've got to have a little more light on me than the audience, because I don't want to make the audience uncomfortable. But I can't stand to be there behind a wall of light and just be playing to a black room. I want to be able to see. Oftentimes, when you're doing a show, you have a set list, but when you can see the audience, you can see when you need to change what the next song will be. That's only possible when you can read that audience. That's nine-tenths of the fun for me, is sharing that connection between me and those people.
PCC:
What have been the biggest challenges over the course of the career?
COX:
Well, the biggest challenge is always - this'll sound like a joke - but the hardest thing playing Hamlet is being asked to do it. [Chuckles]. I've never had any aspirations to be a big star. But I have wanted to be the actor that's offered all of the great roles. [Laughs] I mentioned earlier that I got known as this soft actor, so a lot of times, there were roles with balls, that I knew I could play, I'm an athlete, but I would not get cast. So, just making sure that I got to do the work that I love to do, that's always been the frustration.
And now, since that move into folk music, I have to tell you, I'm fairly well established now as a folk artist, but the frustration when I first moved into this, 10, 12 years ago, was, let's face it, there are enough actors going around and playing music and are dreadful. So I had to sort of live that down. A lot of people think that just because they're an actor, they can put a guitar around their neck and go out there, but they really haven't done their homework and don't really know what they're doing. And so I had to sort of live that feeling down - 'Oh, here's another actor that thinks he can sing.' I think I've moved past that now. But, to this day, it's harder to overcome here in L.A., because I'm so identified as an actor here. A lot of sections of the country, I'm sort of known as the folk musician. [Chuckles] The Midwest or Texas. But I don't have a big fan base around L.A. here, because there's that feeling that 'Oh, here's an actor that's going to go and play music at us.'
PCC:
I heard that you used to play poker with John Huston. Is that true?
COX:
We did. Actually, the film that made me want to become an actor, when I was 12 years old, I saw 'The Treasure of the Sierra Madre.' And I'd seen all the westerns and stuff, but they were just Gene Autry, Roy Rogers movies. This was something very different. And you'd think it would have made me want to become a fan of Humphrey Bogart or Walter Huston or Tim Holt. But I didn't. I became a fan of John Huston. And so I saw and know of every film of John Huston's.
And late in John's life - he loved to play poker, and he found out that I liked to play poker. The last year of his life, I used to get to go over and we would sit and play poker in the afternoon. And John always felt that you could know more about a man from playing poker with him than any other way. And he loved everything about poker. He hated it, if someone asked what you had or showed your hand. He was a gracious loser and an even more gracious winner.
I'd had a rocky relationship with my own father. And, in some ways, John Huston was like a surrogate father figure. We became really close in that last year of his life. When he died, I grieved for almost a year. We all knew he was dying and yet, when he died, it hit me like a ton of bricks. I wasn't prepared for how hard it hit me.
Curiously, I was thinking - What's going on with me? I finally put it together that he was allowing me to get in touch with my unresolved feelings about my own father.
PCC:
Having had such a full, rich career, are there still goals to attain?
COX:
There are roles I want to play. But I'm holding out, now that I'm older, for the more meaningful ones. I still want that one great role to play, as an actor. With my music, I don't need to play Carnegie Hall. But a PBS special showcasing my music would be nice. I want to do it all.
Most stuff I turn down these days. I'm not interested in a television series anymore. I do a 100 to 120 music shows a year. That doesn't leave much time for anything else.
I keep running into people who say, 'You're totally immature.' I accept that as a badge of honor.
For tour dates, information on Ronny's CDs and more, please visit www.ronnycox.com.