RORY BLOCK: A WOMAN WITH THE BLUES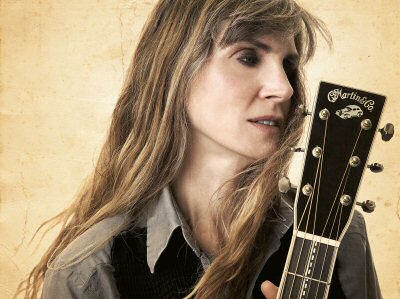 Photo Credit: Sergio Kurhajec
By Paul Freeman [April 2011 Interview]
The blues has brought happiness to guitarist/vocalist Rory Block.
She chronicles her musical journey in her autobiography, "When A Woman Gets The Blues," now available as an e-book and soon to be published.
Born in 1949, Block experienced first-hand the acoustic music revival happening in Greenwich Village. Her parents' friends included Woody Guthrie, Leadbelly, Josh White and Theodore Bikel. Bob Dylan lived a few doors away from her father's sandal shop. The Block household was filled with roots music.
At age 15, Block ran away from home, seeking out the aging Delta blues greats she so admired. In the book, there are chapters on Son House, Reverend Gary Davis, Skip James and Mississippi John Hurt, all of whom she had the good fortune of meeting.
In Berkeley, in the mid-'60s, she began playing clubs and coffeehouses. It was in Berkeley that she became friends with Mississippi Fred McDowell. Block's brand new album, "Shake 'Em On Down," is a tribute to McDowell, who passed in 1972. Every time she met a blues master, Block grew ever more appreciative of the genre.
"Shake 'Em On Down" is part of Block's mentor series for the Stony Plain label, paying homage to the legends with whom she personally connected. Son House was the first ("Blues Walkin' Like A Man"), prior to McDowell. As well as she already knew their music, dedicating an entire album to each expands her understanding.
Block's own guitar style has blossomed over the years. Combining her songwriting talents with her love for country blues, she recorded acclaimed albums for Rounder Records. In the '90s, she garnered much, well deserved attention, as well as a string of Blues Music Awards.
In breathing new life into the blues, Block is fulfilling her destiny.
POP CULTURE CLASSICS:
Writing the autobiography, did that provide you with new insights? now available as an e-book, prior to publication
RORY BLOCK:
Absolutely. It was probably one of the most life-changing experiences that I've had in recent memory. FIrst of all, it jogged my memory and it also caused me to find out things that I never knew.
One of the things that came up was the fact that my mother had auditioned for The Weavers. That was one of Pete Seeger's early bands. This was before I was born. I grew up in Greenwich Village at a time when there had been an amazing acoustic revival going on. It really started in the '40s, which I didn't know. But it peaked in the '60s, when there were blues artists being rediscovered, your early blues masters. And there were country music greats. And that scene was just unbelievably rich.
But while talking to a friend, where I said, 'You know, my mother had auditioned for The Weavers, and had been accepted and then had changed her mind at the last minute, because she decided to stay home and raise a family, she was pregnant with my sister.' My parents had been musicians and my mother was a terrific singer, but she didn't become professional. She could have.
This person said, 'Well, why don't you call Pete?' And I said, 'What do you mean call Pete?' And she said, 'Just call Pete Seeger.' And I thought, 'Wow, okay.' And he gave me a number and I called Pete and Pete's wife Toshi answered and she said, 'Rory, let me get Pete.' And so Pete got on the phone and said, 'Rory Block, your father used to live in my house!' And I'm like, 'What!?'
And it turns out that we had this great conversation. Here's this person who is 90 years old and is an absolute living legend, Pete Seeger. And he's saying that Toshi's parents had a brownstone on McDougal Street, which was about two or three blocks from where I grew up and that, on weekends, they used to have music parties, Leadbelly and Woody Guthrie and Josh White and Theodore Bickel and all these luminaries, including Pete Seeger would just come by and hang around and jam. And my parents would go out on weekends to whatever, out for the evening and come back the next day and say, 'Well, last night we were singing with Theodore Bickel.' You know, everybody in the Village, when I was growing up, was somebody incredible.
Bob Dylan lived a few doors away from my Dad's sandal shop for quite a few years. And I remember seeing him sitting, talking with my Dad, when he was first starting out in his career and being very impressed by his artistic and unique presence and learning about their conversation and how Bob Dylan was first and foremost an artist and first and foremost, it was his desire to remain true to his art and not be drawn into the business side of things. And I remember afterwards, keeping that in mind for years and years, as an inspiration to artistic integrity. Those were amazing times.
But what Pete Seeger said was that there were amazing gatherings and that my father had rented one of the rooms in this brownstone and brought in other amazing details, like William Steig lived on the top floor and he's the famous cartoonist from the New Yorker magazine, that everybody had seen his work, and, some other really funny recollections. They're in the book, though. I better not give them all away.
PCC:
The process of writing the book, did that make you look at the artistic process in a different way, change the way you make music in any way?
BLOCK:
Probably, that's kind of an interesting question. But it's an overview that I might not immediately know the answer to. But it definitely changed my perspective about the whole fabric of my life. And I was very happy to remember a lot of things, including things from my childhood. I found old family photos that we scanned and enlarged, things that you kind of don't see when they're on the wall, in a shabby frame. And then you dust it off and scan it and enlarge it and all of a sudden, you're going, 'Oh, my God, it's my great-great-grandfather from Scotland. Look at his face. It's enough to bring tears.'
In fact, it did bring me to tears, seeing all these family orchestra photos from my mother's side of the family and pictures of my great-grandparents assembled, standing in front of their children, on both sides of the family. And learning. And meeting family members that I had never met before. Was it pure coincidence? Did some energy about life histories and genealogy suddenly start rocketing around? I don't know.
But I met people that I related to on the Block side, on the Keller side - that was my mother's family name. And it just opened up my world in an amazing way. And writing about the blues artist that I met, about running away from home when I was 15 and hitchhiking across the country, all kinds of memories. This really relates to the recording of the Son House tribute and the Fred McDowell tribute, because Fred McDowell came and stayed with us in Berkeley, California, in 1965.
There's a chapter for him, for Son House, for Reverend Gary Davis, for Skip James, Mississippi John Hurt, all of whom I had the good fortune of meeting, personally. So the book and record and my mentor series are intimately connected.
PCC:
what was the impact Fred had on you through that personal interaction?
BLOCK:
Well, for one thing, every time I met a blues master, such as a Son House, who I met first, and then Fred McDowell, was that it really taught me something that would be considered a non-verbal lesson about the power and the passion that this music is really made of. It's very real music. And the time and the day when it was written and created, there was no internet, there was no thought of becoming hugely famous. It was really very grass roots. It was music for the joy of making music, music for the healing and survival of the principles that are contained in music. Music for that purpose first. And that was the unselfconscious beauty of it, was huge, because of that. And that's the music that I still favor, to this day. I still favor that.
I'd rather hear an artist on a scratchy old record singing somewhere, wherever they were located and recorded, than watch a video with music in it. I'm not nearly as drawn to that. I'm sure there are plenty of great videos, but I would rather hear the heartfelt music from a time when nobody was thinking about, 'Well is this going to become a hit record?' Nobody was thinking that way. There's something so pure about that. And that's some of the power that you find.
Fred McDowell walked in the house one day. And the man is the real deal. He's beautiful. He plays music that I love more than any other music in the world. He's an unbelievable personality. And he's just surrounded by this energy that comes from the day and time that this music was created through and from. He's straight from the source of the music. And I probably did way too little thinking about all this, as a fleeting period of time. Maybe I should have asked a lot of questions. I probably did too little thinking like that and I did a lot more experiencing, which is the present.
PCC:
Getting to know so many blues legends, did they have a lot in common, as far as traits? There are some very colorful personalities there.
BLOCK:
Yeah, much in common. I write a lot and speak a lot about shared influences. I talk about country players that I met, Clarence Ashley, Tex Isley, in the early days Doc Watson and his son Merle at the North Carolina Fiddlers Convention in 1964 maybe. And I talk about how those early country players said, 'Oh, I learned this song from an old blues guys.' And the blues players were saying, 'Oh yeah, I learned this from... ' and they'd name some country guy.
People were sharing licks, tunings, tunes, songs, words. There were flamenco players in Mississippi in the early part of the century. And that unbelievable sort of free strumming, percussive style, I think translated into Robert Johnson's playing, what Mississippi John Hurt used to call open G tuning - 'Spanish.' To me, that's a direct connection to the source of flamenco and that type of playing that was present at the time that blues was being created. So I think that, from blues player to blues player,you see the same tunings being passed around, but very different approaches in terms of vocalization, strumming and fingerpicking styles. Some were slide, some were not. Tommy Johnson wasn't a slide player. Charlie Patton and Willie Brown snapped and thumped the strings percussively more than Tommy Johnson did, but all of them had their own approach.
I see more connection between Son House and Robert Johnson than any two blues players that I know of and that's because Son House taught Robert Johnson, which he told me in person, when I met him. He said, 'I taught Robert Johnson how to play guitar.' And he didn't say that for effect, because, at the time, a handful of people knew who Robert Johnson was. A handful of people. This was 1964. And we were like among a handful of people who were talking about old country blues and nobody else seemed to even know what it was, certainly not the mainstream, that's for sure.
PCC:
What was it about delta blues that was so magical to you, that drew you as it did?
BLOCK:
The power of it. There's a record that is not a country blues record. It's Appalachian mountain music, called 'High Lonesome Sound.' It kind of makes the hair stand up on the back of your neck. It did have a high lonesome sound. It was what resonated for me and spoke to what was in my heart.
I did grow up in an acoustic, roots music-oriented household. We had many old records, a lot of Appalachian mountain music. We also had early Muddy Waters records and I was raised listening to very raw, very beautiful, very spiritually and emotionally powerful music. So blues was part of what I was listening to as I was growing up and it just was clear to me that it was the most soulful music that I had ever heard.
The idea of like Skip James' song 'Devil Got My Woman' or Tom Johnson's song, 'Canned Heat,' it's impossible to imagine a deeper form of melancholy and deeper, more powerful emotional content. And 'Hell Hound On My Trail' and that kind of sound. It just doesn't get a lot deeper than that.
PCC:
What is it about Fred McDowell's music in particular that most appeals to you?
BLOCK:
Fred McDowell, as I say in my liner notes, was the groove master. He was energy on top of energy. It kind of had a real youthful energy. He was younger than Son House. He was like half a generation younger from the older folks that I met - Mississippi John Hurt, Son House and Skip James being earlier generation. I think Fred McDowell might have been around 10 years younger. That's the sense I got when I met him. He had a hard, driving style. You know how he used to say, 'I don't play no rock 'n' roll'? His famous statement that he would make a lot. But I say in my liner notes that he did have a transition power. He had the transition energy that led artists like Bonnie Raitt to do fabulous versions of like 'Kokomo Blues' and songs that interpreted really well to band.
Fred McDowell was one of those transition artists, as was Muddy Waters. If you try to play a Robert Johnson song with a band, you have to give up a lot of the idiosyncrasies and it doesn't allow for changes in the 4/4 beat. With Robert Johnson's music, there's an extra half-beat here and it goes five beats and six beats over there and it has measures where it really breathes, whereas Fred McDowell and Muddy Waters and Elmore James were bringing early blues styles into the next door opened, into a more modern setting. It would sound more like Chicago blues. And that was a real door-opener. That was the next step, evolutionarily, so that you could bring a band into the equation and it would work really well.
PCC:
When you're able, through the Mentor Series, to focus on one particular artist, does that broaden your understanding, even though you know them so well musically already?
BLOCK:
Night and day. Night and day. I have to say, over the time and the years, certain things get compartmentalized and you don't really look at them with fresh eyes. It's night and day to go and do a tribute album to a given artist and go, 'Oh, my God, how did he do this?' I know generally what Son House did, but when I went to make the album, I'm like, 'This guy's a genius.' And I'm like, 'I don't really want to work this hard.' And then I go, 'But you have to.' And that is where the growth comes in, for my benefit. I'm just grateful that it made me work and stretch my technique just enough to try and understand more what I thought I may have understood was not going deep enough.
And when I've been doing the tribute albums, that's really been opening my eyes even more. Trust me, I've always been in awe of all of these players. I never minimized the talent at all. But now I'm like, 'Oh my God, these people were more than genius in their ability, in their technique, more than I had even ever taken the time - and I had taken a lot of time - but this was like an eye-opener and it's like night and day, trying to reproduce some of the arrangements, thinking, 'How did this player manage this level of intensity?' It really pushes your envelope completely. And that's a good thing.
PCC:
The new album has some of your own tribute tunes, as well as McDowell's. Given that reverence for these artists, is it challenging to integrate original songs into those settings?
BLOCK:
Perhaps it helps that I don't think of it that way. It perhaps helps that when I did the Robert Johnson tribute, that I wasn't thinking, 'Oh, well a lot of other people have done Robert Johnson tributes.' I wasn't thinking that way. I was just thinking, 'This is something that honors a huge, huge influence in my life. And that this is what I need to do right now, artistically and spiritually.' And then the same approach with Son House and then with Fred McDowell, it felt more like I just suddenly became interested in adding whatever energy that I could bring and it sort of ranged into a different realm, more even than with Son House.
With Robert Johnson, I wanted to crack the code. I really wanted to do measure by measure, note for note, to the best of my ability. And I wanted to honor his music in that way, if I could.
And then, with Son House, it got a little bit more open, stretched out a little more. And then with Fred McDowell, it was like, sky's the limit. I felt like it was okay for me to improvise with what he was doing, mainly because I played on stage with him. Maybe because there was a duet energy there that I retained. And I thought, 'Oh, I'm sort of playing a duet with Fred McDowell now.' And that was an interesting change, perhaps, in the way I approached the Fred McDowell album.
PCC:
another entry coming in the mentor series?
BLOCK:
Oh, yeah. I want to keep going until I have four or five that can all be part of a box set And they would have to be blues artists that I knew, in person. That's my particular take on it. Of course I can always do Robert Johnson, who I never could have met, but I don't think that will be able to be in the mentor series, because the mentor series. I mean, I suppose it could be, but on a different label. For Stony Plain, they're totally into the mentor series. This is my second release for the mentor series and now, if I continue, which I'm really excited about doing, we'll be able to maybe ultimately have a box set, of all blues masters that I met in person. I personally feel like it would feel like an artistic completion to me in some way.
PCC:
Do you know yet which artist will be next?
BLOCK:
I do, but it's best not to mention it in advance, because I have this little superstition that it might jinx it.
PCC:
Working within the traditional form, how difficult was it for you to find your own style? Were you conscious of creating a style or does it just happen naturally over time?
BLOCK:
It's happened over time, because, in the beginning, in the '60s, my only goal was to figure out the way that the early players played it. And then I stopped music for a while. I talk about that in the book. I never thought I'd come back to it. And then when I came back to it, some years later, I kind of had to relearn learn everything. And I still was very much into wanting to reproduce it exactly. And that was a good goal.
And then I started performing and touring and all the time, you just add some of your own energy and it just can't but evolve into your own style. And that's pretty well established to me, that my own style has come to play a role in everything that I perform and record.
And I've developed a slide style. I never thought I'd be able to play slide. Again, I talk about that a lot in the book. The door opener for me was listening to Bonnie Raitt. She played a beautiful solo on one of my records. It's called 'Confessions of a Blues Singer.' And she played on 'Ramblin' On My Mind.'
And as we were mixing the album, we soloed her track in the room and I suddenly learned something about slide that I didn't know before.
In the '60s, I couldn't find a slide that would fit my finger, because it all was going to be from a broken bottle. John Hammond, Stefan Grossman, John Fahey, whoever played slide, would just break a wine bottle, sand off the end and have a great slide. But my hand was too small. And you couldn't buy anything in a music store. So the years passed and I didn't use a slide and then people would bring custom-made slides to my shows. And nothing quite fit me the way I needed it to and I couldn't quite get it. And then John Hammond said, years later, 'Just get yourself a socket wrench. They come in all sizes.' So I started playing with that, but I couldn't get it. For five years I struggled and it sounded so bad and I thought, 'How the heck is this done?' It was not coming out right. It was very tense. And I tried to get to the fret and not get above it or below it and I tried to vibrate on the fret and it was always thin and buzzy and it just wasn't working.
So I listened to Bonnie's playing and I thought, 'Oh, so relaxed. She's just sliding up nice and easy and when she gets to the fret, she just rocks around really nice and funky and really kind of slow and it's a great groove.' And I went, 'I'm doing it all wrong. It's all stiff and tense and that's not the way to approach it.'
I wrote about that in the book. I called that chapter, 'Bonnie's Rock 'n' Slide' and I sent it to her, to get her approval, because everybody that I wrote about - Taj Mahal, David Bromberg, Maria Muldaur - I sent them their chapters, for them to approve, because I thought, the last thing I want to do is write about someone and have them read it later and say, 'Geez, I didn't realize you were going to write about me.'
So Bonnie wrote back and said, 'I had no idea that I had inspired you that way.' She was the person who opened the door for me, personally, listening to her playing in that way, just this intimate sound in the room. I go, 'Oh, wow, that's the key.' And then beyond that, I had Fred McDowell's technique in mind, because I had seen him do it close up. I had seen the way he put his slide on the knuckle of his finger and bent at the knuckle and he would fit it on the third finger, I later realized, which is what I do. When I was contemplating, I went, 'Well, why do I do it like this.' I went, 'Oh, I know why. Fred McDowell did it that way.'
A lot of folks put the slide across their entire finger. And they don't bend at the knuckle. But I do. And I figured it out, 'Well, Fred McDowell did it that way.' So he was a major influence, as was Bonnie Raitt. Over time, you find your own voice or your own pocket, as it were, and it just becomes your way of doing it, because slide is totally personal. Everyone does it their own way.
PCC:
What makes your style so distinctive? Is it assimilated influences, technique, personality coming through
BLOCK:
I think it's everything that you just mentioned really. Everything is a factor, including perhaps even your physical body, like the shape of your hands, the way your hands are structured, the way your arm moves, the way your legs stomp or not, the way your body sways, every single thing that makes everybody completely different, like snowflakes. Every single snowflake is completely unique. That same factor affects everybody.
And, as a guitar teacher, I deal with students who have various insecurities and they say, 'Oh, I can't do that.' 'I can't do this.' 'I've never been able to sing.' And I love to work with people's insecurities and build them up. Example was a student that I had years ago who had a thumb that wouldn't cooperate. He kept saying, 'Oh, my thumb, it has no dexterity. I can't move it well. It's really thick and it gets in the way and it goes thump onto the strings. And I just get my thumb to cooperate.' And I go, 'Great, we'll make that be your signature style.' And it changed everything for him. I like to do that and say, 'Make what you think is your weakness into your signature style. Make that be your strength,' And he got totally energized by that. And soon, he had this really great, thumping thumb style. And people would hear him play and go,' Oh, you know that guy who has that super-powered thumb?' [Laughs] So I kind of like to approach it that way.
PCC:
Can you view yourself objectively to see what your strengths are?
Ooh, I have no idea. AIl I can say is, I know I was put here to do this. That's my certainty. I know I was put here to play this music. And if people like the historical preservation aspect of it, that's fine. I love that, because I'm a history person and I like the old days and I like old things, traditional things. I like continuity. I don't like to lose the past and forget and not know where things came from. Not with buildings, not with people, not with music. I always like to have that connectedness. So all I can say is, I know I'm doing what I was asked to do. That's one of the things.
Another thing I was asked to do is take care of animals. I'm getting to do that more and more over time and rescue them from the ravages of people, all that we've done to squeeze them out, so that there's no space left on the planet for animals. And we don't realize that that's going to be no space left for us either. That's another thing I was put here to do.
But I'm very clear that I was put here to do this music. It gives me complete and total soul satisfaction to be doing this.
PCC:
is it the playing of the music that gives you that satisfaction or the reactions from audiences, or the knowledge that you're helping to preserve it?
BLOCK:
Knowing that I'm preserving it is icing on the cake. It's a plus. I don't think I get that intellectual with it. It's kind of an emotional thing. I just do what I love to do. It's all I know how to do. I've never had another job. I've branched out a tiny bit. Teaching is related. It took me years to do that.
But really, from day one, I either went broke and had no food or played music. There was no other job that I ever thought, 'All right, I'll go and get a day job.' I never thought I could. Never even figured out what it could have been. And I just did music, because that's all I knew how to do.
PCC:
It's to great have that focus and to know what you're meant to do.
BLOCK:
You could say it's good and you could almost say that it's bad, because I didn't have any knowledge of, confidence in, awareness of my ability to do anything else. I just thought 'Well, I'll play the guitar.' When I didn't know what to do, I played the guitar. When I was having bad times, I played the guitar. When I was having good times, I played the guitar [Laughs].
The guitar has been my most constant friend and has seen me through everything. If I have a bad day, pick up a guitar. And within seconds, things are back to where they belong. It's like, 'Oh, my perspective is restored. Nobody can do anything to me now. I have my music.' It's really, again, what I was put here to do.
PCC:
And your music has a positive effect on listeners, as well.
BLOCK:
That's pure icing. I like that, but I don't even have that awareness most of the time.
For more information on Rory Block, including tour dates, and purchase details for CDs, DVDs and the autobiography, visit roryblock.com