THE RUBINOOS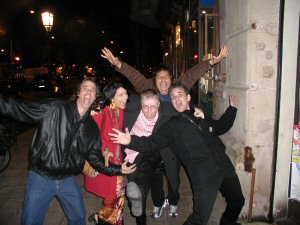 Left to Right:
The Rubinoos: David Rokeach, Susie Davis, Tommy Dunbar, Al Chan, Jon Rubin
(Taken by a passerby when they were on tour in Spain)
By Paul Freeman
The Rubinoos are, indisputably, one of the most entertaining bands to ever emerge from the Bay Area. Phenomenal sources of power-pop energy and fun, buoyed by bracing harmonies, the group has influenced performers ranging from Green Day to Avril Lavigne - though she may deny it.
Lavigne recently settled a lawsuit that pointed out unmistakable similarities between The Rubinoos' irresistible 1979 single, "I Wanna Be Your Boyfriend" and "Girlfriend," the Canadian singer's biggest U.S. hit.
When the story broke, The Rubinoos web site (rubinoos.com) was so deluged with hits, it temporarily shut down.
Nothing, however, can shut down the pure rock 'n' roll joy of The Rubinoos. The band. humor and energy undimmed, is doing occasional performances again, with dates set in Spain and Italy, May and June, 2010.
The lineup includes original members Jon Rubin (lead vocals) and Tommy Dunbar (lead guitar/songwriter) plus Al Chan (bass), keyboardist Susie Davis and drummer David Rokeach.
Legendary for exuberant live shows, the band has maintained a fervent following, particularly in Japan and Spain, as well as the Bay Area.
Fans around the world can rediscover the joys of the group's music through a terrific three-CD set, "Everything You Always Wanted To Know About the Rubinoos" (Sanctuary/Castle Communications).
Previous CD reissues, far removed from first-generation source material, played the songs at a slightly wrong speed.
Dunbar says, "It just made them sound kind of sluggish."
He and Rubin were about to go to the Record Plant to oversee the collection, resigned to the lower quality, when a surprise hit Dunbar, literally. On a ladder, digging through the garage rafters, something tumbled and struck his head. Lo and behold - the original masters!
"So what you get on the CD is not at all diluted," Rubin says. "It's the best it's ever going to sound. That made us really happy."
So did another surprise. Sanctuary uncovered a live tape from a 1978 Hammersmith Odeon concert. It's brimming with clever quips, as well as immensely appealing pop-rock.
Rubin says, "I listen and I'm entertained by it. There's no cringing. As an artist, you tend to have those cringing moments. Tom got the tapes, mixed it and it sounds really good."
Years of honing their sound made the Rubinoos something special by the time they first hit the charts in '77. Rubin and Dunbar, junior high pals, founded the group in Berkeley. They shared an appreciation for vintage sounds.
Dunbar says, "I would play friends a Chiffons or a Lou Christie record and they would think I was kidding. I actually liked that stuff."
Rubin adds, "Simplicity is not easy. To get it to actually have that feel is a challenge. We'd think, 'Why does what we're doing sound foul?' And then we'd actually figure out what made those old records work."
Rubin and Dunbar's influences span '50s rock 'n' roll, British invasion, R&B, prog and Frank Zappa.
The Rubinoos reveled in going against the musical grain of the time. Their vibrant versions of the DeFranco Family's "Gorilla" and Tommy James and The Shondells' "I Think We're Alone Now" brought attention from teen mags and an "American Bandstand" appearance (which you can relive on the band's web site).
Dunbar says, "A lot of the stuff, like being in Tiger Beat, seemed so ridiculous. And your friends would give you shit about it."
They even covered the ultimate bubblegum ditty - the Archies' "Sugar, Sugar." Dunbar says, "When we started doing it, it was a joke, kind of to piss off our friends. Then it was like, 'God, this is really fun to play!' And it's a well made record. Yeah, the lyrics are stupid... but stupid has its place."
The irreverent Rubinoos' irrepressible sound earned a place in the rock pantheon. Rubin's sweetly penetrating tenor voice provided an awesome aural focal point. But the band's voices entwining in two, three and four-part harmonies, lifted them into a unique realm.
"More than anything else, it's the harmonies that make The Rubinoos sound like The Rubinoos," says Rubin. "What separates us from other groups in the genre is our vocal arranging. It's a notch above. That's because Tommy is a really excellent vocal arranger."
Dunbar's brother played in Earthquake, cofounders of Beserkley Records, and that band's harmonies influenced The Rubinoos even more than Beatles and Beach Boys did.
The Rubinoos' self-titled debut album and follow-up, "Back To The Drawing Board," brimmed with infectious rock tunes. But the sudden collapse of the Beserkley label, in the middle of the band's tour with Elvis Costello, snuffed out the momentum.
The Rubinoos contributed the theme song to the '84 movie "Revenge of the Nerds. They officially disbanded the following year.
But The Rubinoos wouldn't die. Young power-pop bands covered their songs. Two successful Rubinoos compilations in the '90s led to a reunion, a new album, "Paleophonic," and a performance at the '99 International Pop Overthrow Festival. In '05, they proved they still have the magic, releasing a sparkling new CD, "Twist Pop Sin."
These days, Dunbar and Rubin pour their abundant talents into a variety of musical endeavors. Rubin (now based in L.A.) sings in the a cappella group, the Mighty Echoes, which Dunbar arranges and produces. Dunbar (a Sacramento resident) also creates radio commercials.
But these best friends still enjoy renewing the Rubinoos at every opportunity. Rubin jokes, "Our goal is to put out an album at least once every 10 years and play at least once every five years."
Even if they haven't achieved superstardom, they've made great, timeless music. "I never felt that much frustration over the lack of blockbuster success," Rubin says. "I was frustrated with not having enough success to have continuity."
Dunbar says, "I've never felt that we were owed success. Every band's got a story about how things fell apart. We've got our sob story, like everybody, but we had a lot of lucky things happen, too. We had a lot of fun and we're still having it."
Rubin says, "in the realistic scheme of things, we were more successful than 99.99999 percent of all bands. We got to experience a lot of stuff that nobody ever will."
Dunbar adds, "At least we got to make some records."
And people are still bobbing their heads and singing along. The March 2010 release "Biff - Boff - Boing!" is aimed at family fun. [Read the full Pop Culture Classics review of the album on our Deja Re-Vu page].
You can get it copies of two other recent albums, "HodgePodge" (released in Spain) and "One Two That's It" (Japanese release) at popplusone.com. A new "grown-up" album is due later in 2010. Long may The Rubinoos reign!