RUTH GERSON: A TRUE MUSICAL ARTIST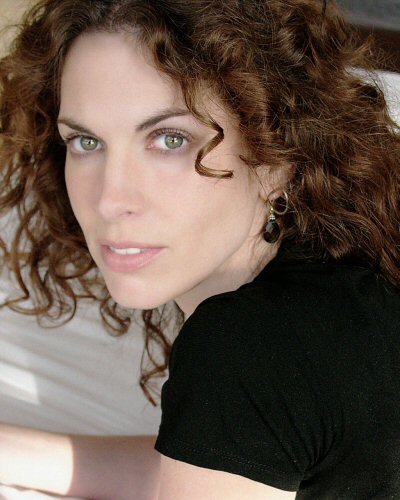 PHOTO CREDIT: Lisa Mezzucco
By Paul Freeman
Musical performers are routinely labeled "artists." Sometimes they're simply on either end of an assembly line. They deal in product, marketing and image-shaping. Artistry makes way for selling... and, worst case scenario, selling out.
Singer-songwriter Ruth Gerson is a creative artist who remains true to her art. Her stirring voice and dramatically charged songs exude an emotional power reminiscent of Carole King, Laura Nyro, Maria McKee, Tori Amos and, more recently, Nicole Atkins.
Gerson, a former New Yorker, now based in the Bay Area, especially loves playing living room concerts. That minimizes travel for a mom with two young children.
"I'm not planning to be a touring artist again, at least until my kids get a little bit older," Gerson says, though she does have a Dec. 17th concert at New York's Banjo Jim's. " So it's about playing locally, doing living room concerts. That's one of my favorite things. You have the opportunity to make friends, as much as you make fans for your music. Maybe there's 40 or 50 people there. And you're playing to a group of people who listen.
"Especially in the Bay Area, the clubs can be very chatty. You can go into one of those places and play for 500 people, but maybe only have the same number of people listening to you. At a living room concert, you really have a communication. And after the show, you get to hang out, get to know people. I enjoy the social environment that's involved with the musical environment."
When Gerson does play a venue like Redwood City, Ca.'s intimate Club Fox (Jan. 28), she has a new level of comfort.
"The living room concerts I've done have changed the way I perform. I just enjoy it so much more now. You understand that, when people are sitting there listening to you, they are giving you a gift.
"Before, I might have sometimes felt a little nervous, worrying about what people were going to think. Now I feel much more connected to every audience. You understand, in a different way, what performing is, when there's no microphone, when you can see everyone's faces."
You can hear the sincerity in Gerson's vocals, as on her Americana "Deceived" CD, one of the most unique and compelling cover albums you'll ever hear.
"I was listening to lots of traditional music. The songs that stuck with me spoke of violence against women. At some point, I started looking for these songs and there are more than you could put on 10 albums.
"Songs are just reflections of what we live with. One thing that we live with is this acceptance of - if a woman doesn't live according to the morals of the culture, then she deserves to be punished... and often that punishment is death."
These songs tell tragic stories, including Bobbie Gentry's "Ode To Billie Joe" and Dolly Parton's "Down From Dover." "Delilah," a number made famous by Tom Jones, takes on new poignancy when Gerson sings the tale of a man stabbing his cheating wife.
The dark themes resonated with Gerson. "I guess the idea was something deep inside me. I grew up in a violent household and I've always thought about why we live in that way and why we accept it.
"Maybe we can't change the world, but we have to do whatever we can. That may mean just bringing it up in such a way that it opens conversation. That's important. And I think this record opens conversation."
The album will have an impact on every listener. "Some people might laugh, because it's uncomfortable. I've seen people cry. Some will reflect on it, less emotionally, more intellectually or politically. Hopefully, because the songs are so descriptive, they will evoke compassion in everyone. Even if the characters in the songs are fictional, they represent real people."
At her shows, Gerson also features material from her newest album, "This Can't Be My Life" (All of her albums are available from her web site, ruthgerson.com). This one, a rock-pop masterpiece, offers riveting original songs. The melodies instantly grab hold and the lyrics sear with insight.
"What I love most about being a performing songwriter is the opportunity to connect and be honest."
The charming Gerson points out that, in addition to conceiving catharsis, she also entertains. "Not all my songs are about bad stuff. I write about happier things, too," she laughs. "When I perform, I laugh a lot, make a lot of jokes. I have three brothers and that's how we handled everything, by making jokes as much as possible. We're all a little manic that way."
For Gerson, the arts have always provided sanctuary. Growing up, she painted and acted in theater productions, as well as writing and performing music.
She attended New York's "Fame" High School of Performing Arts and graduated Magna Cum Laude from Princeton University. As a performer, she has opened for such artists as Dave Matthews, Suzanne Vega and Roger McGuinn. She has played such prestigious events as The New Orleans Jazz & Heritage. She has earned an enthusiastic following in Europe.
Gerson appeared on "Late Night With Conan O'Brien" and can be seen on "Late Late Show with Craig Ferguson" on Dec. 16, performing the title track from "This Can't Be My Life."
But Gerson never became a slave to the pursuit of fame. After her '94 performance at the Newport Folk Festival, the media showered her with attention and praise.
"A few years ago, there was a giant article on me in the New York Times. It written from the point of view that I should have been famous and, since I wasn't famous, I wasn't successful.
"I don't turn my back on opportunities. But it's never been that important to me to be part of the music business. In fact, I really walked away from it, because it didn't seem like it was encouraging or nurturing what I was interested in. I'm more interested in making music and helping other people make music."
If making great music is the measure of success, Gerson ranks among the most successful. "Because the music I'm interested in singing is a bit left of center, I've always had to think outside of the box. But I've been making a good living making music now for 13 years.
"If you add everything up, I have more financial success than lots of people who had a hit song. And I'm not in debt to any record company. My success is mine to keep. Nobody can take that away from me."
Gerson must be a whirling dervish to keep up with all of her activities. In addition to performing and parenting, she teaches and coaches fellow singer-songwriters. She has brought her expertise to students at her alma mater, Princeton University.
For vocalists, a belt might be not an accessory, but a necessity. Ruth Gerson has invented the Singingbelt. his clever contraption teaches diaphragmatic breath support. Inventing this system was a stroke of genius.
"I was very surprised that another singing teacher had not done this," Gerson says." Teachers use their hands on singers, put them on their belly, on their back, to direct them where to breathe. But when you have 10 or 15 people in a class, I was trying to come up with ways so people could have that immediate physical biofeedback. So I would wrap things around people and it occurred to me to design something that would really work. You want something that addresses those areas, but doesn't then constrict and tighten around the abdomen. So what I created had to target the right areas and yet leave other areas free."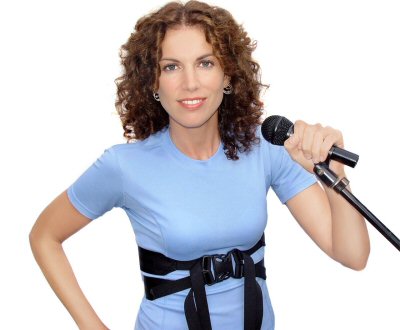 PHOTO CREDIT: Phillip Kumin

Already earning raves online (www.singingbelt.com), the product will soon be available at retail outlets. Grammy-nominated producer Rick Chertoff (Cindy Lauper, Joan Osborne, Sophie B. Hawkins), proclaims, "The SingingBelt is ingenious. I've seen Ruth work with a singer for an hour and get the results we needed in the studio immediately."

Gerson's grandfather was an engineer and inventor. My favorite memory of him was when I was little and he was holding a paper clip, going, 'You see this? A man, a piece of wire and an imagination. You know how many of these there are?' So he inspired me in many ways to find creative solutions.

"I think my music career has been about always finding a way. Okay, not this? How about this? Just thinking outside of the box."

In 2009, Gerson moved to the Bay Area, with her two daughters, ages six and nine. There she founded San Francisco Vocal Coaching (www.howtosingsanfrancisco.com).

Students range from children's choir members to karaoke buffs to professional singers. She also helps songwriters find their voices, literally and figuratively.

Gerson offers "Sing Better In A Day" workshops. "In the one workshop, you can learn something that will improve your singing. Everybody leaves going, 'Oh, I didn't know that!' or 'I didn't know how to do that!' Of course, to become a great singer, you're going to have to practice," Gerson says, laughing.

"A lot of singers will just blow all their air away, like on the first note. They learn not to do that, so they'll have the air to sustain the note. A lot of people learn something about mouth position or tongue position that will change their world, in how they sing and why they go flat. A lot times people may learn a simple thing about not reaching up to a note, but instead as I call it, bringing the note down into your belly. It makes me very happy to have a student who has a rapid growth and they can see it and they feel good about themselves and you've kind of helped that happen. That's what makes teaching rewarding.

Gerson has begun blogging for Huffington Post. Initial subjects included getting your kids to practice, 24-hour cure for laryngitis, overcoming stage fright and how to make a living with your music.

"Writing about how to make a living as a musician, the first thing I talk about is, 'What's your mindset? What do you want?' It's totally fine, but if what you want is something back, then you might walk around being disappointed. If you what want is just to do it, then it's a matter of making a vocation out of your vacation.

"For me, it's easy to be persistent, because I really like what I do. I feel lucky every time I'm able to do it. "

Joy comes in the creative process and the focus shouldn't be on potential rewards. "When I was younger, I might have gotten down on myself for things that I don't care about now. I'm happy if I write a song. I'm happy if I get to play one. I'm happy if I get to help somebody else write a song and they get to play one. It's easy to listen to outsiders. But the most important thing is to listen to your own inner voice. I do make a business out of my music, but I don't look at music as a business.

"It's like a sports person, you've got to keep your eye on the ball. Keep your mind on the game. The moment that your mind is out of the game and you're thinking about the fans or your contracts, then you're going to play a lousy game. So a musician who is occupied with just the doing of it is going to be happier than if you're busying your mind with things that, in the end, are not relevant."

In the near future, Gerson would like to present breathing and singing exercises to seniors. She would also like to use her living room concerts to benefit an organization trying to stem domestic violence.

"I'm sure my goals are different than when I was 20. One goal that has remained unchanged is the desire to do something useful or helpful. I always felt that the best chance I would have tat doing things for other people would be through music.

"I have personal growth goals that I didn't have when I was 20, being a happier person, because that makes the people around you happier," says Gerson, who's engaged to be married. "I'm trying to do things such that I'm not cheating my kids, I'm not cheating myself, I'm not cheating my relationship, I'm not cheating music. It's hard to figure that out. But I'm working at it. "