RYAN BINGHAM: FROM PAINFUL PAST TO BRILLIANT "TOMORROWLAND"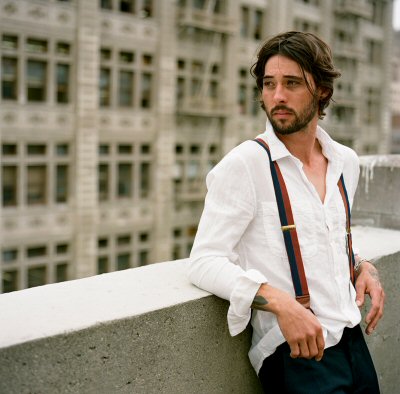 Photo Credit: Anna Axster
By Paul Freeman (July 2013 Interview)

In 2006, singer-songwriter Ryan Bingham and his band, The Dead Horses, were living out of their Chevy Suburban. In 2010, Bingham was on stage, gripping his gleaming Oscar for penning the year's Best Song, "The Weary Kind," from "Crazy Heart."

Now he's in another surreal situation, opening for Bob Dylan, Wilco and My Morning Jacket, on the AmericanA tour.

Bingham, 32, was born in New Mexico and grew up primarily in Texas. In his teens, he rode bulls on the rodeo circuit. But Bingham was drawn to music. He picked up a guitar and was soon writing his own songs.

Bingham, who left home at 17, played all over the Southwest, then hit the West Coast and New York, even spent time busking in the Paris subway and riding horses in a Euro Disney show.

He settled in Los Angeles and earned critical acclaim for his 2007 debut album, "Mescalito." His rough-hewn, intense, authentic sound and searingly honest lyrics call to mind Steve Earle, with a hint of early Tom Waits and even a bit of Dylan.

When Bingham read the script for "Crazy Heart," the protagonist, charming, irresponsible, drunken Bad Blake, resonated with him.

He gained a lot from collaborating with T Bone Burnett, Stephen Bruton and Jeff Bridges. Bingham sang "I Don't Know," on the soundtrack, as well as his own composition "The Weary Kind." He earned not only an Academy Award, but a Golden Globe and a Grammy. The Americana Music Association named him 2010's Artist of the Year.

Bingham has released his fourth album, the riveting "Tomorrowland." It benefits from more of a rock edge, which suits his gritty, gravelly voice. You might hear a trace of Steppenwolf's John Kay in his fiery delivery. Those who only knew Bingham from the hauntingly beautiful "The Weary Kind" were in for a surprise. An exhilarating one.

Bingham, wed to film/video writer/director Anna Axster, had to endure painful early years. But regret doesn't weigh him down. Having written the theme song for FX's "The Bridge" series, he has other screen collaborations on the horizon. Profoundly moving songs continue to flow from his soul.

POP CULTURE CLASSICS:
"Tomorrowland" is a terrific album. Did that surprise people, coming out with a record that had more of a rock edge.

RYAN BINGHAM:
I think it may have a little more than surprised a few folks [chuckles]. But it's been a lot of fun playing these songs live, man. I'm having the opportunity to experiment a little more with electric guitars and different sounds like that. It's been nice, just kind of learning and being inspired by different things.

PCC:
Do you also enjoy the more vulnerable, naked feeling of playing acoustically?

BINGHAM:
Yeah definitely. Especially when you're playing these songs live every night, some days you're just in different moods and you don't always feel like playing those sad songs that are all stripped down. It really helps to balance things out and be able to go back and forth, between the two.

PCC:
Doing these shows with Dylan, are you in awe? Or are you used to that sort of thing by now?

BINGHAM:
It's a bit of a surreal experience. Yesterday was our first show on the tour and it's been really, really cool. It's something that I'm really proud to be a part of. I'm very honored to be here. It's been a really great experience so far.

PCC:
What are the elements of Dylan's body of work that most impress you?

BINGHAM:
I don't know... maybe just the honesty of a lot of it. When I was younger, growing up, in my teens, that stuff really started to settle in and hit me. It goes straight to the heart, those songs.

I kind of had a sense of growing up on my own, as a kid, didn't have a whole lot of people that set an example for me. You have all these feelings, when you're a kid. You're confused about the world and everything going on and just trying to make sense of a lot of stuff. And here was this guy singing about a lot of this stuff that I was feeling. And it made me feel like I wasn't alone in the world sometimes. So I've always appreciated that about his music.

PCC:
That gift for making people feel that they're not alone, is that something that you like to make a part of your own music?

BINGHAM:
You know, I think, now that I'm getting older, I see a lot of younger guys coming to the shows and maybe some kids that may have grown up in situations similar to mine. And it's been nice to hear from some of them that they connect with the songs, that they're really going through some of those things and it makes them feel the same way. So that's definitely part of it, sure.

PCC:
Is it important to you to sometimes include specific messages in your music, as on 'Rising Of The Ghetto?'

BINGHAM:
Yeah, it is. I think, for me, I'm playing these songs every night, it's hard for me to sing something I'm not passionate about or not feeling. So a lot of the writing, in general, for me, just comes from everyday experiences in life and day-to-day stuff. So a lot of anything social or economic or political, or whatever, definitely plays a big part on my conscience, at the end of the day, when I'm writing these songs.

PCC:
Spending so much time on the road, experiencing a lot of different environments, how important is that to your songwriting?

BINGHAM:
Yeah, I think it's a huge part of it. I don't think I could have written a lot of these songs, if I hadn't gone out there and traveled around and seen some of the stuff that I have. It just seems like I always have to get out on the road and travel around for several months before I really can come home and have anything to write about. I've never really been good at just sitting down with a piece of paper and trying to force out an idea or a story. It has to be something that I've lived through, something that's happened to me. That's the stuff I write about.

PCC:
Writing your own songs, when did that first become important to you, as a means of self-expression?

BINGHAM:
I think right away. You know, I played guitar for about a year before I started writing songs. And I didn't really know a whole lot. I learned this old mariachi song, was the first song that I learned. I just got so sick of playing it over and over, I tried to experiment, making other things up [chuckles]. I got a few chords, started learning things. A lot of the early stuff I was writing were just kind of two-chord songs. And it really became a very therapeutic thing for me., being in my late teens, early 20s, just kind of getting stuff off of my chest. And a lot of it wasn't really writing stuff to perform for people or anything like that. It just became a really important outlet for me to get stuff off of my chest. So it was very personal, right from the start.

PCC:
When you were playing bars and backyard parties, did you have any grand dreams of where you music might take you?

BINGHAM:
[Laughs] No, not at all. I was playing in these little rough, roadhouse kind of bars. Most of the people that went there, they didn't really go there to listen to music. They went there to get drunk and fight and you were just more or less the jukebox in the corner.

It was very personal. But, at the same time, it became a way to sustain myself. It was kind of an escape from me. All of a sudden, I went from working these really shitty day jobs, a lot construction and hard labor stuff, to all of a sudden, I could make 50 bucks a night, playing for tips in a little bar. And that was about as much as I would make all day, digging holes for somebody. So it really kind of set me free, when I was younger and gave me an opportunity to support myself and make some money to eat on and stuff like that. And, at the same time, it was mine and nobody could really take it away from me. So, at the end of the night, even if I didn't have a good night or a good show, I'd pack up my guitar and jump in my car and drive off and I could go wherever I wanted to with it. So, really, it gave me a sense of freedom, as well.

PCC:
Leaving home at 17, was that more about what you were looking towards, where you wanted to go? Or more about leaving something behind?

BINGHAM:
Maybe neither. I didn't really leave home till I wanted to. It was something that I had to do. One day I woke up and my parents were just fried. It had been going on for a long time. But when you're younger, when you grow up around that stuff your whole life, it takes a while before you realize that maybe it's not the right thing to be around. And one day, it just kind of set in -you know, I don't really need to be here. If I'm going survive and live any kind of life, I've got to get out of here. It was just, one day I woke up and realized everybody was gone and I just kind of had to make my way from there. It wasn't really like a conscious decision that - Oh, I'm going to pack up my stuff and leave. It was like, I just woke up one day and I found myself out there already alone [laughs].

PCC:
Once you were out there on your own, did you see it as an adventure in some ways?

BINGHAM:
I don't think I did at the time. I didn't really realize what was going on. I think I was scared to death more than anything. Just kind of wondering where you're going to go and where you're going to eat. But I always had places to go. My grandparents had a place I could always stay and I had friends and stuff. But it just got to a point where I just didn't feel comfortable staying at people's houses and being a guest. It wasn't my grandparents responsibility to raise me and take care of me . So I just kind of felt an obligation to myself to take care of myself and do the best that I could with what I had. And I don't think it was till later on, when I really started traveling around, leaving that regional area of New Mexico and Texas and getting out to the West Coast and up to New York and it was a couple of years after traveling around , when I got back, and you start thinking about all the places you went and you're like, 'Damn, I was on quite an adventure the last couple of years!' [chuckles]

PCC:
What led you to getting on the rodeo circuit?

BINGHAM:
Well, my grandfather was a rancher out in New Mexico. And my Dad and my uncles, they all ranched and my uncle rode bulls in the rodeo. So they kind of got me into that, when I was young, going to junior rodeos and stuff. So I kind of grew up doing that stuff. It was kind of like Little League baseball in a way, out there. It's just something that the youth is involved in, in the community. And so, that's how I got into all of that. And I continued doing that. I worked for some rodeo companies for a while and started playing at the little after-parties and little bars after the rodeo. So that's kind of how I got into that stuff.

PCC:
That tough existence, competing in the rodeo, were there lessons to be learned from that you could apply to other areas of your life?

BINGHAM:
Yeah, definitely. It's funny how many similarities there are. I mean, maybe not in the rodeo and playing music in general, but more the lifestyle of being on the road, traveling a lot. It's almost like being in the circus. You travel from town to town, set up the tent every night and tear it down and move on to the next one. And a lot of that was the same. Doing that at a really young age, it taught me how to take care of myself on the road and taught me how to travel. Playing music, you actually get to play music 10 percent of the time and the rest of it, you're traveling and trying to get from one place to the next. So learning how to change flat tires and fix broke-down cars [laughs], it definitely has helped me out along the way.

PCC:
What about going to Paris and working at Euro Disney? What took you out there?

BINGHAM:
Oh, man, that's a long story. I think I was like 23, when I went over there. I was working for a rodeo company out of Del Rio, Texas. And I had a friend that had been over there, working in that show. And we were just talking one afternoon. I'd kind of played everywhere I could in Texas, all these little bars. And I was really up for anything, willing to go anywhere. He said, 'Man, have you ever been to Europe before? I think I can get you a job over in this show.' I sent a video over there. You had to be be able to ride horses and do all that sort of stuff. So I sent the video and they signed me up and I went over there for a while. It was a very eye-opening and humbling experience, being young, never having been out of the country before, and going over to Europe.

And not only going over there, but the way I went over there. I was still broke as hell, when I went over there. It wasn't like I was on this vacation plan where you had hotels booked every night and you went to see the sights. I didn't go over there with any kind of a comfort zone. You know what I mean? [laughs] No tourist pass. I went over there and was playing in the subways of Paris and things like that and just kind of out on the street and working in that show and meeting the people that I got a chance to meet. It was really great experience for me.

PCC:
After the years of struggling, was it a totally surreal moment, being up there, accepting the Oscar?

BINGHAM:
Yeah. I don't even really think it ever really set in [laughs]. Even now. It all happened so fast, as well. It's really kind of hard to fathom, that could happen to a person like me, in my situation, with what I'd gone through.

PCC:
What about working with T-Bone? Was that an enlightening experience in any way?

BINGHAM:
It was. Not only T-Bone, but a lot of the guys around that project. Stephen Bruton passed away. But he was alive while I was working on that. And meeting him and Jeff Bridges and all those people that were involved with that project, a lot of older, seasoned guys who had just been there and seen it. T-Bone's recorded hundreds, if not thousands of sessions. So it was definitely a great experience, being in a room with those guys. Not just working with them, but listening to a lot of their stories and things like that. You can really learn a lot from those guys, just listening to their stories and the stuff that they'd been through. I really took a lot away from that experience, too.

PCC:
Was it a weird experience to see Bridges up there on the screen for the first time, singing your song?

BINGHAM:
[Laughs] Yeah, it was. When I wrote that song, I had just read the script. They hadn't filmed any of the movie yet. So I really started writing just from the script alone. The rest of it developed after that. They filmed the movie. And how they incorporated that song into the whole film really kind of took me aback a bit. I thought it was pretty cool.

PCC:
Did you relate, in any ways, to the Bad Blake character, as sort of a cautionary tale?

BINGHAM:
Yeah, definitely. My father was very much that kind of character. And a lot of his friends were, too. So I kind of felt like I grew up around those guys my whole life. Definitely writing that song was almost just writing about those characters and my father and growing up around that. So it definitely hit home with me, when I read it, for sure.

PCC:
Did you go through a time, when audiences were just expecting that 'Crazy Heart' sort of material, which is certainly not all that you do?

BINGHAM:
Yeah, right off the bat. I mean, definitely, with all the exposure that came through that. And there were a lot of expectations from people that I would kind of continue in that vein. But writing songs for me, sometimes, is just a one-at-a-time thing. It's almost like writing in a journal. Once I write something down, especially if it's really personal, like that, I don't want to revisit that over and over. And I don't really feel like I have the need to do that. Once that emotion's out, you say it once, you're kind of done with it, in a way. Or I am. I look forward to moving on to the next experience in my life and not just dwelling on the past or some of the stuff that just comes out. I'm always writing stuff down and then I have to wait on the next one to come. And you never know where it's going to be, until you get out there and travel around a bit. And then you get home and write about those things.

PCC:
Your life in music to this point, what's the most difficult aspect and what's the most rewarding?

BINGHAM:
It's hard to say sometimes, but I don't think I could have written maybe a lot of the songs that I've written, if I hadn't grown up the way that I did and been through all that stuff. I mean, I definitely wouldn't trade it. If I could have my parents back and had a nice kind of normal life, I would definitely have taken that over having a rough life and getting to write songs out of it [chuckles]. But I definitely appreciate all the good things that have come my way and I feel real lucky and just really fortunate to have gotten to do the things that I've done so far.

I have the opportunity now of actually having a home, with my name on the mailbox. I recently got married, over the past three years. I really feel like I have a family now. So all of that stuff has just been amazing. And really hard to describe. Every day, I have to wake up and just be very thankful for where I'm at and all the good things that have come out of a very bad situation.

Visit the website for the latest news and tour dates: www.binghammusic.com.