SALVADOR SANTANA: A MUSICAL PASSION OF HIS OWN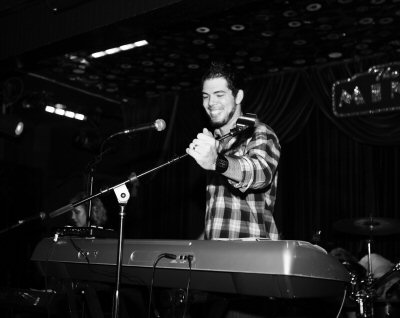 Photo Credit: Jill Agusto
By Paul Freeman [November 2011 Interview]
"My father told me, 'Don't fool yourself. God created you to be a wolf. If you're a wolf, be a wolf. Don't try to be a horse or a tiger or any other animal.' Basically, he was saying, 'God made you what you are, gave you the talent that you have - utilize that.' I've always tried to be myself, to remind myself of that each and every day."
So said Salvador Santana, whose father happens to be guitar icon Carlos Santana. The 28-year-old keyboardist/vocalist fronts his own band and creates his own unique sound, blending elements of hip-hop, funk, rock, blues, dance, pop and jazz.
Having assembled a new band, Santana returns, invigorated by the fresh blood. The lineup now includes guitarist Jared Meeker, his songwriting partner, drummer Blake Collie, bassist Itai Shapira and female singer-keyboardist Alex Nester.
Santana enjoys having another keyboardist sharing the stage with him. "I feel like I don't have to do everything, like a one-man band. It's nice to delegate. It frees myself up a bit on the stage. When I'm performing, of course I want to demonstrate that piano and keyboards are my forte, however I like to demonstrate that I can do other things, as well. Alex adds a tremendous amount to the sound. It's a beautiful dynamic to have, vocally, myself covering the low end, Jared Meeker taking the mids, and Alex, who has an amazing voice, going for the higher end.
"It's a new chapter for myself and my career. I'm excited for where I am right now and for the near future. The future is bright and there is greatness on the horizon."
Santana, who was raised in Marin County, California, has been surrounded by music and creativity all his life. His mother Deborah is a writer/poet. His maternal grandfather was blues artist Saunders King and his paternal grandfather was violinist/mariachi bandleader Jose Santana.
"My folks always encouraged me to stay creative. I've gotten great advice from my mother, as well as my father. She's given me great business advice and from a spiritual standpoint, telling me to always stay in your heart, to be the best that I can be, with conviction. She always reminds me that I'm doing a great job, just being the person that I am.
"My father always reminded me to practice - practice, practice, practice. Whenever I played sports or was going out to be a wild boy, he'd say, 'Always watch your eyes. Always watch your fingers. Protect those, because that's your livelihood right there.' In addition to great business advice, he has also given me great performance advice, and that is, whenever I go up on stage, I should play music with my heart, my gut. People will respond to that. I'm blessed and grateful to have had so much support from my family and friends all my life, to pursue my goals and my dreams."
Santana said he has inherited important characteristics from both his parents and grandparents.
"We persevere. We don't say, 'I quit.' We're relentless and resilient, on both sides, my mother's side and my father's side. We're all passionate about what we do, as well. We're bred to fight for what we believe in and what we think is right. Also my family, we always do our best to see the positive in any situation, no matter how sour or tragic."
Santana, whose latest album is titled "Keyboard City," is a firm believer in karma and predestiny. "Everything happens for a reason. I'm beginning to understand and apply that more, into my everyday life, both career and personal. There are certain things that we have control of and certain things that we don't. As a bandleader, I'm learning to defer and put my faith and trust into the universe, helping to make sure that everything I want, manifest and dreaming of, will happen. And so far, it has been."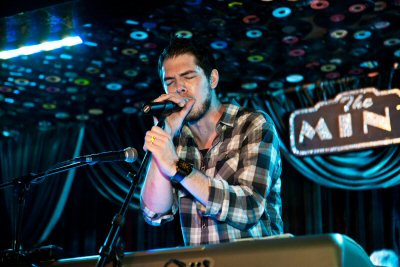 Photo Credit: Jill Agusto
One dream he has realized came at the age of 16, when his collaboration with his father, "El Faro," earned a spot on the "Supernatural" album and won a Grammy.
"It was really gratifying to know that a song I dedicated to my grandfather went on a very historic record. My Dad and I were writing that song the day that my grandfather passed. And we performed it at his funeral, a couple days later. I have a new song, 'Mi Tesoro,' on my website. That one is dedicated to my paternal grandmother." He plans to write songs for his maternal grandparents, as well.
Of the Grammy experience, he said, "It was super-validating. I think about it all the time. It makes me want to do more, strive for more, get more Grammys and awards like that. But, at the end of the day, the best reward is when someone comes up and says, Salvador, your music or your father's music or what your family has done, has touched me in a positive way. That to me is worth more than a hundred Grammys. That's really what it's all about. At the end of the day, satisfying others is what's satisfying to me. That's why I'm in this business."
It satisfies Santana to make music that can be defined only as "a new blend." "I'm always in a place where I'm willing to learn and to keep open. It's really important as a musician nowadays to be really versatile. My music is constantly evolving. It has a little bit of this, a little bit of that. We don't leave anything out.
"I'm a little bit of everything, not just ethnically," he said, laughing," but musically. It's helpful, from a marketing standpoint, to have labels or categories. They're not going to put you in the iTunes store under 'New Blend.' I get all that. But when you're a chameleon and you can adapt to different situations, that can be an advantage. You don't want to get stuck. I try to grow and adapt and not resist change. Change is inevitable. Growth is optional. And I choose to both change for the better and to grow as an artist."
Being open to change and growth has been a key to his father's career longevity. "That, as well as the passion. If it were a flame, it has not gone out. Every time I talk to him, he sounds so excited about performing whether it's Vegas or a one-off in Thailand. He just sounds like a kid in the candy store every day, when he goes out and performs. I can only learn from that, from my Dad's long career. Both my grandfathers, who were also musicians, also had long careers."
Optimism is part of Santana's heritage. "I'm a pretty political person in my music, but, at the same time, I like to keep it open to interpretation and not leave anybody out, from either a musical or an opinion standpoint. I can get people's attention without resorting to foul language or anything derogatory. I like to be positive. I like to be around positivity.
"I think John Coltrane said it best - 'One positive thought equals millions and millions of positive vibrations.' And that would also be true, if you replaced the word 'positive' with 'negative.' I like to focus on the positive. I want to give people a positive experience when we all get together to enjoy this beautiful thing called live music. I'm just grateful to have this opportunity that I've been given. I'm going to work my butt off to make people happy."