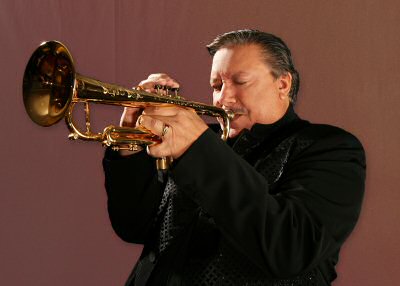 Photo Courtesy of Arturo Sandoval
ARTURO SANDOVAL: THE JOY OF TRUMPET
By Paul Freeman [October 2014 interview]

His mentor was Dizzy Gillespie. Raised in Cuba, he received the Presidential Medal of Freedom from his adopted country, the United States. Andy Garcia played him in an award-winning HBO biopic. Trumpeter Arturo Sandoval is one colorful, colossally talented musical artist.

Whenever he performs, audiences get swept up in the 10-time Grammy winner's unbridled joy. "It's always such a privilege, when you have the opportunity to play for people," Sandoval tells Pop Culture Classics. "I enjoy every second of it."

The sound of the trumpet grabbed Sandoval during his childhood in a small town outside of Havana. "It amazed me the first time I heard it - and it still amazes me, the possibilities of the instrument. You can really express yourself all the way, without limitations, because the instrument really lets you speak in any form you like. You can whisper so soft, but you can make a big noise, which means the instrument will let you express your feelings 100 percent."

Bewilderingly, when Sandoval was 10 and sought out a trumpet teacher in his village, he received negative feedback. "This teacher said I was never going to make it," Sandoval says, laughing. "But I really was so guided to do it and felt so strong in my wish to play the instrument. In the first minutes, it was very discouraging for me. I was crying. But a little later, when I got to my house, I said, 'You know what? That guy is not God. He cannot tell me that I can't do it, that I won't make it. Only God can say such a thing.'"

Sandoval believed he could succeed with his trumpet-playing. "I really don't know why, because nobody in my family was musical or in the arts. My father was a car mechanic. Nobody was involved in music. And everybody was surprised, when I mentioned that I wanted to be a musician. Everybody said, "What!?"

He played traditional Cuban music in local bands. "The strong concept of rhythm in the country is really amazing. Rhythm is one of the three ingredients of music, along with melody and harmony."

Sandoval honed his skills so well that he received a scholarship to study classical music. That gave him a firm foundation.

"Even today, when I practice, most of the time, that is what I do. I practice in the classical style. The classical training helps you develop a solid technique in your instrument. You learn the intonation and the phrasing and the different kinds of articulation, all the things you need to develop and use in any style of music later on."

A style that particularly resonated with Sandoval was jazz. "I met a journalist, during my first visit to Havana, and he was an aficionado of jazz. He said, 'Did you ever hear jazz music?' I said, 'No, what's that?' So he played for me a Dizzy Gillespie and Charlie Parker record. That was it! That made me crazy. I said, 'Oh, my goodness. I want to play that!' I became obsessed with that kind of music. And I'm still trying to figure it out, what those people were playing.

"Freedom is a wonderful word and it is a big part of jazz. You are expressing what you're feeling, your ideas, without limitation. It really gives you that feeling of freedom of expression, which is amazing."

Adding his Latin, Afro-Cuban and classical influences to jazz gave Sandoval a uniquely personal sound. "I don't divide music by genre," he says. "I love good music. For me, music is only one, doesn't matter who wrote it or when or where. If it sounds good, I want to learn. This is what I've been doing all my life, trying to learn as many styles of music as possible. That's my goal. I appreciate all good music."

Improvisation becomes part of the mix. "Improvising is something you start to bring in and then it develops. It develops every day. I am still learning how to improvise. After 54 years playing music, I'm still learning how to improvise."

Sandoval say improvisation comes as a result of both analysis and intuition. "It is a combination of both, because you really need to know exactly what you're doing. It has to be something that's based on the chord and based on the form of the harmony. And as much as you try and try and try, you get a little better control. In the end, improvising is like creating a new melody out of the form. And a new one and another one and another one. It's like a creation."

Sandoval managed to land a job as Dizzy Gillespie's driver. "He stopped in Havana, May, 1977. He came there on a jazz cruise with Earl 'Fatha' Hines and Stan Getz and a group of great, great jazz musicians. I was dying to meet him. And I stopped him at the harbor and offered to drive him around the city. I didn't speak English at all at that time. But he spoke Spanish very well. Later he saw me with a trumpet in my hand and said, 'What is my driver doing with a trumpet?' Somebody told him, 'He's a trumpet player.'"

They became close and Sandoval played with trumpeter Gillespie until that legendary musician passed away. He learned invaluable lessons about music... and life.

"He was a creator," Sandoval says. "He invented. He together with Charlie Parker. But he was the guy who put those ideas in Charlie Parker's brain. He was such a unique musician. Extremely musical. And his musicianship was amazing, the way he created music and the way he improvised. That was the total freedom of expression.

"He had such a command of the instrument. But the most important thing I learned from him was love for music. It was really unbelievable how much he loved music. He never got tired of talking about music, discussing ideas, asking questions. He was like a little boy, hungry for information. He was my hero before I met him and after that, he became not only my hero, but also my best friend and my mentor. And he gave me a lot of opportunities for so many years. I still think of him every day."

By the 70s, Sandoval was composing. And he taught himself piano, as a tool for writing. "I play what I can, not what I want. It's different from the trumpet."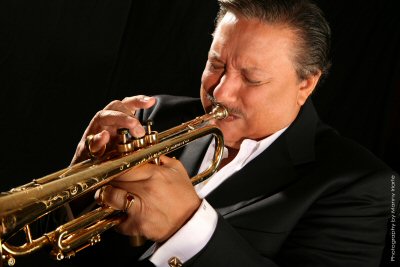 Photo Credit: Manny Iriarte

The lure of more creative freedom, political freedom and a better life for his family brought change. In 1990, granted political asylum in the U.S., Sandoval, joined by his wife Marianela and their teenage son, moved to Miami.

"It was a hard decision. It's not a nice decision, when you have to escape from your own land - and you know you are not allowed to go back. It's a horrible feeling. But I knew - and I know - that it was absolutely necessary. And I'm glad I made that decision. My kids grew up here and all the things we enjoy, because we live here, oh, man, that's progress! And I never ever regret what I did, all the way around. We enjoyed this country so much, from day one, and we still do. We're so grateful that we live here. We love this country with our hearts. And we pray to God every day, giving thanks that we're in this beautiful country."

In August, 2013, President Obama announced that Sandoval would receive the Presidential Medal of Freedom. "That was a huge honor. And I really keep that very close to my heart, because it's the most important medal that civilians can get from the government of the United States. It's such a privilege. And it encourages me to keep being the best person I could be."

Sandoval has recorded with a dazzling and diverse array of artists, including Gillespie, Frank Sinatra, Alicia Keys, Woody Herman, Michel Legrand, Stan Getz and Josh Groban. "I enjoy these collaborations, because I admire, I respect every good artist. It's always an honor and privilege to work with such artists.

"The producer who brought me into the Frank Sinatra album and many albums was the great Phil Ramone. He wa a great friend of mine. He gave me a lot of opportunities to play in different bands. He also had me play on albums by Tony Bennett, Rod Stewart, Johnny Mathis, Paul Anka, oh, my goodness. He also brought me to the White House to play for Burt Bacharach, when he got his Gershwin award. Yeah, Phil Ramone, we miss him so much. He was an incredible person and one of the greatest producers in music history."

A professor at Florida International University for 20 years, before retiring from that position, Sandoval has played in the White House several times. "I'm going back November 19 for that same event, when they present that present that medal, the Gershwin Award, to Billy Joel."

Sandoval's remarkable life was depicted in the HBO movie "For Love or Country," starring Andy Garcia. "They did a wonderful job, man. I want to tell you, I've never participated in any project in my life that has such a unanimous recognition. All the critics, everybody loved the movie, man. I really feel overwhelmed with the affection that movie has. All the people enjoy watching it. All the reviews, all the comments all over the media have been incredible, five-star. Unbelievable. I won the Emmy for the score, which is very special for me, too.

"They hired me as a consultant in the very beginning. So I participated in the whole process, even in the sense of writing the script. I worked with the screenwriter very closely. I was involved in the whole process. It's a great feeling and a great honor, because I believe everybody has a story to tell. If HBO decided to share my story with the people, that's a privilege."

Garcia is very convincing as Sandoval. "He is a very good actor. He was the perfect choice, man, because he is very musical. We still play together once in a while. He plays bongos. He loves music. We became dear friends. We met very briefly once, but we didn't really know each other. But after the movie, we became very close. And now we're neighbors and we hang a lot. He's a great guy."

At 64, Sandoval and his wife now live in Tarzana, California. They have two sons and two grandchildren. Sandoval is still adding to his rich life experiences and still learning more about music.

"The day you think you know everything or you've reached the peak of your playing, then you better retire. Music is an endless process of learning. And every day, I feel like I get a little more mature musically, a little more conscious of how to make music that touches the heart of the audience. That's the most important thing.

"Music is like a compilation of experience and feelings. The more experience you have, the more you can put into your music. I want to keep learning till the day I die. I still embrace music with the same passion, the same discipline. I try my best to infect people with love for music, passion for music. That's my goal."

As for the future of jazz, Sandoval says, "It's tough. It's difficult, because jazz doesn't really have the support it should have, especially in the U.S. You go to Europe or Asia and you can see good jazz in prime time on the networks, on television. Here, it's impossible. And that always kind of pissed me off, to be honest. How come here it's so rare to see any jazz on television? How come? This is the most important art form created in this country. We cannot forget that."
.
Nevertheless, Sandoval revels in his creative and personal liberation. "I've always said, 'No freedom, no life.' Freedom is the most important thing in life. In a democracy, everybody has the opportunity, everybody has the space to express and do your thing, collectively and individually. We have the opportunity to show people all over the world that we can live together in harmony and peace."

For the latest news on this artist, visit www.arturosandoval.com.