THE SCORPIONS: END OF THE HURRICANE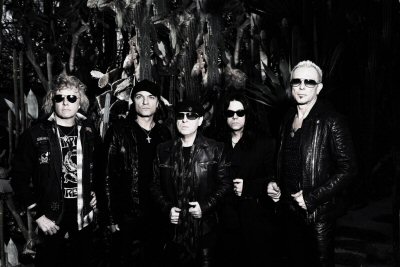 THE SCORPIONS
Left to right:
James Kottak, Matthias Jabs, Klaus Meine, Pawel Maciwoda, Rudolf Schenker
By Paul Freeman [June 2012 Interview]
German metal-pop band The Scorpions, after nearly half a century, embarked on an extensive farewell tour. For upcoming dates, visit www.the-scorpions.com.
In addition to the 3D blu-ray concert DVD, "Get Your Sting & Blackout," The Scorpions recently released the album, "Comeblack," which offers newly recorded versions of their hits plus covers of bands they've admired, including The Beatles, The Stones, The Kinks and T-Rex.
The band's international breakthrough came with their 1984, triple platinum "Love at First Sting," their ninth studio album. "Rock You Like A Hurricane" exploded up the charts. The album contained another enduring smash, "Still Loving You."
The Scorpions decided that their 2010 "Sting In Your Tail" album would be their final studio band release and that the current tour would be the last.
Founding member/rhythm guitarist Rudolf Schenker talked with Pop Culture Classics.
POP CULTURE CLASSICS:
Did the "Comeblack" album require a different approach??
RUDOLF SCHENKER:
This project was fun to do, especially because, we now, in our audience, have lots of new friends, young friends. There are so many in front of the stage every time, on tour. So we said it would be good to give them something to listen to, because our back catalog is not very well positioned here.
PCC:
So did that present new challenges, to do new versions of your classics and covers of bands you admired?
SCHENKER:
We have so many young fans. I think 1.5 or 2 million Facebook users. And we know that 80 percent of these people are between 14 and 28. And we see, also when we are going on stage, we have so many kids in front of the stage. And they're asking us, 'Where can we get the album?' Where can we get 'Blackout'? Where can we get 'Rock You Like A Hurricane', or something like this. Then they say, 'It's too bad. What's happening here?'
So, in this case, it was a great thing, especially with working with the two producers from Sweden, Mikael [Mikael Nord Andersson] and Martin [Martin Hansen]. Working with them in our studio was fun and we really worked close together, in this case, using the technology of ProTools. And you can do a little bit more and different things than you could do with the album in '80, ''82, '84.
The first idea was to do the whole album full of Scorpions classics. But then somehow, somebody had an idea to present also maybe some songs by the bands that inspired us. And, in the end, we came up with 'Comeblack.' It's good for the people to know where the roots are.
And our classics, especially 'Blackout,' I like very much. And 'Rhythm of Love' came out very, very good. Maybe some other songs are equal to the old stuff, maybe some not. We know that the old fans, they will stick to the classics. There's no question about this, to the old material, to the vinyl or to the original versions. But it's important to us, especially if you have a chance, to connect to, or to build bridges to a new generation, to maybe also give them something to listen to... and that's fantastic.
PCC:
How did you narrow the list of cover songs?
SCHENKER:
It's a very important point that there were other bands who inspired us, like Pretty Things or Yardbirds and stuff like this, but some of those songs weren't so good to sing for Klaus. Klaus was singing about 25 different possibilities of different songs we tried. And we found out, 'No, this is not working. That is not working.' And we ended up with seven or eight songs. And we knew the songs that Klaus could sing the best. Of course, to cover Led Zeppelin was very difficult, too, because it's more in the bluesy way. And Klaus is not the bluesy guy. And it ended up that the best songs for us to do were the ones that you'll hear on 'Comeblack.'
PCC:
Why do you think your music appeals so strongly to young people?
SCHENKER:
Because, first of all, The Rolling Stones, even Paul McCartney, bands like Eagles, all the classic bands, including, of course, now Metallica, AC/DC, as well, and Aerosmith, they have something, because they're growing out of the essence of what music and rock 'n' roll is all about. We have changed into a very commercial kind of way. In the old days, it was the worst thing you could do, to give your song to a commercial. Now it's very normal, because rock 'n' roll and the way of living, it's one thing. You have on the internet, there is so much music flying around. In the old days, when I was growing up, I had only one or two stations to listen to, in the world. You would hear the static and then you would hear, 'Wom-bom-a-loo-mow-a-wom-bam-boom,' Little Richard, then static again. But the music had so much emotion and so much rebellion, that I was fascinated.
Today, it's more a young kid wants to play guitar, meets some other kids, they're making music together. It's a different way now. These kids, I think got told my their idols, by maybe Nickelback or Green Day or System of a Down or whatever, who they got influence from - The Scorpions, AC/DC - and now the young kids want to hear and see where the music comes from. We are very happy that they can learn from that essence to make music, with the analog. With digital, it's a very different way. Most bands are not playing the one song through. They're only making bits and pieces on their recording sessions. We were playing songs sometimes 100 times and more, until we we had the magic moment. And the quality of the song rose, over that 100 times, as we sorted that song out. In this case, it was a complete different way of making music. And I think the young kids are feeling the essence, after so much music around. At the end, they are saying, 'There's something in this kind of music, which I like.'
The Scorpions are big on three statements - love, peace and rock 'n' roll. Love stands for 'Still Loving You,' peace for 'Wind of Change' and rock 'n' roll for 'Rock You Like A Hurricane.'
PCC:
I imagine that the song 'Wind of Change' is especially meaningful, wherever you travel.
SCHENKER:
Of course, it is. We were a part of it. We made a soundtrack for the most peaceful revolution on Earth. One week ago, we played in Morocco and they're singing the song as the symbol for what you can do without any gunshot. Peaceful revolution. Make something happen without war.
In this case, we were a part of it. We played Leningrad in '88. One year later, at the Moscow Peace Festival, we felt already that there was something in the air. The song was written. One year later, we were invited by Mr. Gorbachev to the Kremlin, the first and last rock 'n' roll band ever to be invited to the Kremlin. This was something very special, especially for a German band. We always said, when we did interviews in Russia, we said, 'Our parents came with guns. We come with guitars and bringing love and happiness.'
I think that's a very important point, as we travel around the world, trying to be as careful with our past. We want to show all the people around the world that there is a new generation going up in Germany, they're bringing not war, they're bringing peace. And I think that's the reason why, after being at the Peace Festival in Moscow in '89... we were the headliner, actually. Even Bon Jovi was there, because it was for MTV. But the people already knew us, because 'Still Loving You' was a big hit in Russia. And for us, it was so important for us to watch everything carefully. And when we played under the Olympic torch, we were the only band besides Bon Jovi and Ozzy Osbourne and Motley Crew and Sebastian Bach with his band. And we came up with the song, because we were watching everything carefully and as Europeans, especially German, we felt there was something coming up very important. And the song was written and then the wall came down. I think that's fantastic, being a part of a peaceful revolution - that's fantastic.
PCC:
Did always dream of taking your music beyond the German borders?
SCHENKER:
I always had in my feelings, even at the beginning of the '80s, I said, 'We have to play in Russia.' Everybody, even the other band members, said, 'What? In Russia? There's no record company. And this and that and this.' And I kept repeating it more and more. We played in '86 in Monsters of Rock, in England and Scandinavia and Europe. And one of the concerts was in Hungary and we played to about 75,000 people there. And we had dinner with the promoter and I repeated again that we would like to play in Russia.' He said, 'No problem, man. Your song 'Still Loving You' is a big hit there. And there is a man called Mr. Gorbachev. He is working on perestroika. We can make it happen. Make your new album and then we will take care of it.' So we made 'Savage Amusement' and then we played there. And we had to invest 500,000 German marks, no question about that. Because we wanted to play there with the great equipment and in a really professional way. And there was not anybody agreeing about that. But I was so pushing, pushing, pushing. I said we had to do that. And we did. And we were doing this at the right time. There was no trick about it. It was only to make peace with Russia. That was working fantastic.
PCC:
With the song 'Rock You Like A Hurricane,' did you know right away it was going to be huge?
SCHENKER:
I know one thing, to write the lyrics for 'Rock You Like A Hurricane' is not easy. They tried nine times. Klaus [lead singer Klaus Meine] did it first. And then Herman [drummer Herman Rarebell] was jumping in. And start again. And our producer in those days, Dieter Dierks, he was a tough guy. He was always going, ' No. It's not right.' And then Herman and Klaus came up with all of these lines with double meanings. Dieter said, 'Fantastic. This is the way.' This song became an anthem for the '80s. So 'Rock You Like A Hurricane,' was not easy to write lyrics for. But here, music and lyrics, one and one make three. I remember that our agent came to Stockholm to see what we do there and how we record everything and what kind of material will be there. He was not too sure if 'Rock You Like A Hurricane' would do it or not. He said, 'Still Loving You' is a fantastic song. When the album came out in '84, 'Love At First Sting,' he called me from Detroit, because his agency was there. He said, 'I tell you one thing - now I know, 'Rock You Like A Hurricane' will be a big hit. And he was right.
PCC:
I had read that, in France, The Scorpions get credit for the baby boom of the '80s.
SCHENKER:
[Laughs] I tell you one thing - that's unbelievable. We have heard that from people in France. The baby boom - that's fantastic. If you can bring people together... I know so many people in France say, 'Oh, my first kiss was with 'Still Loving You.' 'My first hug was with 'Still Loving You.' I mean, that's fantastic, to have one's music bringing people together.
And as we tour, we get this feeling that so many fans are celebrating the great career of a band coming from Germany, when normally, nobody thought rock music could come from Germany. In this case, we are very happy. That's the reason why we made the decision that 'Sting in Your Tail' will be the last studio album of new material, because even our manager said, 'How are you going to repeat that? This is a fantastic album.' I knew from time to time, it will be more difficult. But it was the right time. Classic rock came back. Somehow we came back with pure Scorpions with 'Sting in Your Tail,' in the time when classic rock came back. Both things together were helping us to end on a high note.
The decision was not easy to be made, but knowing that this album was so strong, we said, 'Let's do it.'