THE E FAMILY: THE EXTRAORDINARY ESCOVEDOS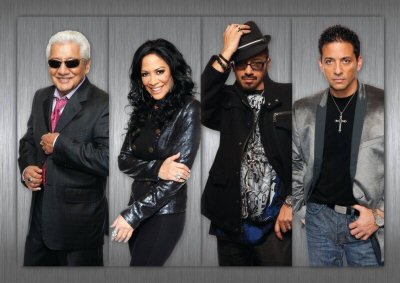 Left to right: Pete, Sheila E., Juan and Peter Michael

By Paul Freeman
[July 2011 Interview]

E is for Exciting. E is for extraordinary. E is for Escovedo.

They each travel to the beat of a different drum. And fortunately for music fans, The Escovedo family has plenty of percussion instruments to go around.

As The E Family, they've released a new album, "Now and Forever," which reflects diverse influences. Guests include Joss Stone, Earth Wind & Fire, George Duke and Raphael Saadiq.

The E Family is headed by patriarch Pete Escovedo. A Latin jazz percussion legend, he was an early member of Santana and has performed with such greats as Tito Puente, Cal Tjader, Anita Baker, Chick Corea and Boz Scaggs, in addition to fronting his own band.

Pete's daughter Sheila E. has added her rhythmic and vocal magic to the music of Prince, Lionel Richie, Jennifer Lopez, Diana Ross and many others. She is a Grammy and Emmy nominee.

Pete's youngest son Peter Michael, singer/bongo player, is also an Emmy nominee for his work as music director/producer of "The Wayne Brady Show." His brother Juan plays congas, drums and vocalizes. He has previously backed Patti LaBelle, En Vogue and Herbie Hancock.

Of The E Family album, the foursome's first, Pete said, "We had this in mind for years. It's a labor of love."

Sheila told Pop Culture Classics, "All of us as individuals have our own bands and we're our own leaders and musical directors for other people and producers. We've been playing most of our lives with our Dad, with Pops. And a lot of times, when we're not on tour, we come back and play with him, because it's just amazing. He's an amazing artist and a legend. And just to be able to play with your Dad and play Latin jazz music is awesome. This new CD, though, has a lot of commercial music. So we're excited.

"It took a minute to realize, especially for me, that we had to sit back and allow each person to give their 25 percent and not try to take over the entire conversation. We had to look at it as, we all have input in this. Then we had a blast."

With Juan living in Marin and the others based in Los Angeles, there were endless Skype conversations as the project took shape.

Said Pete, chuckling, "Most families have disagreements and we had our share. But putting the whole thing together was great fun. Doing our live performance, we each get a chance to do our own thing, in a sense. We're each featured on different songs and that way, it keeps everybody happy."

The three Escovedo offspring [Pete's other daughter Zina handles the business end of the E Family] picked up percussion by osmosis.

Pete said, "I was never one of those parents that stood over them and said, 'You've got to do it this way.' They just grew up in that environment of music in the house all the time, like myself and my brothers did, because our Mom and Dad were very musical. So the kids just took to it like a duck takes to water. It's such a normal thing for them.

"At the beginning of each of their careers, I schooled them a little bit about rhythms and the styles of music. But once they got a hold of the fundamentals, they just took it in their own directions, because I've always believed that music comes from who you are, your own personality."

Sheila, who began pounding out rhythms at age three, said, "For sure, if it wasn't for Pops playing timbales and percussion and congas and everything I'm sure that I wouldn't be playing the way that I play. It was a gift from God, but it was also a gift from my Dad to be able to be a room with him and just watch him, his dedication to practicing every day and playing to records. That was our everyday life was watching him play, having his band rehearse in the living room, no matter where we lived. So there was music in the house every single day. And you just get exposed to that. And what a wonderful thing to be exposed to.

"For us, music is the foundation of who we are. He represents the old-school quality musician who really takes his craft seriously, knows that it's a blessing, but is also very respectful to others. And he taught me to be on time, if not be early, 15 to 20 minutes early, come in and know everything that you're supposed to know about your situation, whether it be recording or learning music or rehearsing with a band or rehearsing new music with someone. When you go in, make sure that you know all of your music. Because it makes you feel confident and comfortable, so you're not stressed out and worrying, 'Oh, I don't know this. I'm not professional.' The best way to sustain a career is to be responsible for actions and how you respect people and practice and learn your music and that's what he's taught me. And it's worked."

Sheila benefited not only from her musical environment, but also from a natural rhythmic ability. "I definitely think it was both. I think that God has given me a gift, because, watching Pops play every day, he was my teacher, not that he literally sat me down to teach me how to play, but just by watching him I learned. I always make a joke about, if Pops was a carpenter, maybe I'd be a carpenter. I don't know," she laughed. "But I know that it has to do with both. God definitely gave me a gift. I didn't really practice. I just started playing instantly. And got into a band the first time I auditioned. I auditioned once in my life. And that was the one band I started with. And it escalated from there."

Pete Escovedo wasn't Sheila's only influence. "Another hero of mine, besides my Dad, was Sammy Davis, Jr. I loved Sammy Davis, Jr. And my Dad had just bought this record, Sammy Davis playing live. And Buddy Rich was playing drums. I was like, 'Oh, my God, listen to this record!' I learned the record probably in a week. I mean everybody's parts, from Sammy Davis to the horn parts to Buddy Rich's part.

"And then, growing up, the first girl I saw playing drums on television, which inspired me, as well, was Karen Carpenter. People forget about that. She and her brother had a television show. And it was crazy. I saw her playing drums and I was like, 'Daddy, daddy! She's playing drums. I play drums. How come I don't have a television show?' That was the first thing I said.

"Interesting enough, my Dad put together this humongous scrapbook with all these pictures and things that they had kept since I was young. And we found a letter that I wrote to a drum company. Might have been Yamaha. I think I was nine years old. And I wrote, asking them to endorse me, because I was so good. The letter is so cute. I'm going to put it in the book I'm writing. I didn't even realize that I was already thinking that way. I just remember entertaining people, the family, all of us kids, because we loved music. We would pretend that we were The Jackson 5 and The Temptations, Diana Ross, anything Motown, Stevie Wonder. We were always singing and dancing all the time. That was part of the entertainment of the Escovedos every day."

Sheila E. was still focused on athletics when she joined her first band. "When I got into the audition for this band, I was close to being 15. I was 14. They wanted me to play drums, because they knew my Dad was playing for Santana at the time. They said, 'I heard you play drums.' I said, 'Yeah.' They said, 'Why don't you come audition?' But the thing is, I didn't really play drums. I played a little bit of percussion. For me, that was just an everyday, normal thing, to just beat on the drums and get out of the house and go play. So I went to my cousin, who had a drum set, and asked if I could borrow his drum set to go and do an audition. And he said, 'Really? You don't even play drums.' I said, 'I know, so teach me how to set up the drums, so I look like I know what I'm doing," she said, laughing. "I had enough sense to do that. So he showed me how to set up the drums and said, 'I can't believe I've been practicing for two years, I haven't had an audition. You don't even know how to play and you're getting an audition.' So I went and auditioned and started playing with that band right away.

"But at that same time, I was also running track. But I noticed I really liked playing music. And I thought, 'Man, playing in a band could be kind of cool.' Later on, my Dad's percussion player got sick. I convinced him, with my Mom, to let me play. My Dad was like, 'You're 15. You don't know anything. You don't want to do this gig.' I said 'I know all the songs, because you guys rehearse at the house.' So I played that one show with him. And that was it. I quit everything else. I said, 'I'm going out on tour with you, Pops.' That was it, literally, that one show. As much adrenaline as I had, competing in meets and running track and playing soccer, the feeling that I had that night playing with my Dad, was an experience I'll never forget. That was another turning point in my life. I realized, 'Wow! All this is in me!' My Dad told me, 'Take a solo.' I said, 'Yeah, I guess, whatever that is. Not really being able to take a solo. And by the time I was done, I felt like I was watching myself play a solo, like an out-of-body experience. And the crowd, there was like 3,000 people, there was a standing ovation. And I was like, 'Oh, my God, what happened?' And my Dad just looked at me.

"And after the show was over, he just hugged me and we cried. He said he didn't realize that I knew that much. And I said, 'I didn't either.' I said, 'This is what I want to do for the rest of my life. I know this is it!' And that was it. I went on tour two weeks later."

Gaining respect as a woman percussionist wasn't easy for Sheila E. "Definitely difficult and challenging. And I didn't understand it at first. Talking to my Dad, I explained to him how I was being treated by a lot of the guys in the band, especially other percussionists or drummers. And the horrible things that they would say to me. He would say, 'Look, they're just jealous, envious of you. They don't understand that what you have is unique.' Because there's not many young ladies, at that particular time, playing percussion. Or even a little bit of drums.

So he said, 'You just ignore them and you go out there and you do your job and be happy and smile. And just ignore them.' But yeah, there were a lot of things being said to me. And then realizing it being so different, which I didn't at the beginning. I thought that there were young girls playing percussion and that it was kind of the norm. Because it was normal for me. That was my life. My lifestyle. And noticing when I was flying back and forth from the Bay Area to L.A. to do sessions with George Duke and Herbie Hancock, really early on and Billy Cobham, and noticing that there weren't very many girl percussion players at all. It took me a minute, but realizing that what Pops said, it made sense, and you just had to not be affected by what they said. It was always a point where they wanted to challenge me, because it had to do with 'I'm better than you and you're just here, because you know George Duke or Billy. You're not going to last long. You really don't play that good. Blah-blah-blah.' All the way to, 'If you have sex with me, I'll get you in this other band or I'll get you a manager or I'll get you a record contract.' It was pretty extreme. So I definitely took the advice of my Dad.

"I love what I do. At that particular time, I thought it was actually thought it was an insult to pay me to do this, because I thought, 'Why should you pay me to do something that I love doing? I want to do this. I don't need to get paid. I love this!' And I remember Pops taking me to the kitchen and opening the refrigerator door and saying, 'I think you need to get paid, because we need to pay the bills and get some food in this house.' I said, 'Oh, okay.'" Sheila laughed.

Having to deal with those narrow minds early on, ended up making her stronger. "Oh, absolutely. Because, my mom, on the other end, is very competitive. She will compete, I don't care if it's King Kong, literally. She's someone who will take on anyone and say she's good at what she does and even if she doesn't know how, she'll say, 'I'll beat you doing this.' She still, she can play basketball. She plays Ping-Pong. She's an awesome pool player. She does everything. She's very active. So I was very athletic, as well, when I was growing up. I was into sports and I was running track. I wanted to be in the Olympics. That's what I was training for. I also played soccer. So I had that competitive spirit in me. My Mom was saying, 'You can do whatever you want to do, be whoever you want to be.' And you don't have to compete against those guys. You already are better than them. Just leave it alone.' But there are some times where you kind of had to say, 'Okay, let's just have a playoff.' You know, battle of the bands. And we would do that."

Of course, drumming requires athleticism. "Very much so. That was the upside of it all. It's very taxing on your body. It's not getting any easier, I tell you that playing drums and trying to do this gracefully and still remain feminine. It was funny, I was on David Letterman a couple of weeks ago and they had all the drummers there, four other drummers that week. And they had a lot of drummers at this event last week, here in Los Angeles, Burbank. And all the drummers came out from everywhere, because they had all these drum companies. And as soon as I walked in, I mean, you've got Vinnie Colaiuta, everybody. And everybody was saying, 'How dare you go on Letterman and put those heels on and play?!'" Sheila chuckled. "They're all my friends and all those guys are like, 'Oh, my God!' And I said, 'Well, I knew you guys weren't going to do it. So I had to do it. For the women, you know!' And it was awesome, because they watched it, they recognize it. They know how I am. And everybody knows about the heels. That's something I wouldn't do all the time. I used to play in my heels all the time. But it hurts my back. I can't do that anymore. But for television, I had to take one for the team."

Over the years, Sheila E. has worked with an astounding list of musical greats, including Marvin Gaye, Ringo Starr, Tito Puente, Stevie Wonder, Gloria Estefan, Patti LaBelle, Stevie Nicks and Cyndi Lauper.

"What a blessing," Sheila said. "Every single person I've worked with, in my entire career thus far, I've learned something from, whether it be good or bad. If it's bad, I know not to do it. Or I wouldn't do it in that particular way or if I had a band, I would do it in this other way. It's all part of the experience I took with me. And I think that's part of molding me into who I am, is the experience of going out there and playing with so many different artists and so many genres of music."

And of course, there was Prince. "Playing with my Dad and playing with Herbie Hancock, Lionel Richie, Marvin Gaye's last tour, Confunkshon, George Duke, Billy Cobham. All these people, right before '83. Prince asked me to come in the studio and I was here in L.A. and I said, 'Okay, what do you want me to bring? Timbales or drums? Congas?' He said, 'No, it's all good. Just come to the studio. We have everything.'

"So I showed up at the studio and there were no drums or timbales or percussion. He said, 'Okay, you're going to sing this song.' I was like, 'No! I don't like singing!' I had sung behind all those artists, Marvin Gaye, Lionel Richie, Herbie Hancock, my Dad, Diana Ross. I played behind everyone and sang background, while playing. But he wanted me to sing a duet with him, a song. And without having my timbales or percussion, drums anything, it's like, what do I do? I can't stand there and just sing. What do my hands do? That kind of thing. It was foreign to me. And he knew that. And that was awesome, because he said, 'You can do it. Come on!' I was like, 'Okay.' That was a song called 'Erotic City.' So I started singing more, because of that one particular time he took me in the studio, even though I had sung in the studio before and even had done some singing on a couple of projects that my Dad and I had done as Pete and Sheila Escovedo, that Billy Cobham produced. I was always so nervous about singing. But Prince made it feel little more comfortable."

Sheila enjoys exploring new experiences. "I love challenges. I love change. I think that's what's been so exciting about my life, the ups and downs of the business, the ups and downs of life, the ups and downs of experiencing things that I would not normally do, because of either television shows or situations or where God places me to be. And you think 'God, why am I here? but okay. I gotta say yes.' And you're in a position where you're saying, 'This is crazy, I'm on a Blackhawk helicopter, flying over the Statue of Liberty, doing a television show. It's crazy.' Things like that, I love that. I love the experience of life and change and waking up in the morning, saying, 'All right, God, what's it going to be today? I'm excited about it.'"

At the moment, the excitement is coming from sharing the stage with the whole E family. "Oh, yeah. The only challenge is trying to figure out who's going to take what solo on what song on what drum or percussion instrument, to make sure we all evenly get a solo. That's always the discussion in the back before we play," she laughed. "'I want to take this solo!' 'Well, I want to take this solo!' And then just playing on stage, we don't even have to call or anything. We can blink an eye or just jerk your neck up and look at me like, 'Okay, are we getting ready to go there? ' Which means, I don't know what, but follow me. And we then create something that was, a lot of times, not planned. And that's the fun part of the family, is being spontaneous. And we're able to do that every show. And that makes it exciting and new. We never know what's going to happen."

Pete, who just turned 76, said, "At this point in my life, the best joy I have now is just working with my kids."

At 53, Sheila still gets the same sort of rush form performing as she did the first time she stepped onto a stage with her father. "Oh, absolutely. Yes, yes. And that's what's so awesome about it. If it ever happens, and it might not, I don't see it, but if it ever happens, where I don't have that feeling anymore, it means I'm supposed to stop. And I'm glad it's still here, that passion and that excitement and that gift, just knowing, 'Oh, my God, I get to do this again? You gotta be kidding!'"

With all she has accomplished, Sheila said her greatest achievement is, "to bless someone. That is the goal, to, at least once a day, bless somebody."

Both Pete and Sheila Escovedo bring music into the lives of children in need. Pete has established a music scholarship in his name at Pittsburg High School. Sheila, with manager/business partner Lynn Mabry, has founded Elevate Hope Foundation, providing instruments and music education to kids who have been abused, homeless or are in foster care.

Pete said, "Cutbacks in schools have taken away the music programs. There's so much need for that. With the kids involving themselves in music, it keeps them off the street."

Added Sheila, "Music helps with reading, as well as math. It helps kids' development, confidence, communication and social awareness.

"At the beginning, we focused on the kids in foster care, because those were ones who were left behind. So we were their voice," Sheila explained. "And we noticed that a lot of the kids that were abused, they wouldn't even talk. They were shut down. There's no communication whatsoever. None. And And one young little boy, he was nine, and he was so abused, never spoke. The teachers never heard his voice. They just thought he didn't know how to talk. And then we brought some percussion instruments. I have a line of percussion for kids. And we brought some smaller instruments, congas and timbales and hand toys and things like that. And the colors are vibrant for the kids. And we sat down and we played with him. And we had some other kids sit down and play with us, as well. And his teacher started teaching him with the drum and all of a sudden, she heard him start talking. She would hit a drum with a beat and say a word and he started talking. And they were amazed. He kind of knew how to talk. He had just shut himself down. This was years ago, and we learned that this was effective therapy for kids, that it does help them. That meant a lot to us. So that was our mission, to help the kids in foster."

Pete related, "Contributing so much to the young kids, that is so rewarding. If you're successful in this business, it's a great thing to give back. That's the greatest joy, to use what we have been blessed with to hopefully bless other people."

Their spirituality has helped keep the Escovedo family focused on the positive. Pete said, "It's really helped us, because in this business, you can easily turn the wrong way. You can always go down the wrong street. And, being spiritual, as a family, has helped us so much. We're all Christians and we all really believe in the spiritual side of music. We always pray before concerts. We generally pray all day, just to be thankful, because God has given us this gift of music. For us, as a family, to play together, it's such a blessing. We don't take it lightly. We really respect it and we strive to keep the spiritual awareness of what we're doing.

Seeing his children and now his grandchildren immersing themselves in rhythm and music makes Pete Escovedo feel fulfilled.

"It's great to leave this legacy to the kids. The Escovedo family is basically, a very large family of music. To see all of that happen while I'm still here is such a blessing. To witness the kids growing up and follow their own accomplishments, it's really cool."

Email Paul Freeman at paul@popcultureclassics.com.