SHERYL CROW: ICING ON THE CAKE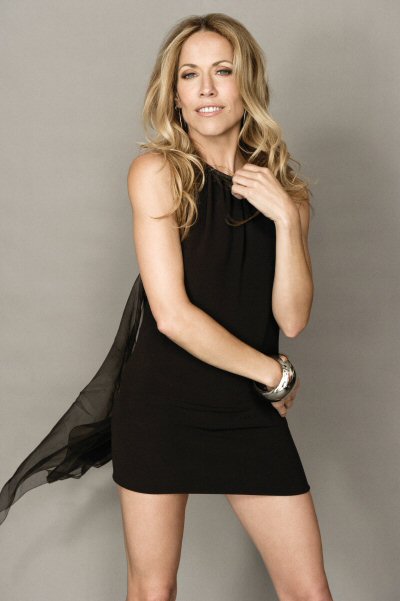 Photo credit: Mark Seliger

By Paul Freeman [Interview September 2010]

With her latest album, ď100 Miles From Memphis,Ē nine-time Grammy-winner Sheryl Crow returns home to her musical roots.

She grew up in a small town outside of Memphis and soaked up the R&B sounds of Stax Records. Other influences that can be detected on the album include Al Green, Delaney & Bonnie, Sly Stone and Stevie Wonder. Keith Richards added guitar riffs to the reggae-inflected song ďEye To Eye.Ē

Featuring soul-drenched new tunes like the single ďSummer Day,Ē Crow is having a blast during her current tour.

Another surprise is Crowís rendition of the Jackson 5 classic, ďI Want You Back.Ē She was one of Michael Jacksonís backup vocalists during his ďBadĒ world tour.

Before attaining incredible success as a writer/performer, Crow taught music in a Missouri elementary school. While selling 35 million albums worldwide, she has provided lessons in how to make memorable rock music. Simultaneously, she has championed social and political causes.

These days, Crow is healthy and energized, raising two adopted sons. Her last cancer treatment was four years ago. Surviving the disease changed her perspective as an artist.

The philanthropic Crow does her best to improve an imperfect world. The Sheryl Crow Imaging Center has opened in Los Angeles, featuring the latest advancements in detecting breast cancer. On stage and off, Crow is inspirational.

Prior to performing in the Bay Area, at Saratogaís Mountain Winery, September 14 and 15 [www.mountainwinery.com], Crow was kind enough to talk with Pop Culture Classics. [For Crowís full tour schedule, visit www.sherylcrow.com.]

POP CULTURE CLASSICS:
Is the material from the new album particularly exciting to perform live?

SHERYL CROW:
It is a blast. And I have a completely new band with horns and backup singers. Itís like a big soul revue. And itís just been the most fun tour. And weíve recreated the old hits and have breathed new life into them. Weíre really excited that people are coming out to see it, because itís a whole different thing from what Iíve done in the past.

PCC:
The album, thematically, what did you want the listeners to take away from the record?

CROW:
Well, I just wanted them to experience what we used to experience with records, particularly in the summer. They would, in some ways kind of catalog song memories of summer. I wanted the record to be a feel-good record, something that people would just enjoy listening to and singing along with.

PCC:
What are your recollections of Memphis?

CROW:
My spending time in Memphis was the result of family trips, to see Santa Claus, to do school shopping. That was going to the big city. And I think everything about that shaped who I ultimately became.

PCC:
Keith Richards plays on the new album. Having grown up with The Stones among your musical heroes, did it seem surreal to have them become your supporters and collaborators over the years?

CROW:
Absolutely. Absolutely. Having Keith come in, heís really the architect of the kind of music that Iíve basically made my living off of. So itís exciting, but itís also humbling and very flattering, that he would even come in and do that. Heís just such a generous person. I just love him.

PCC:
And the albumís fun rendition of ĎI Want You Back,í did that take you back, give you an opportunity to reflect on the days of touring with Michael Jackson?

CROW:
Well, that was kind of an interesting thing. We didnít intend to record that, because it was spontaneous, at the end of another song we were recording. We kind of listened back and thought, ĎWow, this is really cool.í And I had so many ties to Michael. He was my first employer. His was the first album I ever owned. I grew up as a kid watching the Jackson cartoons. Heís meant a lot to me in my life. And ultimately, I wound up working with him. And it was the year anniversary of his death. So there was something really sweet about being able to put it out.

PCC:
I read that you felt you were approaching the writing of these songs in a less intellectual, more open and vulnerable way.

CROW:
Yeah, in the last few years, Iíd gotten to where a lot of what Iíd been writing was more commentary-oriented, sort of statements on whatís been going on, politically and so on and so forth. And this record is much more about emotions and vulnerability and desire and thatís kind of true to what soul music has always been about.

PCC:
When you do delve into politically and socially aware material, do you still believe in the power of music to spur change?

CROW:
I do. I mean, I donít know about creating change. Itís certainly to give voice to what the collective is experiencing. On the last record, while it was really personal and had a lot of more personal themes on it, it also had commentary about the elephant in the room, the fact that the government had lost credibility and the fact that we were in a war that nobody believed in, the environment. While the IPCC report was saying that the environment was really suffering, the government was kind of pooh-poohing it. I felt like, weíre dealing with giving voice to a whole kind of counterculture. I was simply writing about the obvious themes and whether people would find themselves in it or not, was kind of beside the point. It was more about at least addressing it, when it seems like nobody has been addressing those things... in music... in general.

PCC:
Unfortunately.

CROW:
Yeah, I agree.

PCC:
Do you think thatís coming out of the influences of the Ď60s, that youíre still reflecting a socially aware attitude?

CROW:
I just think that, as a writer, as a songwriter, itís a very compelling time to be a writer. Thereís so much to write about. Whether people gravitate to that kind of music or not is something the analysts will look back in time and say, ĎWell, people were investing their time and emotion into other peopleís lives, like reality TV and tabloids and that sort of thing. So did they listen to music that was pointed and truthful? No, it was much more about grooves.í Itís just the result of where we are at this moment in our evolution.

PCC:
But during your writing process, are you conscious at all of finding something that might resonate with an audience? Or is it just about pleasing yourself?

CROW:
Um, I donít know if Iíd say that pleasing myself is the right term. I think one of the reasons you get into being a writer, or an artist, is because of the necessity to express your own experiences or what it is youíre feeling or observing. Thatís sort of what the impetus for writing is. Itís not necessarily about whether somebodyís going to hear it or how they may take it or whether itís going to put money in the bank account. Itís really out of necessity to express. So when I write records, Iím really not thinking so much about whoís going to hear it and how itís going to be perceived and whether it will be successful.

PCC:
That process of self-expression, does it tend to just flow, or is it a torturous process?

CROW:
That depends. Sometimes the songs kind of come out whole. And then other ones, you sort of have to toil over. The last record was practically free-form. I mean, it was really fast. And this record, I had the music mostly before the lyrics. So it was not how I usually attack my songwriting. But kind of great, for that reason, as well. Itís always good to not be doing the same things over and over.

PCC:
So switching back and forth between guitar and piano in the writing process, does that help give you a fresh approach?

CROW:
Yeah, definitely, because you approach things differently according to the chords that you know and the voicings that you know. So yeah, definitely.

PCC:
And rhythms, are they sometimes the key to getting the song off the ground?

CROW:
Sometimes. I mean, Iíve been known to sometimes write to a groove, although, not usually. This time, I wrote a lot of it with Doyle and with Justin [Doyle Bramhall II and Justin Stanley, who co-produced with Crow] and I had the luxury of kind of relying on some of the grooves that they were creating already.

PCC:
Youíve certainly displayed an ability to write timeless songs. Do you think itís partly a gift youíre born with and partly hard work and studying and honing your craft?

CROW:
I donít know. I mean, itís nice that you say that. I mean, itís nice to hear. You know, writing is interesting, because, basically, unless youíre writing narratively, where you create a character, itís pretty much a reflection of what youíre experiencing, what youíre going through. Your life is kind of informing your art, so to speak. And even when Iíve written narratively, Iíve found that itís impossible to take my own experiences out of the mix. So I donít know. I mean, I write about the things that are going on around me and the things that I think that are obviously out there.

PCC:
You always seem to be challenging yourself creatively. Are you conscious of that?

CROW:
I like music. I like getting better as a producer, as a writer, as a singer, as a performer, as a musician. And itís the reason that I still love my work and I feel like my best work is ahead of me. And this record, we pretty much knew what kind of record that I wanted to make. So it was pretty clear. And that really influenced the record.

PCC:
But do you try not to get to comfortable, creatively?

CROW:
Well, thatís interesting. This record is really comfortable for me, because itís what I grew up listening to. Itís what I grew up singing. Itís what I learned how to sing. I mean, these were the kinds of songs I learned how to sing to. So, even though it may be out of my comfort zone as far as having a completely new band, Iím basically playing keyboards on everything, itís definitely within my comfort zone as far as the music that started my whole career.

PCC:
Back when you were teaching, did you feel like you might just be satisfied doing that and just have music play a supporting role in your life? Or did you always feel that music was somehow going to be your main path?

CROW:
I knew that, in some capacity or another, Iíd always be making music. Because itís a huge part of my family, a huge part of my life. Itís the thing that I have derived my self-worth from. Itís just been forever prevalent in my growing up and in my adult life. I just never was that concerned with the context or the breadth of how I would be doing it.

PCC:
The self-exploration you do with songwriting, does that help you define and redefine yourself periodically, to see where youíve been, where you are, where you want to go?

CROW:
I donít know. I donít spend a lot of time looking back, assessing. The real marker for me is playing the stuff every night. Once you have a catalog that continues to grow and grow and grow, it becomes self-evident how far youíve come. And thatís about as deep as I generally go.

PCC:
Surviving cancer, has that, in some ways, made you even bolder, as an artist or as a person?

CROW:
Yeah, that was a game-changer for me, definitely. I pretty quickly learned how to stop picking myself apart after having had breast cancer, after having been diagnosed with it. I had been pretty well-equipped before that, at self-editing, condemning and passing judgment. And now, when I write, when I perform, Iím really looking for the joy in it, much more than anything else, much more than the perfection in it.

PCC:
And the parenting, has that also changed your perspective in some ways?

CROW:
I think that everything in your life has a direct influence over your perspective, over your instincts. So yeah, it definitely had a huge influence on what I do and how I do it.

PCC:
Using your celebrity to make the world a better place, do you take as much pride in something like the Sheryl Crow Imaging Center as you do from any music business achievements?

CROW:
I think when you directly help somebody in their life, particularly when it comes to battling the big stuff, thereís not a bigger reward than that. Music is an amazing healer. It can certainly move the molecules. It can get people thinking. It might even motivate them to look at something differently. But helping somebody through what I consider to be the real game-changing moments is overwhelmingly gratifying.

PCC:
It must also be gratifying to hear how much your songs have meant to fans and their lives.

CROW:
Absolutely. Thatís one of the reasons that itís all worthwhile, to get on a tour bus and to leave home and to be gone for months at a time. And you have somebody come up and tell you how important a song was to them during a particularly challenging time. Thatís really what gives the whole thing meaning for me, what really makes it hit home.

PCC:
With all that youíve accomplished, is there something that youíre still burning to achieve?

CROW:
Iíve never thought of what I do in the context of achievement. So anything that comes in the way of achievement is icing on the cake.

PCC:
What you have achieved, has that exceeded any dreams you might have had while you were teaching school and trying to break into the music business?

CROW:
Yeah. You know, I went home and played Memphis the other night. And itís very humbling. I was a school teacher. And I think I was a good school teacher. I really valued it. I enjoyed it. But I knew, in the back of my mind and in my heart, I had a burning desire to be a writer, to write music and to perform. So itís wonderful now to go out and play and have an audience, have people who come and hear me, who donít know me, but just know my music. Itís very overwhelming. Weíre able to go all over the world and play. And people who donít even know the language will sing the songs. Itís pretty amazing.