JAKE SHIMABUKURO: HAVE UKE, WILL TRAVEL
The Ukulele Virtuoso Takes the Instrument to New Musical Worlds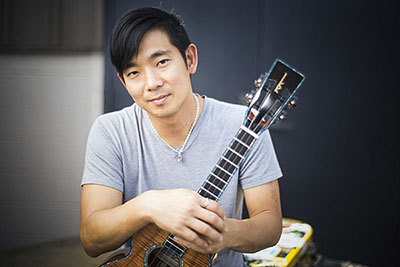 Photo by Coleman Saunders
By Paul Freeman [February 2017 Interview]
People used to think of ukulele as a simple instrument, confined to island music, children's ditties and 20s nostalgia. But now the uke is used, to great effect, in contemporary recordings across the genre board. Paul McCartney, Eddie Vedder, Train and Dave Matthews have utilized the instrument. Hawaiian musical artist Jake Shimabukuro has been a big part of expanding the public's perception of the ukulele.
Shimabukuro can play complex arrangements with blazing speed. In 2006, he exploded onto the international stage when, unbeknownst to him, a video of him performing George Harrison's "While My Guitar Gently Weeps" was posted on YouTube. It was one of the first videos to go viral.
He shatters boundaries, playing material ranging from Queen's "Bohemian Rhapsody" to The Jackson Five's "I'll Be There" to War's "Low Rider" to Leonard Cohen's "Hallelujah" to Schubert's "Ave Maria."
His latest release, "Nashville Sessions," is particularly experimental. It's Shimabukuro's first album of all-original compositions. Many of the songs began with a rhythmic notion, rather than a melodic line. He took a jam band approach in the recording, teaming with drummer Evan Hutchings and bass player Nolan Verner.
He has topped the World Music charts and collaborated with such diverse artists as Bela Fleck, Ziggy Marley, Jimmy Buffet, Dave Koz, Cyndi Lauper and Yo-Yo Ma. In 2012, a documentary as released, "Jake Shimabukuro: Life on Four Strings." In 2013, he launched the non-profit Four Strings Foundation, creating multifaceted music education programs.
Shimabukuro, his wife and their two young children continue to live in Hawaii.
POP CULTURE CLASSICS:
With the "Nashville Sessions" album, were you conscious of proving once again that genre boundaries are irrelevant?
JAKE SHIMABUKURO:
[Laughs]. No, it was just a fun record. It was very experimental for me. It's just an awesome learning process, being in the studio and creating music, just having fun and more of a jam band approach with that record, which is something I've never done before. I really loved it. I enjoyed the process. And I learned a lot from that experience. So it was great.
PCC:
What sorts of things did you learn?
SHIMABUKURO:
For me, compositionally, it was my first all-original record. Writing was really fun for me, because a lot of times, when I write music, I always come from more of a melodic standpoint, more of a melodic approach, thinking about the melody. But with these songs, I approached a lot of the songs with just rhythmic ideas, not even with a melody yet, but I would approach some songs with, "What if I did this sort of odd time thing?" And I thought of a lot of combinations of like threes and twos and just kind of making some interesting rhythms first and writing all the rhythms out first and then I would insert melodies onto the rhythms, which was something I'd never done before. So that was really interesting to me.
And then also, being able to just let go in the studio. Because every time when I go into the studio, I get so nervous and I kind of over-think things. It's such a sterile environment. But with this album, I was able to approach it like a live show. And I don't know what changed exactly. Maybe it was just the excitement of not knowing what we were going to play or what we were recording [chuckles]. So you just have a tendency to just try different things and go for it. And I think playing with Evan [Hutchings], the drummer, and Nolan [Verner], the bass player, they're such fantastic musicians, and they really inspired me and pushed me to play out of my comfort zone. So that was a great experience.
PCC:
Are they touring with you?
SHIMABUKURO:
Nolan, who played bass on the record, he's out on the road with me now. So we've been playing songs off the new record. We don't have a drummer with us, so we've been doing everything as a duo.
PCC:
Generally, in concert, what's the effect you most want to have on the audience?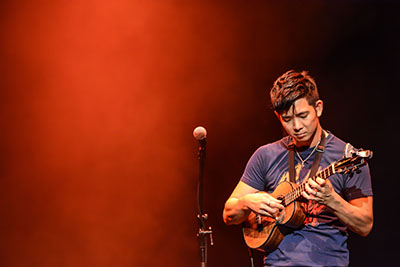 Photo by Kayoko Yamamoto
SHIMABUKURO:
I mainly just want them to leave smiling, leave happy. I just want them to enjoy the experience. I hope that it moves them in a way. I just want them to have fun. You know, a lot of kids come to our shows and the most important thing is that, at every show, I like to share a message with the kids. I always tell them, whatever their passion is, just find their passion and work hard at it. And I really believe in being drug-free. I've been drug-free my whole life. So I always mention that at every concert, hopefully to inspire the young ones to make that decision early on, put that in their heads.
And also just reminding people of the importance of music, not just in our community, but music in education, in the schools. That's something else that I really love supporting. I love music. Music is my passion. I love doing the concerts, playing for people. But I always want to make sure that there's some kind of message attached, because those are things that are important to me and if I can just get one of those kids to be like, "Oh, yeah, Jake's drug-free. So I'm going to try to be drug-free my whole life, too," if I can just make that one impact on one kid, then it's all worth it.
PCC:
As far as finding your passion, as a child, when you heard your mother playing ukulele, when she began teaching you, what was it about the instrument that you connected with so deeply?
SHIMABUKURO:
Well, I just think just growing up in Hawaii, growing up in the islands, the ukulele is so prominent everywhere. You hear it the radio. You see it everywhere. And everyone plays it. In fact, back when I was in elementary school, in the public school system, we all learned how to play ukulele in the fourth or fifth grade. But about 10 or 15 years ago, the schools lost all their budgets to keep those programs going. So now the kids don't learn ukulele in their schools anymore. It's not part of the curriculum. It's kind of sad.
In fact, with the growing popularity of ukulele, there are so many schools outside of Hawaii that have been incorporating the ukulele into their music programs now. To me, that's really exciting, because I think the ukulele is the perfect tool to teach kids basic music concepts. Like the recorder or the flute, you can only play one note at a time. And you can't sing as you're playing the instrument. But with the ukulele, you can strum and sing songs. You can play chords. You can play single-note melody. So there's just so much more going on with the instrument. And just so many fun things that the kids can do with them. They can learn more advanced music concepts.
And with the popularity of the instruments, kids are like, "Oh, that's cool! I want to learn the ukulele," when they see people like Taylor Swift playing the ukulele or some of their favorite cartoons like "SpongeBob" and "Peg & Cat" or on "Sesame Street," they see the ukulele being used on those programs. So for them, it's like, "Oh, that's cool!" I think they're more inspired to learn music and to pick up that instrument than they would be the recorder or something else.
PCC:
So if everybody was playing it, when you were growing up, at what point did you realize you could actually do this professionally, carve out a career playing ukulele?
SHIMABUKURO:
When I was a teenager, I was playing in bands. We played a lot of traditional Hawaiian music growing up. And it was always fun. But you're right, I never thought of it as becoming a profession. But I was very lucky, because I think I was in the right place at the right time, with YouTube just starting out. And there was a video that went viral on YouTube, me playing "While My Guitar Gently Weeps." That's really what started this touring career for me, because prior to that, I never even dreamed about being a touring musician or doing anything like this. So I'm just very grateful. But prior to that video going viral, I was playing a lot in Hawaii and doing things there, but I never thought that, other than Hawaii and Japan, that I would really be able to perform and tour in different parts of the world. So it's been really exciting and completely unexpected.
PCC:
Along the way you were able to draw inspiration from other musical artists, not just ukulele players?
SHIMABUKURO:
Oh, yeah, definitely. I listened, of course, to ukulele players, but I've also been inspired tremendously by guitar players, by piano players, violinists, singers, bass players, just picking up their techniques and their approach to a song. Drummers. Drummers were a big influence on me, because it helped me to develop a lot of different strumming patterns and just rhythmic things on the instrument.
And then I was also inspired by a lot of athletes. It's that kind of mental focus and the balance and the connection between their physical body and the mind. And also the spirit. All those things coming together to express something. So you could be Michael Jordan and his passion may be basketball, but he has such control over his mind and body that he's able to do whatever he needs to do, when he's on the court. It's the same thing when you have your instrument - your mind and your body have to be connected in that same way, where if you feel something, or you want to do something, your mind and your body need to be able to react, need to work together to create the music, to create the emotion, to express whatever it is that you're trying to express.
PCC:
Have you always been interested in expanding the boundaries of the instrument and also expanding people's perception of what they think the instrument is supposed to be used for, what it's supposed to sound like?
SHIMABUKURO:
Not so much. That's never been my thing - to try to prove to other people. It was more myself. I would just have these ideas and go, "Oh, I wonder what this would sound like on the ukulele." Or "What if I did this to my ukulele? How would that make it sound?" There was just a lot of experimenting. And I also love tackling more challenging things on the instrument, things that I've never seen or heard before, because I like problem-solving. So, for me, every time I take on a new piece, it's like just tackling a new problem.
So if I'm arranging "Bohemian Rhapsody," it's looking at each section of the song and figuring out, okay, how can I play that on four strings? How can I create that sound on four strings? And that's what makes it fun for me. I love that challenge. But it's never been like, "Oh, I want to do this to prove to people that ukulele is capable of this or that." For me, it's just exciting to learn for myself, because a lot of times, I don't know if I can do it [laughs]. So it's more like I'm trying to prove it to myself first and then show other people, I guess, the way.
PCC:
Does it feel almost like the instrument has no limitations at this point?
SHIMABUKURO:
I think every instrument has its limitations, but I think the bottom line is just being able to work around those limitations and just try to create something meaningful and beautiful with the tools that you do have.
PCC:
You've had so many collaborations with such diverse artists. Is that really important to your musical growth? Has that meant a lot to your development artist?
SHIMABUKURO:
Yeah, that's definitely important to me, because it's always inspiring. And that's the only way you can learn and grow is by playing with other musicians and finding musicians that have different backgrounds, different musical philosophies. You learn from them. And when I travel, I have the opportunity to meet other people, to meet people who play different styles of music. And being able to sit with them and just pick their brain or just play with them, sitting in with a band or something, those are all just great experiences and such a great opportunity to learn.
PCC:
As you mentioned before, schools have had to cut back, or even eliminate music education programs. You offer instructional videos on your website. You make appearances at schools. You've established the Four Strings Foundation. Is all of that to pass along your love of music to the next generations?
SHIMABUKURO:
Yeah, definitely. I love sharing those things with younger people. I was very fortunate, when I was a kid. And still even to this day, other musicians and other people in the arts, not just the arts, but any field where they excel, I've been very fortunate when people have shared their knowledge and passed on little things to me, to help me to grow, not just as musician, but as a person. So any opportunity, any chance that I get to share something that I feel might be helpful to a student or something, I'm all for that. And I love taking those little opportunities to do that.
PCC:
What's been the most rewarding aspect of your career, to this point?
SHIMABUKURO:
Oh [pauses to reflect], I don't know. That's a hard question [laughs]. I mean, there are so many things. It's hard to just pinpoint a few. But I tell you, recently, I have two children now, a four-year-old and a one-year-old. And I feel like being able to share the things that I've learned, or that I'm learning, to be able to share those things with them, with both my kids, that's been awesome. My oldest son, he and I, we have jam sessions together. And I'll tell you, man, [laughs], that's like the best feeling.
PCC:
You've had so many special experiences, even playing for the queen of England. Does it sometimes seem surreal? Before the video went viral did you even fantasize about a career like this?
SHIMABUKURO:
Oh, no, never. Never in a million years. And I still can't believe those things happened, you know? [Laughs]
PCC:
Do you know what direction the next album will take?
SHIMABUKURO:
I don't. I just had a meeting with R.S. [Field], who helped me to produce the "Nashville Sessions" record. So we're coming up with ideas. I'm supposed to send him a few recordings, demos of some ideas that I've had. And I'm supposed to do that sometime this week. So we'll see. I'm kind of up in the air still. I don't know exactly what I want to do yet. But I know it's not going to be a trio record like the last one. I mean, that was fun. But I kind of want to do something different. And hopefully something that I've never done before. So that's kind of the goal - to come up with another original idea or concept. Maybe not completely original in its entirety, but original in the sense that it's something that I have never done before… or heard on the ukulele before. So it should be exciting.
PCC:
With all you've already accomplished, are there still dreams and goals in front of you?
SHIMABUKURO:
Nothing right now. I've never been really a long-term goal kind of person [chuckles]. I have a lot of short-term goals. But I've never been a long-term goal kind of person. So right now, I can't really think of anything off the top of my head. But yeah, I guess I just want to continue creating and just coming up with some new ideas, some new sounds.
For the latest on this artist, visit www.jakeshimabukuro.com.