THE SHIRELLES: WE'LL STILL LOVE YOU TOMORROW
Interview with Founding Member Beverly Lee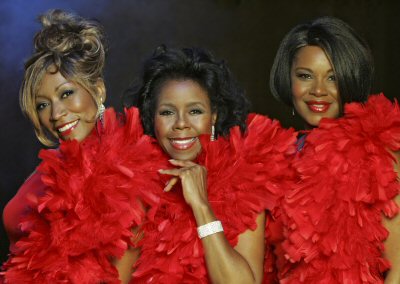 The Shirelles (Beverly Lee, center) Photo by Shawn Blair.
By Paul Freeman [October 2011]
When Passaic, New Jersey high school friends Beverly Lee, Shirley Owens, Doris Coley and Addie "Micki" Harris began singing together in 1958, they realized their voices meshed beautifully. But they had no idea that, as The Shirelles, they would record timeless hits and ignite the girl group phenomenon of the early '60s.
Teaming for a school talent show, they were discovered by Florence Greenberg and signed to her Tiara Records. Their debut single, "I Met Him On A Sunday," was subsequently licensed by Decca Records. Decca failed to launch the group and they moved on to Greenberg's newly formed Scepter Records.
Working with producer Luther Dixon [who had co-written "16 Candles" and other classics], the group reeled off a string of unforgettable hits, including "Tonight's The Night," "Will You Love Me Tomorrow," "Dedicated to the One I Love," "Mama Said," "Baby It's You" and "Soldier Boy."
Dixon left Scepter in 1963. But the year had its ups, as well. The Shirelles reached the Top 10 with "Foolish Little Girl" and had a cameo in the movie "It's A Mad, Mad, Mad, Mad World."
Lawsuits followed the revelation that promised trust funds had not been set up for the girls. Lineup changes followed. Dionne Warwick stepped in to handle some of the vocal chores at one point. The group's momentum slowed and the advent of the British Invasion nudged them further out of the spotlight.
But their hits never left the public consciousness. Among the numerous honors bestowed on The Shirelles are the Rhythm & Blues Foundation's Pioneer Award and membership in the Rock and Roll Hall of Fame.
Beverly Lee and her Shirelles continue to perform, delighting audiences with those cherished tunes. Lee returns to San Francisco's The Razz Room at Hotel Nikko, October 18-23. For tickets ($40-$47.50), call 1-800-380-3095 or go to www.therrazzroom.com.
POP CULTURE CLASSICS:
What makes The Shirelles' music so timeless?
BEVERLY LEE:
We are told that people chart their lives by our music. We've had people come and tell us about different experiences that they've had. They know exactly where they were and what they were doing. So our music has had an effect on them.
PCC:
The origin of the group, did you actually get together for a school talent show?
LEE:
We were fooling around in gym and that's how we got into that show at the high school. We were just singing for fun, doing little functions around town.
PCC:
So no big ambitions originally?
LEE:
We had no ambitions and no idea what show business was about. We jumped into it as green as I don't know what. But what an experience! And I wouldn't trade it for all the money in the world.
PCC:
And the original group name was the Poquellos?
LEE:
Poquellos. We thought it meant 'birds.' We were taking Spanish. We asked our Spanish teacher and she said, 'That doesn't mean 'birds.' It means nothing.' So it was just a made-up name, same way we made up the name Shirelles, because the elle sound was in - the Dells, Chantels...
PCC:
Who were some of the early musical influences and inspirations for you?
LEE:
Well, I grew up hearing people like Dinah Washington and Nancy Wilson. And most of all we heard a lot of gospel, because my grandmother is very spiritual. So Mahalia Jackson. But music was always in our home. Some of my relatives loved the blues. So I was exposed to music in different areas. And then, grade school, I was introduced to Gershwin and, oh, my God, I fell in love with Gershwin.
PCC:
And then, finding a sound for the group, was that something that just happened naturally over time?
LEE:
That was all God's doing. I believe God put us together and he gave us the sound that we had.
PCC:
Writing "I Met Him On Sunday," how did that come about?
LEE:
Well, for that show, we were doing some things like 'Walking Along,' by The Solitaires, 'Little Darlin', The Diamonds. 'Sunday Kind of Love.' For some strange reason, we thought we needed another song. We did those songs and the kids were just flabbergasted. And then we did 'Met Him On Sunday' and they went berserk.
They could relate to our songs, because we were kids and we were singing about things that kids were doing.
PCC:
Mary Jane was a classmate? Was she the one who introduced you to her mom, Florence Greenberg?
LEE:
Mary Jane was in the auditorium that day. And she approached us at school one day and said, 'My Mom owns a record company. Let my mother hear your song.' And we're like, 'Oh, yeah, right. Who's this girl?' And she chased us, daily. 'Let my mother hear your song.' She wouldn't give up. Finally we got tired of her chasing us. We said okay. And Florence loved the song.
PCC:
And what were your impressions of Florence?
LEE:
Florence was like a mother hen. She was very protective of us.
PCC:
And did you jump at that opportunity? Was there any reluctance?
LEE:
Well, there was reluctance on our parents' part, because they didn't know anything about show business. I'm sure they had heard rumors about certain entertainers and we were still in school. We all got together and we told our parents, 'Well, you're the only one who didn't sign.' That put pressure on them. They didn't want to be the only one to not sign.
PCC:
[Laughs] And you each had done that?
LEE:
Yes.
PCC:
When you signed with Decca, were you confident that the hits would come?
LEE:
We still had no idea what we were in store for. It's been a beautiful roller coaster ride. But it's quite a journey.
PCC:
'Dedicated to the One I Love,' that didn't really get the success it deserved right away. Why did it take a few releases?
LEE:
It might have been the timing. I believe it was Les Crane [radio/TV personality] who started the ball bouncing again with it. So it was released again and it did quite well.
PCC:
What was the atmosphere like at Scepter Records?
LEE:
At Scepter, there was always something going on. Different artists coming in and out. Different songwriters coming up to present different material. It was quite a learning experience. You'd see Bobby Darin or Bobby Freeman or Carole King, all these wonderful people.
PCC:
At such a young age, what that daunting for you?
LEE:
Oh, I enjoyed it. It was exciting. We'd walk down Broadway and go to the Turf [legendary restaurant] and see all these big celebrities. They'd tell us, 'You're number one with a bullet.' We didn't know what they were talking about. 'Or your other one is like 10 or 12 with a bullet.' And we still didn't know what they were talking about.
PCC:
What was Luther Dixon's role in the group's success?
LEE:
Luther was wonderful as a producer, because he had an ear for music. He knew how to record us. He knew what to get out of us and how to get it out of us.
PCC:
Because you were so young, was he patient with you?
LEE:
To a certain degree. But when he wanted something, he was adamant about it. He didn't play, when it came to music. And rightfully so.
PCC:
What was the session like for 'Tonight's The Night'?
LEE:
Well, that song was written by Luther and Shirley. I remember Horace Ott played on that session. He had a wonderful band.
PCC:
What about 'Will You Love Me Tomorrow'? You had already met Carole King. What were your impressions of her and Gerry Goffin?
LEE:
When Carole brought the song up to Scepter Records, she was singing on the demo. It was rough, real twangy. It sounded like a real county & western song and we did not like it. Thank God, Luther had an ear for music and what was good material for us. And Luther said, 'You're gonna do this song.' We said,'Okay.' We went into the studio and there was this big orchestra there, cellos and strings. And oh, when they started playing, it was so lush! I said, 'Oh, my God!'
PCC:
What about 'Mama Said,' is that something that instantly seemed more natural for the group?
LEE:
With 'Mama Said,' that beginning little high part wasn't there. When we got into the studio, Luther had them playing the beginning of the song, just musically and Doris and I started fooling around. I started singing something. And she harmonized with me. So that's how that came about.
PCC:
What about, 'Baby It's You'? That's such a classic. What was that session like?
LEE:
That was a Mack David [Hal's older brother]/Burt Bacharach song. Luther had the tracks already, so it was laid down that way.
PCC:
And 'Soldier Boy'?
LEE:
We were finishing up an album and they needed some new material. So Florence and Luther disappeared and they came back shortly and they had written some words. They gave us the paper and said, 'Sing this song.' And we did it in three takes.
PCC:
What about 'Boys'? Was that a fun song to do?
LEE:
That was fun.
PCC:
What did you think when you heard the covers later, during the British Invasion era?
LEE:
It was really interesting. I liked Ringo's version of 'Boys.' He had that different little beat to it. Another little rhythm. And Smith, when they did 'Baby It's You,' they knocked it out of the park. I loved their version.
PCC:
Did you ever get to tour with The Beatles overseas?
LEE:
We didn't get a chance to hook up with them there. When they came to the States, they invited us to come and hang out with them. But we were going on the road. We were always either on the road or in the studio.
PCC:
So was it a real whirlwind at that time?
LEE:
Yes, it was. We were traveling all over the world.
PCC:
Did you do a lot of those Dick Clark 'Caravan of Stars' kind of tours?
LEE:
Oh, yes, we did. And they were wonderful. Dick was like a big brother to us. I remember a party we had one night, the tour was getting to the end. I don't know whose idea it was, but we would entertain each other and we dressed up as one another, going and performing. And Doris and I were Peter and Gordon. Shirley was Tom Jones. Mel Carter and Tom Jones, Billy Joe Royal and Gordon of Peter and Gordon were The Shirelles. We dressed the guys up. They looked wonderful.
PCC:
They actually wore gowns and everything?
LEE:
Yes. And we dressed up in tuxedos. Doris and I were Peter and Gordon. We wore the tuxedos.
PCC:
In those days, with those kind of tours, did you run into any problems with prejudice?
LEE:
Oh, yes. We were a family unit and we looked out for one another. There were times when we went into the South and we could not eat in the restaurants. Dick would get off, he'd take our orders and he'd bring our food back to us. The white acts would stay in hotels. We would go to rooming houses. People in the South then would rent out rooms to the entertainers. So I thank God for all those people who were there for us. I remember doing the first integrated show in Alabama. And they chartered a plane to take us down. Johnny Mathis was on it, Tony Bennett, so many major artists. And I remember, after we landed, they told us we could not go out, out of the motel. They told us that the Ku Klux Klan had marched just before we had gotten there. They did not want to rent space to us to perform anywhere. So they found this field. And the people brought their own chairs. And at one point, we heard this noise, like gunshots. But they were light bulbs that had broken. But nobody panicked.
PCC:
It must have been frightening.
LEE:
No. God is always protecting us.
PCC:
Were you conscious of pioneering, in terms of bringing together white and black audiences?
LEE:
We had no idea what we were doing. We played a segregated college. We were the first black female group to do that. And we were called that famous 'n' word. They did later send us a letter of apology. But after that, they started sending other black artists down to the colleges.
And, in those days, they did not put our pictures on the albums in the South. So the kids down there had no idea we were black. And they loved our music. So there was a demand for us to come there. And we opened the doors.
PCC:
You also opened the doors for other artists by starting the whole girl group phenomenon. Was that something you were conscious of?
LEE:
We had no idea. But, you know what? Women always help each other. I'm just grateful that God allowed us to help other women.
PCC:
Did you do some of those big Murray the K rock 'n' roll extravaganzas?
LEE:
Ooh, yes. Those were the greatest shows. Murray was a stickler about the finales and being by the stage when your name was called. Murray was my next-door neighbor, when I lived in New York for a while. And Micki, she had Murray wrapped around her little finger. They were really tight buddies. And she would play pranks on him. And we'd party backstage. We had a really wonderful time. The show was always backstage more so than on stage.
PCC:
What about leaving Scepter, was that a scary step or just something you had to do?
LEE:
It was something that had to be done at that point.
PCC:
Dionne Warwick, what was her role like as a Shirelle?
LEE:
Oh, Dionne was wonderful. She was on one of those shows with us at the Brooklyn Fox. And she came out as a Shirelle and she did a great job, for a stand-in. We taught Dionne how to move on stage, because Dionne would go out and stand and just sing her song. And we taught her to just do a little of this, do a little of that. But the lady's so classy. Now all she has to do is just stand there and open up her mouth and belt them out. I love her.
PCC:
'Mad, Mad, World.' How was that experience in the movie world?
LEE:
Oh, at the time, Luther wasn't there. Ed Townsend was producing us at that point. And we would each have a few days, when we would learn the songs phonetically, that's how we learned to sing it in the different languages.
When they went to the premiere, we went to the one in Hollywood and I never got over Uncle Miltie introducing us. I was standing back there. 'Oh! Uncle Miltie's going to introduce us!' And not knowing until everything was over, and we went to the after-party, then back to the hotel, I had a hair roller up under my hair and I didn't even know it. [Laughs]
PCC:
It must have been a fantasy-like experience.
LEE:
Yes, all those stars being there! Oh, my!
PCC:
When you found out that the group had been basically duped out of the money that was supposed to have been held in trust for you, that must have been traumatic.
LEE:
It was heartbreaking. As young kids, you're being told constantly, 'You're going to be rich.' And then, there's nothing there when you turn 21.
PCC:
Was it totally disillusioning? Or did you eventually take it in stride?
LEE:
Well, we did what we had to do. And God took care of us. And he still continues to take care of me.
PCC:
There were different versions of the group over the years. Did the original members remain friends?
LEE:
We've always been in touch. And regardless of what went on with them and with the group, if someone was in need of one of us, we were there.
What were your thoughts on the Broadway show 'Baby It's You'? They weren't paying the members of The Shirelles for the use of their story. And then the show closed after a few months.
LEE:
God works in mysterious ways.
PCC:
I read that Passaic named a street after the group?
LEE:
Yeah, Shirelles Boulevard. And the auditorium, too, is Shirelles Auditorium. I never in my wildest dreams thought anything like that would happen. But I say, 'To God, be the glory, for everything that's been done.'
PCC:
What have been the biggest challenges in sustaining this career over the years?
LEE:
Just trying to keep things fresh with your show and your approach to the audience. And staying current.
PCC:
What have been the greatest satisfactions for you?
LEE:
Oh, my, we have made some lifetime friends. And when we hear about the lives we've touched, I tear up. People tell us what our music meant to them and how it brought them through. There was a lady who was going through cancer. Another young girl was going to commit suicide. People have gotten engaged. Soldiers have told us they were down in the trenches and they played 'Soldier Boy' and how that brought them through, that was an anchor to them and their loved ones. It's quite touching.
PCC:
Is it still just as joyful to you to be singing these songs?
LEE:
I love people. I enjoy entertaining. When I'm not working, I get antsy. I love to travel. It's a beautiful world that God has given us and there are wonderful people.
PCC:
What do you see as the legacy of The Shirelles?
LEE:
That we loved what we were doing. We gave our all. We wanted to always be there, in a sense, musically, for the people.
PCC:
Well, it's music that will last forever and we're looking forward to seeing you here in San Francisco.
LEE:
Speaking of San Francisco, I tell people this wherever we go, they call Philadelphia the city of brotherly love. But I've received so much love in San Francisco, talking with people, even on stage, and crying, that's the city of love to me.
PCC:
You're loved all over the world. Thanks for the music.
Visit www.theshirelles.com.