RICKEY MEDLOCKE: LYNYRD SKYNYRD, THE SECOND TIME AROUND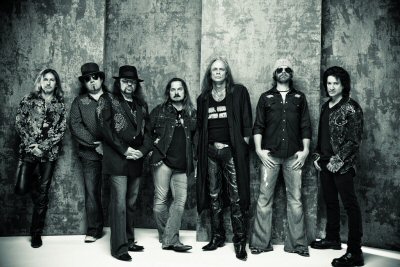 Rickey Medlocke, third from right
By Paul Freeman [August 2010 interview]
Few rock bands have a history as dramatic as Lynyrd Skynyrd. And Rickey Medlocke (guitarist/songwriter/backing vocalist) has played a major role in that story.
Medlocke first joined Skynyrd in 1970, as a drummer. A childhood friend of the Florida bandís founding members, he had been in the New York area, fronting another rock group. But things werenít going well. He phoned Skynyrdís lead vocalist, Ronnie Van Zant.
Medlockeís first stint with the band lasted only a year. A childhood illness had left him with only one lung and drumming required a lot of stamina. He decided to leave.
As lead vocalist/lead guitarist, Medlocke enjoyed success with another influential Southern rock band, Blackfoot. Leaning more towards hard rock and metal, they proved particularly popular in Europe. Medlocke remained pals with the Skynyrd bunch. He could have been with the band when their plane crashed in 1977, killing three of the musicians, including Ronnie Van Zant.
In 1996, Medlocke received a call from founding member Gary Rossington, inviting him to rejoin Skynyrd as lead guitarist and a primary songwriter. Medlocke had ended his run with Blackfoot.
Several other band members have passed away over the years. But with Ronnieís brother Johnny Van Zant on lead vocals, bolstered by Rossington and Medlocke, Skynyrd perseveres, continuing to record new songs and to fill large venues. Despite the many lineup changes, the bandís spirit never dies.
POP CULTURE CLASSICS:
Why do you think Skynyrd has such an enduring power with audiences?
RICKEY MEDLOCKE:
I really think that itís probably the music. The music, to me, is timeless. Itíll be here a lot longer after Iím gone, thatís for sure. I just think that it has a big appeal with a lot of people. We have a lot of generations of fans. Weíre about three generations deep in the fans now. And I just think thatís an incredible thing. I think that people just love those songs... and really love the band. We get a lot of fans coming out, hoping and wishing that we would go on forever, you know what I mean? But, as we all well know, nothing lasts forever. At some point, everything does come to an end. But I donít see it coming to an end anytime soon. And weíre really happy to be where we are. A lot of bands canít say the same. Weíre just really loving it.
PCC:
How does the band maintain the dauntless spirit?
MEDLOCKE:
First of all, we just love performing. Thatís the biggest thing. And the next thing is that we do it for the fans. The fans mean an awful lot to us. Thatís one of the biggest things that keeps us on the road and actually keeps us going. I guess thatís basically what you can attribute it to.
PCC:
It seems like the band goes beyond the Southern Rock genre, having established itself as an iconic American band.
MEDLOCKE:
It is an American band, thatís for sure. And weíre proud of it. For many, many years. America has claimed us as their own. Which is fine with us. Weíre a blue collar band. Thatís how we like to think of ourselves. We come from, basically, humble beginnings and still have this attitude of really loving to meet people and shake their hands and talk with them and stuff like that. So for us, itís really cool.
PCC:
When you first joined the band, back in 1970, is it true you actually called Ronnie to ask if they needed a roadie?
MEDLOCKE:
[Laughs] Yeah, itís funny. I was wanting to make a change, needing to make a change at the time. I actually called up Ronnie. Allen had given me his number. I called up Ronnie and said, ĎDo you need a crew guy or somebody to set up equipment or whatever?í And he said, ĎDo you still play drums?í I mean, I knew how to play drums, but I hadnít messed with them in years [Laughs]. But in order to have a gig, I just kind of BSíed him and said, ĎYeah, yeah, I still know how to play.í
I sold off some equipment and a week later I was sitting in Jacksonville, actually working up material that would later be on records and become ĎLynyrd Skynyrdís First and Lastí record. So it was pretty cool, man. I mean, this is my second go-round with the guys.
Iíve had a great career. I had my own band, Blackfoot. And Blackfoot sold around 9 or 10 million records worldwide, so thatís not too bad. And now this band has sold somewhere in the neighborhood, they estimate, since theyíve been keeping track, they list it as 35 million. But I know that the band has sold probably a lot more than that. I donít know, man. It just seems neverending. It just keeps right on going. So thatís pretty cool.
PCC:
As you mentioned, Blackfoot was successful, in terms of record sales, and had a reputation for great live shows. Do you think the band just never really got the media attention that it deserved?
MEDLOCKE:
I donít think really that the band got what it justly deserved. The band had a bunch of talented guys, talented musicians. And it just never really popped for us, mediawise. I think we were more of an underground thing than really just in-your-face, publicitywise. For myself, personally, I know that we were very huge in Europe. We had a number one single over there at one time, called ĎGood Morning,í on the metal charts, which was really exciting for us. I donít know, man. It was just a really interesting deal.
PCC:
So when you left Skynyrd to lead Blackfoot, was it the opportunity to front a band that led to the decision? Or was it a result of stamina issues, stemming from your lung history, that was aggravated by drumming?
MEDLOCKE:
One of the reasons I originally left the band in the first place was that I didnít think that I was going to be a great enough drummer for the group. I thought that they needed somebody a lot better than me. Other than wanting to go back and play a guitar again and front a band, that was one of the main why I left. I felt like they really, really needed somebody a lot better than me, a lot stronger than me.
PCC:
While you were with the band at that time, what do you think was the special vibe? What was so magical about that original Skynyrd lineup?
MEDLOCKE:
Well, I believe that what was real special about it was we had a magic about ourselves. We really were hungry. We were young. Very hungry for it. Nothing was going to stop that. We endured a lot, sacrificed a lot. Went through a hell of a lot. But you know what? It was worth it. We paid our dues. And it came out great. And we look back on it and just give thanks to the fans. Itís a pretty special thing to be where we are right now. We just thank our blessings really a lot.
PCC:
What most impressed you about Ronnie as an artist?
MEDLOCKE:
He had a magic about himself that was undeniable. There was something very, very special about Ronnie. And you knew it, right away. And I think heís one of the most, I thought at the time, that he was one of the most underrated singer-songwriters that thereíd ever been. He wrote incredible lyrics.
PCC:
At the time of the crash, were you thinking you could easily have been among the victims of that tragedy?
MEDLOCKE:
Well, at the time of the plane crash... I donít know. I took that interestingly enough, because I could easily have been on it. I had left the band, but was invited to go travel with the guys for like a week. So I could have definitely been there. But I got bookings with my band and I couldnít make it. So therefore, things worked out the way they did. It was too bad that the band was cut down at a time when it was. Who knows how much further that band could have gotten? They were going to headline Madison Square Gardens for the first time, which they had always wanted to do. But it was something that just wasnít meant to be.
PCC:
In Ď96, when Gary called and invited you to rejoin the band, what went through your mind?
MEDLOCKE:
I was wondering what was going to happen in my career, because things werenít really working out the way Iíd hoped they would. I knew Iíd be in the business in some way. I just didnít know in what capacity. I had thought about taking a little bit of time to figure it out.
Gary came down and sat with me and we played. He said, ĎDo you want to do this?í I said, ĎNo doubt about it. Iím in.í And Iíve never regretted it one bit.
PCC:
Going through so much tragedy, has that created a unique bond among the band members whoíve added to the groupís history?
MEDLOCKE:
I think that amongst everything that íhas happened, it brings us together closer. And the music brings us closer together. The music heals a lot. Music is a healing tool.
For me personally, I like to think that weíre giving tribute to the guys that have gone before us. This is Lynyrd Skynyrd. A lot of people say, ĎDonít you ever feel like youíre really a tribute band?í No, I donít. I think that as long as Gary and myself and Johnny are there, itís always going to be Lynyrd Skynyrd.
Weíre just happy with the way everythingís going right now. Weíre a historic band, a legendary band. Weíre very proud of that and very happy to be part of something called rock Ďní roll. Life is good.
To view the bandís news updates and gigs, visit www.lynyrdskynyrd.com.